A bowl of soup may raise expectations at the beginning of a meal and with the addition of that other unshakable staple, good bread – it can be a meal by itself. Also if you are under the weather, can you ignore its healing power? Today we are revisiting, and rediscovering soups that have been eked from the readiest of roots and the humblest of leftovers – transported to deliciousness by a long, slow simmer in stock, to the extent that they become comforting and cleansing, thick and satisfying.
May these 5 soupy reads keep you warm all night long!
1. Minestone | Italy
Home to many of the world's greatest works of art, architecture, and gastronomy, Italy elates, inspires, and moves like no other. And while every bite in this food-obsessed culinary capital can feel like a revelation (here simplicity is preferred, though every dish is equally ingenious and sophisticated). One such classic is the Minestrone soup – a dish loved and served in Italian restaurants around the world. Minestrone originated in the Roman Empire, long before it became the Roman Empire, and comes from Italian minestra which means "soup" or "to serve". It designates a preparation of fresh seasonal vegetables cut and cooked in a broth. Consumed throughout Italy, there are many variations depending on the seasons and regions, often associated with dried beans, pasta, rice, but also sometimes basil and Parmesan cheese. There is no single recipe for minestrone as its origins are rooted in the remote and rural popular Italian tradition. It acts as a comforter on cold autumn-winter nights and if you are feeling under the weather then it's is a hug in a mug!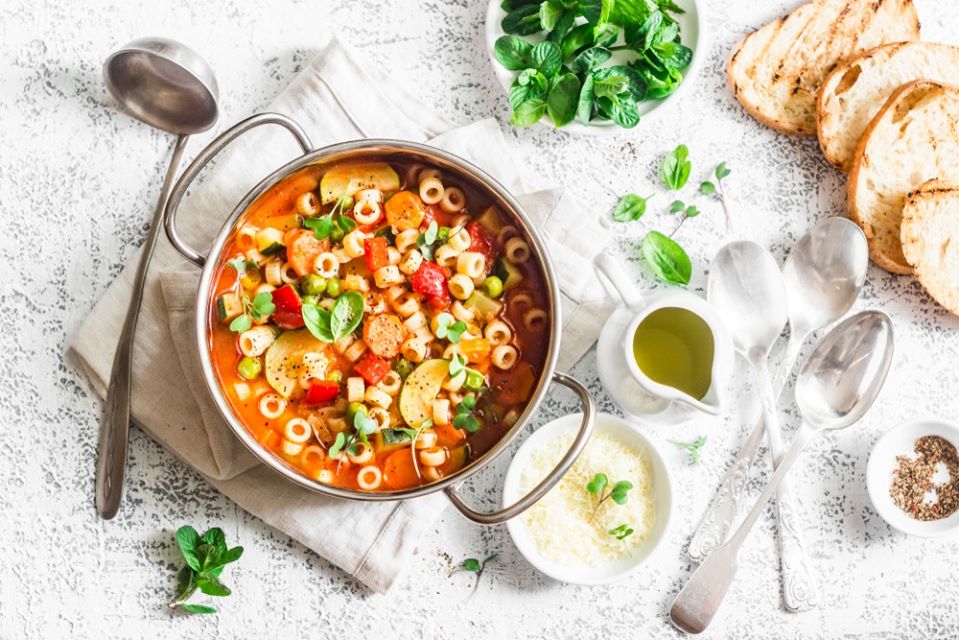 Easy Recipe
Ingredients:
2 tbsp olive oil or vegetable oil
1 onion, finely chopped
1–2 sticks celery, trimmed and sliced
400g fresh or canned chopped tomatoes
1 cube of chicken or vegetable stock (may use fresh stock as well)
1 tsp dried oregano
about 3 cups of assorted vegetables (carrots, celery, zucchini, leek, peas, or cabbage, peeled and cut into small chunks)
400g cannellini beans, drained and rinsed if using the tin or freshly boiled in which case you need to soak the beans overnight before boiling them (these are also known as white kidney beans)
½–1 mug cooked pasta or rice
Parmesan, or any other grated cheese
salt and freshly ground black pepper as per taste
Method :
In a large non-stick saucepan, heat the oil. Add the onion and celery, if using, and fry until softened and turned light pink.
Add the chopped tomatoes and add a cup of cold water. Add the chicken or vegetable stock cube. In case of fresh stock, don't add the cold water first. Instead add the stock and depending on the consistency add water as required.
Add the dried oregano. Add any hard, raw vegetable pieces, such as carrot, squash or potato and bring to a simmer. Cook for 5-7 minutes, stirring occasionally.
When the harder vegetables have softened, add the raw green vegetables, such as small broccoli florets, cabbage, green beans and zucchini. Simmer for 5 minutes more, stirring occasionally.
Add any cooked vegetables or beans you are adding with the cooked pasta or rice. Simmer for 3-4 minutes, stirring occasionally. Season with salt and lots of freshly ground black pepper. Ladle into deep bowls and serve topped with grated cheese.
2. Pho | Vietnam
The first thing you need to know about pho is that it doesn't tend to rhyme with "know". Most Vietnamese will pronounce it "fuh". This Vietnamese noodle soup is a warming dish, perfect for winter. Heaped with aromatic shreds of meat and delicate green onion, what is typically a gentle broth becomes a richly layered, garlicky dish with hints of smokiness and caramelization, and is laced with slippery rice noodles. Locals further customize their pho with liberal doses of lime, pickled chilies, and hot sauce made in-house, and use sticks of fried dough (quay) to soak up the aromatic broth. The most popular version, made with meat (pho bo) is a relatively recent addition to the rich culinary landscape, but a wildly popular one. At the onset it sounds like an easy dish to cook, doesn't it? Will you believe us if we told you that the soup is actually made by simmering bones and meat along with a few aromatics for around six hours? Phew! The dish originated in the northern city of Hanoi, but these days the whole of Vietnam runs on pho, usually eating it for breakfast, or as a late-night snack. Who has soup for breakfast? Apparently, once you have tasted a good pho, you will crave it for every meal.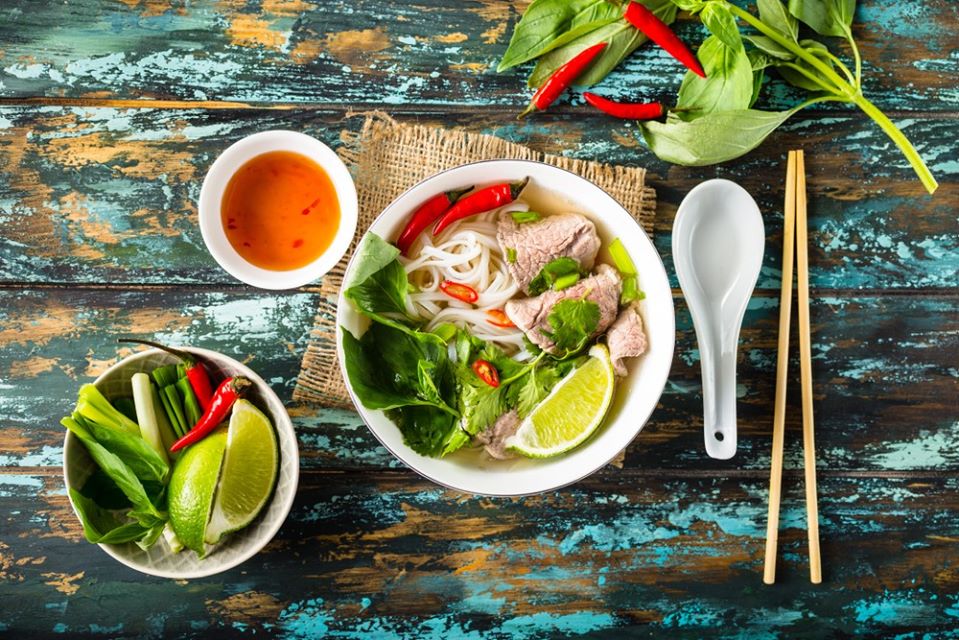 Editor's Pick: 8 Must-Try pieces of bread From America
3. Laksa | South East Asia
Characterized by its rich and spicy broth, this comforting noodle soup is one of the classic dishes found in many Southeast Asian countries. It was developed under the influence of different culinary traditions, which has led to the creation of numerous regional varieties that differ in flavors and ingredients. Two of the most famous versions are the Asam Laksa (a deliciously flavorful Asian broth with a spicy fish-tamarind base, served over rice noodles with cucumber, pineapple and mint garnish for a full meal in a bowl, and the Creamy Curry Laksa (a super flavorful coconut curry noodle soup, with your choice of chicken or shrimp or both over rice noodles topped with fresh bean sprouts, lime, and cilantro).
Especially favored in Malaysia, Singapore, and Indonesia, laksa is usually prepared and enjoyed at hawker centers as a hearty main course.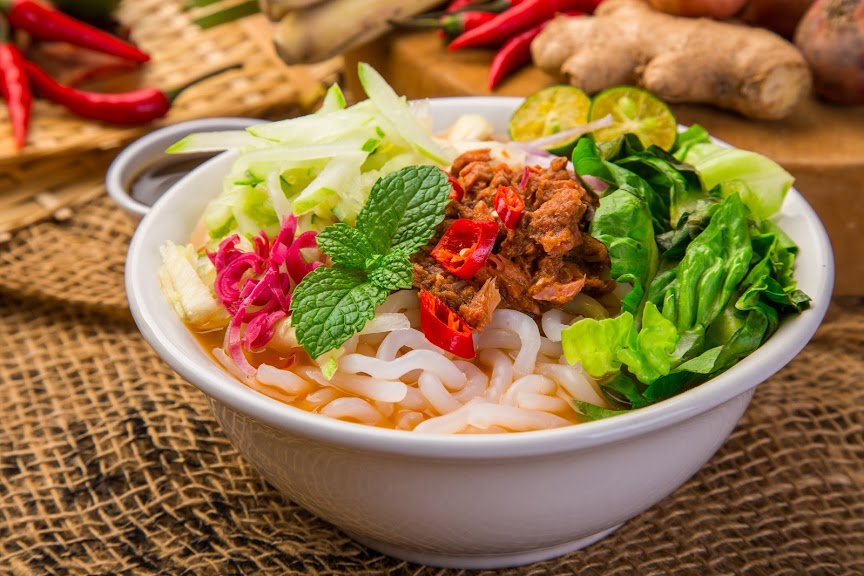 4. Split Pea Soup | Canada
Pea soup or split pea soup is one of the most commonly available and hence popular soups in the world. It has many variations across Europe and North America, but all include dried or split peas – the color can vary from green to greyish green to yellow depending on the local variety of peas available.
However, it is reported to be by far the most popular soup in Canada – not surprising considering it is the perfect comfort food on a cold day, and Canada has plenty of them. It is also very simple to make and very easy on the pocket, which only adds to its popularity.
The Canadian variety is mostly yellow and is jam-packed with flavor, and other interesting things like ham and vegetables. Recipes abound on what you can add to the split pea soup – so do your own thing. But rest assured, whatever you do, a bowl of this thick creamy soup will transport you to the beautiful landscape of Canada.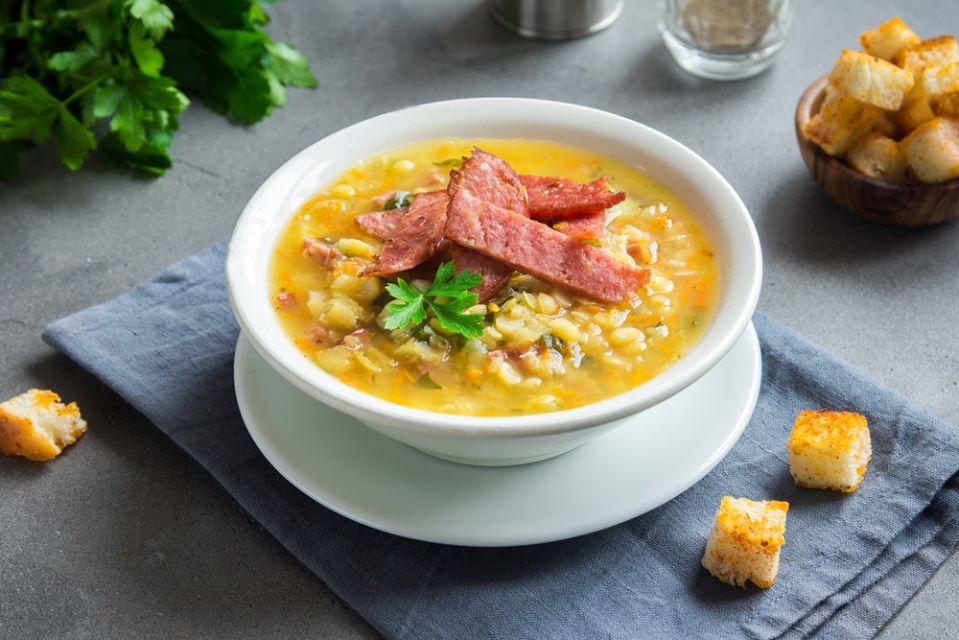 5. Soupe à L'oignon | France
If there's one culinary delight that could put your heart at ease, calm you down, eliminate the worries of the day and awaken and refine the appetite – it's a bowl of the Classic French Onion Soup. Its gastronomic roots are in the broths of Ancient Rome, prepared for the first time over 8,000 years ago. The recipe served up in restaurants across Paris – and in the kitchens of lovers of French cuisine everywhere – took shape in the 18th century. Probably one of the most flavorful soups in the world, you would be surprised to know that it is made with only 4 core ingredients (butter, onions, flour, and stock/broth). The magic is in the caramelization of the onions, cooked slowly for at least 40 minutes until reaching the ideal sweet flavor necessary for this broth-like soup. And of course the crowning glory – traditional topping with French bread and gruyere cheese and then broiled to perfection. The French Onion Soup is perfect for dinner parties or romantic evenings and is sure to bring a big smile to the faces of your guests.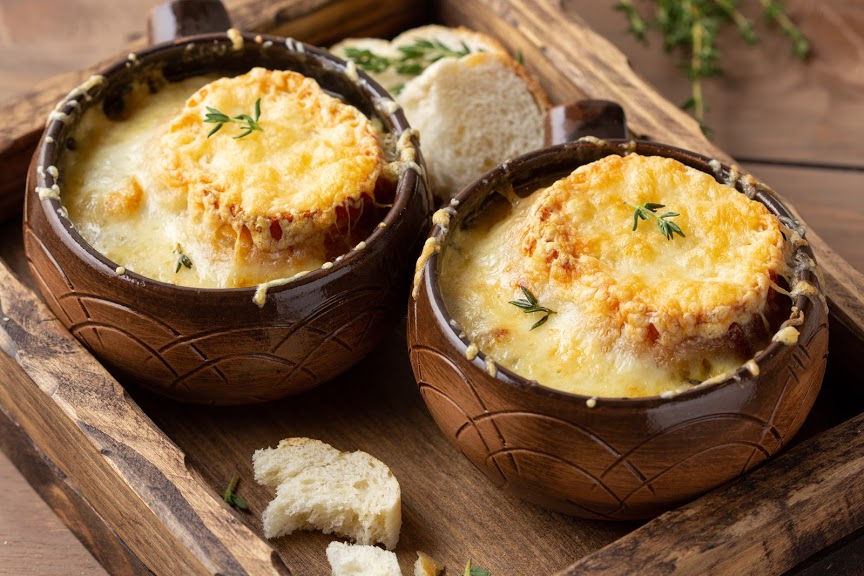 Feel like having this tonight? Check out our recipe for Soupe à L'oignon
Ingredients:
2 Tbsp unsalted butter
1 Tbsp vegetable oil
5 large onions halved and thinly sliced
3 cloves garlic, minced
1/2 tsp. salt
2 Tbsp all-purpose flour
6 cups vegetable/mushroom broth
1/3 cup dry white wine
1 tsp. Dijon mustard
1 tsp. sherry vinegar
6 1/2-inch slices baguette bread, toasted
grated or sliced cheese (such as Gruyere, Asiago, Swiss, Gouda or Mozzarella)
Preparation
1. Heat butter and oil in a heavy, large saucepan over medium heat. Add onions, garlic, and salt, and cook 5 minutes, stirring often. Reduce heat to very low, and cook, stirring occasionally, 50 to 60 minutes, until onions are very tender and brown.
2. Stir in flour, and cook for 3 to 4 minutes, stirring constantly. Blend in broth, sherry, and mustard. Cover, and simmer 15 minutes, stirring occasionally. Stir in sherry vinegar.
3. Preheat broiler. Ladle soup into six heatproof bowls. Top each with a slice of toast and grated cheese. Broil until cheese is bubbly and golden, about 1 to 2 minutes. Serve hot.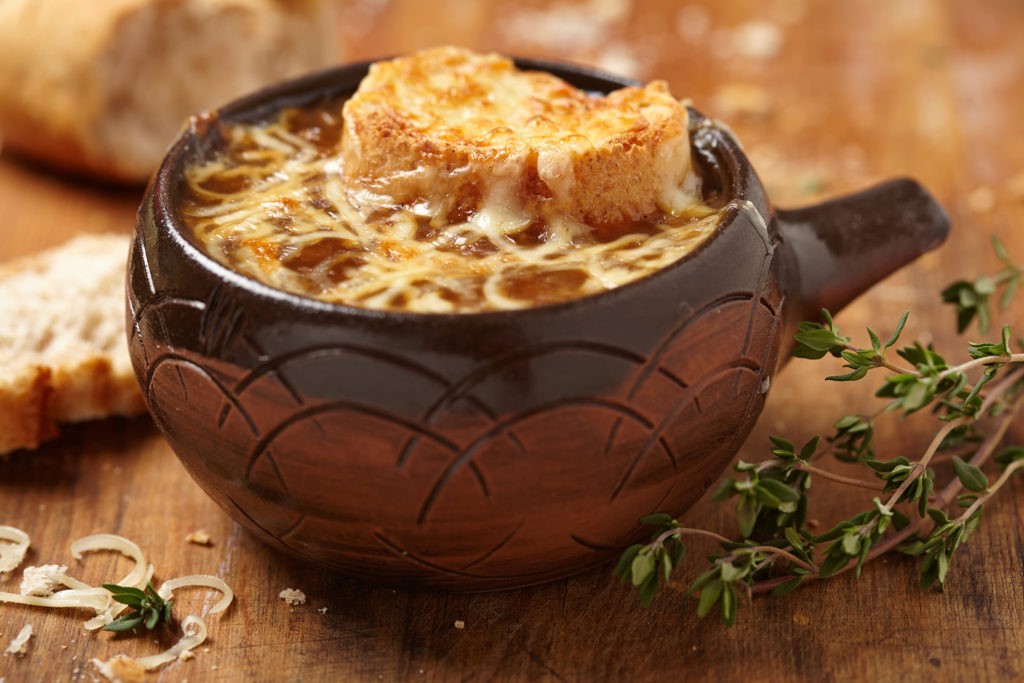 For food and beverage news, food journeys, healthy recipes, the restaurant features, food reviews, like us on Facebook or follow us on Instagram. Read more on tfninternational.com
Trending Now On TFN:
Lavender Fields Of Provence France | 2021 Travel Guide