Snack and Co is a delight for anyone looking for healthy snacking alternatives in the midst of a hectic schedule. With Snack & Co., one can indulge in mouth-watering gourmet snacks made from the highest-quality ingredients. With 'quality' being the primary consideration, they feature a varied range of bite-sized snacks with health benefits to satisfy your hunger cravings in between meals. They bring together a diverse range of healthy snacks that appeal to individuals of all ages and suit any mood.
The Brains Behind Snack & Co.
Snack & Co. was founded by Palak Dhand, a young Delhi-based gourmet entrepreneur, in November 2020. She was born with a passion for baking and cooking. After finishing her bachelor's degree in business administration, she gained some corporate experience and realized that someday she would start her own fast-moving consumer goods company. Palak's mother is her greatest source of strength and has taught her everything she knows about business. Palak is currently single-handedly managing everything in the company from determining the correct flavour combination in her products to marketing, sales, and financing.
How It All started?
It was an unexpected series of events that led to the establishment of Snack & Co. in 2020. Palak was all set to go Lancaster University in the United Kingdom to pursue a Master's degree in marketing. However, when the pandemic struck, and she could not travel to start her course, destiny took Palak down a new path.
Palak had always aspired to work in the culinary industry. As a result, when the chance arose, she did not waste time weighing her alternatives and instead chose to follow her dream of experimenting in the culinary profession. She chose the right time  and the right product category to hit the market, as the notion of healthy snacking began to grow because of the hectic lifestyle and work-from-home schedules brought about by the pandemic. She decided to put the money she was saving for college into the business she was starting. After several months of research and development, Snack & Co. was born. Her initial investment was for one lakh rupees. Although she did not have any prior expertise to back her up, she had was a strong conviction in her products that made Snack & Co. a successful venture!
Product Development Process
Palak began working on research and development in March 2020. From then until her debut in November 2020, she concentrated on finding the right products and flavors. The development process involved developing collaborations with high-quality vendors, finalizing packaging, pricing, and all other logistics related to marketing. She developed strong working ties with vendors from all across the city and worked closely with them. Because the items used are common and are widely accessible on the market, she wanted to develop a distinct flavor and quality that sets the brand apart.
Palak also started working on establishing a social media presence even before she developed her business. She would experiment with different recipes and regularly talked about them on her YouTube channel, Blend With Palak. She built a strong social media presence, and this became a ready platform for her to launch Snack & Co, and to communicate with clients regarding her products.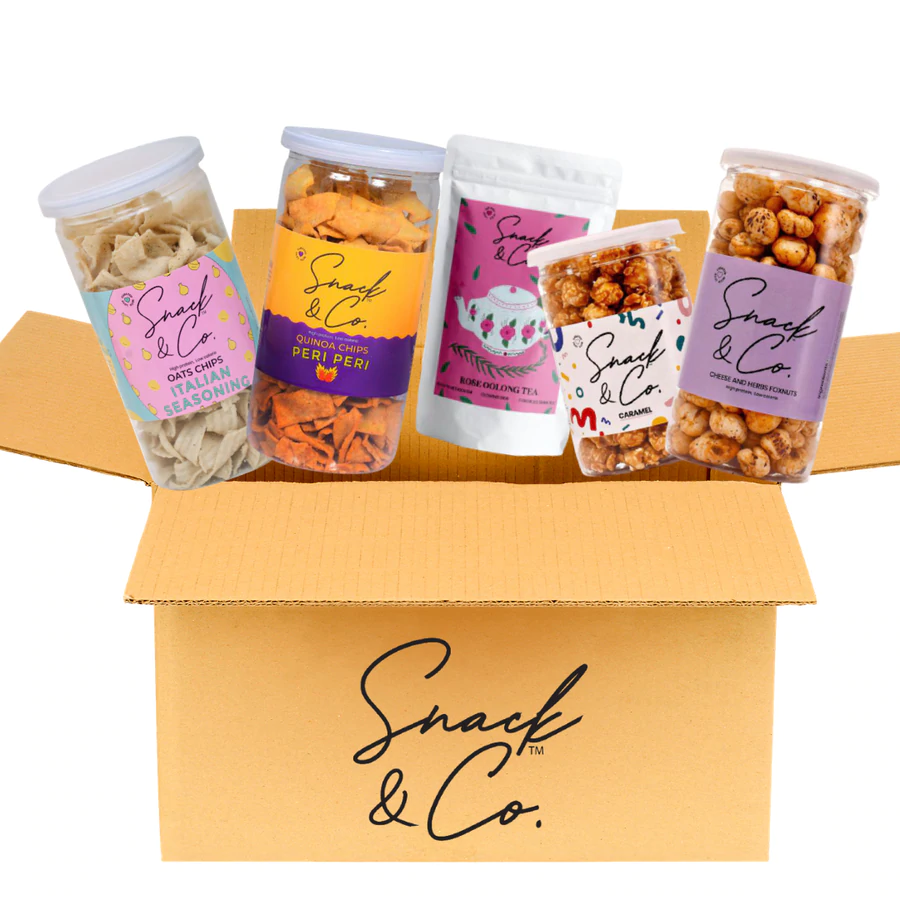 Challenges At Snack & Co.
The initial stages of development of Snack & Co. underwent its fair share of challenges. Being a 22 year old entrepreneur, the major challenge was to convince vendors to take her seriously. Furthermore, she had little awareness of how e-commerce platforms worked or the technical factors involved when it came to some of the other problems. Palak had a penchant for cooking and claims to have learned everything she knows about business on the job.
The journey og Snack & co so far
Palak started her venture by catering to customers in Delhi/NCR and now has been shipping to other cities in India as well. In four months, the brand had managed to establish a consistent and devoted consumer base. The company began with two products: caramel popcorn and makhana (fox nut), but it quickly expanded to include 18 more, such as peri peri, quinoa chips, candied popcorn, cheese and herb makhana, and a variety of premium tea blends. The quinoa chips and the makhanas are some of their best-selling goods. The kids especially enjoy the caramel and candied popcorn. Her products are appreciated for their quality and packaging.
Health Benefits of the Products
The nutritional content of the Snack and Co. products make them a healthy snacking alternative. The makhanas, popcorns, and chips are gluten-free, high-protein, and rich in antioxidants and micronutrients. They also are believed to regulate blood sugar levels, slow down the ageing process, cut cholesterol and lessen the desire for harmful foods.
Future Plans
Snack & Co. intends to grow gently and gradually in order to maintain consistency in quality. Palak has abandoned her plans to opt for an MBA, believing that she has discovered her real purpose as a self-driven entrepreneur. Snack & Co. wants to expand its flavours, launch additional goods like crackers, and enter offline retail outlets in the near future.
In Palak's words, "Snack & Co. is a gift of love from one foodie to the other."
TFN Store is happy to welcome Snack & Co's products to its curated selection of brands under the House of Healthy Snacks vertical!
For latest travel news and updates, food and drink journeys, restaurant features, and more, like us on Facebook or follow us on Instagram. Read more on Travel and Food Network