Text and Photo : Sushma Tammareddi
Now more than ever it has become important to eat healthy and become conscious of boosting our immunity. Now more than ever, we are also consuming all three meals at home with the entire family. How do we satisfy the whole family's taste buds while making sure what goes into our bodies is helping with keeping us strong? Ahead of Father's Day, (a day dedicated to celebrate fathers, grandfathers, godfathers, stepfathers, fathers-in-law, uncles, husbands, partners, brothers, friends, mentors, and men who love with a father's heart), here's a sample menu from our guest writer Sushma Tammareddi for the entire day to keep everyone happy and healthy. You can also use this as a guide to make other meals with some of these ingredients or learn more about other foods with similar benefits and incorporate them into your daily diet.
Breakfast: Combine good carbs and fiber with protein
Bananas with Peanut Butter and Cacao Nibs
Prep Time : 5 mins
Cook Time : 0 mins
Serves – 2
Ingredients
2 Bananas (healthy carbs, fiber)
2 tbsp Peanut Butter (good source of protein and omega 3 fats – can substitute with other nut butters or sunflower seed butter or Greek yogurt)
3 tsp Cacao Nibs (fiber, protein, minerals, substitute with dark chocolate chips if not available and reduce amount to 2 tsp )
2 tsp coconut flakes (fiber, good fats)
2 tsp bee pollen (antioxidant, relieves inflammation – avoid if you have allergic reactions to bee stings)
Freeze dried berries (Vit C and A, fiber)
Method
• Chop the bananas and divide into two bowls. Half all other ingredients and pile on top of bananas.
• Alternately you can also caramelize the bananas with 1 tsp of ghee in a pan as an indulgent treat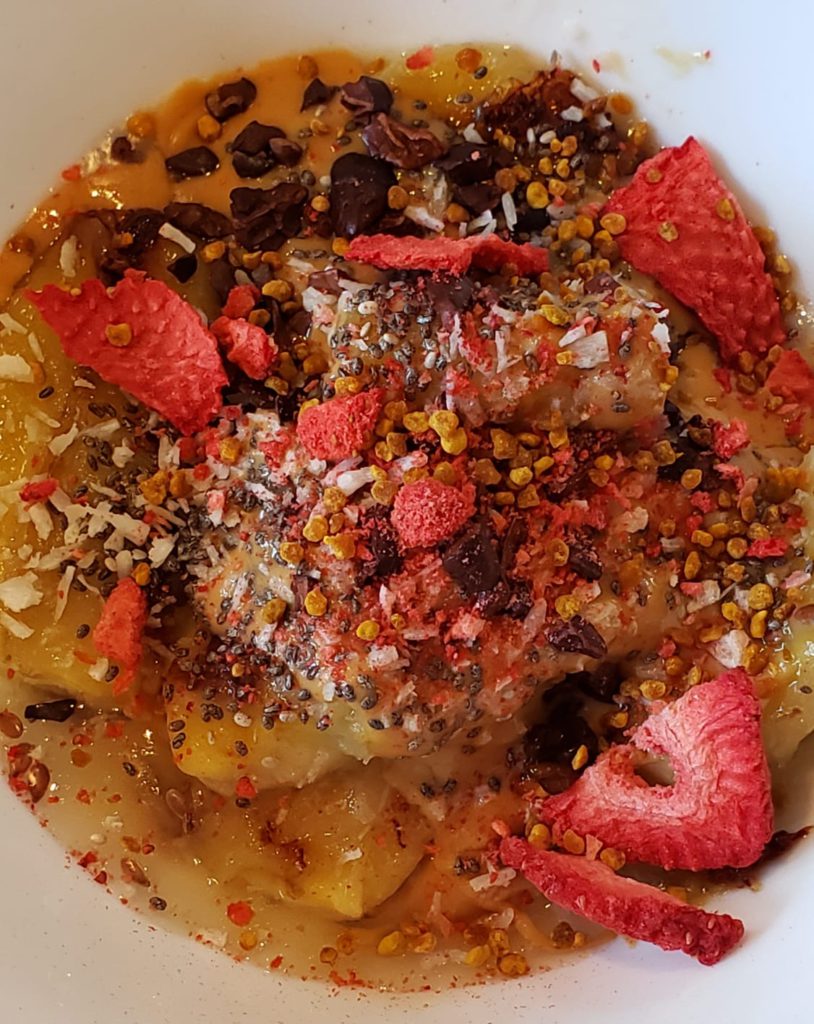 Lunch: Maximize Vitamins and Minerals with lean protein
Riced cauliflower with chickpeas and garlic mushrooms
Prep Time : 10 mins
Cook Time : 15 mins
Serves – 4
Ingredients
1 head of cauliflower (Fiber, antioxidants, packed with vitamins and minerals)
14 oz can of chickpeas (protein, folate, fiber) – you can alternatively soak ½ cup of dried chickpeas for 8 hrs
8 oz baby bella or any button mushrooms (protein, vitamins, minerals, and antioxidants)
4 tsp of finely chopped garlic
1 tsp of red chili flakes (reduce to ½ tsp if you don't prefer it spicy)
4 tsp of cilantro or parsley
1/2 small onion finely chopped (optional, but tastes great with mushrooms)
1 tsp of dried Italian herbs
2 tbsp of olive oil
Salt and pepper to taste
Method
• Wash and thoroughly dry the cauliflower, then remove all greens and the thicker stem portion of the cauliflower (freeze these to use in stock at a later time). There are two techniques for making cauliflower rice. You can either use a box grater with the medium-size holes traditionally used for cheese, or a food processor with the grater blade to blitz it into small pieces. If using the grater, chop the cauliflower into larger pieces you can hold easily. If using the food processor, chop it into smaller florets. With both techniques you're aiming for little pieces the size of rice.
• Heat 1 tbsp of olive oil in a large skillet over medium heat and add 2 tsp of chopped garlic and 1 tsp of red chili flakes. Sauté for 30 seconds and add the chickpeas. Saute for 2 minutes and add cauliflower rice. Use a lid to cover so the cauliflower steams and becomes more tender. Cook for a total of 5-8 minutes, stirring occasionally. Switch off the heat and stir in half the cilantro or parsley.
• While the cauliflower rice cooks, lightly rinse the mushrooms under cold water and thoroughly pat dry with paper towel and de-stem. Heat the other tbsp of olive oil over medium heat and add in the chopped onion if using and saute for 2 minutes. Add in the mushrooms and cook for 5 minutes until golden and crispy on the edges. Stir in the Italian herbs and the remaining 2 tsp of garlic. Cook for a further 30 seconds, until fragrant. Season generously with salt and pepper (to your taste). Sprinkle with remaining parsley and serve warm along with the cauliflower rice.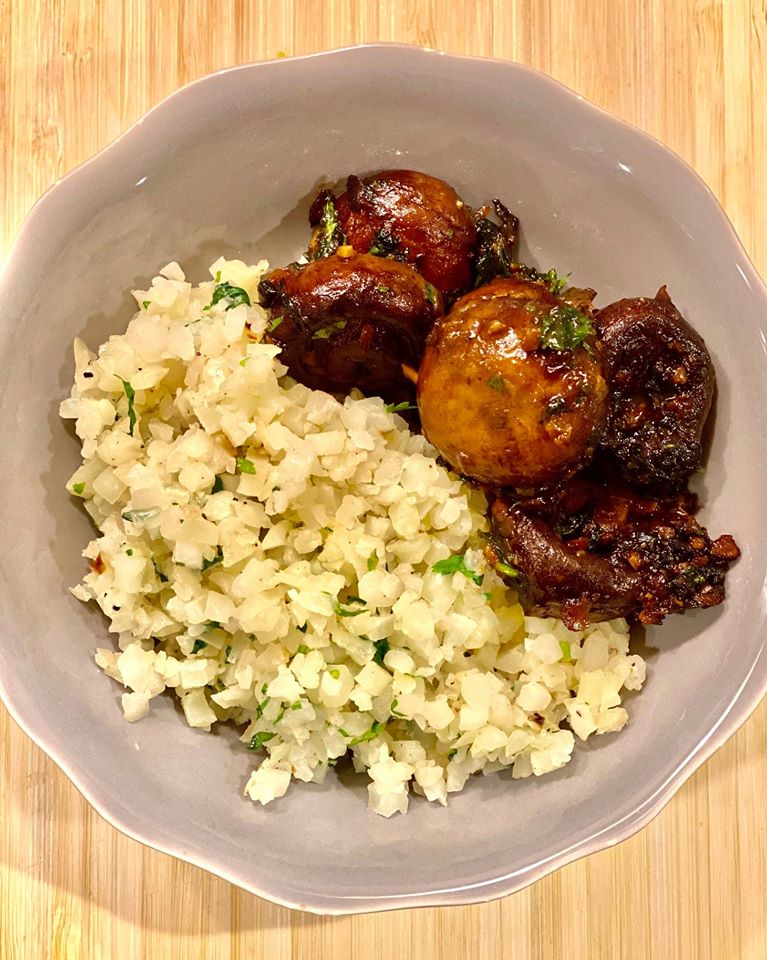 Dinner: Combine protein and good fats with green vegetables and probiotics to keep yourself satiated through the next morning
Kale and Quinoa Bibimbap with roasted Veggies and kimchi
Prep Time : 15 mins
Cook Time : 25 mins
Serves – 4
Ingredients
1.5 cups on uncooked quinoa (gluten-free, high in protein and fiber and one of the few plant foods that contain sufficient amounts of all nine essential amino acids)
1 bunch of cooking greens, cleaned and chopped – kale, spinach or chard (very low in cholesterol and good source of fiber, protein and chock full of all vitamins and minerals )
8 oz of any chopped vegetable – mushrooms, zucchini, bell peppers etc. (vitamin and mineral packed)
1 tsp each of finely chopped garlic and ginger (antioxidant and anti-inflammatory)
2 spring onions chopped and white and green parts separated
½ tsp of green chili, chopped
5 tsp of coconut oil, divided (healthy saturated fat)
4 tsp of cilantro
4 eggs (protein rich with healthy fats)
Salt and pepper to taste
Kimchi (pickled and fermented cabbage, great probiotic and antioxidant rich) – available in Asian stores, Whole Foods and specialty food stores. There are lots of recipes online and its simple to make, just needs fermenting time
Method
• Wash and drain the quinoa and add 2 ¼ cups of water and cook in a rice cooker (or on stovetop, bring to boil and lower flame and cook covered for 15 minutes)
• Heat 2 tsp of oil in a wok or cast iron skillet. Add the ginger, garlic and green chili when hot. Saute for 30 seconds and add in the white parts of the spring onions. Stir in chopped vegetable and the cooking greens and saute till the greens wilt, 5-6 minutes.
• Add in the cooked quinoa, salt and pepper and stir. Spread the quinoa mixture across the entire surface of the pan and spread the addition tsp of oil evenly across. Let the bottom of the quinoa get toasted and crackle, about 2 minutes on high heat. Switch off heat.
• Meanwhile crack open the 4 eggs into a frying pan with 2 tsp of oil. Keep the yolk intact and fry on medium flame till the egg whites are cooked and the yolks are still runny (this is my preference and typical method for bibimbap, cook eggs to your desired doneness). Season with salt and pepper
• Divide and scoop the quinoa into 4 bowl, top with one egg and the spring onion greens. Add in 1-2 tsp of kimchi or more. Garnish with chopped cilantro and serve hot.