Gujarati fasting foods are energy boosters often made with potatoes, tapioca pearls, peanuts, and millets.
Samo (Millet) Khichdi
Millet (Samo) – 1/2 cup
Ghee – 1 tbsp
Cumin seeds -1/4 tsp
Crushed peanuts – a handful
Ginger – ½ tsp (chopped)
Green Chillies (1-2 chopped)
Salt as per taste
Method:
In a pan add ghee and add the cumin seeds
Next add the millets, peanuts, chillies and ginger and sauté for 3-4 mins
Add 1 ½ cup of water and salt. Mix well. Cover with a lid and cook over medium flame for about 7-8 mins while stirring occasionally
Serve hot with side of curd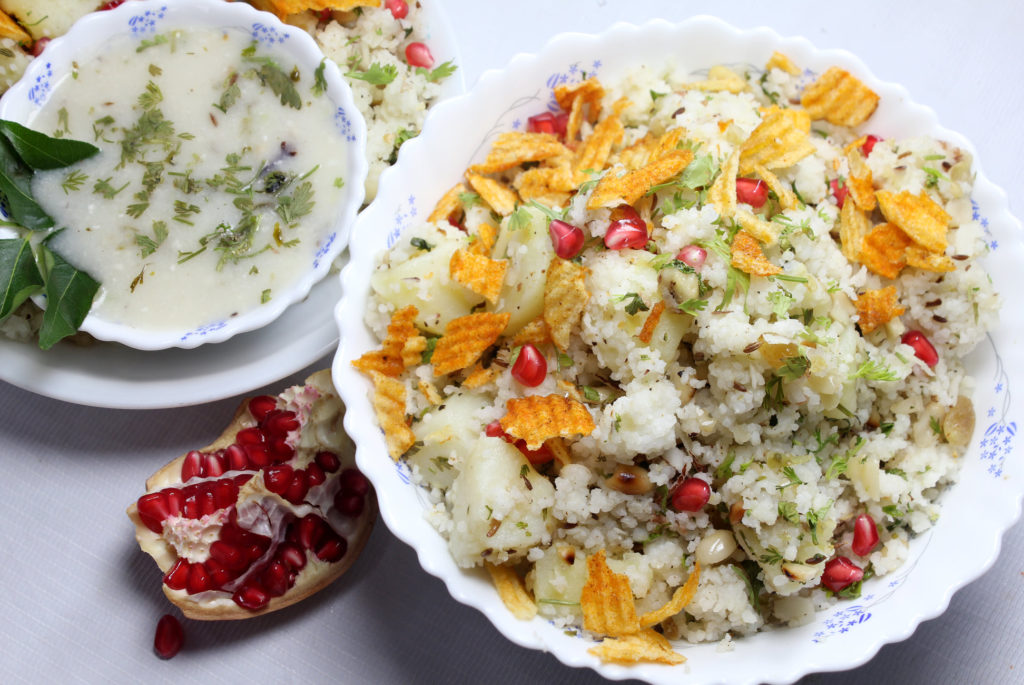 Sabudana Vada
Ingredients:
½ cup sabudana (tapioca pearl)
1 big potato boiled and cubed
1/4 cup peanuts crushed
1-2 tbsp. crushed ginger and green chillies
1 tbsp. sugar (can vary as per taste)
Handful of coriander chopped
1 tbsp. lemon juice freshly squeezed
Salt as per taste
Oil for deep frying
Method:
Clean and wash sabudana then soak in water for 10-12 hours (ideally overnight)
Dry roast the peanuts, remove the skin and make a coarse powder of half of them and crush another half.
Check soaked sabudana, there should not be any water left yet the pearls should be soft when pressed. You could also microwave it for 3-4 mins to make it softer.
In a bowl add sabudana, mashed potato, peanuts, chilli-ginger, coriander, sugar, lemon juice and salt.
Combine and make a stiff but fluffy dough by mixing it with your hands.
Apply little oil on your palms and divide the mixture into equal portions.
Make round vada and leave it aside.
Heat oil in a kadai on medium heat; carefully and deep fry the vada. Do not flip it straight away, after a couple of minutes carefully flip the vadas using a slotted spoon. Fry until medium brown all over.
Remove it using a slotted spoon. Soak the oil with paper napkins before serving.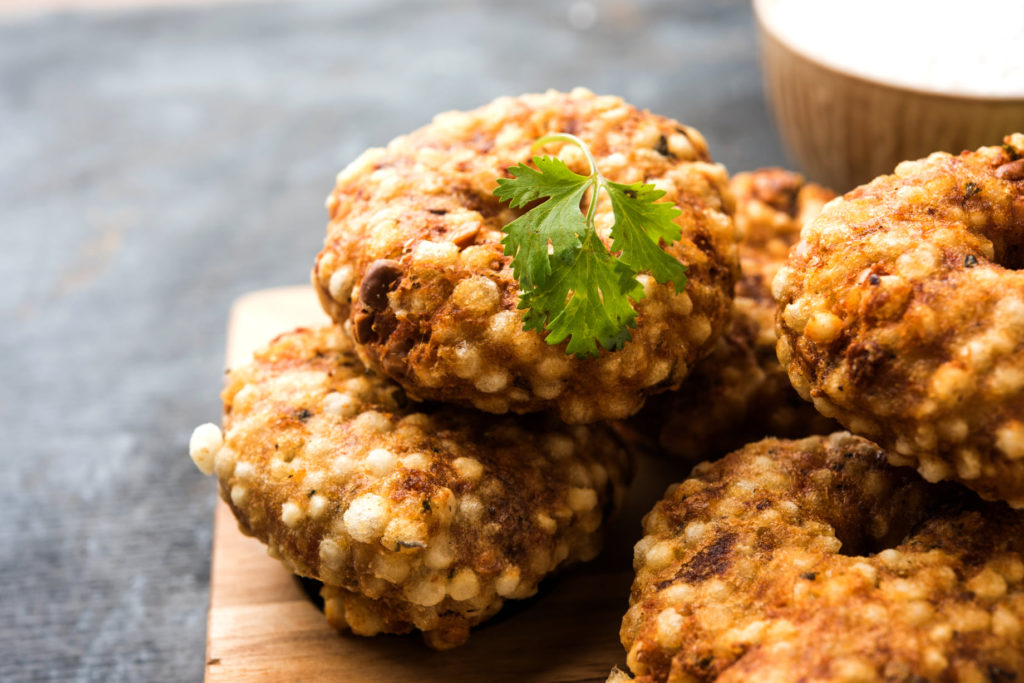 Suran Nu Shaak (Yam Stir Fry)
Ingredients:
500 Grams Boiled & Diced Yam (Suran)
1-1.5 Teaspoon Green Chilli Paste
1-1.5 Teaspoon Roasted Peanut Powder
1 Teaspoon Cumin Seeds
8-10 Curry Leaves
Juice of 1 Lemon
1 Teaspoon Sugar
Salt
Oil
Method:
Heat oil and add cumin seeds, curry leaves, green chilli paste and fry well.
Now add roasted peanut powder and stir well.
Add boiled yam and mix well.
Add salt, lemon juice, sugar and mix well.
Close lid and cook for 2-3 minutes.
Open lid and add some coriander leaves. Suran Nu Shaak is ready to eat.
Serve with Bhakri or Puri (the ones specially made while fasting for Navratri)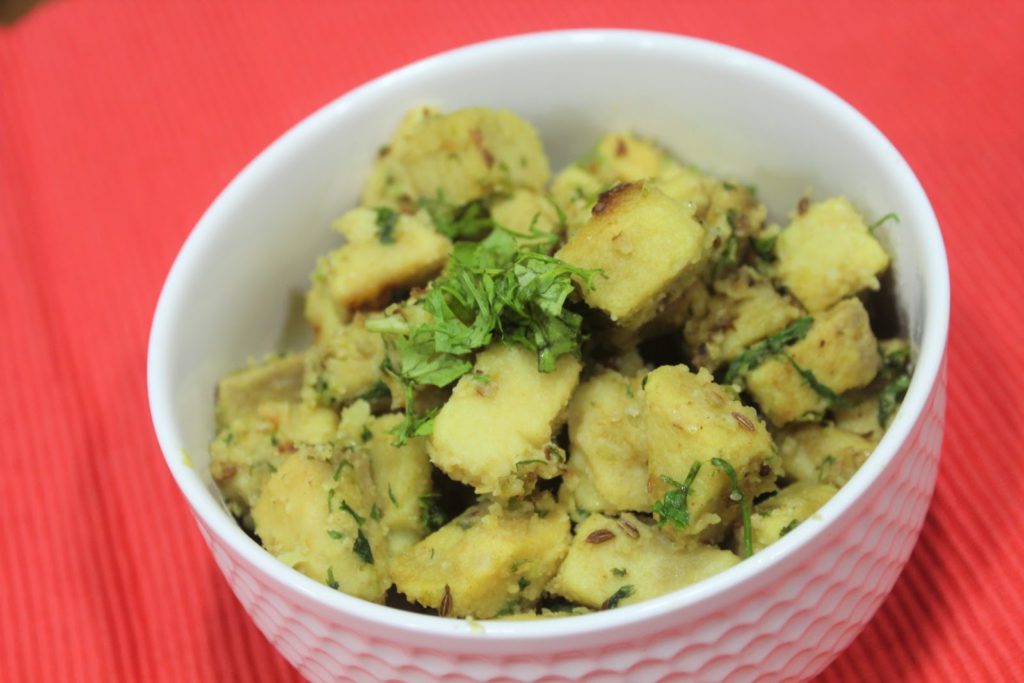 Farali Dhokla (Savory Rice Cakes)
Ingredients:
1 cup Samo (Millet)Rice/ Vrat Ke Chawal
1 tsp Ginger Chilli Paste
1 ½ Cup Buttermilk
½ Lemon Juice
1 tsp Eno Fruit Salt
Salt to Taste
For Tadka:
2 Boriya Chillies (Round Red Chilies)
1 tbsp Sugar
Few curry leaves
2-3 tbsp water
For Garnishing
Grated Coconut
Coriander Leaves
Method:
Warm the butter milk for 30 -40 secs
Wash the Samo properly and mix the buttermilk and keep the mixture aside for half and hour to soak
Blend the mixture just once or twice
Boil a pot of Water, also grease the plate with oil
Season the batter with Ginger Chilli Paste, salt, lemon juice and Eno fruit salt and mix the batter properly
Pour the batter into the greased Plate and give it a light stir
Keep the plate over the boiling water for 15 minutes
After taking the plate down, let it cool down for 15 minutes and cut the batter into pieces
For Tadka –
Add oil until it heats, then add Boriya Chillies, Curry leaves and water and little bit of Sugar
Pour the Tadka over the Dhokla
Garnish it with Coriander leaves and freshly grated Coconut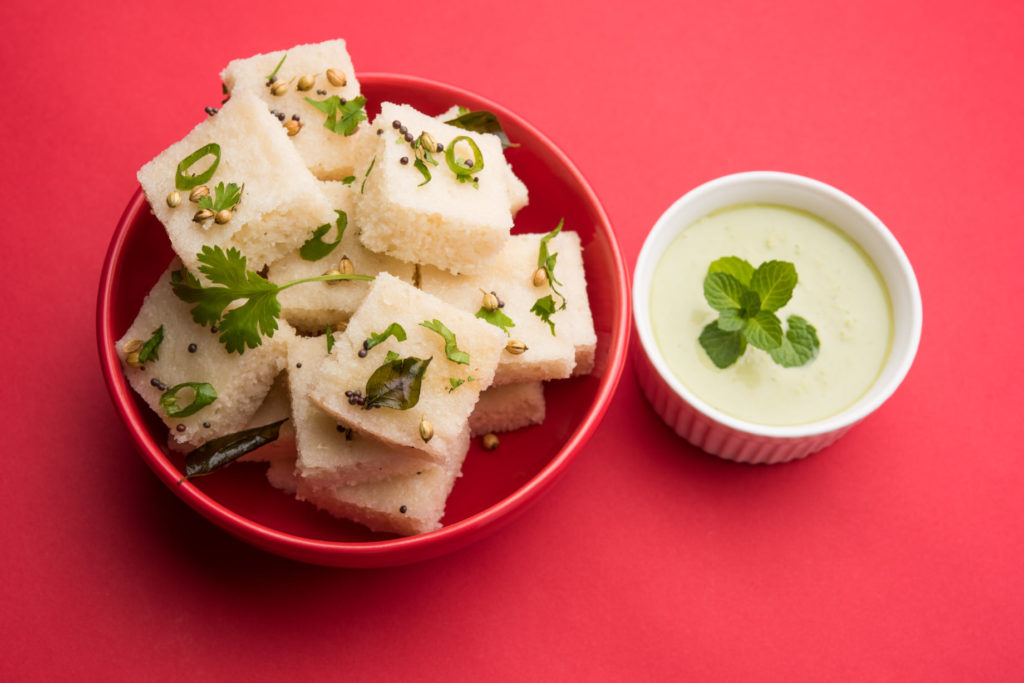 Sabudana Kheer (Tapioca Pearl Pudding)
Ingredients
250 gm Sabudana (sago/tapioca pearls)
150 gm Sugar
1.5 litre Milk
2 tbsp Almond (chopped)
2 tbsp Cashew nuts (chopped)
1tsp cardamom powder
Method
Soak Sago pearls in water till it deep for 20-25 minutes.
Boil milk and add sugar in another pan till sugar melt in milk.
Mix sago pearls and milk at slow flame and stir well.
Cook for 4-5 minutes at slow flame.
Garnish with almond and cashew nuts.
Refrigerate for 2-3 hours.