The holidays in NYC begin at Rockefeller Center. Located in the heart of midtown Manhattan, Rockefeller Center holds a prominent place in the city's folklore and culture. Whether you want to enjoy spectacular views of the Big Apple from Top of the Rock, or visit the Christmas tree, or practice your best moves on the ice skating rink, or catch a performance at Radio City Music Hall, an iconic family-friendly experience awaits.
Rockefeller Center Christmas Tree
For more than eight decades, the Rockefeller Center Christmas Tree has stood as a holiday beacon for New Yorkers and visitors alike. While the lights, decorations, and stars have changed through the years, visiting the Tree remains a quintessential New York experience. To know more about the history of the Christmas tree lighting visit Rockefeller Centre's official website.
Every year on December 1 Rockefeller Center kicks off the holiday season in New York City with the lighting of the Christmas Tree, considered the "worldwide symbol of Christmas,". The stunning lighting ceremony takes place at 45 Rockefeller Plaza for all to see, bringing a festive glow and holiday cheer to the area.
This year's tree — a 79-foot tall Norway Spruce — has been decorated with 50,000 lights and topped with a dazzling 900-pound star made with 3 million Swarovski crystals after being brought to Manhattan from Maryland on a flatbed truck last month.
Dining at Rockefeller Center: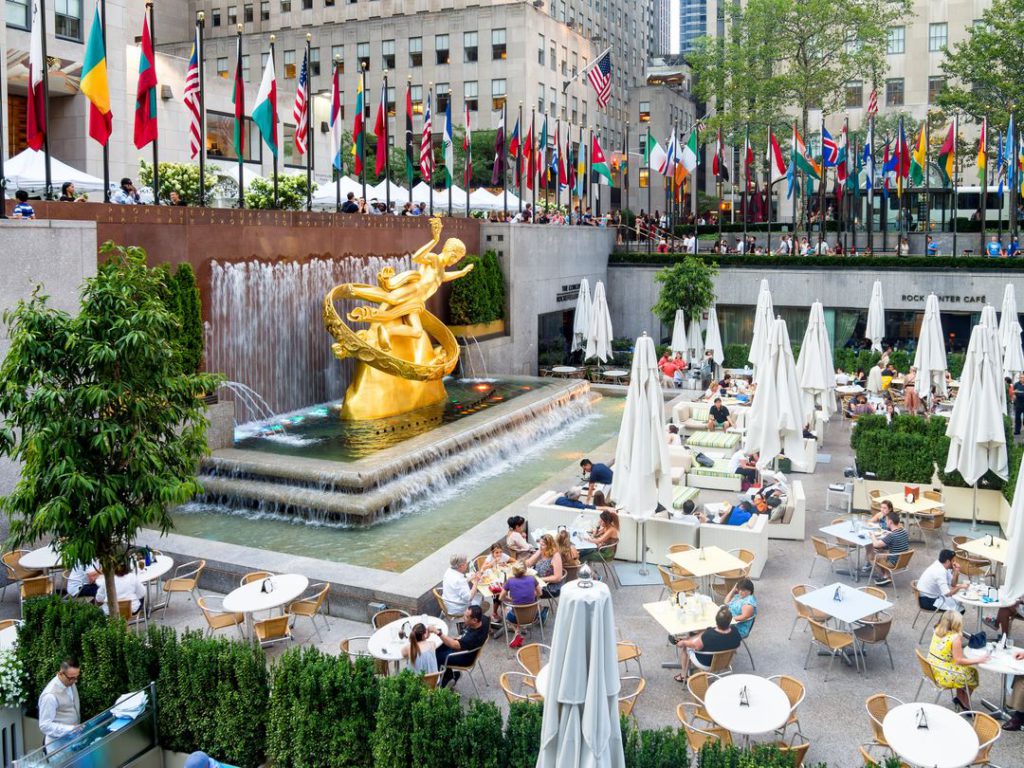 Between the tree lighting, ice skating and catching the Rockettes Christmas Spectacular at Radio City, fuel up at one of these delicious restaurants nearby. From steak to desserts, Rockefeller center has plenty to offer the tourist (or local) looking for a great dining experience.
1. Ace's Pizza: Ace's Perfect Pizza is now available on the Rink Level at Rockefeller Center. Serving both Sicilian and Detroit style pizza through the holidays.
2. Beatnic: Beatnic offers a creative plant-based menu of house-made burgers, sandwiches, salads, and baked sweets.
3. Chipotle: Chipotle Mexican Grill restaurant offers a complete menu of fresh made-to-order gourmet burritos, tacos, fajitas, and salads with barbacoa, beef, chicken, carnitas (shredded pork) or vegetarian fillings.
4. City Winery: An outdoor pop-up wine garden operating 7 days a week, City Winery serves locally-crafted wine on tap. There is also a Mediterranean-inspired menu of charcuterie, cheeses, burrata and other offerings that will complement your experience.

Must Read: Eat Your Way Through New York's Gastronomic Delights | Travel and Food Guide
5. FieldTrip: A community-based dining experience that celebrates culture through the shared experience of rice. Try varieties like the crispy fish with cilantro-lime rice and cornmeal-crusted cod, fried chicken with Carolina Gold vegetable fried rice and veggies with basmati rice, all $12 and under.
6. Limani: This Greek/Mediterranean spot favors fresh fish and Hellenic home cooking, dishing out mains like wild black bass for two and char-grilled lobster with broccoli rabe and feta in an all-white, modern space.
7. Lodi: Fashioned after Italian cafes, look out for their selection of baked goods, cured meat and cheese, more antipasti like marinated mussels and larger plates like braised beef with potato purée and gremolata.
8. Magnolia Bakery: Magnolia Bakery offers freshly baked, classic American desserts, including cupcakes, cakes, banana pudding, cheesecakes, muffins, pies, cookies and brownies, as well as a range of coffee, tea and iced beverages.
9. Rainbow Room: Rainbow Room has been a New York City classic since it's opening in 1934 and is often the first choice to celebrate evening sundowners, special occasions, Sunday brunches, and rightly so. The sheer amount of food choices (seafood to meats, salads to vegetarian fare, and desserts to coffee), a revolving dance floor, combined with breathtaking views of the New York skyline epitomizing quintessential New York glamour, rising 65 stories above the landmark Rockefeller Center to host unforgettable moments, is an experience not to be missed.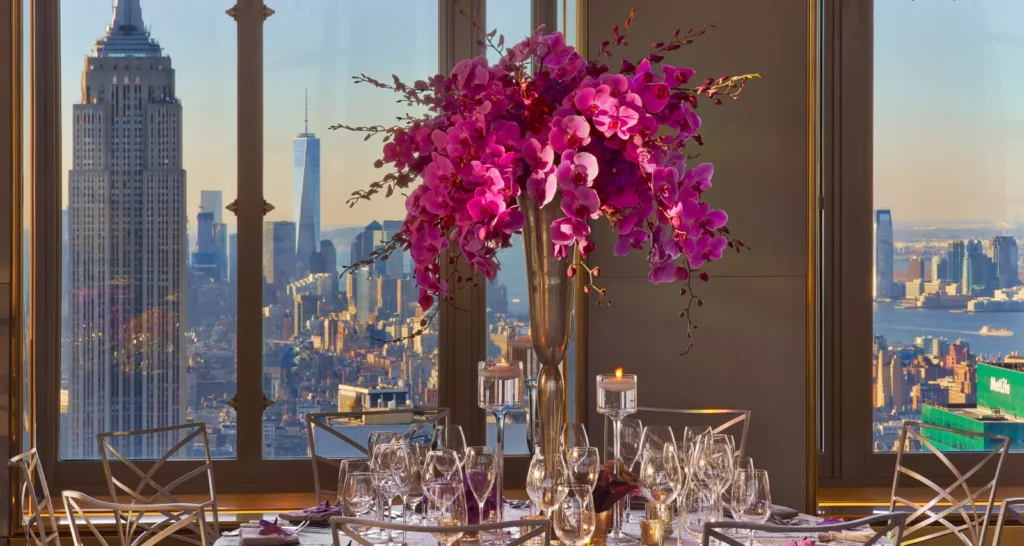 10. Starbucks Coffee: High quality, whole bean coffees are sold along with fresh rich-brewed, Italian style espresso beverages, a variety of pastries and confections, and coffee-related accessories and equipment.
Other Stunning Christmas Window Displays On Fifth Avenue
1. Saks Fifth Avenue Holiday Light Show: Located across the street from Rockefeller Center, the Saks Fifth Avenue light show and holiday window installation takes place at the New York flagship store at 49th Street and 5th Avenue, and is on display through the end of December. This year, the light show features a dazzling display of over 700,000 programmed LED lights on the 10-story facade of the building.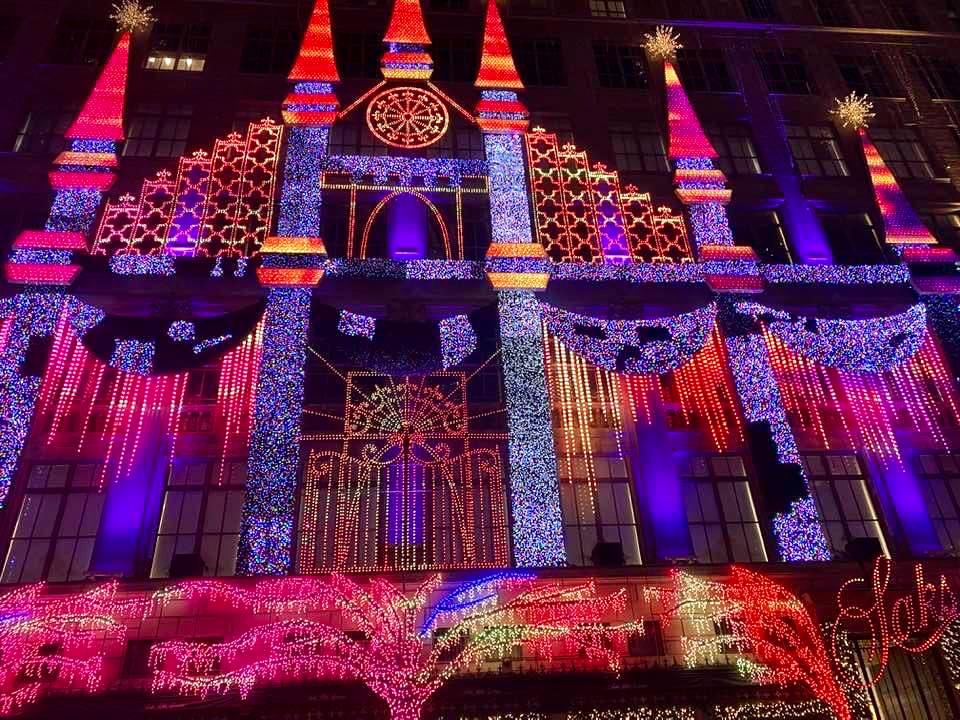 2. Cartier: Nothing beats the sensation of seeing a red Cartier box sitting under a Christmas tree. But what does come close is looking at the larger-than-life, sparkling red ribbon that wraps around the jeweler's Fifth Avenue store.
3. Bergdorf Goodman: Bergdorf Goodman is back at it with more eye-popping window displays this year all based on the theme "The Present Moment." Each window is a vignette that highlights celebration, discovery and mindfulness through playful and painting-like scenes, from mannequins hanging out on fire escapes with city cats to a window full of all kinds of fabulous flying animals and insects.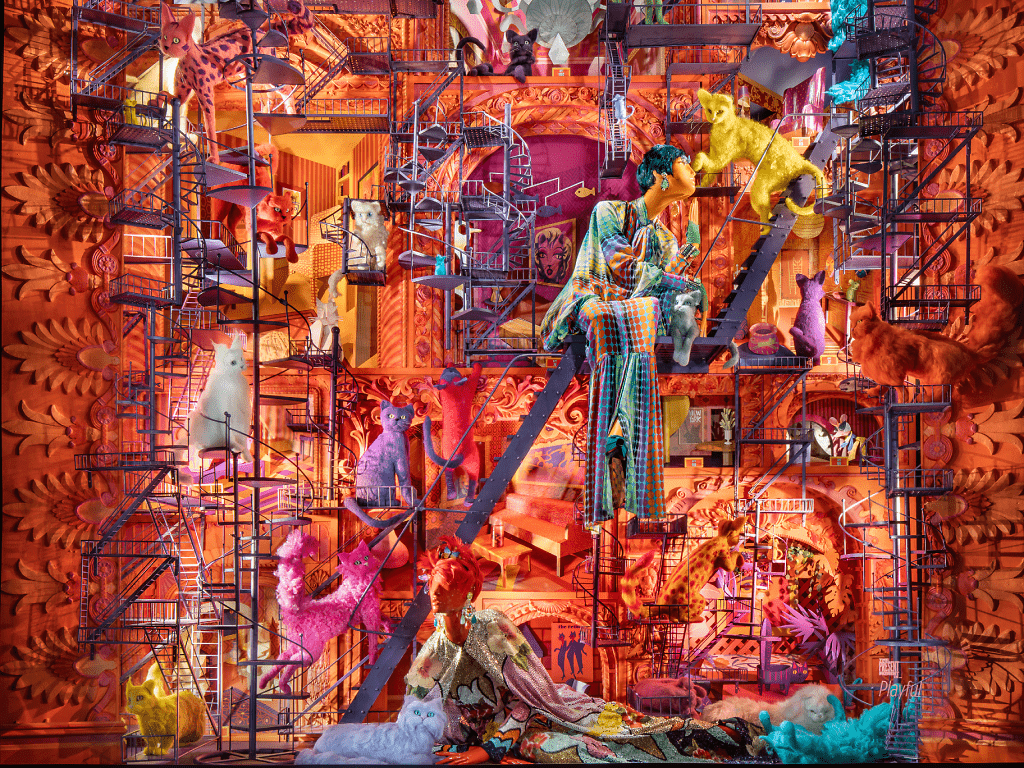 4. Louis Vuitton: Is it really Christmas without a tree? Louis Vuitton doesn't think so, which is why the luxury retailer has placed a towering and artful replica of an evergreen on its Fifth Avenue store. And to continue with the metropolitan arboretum theme, the window displays contain other re-creations of tree species that are situated alongside the brand's iconic trucks, new accessories, and straight-off-the runway styles.
5. Make It Bright Installations: This year, Fifth Avenue Association, has launched its Make it Bright campaign by installing a series of brilliantly festive, larger-than-life classic toy sculptures along the Avenue for all to enjoy!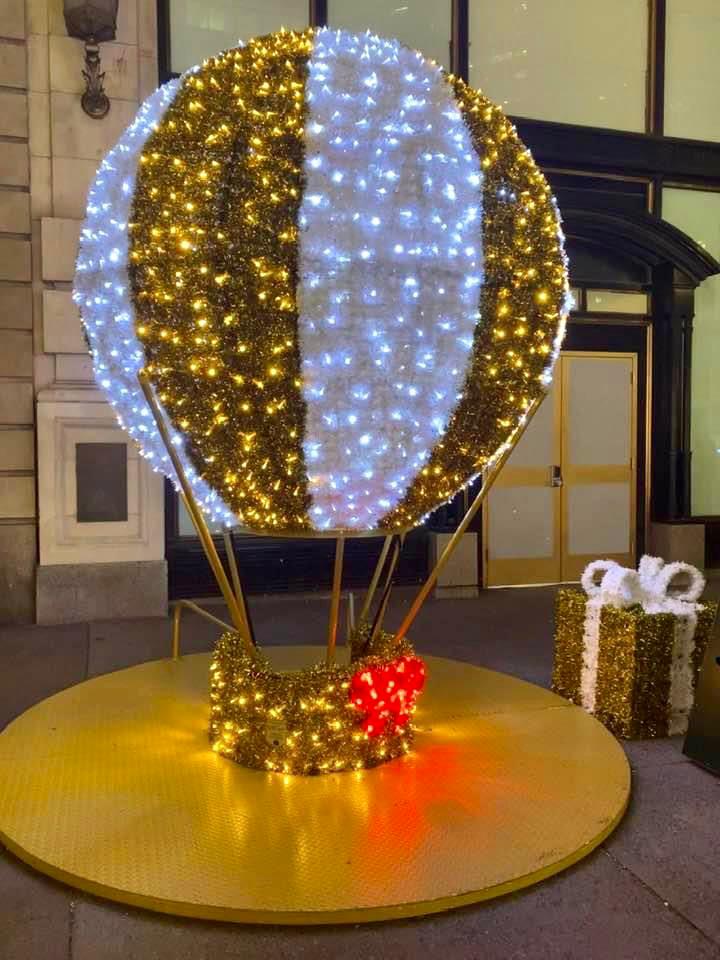 Expect to be wowed by the art pieces which range from five to eight feet tall and feature everything from a classic New York City taxicab and a giant teddy bear to an old fashioned Christmas tree delivery truck, a life-sized dreidel, a snowman pilot and more!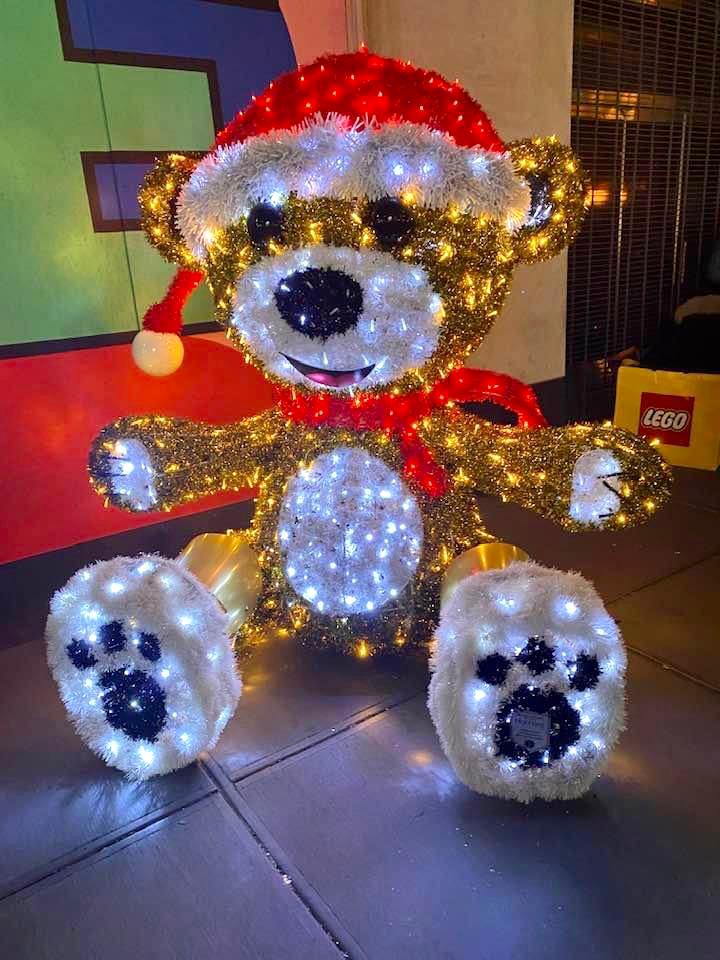 Source and Images: Rockefeller Centre
For latest travel news and updates, food and drink journeys, restaurant features, and more, like us on Facebook or follow us on Instagram. Read more on Travel and Food Network
Trending Now on TFN
Video | 10 Best Christmas Markets Around The World
Essential Travel and Food Guide To Santa Claus Village, Finland
10 Best Places To Celebrate A White Christmas In India
Eat Your Way Through New York's Gastronomic Delights | Travel and Food Guide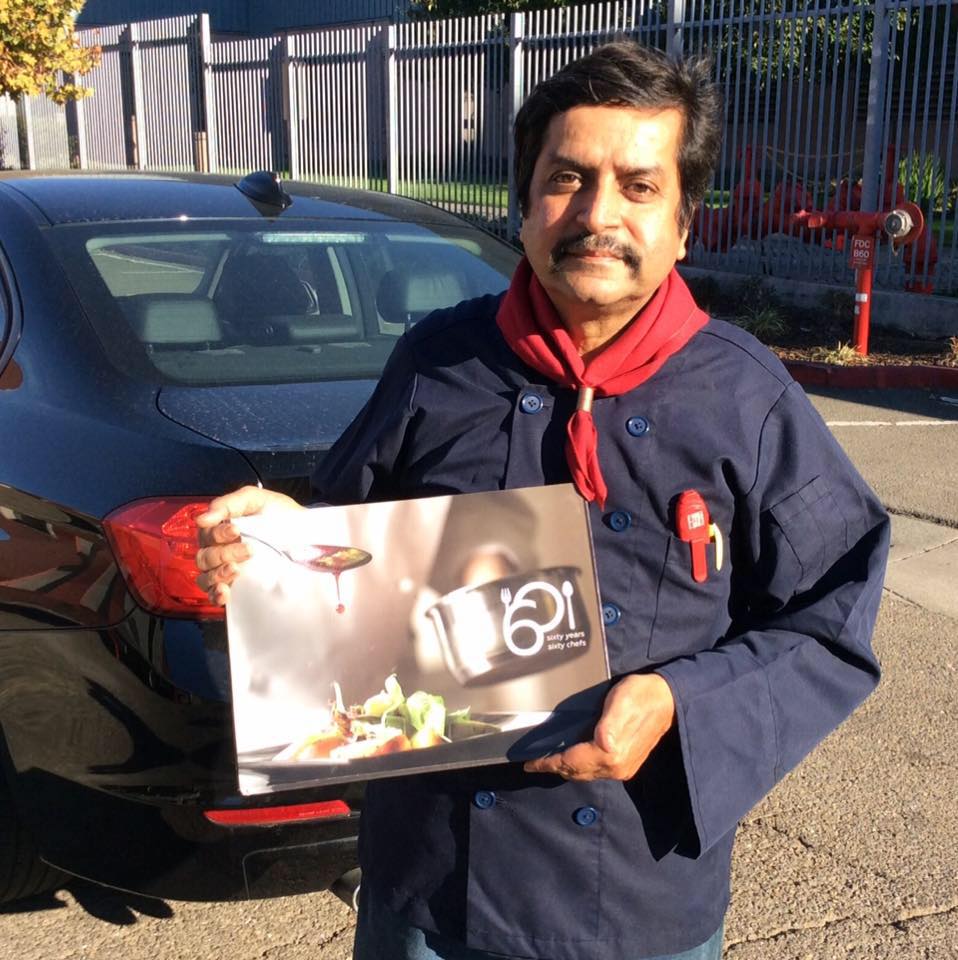 Manoj Chopra or "Chops" as he is known to his friends and colleagues is a chef, restaurateur, and hotelier, and has had the joy and satisfaction of cooking, serving and watching people enjoy his food for over 40 years! As a 'Punjab da puttar', the joy of hearty, home cooked food is in the genes; all he had to do was to live up to it! Manoj Chopra's  journey has been fascinating, to say the least, and from cooking a meal for one of India's most famous leaders to a stint in Baghdad, to setting up a hotel in Mumbai to starting an Indian restaurant in San Francisco, "Chops" has done it all and more.
Manoj  lives in New York and is excited to be a part of The Foodie Network as a mentor! Sharing his experience and knowledge is something he is hugely passionate about and to be part of The Foodie Network "community" gives him a chance to do just that.