Hoi An Ancient Town is a reflection of Dutch, Portuguese, and Continental influences. Photo Courtesy: VietJet Air
Hoi An, Da Nang, and Hue are known for their offerings of charming cafés, lazy lagoons, and centuries-old history. Here is how to savour the region's biggest hits.
Hoi An
Heritage Haunt
Bright, colourful lanterns are strung from timber-frame structures that flank both sides of the alleyways, and a canal zips through the town's centre. Visiting Hoi An Ancient Town feels like partaking in the Festival of Lights, only on a daily basis. Before it became a tourist magnet in recent years, the quarter in Quang Nam province was once a popular trading port for Japanese, Chinese, Portuguese, and Dutch merchants dealing in silk, ceramics, and spices between the 15th and the 19th centuries. Today, the UNESCO World Heritage Site is a nod to a well-preserved mashup of cultures—local and foreign—which is evident in ornate Cantonese temples, Dutch and French colonial homes, wooden shop houses, and the 17th century-built Japanese Bridge (etched on notes of VND 20,000). Cash in on the opportunity to get custom-made ao dai—traditional Vietnamese apparel—from any of the local tailor shops in only 24 hours or hunker down on tiny red stools and sip on fresh brews by street-corner stalls, there is no wrong choice here. While daytime is charming, an evening stroll through the lanes is downright romantic.
Coracle Calls
Fishermen by dawn and boatmen by noon, such is life for locals in Cam Thanh region, commonly known as Coconut Village. The site, situated merely six kilometres from Hoi An Ancient Town, is widely popular for their offering of the bamboo-basket boat ride. Navigate palm tree-dotted canals on eco-friendly coracles, whilst boatmen entertain by dancing to head-spinning tunes and casting fishing nets in the waters. If you want the complete adrenaline experience, request a dizzying twirl that feels like being caught in a whirlpool. Tipping at the end of the excursion is considered polite.
Bold Bites
Pho requires no introduction and is slurped by bowlfuls all over Vietnam, but Hoi An is home to regional delicacies such as the delicate, shrimp-stuffed white rose dumplings (banh bao banh vac); onion, turmeric, and coriander tossed chicken rice (com ga hoi an); and thinly sliced soy-simmered pork, herbs, and wide rice noodle mix called cao lau (pronounced gaow laow). Although lotus seed sweet soup infused with water chestnut or litchi (che vai hat sen) isn't native to the place, it must not be missed. For a set seafood menu that includes specialties such as toasted crayfish bathed in butter and garlic, steamed squid, and sweet-and-sour shell broth, a reservation at Golden Light Restaurant on Hai Ba Trung street is recommended.
Temple Touring
My Son (pronounced mee saw, meaning "beautiful mountains") Sanctuary is a portal to the region's ancient history. A cluster of Hindu temple ruins from 4th and 13th centuries are scattered across the open, tree-lined landscape surrounded by Cat's Tooth Mountain (Hon Quap). Interestingly, the UNESCO World Heritage Site is the erstwhile capital of the Champa Kingdom of the Cham people, whose spiritual origins were rooted in Hinduism. The windowless structures with a sole east-facing door are made of fired bricks held together with a mixture of resin and a secret ingredient. It is common to sight Shiva statues placed on lingas, and some idols that are missing a head on their shoulders either as a result of being at war with rival kingdoms or from being attached to precious jewels on crowns. Intricate details of Hindu mythology play out in the architecture, while their now-extinct script, which bears close resemblance to Sanskrit, is etched on stones. If this piques your interest, make a pit stop at the Cham Museum in Da Nang, which houses a huge collection of the dynasty's carefully preserved relics found over 10 centuries.
Da Nang
Beach Bumming
Of Vietnam's 3,260-kilometre coastline, Da Nang occupies 35 kilometres stretching between Hai Van Pass and Non Nuoc. Base yourself near My Khe Beach and get rewarded with varying landscape views, where blue waters sit in juxtaposition with faraway mountains. Watch the sunrise from the shore, bring out the surfboards and catch the big waves, or grab a delicious banh mi from a nearby food stall and hang back until sunset—time moves at a snail's place when there's nowhere else you'd rather be. Make sure to also check out any of the plentiful eateries within walking distance.
City of Bridges
Predominantly a beach resort city, Da Nang is also famed for some of the country's most iconic bridges. The 2,185 foot-long Dragon Bridge, opened only in 2013, frames the Han River and has quickly become a favourite among shutterbugs. Come weekends at 9 p.m., the "dragon" breathes fire and water, putting on a spectacular show that is best relished from the rooftop sky bar at Happy Yacht docked near Love Pier.
It'd be a shame not to sneak a quick trip to Sun World's Ba Na Hills, located half an hour west of the city. As you ascend 1,487 metres above sea level in the world's longest non-stop, single-track cable car ride, at over 19,000 feet in length, swathes of the engulfing Truong Son Mountains come into view and the temperature suddenly plummets by a few degrees once you alight on the amusement park-cum-resort hill station. Be warned, its most famous attraction is also by far its most crowded; walk the 500-foot long Golden Bridge (aka the "Hand Bridge")—a curving pedestrian bridge that appears to be held up over the world far below by two giant stone hands. The adjoining French Village enchants with a French Gothic-style cathedral, French restaurants, and cobblestoned streets, while an indoor amusement park is a field day for kids. While you're there, polish off unlimited Vietnamese and European noshes at the two-storey buffet starting at only VND 2,50,000/₹850.
Flavour Ferris
Mi Quang, which literally translates to "Quang Noodles", is a textural tour de force and a true taste of the province. The yellow-tinted flat rice noodles are perfumed with a bed of fresh vegetables and Vietnamese herbs, blended with a small but intense dose of pork or chicken stock. The dish is ubiquitously found on local menus. If it is sea-spread that you're after, snap up a table at Brilliant Seafood, whose selection of live catch ranges between mantis shrimp, tiger prawn, crab, long-legged spiny lobster, Korean flounder and scallops, among others.
Hue
One for the Road
The allure of a scenic route mustn't be lost upon a road tripper in Vietnam. At the confluence of Da Nang in Quang Nam province and Lang Co in Thua Thien Hue province, lies the 21-kilometre stretch of Hai Van Pass. The mountain road snakes and climbs up to 500 metres above sea level and runs in tandem with the ocean and white sand strips of Lang Co village below. En route to the city of Hue, you'll encounter open fields and the cloud-mirroring, 800-hectare brackish water of Lap An Lagoon—a sleepy fishing village and a popular spot for weekend getaways from Da Nang. The landscape needs to be seen to be believed.
Hark Back to History
For centuries, Hue prevailed as a political stronghold in the region and was also the seat of the Nguyen Dynasty between the 16th and the 20th centuries. Traces of its history are evident even today in moss-coated pagodas and Art Deco mansions with modernisation interjecting in the form of open parks, commercial markets, and traffic-devoid roads. The Imperial City of Hue must not be missed for its fortress and palace, the grandest of its kind in the country, spanning 10 kilometres in circumference. At Khai Dinh Tomb in Chau Chu mountain, one can see the resting place of Nguyen's Dynasty's 12th and last ruler—Emperor Khai Dinh (1885-1925). The complex—which took 11 years to build and was completed in 1931, six years after the king's death—is modelled on the Chinese philosophy of feng shui, and is adorned with iron, steel, roof tiles, porcelain and collared glass from France, China, and Japan. A stop at the 19th-century Tu Duc tomb on Van Nien Hill provides an insight into Emperor Tu Duc's life of imperial splendour, which he shared with his 104 wives and many concubines, although he fathered no children. The area is occupied by a pond, pavilions, chambers, courtyards, and a belying "tomb", where the emperor and his treasures were supposedly buried. The real site is a well-guarded secret, and consequently, all 200 servants who buried Tu Duc were beheaded. The nearby Thuy Xuan incense village is a visual and olfactory overload. The scented incense sticks make for great souvenirs to bring back home.
Dine like a King
It is no secret that Hue was home to blue bloods, and now, its descendants. The region prides itself on mostly-vegetarian produce—devoured by aristocrats of yore—which featured in royal kitchens, and the traditional eventually made its way into many contemporary cafés. The family-run An Nhien Garden Vegetarian Restaurant & Cafe is a case in point and its ambiance is as refreshing as it is innovative. The garden setting is welcoming with al fresco seating and artworks sprawled on neatly manicured lawns. The indoor space is rather cosy and private. The real winner is the menu, which features only handmade ingredients with the exception of soy sauce. Dig into vegetable-stuffed rice sheet rolls dipped in peanut sauce—a house favourite appetiser—before moving on to the crunchy lotus seed rolls. The intricacy of sesame bamboo salad is topped by the simplicity of lotus seed rice, while chunks of cashews garnish the pineapple rice that comes undone in citrusy glory. But it is the violet rice cakes elevated with a generous drizzle of fish sauce that seals the deal. For a taste of nobility, try the king bean sweet soup, which was exclusively relished by noblemen in the past.
The Language of the Lagoons
Luckily, the region's palate extends beyond the likes of all-vegetarian fare. Take a ferry ride across the brackish waters of Tam Giang Lagoon in Phong Dien in time for sunset. Fishermen will direct you to unassuming seafood restaurants built on stilts, where the menu takes a lagoon-to-table approach. Fish pancakes along with prawns, crabs, and scallops cultivated in the waters below are freshly cooked and served with a choice of condiments that will leave you licking your fingers clean.
Reverie by the River
There truly is no better way to kick start the day than by setting sail across the Huong River as it slices through the heart of Hue. The waterbody, monikered the Perfume River, flows through myriad forests, collecting sweet-scented orchids along the way in autumn before reaching the city. Watch the region slowly wake up in time for sunrise, but don't be surprised if you see locals already having plunged in for a cold swim.
Before Midnight
In Hue, perks of after hours extend beyond the scope of a weekend. Head out to the main district and eat your way through Dong Ba Market before dropping in at Ta Vet Pub (or any of the adjoining bars) in the lively Vo Thi Sau Street for a cold beer that will set you back by VND 18,000/ ₹60. If you're craving a kick of caffeine instead, sip on salt coffee—a Hue specialty—or the Hanoi invention of the creamy ca phe trung (egg coffee) that are just as sought after here. After all, Vietnam is the world's largest coffee exporter second only to Brazil.
ESSENTIALS

Getting There

VietJet Air offers direct flights between India and Vietnam connecting cities such as Mumbai, Delhi, Bengaluru, Hyderabad, and Ahmedabad with Da Nang, Ho Chi Minh City, Hoi An, and Phu Quoc. www.vietjetair.com

Where To Stay

Almanity Hoi An Resort & Spa is located a stone's throw away from Hoi An Ancient Town. My Khe Beach-facing Rosamia Hotel is centrally located and easily accessible from most places of interest in Da Nang. Huong Giang Hotel Resort & Spa is perched on the banks of Perfume River. Vietnam also prides itself on budget-friendly hostel accommodations for backpackers and solo travellers starting at as little as $4/₹330 per night.

This feature also appeared in National Geographic Traveller India
For latest travel news and updates, food and drink journeys, restaurant features, and more, like us on Facebook or follow us on Instagram. Read more on Travel and Food Network
Trending on TFN
The 23 Best Places To Go In 2023
Explore Utah's Mighty 5® and What Lies in Between
Five Epic U.S. National Parks To Visit This Year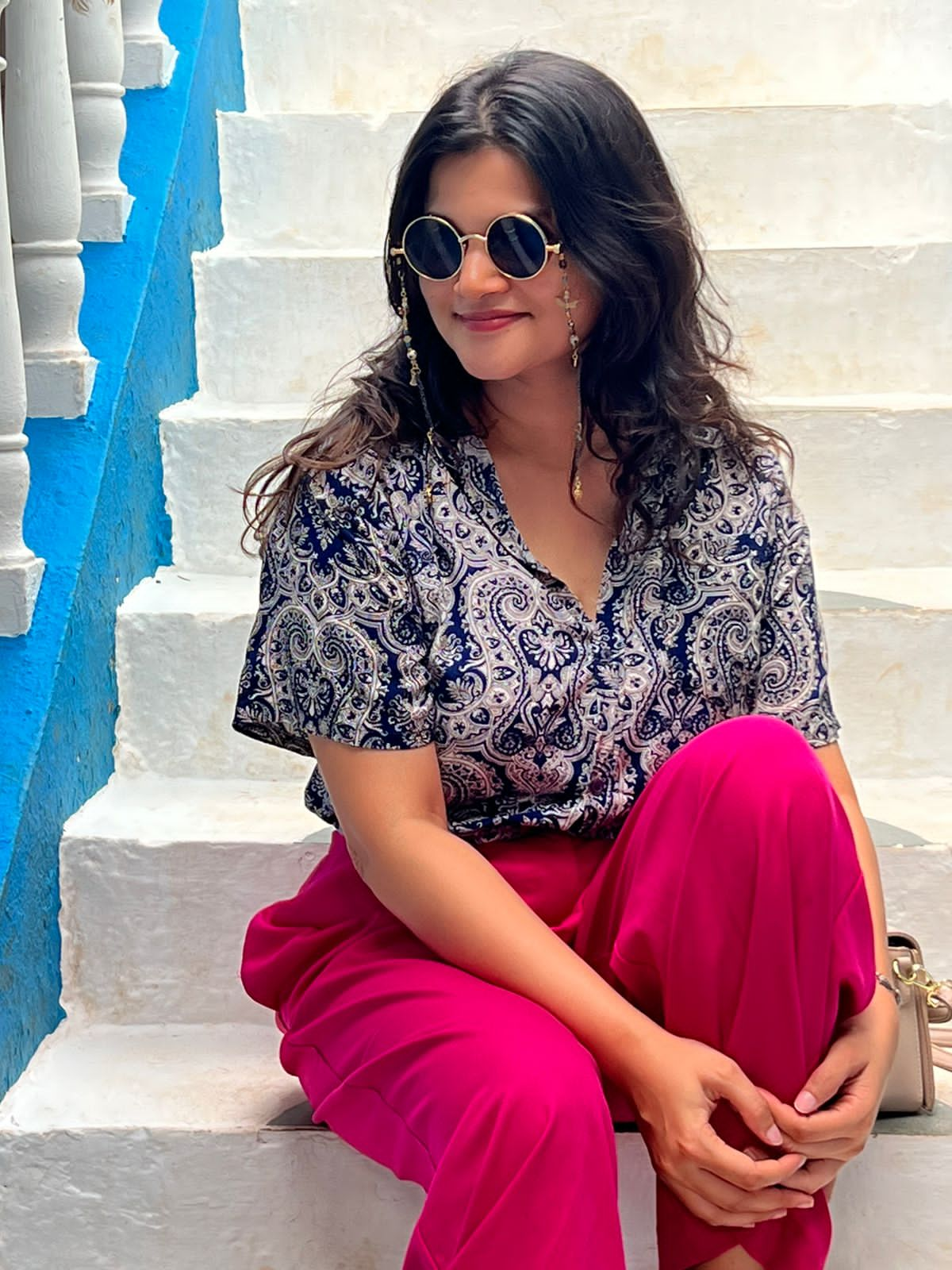 Pooja Naik is a Mumbai-based journalist with a penchant for food, art, and adventure. Her affinity for travel has often led her to many cultural crossroads, whereby she savoured butter tea with the resident monks at Thiksey Monastery in Ladakh and guzzled an indigenous produce of green ant gin at a local's behest in Australia. Her work has appeared in National Geographic Traveller Ind