Kasba Ganpati, Photo Credit: Maharashtra Tourism
The sound of "Ganpati Bappa Morya" chanting reverberates in the air, the scent of fresh flowers fills the streets, and the majestic and divine statue of Lord Ganesha simply mesmerizes us. That is the extravagant Ganesh Chaturthi festival.
Ganesh Chaturthi, also known as Vinayak Chaturthi is the day when devotees of Lord Ganesh, the god of wisdom and good fortune, mark his birth. The auspicious ten-day Hindu festival is observed in the lunar month of Bhadrapada, which falls during the months of August and September. This year, Ganesh Chaturthi will be celebrated on August 31 and will conclude on September 9 with the most prominent spectacle, the Ganesh Visarjan.
Ganesh Utsav is celebrated with a whole lot of grandeur and pomp all over the country and the public celebrations include installing huge clay idols of Ganesha in public pandals. On the day of the festival, pujas and aartis are performed with family and friends, where local delicacies are offered to the deity. At the end of the long festival, the idols are immersed in the water: called Ganesh Visarjan. This is done as a procession with thousands of people accompanying the idol, with music and dance.
Although Ganesh Chaturthi is celebrated throughout the country, the most fervour celebrations take place in the Maharashtra.
Where To Celebrate: Tourists from across the globe come to Maharashtra to witness the grand celebration of Ganesh Chaturthi and here is a list of famous destinations one could visit to join in on the festivities.
1. Mumbai
Mumbaikars observe Ganesh Chaturthi with great zeal and excitement. For the next 10 days, the city that never sleeps will hear chants of 'Ganpati Bappa Morya' from every lane as every mandal will put up their best show to celebrate the homecoming of the Elephant God — Ganesha. Months of work by artists, sculptors, volunteers and vendors will take the shape of larger-than-life idols and vibrant celebrations.
While you are in Mumbai, head to the Goud Saraswat Brahmin (CSB) Samiti Mandal at Wadala to have a darshan of the richest Ganesha in Mumbai. Your trip would be incomplete without a visit to Lalbaughcha Raja. Unlike other Ganeshas, Lalbaugcha Raja (founded in 1934) is not a shrine but a community organised festival. Reportedly it attracts over 1.5 million people daily. This year Lalbaugcha Raja will be in his regal pose on a throne in his 12-ft form and the theme for this year is the Ayodhya Ram temple. A couple of lanes away from Lalbaugcha Raja is Mumbaicha Raja in Ganesh Galli (Lane) which is a crowd puller for the annual thematic celebrations. This year the pandal is a replica of the Kashi Vishwanath temple of Varanasi. Then there's Andhericha Raja which was first founded by the workers of Tata Special Steel and Excel Industries Ltd. in 1966. This one draws most of the celebrities from Bollywood. Another popular Ganpati is Chinchpoklicha Raja. Chinchpokli Sarvajnik Utsav Mandal was founded in 1920. A sight to behold is when thousands of devotees dance their way while bringing Lord Ganesha home and also during visarjan. Finally the tallest Ganesha and the richest in the world is kept at the GSB Seva Mandal Tentat Krida Mandir. You may also visit Shree Siddhivinayak Ganapati Temple, one of the most-popular Lord Ganesh Temples in the country. During the Ganesh Chaturthi Utsav, the place is full of devotees arriving to seek Ganpati Bappa's blessings.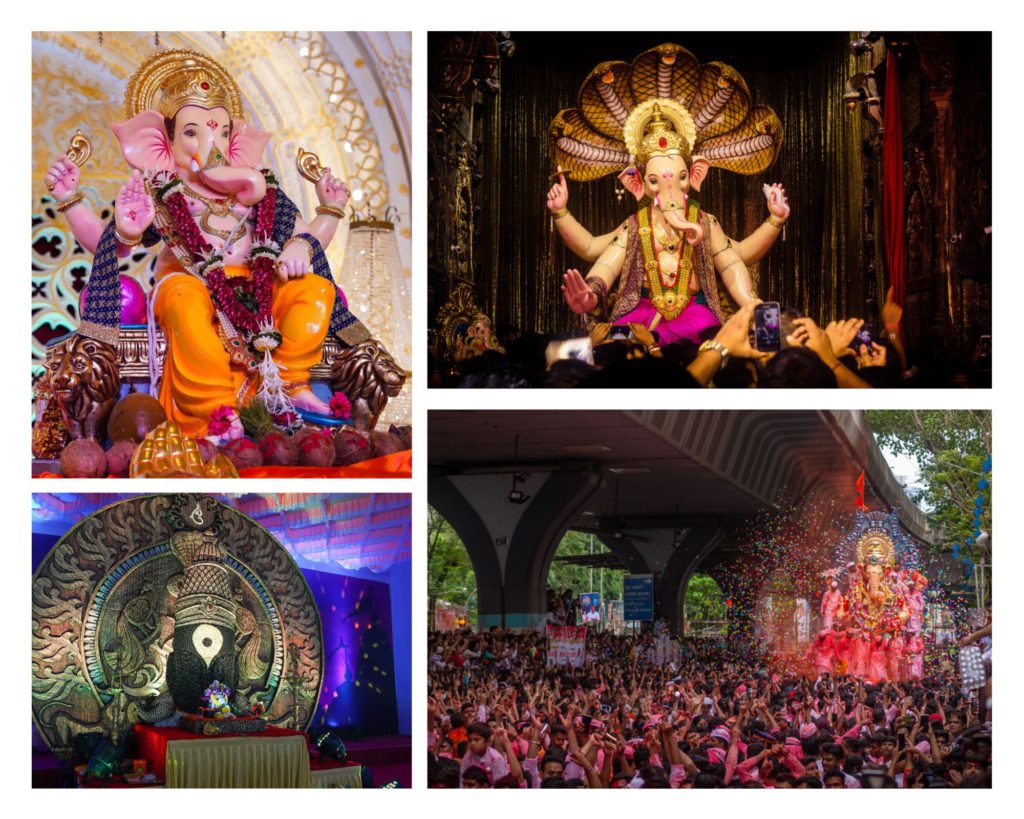 2. Pune
Pune is regarded as Maharashtra's cultural center and this year, if you happen to be in Pune, you must check out these Ganesh Chaturthi pandals in and join in the celebrations.
The top 5 Ganesh idols in Pune include Shri Kasba Ganpati Sarvajanik Ganeshotsav Mandal located in Budhwar Peth. Established back in 1893, it is one of the most revered Ganpati deity of Pune. The largest Ganpati idol in Pune is Tulshibaug Ganpati located at Tulshibaug in Budhwar Peth. This one stands tall at 15 ft, and that is reason enough for you to go. The Tulshibaug Ganpati is even more exciting because it has a new theme each year. Another iconic one is Tambdi Jogeshwari Ganpati, also located at Budhwar Peth. Started by none other than Lokmanya Tilak in 1893, here the idol has remained the same from the very first day, and it has in fact been made by the same family for over four generations. Next up on Lakshmi Road is one of the oldest Ganpati mandals in Pune, Guruji Talim Ganpati which dates back to 1887. Another Ganesh mandal that is popular all across the city is Kesariwada Ganeshotsav Trust which was established back in 1894.
3. Ganapatipule
Ganpatipule is a small town located on the Konkan coast of Maharashtra. It has a number of beaches and spots with breathtaking views of the ocean. The biggest attraction for hundreds of tourists visiting Ganapatipule each year is the 400-year-old Swayambhu Ganpati Temple that is located on the beach. It is renowned for having two idols of Lord Ganpati in this temple, one made of fine white sand and the other of brass depicting Ganpati riding on a Lion. The sanctum of the shrine remains alluringly illuminated by the golden rays of the sun.
Villagers and pilgrims partake in a procession celebrating Ganesh Chaturthi at the temple in Ganapatipule with intense celebrations, prayers, and feasting marking this ten-day event.
4. Diveagar
Diveagar is a small village located in the Raigad district of Maharashtra. Janmashtami and Ganesha Chaturthi are the two prominent holidays celebrated here. The most popular attraction here is the 300 year old Suvarna Ganesh Temple that houses a pure gold pure gold idol of Lord Ganesha and is a must visit for history buffs.
5. Pali
Pali is a tiny town located in Raigad district of Maharashtra. The temple of Ballaleshwar, situated in the village of Pali, is one of the eight major temples of Lord Ganesha which constitutes the divine Ashtavinayak temples in Maharashtra and remains thronged with the devotees of Lord Ganesh. The temple has two sanctums – The 15 feet high inner sanctum features a 3 feet Ganesha statue, who resides on a throne carved out of stone with a silver backrest. The outer sanctum is 12 feet high, and features a stone mouse holding a modak and facing the deity. Here, Ganesh Chaturthi is celebrated with great enthusiasm and during this time, numerous religious activities are planned.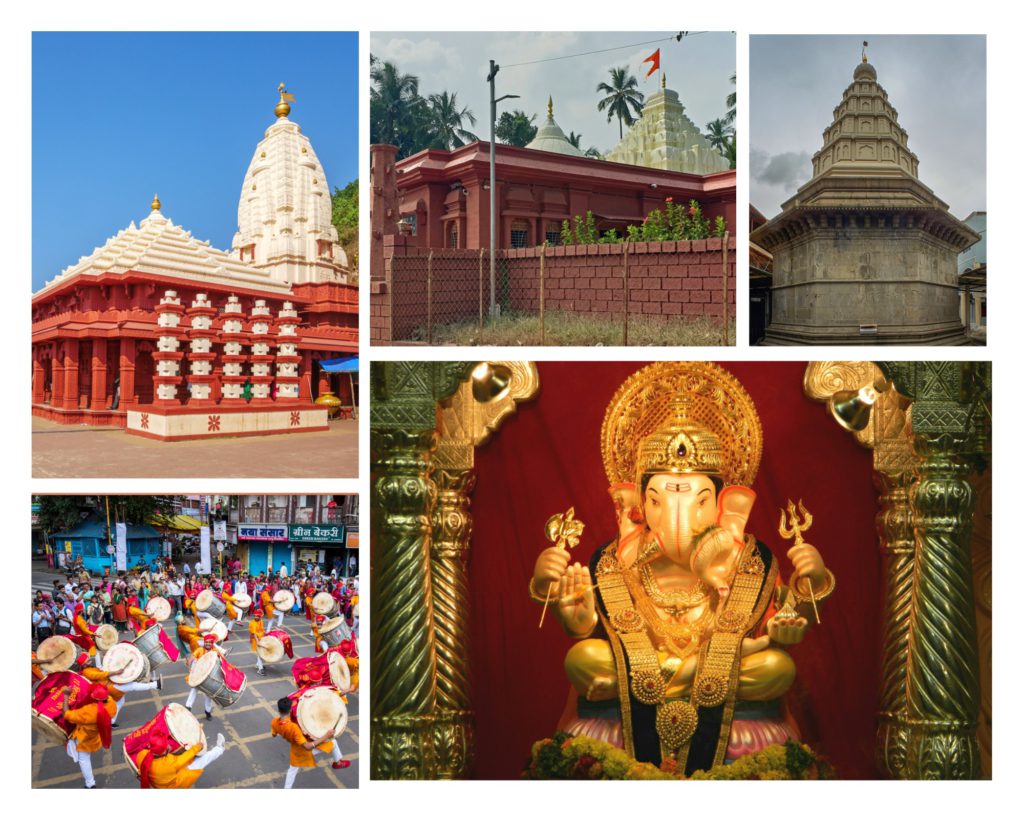 Guided Tours: With a purpose of making tourists familiar with Ganeshotsav, its significance and give them the best possible guided tour of the most popular Ganesha pandals in Mumbai and Pune, the Directorate of Tourism (DoT) is organizing guided tours in association with registered tourists' guides, commencing on 31st August, 2022 and culminating on Ananta Chaturthi i.e. 9th September, 2022. The tour in Mumbai will be conducted at a cost of INR 850 whereas, the tour in Pune is priced at INR 350. Tourists can book their tours online on www.bookmyshow.com
What To Eat:
If you are planning to celebrate Ganesh Chaturthi in Maharashtra, remember that what makes every occasion extra special are the traditional delicacies made for the occasion. When visiting Maharashtra during the Ganpati season, here are six must-try dishes:
Modak: Lord Ganesha loves Modak so much so that he is also known as Modakpriya because of his love for these sweet dumplings. The traditional modaks also known as Ukadiche Modak are made with rice flour, coconut, jaggery and steamed to perfection and devotees offer them as prasad. These days you also get other variations of Modaks, including the ones made with chocolate, fried, kesar, coconut crunch, and dried fruits. Modakam in Prabhadevi, Aaswad in Dadar and Jhama Sweets in Chembur, JW Marriott Sahar in Andheri are some great places to get modaks in Mumbai. In Pune, one can get them at Kaka Halwai, which has a range of flavours like mawa, chocolate, mango and so on; Chitale Bandhu Mithaiwale, Hotel Shreyas in Deccan Gymkhana, Joshi Sweets in Erandwane, and Gaurav Snacks in Sadashiv Peth.
Puran Poli: Puran Poli is one of the most significant and well-liked sweets during the event, apart from modaks. Puran Poli is a sweetbread with a filling of chana dal, jaggery, cardamom powder, and a lot of ghee. It can be given as prasad to worshippers and as a bhog to Ganesha. Hotel Shreyas, Mumma's Kitchen, Peshwa, and Poona Guest House are some places to get the best Puran Poli in Pune. Meanwhile, in Mumbai, hit up Bhaskar's Puranpoli Ghat in Thane West for a wide range of Puran polis.
Shrikhand: Popular in Maharashtra, shrikhand is usually served as prasad during Ganesh Chaturthi. Greek yogurt, sugar, a dash of salt, cardamom, chironji, and saffron are all needed for the simple dessert. To improvise on the flavor of this Maharashtrian treat, fruit flavors are added to the sweet. Shree Thaker Bhojanalay in Mumbai and Chitlae Bandhu in Pune are some great places to try authentic Shrikhand.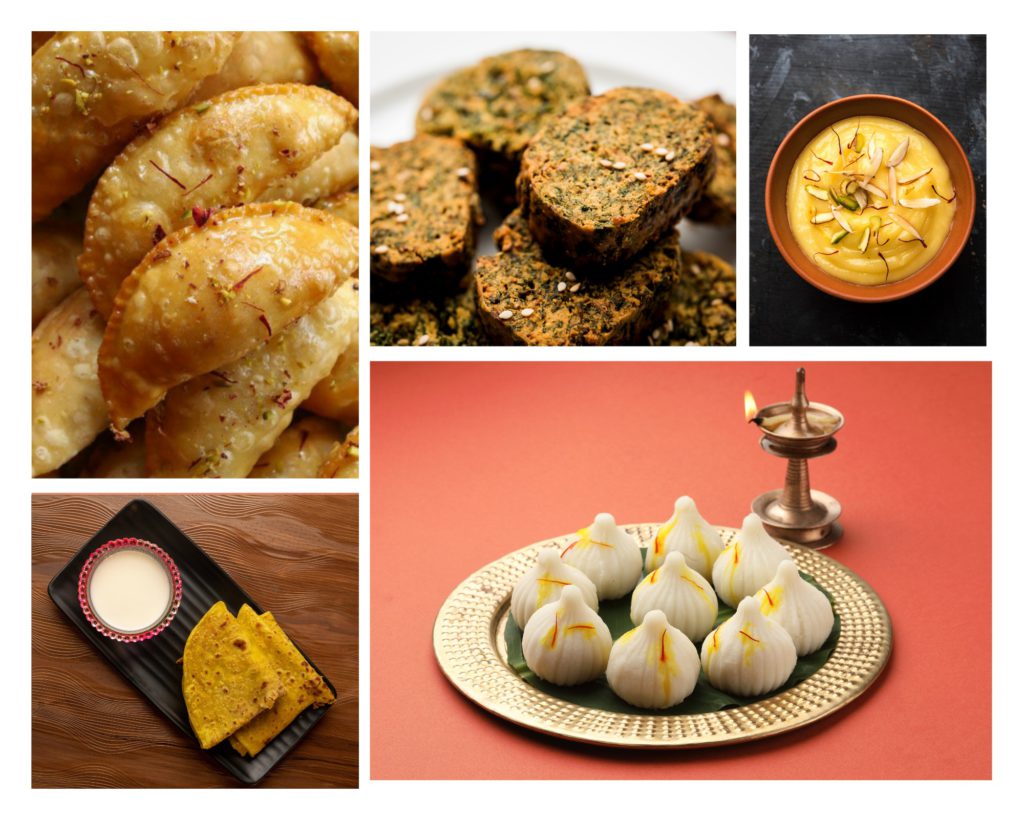 Kaju Kothimbir Vadi: The Marathi word "Kothimbir" means coriander, and the word "Vadi" means fritters- coriander fritters. These fritters are prepared using a batter of chickpea flour, coriander, and other spices. They are steamed first, then sliced into wedges before being deep-fried till crisp and crunchy. These delicious Vadis are made during this occasion and are relished with other savory foods. One of the best places to get Kaju Kothambir Vadi in Mumbai is at Diva Maharashtracha. Annapurna Vadi Center is a famous vadi center located on Bajirao Road in Pune.
Varan Bhat: Varan translates to lentil curry or dal, and bhaat translates to steamed rice and is one of the most popular dishes made during Ganesh Chaturthi. Made with a mix of moong dal and arhal dal along with curry leaves, grated coconut and cumin seeds, this dish is offered to lord Ganesha along with vegetable dishes including batata (potato) bhaji, beans bhaji and others. Aaswad Upahar & Mithai Grih in Shivaji Park, Mumbai and Ishaan Foods in Pune are best places to tempt your tastebuds with Varan Bhaat and other authentic Maharashtrian food.


Karanji: Another Maharashtrian delicacy offered to the deity during this festival is Karanji. Resembling Gujiyas from North India these fried pastries are made with a sweet stuffing that includes coconut, sesame seeds, almonds, cashews, raisins, cardamoms, nutmeg powder, sugar and ghee. Panshikar Sweets located at Mahim, in the lane beside Citylight Market and Kaka Halwai stores in Pune are good places to go to devour these bites of deliciousness.
Related Coverage:
Food Guide | Maharashtra On My Plate
Maharashtra: The Evergreen Vacation Destination | Travel Guide
Food Guide: Maharashtra's Unusual Melange of Culinary Delights