From the coast to the mountains, this western Indian state is a treasure trove of culinary delights. Spicy, sweet, and sour: there's something for everyone here.
Being a native of Mumbai, I've enjoyed my fair share of vada pav, missal pav, kanda bhajji, pohe, and kothimbir vadi through the years. Naturally, I thought I had a reasonable idea of Maharashtrian delicacies, but, boy, was I wrong! On a journey through the coastal and mountainous regions of the state, I was regaled with both famous and lesser-known treats, traditionally designed to pique the palate with a wide variety of flavours. This is my attempt at recounting those culinary adventures for when you decide to make the journey into the hinterland of Maharashtra.
Sea-food, Eat Food
There's no denying the fact that the coastal regions of Maharashtra have a seafood bounty that spans crabs (kekda in Marathi), clams (tisrya in Marathi), prawn (jhinga in Marathi), and fish varieties like pomfret, surmai, rawas, and bangda. The Konkan region specialises in Malvani cuisine, which is marked with spicy, tangy curries that use coconut (in grated or milk form) as a base and flavoured with kokum (a local fruit from the mangosteen family). I have a special place in my heart for the delights of the sea so, needless to say, I was in paradise. It also helped that, right before me, were the mesmerising waves of the Arabian Sea! I was staying in a fabulous, newly renovated beachfront room at the Maharashtra Tourism Development Corporation (MTDC) Resort Ganpatipule, which offered stunning vistas of the shimmering waves and glorious golden sands. As a beach lover, I found Ganpatipule Beach to be a revelation: it was uncrowded, with a Boat Club for water sports; the water was crystal-clear, and it was enveloped by a calming ambience replete with swaying coconut trees.
About 166 km from Ganpatipule is Tarkarli, a haven for scuba diving and water sports in Sindhudurg District. It was here, after a terrific scuba adventure, that I tucked into crispy, golden rava-fried prawns, pomfret doused in a fiery red Malvani masala and shallow fried, steaming, round, and spicy batata wadas, and the always-present-and-lip-smacking prawn curry at the restaurant at MTDC's Indian Institute of Scuba Diving and Aquatic Sports.
Also, a must-visit in Chiplun, the financial hub of Ratnagiri District in the Konkan region, is the unassuming Hotel Abhishek. It was here that I tucked into a delectable tisrya thali comprising rice, bhakri (more on this below), tisrya masala and tisrya curry. We also tried a local, seasonal favourite: the kaju sabzi: soft kajus coated in a delicious coconut-flavoured orange masala that felt like the food of the gods.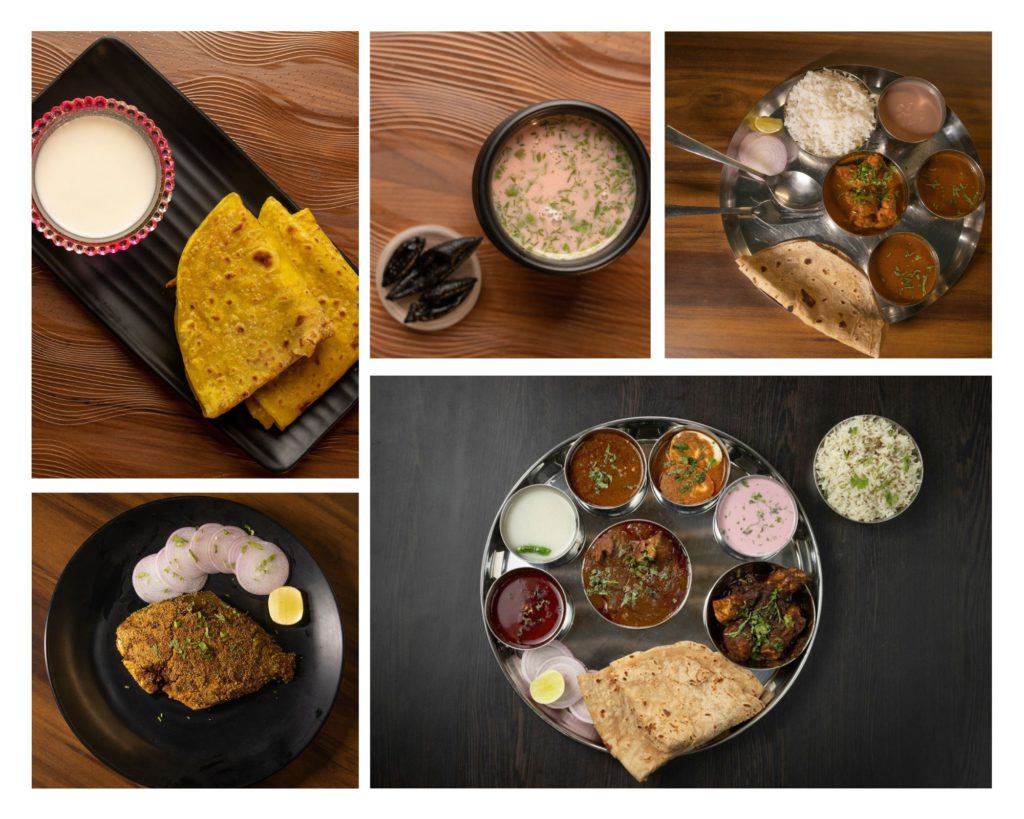 … That's Not All!
All you meat lovers, fret not! It's not all fishy here. Malvani cuisine serves up some tantalising chicken and mutton thalis which comprise coconut-based curries, fried meat, and dry masala concoctions (look for the word 'sukka' or dry in the menu). Though it may seem like there's nothing on offer for the vegetarians, the locals do whip up some tasty dishes that go on the thalis. These are mostly local lentils and seasonal vegetables cooked with coconut and spices.
The people of Maharashtra have one chutney that's immensely close to their hearts (and stomachs!). It's the thecha. Prepared by crushing together spicy chillies, peanuts, salt, and garlic, one pinch of it is enough to make your eyes water. Despite that, you will see the locals devour it in copious amounts at mealtimes. I did, too!
Rice Reigns Supreme
In Maharashtra, rice is an absolute staple. It accompanies the Malvani curries, simple varans and amtis (types of lentils), and is even used to make rotis or, what the locals call bhakris.
At Ganpatipule, I was treated to a breakfast of pohe (puffed rice tempered with spices and curry leaves) and ghavne (a rice preparation similar in consistency and look to a neer dosa) with a spicy grated coconut chutney. I remember seeing several boards with 'ghavne-chutney served here' painted across them in Tarkarli. It seemed to be the perfect, no-frills breakfast for locals and tourists alike, and it fills you up for a day of adventure.
Vegetarian Extravaganza
From the coast to the mountains, we go. Mahabaleshwar, a hill station ensconced in the lofty Western Ghats, brims with delightful strawberry fields. A walk in its main market reveals this succulent fruit in many avatars: doused in cream, made into ice cream, in syrups, fudge, etc. But it was here that I enjoyed two hearty vegetarian dishes that fed my soul. The first, bharleli vaangi (stuffed brinjal). The second one exemplifies 'soul food'. Humble and homely, the pithla is a heart-warming preparation made with besan (gram flour) and onions.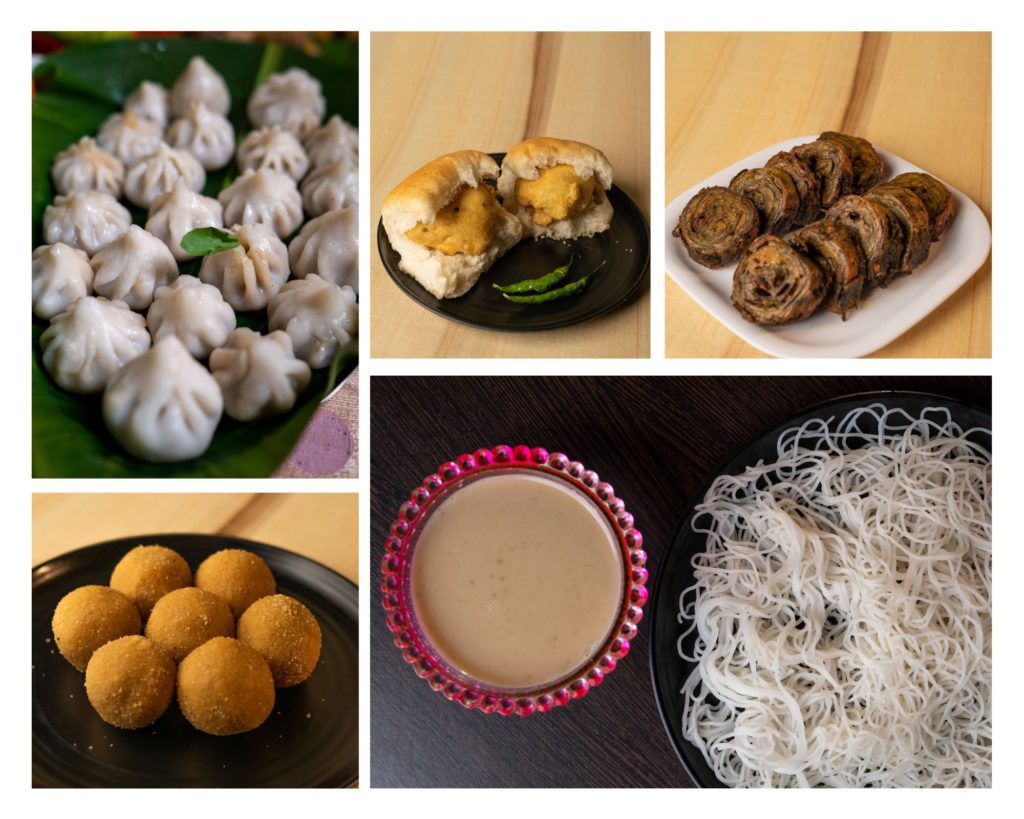 Drink Delights
There's no denying that the Konkan region and interiors of the state can get hot and humid. The locals have a solution for this. First, there's the ubiquitous neera. Almost translucent, it is extracted from the toddy palm and is sweet and cooling. You can find it at regular intervals in cities like Pune and along almost all highways in the state. It's an inexpensive way to get refreshed like the locals do. Next up, is the kokum-based solkadhi. A gorgeous, pink drink, it is mostly enjoyed as a digestive after all the fiery curries and thalis.
There you have it: a veritable listing of Maharashtra's irresistible delicacies. There's something for everyone: the meat lover, seafood fiend, and vegetarian. If you love to taste your way through a destination, this western Indian state is for you.
For the latest travel news and updates, food and drink journeys, restaurant features, and more, like us on Facebook or follow us on Instagram. Read more on Travel and Food Network
Related Coverage:
Food Guide: Maharashtra's Unusual Melange of Culinary Delights
47 Places To Visit In Maharashtra | Travel Guide
Roadmap For Future of Sustainable Tourism In Maharashtra