Yup, this is the time of the year when I yearn for warm peaches soaked in brandy, topped with a dollop of cream. The gentle whiff of spices and the divine taste in every bite is a heady trip in itself. The best part about soaking fruit in alcohol is that it's so easy, and the results are always spectacular. And it is a perfect way to unwind in adult company. Let's check the booze-infused fruit treats.
First the fruit
So, what fruit should you use? Strawberries, cherries, watermelon, peaches, pineapples, blueberries, plums, pears, apricots, banana, citrus, mangoes, etc., pair well with alcohol. But you should know that some combinations work better than others, so for starters stick to the tried and tested pairings before becoming outrageously adventurous.  Actually, when it comes to food and drink, I rather like outrageously adventurous!
Now the alcohol
Bourbon, beer, whiskey, brandy or cognac, wine, champagne, vodka, gin…almost all the standard alcohol that you'd have stocked in your bar anyway. There is only one rule – good quality alcohol = terrific taste.
How do you do it?
Prepare the fruit (washing, peeling, hulling, stoning, pipping), cover with the alcohol, let it macerate in a clean jar or bowl for anywhere between 1 hour and 3-5 days, or even more.  And it's done. How simple is that! You can add spices like cinnamon, allspice, or cloves for extra flavor if you want, but then you will need a slightly longer time so that their flavors get infused.
Storage: For a few hours, it's safe to let the soaked fruits stand at room temperature, smothered in alcohol helps!!! Once it goes into overnight or days, the fridge is good. Again, this depends on whether you're in summer or winter and where in the world you live.
Some classic boozy recipes to get you started
1. Pineapple + Rum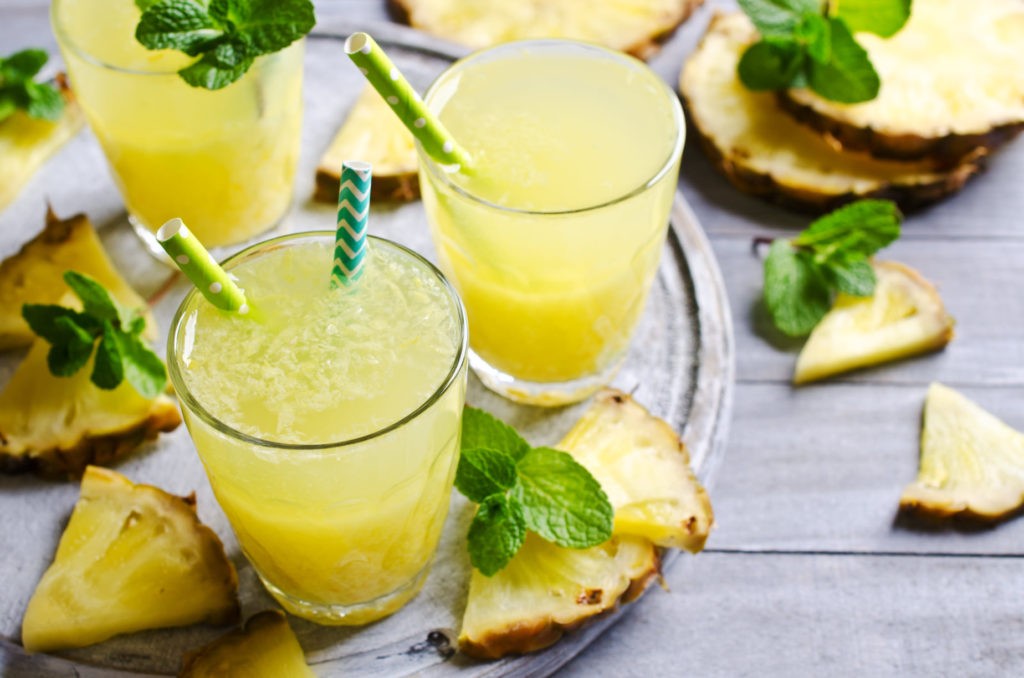 Cut the pineapple into chunks. Let it soak in your favorite rum overnight, grill the chunks on skewers, serve hot with vanilla ice cream and a desiccated coconut topping.
Or, make pineapple rum. Cut the pineapple into chunks, cover with rum. Keep for about a week in a large glass jar. And it's ready to drink straight up or in an exotic cocktail.Let's check the next booze-infused fruit treats.
2. Blueberries + Vodka
Halve the fresh berries, soak in vodka for a few hours. Serve cold or warm with ice cream or frozen yogurt, or use it in a tart.
You can also muddle your blueberries with vodka in a glass jar, and let it sit for 4-5 days. Strain if you want to use it in a cocktail.
Actually, while you're at it, why not do both? (Wink Wink!)Let's check the next booze-infused fruit treat.
3. Cherries + Bourbon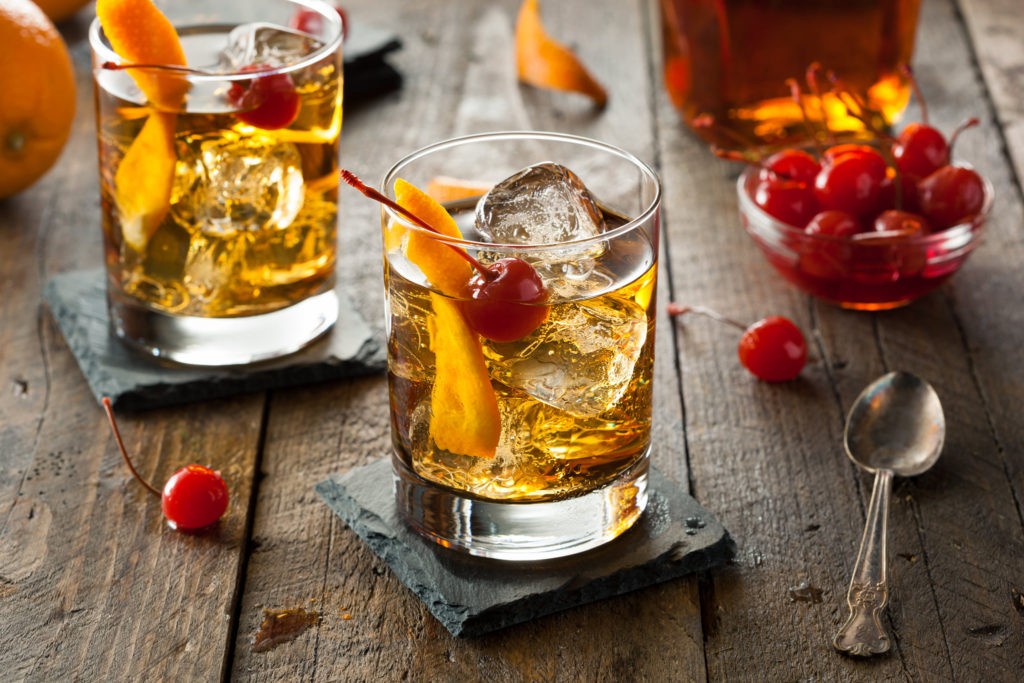 Cherries make such a great combination with alcohol, in fact, you could use bourbon, rum, or vodka with them. Soak the cherries for 2 hours till they are plump with alcohol. Flambe! And serve with ice cream, Chantilly cream, or frozen yogurt and enjoy! While Vanilla ice cream would seem the perfect choice in this case, but even Chocolate ice cream works really well. Of course, it also depends on individual preferences. For example, I could love chocolate-mint ice cream with Bourbon-Cherries.Let's check the next booze-infused fruit treat.
4. Peaches + Brandy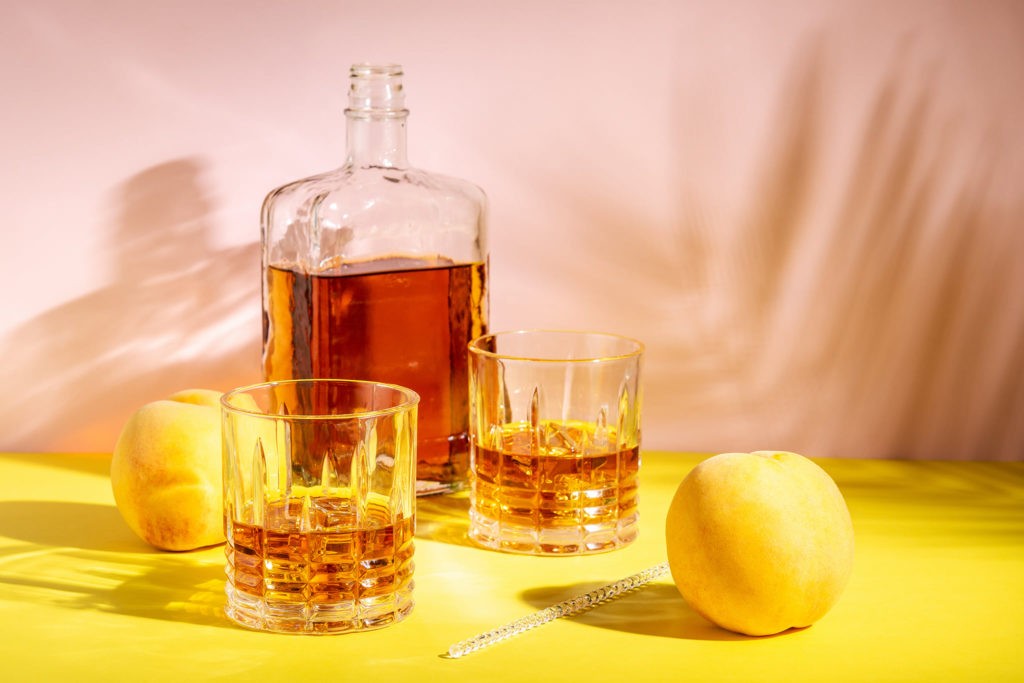 Take fat juicy peaches, slice; cover with brandy, and store for 3-5 days in a glass jar.  I love these served hot, with a dollop of thick cream, but hey…you just have them anyway you like. Even in a cocktail.
A great substitute for peaches is apricots. They taste just as delicious. And try bourbon instead of brandy for a different vibe.Let's check the next booze-infused fruit treat.
5. Strawberries + Vodka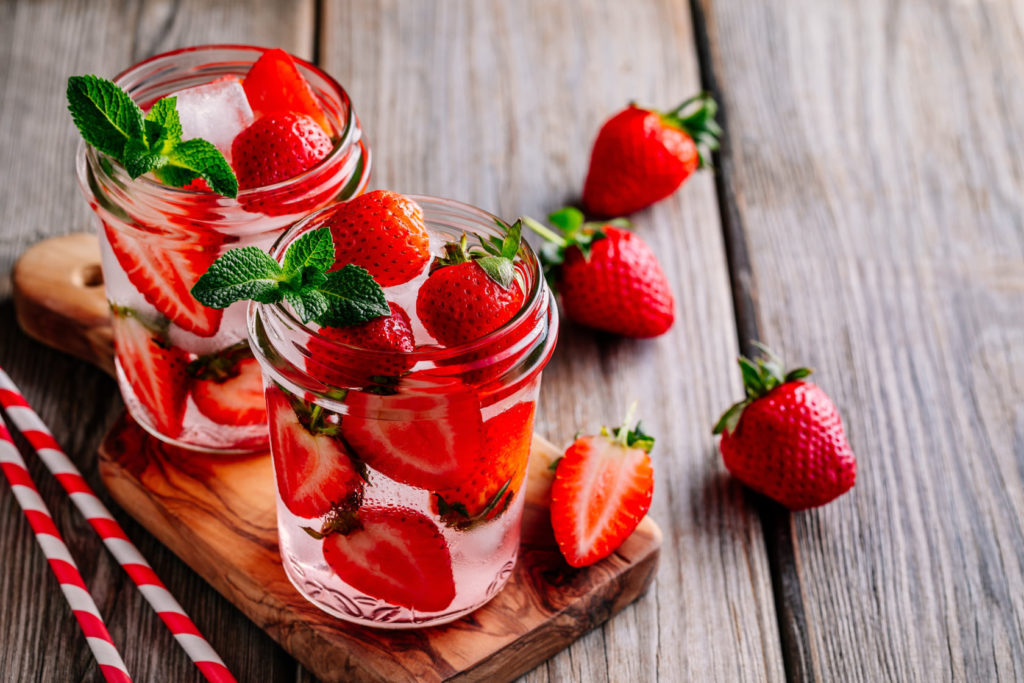 Poke holes in the ripe strawberries with a fork, cover with vodka and keep for at least 1 hour to infuse the flavor. Use as a topping or as a filling for pies, or freeze them and add them to grown-up smoothies. You could use these to make strawberry-vodka ice creams, sorbets, and whips. I love putting these vodka-infused strawberries on top of pancakes!
Once you're done with the strawberries, strain and use the flavored vodka!
6. Figs + Apricots + Pears + Raisins + Port Wine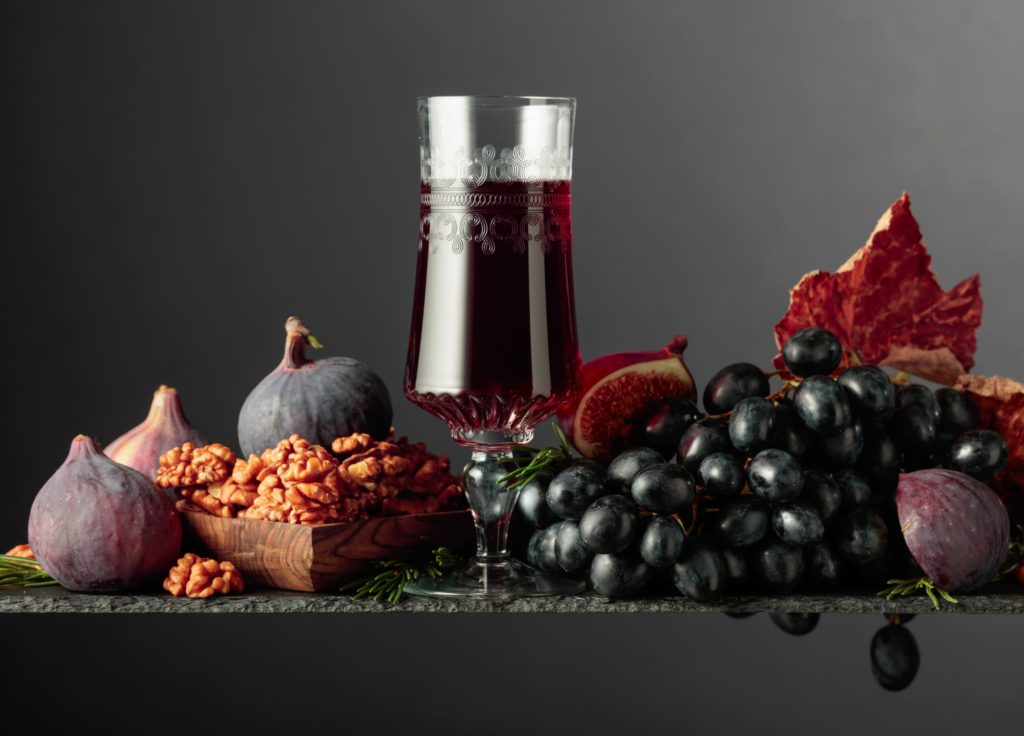 Now, this is really exciting! Combine chopped dried figs, dried apricots, dried pears, and raisins. Bring to a boil with port wine, and a cinnamon stick. Add a tiny pinch of salt and let simmer for 8-10 minutes. The sauce will thicken as it cools. When completely cool, remove cinnamon stick and serve, or store in the refrigerator for up to 1 week.
Absolutely perfect with baked Brie, or as a yummy filling in tarts.
7. Strawberries + Champagne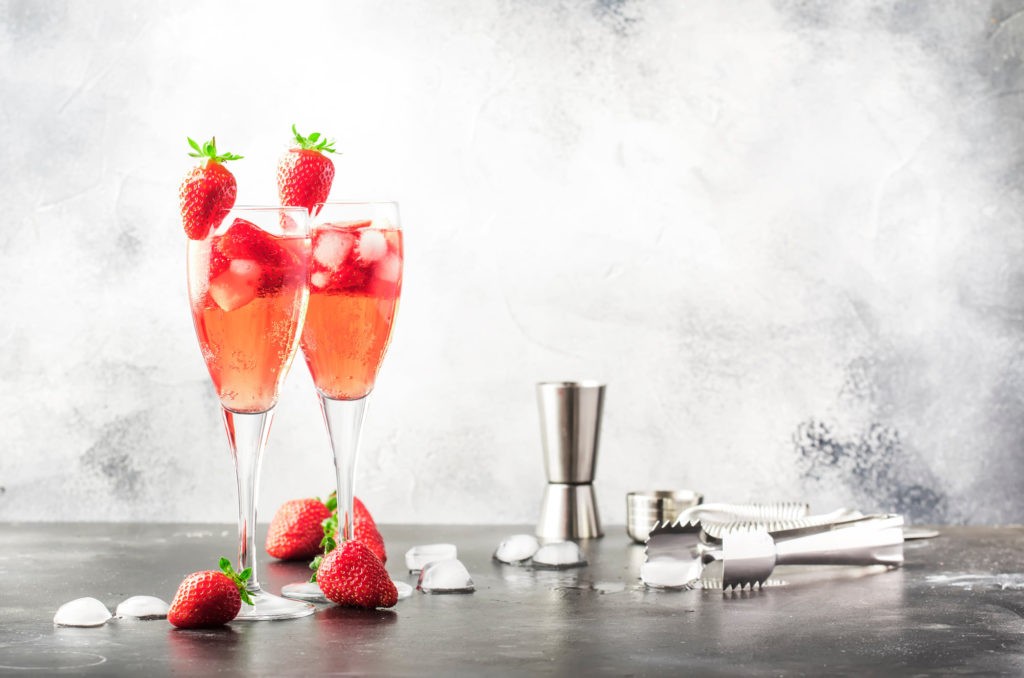 Some matches are made in heaven, and the strawberry-champagne pairing is truly heavenly. Poke holes in the ripe red strawberries. A good long soak for about 24 hours in Champagne will get them all plump and saturated. Close your eyes and pop one into your mouth, slowly savor the burst of flavor. For an extra twist, and an added sweetness, you can frost the strawberries or dip them in melted chocolate before serving them in paper cups. A sure winner at every party.
8. Drunken Fruit Salad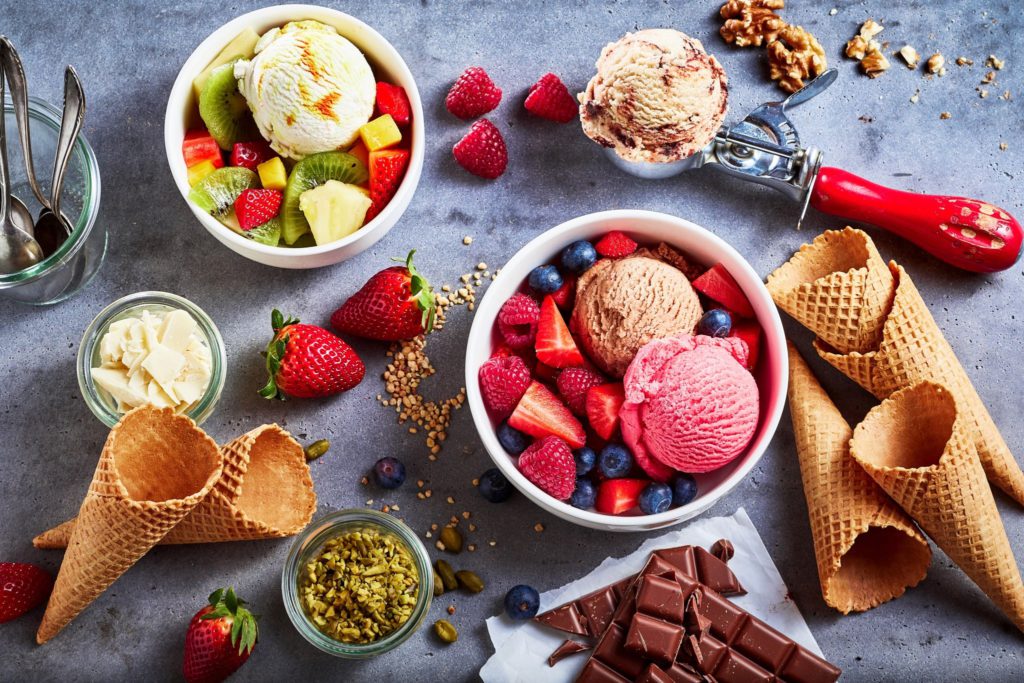 Choose the freshest and ripest fruit that is in season. All kinds of melons work well, as do pears, peaches, apricots, berries, and bananas. Chop the fruit into bite-size pieces. Macerate in rum, orange juice and lime juice, and fresh basil or mint for at least 3 hours. And it's ready to serve. And it will be polished off – that's a guarantee!
Isn't this exciting? And so, so easy. Yet these boozy fruits make such a high impact when entertaining. So have fun folks, and get as daring as you want with your own combinations.
Write to us with your special ideas on more boozy fruits!
Trending Now: TFN 2021 Guides
Video | 10 Best Christmas Markets Around The World
Essential Travel and Food Guide To Santa Claus Village, Finland
Also Checkout the below articles
A homeschooled chef even before she joined Catering College in Bombay, Christine's gastronomic journey started with mother and grandmother. Polished with a degree and 10 years of experience in the Hospitality industry, Christine's love of food, drink and everything gastronomic has been sharpened and honed with travel across the world. Today, she shares the wealth of her foodie experience and adventures across the world with The Foodie Network, so look forward to much more from Chrsitine!