The perfect way to rediscover yourself is to travel to places far and unknown. Find joy in the offbeat places of India and find inner peace and tranquility in these nature abodes. Welcome to the hidden gems you never thought to visit, but really should if you're planning a trip
From Delhi
Tirthan Valley, Himachal Pradesh
Located in the Kullu District of Himachal Pradesh, Tirthan Valley is perched on an altitude of 1600 m above sea level. It derives its name from the Tirthan River that flows through the valley. The place is full of adventurous activities and is a haven for nature lovers. With the magnificent Himalayas in the background, one can enjoy trout fishing, trekking and other activities in its stunning guesthouses.
Places to visit:
Serloskar Lake: Around 5 km from Jalori Pass, the lake is known for its crystal clear waters.
Jalori Pass: A stunning place with breathtaking scenery, you can enjoy a view of the Great Himalayas from this spot.
Jibhi: A mesmerizing hamlet tucked away amidst lush green forests, Jibhi is a great place to relax and find some peace. It is untouched by industrialization and the dense pine forests, tranquil freshwater lakes and pristine temples make this place worth a visit.
Great Himalayan National Park: A place with amazing wildlife and fishing spots.
Chhoie Waterfalls: Around a trek of 3 km from Tirthan Valley, this waterfall is named after a local deity Chhoie Mata.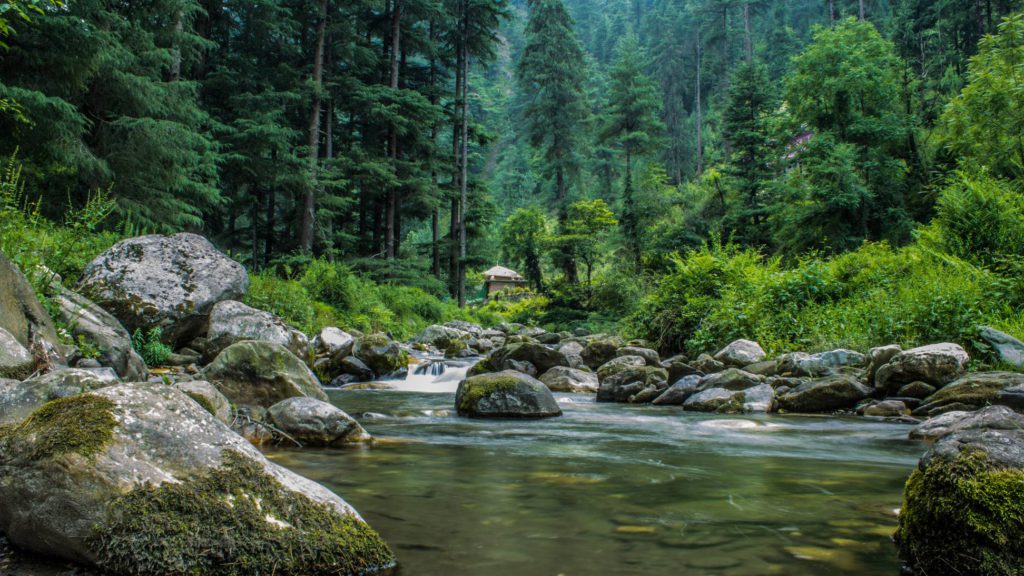 Things to do:
River crossing: A great activity for adrenaline seekers. A person is tied to a safety harness and has to cross the turbulent Tirthan River from one point to another.
Trout fishing at the Tirthan River.
Rock Climbing is another adventurous activity that people can enjoy in the valley.
Distance from Delhi: 495 km
How to Reach: While coming from Delhi via bus, get down at Aut and take a cab or a local bus to Jibhi. Otherwise, you can also catch a train to the nearest railway stations: Ambala or Kiratpur and then take a taxi to reach the location. The nearest airport is Bhuntar which is a two hours ride from Tirthan Valley.
The most suitable way to reach Tirthan Valley is by road.
Best time to visit: The best time to visit the mesmerising Tirthan Valley is between March and June. The weather stays pleasant and is great for exploring the flora and fauna, especially the lush green meadows and the apple orchards.
From Mumbai
Bhedaghat, Madhya Pradesh
Bhedaghat is known for the Dhuandar Falls, which cascade down a height of 98 feet. Also known as the land of Marble Rocks, this town is known for the 100ft rocks that border both the sides of the Narmada.
Places to visit:
Marble Rocks: Famous for being in Shahrukh Khan's film Ashoka- this spot is where he wooed Kareena Kapoor. These huge magnesium and limestone rocks flank the river Narmada, and create an ethereal view.
Dhuandar Falls: The Narmada River after passing through the Marble Rocks, culminates at a point where it narrows down and plunges into a waterfall of 98 feet.
Chausath Yogini Temple: This temple is dedicated to the Goddess Durga, it was built in the 10th century and has intricately designed stone figures of deities.
Bandar Kudini: Well- known as a spot where two cliffs are so close to each other that monkeys hop from one side to another.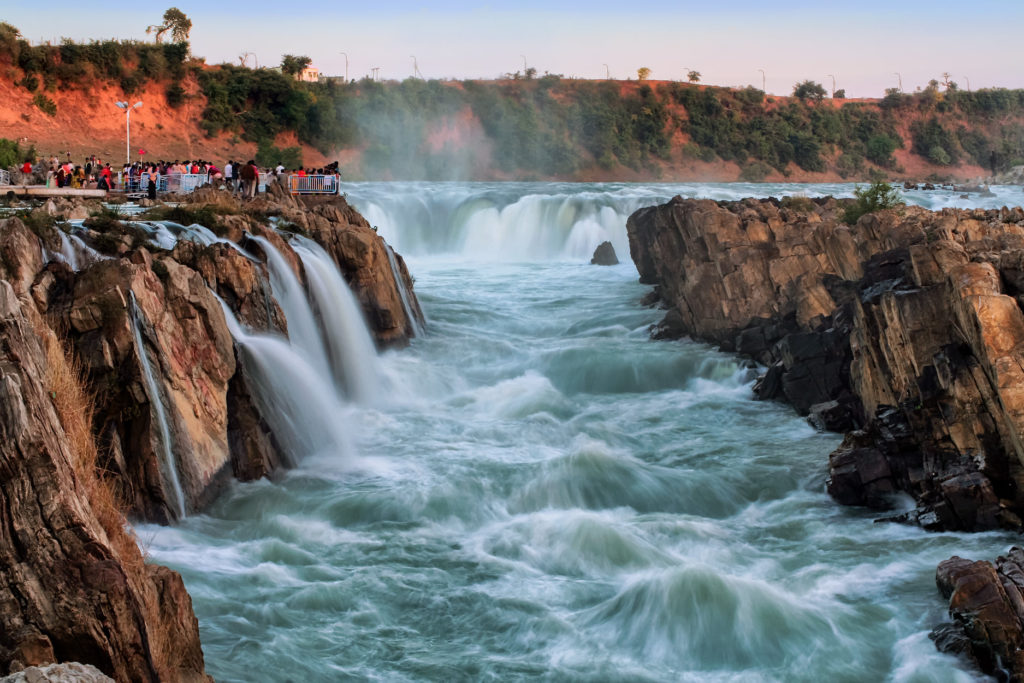 Things to do:
Enjoy boating in Bhedaghat especially in a moonlit night for an unforgettable experience.
Shop for marble artefacts.
Visit the local market run outside the Dhuandar Falls which sells carved marble idols.
Pay a visit to Kanha Tiger Reserve which is only 3 hour away from Bhedaghat.
Distance from Mumbai: 855 km
How to reach: Bhedaghat does not have an airport or a railway station on its own. The closest airport and railway station is in Jabalpur. You can take a train from Mumbai Central to Manda Mahal, Jabalpur from where you can take a taxi to Bhedaghat which is around 16 km away. This route takes 15 h 30 m.
Alternatively you can fly from Mumbai to Jabalpur and take a taxi from the airport to Bhedaghat. This route takes around 5 hours plus 30 m from Jabalpur Airport to Bhedaghat.
Best time to visit: The best time to visit Bhedaghat is from November to May. The summers are moderate with temperature going up to 34oC. Avoid monsoons as there are heavy showers due to which the Marble Rocks remain closed.
From Kolkata
Mawsynram, Meghalaya
Acknowledged as the wettest place in the world, with the highest rainfalls, the fascinating village of Mawsynram is a treat for nature lovers. The rains are so powerful in the region that the local villagers use thick grass to sound-proof their homes from the thunderous rains. The "Maw" in its name is a Khasi word meaning stone. It stands for the unique megaliths unearthed in the Khasi Hill area. The village is also known for a huge formation of stalagmite which takes the form of a 'Shivaling'.
Places to visit:
Mawsmai Caves: This holy cave of the Khasis is in the Mawsmai village. The cave is 150 m long and is ideal for cave exploration and cave diving.
Mawsmai Falls: These falls are the fourth highest waterfalls in India and are located a little outside Mawsynram. It is a seven-segmented fall which rushes over the top of the limestone cliffs.
Nohalikalai Falls: The fifth highest falls of India, Nohalikalai is located around 5 km from Mawsynram. This stunning waterfall cascades down a height of 1000 ft.
Mawlyngbna: A place known for its rich fossils and a natural geyser.
Cherrapunjee: Also known as Sohra and Churra, this place is a must visit. It is known as the second wettest place in the world, and the only place in India to receive rainfall all year round.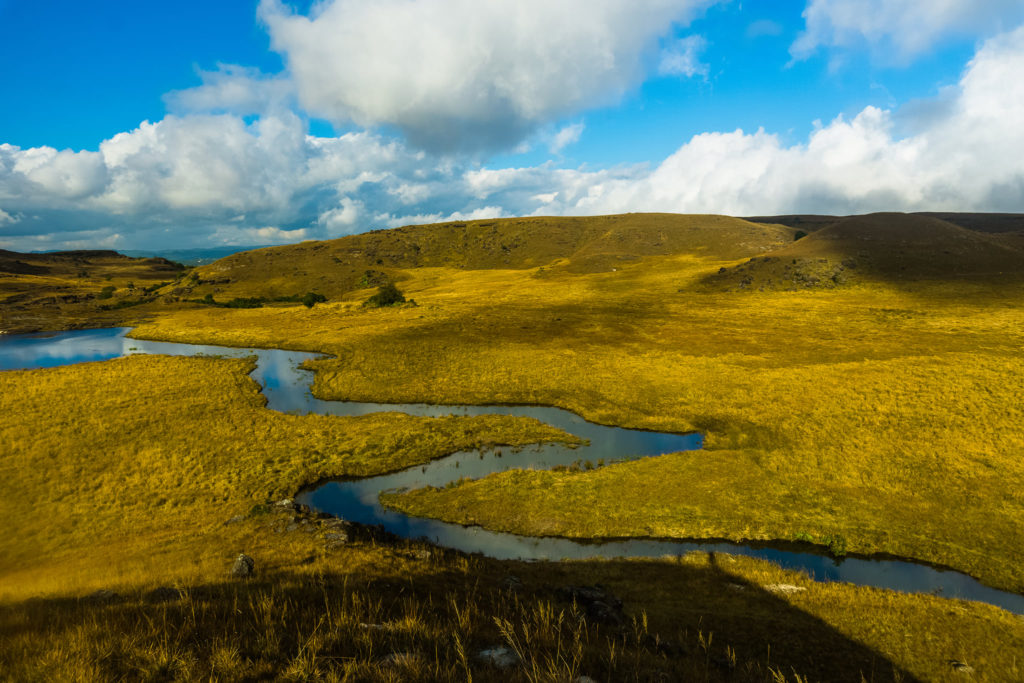 Things to do:
Explore the spectacular caves and mysterious pathways.
Enjoy adventure sports at Mawlyngbna like zip-lining and kayaking.
Relish the Khasi cuisine: Sohra Pualo, pork rice and so on.
Distance from Kolkata: 1192 km
How to reach: The closest airport to Mawsynram is in Shillong. Book a flight from Kolkata Airport to Shillong airport from where you can continue by taxi to Mawsynram. This route takes around 6 hours. You can drive to Mawsynram, but this takes around 28 hours and hence is not advised.
Best time to visit: The best time to visit is in the summer seasons from April to June. The temperature remains cool throughout the day.
From Bengaluru
Savandurga, Karnataka
Savandurga is considered to be one of the largest single rock formations in Asia. It comprises of two hills: Billigudda and Karigudda. Most trekkers chose Billigudda due to its gentler slopes. The Arkavathi River flows nearby and makes the area a tranquil and scenic place to enjoy your weekend getaway. Savandurga is a great spot for nature and adventure lovers.
* There are no hotels or eateries in Savandurga. You must carry your own food and at least 1-2 litre of water per person. However, you can find biscuits and light snacks at small stalls.
Places to visit/Things to do:
Enjoy trekking the hills of Billigudda.
For adventure seekers, slab climbing is an activity to take part in.
Engage in bird-watching as the avifauna is magnificent in this region.
Spend the night camping outside under starry skies.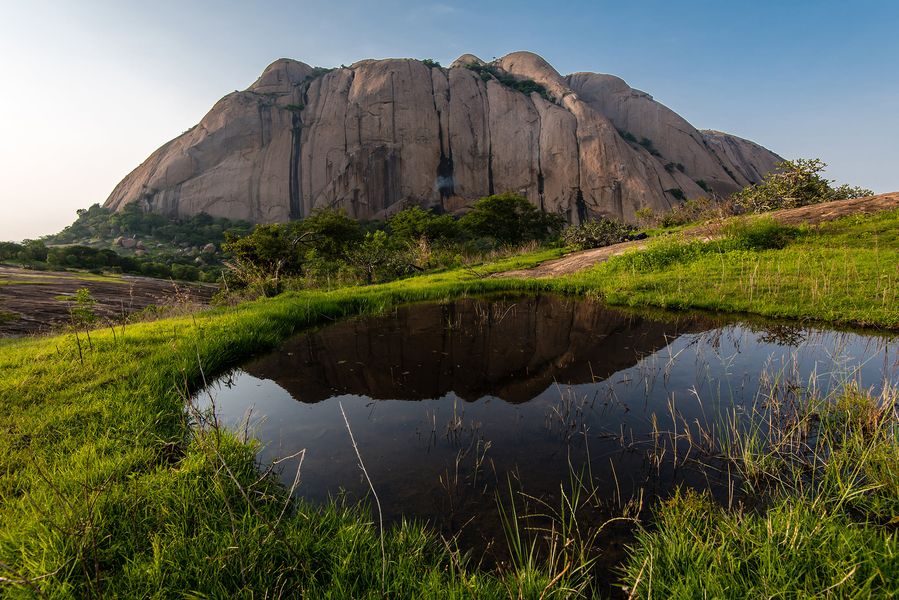 Distance from Bengaluru: 48 km
How to reach: Take a taxi or drive from Bengaluru to Savandurga which is just 2 hours away.
Best time to visit: You can visit Savandurga at any time of the year. Summer are pleasant and cool enough to enjoy outdoor activities. Monsoons must be avoided, as trekking the hills become difficult.
For latest travel news and updates, food and drink journeys, restaurant features, and more, like us on Facebook or follow us on Instagram. Read more on Travel and Food Network
Trending on TFN
The 22 Best Places To Go In 2022
Explore Utah's Mighty 5® and What Lies in Between
Five Epic U.S. National Parks To Visit This Year