It's Diwali! And any Diwali is highly incomplete without the proverbial lights, crackers, gifts, card games, parties and mithai! Every year, the markets are flooded with new gifting ideas and this year is no different, pandemic notwithstanding, specially with a large number of people being vaccinated. The indomitable Delhiites are out in large numbers, shopping like there's no tomorrow – albeit masked and gloved, but not really socially distant! The cautious lot are still glued to their laptops ordering everything online, including Mithai!!!
Last year, we were invited to our first virtual wedding on Zoom. The actual wedding had just 20 people, 10 from the bride's side, 10 from the groom's side. What we did get along with our invitation was a very elegant box of Mojito Laddoos – so that we could say "Cheers" and "Muh-Meetha Karo" at the same time! I have to say, the Laddoos, which were from Nihira & Co, were amazingly delicious, and superbly presented! This got me motivated to check out the new, but fast-growing luxury mithai market.
The humble barfi, laddoo, peda and halwa have been reinvented, folks! They all have a designer avatar now, morphing into very high end, very expensive, highly innovative and beautifully packaged mithai, and yes – you can order them online.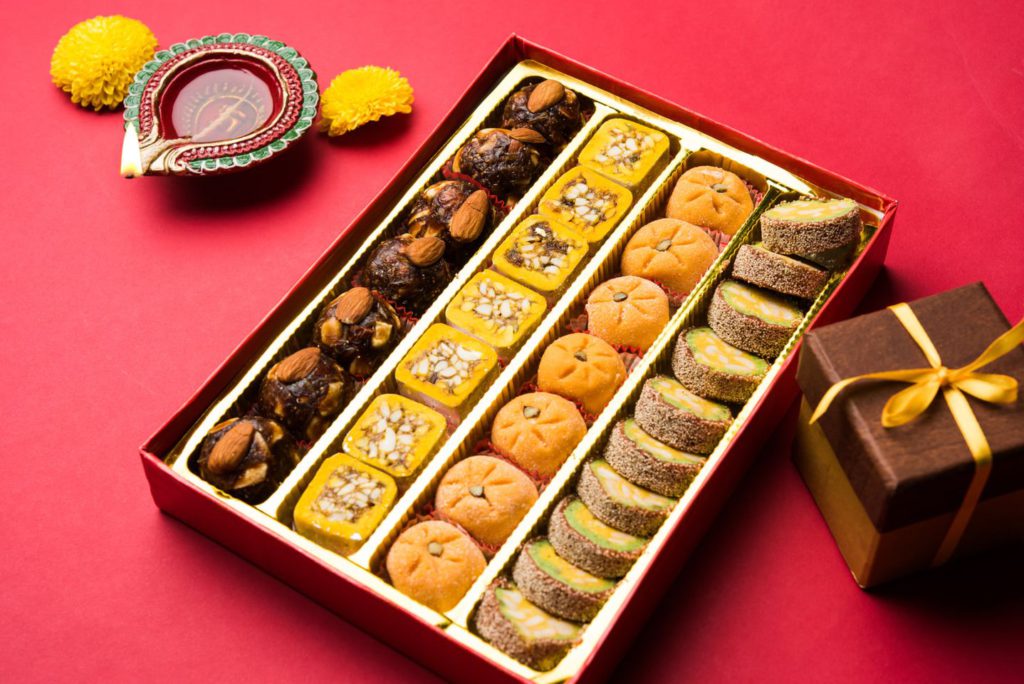 I was truly astonished at the huge explosion of variety, and the food junkie in me wants to try everything – just got to hide the weighing scales for some time!
So, in the interest of all you foodies out there, you really must, must try some of these mouth watering mithais. I tip my hat to the young entrepreneurs who had the guts to do something different with age old traditions and make mithai that is current, vibrant and very classy indeed!
Here are my picks for a really unique gift of sweets this Diwali:
1. KHOYA
Located at The Chanakya, and The Oberoi, Khoya offers you a range of beautifully packaged mithai. All their products are organic, and they use the freshest of ingredients for their unique flavours. Most popular are their Rose Peda, Badam Longe, Date and Nut Barfi, Roasted Besan Laddoo and Kesar Khoya Laddoo. Their outlets are just sales counters and so you will need to order in advance for any bulk buying.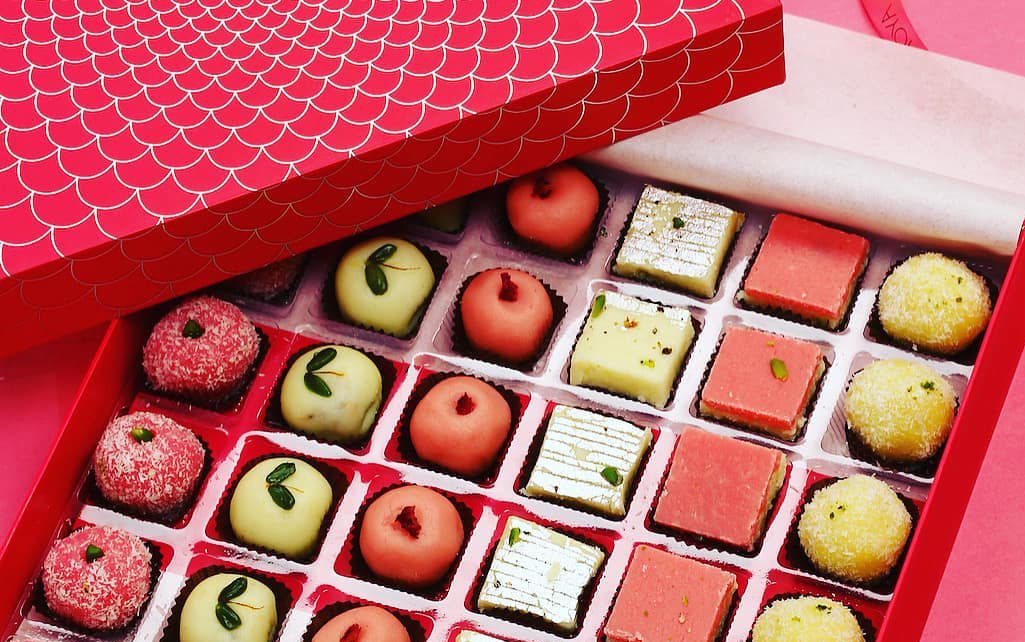 2. ARQ MITHAI
Truly artisan mithai is what you get here – each mithai is lovingly crafted, made with organic ingredients, natural flavours and ethically sourced produce. Every mithai bursts with colour and tastes like a bit of heaven, but their signature items are Coconutty, Sunburst Saffron Besan Truffle, Malterine Marmalade and Doodh Boondi Laddoo. Their packaging is exclusive and made from biodegradable, recyclable, environment friendly materials, and they deliver pan India. They pack their mithai in sealed pods that keep them safe and fresh for up to 2 weeks from shipping. Arq is located in Vasant Kunj.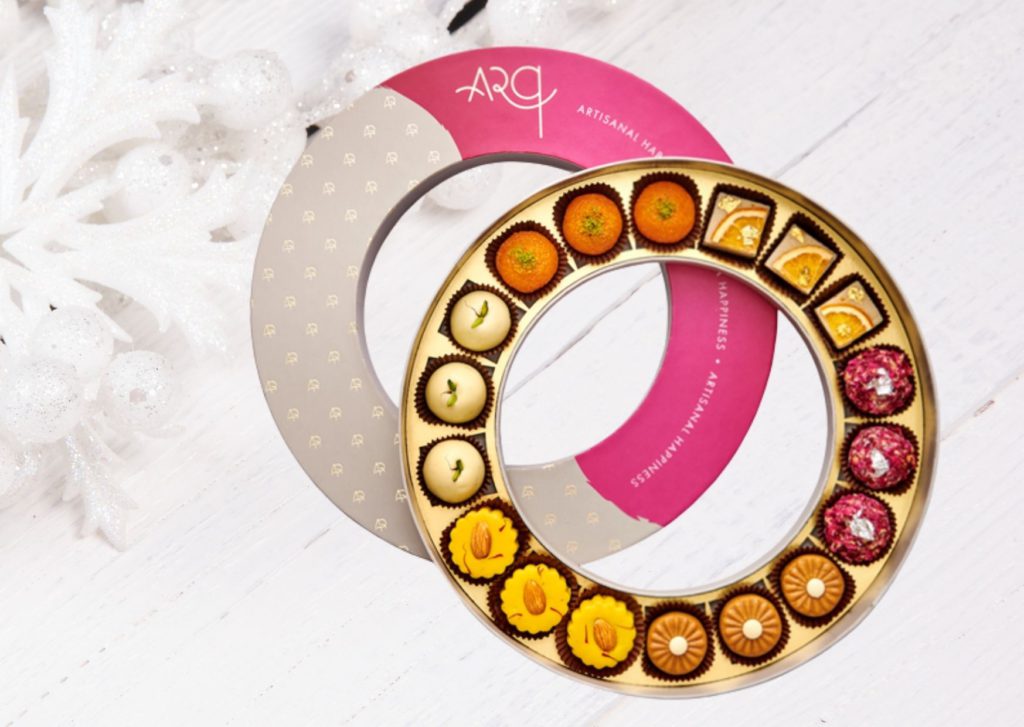 3. BERFILA
There's fun, excitement and a certain youthfulness in the mithai products from Berfila. Their fudge is an experience on its own with Bubblegum, Matcha, Jamun, Lemon and more. Then there's the Raspberry Motichoor Laddoo, Ghiya Barfi, Barfi Truffles, Paan Gulabo Laddoo, Shahi Channa Caramel Loddoo to tingle your tastebuds. A thoughtful range of 'no added sugar' mithai adds value as well. Berfila is located in Orchard Centre, Sector 53, Gurgaon, Delhiites can order online and have it delivered to their homes!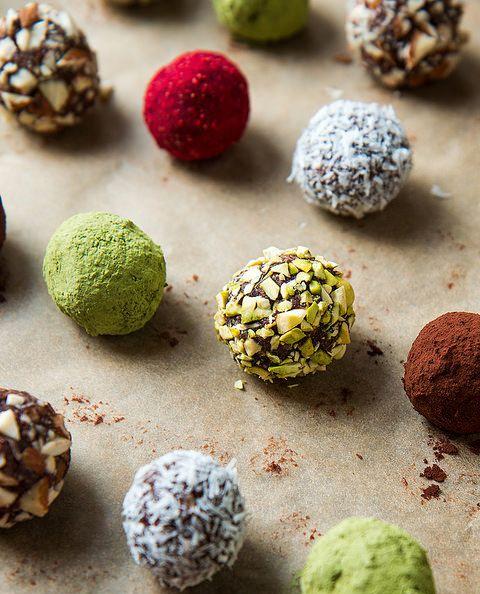 4. NIHIRA & CO
My absolute favourite place for the most exquisite mithai is Nihira. They have taken luxury and innovation to yet another level altogether! For example, the classic Motichoor Laddoo has been transformed with exotic flavours like Lavender, Blueberry, Elderflower, Wine and Champagne. And besides the alcoholic Mojito Laddoo, they also have Jaegerbomb Laddoos, Whiskey Laddoo, Sambucca and Grape Laddoo, Pina Colada Laddoo and wait for it….Old Monk Halwa!!! They're keeping a lot of customer happy this Diwali!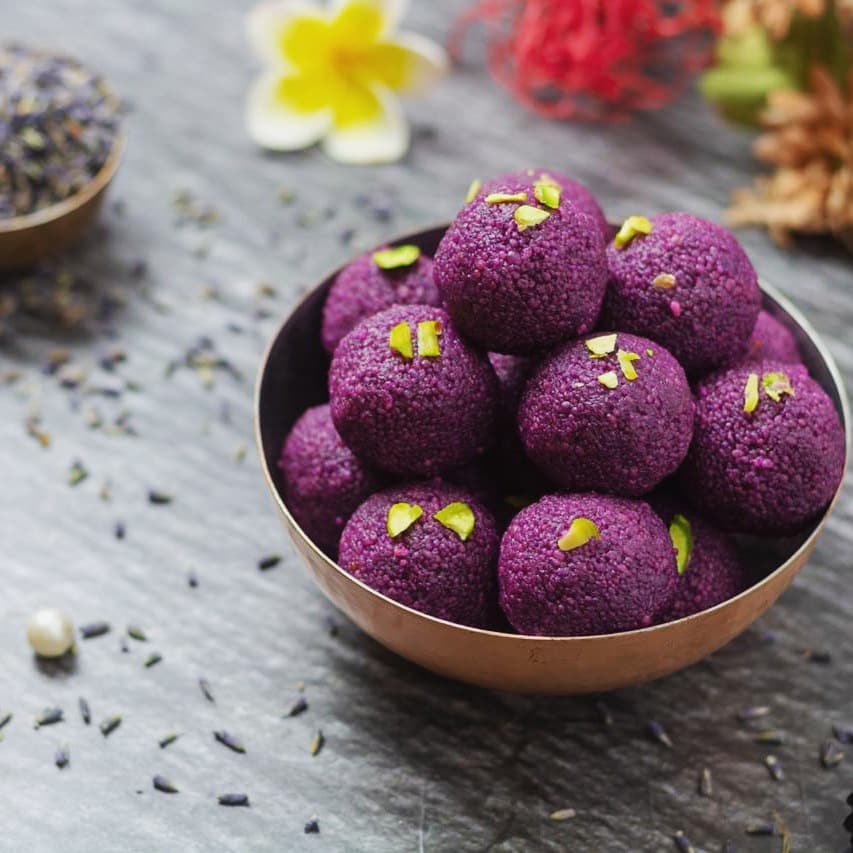 Also, worth trying on their menu are the Tiramisu Barfi, the Pistachio Coconut Laddoo and the Cranberry Panjiri! Visit them at Golf Course Road, Gurgaon, or ask for home delivery. Their packaging is contemporary, elegant and very distinctive.


5. GUR CHINI
Located in Sultanpur, MG Road and JW Marriot at Aerocity, Gur Chini has been steadily making a name for itself in the luxury mithai market. The Bavarian Chocolate Barfi, Almond Tacos Aam Papad Laddoos are heavenly. It's so difficult to make a choice here – everything looks so enticing – from the Ghevar, the Rose Motichoor Laddoo and the Indonesian Coconut Crust Laddoo to the Paan Peda and the Brown Chocolate Laddoo. There are low sugar and no sugar options, and many mithais sweetened with jaggery or honey. Take your pick and then choose from a range of beautifully designed boxes of different sizes and shapes to take your precious mithai home. Or, get it delivered. Gur Chini delivers all over Delhi-NCR.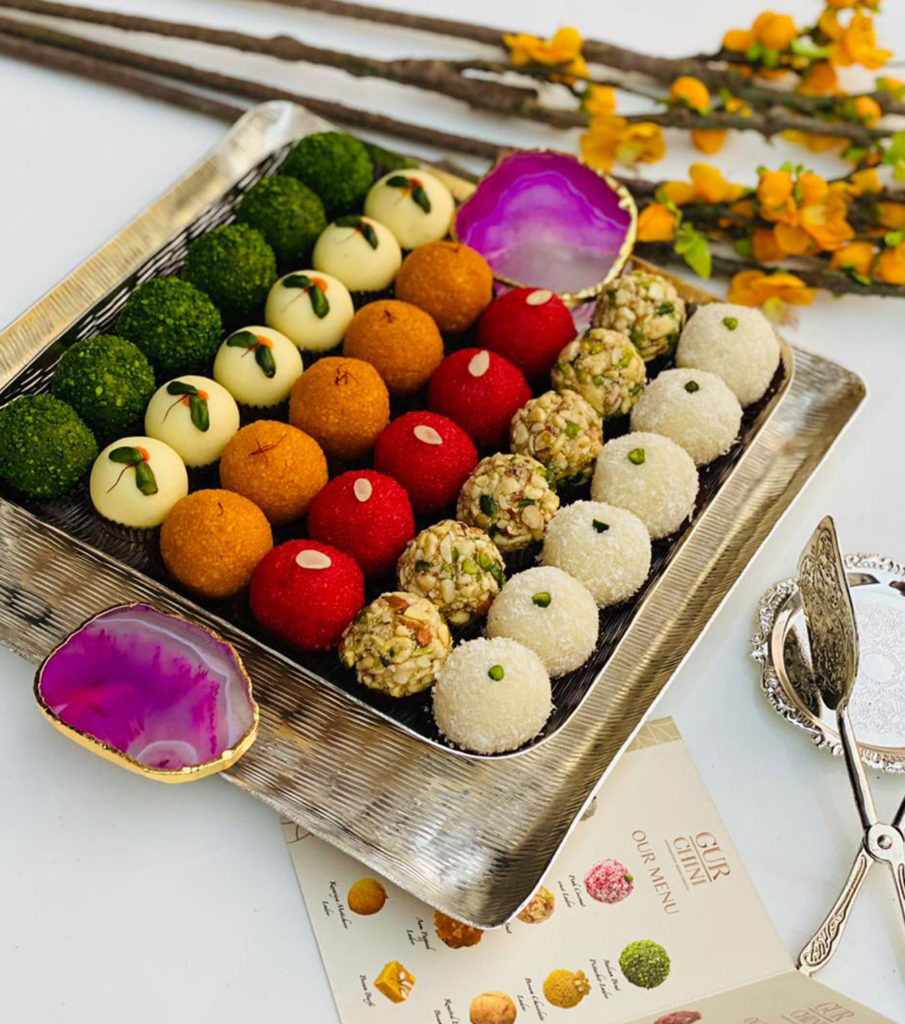 6. SAUGAAT
Unlike all the earlier brands which have been started by young entrepreneurs, Saugaat is a new venture of the famous Bikanervala chain. Entering into the luxury mithai market turned out to be a good decision indeed, as Saugaat has become well known for reimagining traditional Indian mithai. Like the old favourite, Doda, has become the sinful Lait Croquer – a French Waffer Doda with Turkish Hazelnuts. Or the regular Chocolate Barfi has reinvented into the exotic Orange & Noir, a dark chocolate and orange barfi. Get the drift? Their handcrafted signature items include Cashew Bonbons, Nutbutter Crush, Lemongrass Crème. Lemon De Leche, Almond Rose Lychee Laddoos and Tea Amo, each one more delicious than the other.
Saugaat is located in Zamrudpur Commercial Complex in Greater Kailash and makes home deliveries all across Delhi-NCR.
Of course, these handcrafted high end mithais, with their stylish packaging all come at a price. Ranging from Rs. 100/- per piece to Rs 2500/- or more for a kilo, you'll have to have deep pockets, especially if you are gifting them in bulk. I happen to think that they are truly worth it!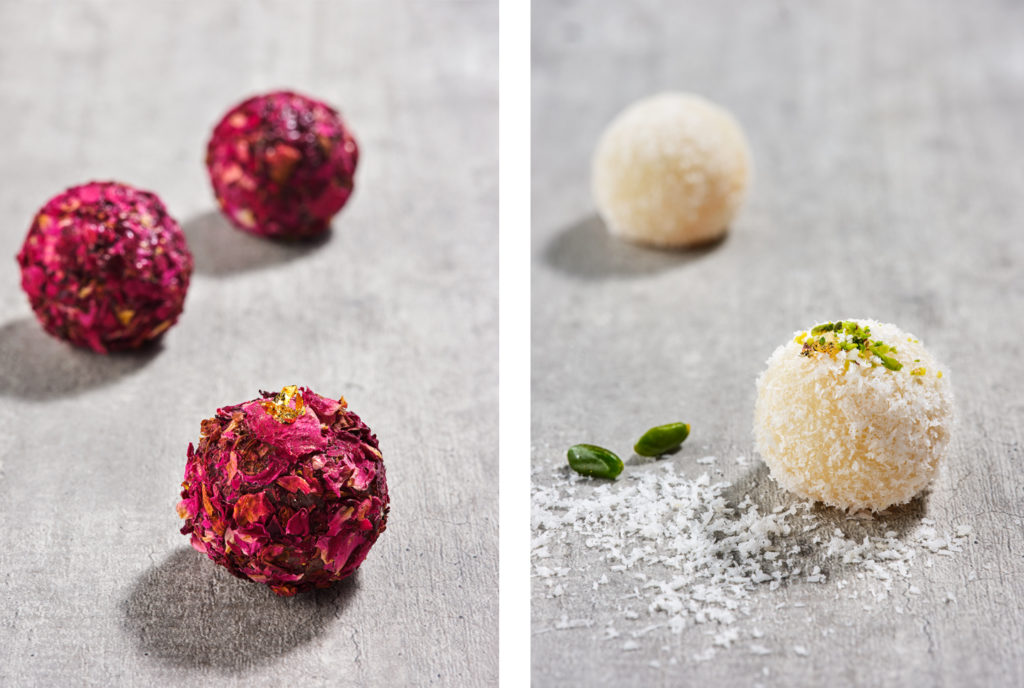 For food and beverage news, food journeys, healthy recipes, restaurant features, food reviews, like us on Facebook or follow us on Instagram. Read more on TheFoodieNetwork.In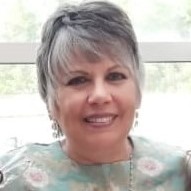 A homeschooled chef even before she joined Catering College in Bombay, Christine's gastronomic journey started with mother and grandmother. Polished with a degree and 10 years of experience in the Hospitality industry, Christine's love of food, drink and everything gastronomic has been sharpened and honed with travel across the world. Today, she shares the wealth of her foodie experience and adventures across the world with Travel and Food Network, so look forward to much more from Chrsitine!