Flowers and chocolates just don't compare to these trip ideas.
This year, many of us will be at home on Valentine's Day, enjoying a romantic movie or cooking a delicious Valentine's Day dinner together. But how about planning a spontaneous trip to surprise the one you love instead? Since staying by the water adds a sense of magic to any vacation, here are a few of our favorite Valentine's Day escapes near the water that are perfect for a Valentine's getaway.
From Mumbai
Kashid, Maharashtra
This beautiful coastal town with its white sand beaches and crystalline waters is located in the Konkan region of Maharashtra. It is the perfect place for a quiet weekend getaway.
Kashid has an enchanting and mesmerizing environment. It has majestic mountains and whistling Casuarinas. It has a spotless vast beach which is perfect for putting out your beach towel and sunbathing in the warm sun.
Distance from Mumbai: 125 km
How to reach:  You can reach Kashid by hiring a cab or book a bus ticket from Mumbai. The journey will take around 4 to 5 hours.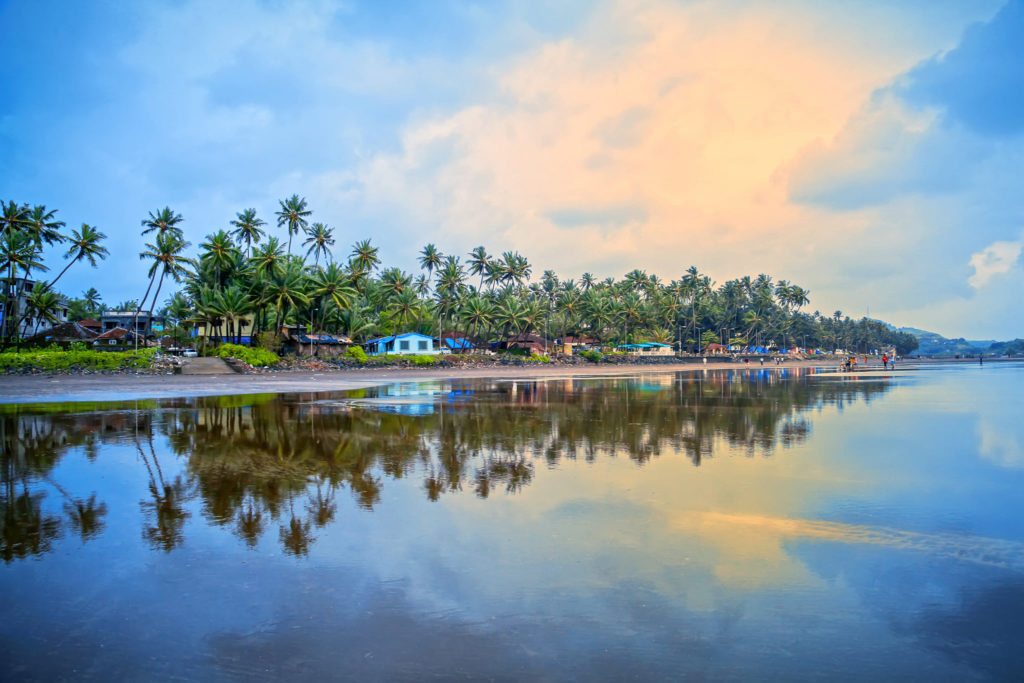 Places to visit:
Murud Janjira Fort: Located 21 km from Kashid Beach, this fort is surrounded by the Arabian Sea on all sides. It was built under the rule of Emperor Malik Amber in the 15th century. The entrance of the fort has a carving of a tiger trapped by six elephants.
Phansad Bird Sanctuary: Although it is referred to as a bird sanctuary, this place is also a habitat to many amphibians, insects and mammals. It is a quiet place and is great place to visit for a quiet nature walk.
Korlai Fort: This old fort is a Portuguese structure situated on top of a hill and is a major tourist attraction.
Revadanda Beach and Fort: The ruins of this Portuguese fort are covered in wild plants. The fort boasts of a historic charm entangled with nature's beauty.
Datta Mandir: A red domed temple located on top of a hill, it is 18 km from Kashid.
Things to do:
Shop for jewelry, artefacts, wooden items and handicrafts on the beach stalls.
Trek up to the Datta Mandir
Enjoy horse riding on the sandy beach.
Get an adrenaline rush by participating in water sports
Camp out under the starry sky
Best time to visit: October to March is the best time to visit as the weather is pleasant at this time and is apt for water activities.
From Bengaluru and Chennai
Paradise Beach, Puducherry
This little, quiet beach with golden sands, also known as Plage Paradiso is located in Chunnambar. It is located close to Puducherry town. You have to take a ferry through the backwaters with rich mangroves to reach the beach.
You can spot a lot of birds on your ferry ride. The place is great for nature and photography lovers.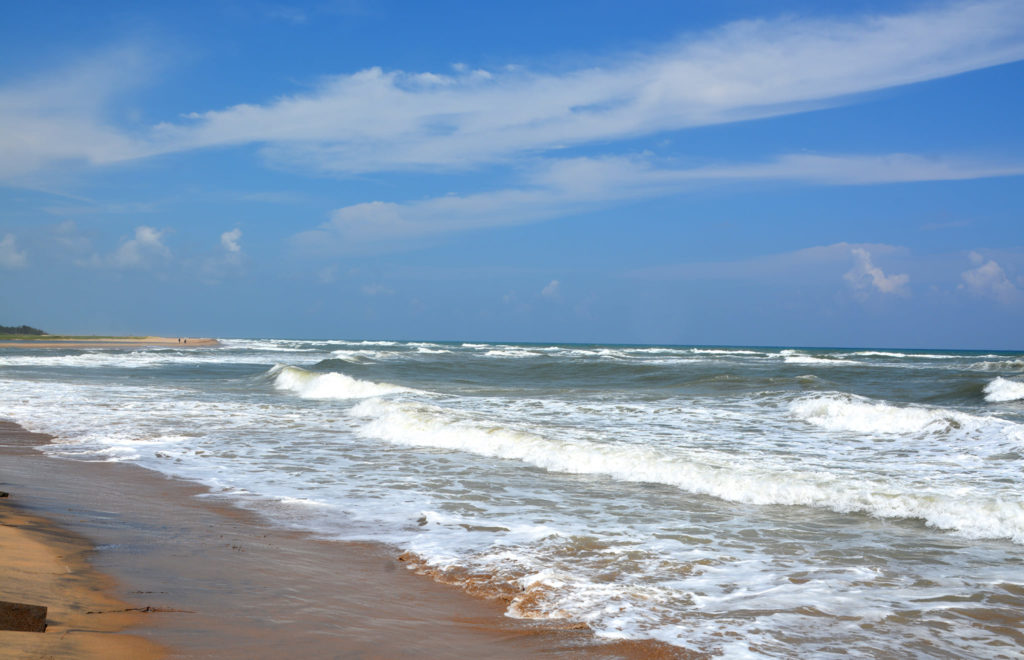 Distance from Bangalore: 307 km
Distance from Chennai: 150 km
How to reach: Go by road to Puducherry from Bengaluru. You can opt to go by bus or take a car. This route will take 7 hours.
If you opt to go by train you can take a long distance train from Bengaluru to Puducherry Station. The journey will take around 9.5 hours.
For those who prefer to travel by air, you can take a flight from Bengaluru to Chennai from where you will have to take a cab or bus to Puducherry which is 150 km away.
Whichever route you choose to take from Bangalore, for reaching Paradise Beach you will have to take a cab or auto to Chunnambar boathouse which is 7 km to the south of the main town. From there you can hire a ferry to take you to the beach.
Places to visit:
Aurobindo Ashram: A spiritual ashram located in Puducherry, the Sri Aurobindo Ashram is the outcome of a small community of the disciples of Sri Aurobindo who had retired from politics and had settled in Puducherry in 1910.
Auroville: A township in Puducherry, it runs on the principles of peace, harmony, sustainable living and 'divine consciousness' which was the philosophy of the Mother of Sri Aurobindo Society, Mirra Alfassa. Also known as the city of dawn, this place is a perfect escape for people looking for peace.
Arikamedu: These ruins carry the history of the Roman trade in India. Recent excavations have discovered wine jars and ancient Roman coins.
Seaside Promenade: This area is well maintained, clean and beautiful. You can feel the spray of the foamy seawaters while you sip your drink at the cafes on the promenade.
Serenity Beach: It gets its name from the Spa-Resort-Inn located here of the same name. It is 10 km from Puducherry.
Pondicherry Lighthouse: The French Riviera of the East, Puducherry has two beautiful lighthouses, an old one and a new one. Although the old one is now closed to tourists, the new one gives a bird's eye view of the city to its visitors.
Botanical Garden: It was established in the year 1862 by C.S. Perrotet. The garden is home to several exotic flora.
Raj Niwas: This eighteenth century building, previously known as Palais du Government, now serves as the residency of the Lieutenant Governor of Puducherry.
French War Memorial
Pondicherry Museum
Things to do:
Cycle around Puducherry on vintage rent bicycles.
Go Scuba diving to witness the beauty of marine life
Relish the mesmerizing sunrises from the beaches and promenades
Go jet skiing, kayaking or canoeing from Paradise beach.
Best time to visit: The winter from November to March are the best time to visit.
From Kolkata
Chandipur, Odisha
Chandipur is a quiet seaside village in the district of Baleshwar of Odisha. If nature fascinates you then you absolutely have to visit this beach! The uniqueness of this beach comes from the ebb tides that recede around 1 to 4 km during the low tides. These recede gradually and rhythmically. It has breath taking sunrise and sunset points.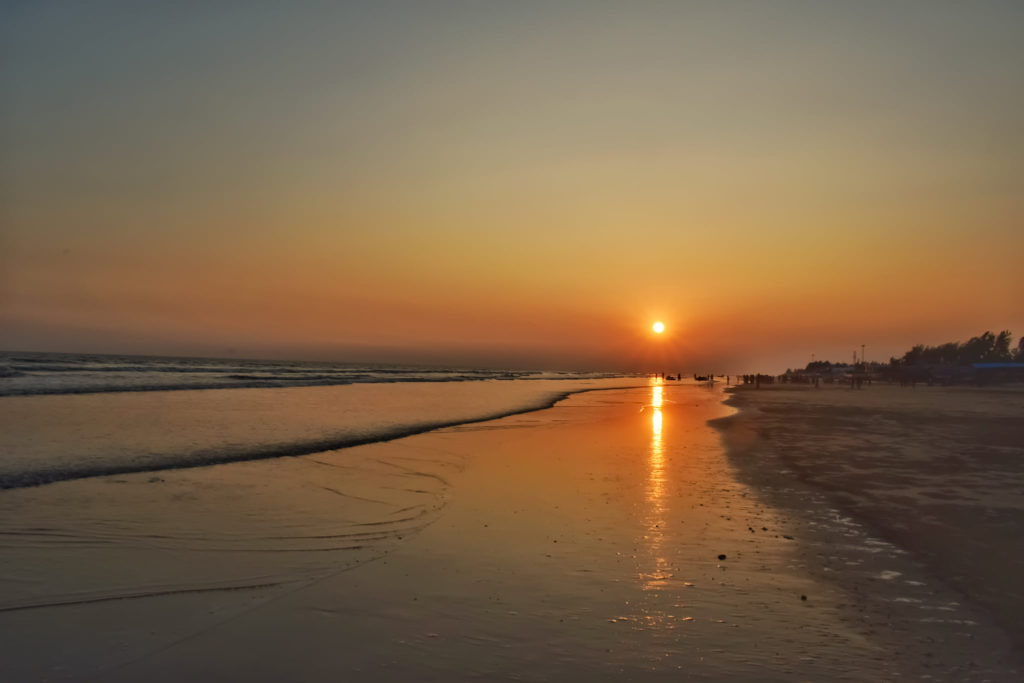 Distance from Kolkata: 257 km
How to reach: Chandipur is easily accessible by road. You can hire a cab or take a car to Chandipur from Kolkata. It takes an average time of 5 to 6 hours.
Alternatively you can take a train from Balasore, from where you can take a cab to Chandipur which is 10 km away.
If you wish to go by air then book a flight to Bhubaneswar Airport, from where you can take a cab or bus to Chandipur which is 210 km away.
Places to visit:
Similipal forest reserve: A wildlife sanctuary covering an area of 2750 km2. It is located 100 km from Chandipur. It is one of the few Tiger Reserves in India. It is also home to leopards, elephants, deer, crocodiles and reptiles.
Nilagiri: An ideal place for trekking. Nilagiri hills protect the Kuldiha sanctuary. These hills are also well known for the Jagannath Temple.
Panchalingeswar Shrine: It is located 45 km from Chandipur, covered with green belts on Nilagiri hills.
Sajanagarh: A village in Nilagiri Tehsil which is 45 km from Chandipur. It is archeologically rich and it is a seat of the Shakti cult.
Remuna: 25 km away from Chandipur, Remuna is famous for the shrine of Khirachora Gopinath. It is known for being the seat of the Vaishnavite culture.
Things to do:
Go shopping in Chandipur for sweets and handicrafts.
Watch the beautiful sunrise and sunset on the beach
Engage in beachcombing
Watch the rhythmically receding waters
Enjoy a walk in nature at the forest reserve
Best time to visit: The best time to visit is during the winter months from October to March. The ambience is pleasing and the temperature cool and refreshing.
From Delhi
Puri, Odisha
A beach city located on the coast of the Bay of Bengal, Puri is one of the top must visit beach destinations in India. With an abundance of hotels and homestays, you can stay at the New Marine Drive or near Chakra Tirtha a popular spot for backpackers. The majestic history and heritage of Puri dates back to the 3rd century B.C. and is famous for being the resting place of Lord Shiva.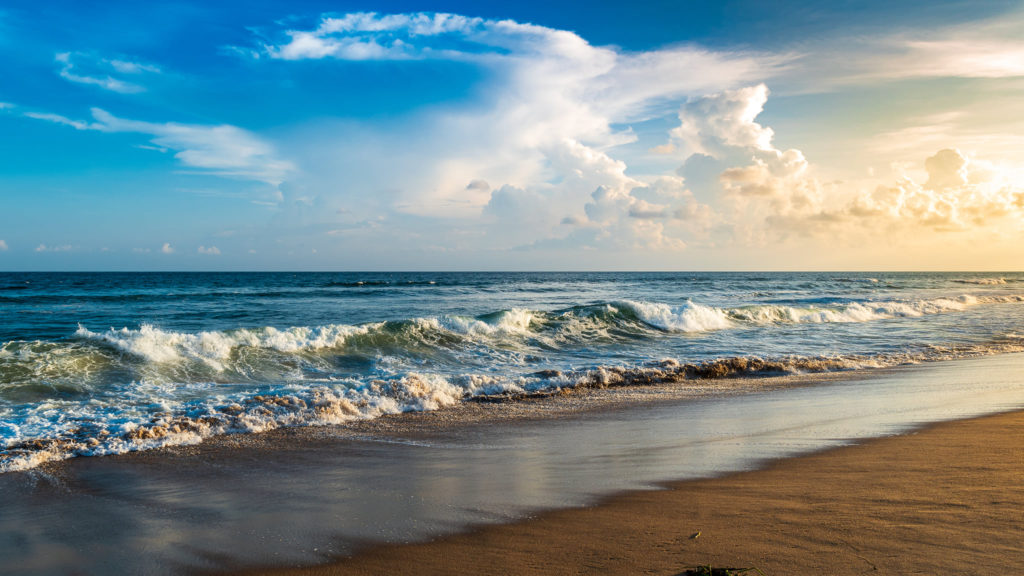 Distance from Delhi: 1785 km
How to reach: Going to Puri by road and by train can consume up to 28 hours, so the fastest way to get there is to book a flight. Catch a flight from Delhi to Bhubaneswar which is the closest airport to Puri. The flight takes 2 hours. From Bhubaneswar, you can go by road to Puri which is 63 km away.
Places to visit:
Puri Beach: A coastline along the Bay of Bengal with mesmerizing views, breath-taking sunsets and quiet shores. The place is an ideal spot for someone who is seeking peace and solitude.
Narendra Tank: One of the largest tanks in Odisha, it is believed to have been built around the 15th century. It is considered holy and has many temples surrounding it.
Pipili: A town in Puri, famous for its handicrafts. The entire economy of the town depends on these intricately made handicrafts.
Sudarshan Crafts Museum: Established by Sri Sudarshan Sahoo, it was founded with the intention for making a location where artists and art lovers can see the evolution of modern craftsmanship.
Chilika Lake: It is the biggest in-land saltwater lake. It is a major tourist attraction in Puri.
Raghurajpur Artist Village: A heritage crafts village near Puri, it is known for Pattachitra paintings and other art forms like palm leaf engraving, wood and stone carvings, and Gotipua folk dance.
Astaranga Beach: Astaranga means "colourful sunset" and this beach does live up to its name.
Swargadwar Beach
Baliharachandi Beach: A peaceful and serene beach perfect for those who prefer the quiet.
Nalbana Bird Sanctuary: Situated on the Nalbana Island, this sanctuary is known for its large green lands which are a haven for many migratory birds. It is popular with nature and bird lovers.
Things to do:
Visit the temples around Puri for a spiritual cleanse.
Enjoy fun rides at the Blue Splash Water Park
Shop for handicrafts at really low prices at Pipili
Try out the local cuisine
Best time to visit: The ideal time to visit Puri is from October to March when the weather is cool and there will be no hindrance to your outdoor activities. For those who want to seek blessings may visit during the Rath Yatra between June and July.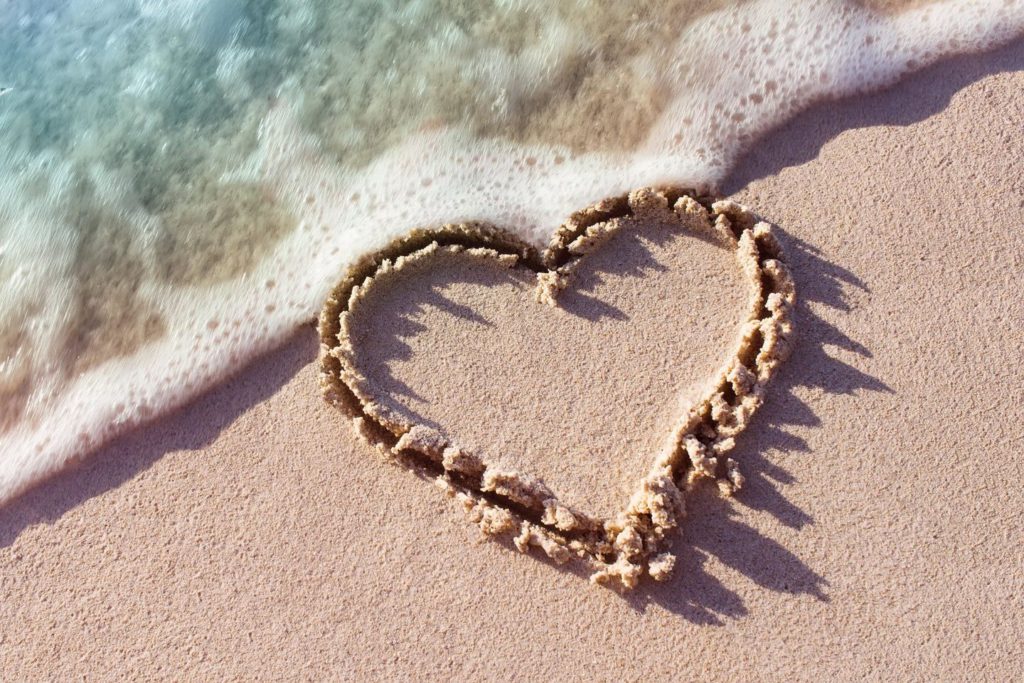 Photos : Shutterstock
For latest travel news and updates, food and drink journeys, restaurant features, and more, like us on Facebook or follow us on Instagram. Read more on Travel and Food Network
TFN Recommended Weekend Getaways
2021 Weekend Getaways | The Call Of The Mountains