National parks are homes to the wild, the flora and the fauna, and an endless list of experiences that nature has to offer! They can captivate you with their richness and make you witness the magic that nature holds within it. National parks are a great place to learn about conservation, nature, wildlife, as well as the history associated with them. They also make for an educational and memorable weekend getaway that is worth experiencing with your family and friends. Here are some of the National Parks around the country for you to consider for your weekend getaways.
From Kolkata
Kaziranga National Park, Assam
Kaziranga is a home to the well-known one horned rhinoceros and tigers. This national park makes for a very fulfilling weekend getaway. You can easily book a resort or comfortably spend the nights in a government run lodge in Kaziranga to enjoy the beautiful ambiance of this place amidst the wild. This place is also a home to elephants, swamp deers and wild water buffaloes along with a large number of birds that migrate to this region during the winter season. Some of the migratory birds that you can spot in Kaziranga include the black necked stork, the Asian openbill stork and a variety of geese and ducks. You can also enjoy an elephant ride and spot a variety of animals on the safari. While you are at Kaziranga, do not miss out on the lip-smacking Assamese cuisine that Kaziranga has to offer!
How to reach: From Kolkata, you can book a flight to Guwahati and experience a pleasant road trip to Kaziranga which is around 200 kms from Guwahati. You can also book a train that runs from Kolkata to Furkating which is the nearest station to Kaziranga and is around 75 kms away from the National Park.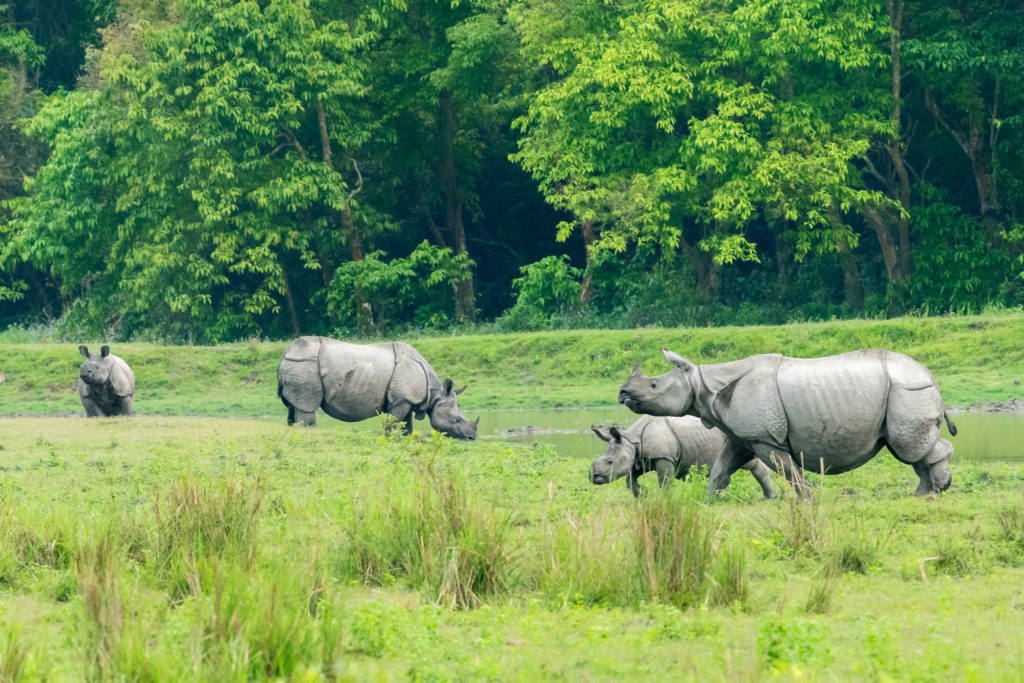 From Mumbai
Ranthambhor National Park, Rajasthan
Ranthambhor is one of the most renowned national parks in the country located in the Sawai Madhopur district of Southeastern Rajasthan. This place used to be the hunting grounds of the Maharaja of Jaipur! You will also find the famous Ranthambhor fort which was built in the 10th century within the National park. Ranthambore is the home of a large variety of wild animals such as nilgai, Bengal tiger, wild boar, sambar deer, Indian leopard and so on. It also has a rich variety of birds and around 539 species of flowering plants. One cannot miss the Gypsy Safari and the Canter Safari which gives you a tour of the Safari zones. If you are into photography, you are recommended to go on as many safaris as possible for you to spot tigers and a variety of birds that inhabit this land.
How to reach: You can take the flight from Mumbai to Jaipur International Airport. From Jaipur you can book a cab to reach Ranthamhor. Trains are also available from Mumbai to Jaipur. The road trip to Ranthambhore from Jaipur would take around 3 to 4 hours.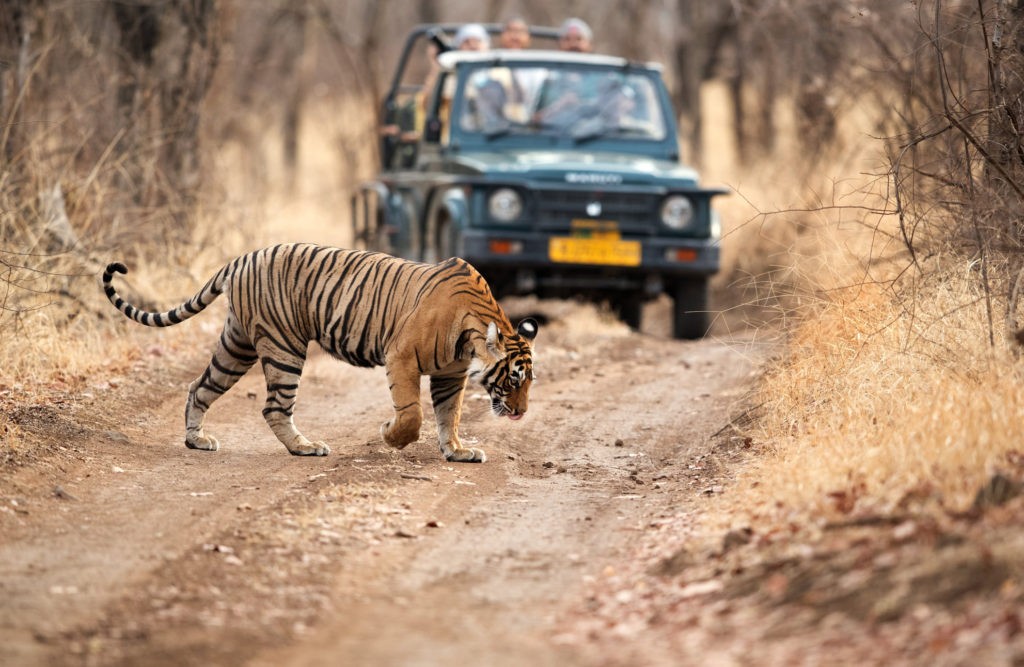 From Delhi
Jim Corbett National Park, Uttrakhand
Jim Corbett National Park is the oldest and the most prestigious national park in India. It was made to preserve and protect the endangered Bengal Tiger. It is located in Uttarakhand and was established by the hunter and a naturalist, Jim Corbett. Jim Corbett National Park makes for a wonderful weekend getaway if you want to catch the tigers in their natural habitat and spend some quality time in the lap of Nature. You can stay over at night in the national park and can enjoy the Jeep Safari, Canter safari or the elephant rides that it has to offer. It has a large and healthy population of tigers, barking deer, sloths, Indian grey mongoose and also a number of fish-eating crocodiles.
How to reach: Going to Jim Corbett National Park from Delhi is very easy. Buses ply everyday from Delhi to Ramnagar, Uttrakhand. You can easily book a bus of your choice according to your convenience. You can also take the only train from Delhi to Ramnagar or can take the train to Muradabad and then change for Ramnagar station. Another option is to book a cab from Delhi and reach Ramnagar in 5-6 hours.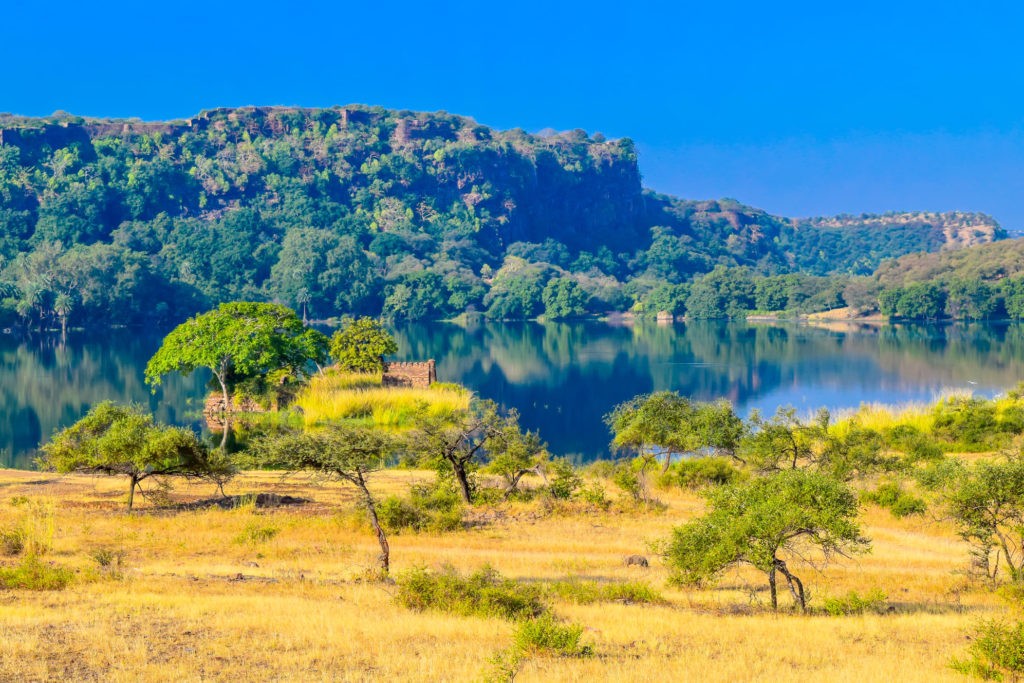 From Bangalore
Periyar National Park, Kerala
Periyar National Park is located in Kerala and is the home to a significant number of tigers and elephants. It is one of the most renowned national parks in South India located in the Cardamom hills and the Pandalam hills in the Western ghats. The forest here is a home to a large number of semi evergreen trees as well as deciduous trees such as teak, sandalwood, rosewood, jamun, mango and so on. You can also find a variety of animals such as the Asian elephants, gaur, White tigers, Indian wild dog and sambar deer. You can enjoy boat cruises at Periyar along with the jeep and elephant safaris. Tourists can book their own boats during their stay, if they so desire, which makes Periyar National Park an interesting weekend getaway destination!
How to reach: From Bangalore, you can either fly to Kochi or Madurai, and then take the taxi to Periyar National Park. The whole journey would take around 4 to 5 hours. You can also take the bus or drive to Periyar which would take around 9 hours to reach.
For latest travel news and updates, food and drink journeys, restaurant features, and more, like us on Facebook or follow us on Instagram. Read more on Travel and Food Network
Trending on TFN
The 23 Best Places To Go In 2023
Explore Utah's Mighty 5® and What Lies in Between