The world's most exciting destinations for the year ahead.
The world awaits. Where will you go next? Our editors pick the planet's 23 most exciting destinations for the year ahead. To create our annual Best Trips list we collaborated with our own globe-trotting experts to share 23 timely tales of timeless places that will define our future itineraries.
Grab your bags and go!
In the coming months, we will be unveiling a whole new series of stories, videos, and travel and food guides for turning our 23 Best Places to Travel list into your travel reality, whether in 2023 or further in the future.
EPIC JOURNEYS
1. US National Parks
Utah's Arches National Park, California's Yosemite, Colorado's Rocky Mountain National Park, Nevada's Great Basin National Park, Montana's Glacier National Park, – magnificent natural wonders that attract lovers of the great outdoors, history buffs and would-be cowboys are just a few of the reasons that National Parks in the United States, should top your list of where to go in 2023. Stargaze in the dark skies of Arches National Park, Hike amid a spectacular landscape and search for black bears at Yosemite, photograph the towering peaks of Colorado's spectacular wilderness, soak up the scenery as you go past the 12-mile Wheeler Peak Scenic Drive and top it off by visiting 'Going to the Sun Road' in Glacier National Park.
2. Iceland
Surreal natural landscape can be found over in Iceland's bubbling lava fields. This unique environment becomes more accessible in the summer months, allowing visitors to explore the volcanic craters and rock formations, boiling lava flumes and a turquoise hot-water caldera lake. Iceland is also one of the best places in the world to see the aurora borealis, or northern lights. You can see the Northern Lights from late August to May, but it's best to visit between October and April.
3. Peru
The heartland of the great Inca empire, Peru is blessed with mountains, jungle, desert and world-renowned cuisine. From gliding down jungle waterways on an Amazon River cruise, to navigating an intricate network of wildlife-rich waterways and from venturing into a world where the mysteries of the ancient Inca are layered with the symbols of the country's colonial past, to experiencing Cusco, the Sacred Valley of the Inca, and Machu Picchu – there's so much to explore in these enigmatic landscapes of the Southern American country.
4. Costa Rica
Costa Rica is one of the most biodiverse countries in the world. With a staggering 29 national parks, the Central American nation's rugged topography, dense rainforests and steaming volcanoes give way to mangrove swamps and miles of secluded tropical beach. From exploring the plush rainforests and white-sand beaches to enjoying a variety of adaptive adventures like surfing and zip lining, Costa Rica is a country waiting to be explored for those who love to travel responsibly.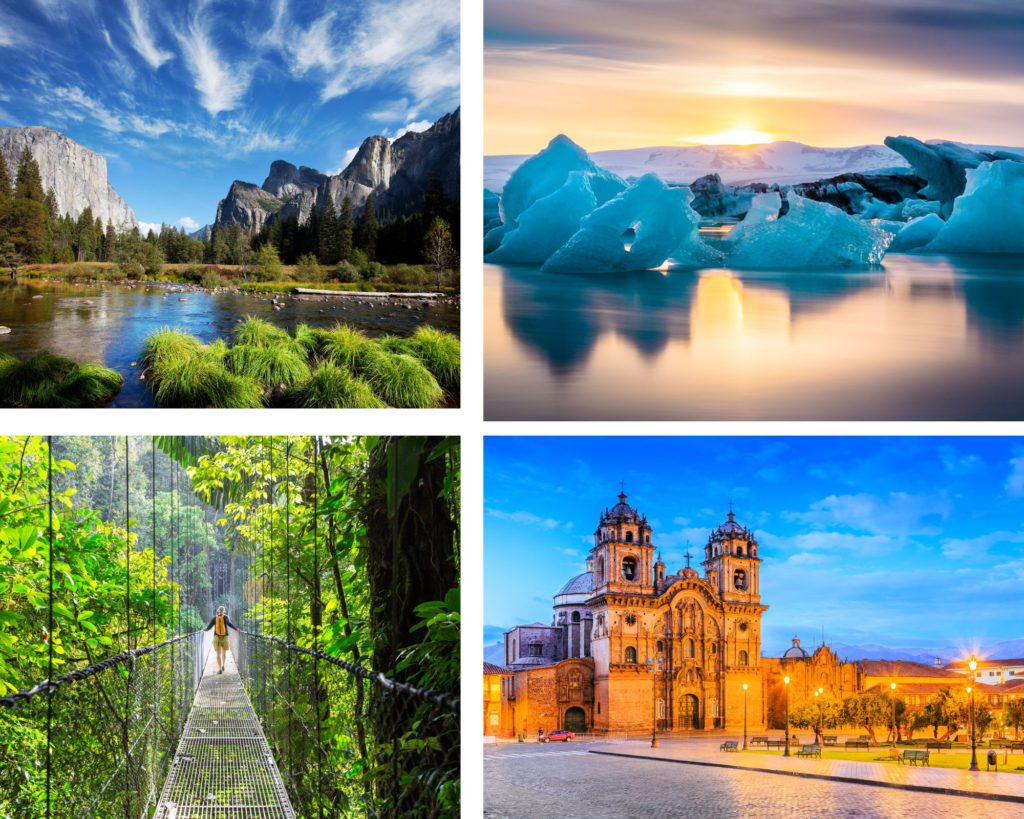 5. Slovenia
Graced with stunning scenery from the Alps to the Adriatic, Slovenia is a paradise for nature lovers. From secluded glacial valleys, limestone caves, sparkling waterfalls, jewel-like lakes to enchanting Ljubljana and medieval mountain hamlets, there is a lot to explore in this Central European gem.
THE BUCKET LIST
6. Antarctica
Striking white desert, with its dramatic, snowy peaks and vibrant turquoise waters, as well its exotic wildlife, including Emperor penguins and Weddell seals, is truly a once-in-a-lifetime experience that makes the seventh continent on the top of many travelers' bucket lists.
7. Canada
From extreme adventure like skiing, surfing, hiking to black-bear spotting and from Northern-lights sighting to eclectic cuisine, Canada has a diverse and rich culture. Nature lovers take solace in the mesmerizing Canadian Rockies, glaciers, waterfalls and Atlantic or Pacific coastlines while chic palates explore the exotic restaurants including Michelin-starred restaurants and hole-in-the-wall mainstays alike and night crawlers find vibrant club scenes in Toronto and Vancouver.
8. France
World-class art exhibitions, elegant chateaux, towering cathedrals, medieval villages, glamorous stretches of coast and endless tangles of wine-producing vines, the bistros, boulangeries, patisseries and fromageries are reasons enough to fly into France.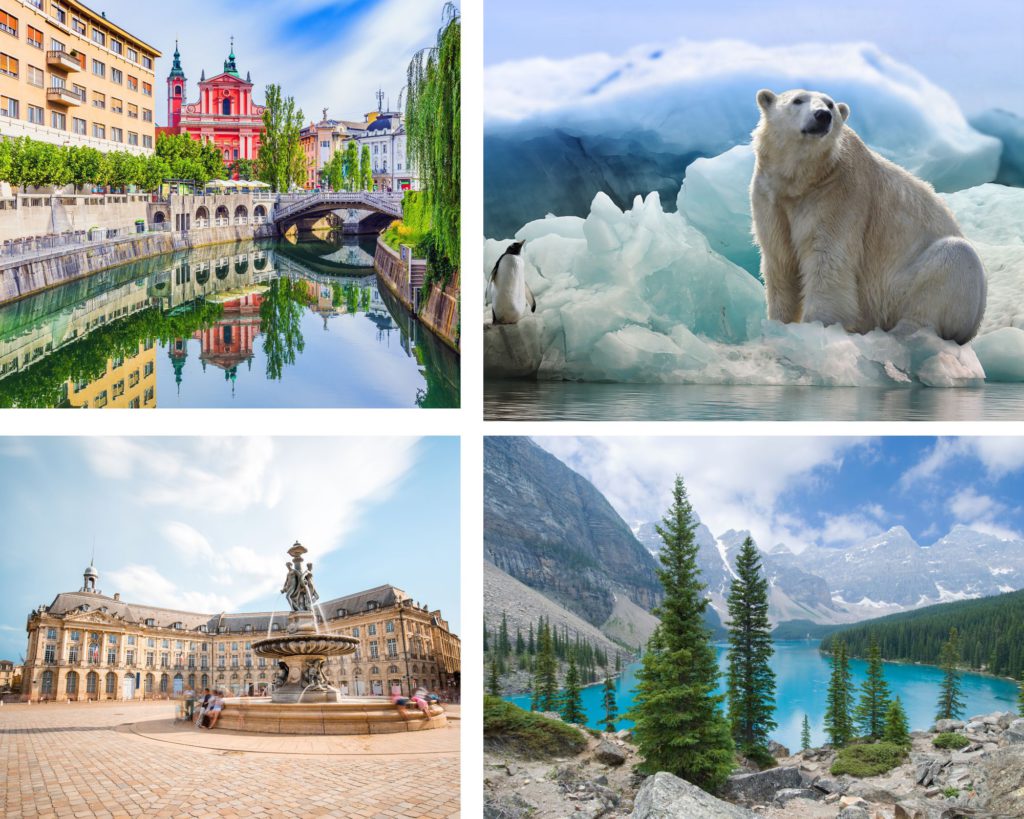 9. New Zealand
Who doesn't wish to plan the "Otherworldly" escape – a term often applied to New Zealand's eye-popping, Hobbit-friendly landscapes? Plus, with some forest therapy in Waiheke, or some star-gazing on Stewart Island, the world is still wide and wonderful and this country serves nature up on a heaping platter with rich ties to local Māori culture and history.
10. Britain
With a coastline alongside the "timeless treasures" of its historic castles, cathedrals, quaint villages and rolling countryside and from Shakespeare's theatrical roots and mystical Stonehenge to the fresh air and rugged outdoors of the Scottish Highlands, where you can learn all about the locals' favourite drink at a traditional whisky distillery – Britain's appeal as a vacation destination remains undimmed.
11. Italy
Italy has a way of capturing the heart of travelers unlike anywhere else on Earth. Perhaps it's the landscapes, from the towering Alps and Dolomites to the glamor and grandeur of the Amalfi Coast and from the ancient treasures of Rome to Renaissance Florence and everything in between. Maybe it's the cuisine, whether it's seafood in Sicily or pasta e patate in Naples.
12. Australia
From Sydney's Opera House and the Great Barrier Reef to the seemingly never-ending Outback and the tropical rainforests of Queensland, Australia's classic yet spectacular sights are worth the journey all by themselves. Plus, Sydney's huge natural harbor – a playground for city dwellers, and Melbourne's food and coffee scenes are a match for anywhere in Europe and North America.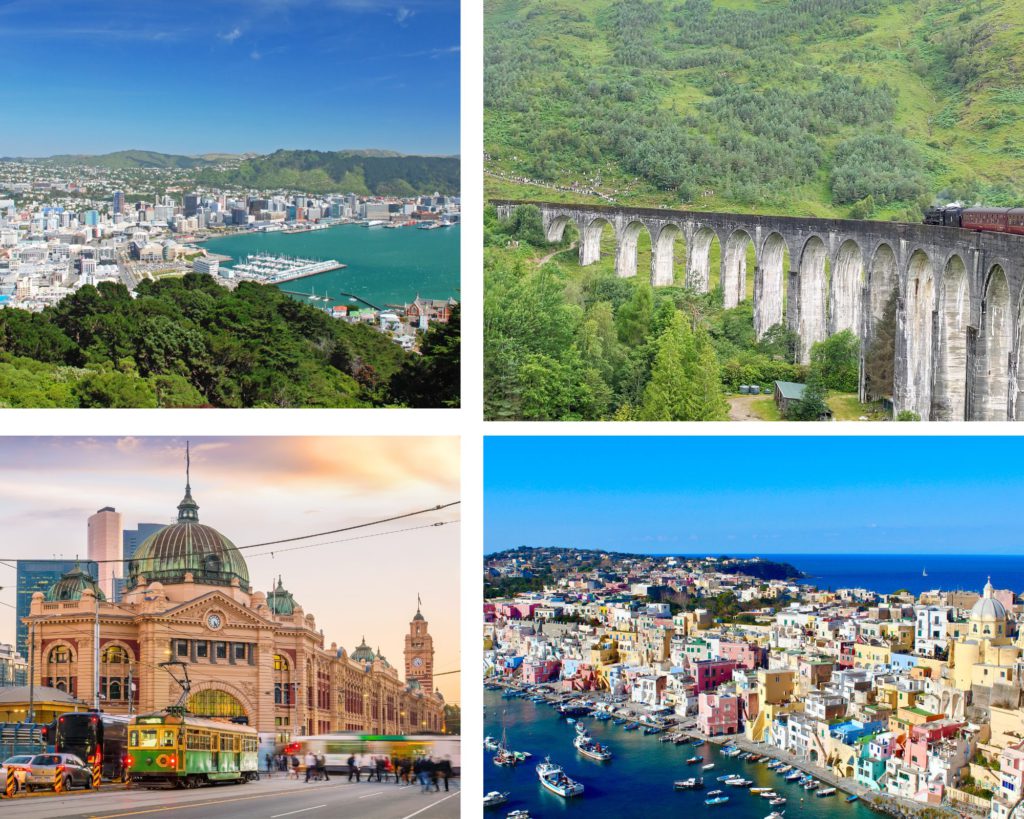 13. Morocco
Rainbows of color, spice-market smells, an urban orchestra of sounds – the North African country mixes Middle Eastern magic, Berber tradition and European flair. Whether it's that view of Spain, clear across the Med, as you sip tea at Café Hafa in Tangier or the fine-dining institutions and bustling food stalls serving the best Moroccan food in Marrakech – Morocco's the kind of place you visit once—and immediately know you'll be back.
14. Austria
Home to splendid Hapsburg palaces and Gothic cathedrals, vibrant cities and fairy-tale landscapes, Austria brims with treasures. Delve into Vienna's cultural delights, baroque architecture and gardens of the imperial design or experience Viennese Coffee House, a tradition so ingrained it was included by the UNESCO in the national inventory of intangible cultural heritage in 2011.
15. Switzerland
From the magnificent Matterhorn and the astounding Staubbach Falls to the turquoise waters of Lake Brienz, everywhere you look, the scene changes each time, dramatically rendering in different technicolour shades, depending on the time of day or night depicting a diverse, epic, and stunning landscape. You can experience of Switzerland's diverse culture through its food, language, and its people with the locals taking pride in introducing you to their beautiful villages, the wonderful train rides, delectable fondues, ski trips and chocolates!
16. Scandinavia
Scandinavia is home to some of the world's happiest people, consistently topping the UN's World Happiness Report. In these northern European countries, creativity flourishes among pristine landscapes rich in beauty and history. From discovering Sweden's World Heritage site to exploring the three dynamic cities—Stockholm, Copenhagen, and Oslo, the experiences you can have here are incomparable.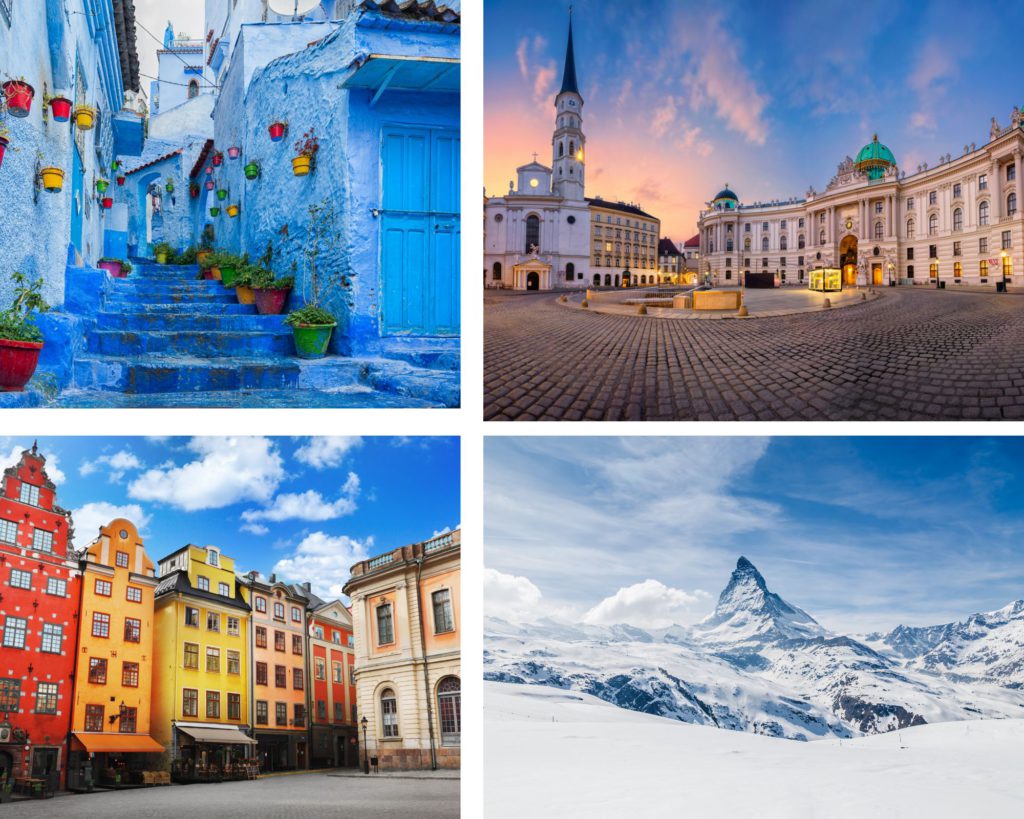 CITIES
17. Johannesburg, South Africa
Ever since its inception as a gold-rush town in 1886, Johannesburg has been a destination for a continent of dreamers arriving with stars in their eyes—if they can make it there, they'll make it anywhere. The dynamic, sprawling metropolis is South Africa's financial capital and also home to booming arts, music, and fashion scenes. Plus, the city has lately been racking up some serious culinary experiences making it top the list of destinations for food lovers.
18. AlUla, Saudi Arabia
Located 1,100kms from Riyadh in north-west Saudi Arabia, AlUla is a place of extraordinary natural and human heritage. The vast area, covering 22,561km², includes a lush oasis valley, towering sandstone mountains and ancient cultural heritage sites dating back thousands of years. Alula offers a bounty of ancient and traditional cultural and artistic charms, has outstanding natural beauty featuring sandstone canyons, volcanic plains, oases covered in palm trees, mountains and valleys, and is the perfect destination for soft adventure activities like hot air ballooning, zip lining, camel and horse riding.
19. Philadelphia, USA
With its rich historical heritage, Philadelphia is one of the most visited cities in the United States. Due to its convenient location on the East Coast, and its proximity to New York City (1.5 hours) and Washington D.C. (2 hours), Philadelphia is seen as one of the world's most dynamic destinations. The first World Heritage City in the U.S. and the second-largest city on the East Coast, Philadelphia is home not just to American history, but also to chef-driven cuisine, abundant outdoor space and an unparallel art and culture community. This is what makes Philadelphia a destination worthy of the world's attention.
20. Dublin, Ireland
Home to almost 1.2 million people, Ireland's intimate capital exudes a friendly, village vibe. From strolling around to discover Dublin's historic Georgian squares, to hunting down cozy pubs, and from experiencing high-tech treasures, like the Irish Emigration Museum to visiting the famous National Gallery of Ireland, there's more than what meets the eye at Dublin.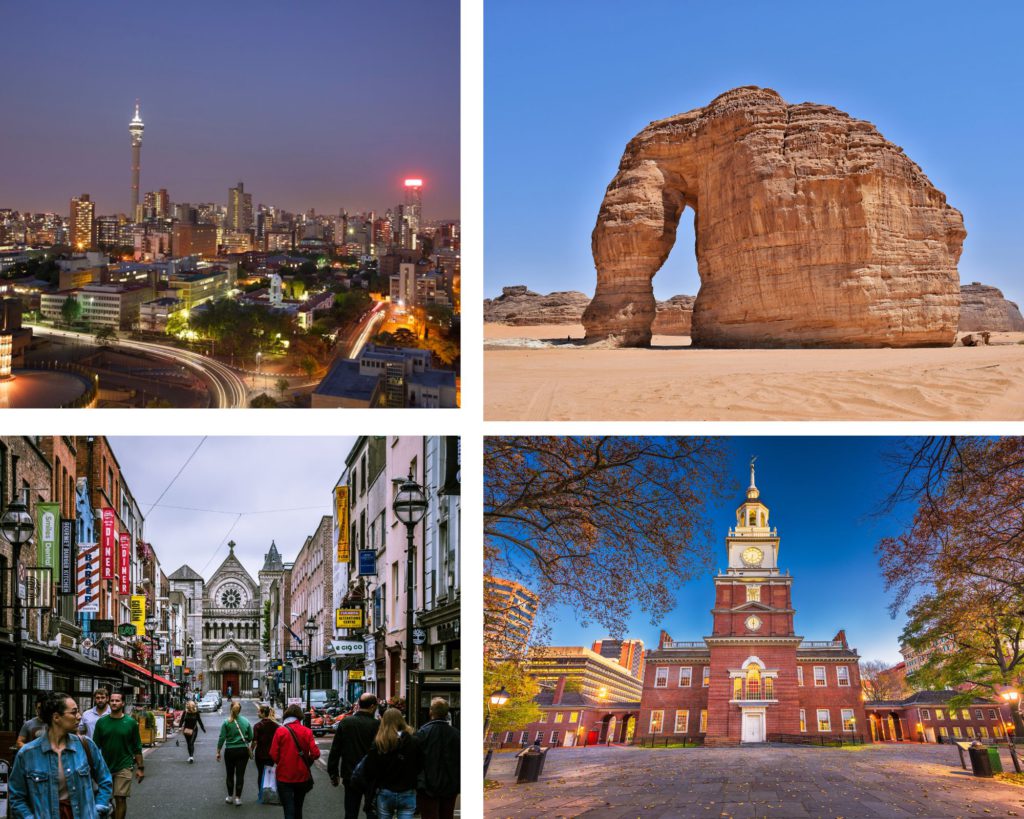 21. Cairo, Egypt
Historic artifacts and monuments are scattered across the city. In addition to the Sphinx and the $1 billion Grand Egyptian Museum, the city hosts a variety of other ancient artifacts that any history buff would enjoy seeing.
22. Los Angeles, USA
Whether you go for Hollywood or the beaches, L.A. has striking views, distinct neighborhoods, and unexpected pockets of charm to impress even the most seasoned traveler. And if that's not enough, Los Angeles' restaurant scene is buzzing, with top American chefs flocking to the city for its more affordable rents and its emphasis on creativity. And it's not all vegan fare and green juices (though there is plenty of that on offer too if it happens to be your thing) the city boasts one of the most diverse culinary scenes in the United States, with everything from first-rate sushi and upscale Mexican food to good-old American staples like hot dogs and burgers.
23. Istanbul, Turkey
As they say this is where East meets West with visible influences from the Middle East, Mediterranean, the Balkan peninsula, and Central Asia. Beach towns scattered along the Aegean and Mediterranean coasts to world-class archaeological sites dotting unforgettable desert landscapes – all of this combined with innovative cuisine and maze-like bazaars there's something for everyone in Istanbul.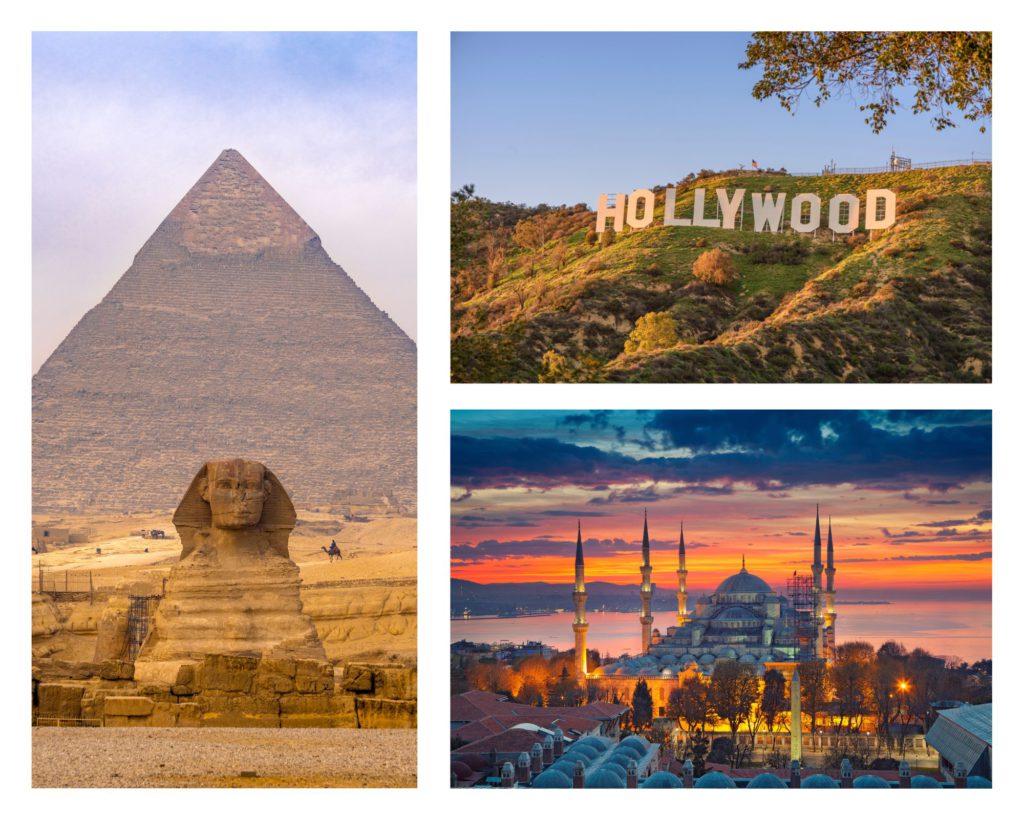 Trending on TFN
The 22 Best Places To Go In 2022
Explore Utah's Mighty 5® and What Lies in Between