New York is often called the Capital of the World. And rightly so! Home to people from all over the world, an epicenter of art and architecture gleaming with skyscrapers and iconic landmarks, a trendsetter for shopping and dining, New York has developed a culture that is unlike any other in the world. Both in the literal and metaphorical sense, New York City promises endless fascination for those that care to look beyond its intimidating and well-recognized skyline.
A delightful by-product of the Big Apple's cultural diversity is the many culinary treats the city offers, spanning all flavors under the sky. That's why when you think of New York City, your senses are the first to tingle; the smell of freshly made cronuts from Dominique Ansel Bakery, the taste of a perfect melt-in-the mouth pastrami sandwich from Katz Delicatessen, the sight of the Waldorf salad at the landmark institution Waldorf Astoria , the touch of cupcakes from Sex and the City famed Magnolia Bakery, and the sounds of strip and steak frites at Bar Boulud.
Must See, Must Do In 72 Hours
For a first trip, stick with Manhattan, the classic microcosm of the world.
Empire State Building: Soaring 1,454 feet above Manhattan, the Empire State Building is one of the world's most famous skyscrapers. One glance at this beauty will make you wanna play some Frank Sinatra tune and sway a little. Open daily from 8am to 2am, the 86th and 102nd floor observatories offer two of the highest vantage points in the City.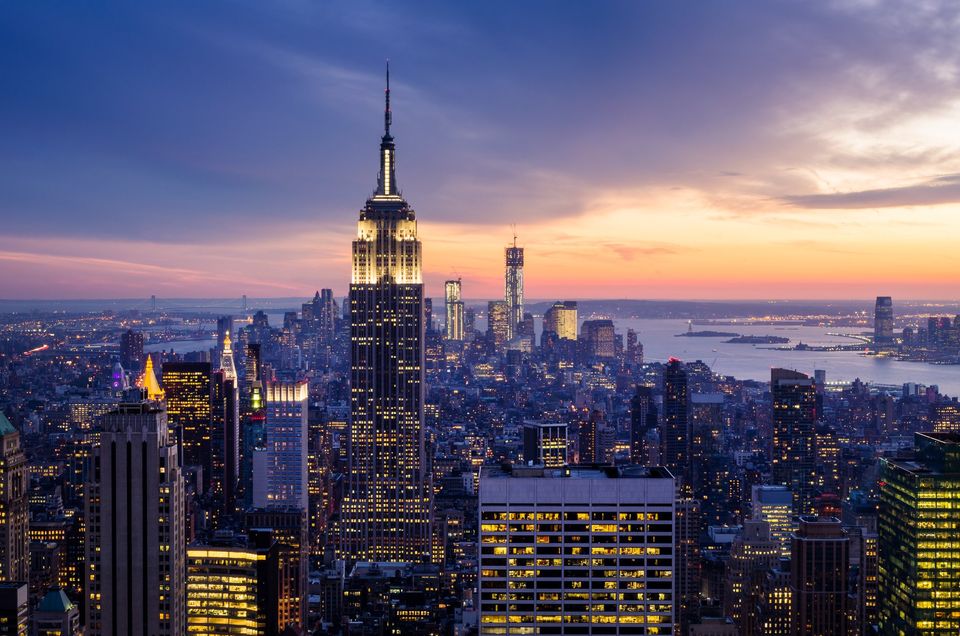 Rockefeller Centre: Head to the 67th, 69th or 70th floors at 30 Rockefeller Plaza (Top of the Rock) for a 360 degree view of the City's spectacular skyline. If you are visiting around the holidays, make sure to drop by at their skating rink to check out one of the most beautifully lit up Christmas tree in the United States.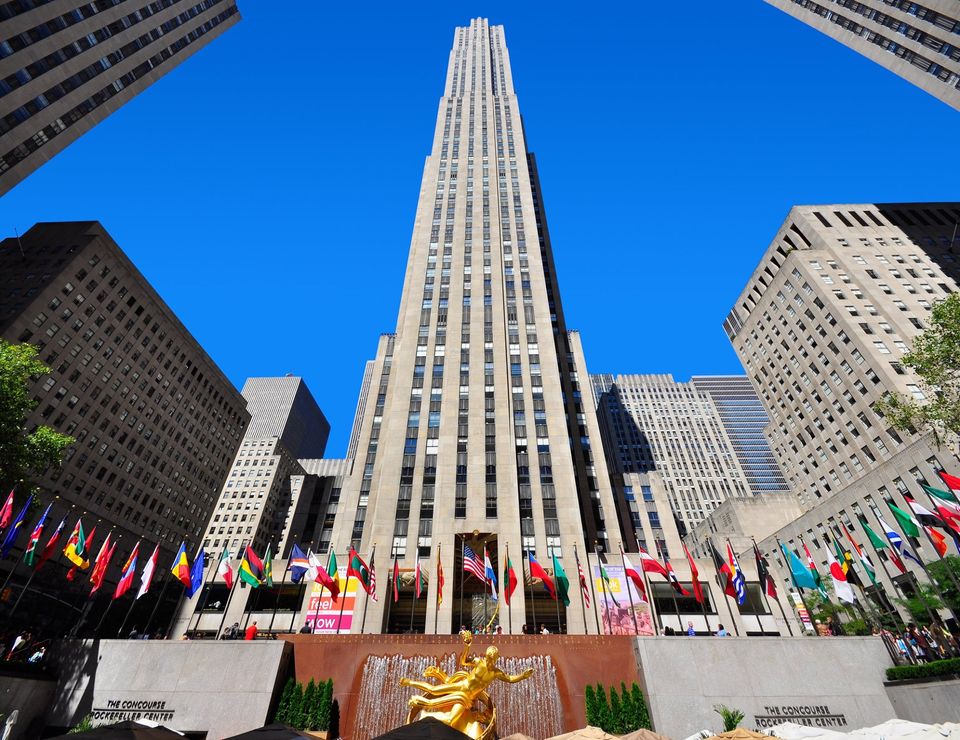 Statue of Liberty: France's gift to America,the Statue of Liberty is perhaps New York City's most familiar landmark and the easiest one to overlook since it's only accessible by boat.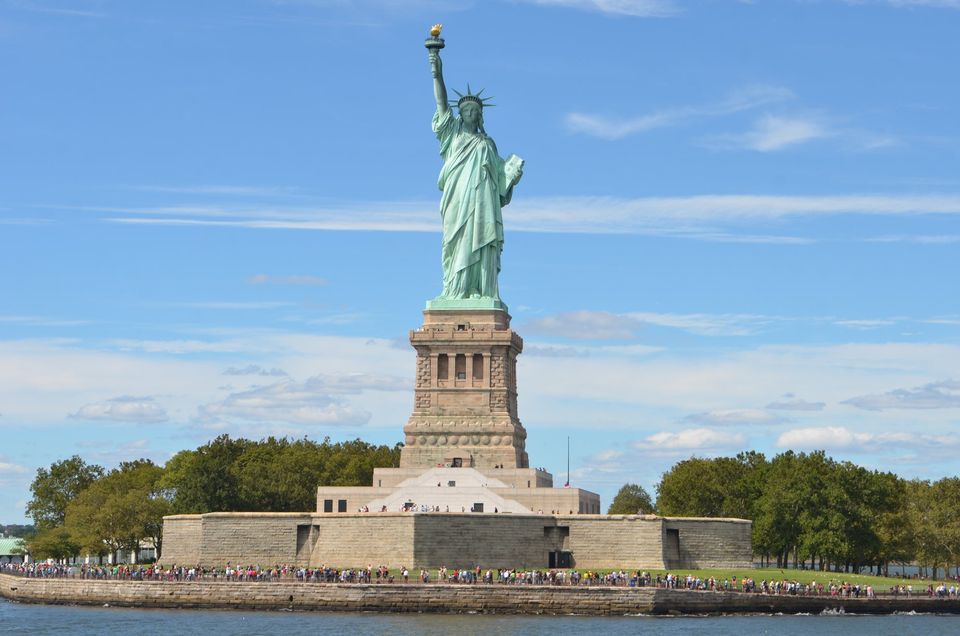 The Metropolitan Museum Of Art: is one of the largest and most comprehensive art museums in the world. With over two million works of art spanning 5,000 years, the Met presents the best of human creativity from around the globe.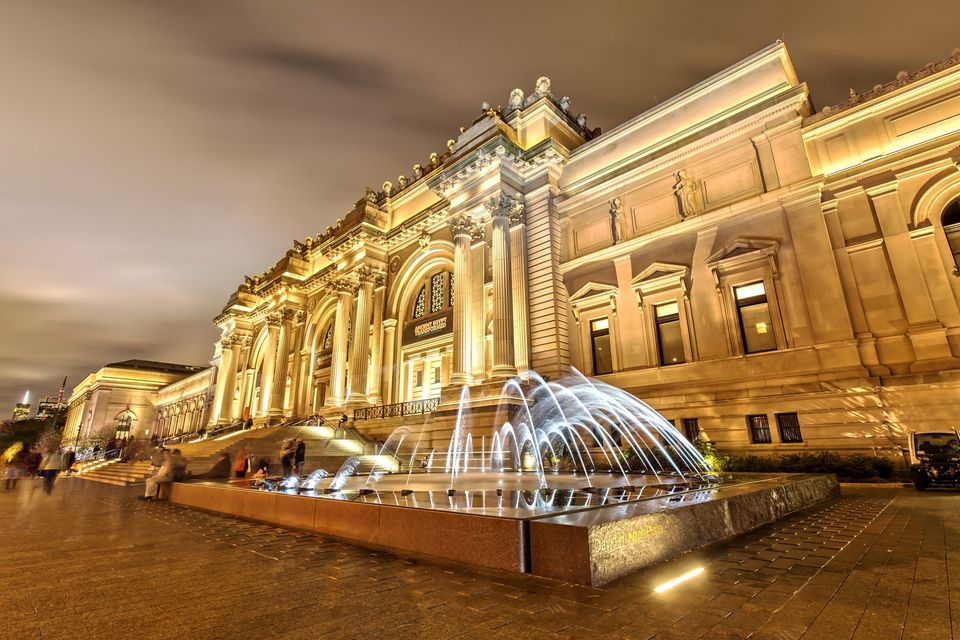 Central Park – The city's much urban park stretches from W 59th St to W 110th St, with entrances on every nook and corner. Central Park comprises 843 acres of rolling meadows, boulder-studded outcroppings, elm-lined walkways, manicured European-style gardens, a lake and a reservoir — not to mention an outdoor theater, a memorial to John Lennon, an idyllic waterside eatery and a famous Alice in Wonderland statue.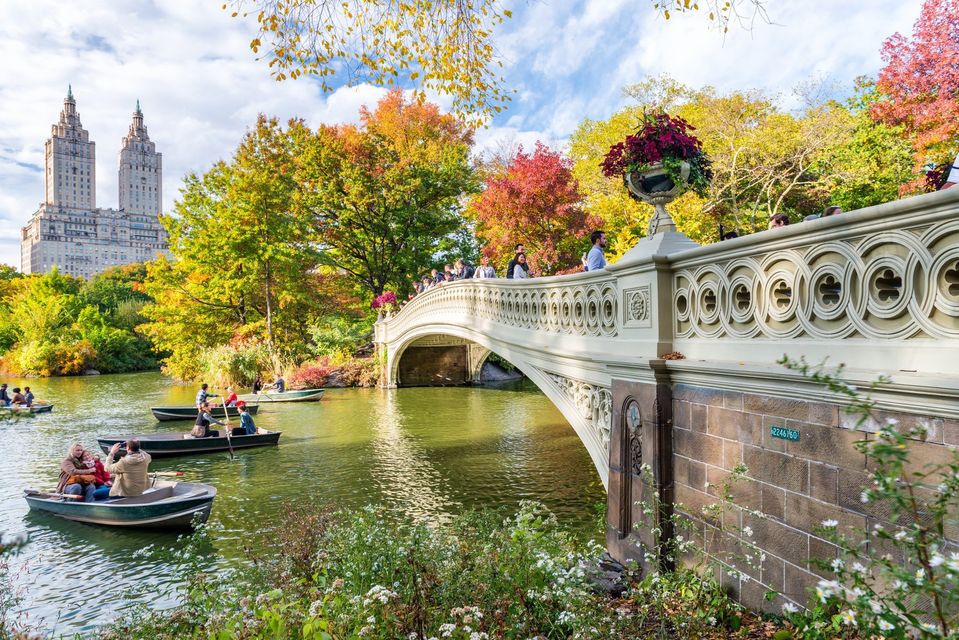 Times Square: Love it or hate it, Times Square is undeniably one of New York's most iconic places – with taxis, street theatre, crowds, billboards and enough blinking lights to illuminate a stadium. While you are there, get a ticket for a Broadway show. from a Disney classic like The Lion King to Hamilton, New York City offers an array of musical productions to choose from.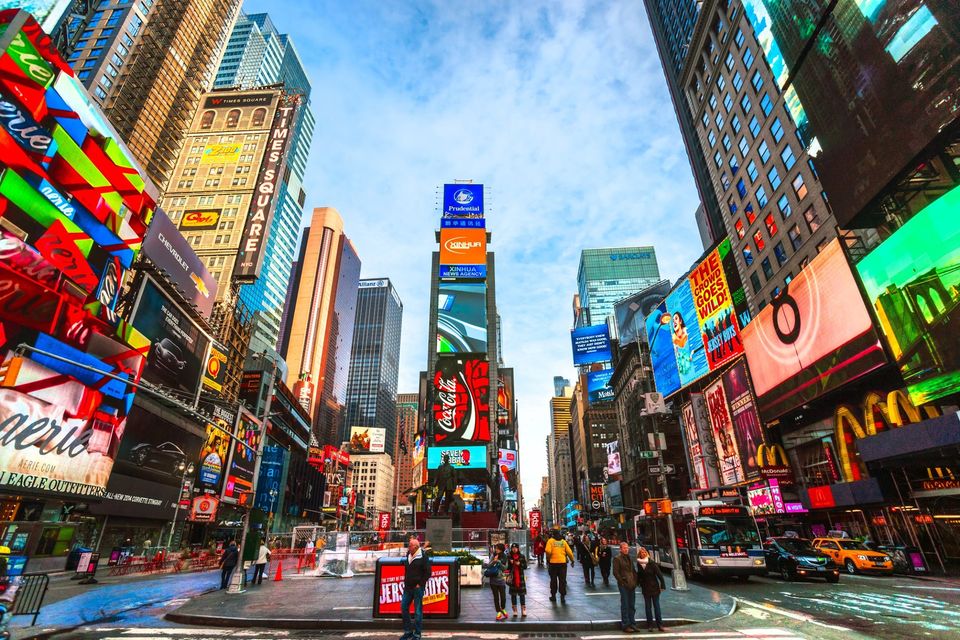 Fifth Avenue: Start from the Plaza Hotel. This marks the start of Fifth Avenue, the iconic shopper's paradise home to the Tiffany's from Breakfast at Tiffany's and department stores like Bergdorf Goodman and Saks. Walk along Fifth Avenue and take a left turn at E 42nd street (looking up at the Chrysler Building) until you find Grand Central Station. Gaze at the ornate fixtures before walking back up E 42nd Street to the New York Public Library. The star attraction of the library is the Rose Reading Room which features an exquisitely baroque ceiling.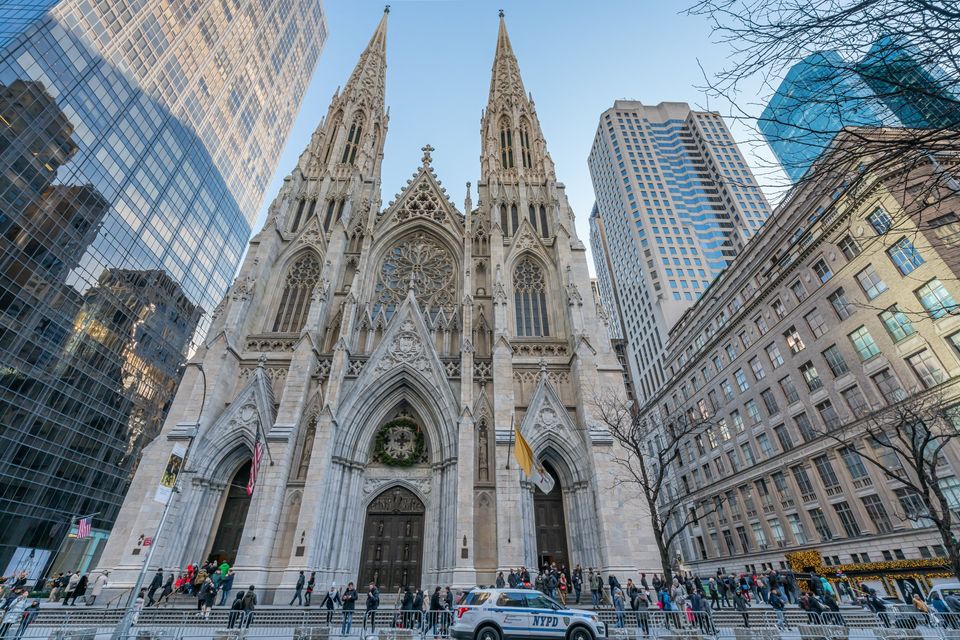 MoMA: The Museum of Modern Art (MoMA) is one of the most renowned art museums in the world. Located in Midtown Manhattan, between Fifth and Sixth Avenues, MoMA is dedicated to collecting, preserving, and exhibiting modern and contemporary art. Some of the most famous artworks in MoMA's collection include Vincent van Gogh's "The Starry Night," Pablo Picasso's "Les Demoiselles d'Avignon," Salvador Dalí's "The Persistence of Memory," Andy Warhol's "Campbell's Soup Cans," and Jackson Pollock's "Number 31, 1950," among many others.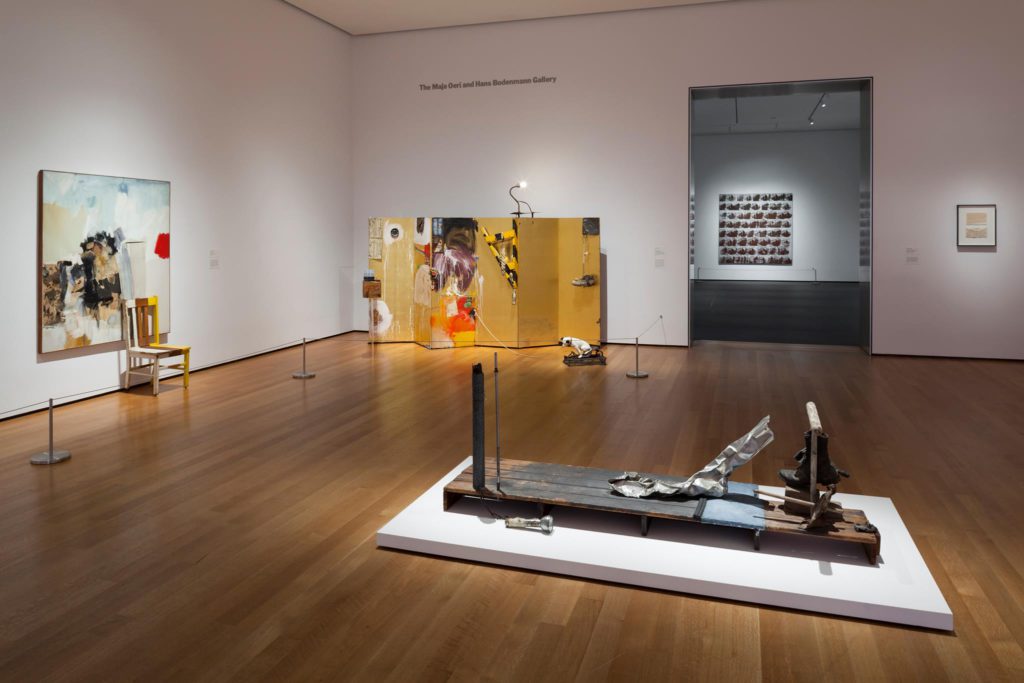 Vessel at Hudson Yards: The extraordinary centerpiece of Hudson Yards (New York's newest neighborhood and home to more than 100 diverse shops and culinary experiences, offices for leaders in industry, significant public art and dynamic cultural institutions) is its spiral staircase, a soaring new landmark meant to be climbed. Comprised of 154 intricately interconnecting flights of stairs – almost 2,500 individual steps and 80 landings – the vertical climb offers remarkable views of the city, the Hudson River and beyond.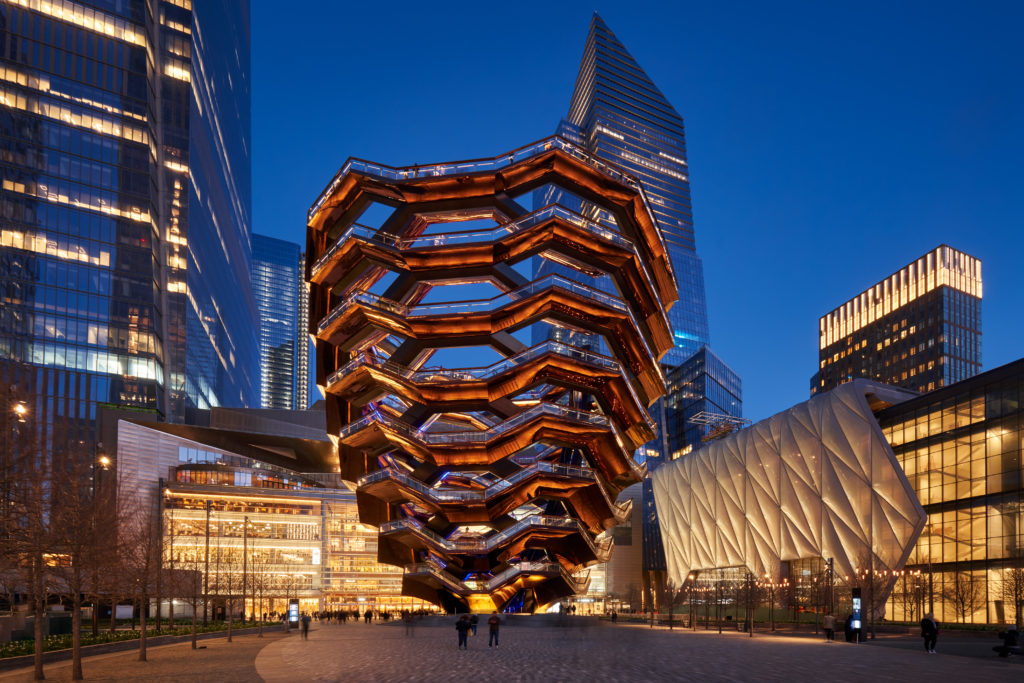 The Edge: The Edge is the highest outdoor sky deck in the Western Hemisphere, offering breathtaking views of the city skyline. It extends 80 feet (24 meters) out from the 100th floor of 30 Hudson Yards, which is one of the tallest buildings in New York City. Visitors can enjoy panoramic views of landmarks such as the Empire State Building, Central Park, the Statue of Liberty, and the Hudson River. The observation deck features floor-to-ceiling glass walls that provide an unobstructed view of the city.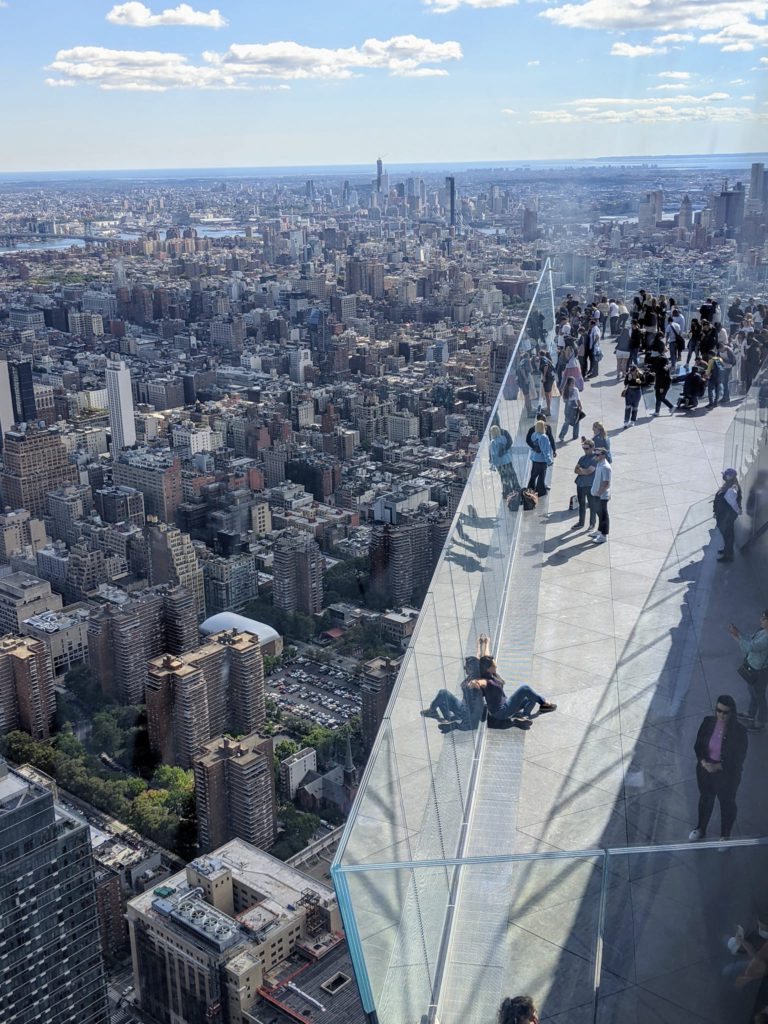 Arthur Ashe Stadium
Visiting the stadiums in New York where the Grand Slam US Open is played is an experience like no other for tennis enthusiasts and sports lovers alike. Flushing Meadows-Corona Park, home to the iconic Arthur Ashe Stadium, buzzes with excitement during this prestigious tournament. The electric atmosphere, the roar of the crowd, and the world-class tennis on display makes it a must-see event. Whether you're cheering on your favorite players, catching a thrilling match, or simply soaking in the tennis history that permeates the grounds, these stadiums offer a memorable sports experience. It's a chance to witness the athleticism and grace of the world's top tennis stars while enjoying the vibrant energy of the city that never sleeps.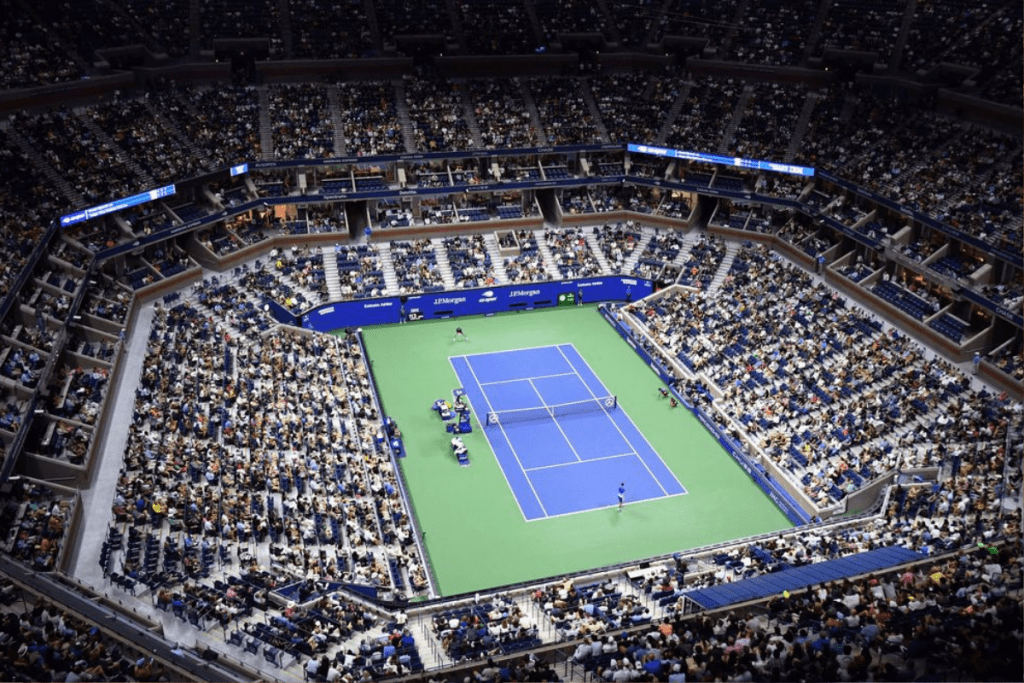 What To Eat?
With immigrants bringing a taste of their home culture to New York by opening restaurants to trendsetting chefs always in search of the next big thing, the city's food scene is constantly evolving. Here are some of the must try dishes in the empire state:
Pizza: No we are not talking about Pizza chains like Dominos or Pizza Hut. NYC is home to some of the best pizza in the country. For a taste of famous New York slice head to Motorino Pizza – the East Village joint that serves up some really great artisanal, Neapolitan-style pizzas or stop by at John's the Bleeker Street pizza joint that's famous for their signature brick-oven pies. If you can go a bit further then make your way to NYC most famous pizzeria Grimaldi's known for its coal-fired pizza.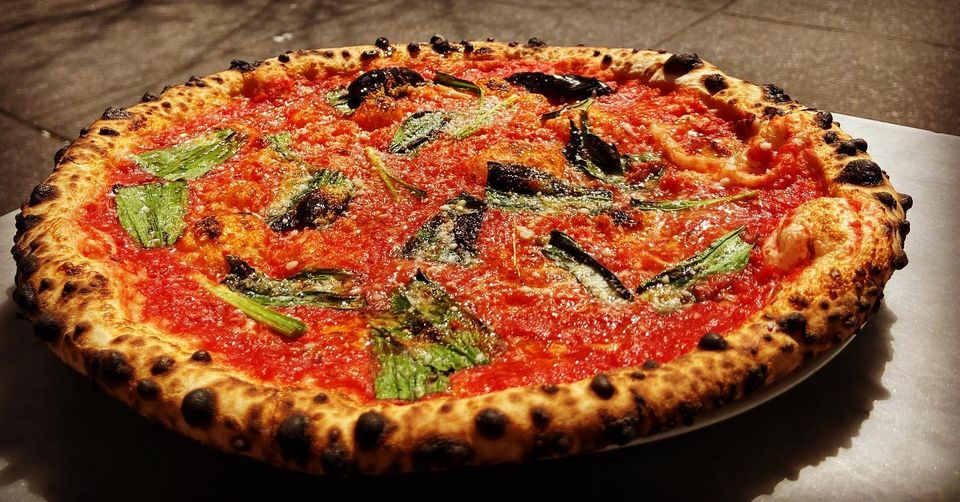 Bagels and Sandwiches: NYC is home to some of the world's finest bagels and sandwiches, that makes for one heck of a breakfast. Absolute Bagels and Murray's Bagels are both great choices for iconic NYC bagel. For sandwiches, visit Russ & Daughters (the century old super famous Lower East Side establishment) for their legendary lox sandwiches with scallion cream cheese. Or head to the Harry Met Sally famed Katz's Delicatessen – since opening in 1888, this ultimate Lower East Side deli has perfected and expanded its menu with plenty of options, including hot dogs with fries, deli sandwiches, and knishes (a traditional deep friendJewish snack food). Another must have is the Bodega-made bacon, egg, and cheese sandwich, or "BEC" as it's known colloquially, which is how the New Yorker ensures themselves a great morning. We personally love Pret a Manger – an international sandwich shop chain based in the United Kingdom, popularly referred to as Pret. but has multiple outlets in NYC. Vegetarians must try the Avocado & Nut Wrap.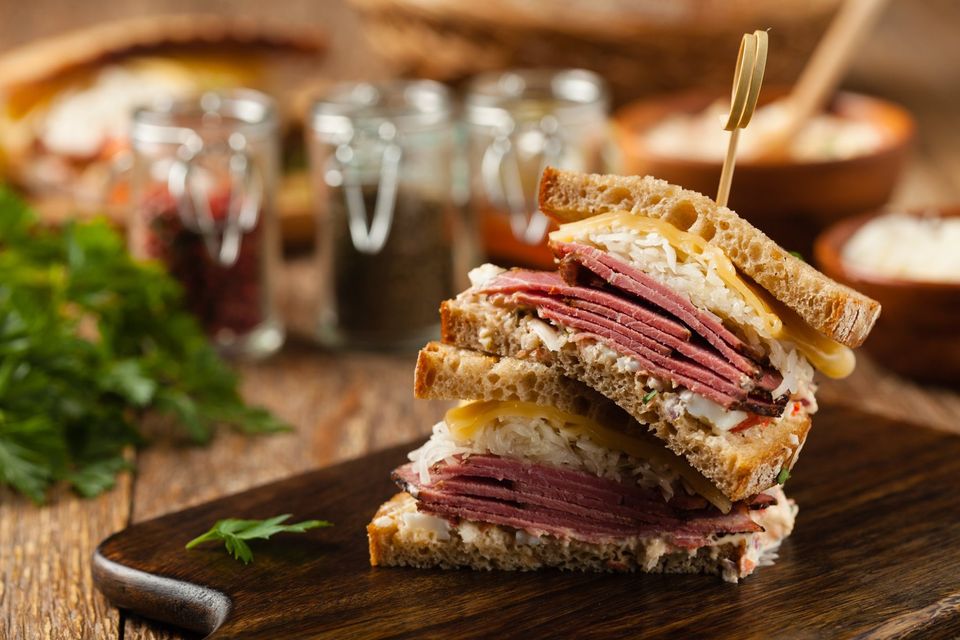 Burgers: We love thee and so does NYC. First up is Shake Shack the NYC icon, a favorite with locals and tourists with locations across the city. Get the Shack Stack, which is a burger topped with a cheese-stuffed fried mushroom. You may also stop by at Umami Burger – the first NYC outpost of the popular California chain that serves up mid-priced burger in the city. Go for the Truffle Burger.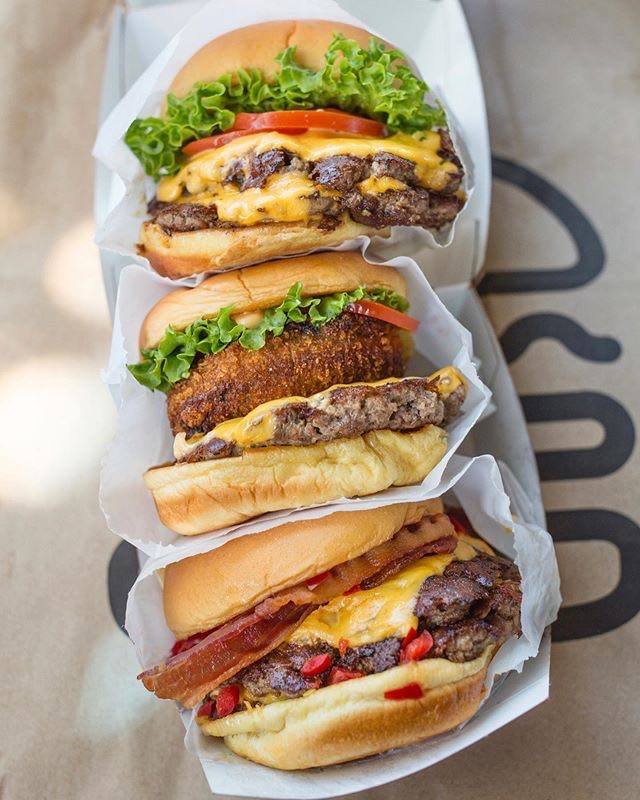 Ramen: One of the most trending dishes in NYC is Ramen, so much so that ramen shops are popping up all over the place but a personal favorite is Ippudo Ramen. The menu includes some of the most flavourful fatty pork, chicken and beef broths in the city. Vegetarians too are surprisingly spoilt for choice with multiple miso and vegetable broth options. However, be prepared to share tables or sit at the bar and slurp your noodle with strangers, while watching the chefs whip up ramen and steamed buns. You could also try the Momofuku Noodle Bar in the East Village or Bassanova Ramen in a little basement space in Chinatown, famous for their invention of Green Curry Ramen.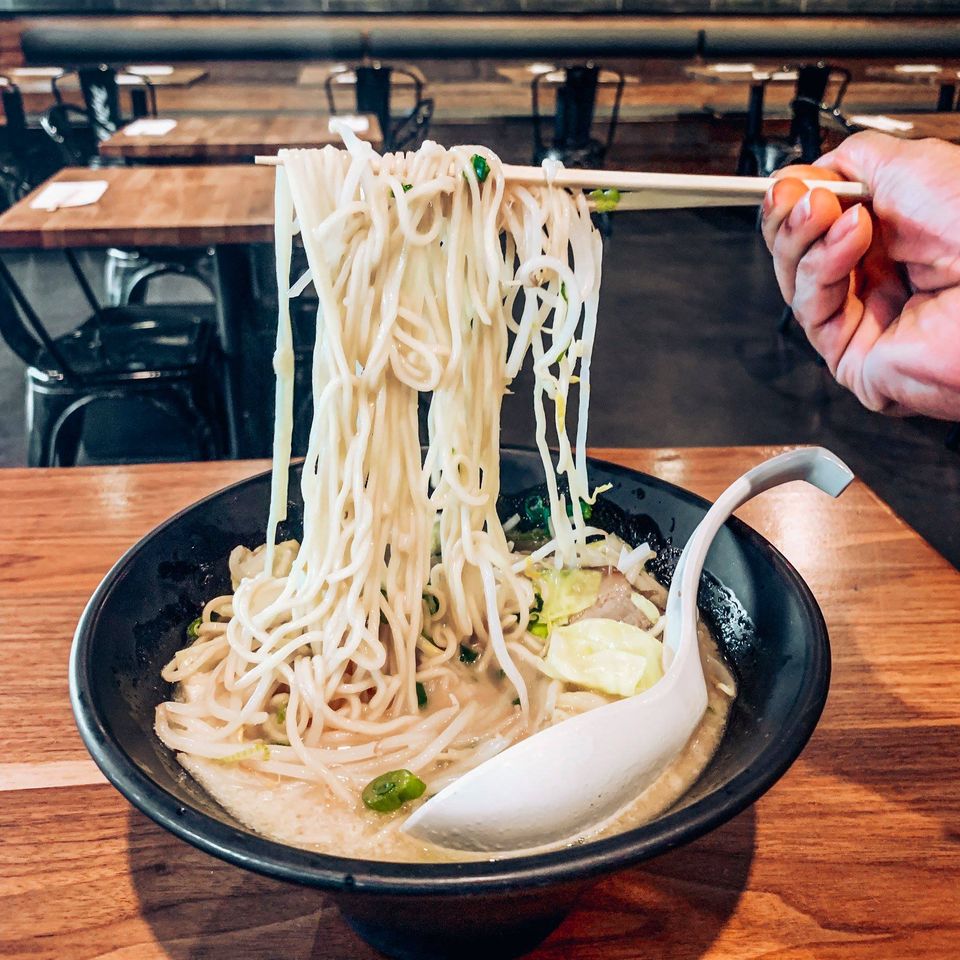 Coffee and Hot Chocolate: A typical New Yorker cannot function without his morning caffeine fix. While it is easy to find Starbucks, one every few blocks, but we suggest you wake yourself up with a legendary cappuccino from notable, uptown people-watching perch, Via Quadronno. (25 E 73rd St, New York, NY 10021). This is about 10 minutes' walk from Central Park. They are also known for their Panini's.) Also look out for Blue Bottle Coffee – They are a specialty coffee roaster with cafes in LA, SF, NYC with multiple outlets across the city. Also you cannot miss the Max Brenner Hug in a Mug Hot Chocolate – this retail chain offers a range of chocolate & related novelties, most branches have a restaurant or cafe.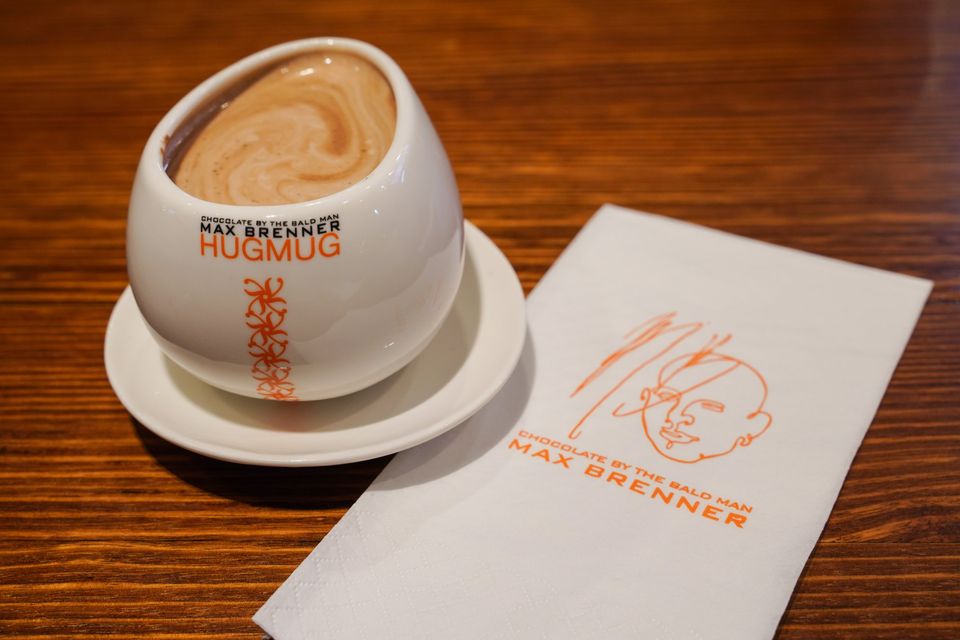 Desserts:
Cookies: LeVain Bakery for the city's best cookie. Get the chocolate peanut butter or the double chocolate chip.
Cupcakes: With multiple locations, the Sex and the city famed Magnolia bakery is a must visit for cupcake lovers. Also do try their signature banana pudding. Thank us later
Icecream: Head to Big Gay Icecream. Known for their innovative ice cream flavors and ranked one of the best ice cream parlors in the world, try their signature flavor – American Globs (a blend of fudge-covered salted pretzel balls, fudge-covered pretzel pieces, and fudge swirl blended into malted sweet cream ice cream. Another favorite, Dorothy, mixes together vanilla ice cream with vanilla wafer cookies and thick swirls of dulce de leche.
Cheesecake: If there's a name that's become synonymous with the city's namesake cheesecake, it's obviously Junior's, where they continue to churn out creamy slices built atop sponge cake instead of graham crackers to great effect.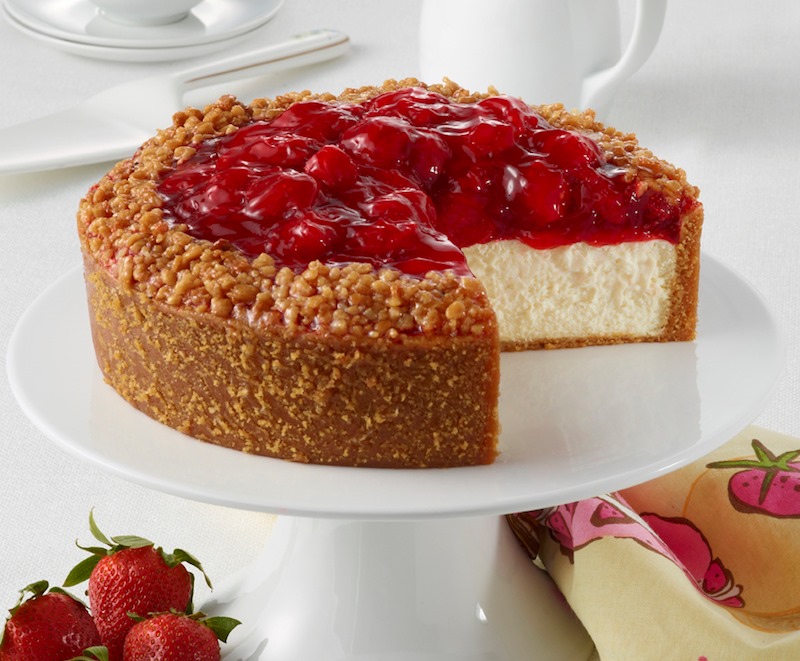 Best Places To Eat
Local/American:
State Grill and Bar : Street-level American bar & grill in the Empire State Building with art deco design touches. It is open for breakfast, lunch and dinner. Locally sourced dishes harken back to the way food used to be prepared—from a modern chef's point of view. Guests can watch their food being prepared in the open kitchen by chef Octavio Becerra, whose inspiration is the Empire State and its bounty of market ingredients, from the Hudson Valley to the North Fork.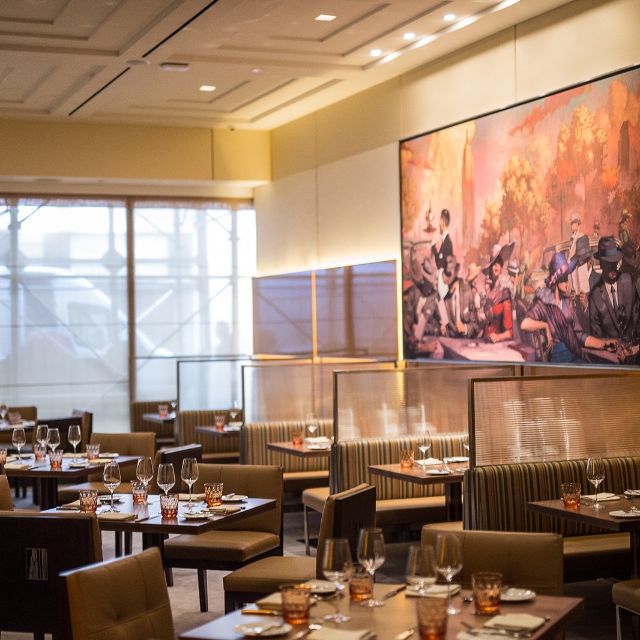 Tribeca Grill : Located in the heart of downtown Manhattan, Tribeca Grill is a true New York City landmark. This buzzy Robert De Niro-owned mainstay is best known for award winning innovative New American cuisine & a stellar wine list. As a must-visit wine destination, the Grill features an extensive list featuring the world's largest selection of Châteauneuf du Pape (over 250) as well as many rare California Cabernet verticals.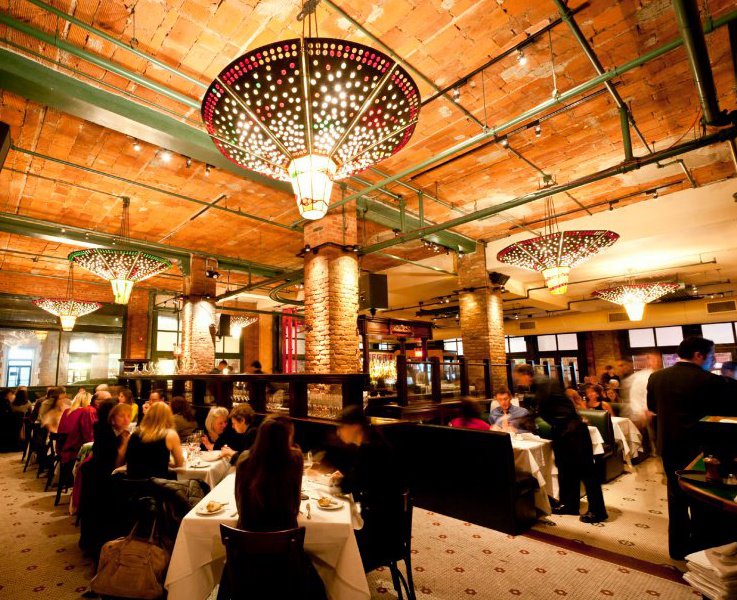 The Oyster Bar: Located in Grand Central Station is a century-old landmark with the ultimate experience for any seafood lover. From the market to your plate, they've spent nearly 100 years perfecting seafood dishes. Every morning, the chef goes to the New Fulton Fish Market to personally pick the day's freshest seafood. Everything from lobster to different kinds of fish is hand-picked for the best flavor and freshness. Opt for one of the seafood platters, heaped high with oysters, shrimp, and other shellfish, or keep it simple with a bowl of New England or Manhattan-style clam chowder.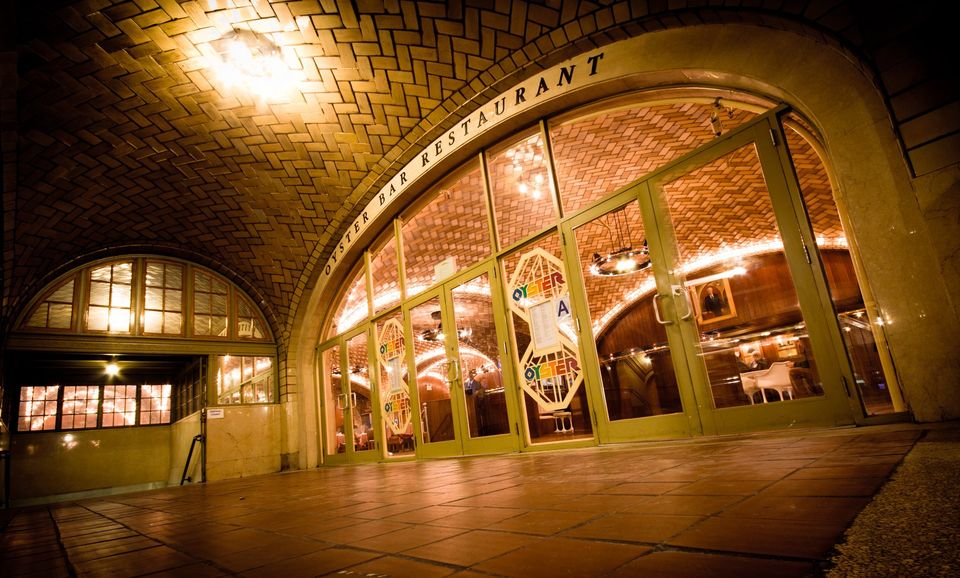 The Plaza Food Hall : Enter through 58th street between 5th and 6th or through Central Park South's Todd English at The Plaza entrance, take a quick escalator downstairs and you'll have arrived into a Food Hall oasis, filled with fine food purveyors and counter-style dining options offering an assortment of breakfast foods, lunch, dinner, beverages, and merchandise. Must Try the Tuna Sandwich.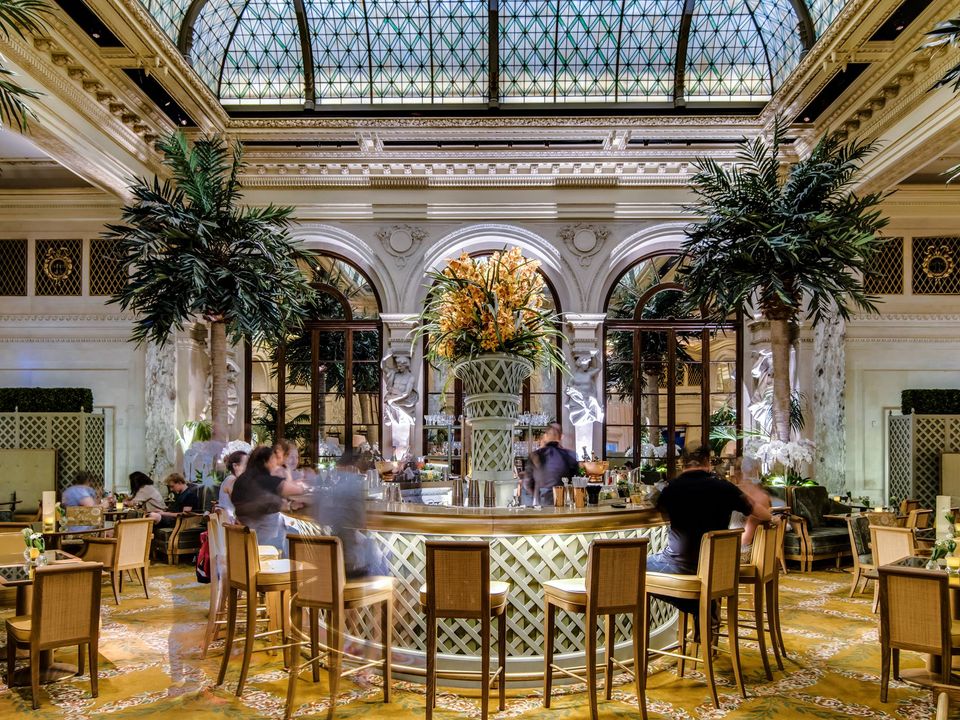 Italian:
Monte's Trettoria: Monte's Trattoria is a vintage, romantic restaurant located in the heart of Greenwich Village. Chef Pietro Mosconi delivers authentic Northern Italian dishes from Emilia Romagna.
S'MAC – Customizable, vegan & gluten-free mac 'n' cheese is the specialty of this tiny storefront cafe.
Via Carota: For the simple food—towering insalata verde, hearty chopped steak and any of the soul-satisfying pastas
Felice: For Tuscan-inspired dishes, wine-bottle-lined walls and leather banquettes serving as the perfect backdrop for comforting Italian fare.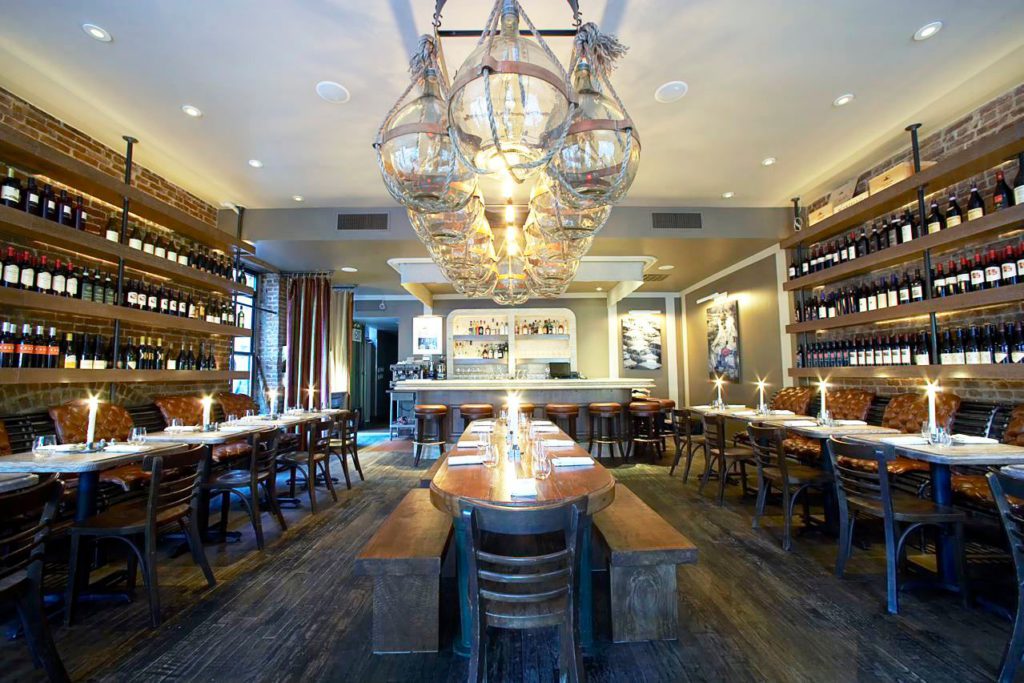 Mexican:
Los Tacos No1: For casual, authentic South of the Border eats (grilled cactus tacos, carne asada quesadillas) and homemade aguas frescas.
Atla: Grenich village restaurant best known for dishing out Arctic char tostada; quinoa, yogurt and tomatoes done pico de gallo-style; farro and quail egg meatballs; as well as the spectacular chicken enchiladas.
Chipotle Mexican Grill: An American chain of fast casual restaurants in the United States, specializing in tacos and burritos.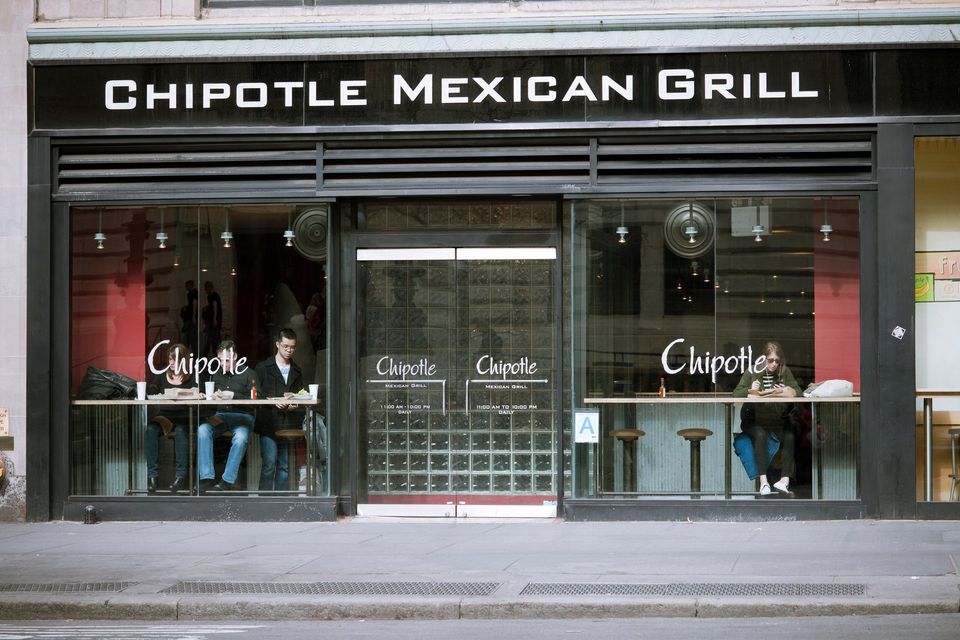 Asian:
Village Yokocho: This place in East Village is where you can get your evening going with Japanese-style cocktails such as the strong and delicious Flirtibird, with barley shochu and yuzu nectar, or the dramatic whiskey-based Smoke Gets In Your Eyes. Also don't miss the outstanding Japanese comfort food.
Vegetarian Dimsum House: On Pell Street for savoury and sweet dumplings and vegetarian variations of every imaginable meat dish.
Nobu: Nobuyuki Matsuhisa, the co-founder and master sushi chef, built this empire across 22 locations with none other than Robert De Niro himself! A startling combination of Japanese food with Peruvian flavors, Nobu has a bold menu. From broiled black cod in sweet miso to raw yellowtail in ponzu under jalapeno and from ceviche to sashimi salad, the explosion of flavors complements the theatrical and loud surroundings, a radical shift from its quieter beginnings.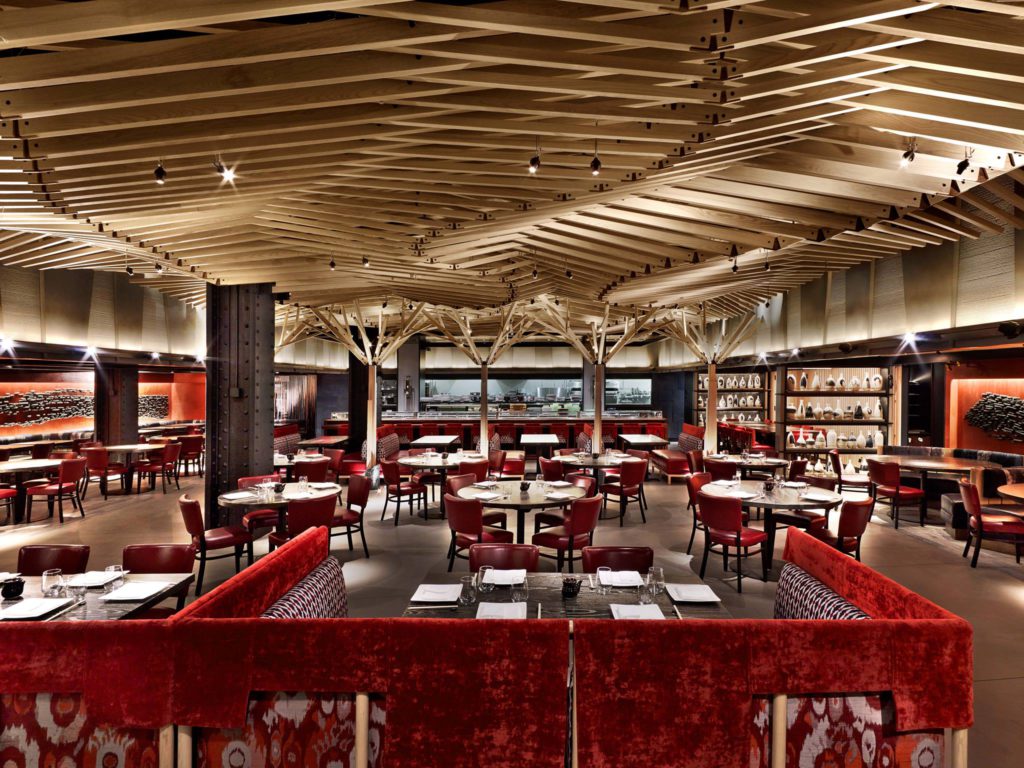 Indian:
Dhamaka: Restaurateur Roni Mazumdar and chef/partner Chintan Pandya have made a significant impact on the city's culinary scene in recent years with a series of remarkable openings under their aptly named venture, Unapologetic Indian. While their West Village establishment, Semma, has rightfully garnered attention, it is their equally impressive sibling, Dhamaka, that stands out with its unique identity. Dhamaka is not a place of moderation; rather, it embraces abundance and exuberance. Pandya and his team delve deep into the diverse regional cuisines of India, offering dishes seldom found on American menus.
Tamarind Tribeca : With a noteworthy selection of vegetarian and meat offerings, the seafood is downright otherworldly. Some of the must try dishes include buttery Chilean sea bass with green chili, mint, coriander and tomato kokum sauce and the malai halibut with mace, cardamom, coconut and ginger sauce. Tamarind's wine list is also exceptional and includes choices from around the world.
Saar: Bang in the middle of the Theater District, Saar is the latest venture from renowned chef Hemant Mathur – the first Indian Michelin-Starred chef in America. Here, he uses his culinary genius for creative dishes including several gluten-free options like the crispy lamb ribs with onion and mushroom pilaf and tandoori tiger shrimp with rice, lentil porridge and lemon chutney. Don't miss the cocktails, especially the Saar Bourbon Sour, made with Bulleit bourbon, homemade lemon chutney and candied lemons.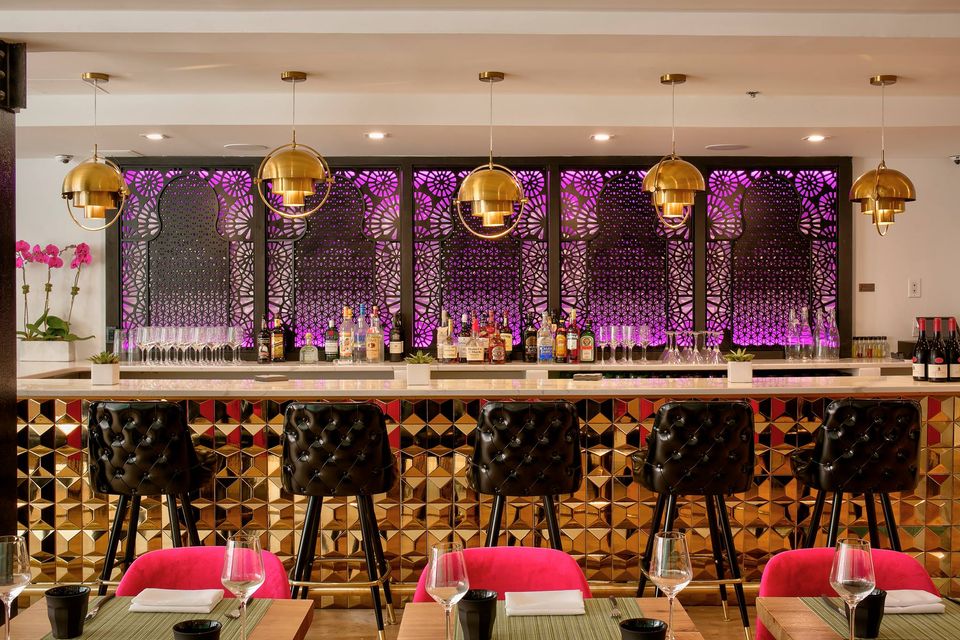 Shopping
New York City's department stores are retail wonderlands, boasting a diverse array of goods ranging from designer fashion to cosmetics and home essentials. What sets these stores apart is their enchanting aura, immortalized in countless movies and TV series. The premier NYC department stores seamlessly blend shopping, dining, historical charm, and unparalleled glamour. From the enchanting backdrop of "Miracle on 34th Street" to the iconic brown shopping bags, these establishments transcend mere retail experiences. A visit to one can easily turn into an entire day of soaking up the unique atmosphere they offer. With options catering to every budget and style preference, and delectable dining opportunities for when hunger strikes, these department stores provide an all-encompassing experience. So, whether you have a specific purchase in mind or simply want to bask in the fabulous ambiance while browsing, these iconic NYC departmental stores await your visit:
Saks Fifth Avenue
Bloomingdale's
Macy's
Bergdorf Goodman
Nordstrom
Tiffany & Co.
Barney's
T.J. Maxx
For latest travel news and updates, food and drink journeys, restaurant features, and more, like us on Facebook or follow us on Instagram. Read more on Travel and Food Network
Trending on TFN
The 23 Best Places To Go In 2023
Explore Utah's Mighty 5® and What Lies in Between
Five Epic U.S. National Parks To Visit This Year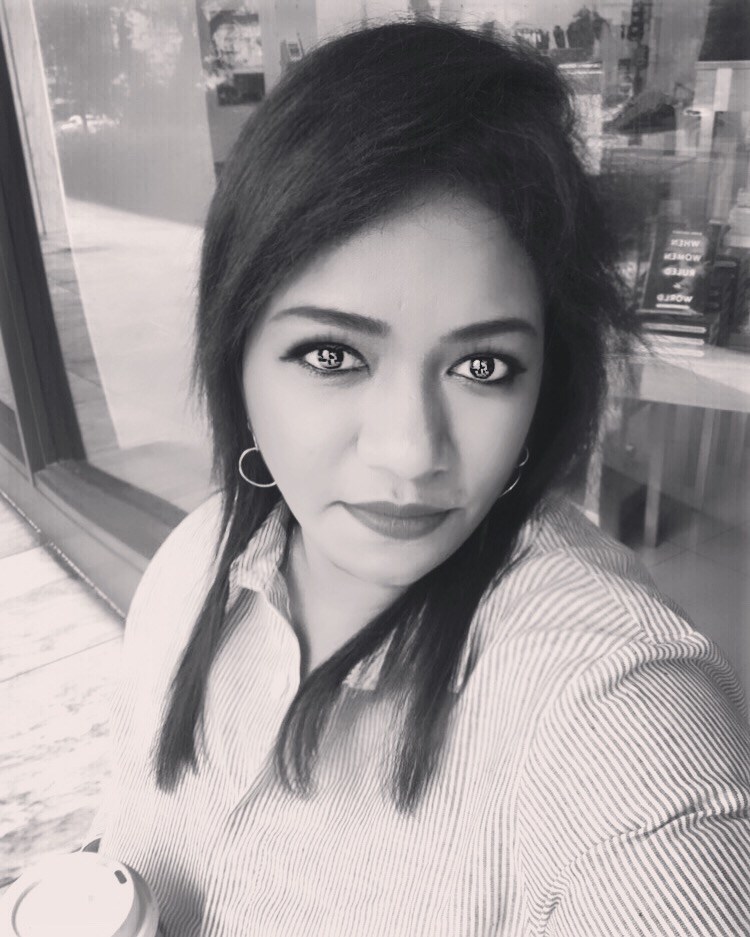 A New Yorker at heart, an unapologetic anglophile, national parks explorer and former head of National Geographic publishing in India, Ritika is the Global Editor for Travel and Food Network and leads all journalism across platforms, including news, digital, videos, and social media. She writes features focused on narrative storytelling, industry trends, destinations, culinary travel, and how-to advice and is an advocate for sustainable travel. You can follow her on Instagram @newyorkeratheart