Exploring Doha In Qatar — Right Before FIFA World Cup 2022
Fascinating, intriguing, and a little more than bizarre, Doha, the capital of Qatar, combines mesmerizing desert landscapes with futuristic skylines and riches more than anywhere else in the world. Its ever-growing cityscape and avant-garde architecture prove it is determined to become a tourist hub rivaling its neighbors in the Emirates.
With FIFA 2022 being held in the country, the city of Doha has been pushed into the spotlight. The stadium grounds of Doha are all set to echo the cheers of football fans worldwide. And Qatar is leaving no stone unturned to make the event as memorable as possible. So, if you are a fan visiting the country or on a leisure trip, let our guide help you explore this beautiful Arab city.
Best Time To Visit Doha
Obviously, the 2022 World Cup is one of the best times to visit Doha. Due to the event's significance, the city will be full of tourists and fans worldwide. It will become a great opportunity to watch the World Cup as well as see Doha in all its glory.
Apart from this, the best time to visit Doha is from November to March, during the cool season. Avoid May to October as during this time, the climate is intensely hot and humid.
Places To Visit
Museum of Islamic Arts: Considered the jewel in the crown of Qatar, this place must be on the list of every traveler. It is located on an island bordering Doha's Corniche. Designed by I.M. Peir, the Pritzker Prize-winning architect, the museum is an architectural marvel to behold. It houses a heritage library with over 21,000 books. It also holds permanent and temporary exhibitions and has a gift shop and café as well. On its fifth floor sits a chic French cuisine restaurant called IDAM by Chef Alain Ducasse.
Katara Cultural Village: This village is a hub of diverse cultures and traditions worldwide. Once here, one can visit the Katara Mosque, a mosque styled with Persian and Turkish tile and enamel work in blue and gold. It was designed by Turkiye's Zeynep Fadilloglu, who is believed to be the first female architect to specialize in mosques. You must also visit the amphitheater- a classic Greek-style amphitheater imbibing Islamic influences. Explore the several art galleries and the Al Thuraya Planetarium before heading back to Doha.
Al Zubarah Fort: A UNESCO World Heritage site, this 20th-century fort lies close to the walled seaside town of Al Zubarah. The fort comprises residential places, mosques, courtyard houses, fishermen's huts, streets, a harbor, a canal, cemeteries, and a museum.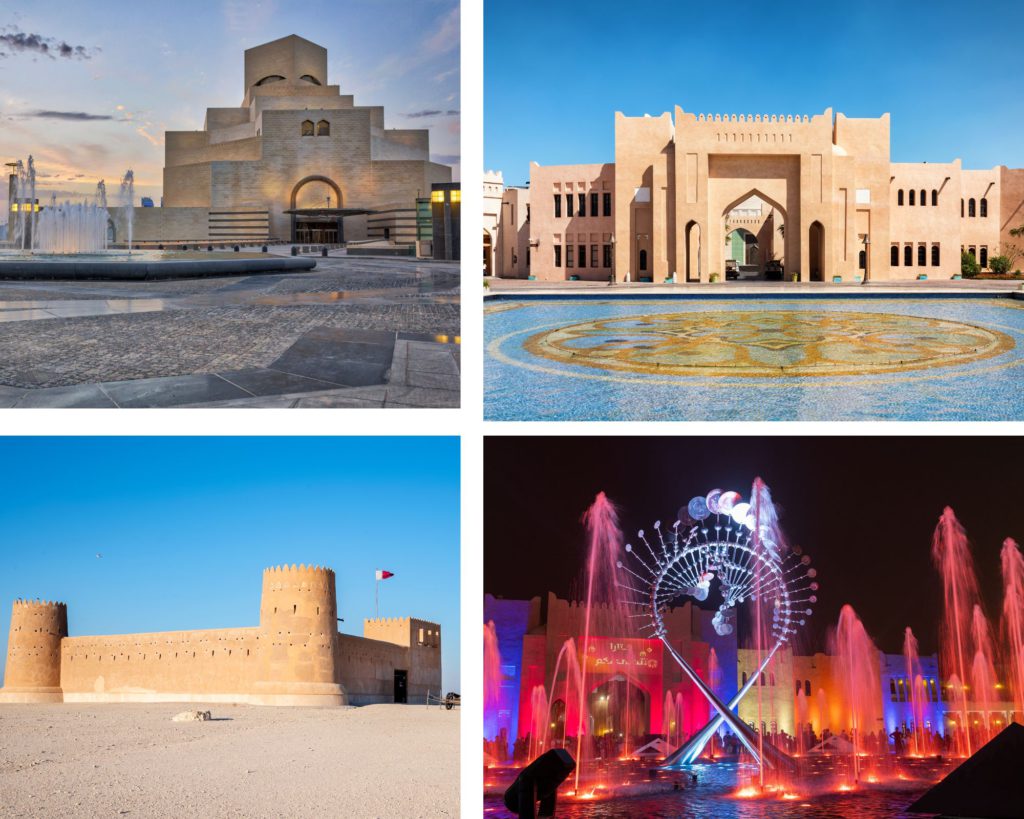 The Pearl: Doha is home to numerous artificial wonders, and The Pearl is one of them. An ideal place to unwind, this incredible destination is situated in the west bay area. Yacht-lined marinas, spectacular villas, magnificent towers, luxurious hotels, exotic restaurants, and shopping malls fill the place- making it a great spot to soak in the tranquil Mediterranean vibe.
Dahl Al Misfir: This 40 m deep cave is considered to be the largest and deepest accessible cave in Qatar. It is said to have formed around 3,21,000 and 5,00,000 years ago during the mid-Pleistocene Era. The main attraction here is the light moon-glow that the cave emits during the daytime.
Adventure Sports: Qatar has a wide range of adventure sports to offer. Go dune bashing in a 4WD, camel riding in the desert, kite surfing, quad biking, wakeboarding, skydiving, paragliding, kayaking, and go-karting. In Southern Qatar, one can also witness the inland sea- Khor Al-Adaid- a UNESCO world heritage site where the sea is interlocked by dunes bordering Saudi Arabia.
Shopping
Souq Waqif: Located on the edge of the Wadi Musheireb District, Souq Waqif is one of Doha's most popular shopping districts. From tasting local delicacies to splurging on traditional crafts or just experiencing the local vibes, there is a lot to do in Souq Waqif.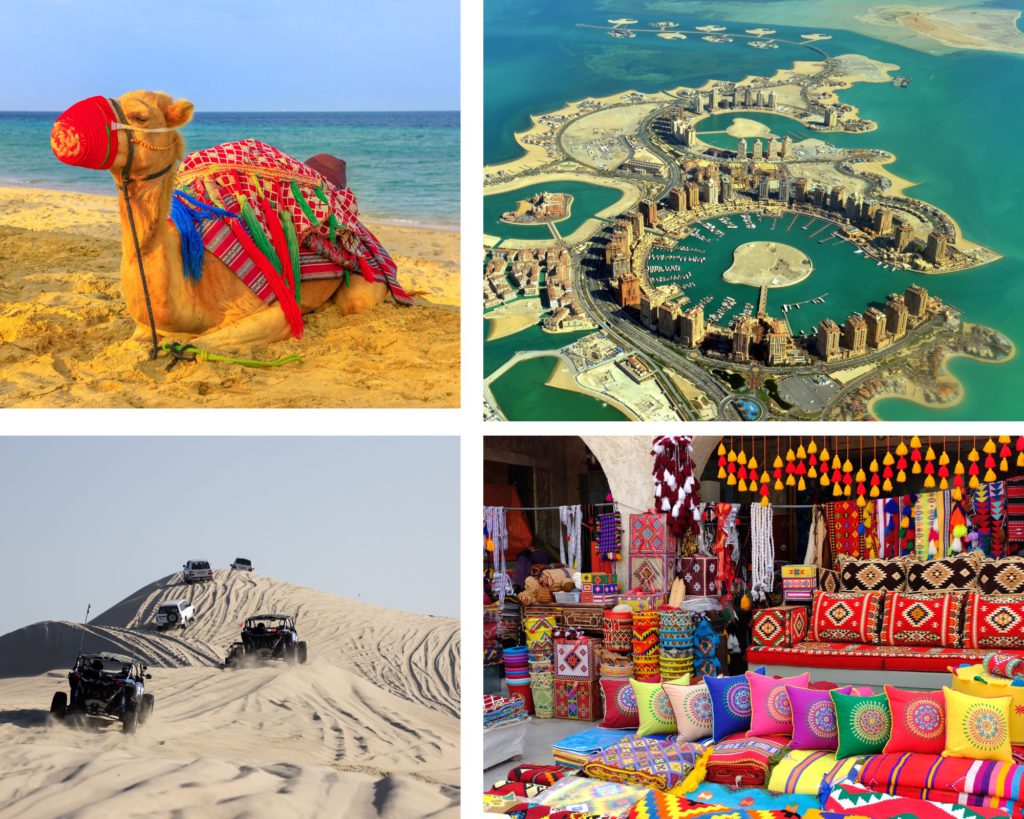 Food of Doha
No Doha guide can be complete without travel destinations and dishes to satiate your foodie's heart. Indulge in local delicacies like Machboos (spiced chicken and rice), Kunefe (also known as knafeh is a dessert made of pastry filled with cheese that is then soaked in syrup), Luqaimat (sweet dumplings), Thareed (gravy with lamb chunks and vegetables), and of course, Shawarma and Falafel. Although Doha is known for its Middle Eastern and Arabic cuisines, there are restaurants that offer Mediterranean, Indian and French cuisines as well.
Where To Eat
ADRIFT Anda by David Myers: One of the most exciting new openings at Le Royal Méridien Doha is ADRIFT Anda by David Myers. The celebrity chef has restaurants all over the world, and the first in Doha is meant to blend the trattorias of Rome with Florentine steakhouses, with pizza, pasta and prime cuts of meat.
Address: Place Vendome, Lusail, Qatar
Argan: This stylish place serving Moroccan food is located in the Souq Waqif Hotel in Doha. It serves top-rate dishes, including couscous and tagines. The oven-fresh bread and the harira soup are must-tries, and so is the Moroccan-style tea.
Address: Al Jasra St, Doha, Qatar
Al Adhamiyah: Located in the heart of Souq Waqif, Al Adhamiyah serves up traditional Iraqi food, including curries, grilled meat, and fresh salads. No alcohol is served here, but fresh juices and Arabic tea are ideal to go with the spicy dishes.
Address: Ali Bin Abdullah St, Doha, Qatar
Turkey Central: A popular, budget-friendly option located on Al Mirqab AL Jadeed Street- this place is ideal for those who love fast food and kebabs. It is not a place known for its décor, but the flow of customers proves that is definelty is a place for delicious food.
Address: Al Mirqab Al Jadeed St, Doha, Qatar
Nua: The 3-2-1 Qatar Olympic and Sports Museum opened earlier this year, and as of mid-May, the restaurant Naua inside is open, too. With a menu created by chef Tom Aikens, you can expect healthy (and very creative) dishes like turmeric ricotta, courgette lasagne and a vegan chocolate avocado and lime dessert.
Address: Qatar Olympic and Sports Museum, Khalifa International Stadium, Aspire Zone
As dusk sets in, head to lounges and jazz bars like The Roof Top Lounge in Dusit Doha and Isle Lounge and Library in the Four Seasons hotel, newly opened Hamilton's Gastropub and Lobito de Marat at The Pearl.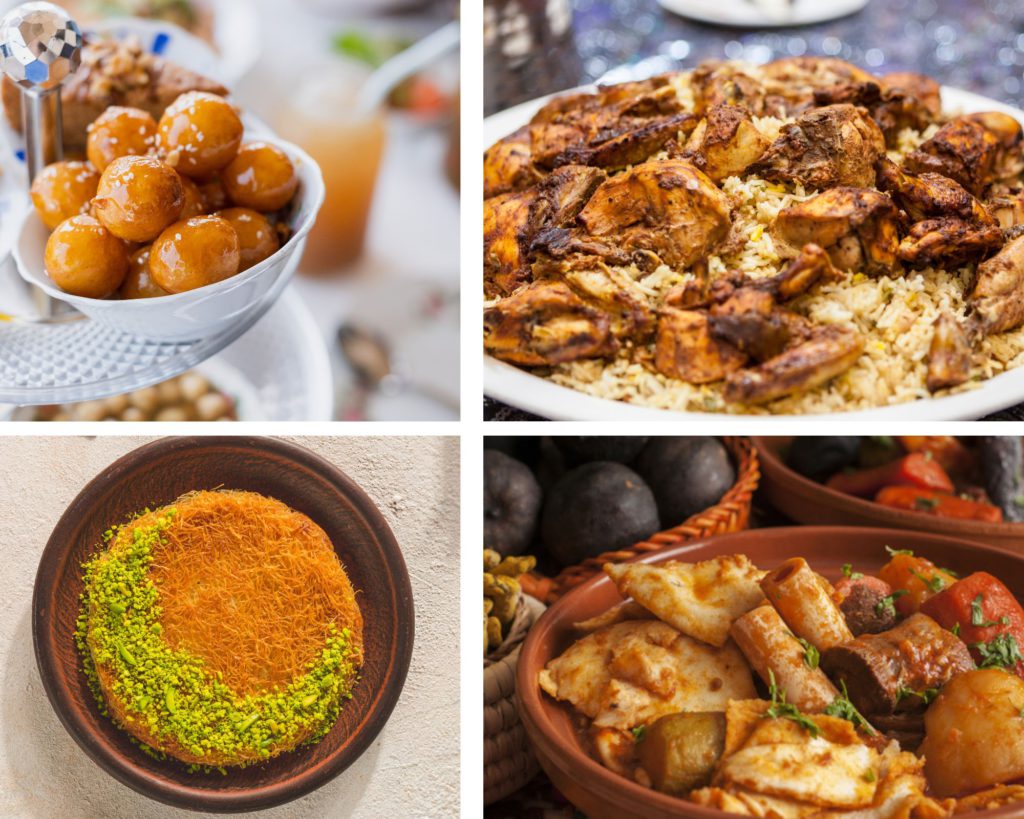 Where To Stay
As Qatar's capital, Doha is filled with lavish and gorgeous hotels. Also, with the coming of the world cup 2022, many new hotels have been built specifically for the occasion. From The Park Hyatt, Marsa Malaz Kempinski, The Pearl, and Mandarin Oriental to the Souq Al Wakra and Alwadi Hotel Doha-Mgallery, there is a place for people of all budgets. With great service, luxurious amenities, and superb views, the places to stay in Doha are some of the most elite properties.
All places are well-connected to the airport and are in key locations of the city.
Things to know
Qatar expects a steady inflow of tourists from around the globe for the FIFA World Cup. Therefore, it is necessary to keep all your documents like your visa, confirmed stay receipt, the Hayya Card, and Covid-19 vaccine certificates on hand.
Though there are no specific dress codes, you must cover your arms, shoulders, and knees if you are visiting government buildings and museums or strolling through Souq Waqif.
For latest travel news and updates, food and drink journeys, restaurant features, and more, like us on Facebook or follow us on Instagram. Read more on Travel and Food Network
Trending on TFN
Why the FIFA World Cup should be on your Bucket List
The 22 Best Places To Go In 2022
Explore Utah's Mighty 5® and What Lies in Between