When I think of Vienna Mozart, the famous Viennese waltzes, fabulous cakes, chocolates and pastries and of course, Wiener Schnitzel! So, when I was in Vienna (B.C. i.e. before COVID-19!), I had a list of what wanted to eat and an idea of where I might find them. I love to explore and discover local eating places rather than get sucked into the classic tourist traps! The only way to see a city is on your feet. It's exhausting and hard work but so rewarding and a great excuse to nip into a local bar or pub to rest your feet!!
But, of the food you simply have to eat when in Vienna and while I am a huge fan of the Wiener Schnitzel, let me start with the 'royalty' of Austrian cuisine, the Sacher Torte.
1. The Sacher Torte, perhaps the most famous and decadent of Viennese desserts is a sinfully rich chocolate cake, with a mid-layer of apricot jam and often topped with whipped cream too! Sin in abundance! Invented in 1832 by Franz Sacher for Prince Metternich, this heavenly dessert was originally served only at the Hotel Sacher, but of course today you can get it across Vienna's myriad cake shops. A piece of trivia – the 5th December is National Day of Sachertorte, a testament to its revered status in Austrian cuisine!
Where can you experience Sacher heaven? It has to be the Hotel Sacher ! Its history and heritage is as much part of the experience as the cake is, and I loved it! The Sacher hot chocolate was equally divine but the torte….enough said already!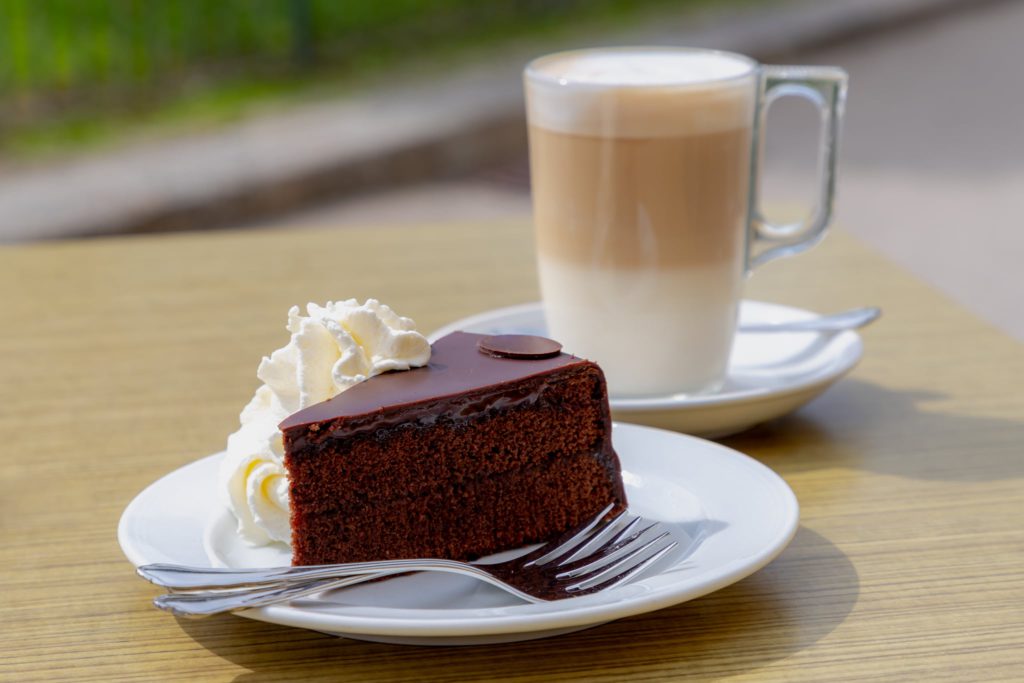 Don't leave Vienna without sampling the Linzertorte, a beautifully short, crumbly pastry filled with redcurrant jam and the Esterhazy torte, another decadent offering of layer cake of cognac infused buttercream and almond meringue dough!
Do not also leave Vienna without visiting Cafe Central, an iconic coffee shop and patisserie, historical and an absolute must! And don't leave without a pack of Mozartkugeln, a delicious ball of pistachio marzipan and nougat wrapped in a thin layer of dark chocolate!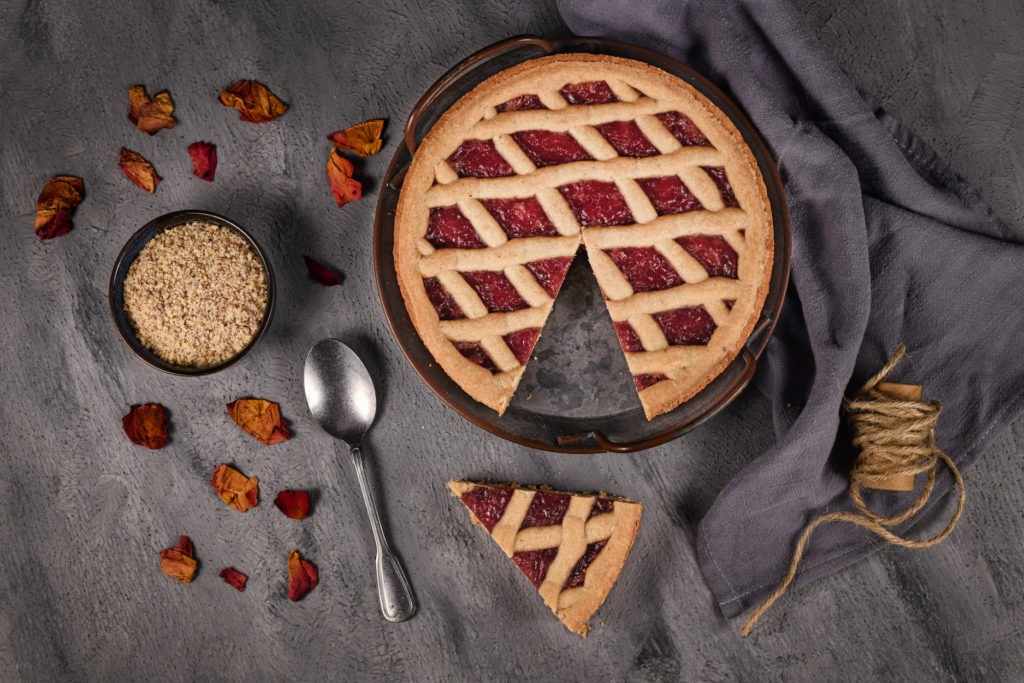 2. The Wiener schnitzel, a personal favourite and something I eat wherever I can find it! But to eat it in Vienna is another feeling altogether. Traditionally a thin cutlet of veal, (it's now made using pork and chicken too) breaded and fried crisp, garnished with a slice of lemon and parsley. It's typically accompanied by a form of potatoes (your choice) like french fries, Austrian potato salad (my recommendation) or steamed potatoes and a fresh salad. Check the portion sizes though, I thought I would be served a single schnitzel but two turned up! And were consumed too!
Every self-respecting restaurant in Vienna serves Wiener Schnitzel (how could they not!!) and I ate them all over the place but check these out.
Figlmuller – the home of Schnitzel. Their Schnitzels are 30 cm (12 inches!) in diameter, so go prepared!
Huth Gastwirtschaft Served with a twist – cranberry sauce and parsley potatoes.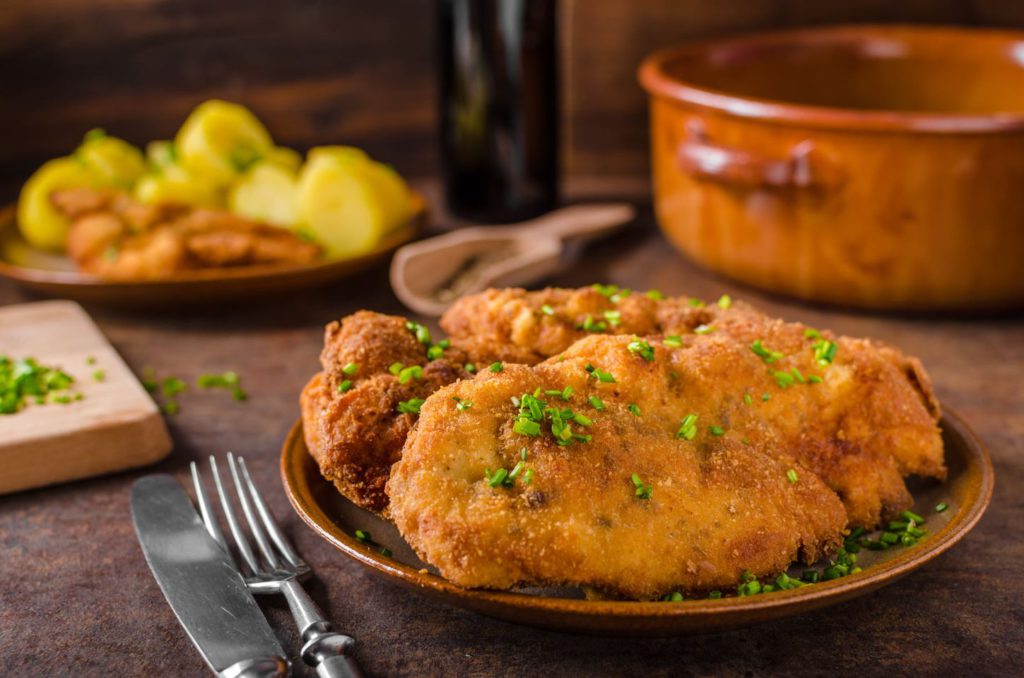 3. Goulash vs Tafelspitz
Tafelspitz is the quintessential Austrian dish, loved by the Austrian Emperor, Franz Joseph I. A tender cut of beef or veal gently boiled with spices like bay leaf and peppercorns and seasonal root vegetables, served with 'Apfelkren' (Austrian horseradish and apple sauce) and fried or 'hash brown' potatoes.
However, I personally prefer the Hungarian originated Goulash, a hearty, rich and warming stew, usually made with beef, flavoured with paprika, tomatoes and served with dumplings or noodles.
My vote is firmly with the Goulash! And like the Schnitzel, these dishes can be found across restaurants in Vienna but the Meierei in Stadtpark is highly recommended for the Gulash and the ultimate specialists in Tafelspitz, the Plachutta Wollzeile .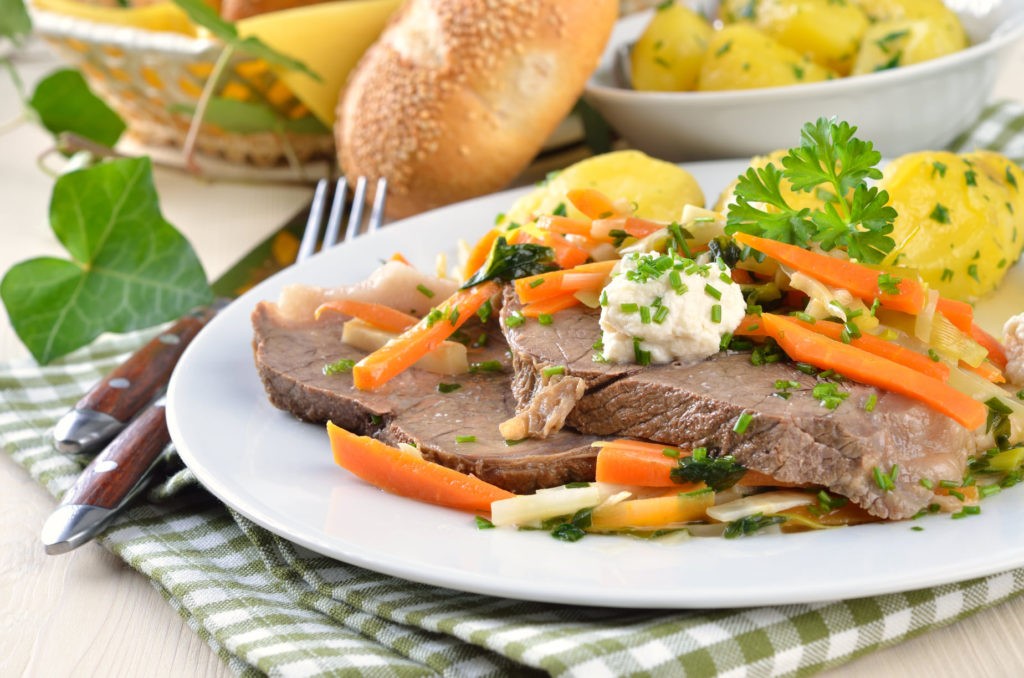 4. "Wurstels" or sausage to you and me, like everywhere else in Europe are the hugely popular street food, and Vienna is no exception. Served all over the city from 'Wurstelstands', there's nothing like a steaming hot wurstel on a cold day and on any other day too! Typically served in a 'semmel' or dinner roll, slathered with mustard or horseradish and ideally accompanied with a good Austrian beer!
The Viennese speciality is the käsekrainer, a sausage stuffed with cheese! And other popular one's are Debrecener, a spicy Hungarian sausage and the bratwurst like Bosner. Hearty, tasty and simple but oh so tasty!
Sightseeing is hungry and thirsty business and the sight of a 'wurstelstand' when your feet are dragging, your stomach tumbling and your throat dry, is like a mirage in a desert!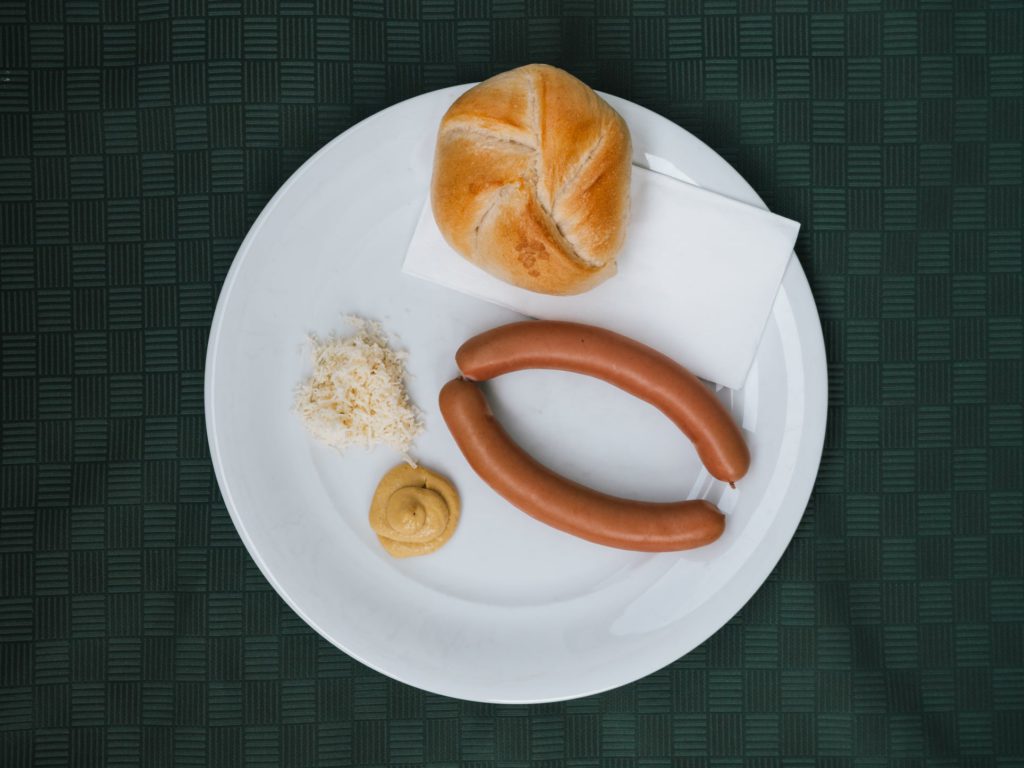 So, let's do some food for the vegetarians amongst us and yes, there's no shortage of vegetarian options in Vienna! And they are more than salad, fries and pizza!
5. Pasta and noodles may sound strange in the middle of an article on food in Vienna but Austrian cuisine has some excellent dishes to offer.
Let's start with Käsespätzle or the Austrian version of Mac and Cheese! Spatzle is a soft egg noodle with a slightly chewy texture, often served as a side dish or in stews but topped with oodles of melted cheese and crunchy fried onion is another thing altogether!
Krautfleckerl is made with small square pieces of pasta tossed with caramelised cabbage, onion and flavoured with salt, pepper and caraway seeds. It's finished in the oven and served garnished with fresh parsley. Caramelised cabbage and pasta? It works, and works brilliantly!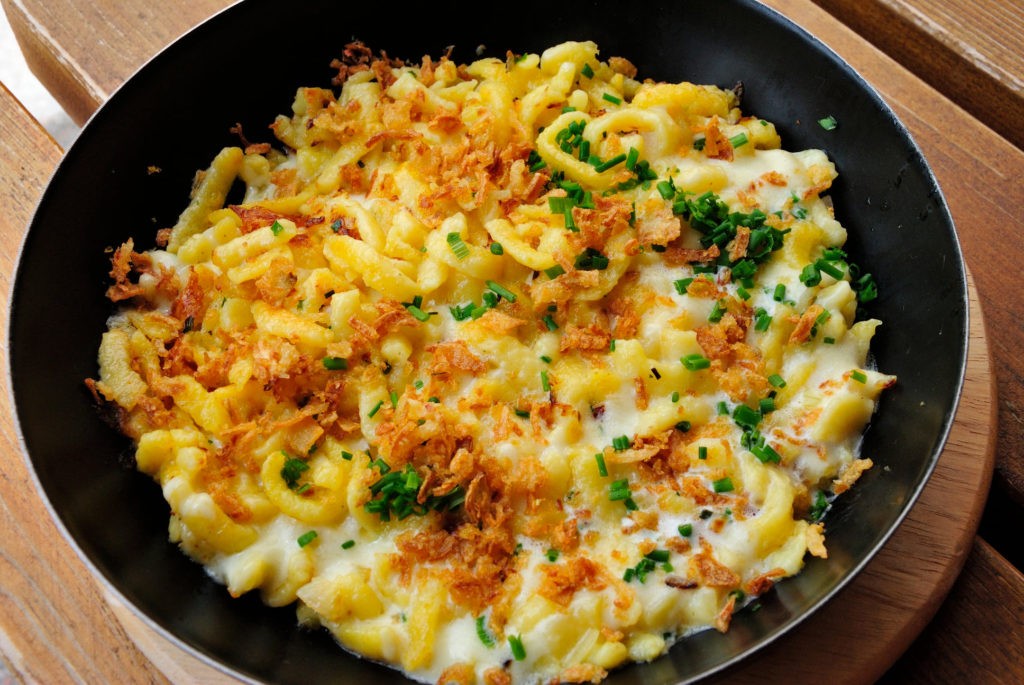 When you think of 'strudel' you think sweet Apfelstrudel and you wouldn't be wrong! But surprise, surprise, there are savoury versions too! And Spinatstrudel is one of them. A spinach, feta, onion and garlic filling wrapped in beautiful flaky pastry and baked a crispy, golden brown. Even a carnivore like me would eat that! There's also a potato version called Kartoffelstrudel, served with herby yoghurt dip.
If you've eaten your way through everything Vienna has to offer, like me, you are probably in need of some tips on what to wash it all down with!
There's a wide variety of Austrian beer on offer but the lagers tend to dominate the market and I didn't find anything to complain about! Lagers like Stiegl, Egger Bier and Puntigamer are all excellent, though there are many more! But I leave that to you to work your way through!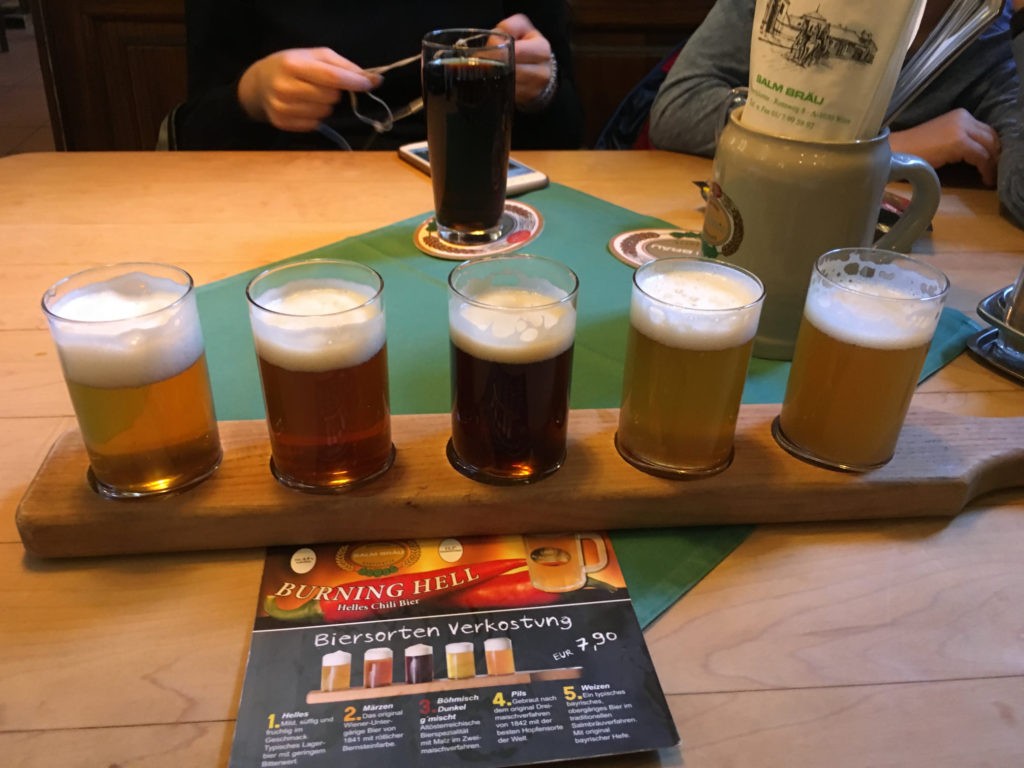 Vienna has a winemaking tradition going back to the 12th Century and has over 630 wine producers around Vienna, producing mainly crisp white wines like Gruner Vetliner and Riesling. The city is dotted with over 180 vinotheks (wine bars) and taverns making it difficult to explain why you never tasted any of their wines!
To end with and this is to be downed in one go and is the last twist to the 'tale' – Austrian Schnapps! Now is the time you discover all those Jagermeister Bombs you have been downing, come from Austria! But try the Marillenschnapps (apricot schnapps) and Zwetschgenschnapps (plum schnapps), sweeter but equally potent and a great way to finish off your Schnitzel or Goulash!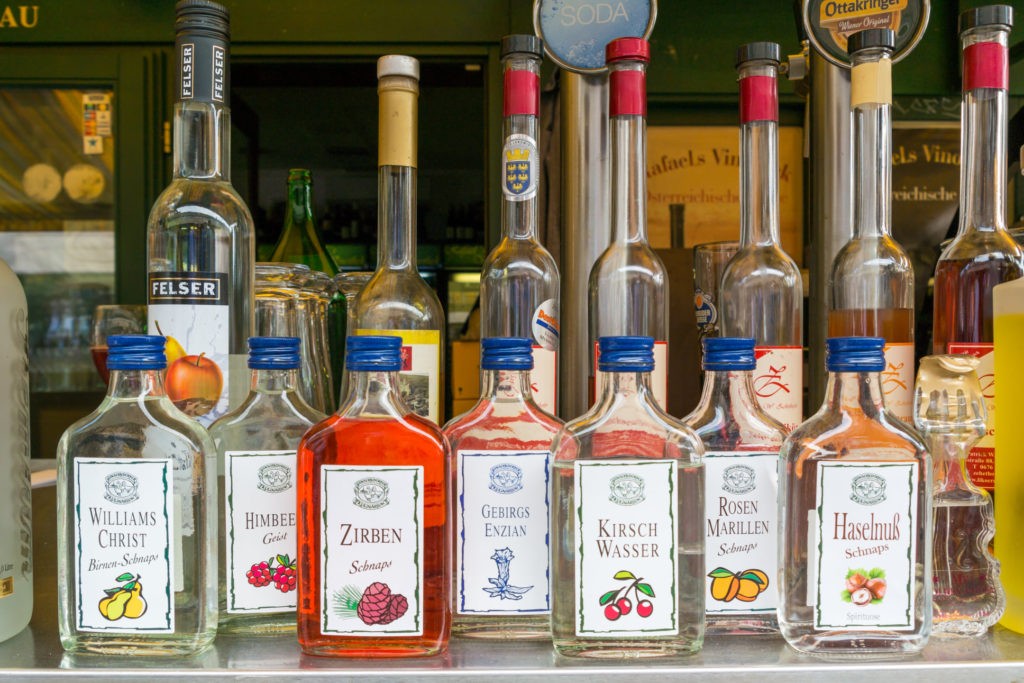 I am duty bound to point out there are other restaurants in Vienna, including fast food chains but I won't go there! I don't normally go looking for 'foreign' food when there is so much local food on offer but if you did want to break away and take shelter in the usual and familiar, here are some options for you: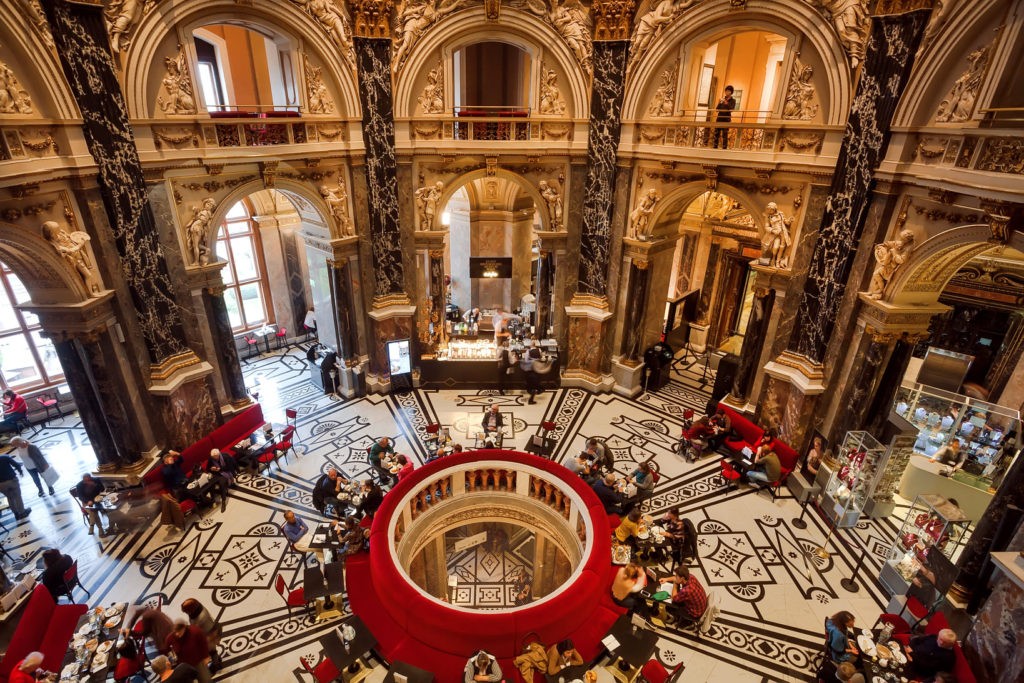 If it's International food you are looking for, here are some to try:
Pizza Randale – Go for the Instagram-friendly décor and creative pizzas – a selection of fennel-infused boar sausage, walnuts and truffle oil, or rocket, tagliata and tomatoes.
Address : Kettenbrückengasse 1, 1050 Wien, Austria
Lingenhel – Upmarket Italian with a sleek, modern, minimalist design with great food and wine. Reserve in advance
Address: Landstraßer Hauptstraße 74, 1030 Wien, Austria
Mamamon – Simple, down to earth but tiny Thai restaurant. Good food but can get crowded and chaotic!
Address: Albertgasse 15, 1080 Wien, Austria
DiningRuhm – A friendly, modern Japanese-Peruvian eatery which has some adventurous and interesting takes on combining the cuisines
Address: Lambrechtgasse 9, 1040 Wien, Austria
Enrich – From breakfast tacos to salmon poké bowls to dairy-free sundaes made in collaboration with Veganista, Vienna's first all-vegan ice cream parlour, it ticks all the boxes around the clock.
Address: Neustiftgasse 27, 1070 Vienna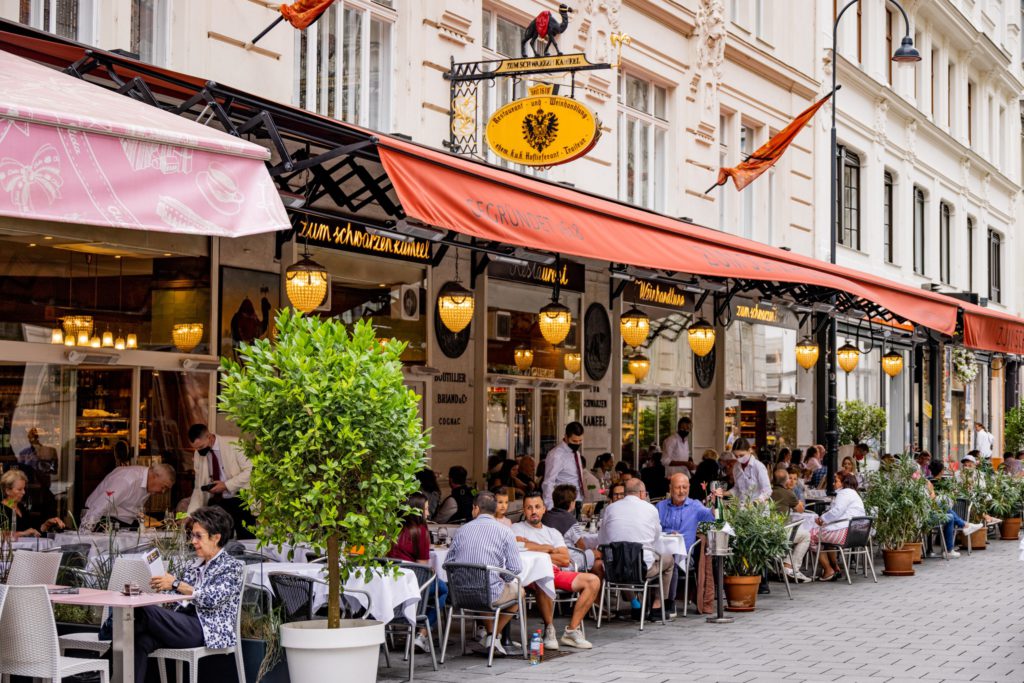 And of course there's always the safety of Indian food where you know you are guaranteed vegetarian offerings! Try these:
In-Dish – A slick modern Indian eatery which does some very creative takes on Indian food alongside the tried and tested favourites
Address: Schwarzenbergstraße 8, 1010 Wien, Austria
Nirvana – A small, interesting menu but genuinely good food cooked from the heart.
Address: Rotenturmstraße 16-18 Ecke, Fleischmarkt, 1010 Wien, Austria
Tulsi – A comforting, traditional menu with everything you miss when you crave for a taste of home.
Address: Fluchtgasse 1, 1090 Wien, Austria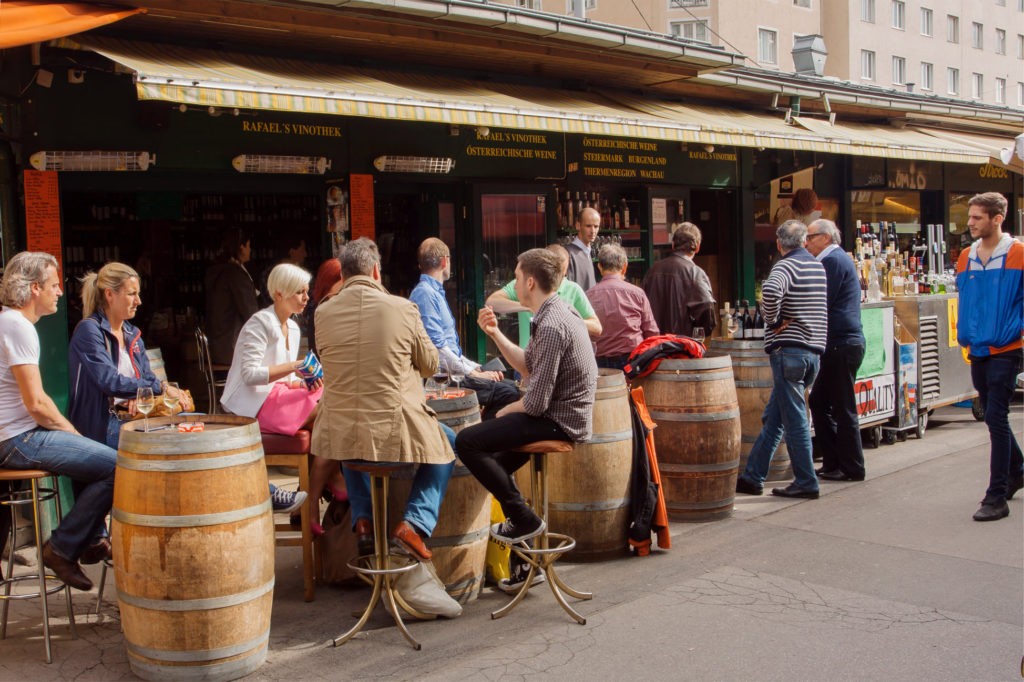 Photos : Shutterstock
For latest travel news and updates, food and drink journeys, restaurant features, and more, like us on Facebook or follow us on Instagram. Read more on Travel and Food Network
Trending Now : TFN Travel and Food Guides
Video | 10 Best Christmas Markets Around The World
Lisbon Travel and Food Guide 2021