In the warm setting of Doha's scenic spots, a writer reminisces her favourite meals that offered a taste of Qatari luxury.
In the wake of the FIFA World Cup, post-2022 Qatar's tasteful expansion has skillfully deepened Doha's flavour as much as its facade. If the first opulent attractions included magnificent gold architecture, roaring sports cars and a shimmering skyline, the latest draw chains in a burgeoning dining scene to add on the Middle Eastern luxury. Inside the latest chain hotels and quaint spots, acclaimed masters of the food world have discovered a new base to fuse global cuisines with Qatari grub.
Armoured with just a smidgen of knowledge of the culinary expertise that lay here, my touch down in Qatar was marked with a gluttonous fervour.
Down to the Arabian magic
My first stint with food in the capital city was not at a swanky establishment, but at Damasca One, an old Syrian restaurant, located quietly in the heart of Souq Waqif. On first look, translucent panes of ruby, emerald, blue and gold delicately converge light onto the central staircase. A grand chandelier and a simple seating choice comfort you with the knowledge that your sole purpose here is to eat. Chop chop, move quick is the philosophy of service here. The staff wants to feed you, and feed you well.
In the same week, to sample some of Qatar's incredible Levantine fare, I opted for private seating in a traditional Arabic garden, Hadika, at The Ned Doha. Overlooking the Doha skyline across from the Corniche, the outdoor seating features colourful lanterns amidst a vibrant garden and makes for a posh but comfortable eventide.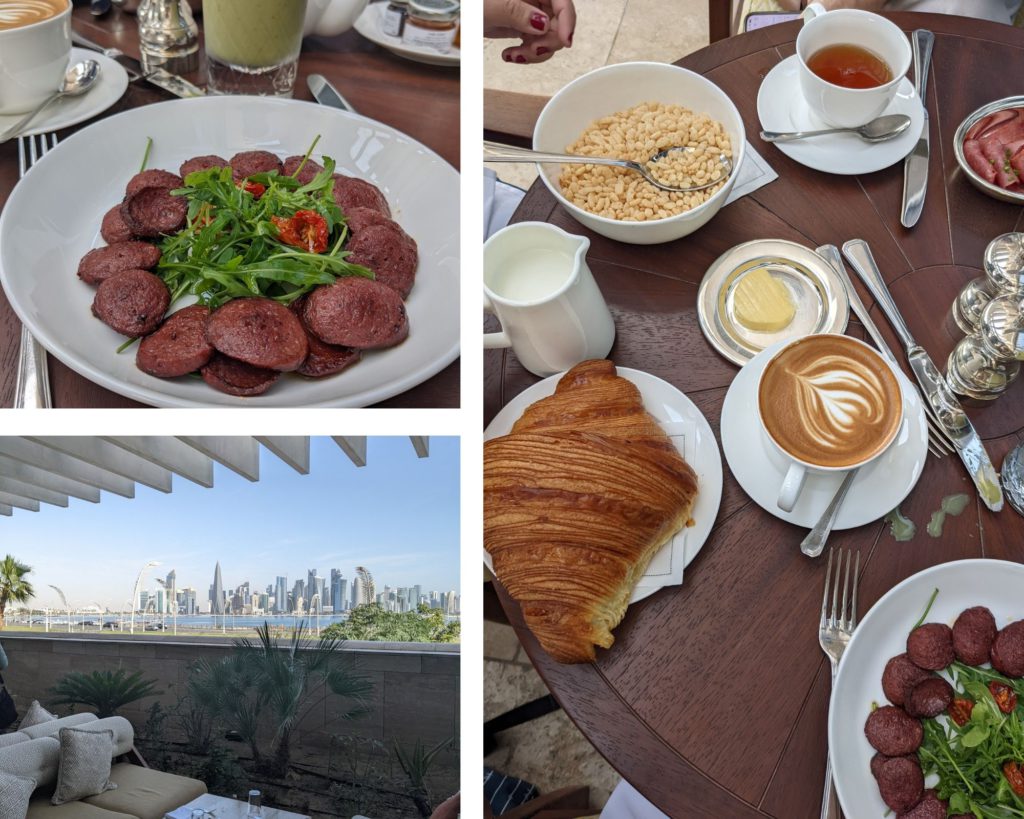 'How different and better could baba ghanoush be from ones I've concocted at home and ordered elsewhere?' My presumptuousness left no space for doubt when ordering mezze. I believed that no matter how fluffy or creamy hummus could be, there was no way a simple chickpea dip could be so revealing. Perhaps, the learning curve was high as I discovered the thrills of the simplest foods.
Across the two spots, I took my sweet time dipping warm pita in muhammara made to perfection—an easy spread without a numbing grittiness from walnuts—, savoured some za'atar and olive oil doused labneh, while stuffing spoonfuls of tabouleh, munching on the tangiest version of the salad I ever had. Along, I made my way through succulent kibbeh and kebab meats, bowls of fattoush, juicy dolme, warm fatayer, tomato rice and gained a new-found appreciation for chicken liver. Each dessert, from knafeh to maamoul was washed down with fragrant tea. From old heritage spots to the latest restaurants, the swing of flavour never missed a beat.
Loosen up and fuse
On the other end of the spectrum, at Naua by Tom Aikens, Qatari flavours receive a modern Mediterranean twist. The Michelin chef-owned restaurant resting quietly atop the newly refurbished 3-2-1 Qatar Olympic and Sports Museum on the eighth floor brings glamorous fine dining bereft of an uptight decor. A relaxed pop playlist and fresh-scented aromatics set the stage for innovative eating.
Over three courses, I learnt that Naua translates to 'nucleus of a seed' through their skilful inclusion as invisible ingredients; be it a textural work of tahini and peanut crumbs on a phyllo sheet tuna pizza (a masterful taste explosion featuring wasabi-avacado drops), the invisible role of earthy seeds making a bed of sauces for a za'atar-coated lamb steak or cacao and reishi hazelnut tart with a coconut twist. Here, mindful eating never translated to boring food. The zeal towards keeping all serves exciting, extended to their in-house craft beverages and mocktails such as the hibiscus cooler and the smoked pumpkin which despite lacking alcohol, provide incredible indulgence to the eyes and the palette.
At IDAM by Alaine Ducasse, the mood shifted to monochromatic whites and blacks through Philippe Starck's sensibilities. After making my way through the Islamic Museum of Art, on the top floor overlooking the majestic Persian Gulf, a bold fusion of French-Qatari infusion awaited my arrival. For 280 QAR (₹6300 approx.), an extravagant two-hour long four-course lunch entertained our table, piquing my interest with plenty of pre- and post-meal tidbits and amuse-bouche fillers.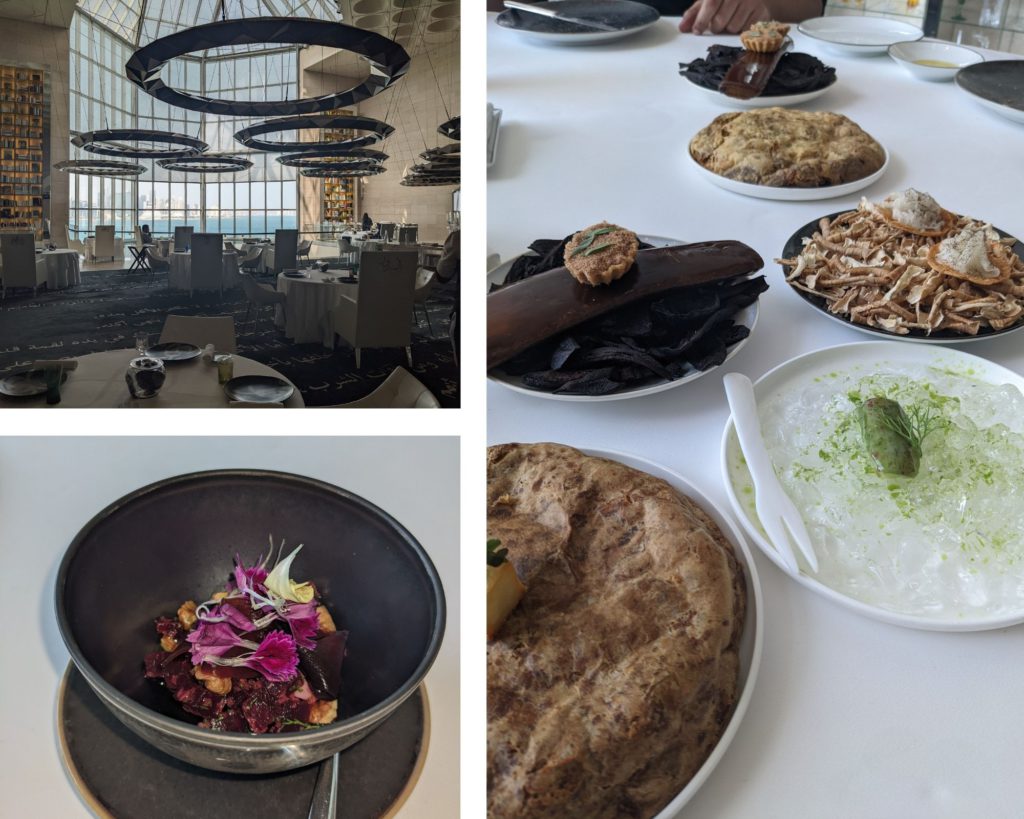 The concept translation of 'IDAM'—utmost generosity towards the care and attention paid to guests—showcased through communication bespoke of words and a quickly reworked meal plan towards food allergies and intolerances. Kicking off with canapes of camel meat tarts and a smoked cucumber salad, I made my way through the delicate first course of pan-seared scallops in rich beef broth. Soon followed a plate with roasted artichoke, red snapper main with a grapefruit and fennel jus and a lumi (dried and preserved lemon) granita for pre-dessert, with the highlight being an astounding Ducasse-special date souffle served with a rose-shaped laban sorbet. Unsurprisingly, closing my final plate, a happy dance declared my happy tummy.
Global grub spots
Every morning opened with a skyline-facing breakfast at The Ned, savouring fatty sucuk with tart cheery tomatoes, sometimes a portion of fried halloumi or an easy granola bowl with a staple double espresso, while evenings were spent loitering around the Souq slurping Qatari karak or marking stops across Msheireb Downtown for my next visit. Some larger meals on the other hand, were enjoyed at charming new spots to break away from the peninsular monotony.
A short visit to the Al Maha island on my last evening in Doha brought me face-front with Raffles' and Fairmont's ultra-luxury properties at the Katara tower. Being surrounded by utopian opulence and crazy grandeur, and already having dined at my second Michellin-owned restaurant in two days, I could only imagine capping off my day off with a big meal. Right on cue, my next stop was at the iconic Italian-American supper club, Carbone, located right across Lusail's Winter Wonderland.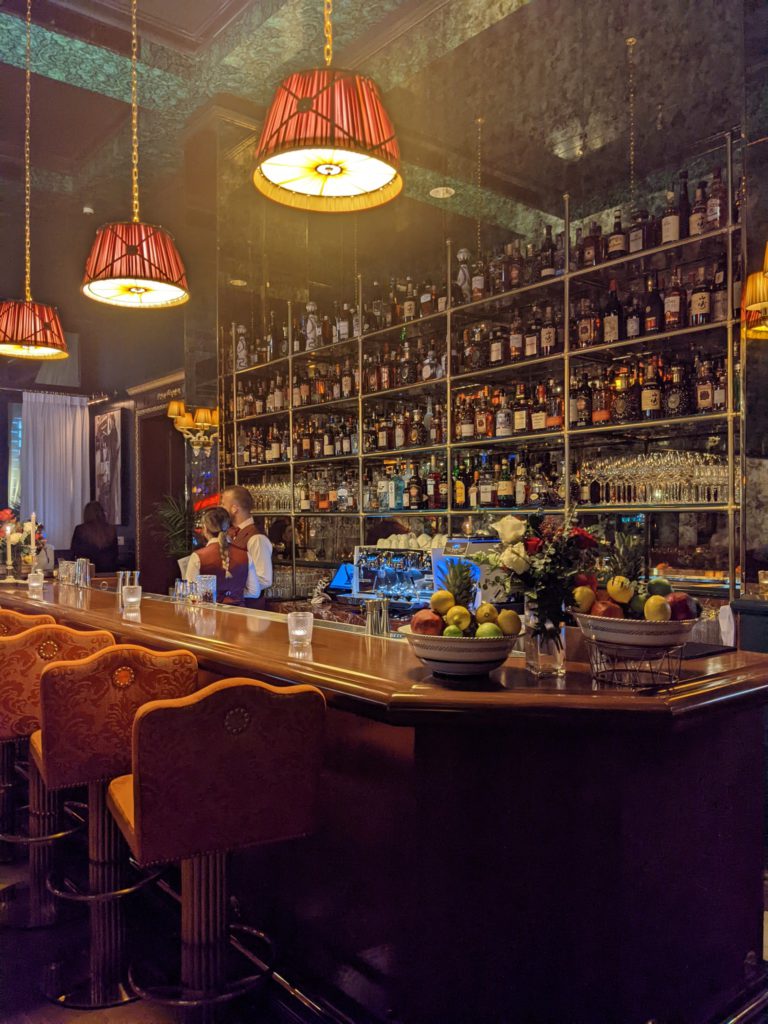 Here, the 50's sophistication came in the form of checkered floors, green and red leather banquettes, tassel lampshades, vintage posters, a groovy doo-wop playlist and a hip bar! While a meal here may set one back a good deal, the better trade-off comes in the form of huge portions of tasted-and-loved ricotta-stuffed ragu, lamb chops and warm ginger carrot cake and melt-in-mouth lemon cheesecake.
My final grub was laid out at a rather familiar name—BoHo Social. While known for fusing Middle Eastern fare with an adventure to the Americas, Mediterranean and Asia, my lunch was herby and light to calm the aftermaths of sultry Arab noons. A brightly coloured goat cheese salad with fruits and roasted butternut jolted in some energy, the heap of arugula on top of my mushroom risotto added freshness to the creamy sauce and a warm biscoff cheesecake sent off murmurs of delight when paired with churros dipped in caramel sauce. The eclectic ambience, curated by Paul Bishop, sprucing vibrant patterns, mismatched wooden furniture, dangling vines and a breathtaking view is all it took for a relaxed sigh and an expression of gratitude for meals inciting wonder.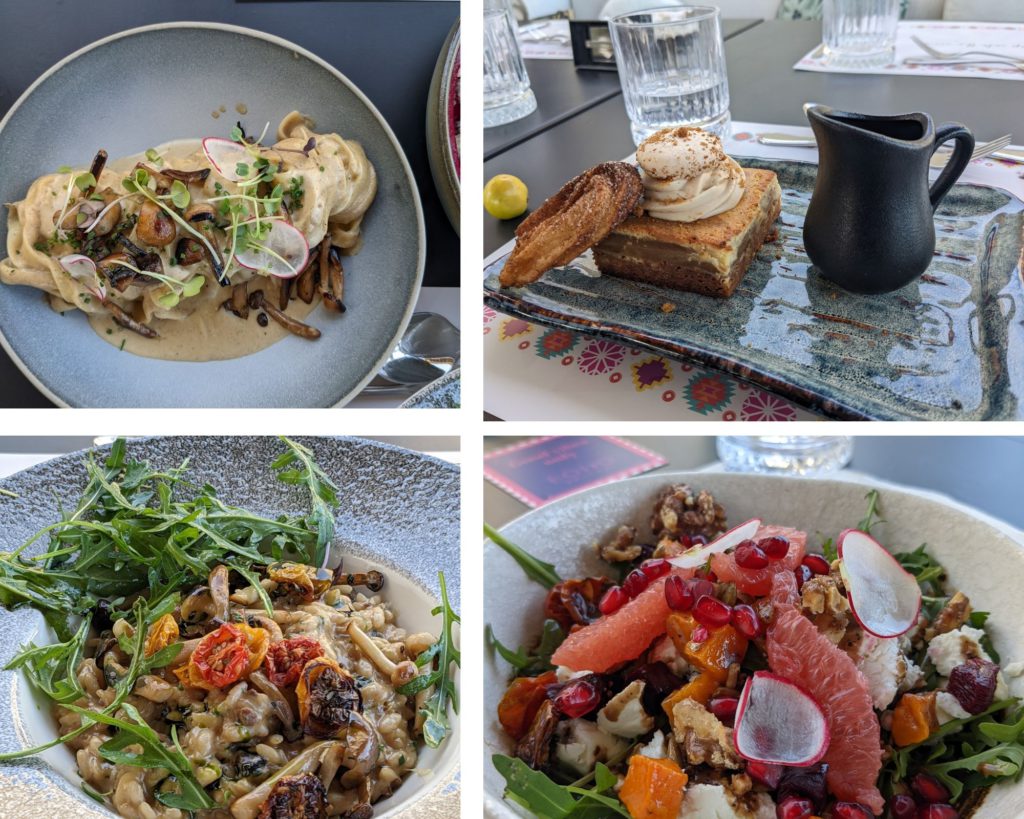 For latest travel news and updates, food and drink journeys, restaurant features, and more, like us on Facebook or follow us on Instagram. Read more on Travel and Food Network
Trending on TFN
The 23 Best Places To Go In 2023
Explore Utah's Mighty 5® and What Lies in Between
Five Epic U.S. National Parks To Visit This Year