It will be making its way to Orlando's ICON Park.
Being obsessed with cooking shows can be tough. On one hand, watching the food being expertly made is mesmerizing, but the moment you remember you can't try the food out for yourself is kind of heartbreaking. Well, for people who live in the Orlando area, that will soon change, because Gordon Ramsay announced he's opening a fish and chips restaurant in Florida.
This will be the Hell's Kitchen star's first Fish & Chips restaurant opening that is not located in Las Vegas and it will be his first restaurant in Florida. He made the announcement on Instagram with a caption explaining the restaurant will be opening in Orlando's ICON Park.
Must Read : San Francisco Travel and Food Guide 2021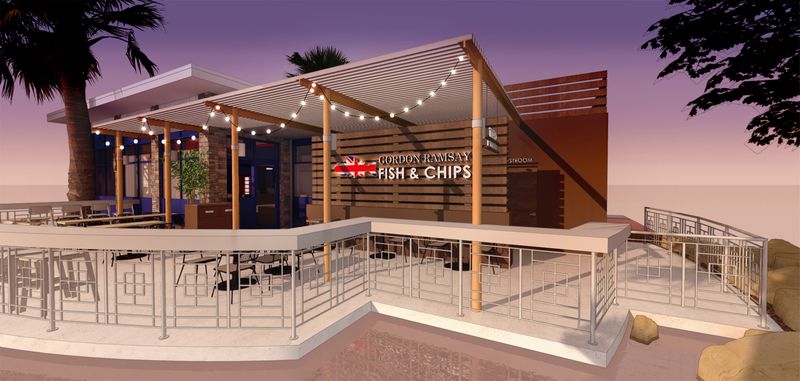 ICON Park is an open-air entertainment destination that includes bars, restaurants, and attractions like an observation wheel. Black Shelton's Ole Red restaurant is also located in the park. Gordon's restaurant will serve fish and chips (duh!) and other fast-casual dishes like shrimp, chicken, and milkshakes. One milkshake, the Sticky Toffee Shake, is even garnished with a Biscoff cookie. Fish & Chips will also include ice-cold domestic and import beer for guests 21 and older.
"I can't wait to see you. I'm so excited and I promise you you're going to love them," he said in his announcement. Yes, chef!!!
Travel Update : Please note that there could be travel restrictions because of the ongoing pandemic. Before travelling, please always check the latest government advice about COVID-19 travel restrictions in your destination.
Source: Delish. Photo Courtesy : Gordon Ramsay Restaurants/Facebook
For latest travel news and updates, food and drink journeys, restaurant features, and more, like us on Facebook or follow us on Instagram. Read more on Travel and Food Network
Trending Now : TFN 2021 Guides
A Week Along The Mesmerizing Amalfi Coast | Travel Guide 2021
48 Hours In Prague And 10 Tips To Make The Most Of It | 2021 Travel Guide