Waking up to snow clad mountains; apple, cherry, and apricot picking in the vast orchards that punctuate the valley; driving by saffron fields; men, on their wooden boats, bargaining the price of fruits, flowers, and vegetables, as they sail through the beautiful lakes; sampling freshly baked bread from traditional bakeries (kandurs) during a morning stroll; these are some of the stories I grew up with that shaped my childhood. These tales of Kashmir, mostly narrated by my grandfather remained etched in my heart and I knew that someday I'll travel to retrace his steps in the picturesque valley. Over the past 3 decades I have travelled extensively for work and leisure but it wasn't until the spring of 2018 that serendipitously an opportunity came up to travel to grandpa's most beloved Kashmir, and before I knew, I found myself in the outdoor dining area of Srinagar's Lalit Grand Palace, sipping my Kahwa (a traditional Kashmiri tea flavored with honey and cardamom and infused with cloves, cinnamon and saffron and prepared in a brass vessel known as Samovar) and biting into tsot (round golden bread usually served with dollops of butter or jam) while chalking out my itinerary for the next 5 days and admiring the huge chinar tree in front of me (a sign claiming this as the spot where, in 1947, a meeting took place between Mahatma Gandhi and the Kashmiri ruler Hari Singh). I'm not much of a history buff so I'd rather call this the perfect spot to watch the sun disappear behind the lake.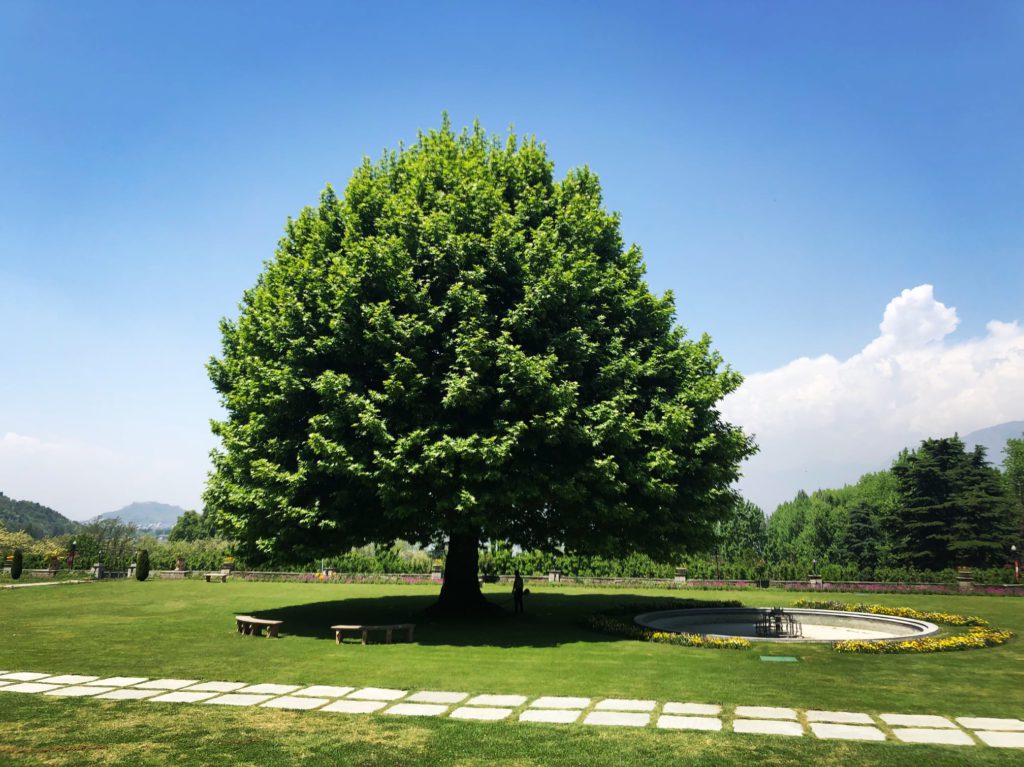 Day 1: Parks and Recreation – Srinagar
I start my day really early to take a Shikara ride on Dal Lake, a five-minute walk down the road from my hotel, to catch the mesmerizing views of the misty peaks of the Pir Panjal mountains and photographing the colorful spectacle of floating flower and vegetable market. As we paddle our way through the lake, my boatman narrates stories of how he spends the summer in the valley and the rest of the year in Goa where he gives surfing lessons.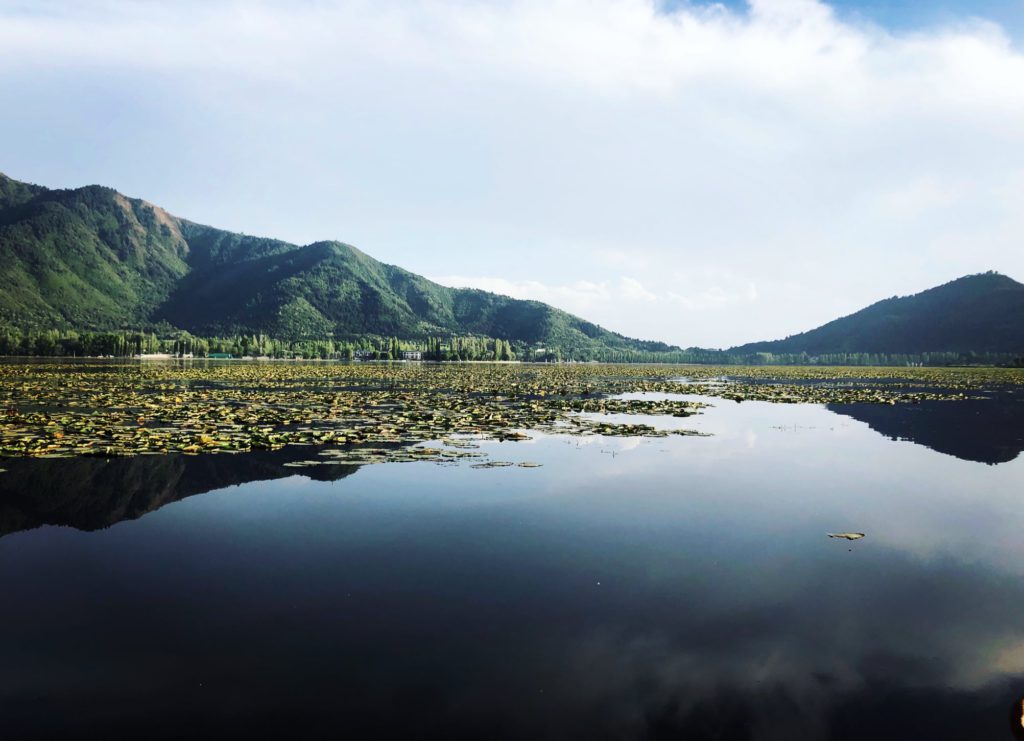 There's a state of calm, I can literally hear birdsongs and spot lilies and water lotuses before the shikara turns into an inlet of water, and I'm suddenly sidled up to by souvenir vendors trying to sell everything from Attars (perfumes) to Papier-Mâché and from Saffron to Pashmina.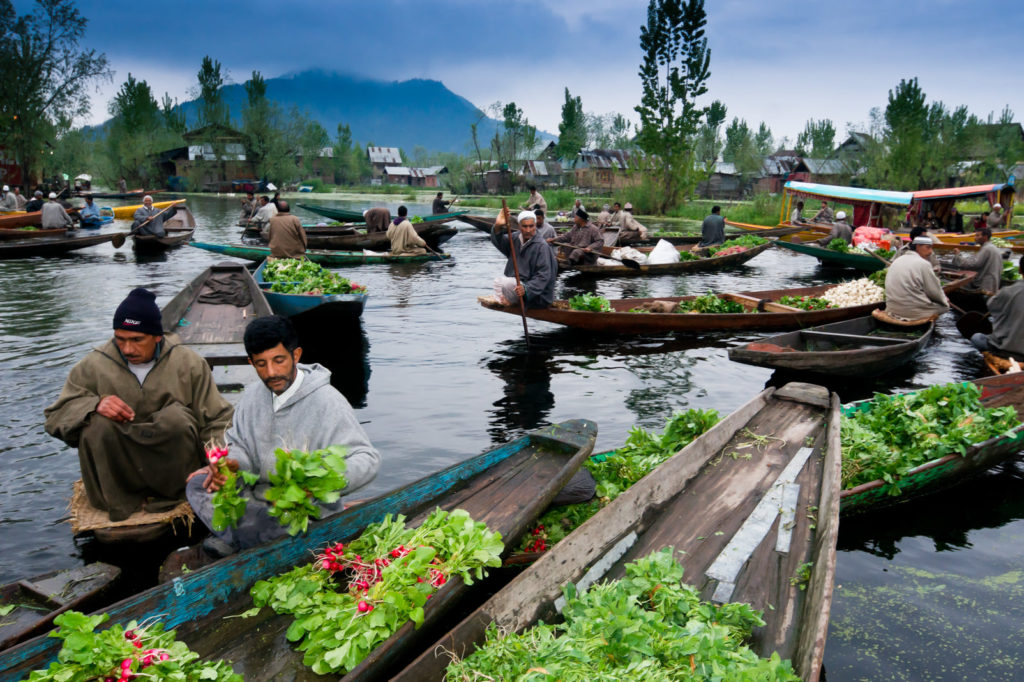 I know there's more to this 45-minute Shikara ride of the lake. So as recommended by my tour manager, I decide to climb up the Shankaracharya Temple to catch stunning panoramic views of Srinagar and Dal Lake.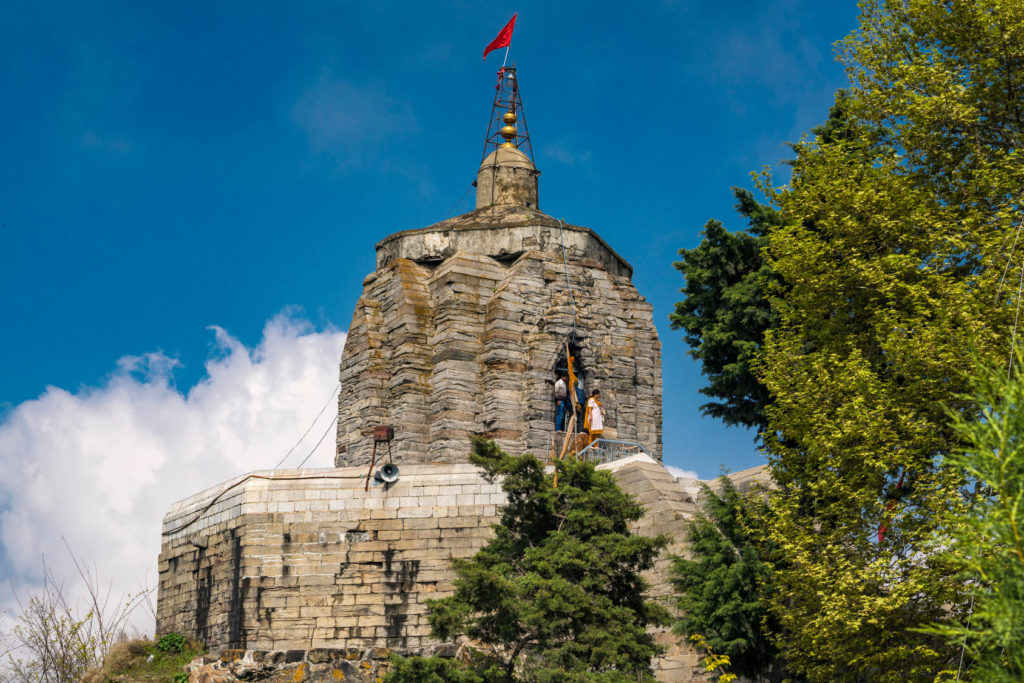 Dedicated to Lord Shiva, this temple rests at an altitude of 1000 feet adorning the Shankaracharya hill and can be reached in 10-15 minutes by stairs. I recommend taking a cab or renting a car to get there because the access is by a winding 5.5km road from a checkpoint near Nehru Park (a 15-minute drive from The Lalit). The road ends at another checkpoint, where you must leave phones and cameras before climbing a stairway to the temple.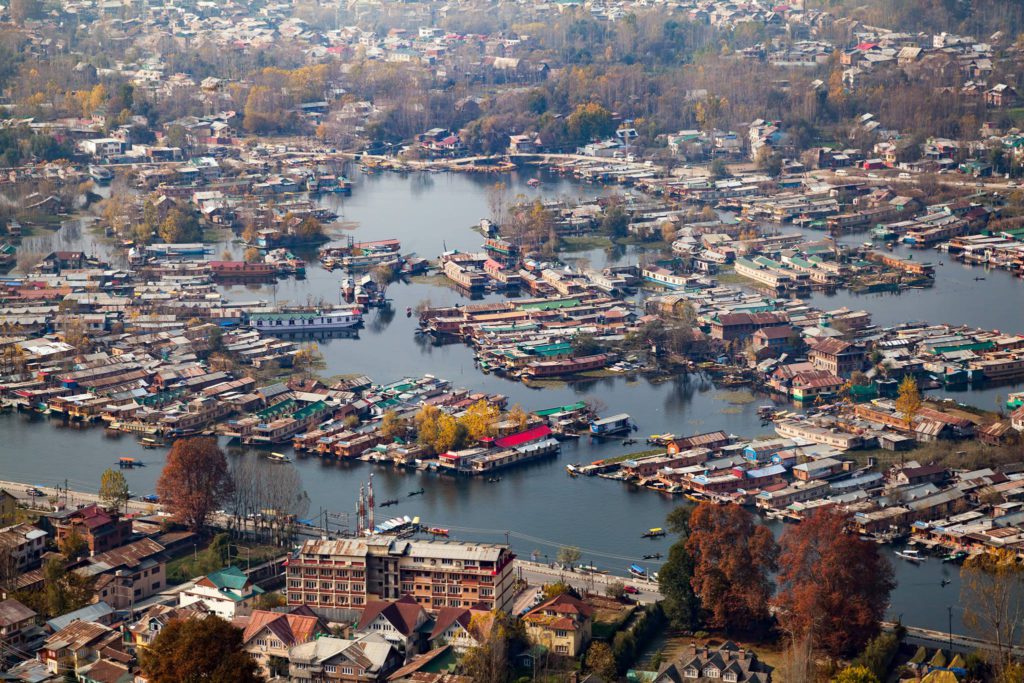 Next up on the day's itinerary is a walk through of the 3 magnificent gardens – Chashma Shahi, Nishat Bagh and Shalimar. The Mughal gardens with chinars, roses and stone fountains, (favourites for school picnics and leisurely walks) are worth visiting – particularly the spectacular Nishat Bagh, on the eastern side of the lake, with terraces and a cooling central canal in which children gather and play. It's on Foreshore Rd, 7.5km from Nehru Park. There are wonderful views, too, from the Pari Mahal, or Palace of the Angel, especially during sunset.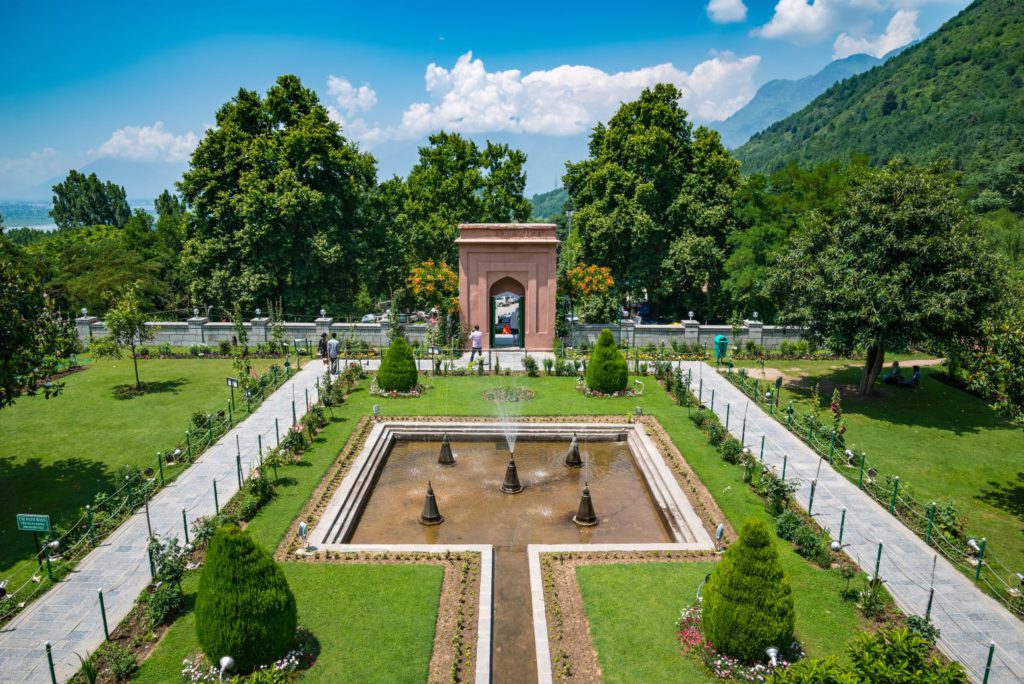 A friend of mine, an avid golfer based in Srinagar mentioned that whenever I'm visiting the Mughal gardens, I must stop by for a quick tour of The Royal Spring Golf Course. Designed by Robert Trent Jones II, this golf course has been carved out of forests within the backdrop of Zabarvan mountains and is immaculately maintained and you don't have to be a member to take a tour or to grab a quick bite at their café.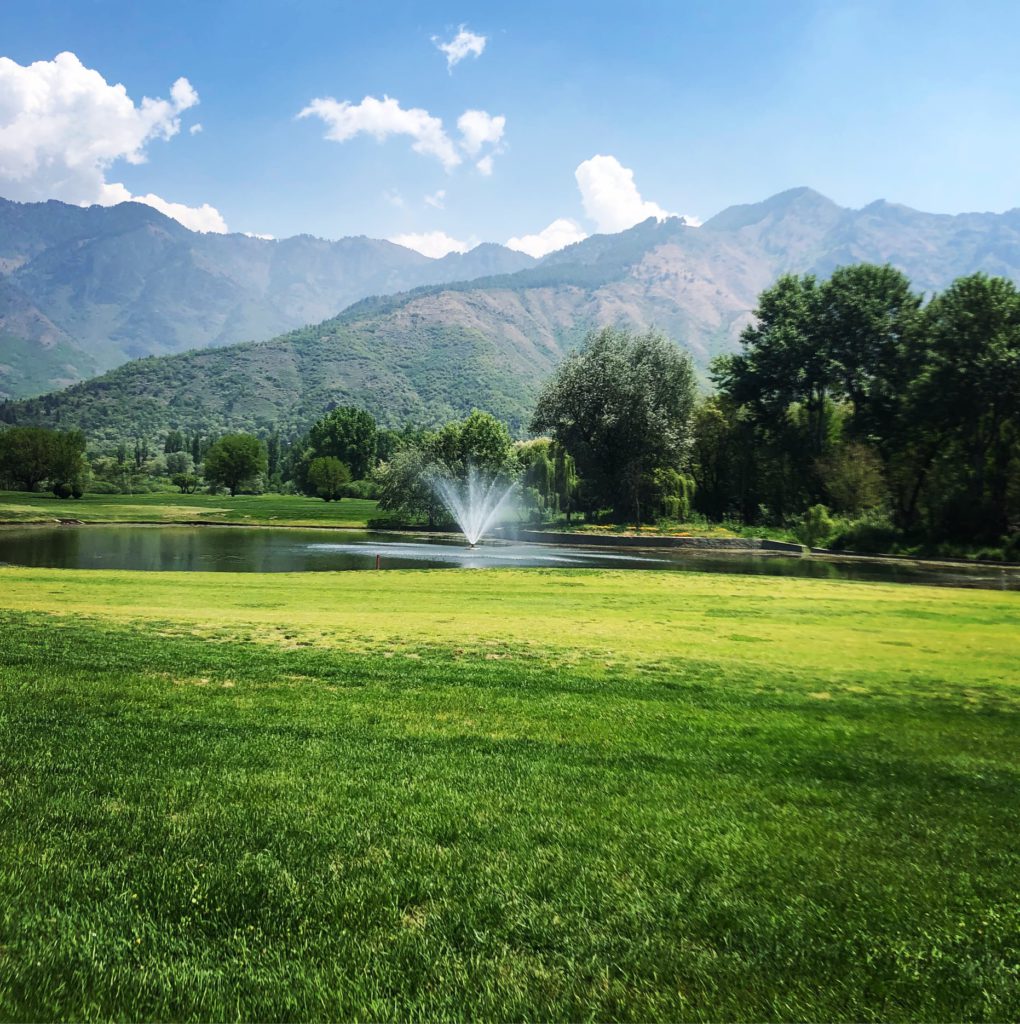 During my morning Shikara ride, I was fascinated to spot wooden houseboats with incongruous names (Buckingham Palace, Duke of Windsor, Kashmir Hilton). Curious to get a real feel for what life used to be like for visitors before hotels were built, I decide to spend the night at the Clermont houseboats (as recommended by a friend who stayed there a week before my visit) owned by a father-and-son team of Manzoo and Gulam Butt who have been hosting guests since the 1940s, and the guestbook is packed with names from George Harrison to Nelson Rockefeller and Arundhati Roy. After a really long day, it's relaxing to enjoy the hearty fish, meat and vegetable dishes served in the houseboat's colonial-style dining room, while watching the moon's reflection dancing on the breeze-rippled water.
Day 2: Let it Snow, Let it Snow, Let it Snow – Gulmarg
Next morning for breakfast I'm back at the Lalit hotel, to bite into a flaky barkhani bread slathered with spiced apple jam made out of fruits picked from the hotel's orchard and to warm up myself with not just a cup but a pot of Kahwa as I prepare to head out for a day trip to the ski town of Gulmarg (an hour and a half scenic drive from the hotel). From Skiing and hiking to horse riding and biking, Gulmarg is has many outdoor adventure options. Golf enthusiasts can head straight to one of the highest golf courses in the world and everyone can take in the area's spectacular Himalayan views at the Gulmarg Golf club.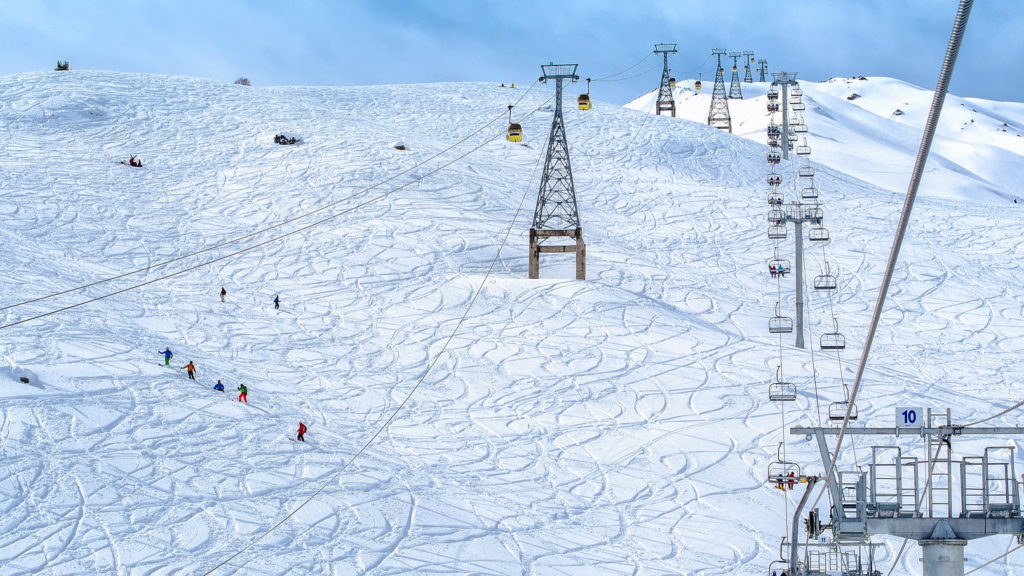 A gondola ride in Gulmarg might seem cliche but is a rewarding experience. An hour and half from Srinagar, one of the highest gondolas in the world takes visitors to 14,000 feet gliding over snow-dusted pines and ski slopes in winter, and gurgling streams in summer. Gulmarg received fresh snowfall 3 days before my trip, so I was lucky enough to catch a glimpse of what they call a winter wonderland, but at the onset of spring! An extremely popular spot to have lunch with spectacular 360° panoramic views it a dhaba on top of a peak. But I decide to decline that offer and check into the famed Khyber Himalayan Resort and Spa for lunch.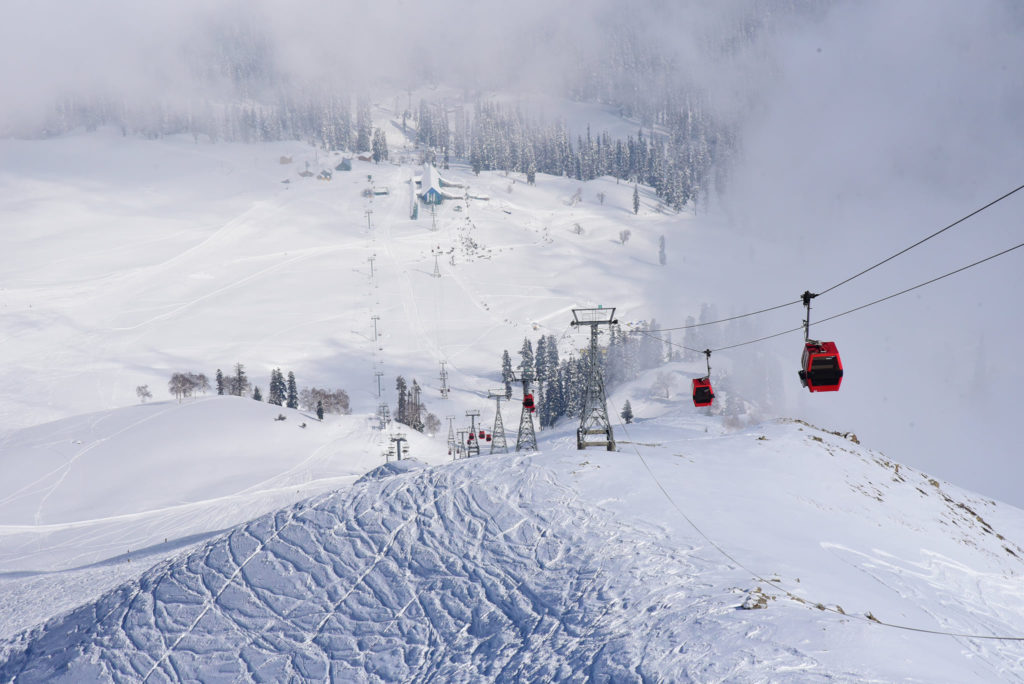 The hotel which is right next to the gondola, screams luxury, with a cigar lounge, an Ayurvedic spa, gym and a heated swimming pool and three restaurants with remarkable views of pine trees serving everything from meaty Kashmiri curries to mezze and dim sum. I settle for a vegetarian thali that arrives with a mound of rice surrounded by delicately flavoured rajma, dum aloo, nadru yakhni (lotus root cooked in yoghurt curry), and haak or lightly sautéed collard greens. This is comfort food at its best for someone like me who hails from a Kashmiri Pandit family (or those who have had the pleasure of savouring authentic Kashmiri cuisine will know what it means). Ofcourse it also makes me draw comparison with mom's recipes because she is a fabulous cook (the best in the world if I may say).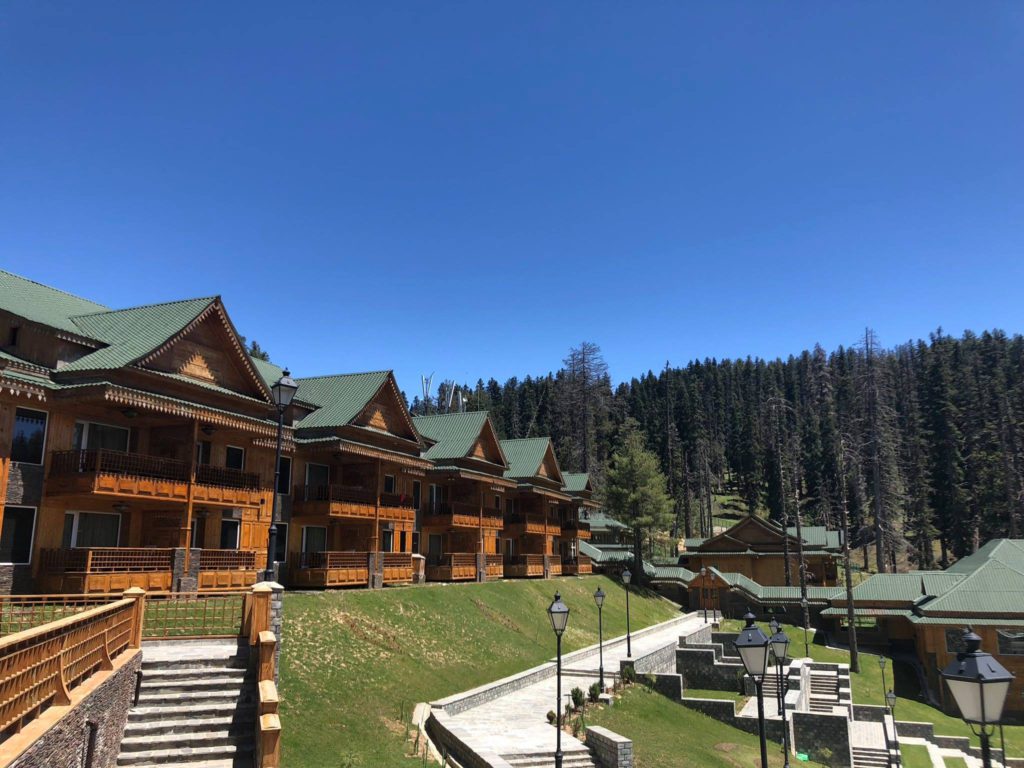 On our way back to Srinagar, I stop by at woodwork and carpet-making workshops where one can try their hands at carpet and shawl weaving, papier-mâché, and wood carving, or simply load up on gifts to take home. If you are a lover of art and architecture, you can skip the workshops and spend the afternoon on a motorboat cruise on the River Jhelum that gets you up close to the Old City's traditional architecture and bridges.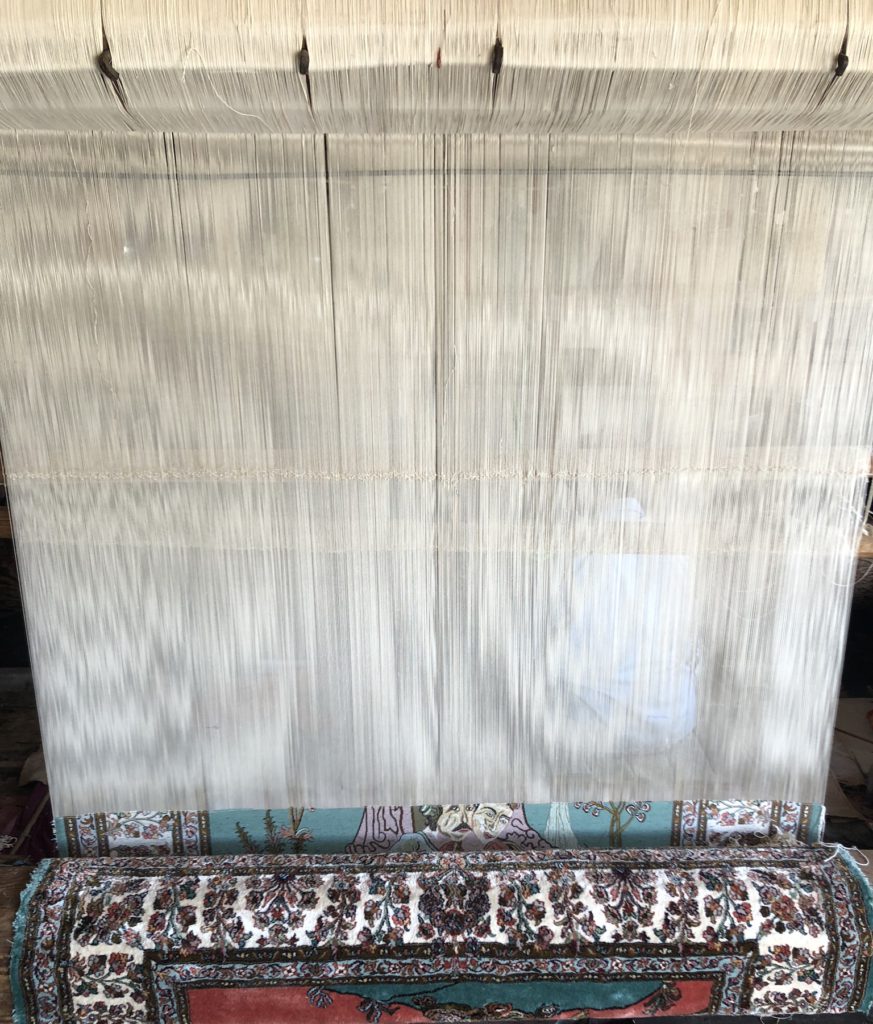 For dinner I'm back at my hotel for a traditional communal meal – made under the supervision of a waza, a Kashmiri cook who specialises in making wazwan. It features both vegetarian and non-vegetarian regional delights but my favourites on the menu are the classic rogan josh with succulent pieces of mutton, and gostaba, the lamb meatball curry.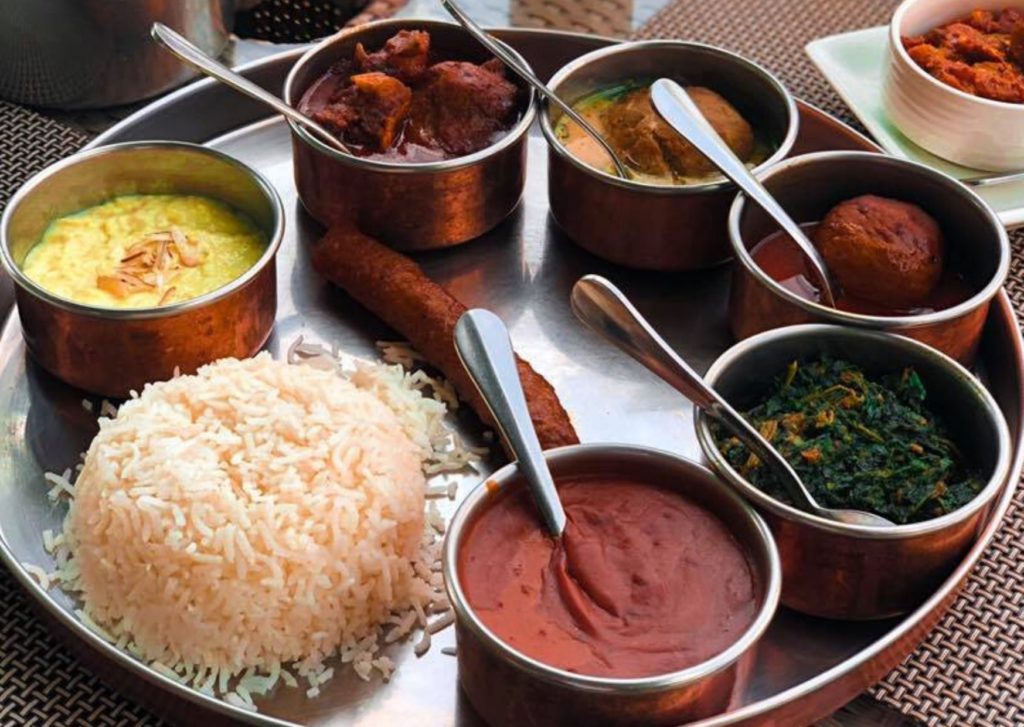 Day 3: Climb every mountain, Ford every stream – Pahalgam
After spending 3 nights in Srinagar, I decide to head to nearby beautiful Hilltown of Pahalgam (a two-hour drive from Srinagar and also the starting point also the starting point of the Amarnath Yatra trek). En route there's more history at the ruins of the 8-9th century Martand and Avantipur temples. Along the way, epicures will delight in the saffron fields at Pampore and the apple orchards, while sports enthusiasts can visit a cricket bat factory to see how willow bats are made.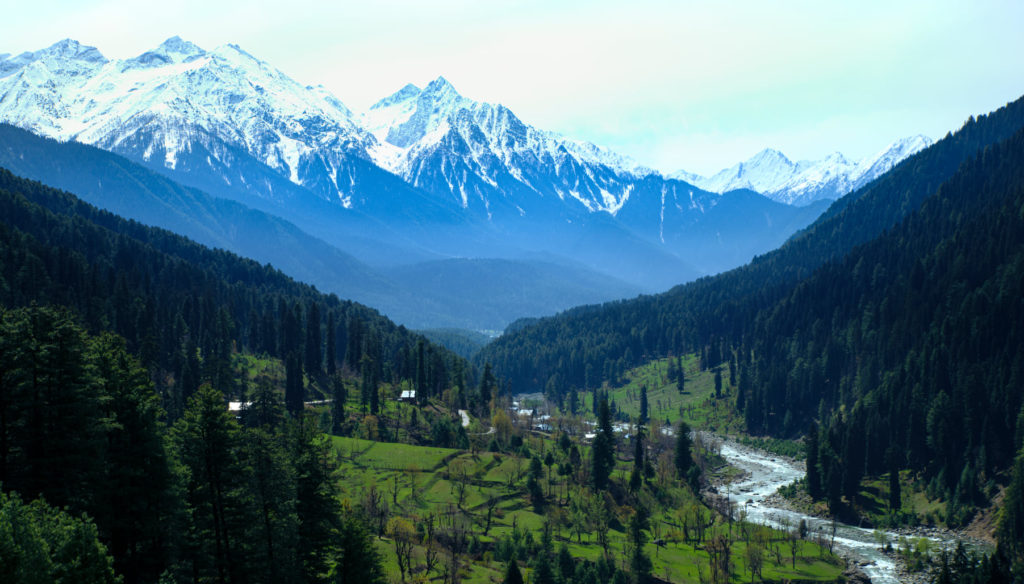 Pahalgam offers the excitement of white-water rafting on the trout-rich Lidder River where the aquamarine hue of the glacial river lights up the landscape wherever it goes, or a trek (mostly on a pony) to Aru Valley and Betab valley; for those who are not quite as active, Baisaran makes a great picnic location. Baisaran is also known as 'Mini Switzerland,' courtesy its green meadows.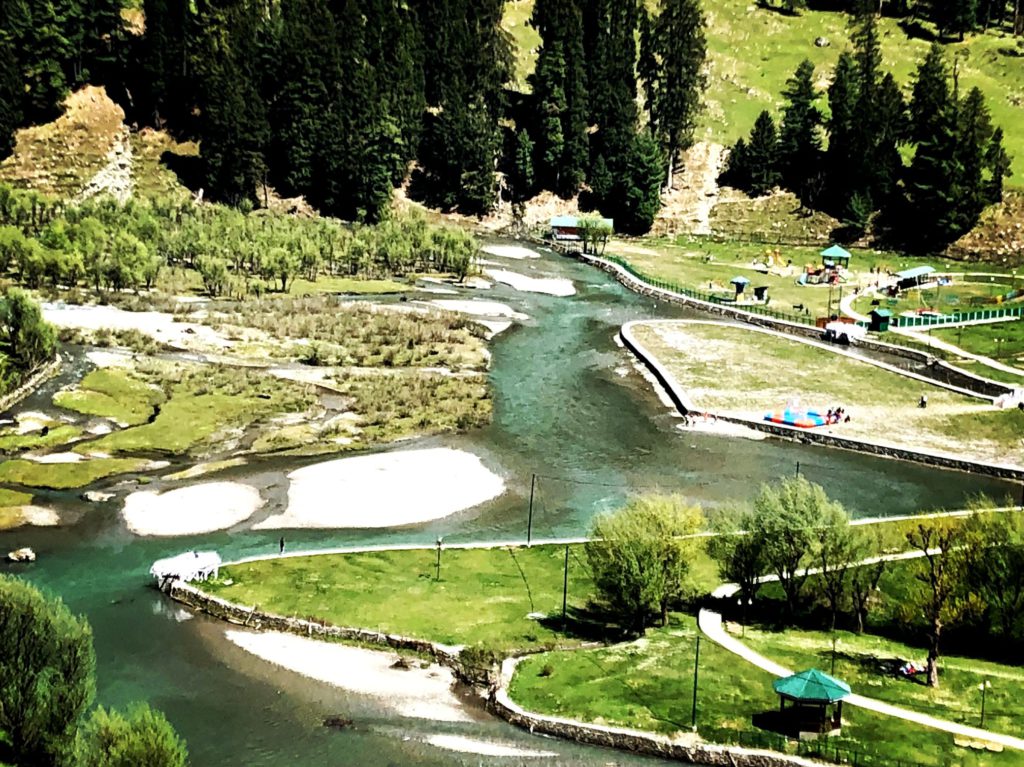 A highlight of the town is it's sustainable initiatives. First up Chris Zandee's (Kashmiri speaking dutchman) cheese factory in nearby Langanbal where you can sample some of the best gouda and cheddar. This is also where they make a local cheese called Kalari which resembles a flatbread and tastes like unsalted mozzarella, providing a livelihood to the local community. My friend from Srinagar has set up a meeting with Ramneek Kaur the fourth-generation owner of the famous Pahalgam hotel – also the force behind Shepherd Crafts, an NGO dedicated to the revival and sustenance of the crafts of the shepherd tribes of Gujjars and Bakarwals.
The hotel hosts a book store 'The Almirah Books' that also sells other souvenirs, homeware, stationary, t-shirts, postcards, handicrafts, folk art and other mementos. Pahalgam is also a delight for lovers of Trout. If you are one of them then definitely stop by at The Trout Beat a beautiful cottage-like restaurant that is located in the main market of Pahalgam, next to the Pahalgam hotel. They serve fresh produce from the Lidder River straight on your plate. The chef's special here is the trout tandoori and trout masala. An assortment of veggie delights and other non-vegetarian snacks are also available here.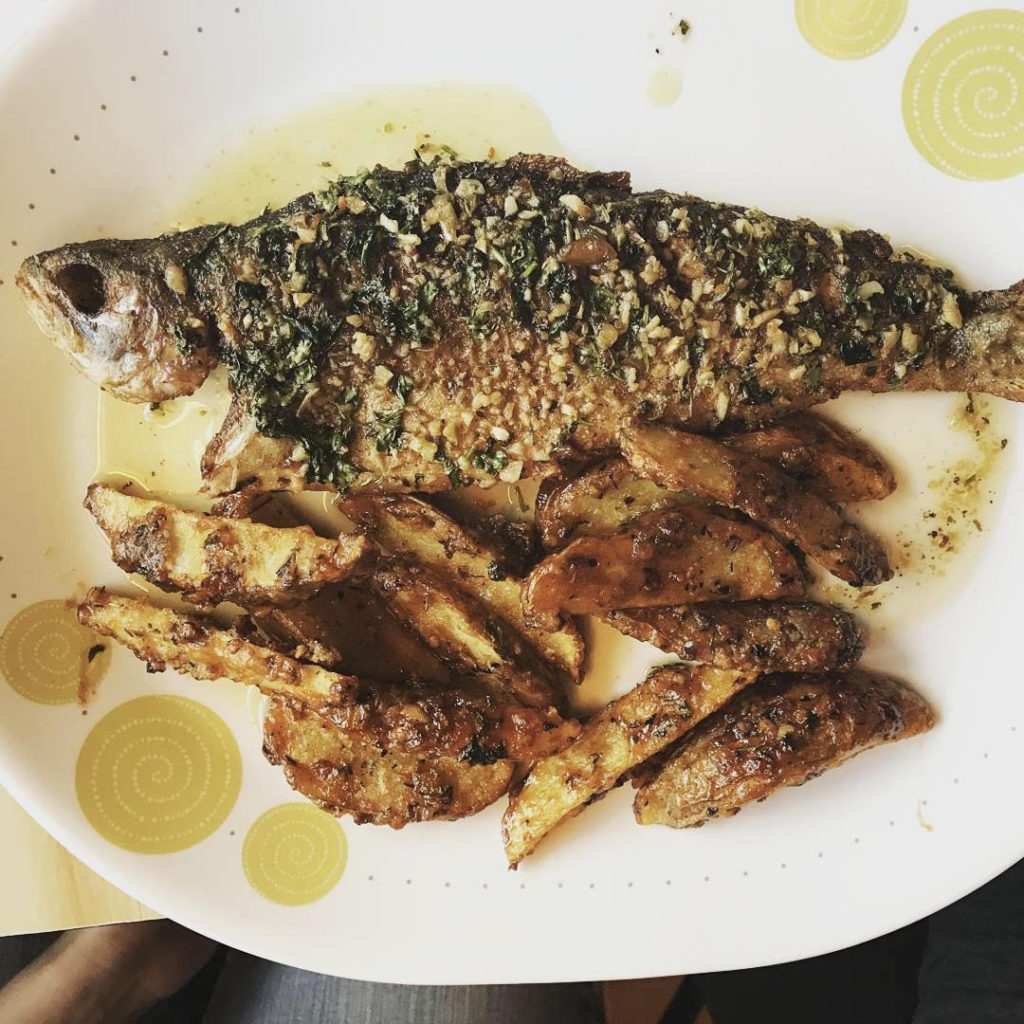 Day 4: The Hills Are Alive with The Sound of Music – Sonamarg
After a beautiful but hectic four-night stay in Srinagar, I'm supposed to drive to Sonamarg. While having my breakfast, before heading out, I feel the need to slow down, and breathe in a bit of fresh air and as recommended by Mom, I decide to make a make a slight d-tour to stop by at the Kheer Bhawani temple (frequented by my parents during their stay in Srinagar). A 45-minute drive from Srinagar and situated in the middle of a natural spring, the temple is popular with all tourists, but is especially revered by the Kashmiri Pandits in the Valley. The architecture of the temple is simple yet beautifully created using smooth grey stones. Rumour has it that the waters turn black as a warning for any looming calamity.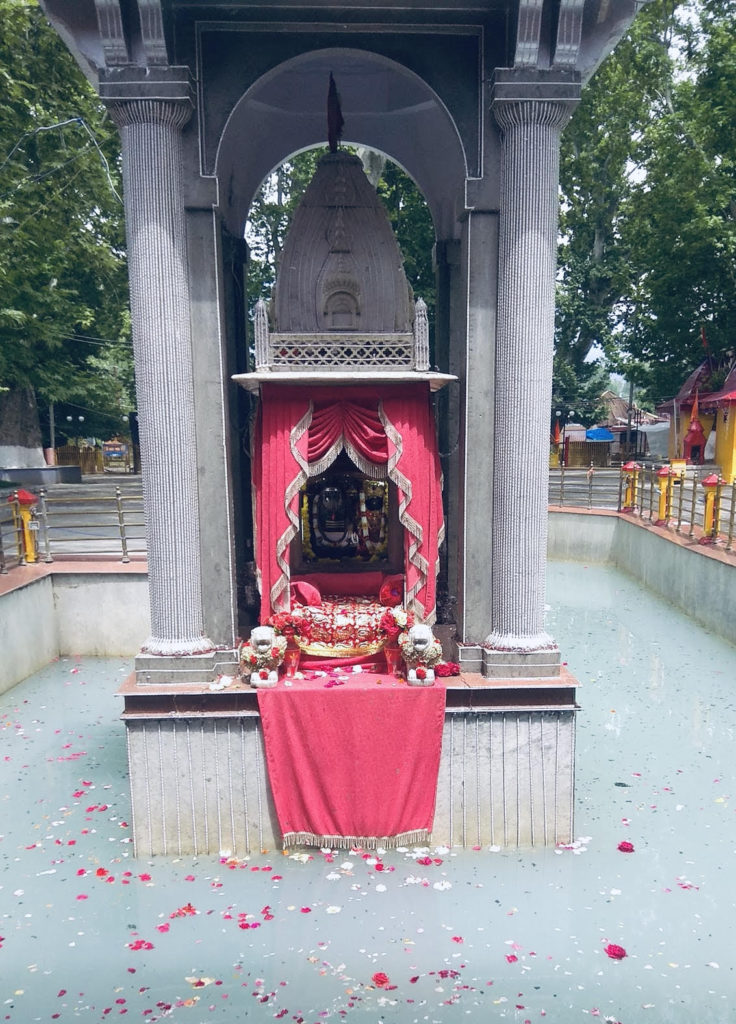 After spending a good two hours to let this slower steadier pace perfume my mind, heart, and soul, I set out to explore Sonamarg (also known as Golden Meadows) suitably enticing for an upland valley surrounded by soaring, sharpened peaks and Sound of Music scenery. For trekkers and mountain climbers, this scenic hill town makes an excellent base. Sonamarg also serves as the gateway to Ladakh, or Little Tibet, through the 11,575-foot-high Zojila Pass barely 12 miles away.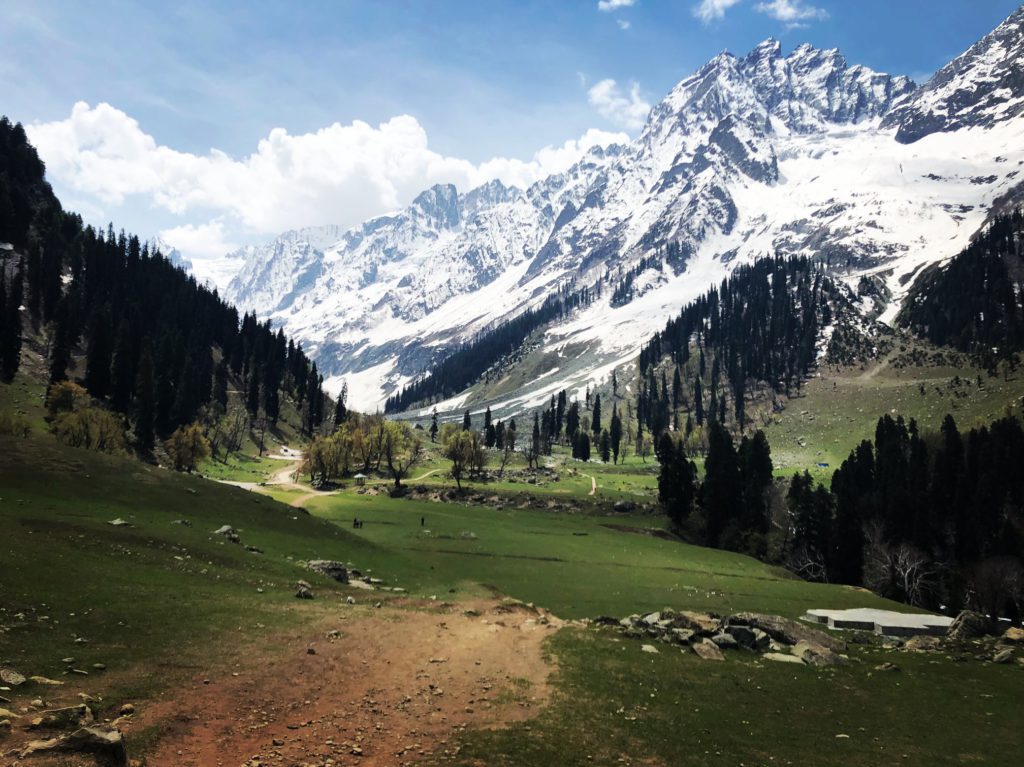 One of the primary attractions in Sonamarg is the Thajiwas Glacier (known as The hidden jewel of Kashmir). Ponies can be hired for the trek up to Thajiwas glacier but I decided to hike with my tour guide. I decided to spend the night at Sonamarg. You can either choose to stay at The Villa Himalaya, a 15-room boutique property is located in Kullan just before Sonamarg or you can stay at Rah Vilas (where I stayed) run by another branch of the family that owns The Villa Himalaya. It's restaurant, The Jamawar, offers Kashmiri cuisine as well as delectable vegetarian fare.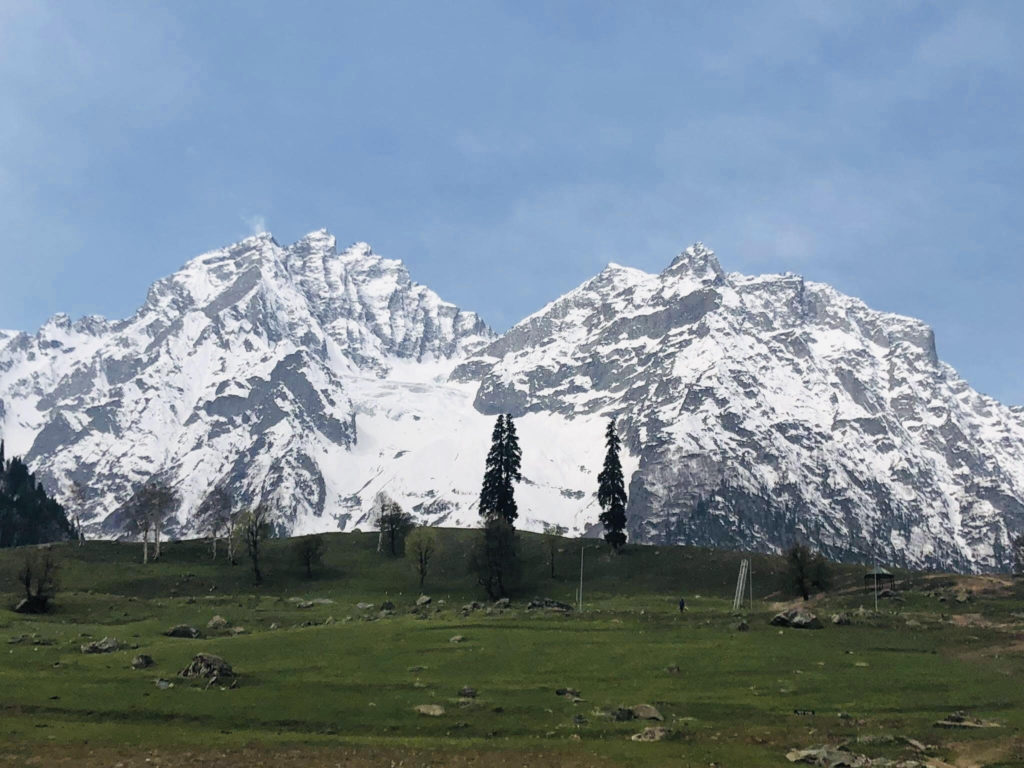 Day 5: Country Roads Take Me Home – Srinagar
For nature lovers, an early morning trip to Dachigam National Park in search of hangul (Kashmir stag), langur, and leopard can be a satisfying experience (forest trips are not permitted later in the day.) If you are visiting Srinagar during Spring then you must pay a visit to Indira Gandhi Memorial Tulip Garden. Formerly known as Siraj Bagh, this one is Asia's largest tulip garden and is located at the foothills of Zabarwan mountains and on the banks of Dal lake. There are over 60 varieties of early, mid and late blooming tulips and the Department of Tourism organizes "Tulip Festival" every year around (March-April).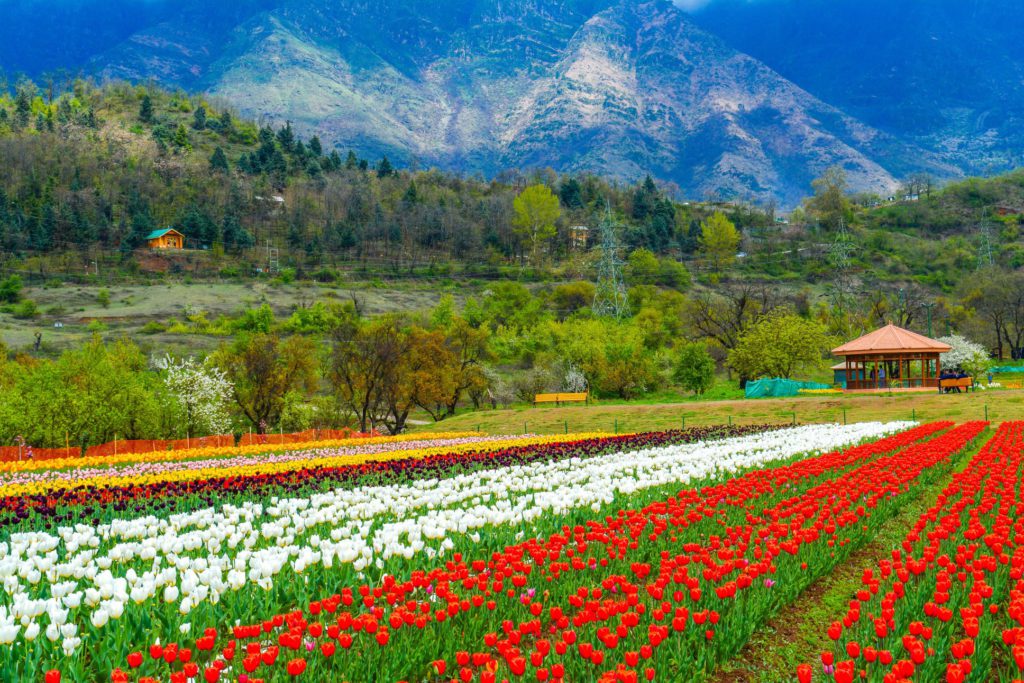 However, after an action packed four-day tour of the valley and before flying back to where I belong (Mumbai) I decide to spend the last day in Srinagar exploring and sampling food at some of the city's best cafes and restaurants and picking up souvenirs for friends and family
Local Restaurants:
1. Ahdoos: This tiny bakery was established in 1918 and in a hundred years, has expanded into a large restaurant and a modest hotel. Currently, this is the city's most popular venue for Kashmiri food. Their methi maaz (mutton with fenugreek) mirchi korma, rista and haak make for a memorable meal.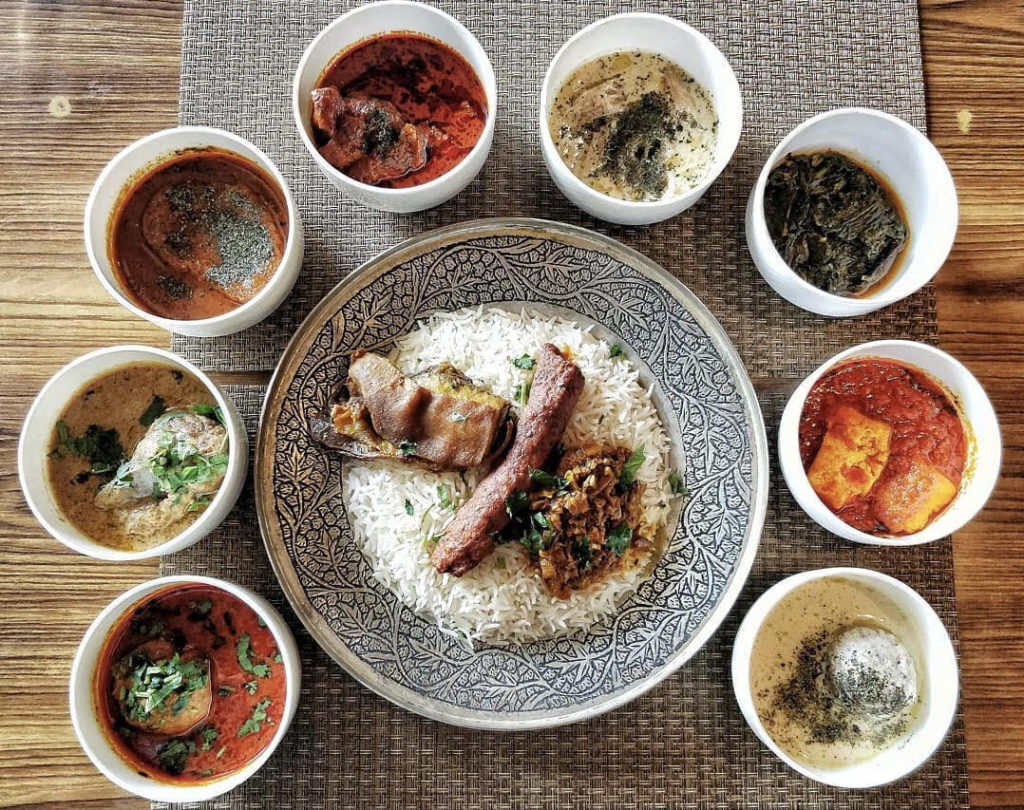 2. Krishna Vaishno Dhaba: From Jammu Ka Rajma to Punjabi kali dal and South Indian fair, head here for pure vegetarian Indian food at affordable rates.
3. Kebab Stalls at Kahayam Chowk: If you are a street food lover (I'm not) in Srinagar, then visit any one of the numerous stalls at Kahayam Chowk selling juicy mutton kebabs cooked on a coal fire along with 12 types of condiments and lavasa—a type of Kashmiri bread.
4. Mughal Darbar: a great place to try a full spread of Kashmiri cuisine, though good Indian veg dishes are also served
5. New Krishna Vaishno Bhojnalay: From dosas to Punjabi kali dal, head here for pure vegetarian Indian food at affordable rates.
6. Chai Jai : Inspired by the tearooms of Cotswold, England, this tea house located on the Jhelum River Bund channels the Kashmiri love for chai. Enjoy a variety of infusions in traditional Kashmiri samovars and papier-mâché teacups along with delectable snacks. This is where I first tasted Pink Noon Chai. This unusual concoction has a salty, buttery flavour which is the result of baking soda being added to the tea leaves to cut down the acidity. The baking soda reacts with milk to produce the iconic baby pink noon chai.

International Restaurants:
1. 14th Avenue Cafe & Grill: This fashionable, cafe overlooking the Jhelum River serves a selection of traveller-pleasing European, Mediterranean, and Lebanese snacks. Or just drop in for coffee and cake.
2. Tao Café: This residency road café is one of the oldest cafes in the city. You will a wide variety on their menu starting from Continental, Chinese and Kashmiri food for you to choose from.
3. Books & Bricks Café: Famous for their fish fillet, burgers and instagrammable corners, you'll also find a small library of books here as well as the space to read at leisure.

4. Lhasa : This small and cozy eatery serves Chinese and Tibetan cuisine. Sit in their al fresco area while tucking into momos and soups. Indian and Kashmiri food is also on the menu.
5. Le Delice: After 14 years of living in France, owners Saqib and Mélanie Mir moved back to Srinagar to start this French bakery near Dalgate. Come here to sample delicate macarons, buttery croissants and their delicious pain au chocolat, which is a hit with locals and tourists alike.

For any traveller out on their own, Srinagar and Kashmir are rewarding but not easy to navigate. Getting to the awe-inspiring sites involves negotiation with persistent local guides, and a constant wariness instilled by the presence of military personnel in unexpected corners. It is advisable to engage a reputable travel company to make these experiences happen. For me this has been one of the most memorable trips, emotionally gratifying with a hint of nostalgia. The people here are just as warm as that cup of Kahwa on a chilly morning, so when my flight takes off from Srinagar airport, I make a promise to come back, but next time hopefully with my mother in tow, so that she too can visit and appreciate the strength and grace of Srinagar and Kashmir: a valley that lives on, slightly wary but undaunted by conflict.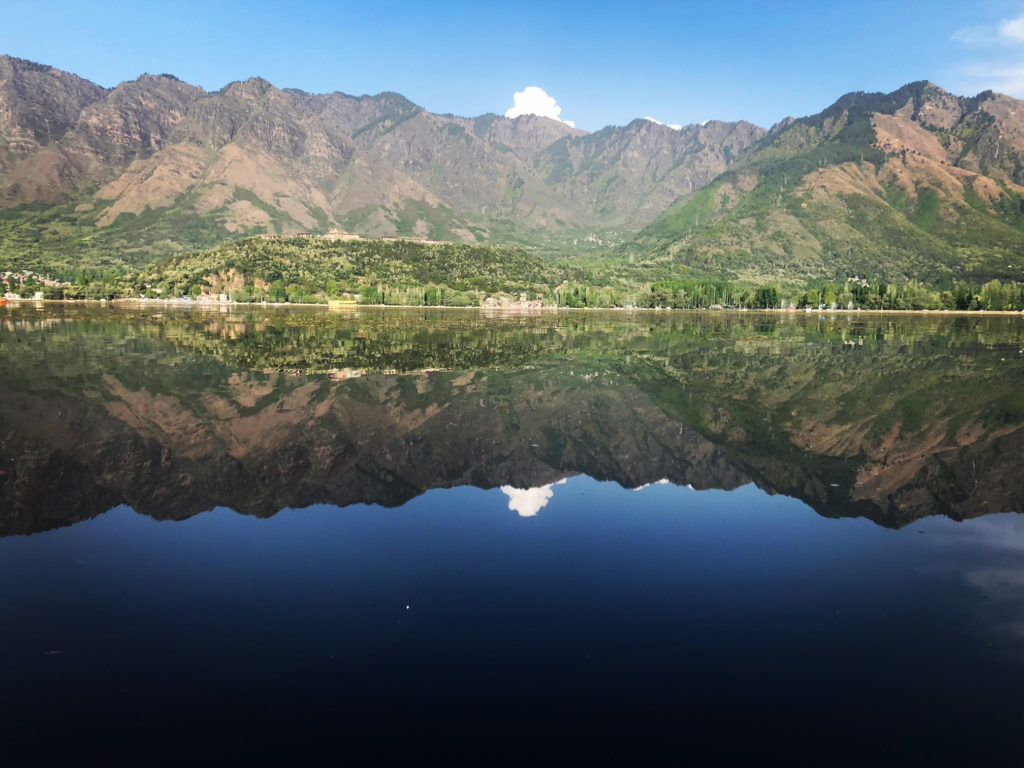 Travel Update : Please note that there could travel restrictions for travellers because of the ongoing pandemic. Before travelling, please always check the latest government advice about COVID-19 travel restrictions in your destination.
For latest travel news and updates, food and drink journeys, restaurant features, and more, like us on Facebook or follow us on Instagram. Read more on Travel and Food Network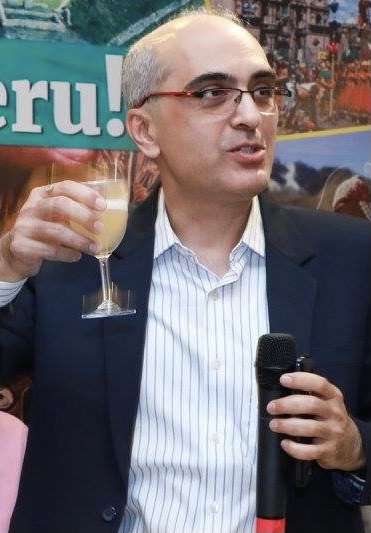 Sanjay has been navigating the stormy waters of the Indian media and entertainment industry for nearly 3 decades, and has worked with some of the leading Indian and international media brands in this time. His travels to various international destinations for work and leisure has led him to appreciate the connection between food and travel, and he likes to share his experiences through his articles on Travel and Food Network. He lives in Mumbai, but considers himself a global foodie-citizen.