Atmantan, ensconced by lush greenery in Mulshi near Pune, offers a clean break from the humdrum of city life. Photo Courtesy: Atmantan
The 42-acre wellness retreat overlooking Pune's Mulshi Lake is the perfect antidote for stress.
It's 5.15 a.m. on a Friday and I have another 15 minutes to go before my alarm sets off. I lay in company of quiet contemplation that entices me to stay snug in bed, but tenacity slowly coaxes me awake. It is my second day at Atmantan, a wellness retreat overlooking the Mulshi Lake near Pune. The sun is still shy outside and the November air stings my face as I stroll past mango trees and garden-surrounding accommodations leading to the Kriya Pavillion, where I sign up for my first morning activity: netra shuddhi, an Ayurvedic practice of cleansing the eyes by rapidly blinking into two tiny cups filled with water to the brim. Arguably, it is believed that the exercise helps improve vision, but for starters, it jolts me wide awake. The instructor advises me not to peek at my phone screen for the next half an hour. For a change, I manage to accomplish a micro digital detox, courtesy of no network with the exception of WiFi connectivity in my room and the reception area.
Back home in Mumbai, fast-paced ways of the city leaves me with only a semblance of a schedule, let alone a well-balanced lifestyle. Atmantan serves as my antidote. I arrive on a pleasant afternoon after a four-hour drive from Mumbai. The last leg of the journey is bumpy, but I don't pay heed to the road as the surrounding Sahyadri range juxtaposed with the endless Mulshi Lake distract me. The view follows me even past the property's guarded gates, which I'm informed I can't exit for the remainder of my retreat. Admittedly, it is my first time at a wellness resort and I'm unsure what lies ahead. I opt for the Atmantan Living programme, a package designed for beginners who "seek a new way of living in order to undo erroneous lifestyle choices and adopt a healthier and happier daily routine," describes the official website.
***
Having opened in 2016, the property is sprawled across 42 acres and seems as though it has been designed to become one with nature. The area boasts bursts of green spaces, 97 rooms including the spaciously private Rain Tree Villa, while a few more accommodations along with a chef's garden and a reflexology walking area are still underway. "Every season has a different feel to it here," Gopi Krishna, a Kerala native and the Resort Manager tells me whilst giving me a tour of the address. "Monsoon is my personal favourite." I believe him, albeit the cold is just as delightful. He also tells me that all the hot water is fully solar powered and the on-site herb and kitchen gardens are responsible for producing majority of the fresh produce. Fresh ghee from the gaushala is added in cooking and the milk is reserved for treatments only. Ingredients like pasta and cheese are procured from Pune after being imported from Italy. There are also plans to add an art gallery and invite local artists to put on a cultural show for guests.
For me it is the snaking pathways, neatly manicured lawns, a butterfly garden that houses 35 species of the insect, a lily pond, a private garden adjoining my room, and a giant Buddha statue that adds to the place's Zen factor. I learn that Vrindavan, near the entrance, doubles as an outdoor yoga spot and a helipad, and the on-site Ganesh temple hosts a morning aarti every day. I, however, divide most of my time between the wellness and the dining pavilions. After a healthy indulgence of gado gado salad, broccoli soup, and white sauce pasta, I meet with Dr. Shaddha Shetty for my initial round of wellness consultation. She quizzes me about my lifestyle and medical history, and after poring over the details, decides there is nothing that a good diet, a sound sleep, and a few supplements can't fix. My spa appointments and food chart are customised accordingly. I also meet with Dr. Aneesh, a wellness administrator, who simplifies the retreat's philosophy for me; their approach seeks inspiration from branches of naturopathy, Ayurveda, and modern science. I wrap my head around the concept, but underestimate the "healing crisis" that is about to knock me out.
My days start unusually early and I keep busy for most part as I shuttle between yoga, dance, aqua fitness and the spa (all housed inside the wellness pavilion). But to my surprise it is the mostly plant-based diet that seems like the toughest nut to crack. A bite-sized portion of raw okra salad, "rasam soup", and coconut and chickpea flour rotis with Kashmiri malai kofta make up my first post-consultation meal. Nonetheless, I'm famished at the end. When I request an extra portion of the main course, the server smiles sheepishly and reminds me that I'm only allowed to indulge in the soup and the salad as per doctor's orders. I take what I can get and scoot to my room, where I demolish a packet of biscuits that I had packed for the road earlier. I sleep with no regrets, but make a pact with myself to try harder the next day. Fortunately, I persevere.
***
The spa is a huge part of the wellness ritual and each massage is chosen to aid a condition or promote relaxation, oftentimes both. The only trouble is that the steam and sauna rooms are perpetually crowded. Perhaps expanding the changing area might help. I'm assigned foot reflexology, restorative wrap, abhyanga, and purely Atmantan signature massages, but the singing bowl meditation is equally therapeutic. Ritika, my instructor who has been practicing the Tibetan art for five years, instructs me to lie face up on a mattress in a private, airy room. The Uttarakhand native then goes on to elaborate about the effects of metal vibrations on human energy. She begins the session by asking me about myself and what it is that I hope to seek from the class. Clarity, I respond as she places a napkin over my eyes and the singing bowls near my head before striking the metals gently and rhythmically for the next 45 minutes. My thoughts go from chaotic to quiet and I feel the reverberations course through my veins. I realise that tranquility is perhaps easier to attain than lucidity.
***
Over the course of my four-day stay, I meet people from all walks of life: A 60-something, Indian-origin couple from the U.K., a 20-something solo traveller from Mumbai, and sisters-in-law from Kolkata. I'm told that majority of Atmantan's guests hail from Pune, Mumbai, Delhi, Hyderabad, Bengaluru, Russia, Germany, and more recently from Dubai and Oman. Here, friends are easy to make over shared interests in yoga, dance aerobics, cooking classes, and aqua fitness among the resort's myriad wellness offerings that will have one dashing from the gymnasium and the pilates studio to the lake-overlooking amphitheater and the indoor salt pool. Time flies at the speed of lightning for those who keep busy. I meet Jane, an elderly guest from Kenya, at the dining pavilion, where we share a table at dinner. I learn that she has been at the retreat for three weeks with another 10 days to go. I ask her if she has felt a transformation in her health and she nods in affirmation. "When I first came in, I would pant walking up and down the slopes. I don't feel out of breath anymore." She also tells me that she no longer needs as many medications to help manage her ailment.
***
It has been three weeks since I've returned to my urban base in Mumbai. I've slipped into a comfortable routine of rising early, setting out on regular morning walks, and following a prescribed diet for most part. I feel lighter mentally and physically and truth be told, I can't be sure how long I will stick with the discipline. For now, I seek solace in the idea that if we try sometimes, good habits also die hard.
ESSENTIAL

Atmantan is located 50 km/2 hr from Pune and 158 km/4 hr from Mumbai. Doubles from ₹14,000 per night (the inclusions differ with every retreat package). atmantan.com
This feature also appeared in National Geographic Traveller India
For latest travel news and updates, food and drink journeys, restaurant features, and more, like us on Facebook or follow us on Instagram. Read more on Travel and Food Network
Trending on TFN
The 23 Best Places To Go In 2023
Explore Utah's Mighty 5® and What Lies in Between
Five Epic U.S. National Parks To Visit This Year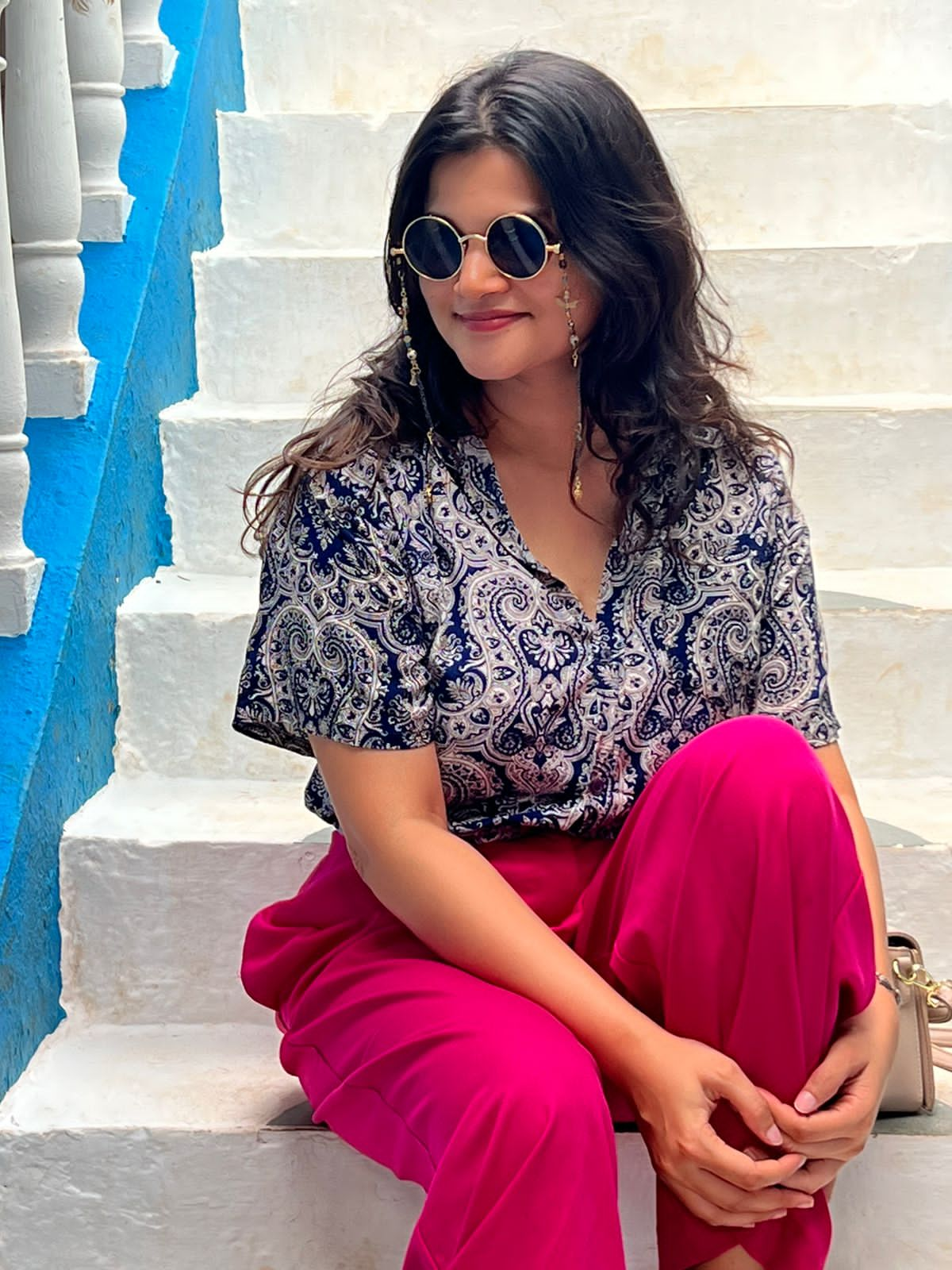 Pooja Naik is a Mumbai-based journalist with a penchant for food, art, and adventure. Her affinity for travel has often led her to many cultural crossroads, whereby she savoured butter tea with the resident monks at Thiksey Monastery in Ladakh and guzzled an indigenous produce of green ant gin at a local's behest in Australia. Her work has appeared in National Geographic Traveller Ind