For those of us in the Northern Hemisphere, June brings about the official start of the summer season—and in some parts of the Indian subcontinent, rains have made their way. It's a great time to spend some time in the hills with stays and cafes overlooking panoramic landscapes, magical waterfalls and to get your boots dirty on rainy treks.
Here's a list of places you can head to in June.
Mussoorie, Uttarakhand
Mussoorie is one of the most popular hill station in North India. This hill station, also known as The Queen of Hill-stations", was a popular holiday destination during the British era as well. There are many hotels and churches which were built in the British architectural style. The hill station stands with the Shivalik range of the Himalayas in the background on an elevation of 7000 feet above sea level. One of the most popular spots in Mussoorie is The Mall or the Mall Road, which is a steep boulevard with shops lining it on either sides. The architecture of the area gives a colonial era vibe.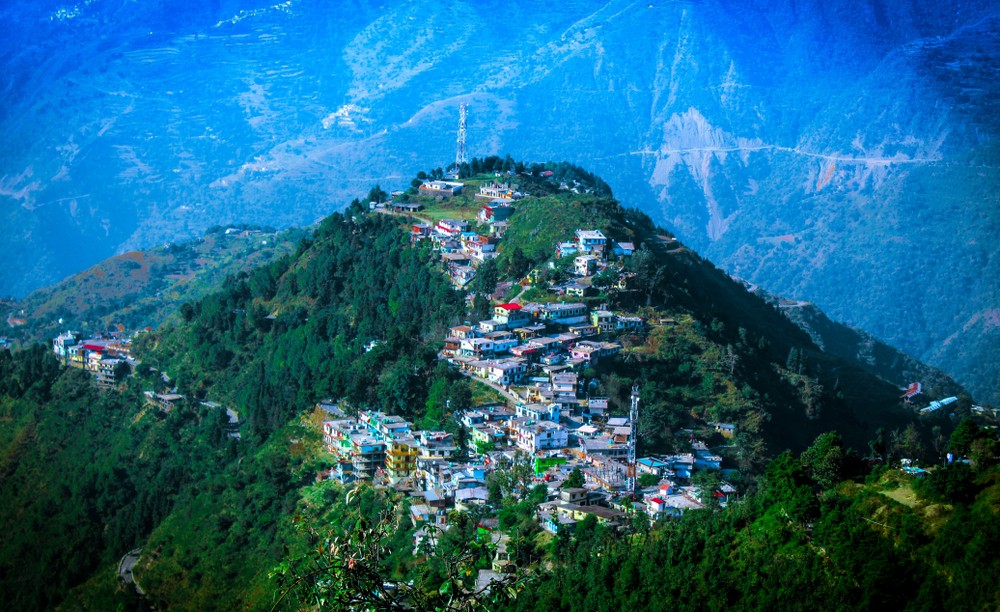 How to reach:
You can also book a flight ticket to Dehradun Airport from where you can take a cab to Mussoorie which is just 50 minutes away. The total time of this trip will be around 2 hours.
Places to visit:
Mussoorie is filled with places that you can visit. So we have complied the top 10 places that you should absolutely never miss when you go to Mussoorie!
Gun hill: The second highest peak of Mussoorie and is also one of the most well-known destinations. It gives an enthralling view of some of the Himalayan ranges. It is situated on an elevation of 2024 meters.
Kempty Falls: Located on Dehradun- Mussoorie road, these waterfalls are heavenly! It is an excellent spot for picnics. You can also swim in the pond formed at the bottom of these falls.
Lake Mist: It is a serene and peaceful lake with emerald waters and green surroundings. It is on the way to the Kempty Falls.
Lal Tibba: This is a popular viewing point 6 km away from Mussoorie. It was a summer getaway during the colonial era and is now occupied by the Indian Military. It has breathtaking views of the Tibetan border.
Cloud's End: This beautiful viewing point is at the end of Mussoorie. It is surrounded by oak and deodar forests and gives a breathtaking view of the Aglar River Valley
Landour: A quaint town located along the lower western Himalayas. It is pristine and has a cozy atmosphere. It derives its name from the Welsh village for Llanddowrer and overflows with history dating to the Colonial era.
Camel's Back Road: It is a 3 km road lined with natural rocks shaped like a camel's hump. It is a popular spot for viewing the sunset and the sunrise.
Jharipani Falls: It is located 6 km downhill of Mussoorie. It is a serene and peaceful waterfall that gives an amazing view of the nearby valleys and peaks.
Nag Tibba Trek: It is an amazing, underrated trekking trail. It is a climb of 10,000 feet amid the snow clad mountain range.
Dhanaulti: Located 62 km from Mussoorie, this peaceful hamlet is the perfect place to relax and breath in nature. It is the perfect offbeat destination to get your mind off the busy life of cities.
Things to do:
Ride the ropeway at Gun Hill
Taste the local food and cuisines at the Mall Road.
If you are up for some thrilling adventure then go paragliding or white water rafting
For a spiritual experience, visit the Jwala Devi Temple.
Visit the house of George Everest, a crumbling architecture reminiscent of the British colonial era situated on a cliff
For an adrenaline rush go for rock climbing or rappelling
Munnar, Kerala
This beautiful hill station is located in Kerala- the Paradise on Earth. It is located at an altitude of 5250 feet. I tis situated on thebanks of three rivers- Madupetti, Nallathanni and Periavaru. Munnar is blessed with beautiful viewpoints and amazing tea plantations.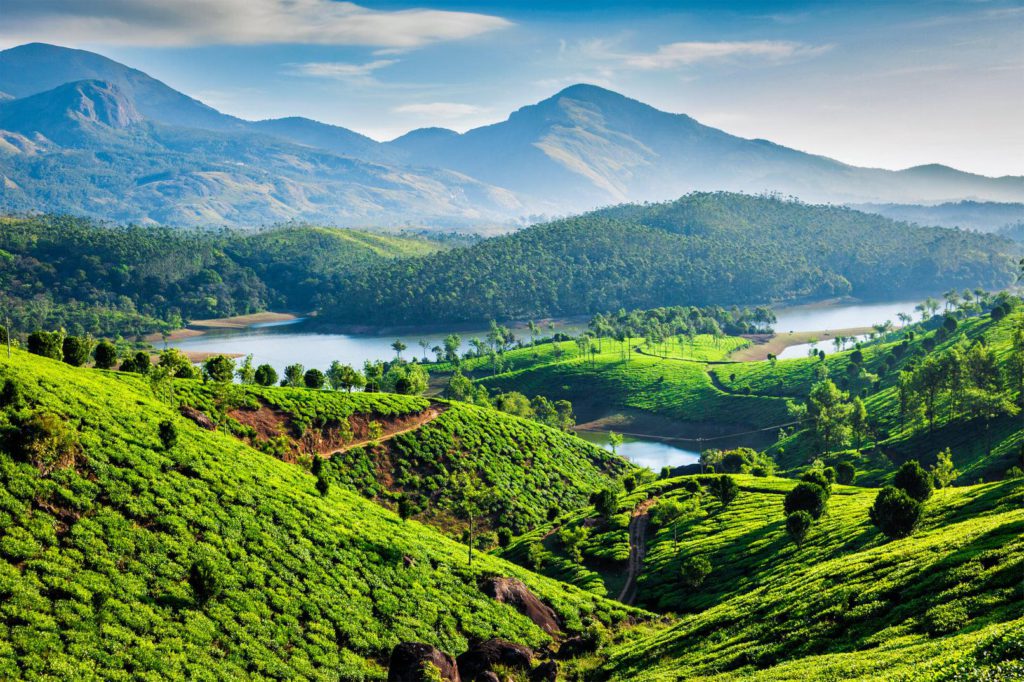 How to reach:
The fastest way to reach is to catch a flight from Bangalore to Kochi. From there you can go to Munnar by road. The route will take around 2 to 3 hours.
Places to visit:
Best scenic points to visit in Munnar: Echo Point, Photo Point, Pothamedu Viewpoint and Lock Heart Gap
Peaks to trek up to: Anamudi Peak, Top Station, Chokramudi Peak and Meesapulimala
Waterfalls to explore: Cheeyappara Waterfalls, Valara Falls, Pallivasal Falls, Nyayamakad Waterfalls, Kuthumkal Waterfalls, Lakkom Waterfalls , Chinnakanal Waterfalls and Atukkad Waterfalls.
Tea Estates to pay a visit to: Kolukkumalai Tea Estate, Lockhart Tea Museum, Pallivasal Tea Garden, Tata Tea Museum and Sevenmallay Tea Estates.
Eravikulam National Park: Located 45 min away from Munnar, this place is a scenic representation of the flora and fauna of the region.
Marayoor: A scenic locale famous for sandalwood, it is a beautiful place full of bamboo and sugarcane fields, lush greenery and overflowing waterfalls.
Chinnar Wildlife Sanctuary
Mattupetty Dam: It is famous for Indo-Swiss livestock projects. It is popular for horse racing and speed boating.
Indo Swiss Dairy Farm
Chitirapuram: A village 10 km away from Munnar, this rustic village has a unique charm of its own, where you can see cottages, old playgrounds and a few tea plantations.
Things to do:
Participate in adventure activities like Trekking, Rappelling and Rock climbing
Go for a boat ride on the Kundala Dam
Picnic at the Mattupetti Dam
Go on a horse ride at Mattupetti Dam
Visit the Kalari Kshethra Centre to watch classical martial art performances and participate in workshops.
Stay in a Tree House
Rejuvenate and relax in the local spas
Go shopping for souvenirs and artefacts.
Go mountain biking and soak in the beautiful scenery
Visit Blossom Park for fun activities like water cycling, boating and skating.
Kurseong, West Bengal
Also known as 'the Land of White Orchids', this hill station is located close to Darjeeling. It is a quiet hill station with serene waterfalls and is famous for its temples and Buddhist gompas. The landscape is of lush green forests, tea plantations with snow tipped mountains in the backdrop. You also get magnificent views of Mt. Kanchenjunga, Kabru and Jannu. It is 4,864 feet above sea level.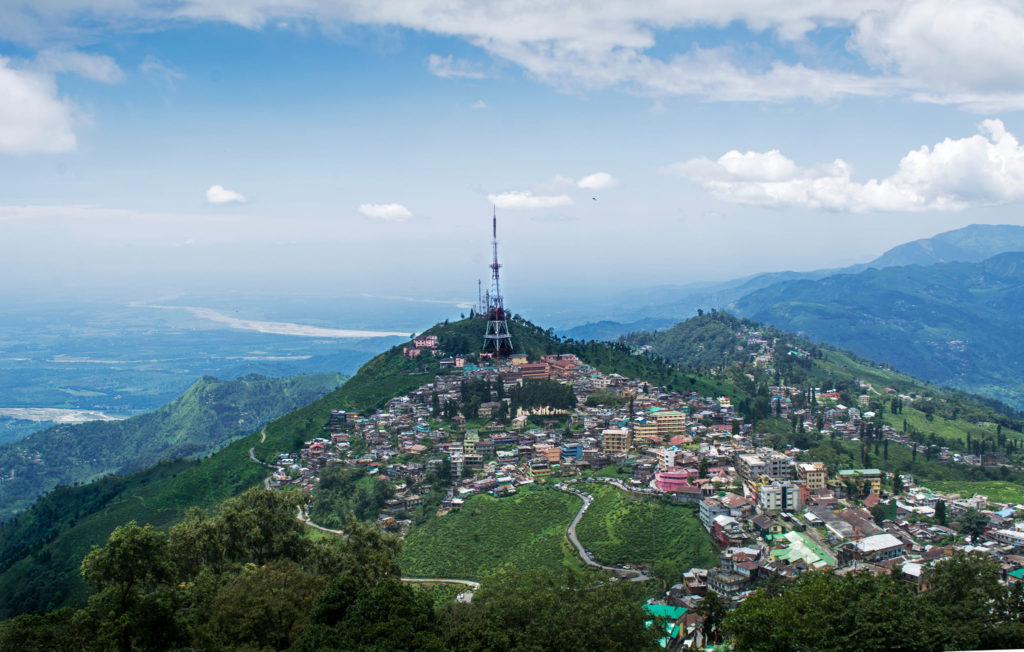 How to reach: The fastest way to reach Kurseong is to book a flight to Bagdogra Airport, from where you can hire a cab to Kurseong which takes 3 to 4 hours.
Places to visit:
Ambotia Shiva Mandir: it is one of the holiest places in Kurseong. The surroundings are serene and pleasant and are hence quite popular with the tourists.
Netaji Subhas Chandra Bose Museum: It was once a temporary residence of Netaji Subhas Chandra Bose and his brother's residence. The museum is a place for Himalayan Language and Culture studies.
Eagle's Crag viewpoint: This viewpoint offers a heart-stopping view of the sunrise and sunset. It overlooks the Siliguri plains and is beautiful throughout the year.
Tea Gardens: Some tea gardens like Makaibari and Ambotia offer tours of the plantations.
Forest Museum: The Museum exhibits the skin and bones of the fauna which once graced Dow Hill.
Dow Hill Eco Park: Also known as Deer Park, it is a very simple park. It has a serene environment, surrounded by pine trees.
Darjeeling Himalayan Railway Museum
Things to do:
Visit heritage churches that are standing since the British rule.
Go shopping for tea and other souvenirs.
Enjoy a sunset picnic at Eagle's Crag View Point.
Panchgani, Maharashtra
The Table Land, Panchgani derives its name from the five hills that surround it. Located at a height of 4376 feet, this scenic place is known for its mesmerizing sunrise and sunsets. In the British era, this place was a summer resort and hence many colonial architecture still stands here. Mahabaleshwar and Panchgani are like twin cities. The green valleys and the juicy red strawberries are the major attractions of this hill station.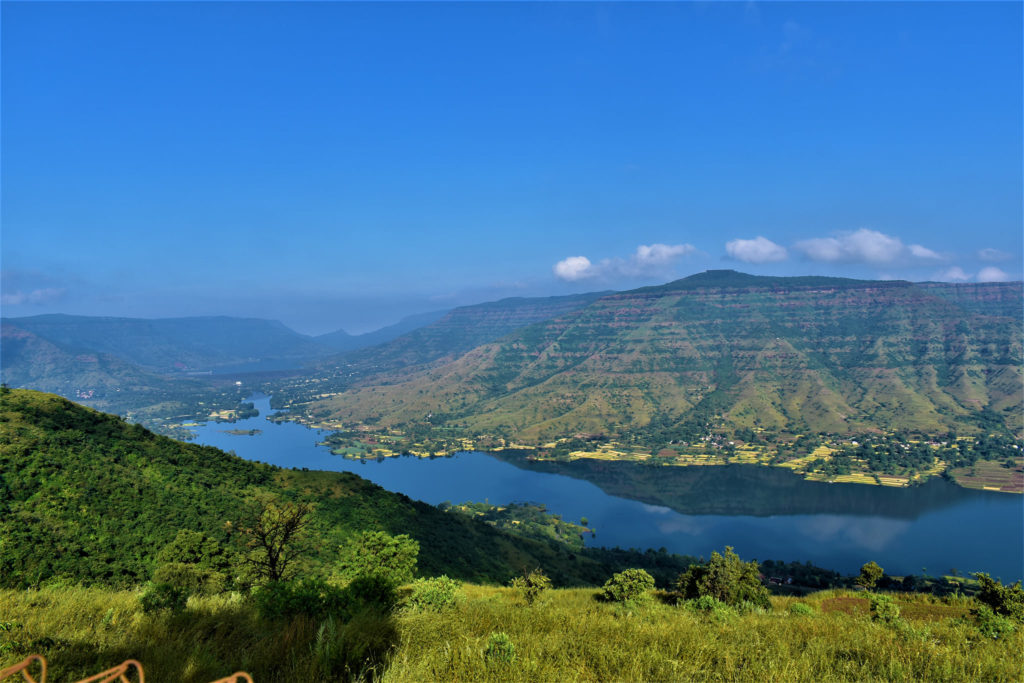 How to reach: The fastest way to travel is to fly to Mumbai. From Mumbai you can hire a taxi or bus to reach Panchgani, this way you can enjoy the road trip at your leisure. The trip will take around 6 hours. You can also catch a train to Panchgani, this is the most affordable route and will take the same time as the road route.
Places to visit:
Kaas Plateau: It is a UNESCO World Heritage site in India, known for its beautiful flora and fauna. It is a magical Disney-like place with flowers, greenery and butterflies all around.
Table Land: It is a plateau which is the highest point in Panchgani with a height of 4500 feet above sea level. It offers a breathtaking view of the valleys and hills.
Wai: A small city located 11 km from Panchgani. It is located on the banks of the Krishna River. It is known for its seven ghats.
Parsi Point: It overlooks the Krishna Valley and the Dhom Dam. It is surrounded by green scenery and provides a spectacular view.
Rajpuri Caves: These caves are believed to have given shelter to the Pandavas during their exile. The caves are surrounded by holy ponds.
Sydney Point: It is a small point at the start of Panchgani. The place is a perfect place to relax and ponder if you are a creative person.
Kate's Point: A famous viewpoint, it is 15 km from Panchgani. It gives a mesmerizing view of the surrounding valleys and the Dhom Dam.
Mapro Garden: Mapro is short for Mahabaleshwar Products, and sells fruit based products. A chocolate factory, a restaurant, children's playground, and a retail outlet.
Devrai Art Village: It is an art village close to Panchgani. A non-profit initiative to celebrate nature and display the creativity of local artisans.
Things to do:
Go paragliding (for those who are seeking a thrill)
Participate in Hilltop Camping
Go trekking in Panchgani
Go shopping for local products from Mapro
Dalhousie, Himachal Pradesh
This little Indian Switzerland is located 6,460 feet above sea level. The tiny town is a paradise hidden amongst the hills of Himachal Pradesh. It has mesmerizing landscapes, flower fields, beautiful white rivers and misty mountain tops. The hill station was one of the favourite summer spots for the British during the Indian colonial era. No wonder this town is blessed with Scottish and British architecture which gives a Victorian, old-world charm to the place.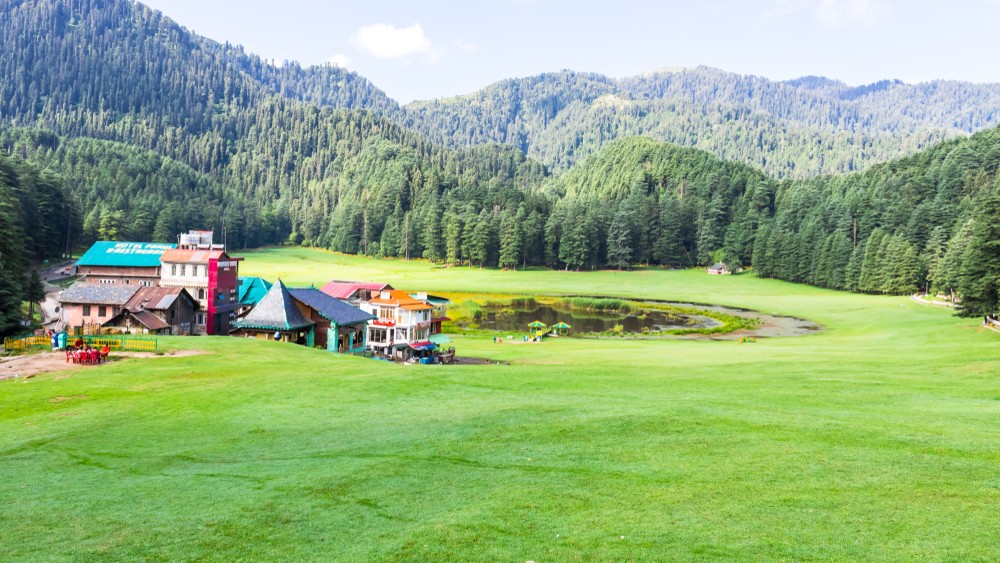 How to get there: Take a train from Delhi to Pathankot Railway station which takes 10 hours and from the station, you can hire a cab to Dalhousie which takes 3 hours. Or you can go by road from Delhi by bus or private car which takes 10 to 11 hours.
Places to visit: Panchpula, Khajjiar, St. John's Church, Kalatop Kajjiar Sanctuary, Satdhara Falls, Dainkund Peak, Ganji Pahari, Gandhi Chowk, Sach Pass, Chamera Lake, Bakrota Walk, Chamunda Devi temple, Subhash Baoli, Chamba, Rock Garden and Garam Sadak
Things to do:
Enjoy boating at Chamera Lake
River raft on the River Ravi and Saal
Hike up to the Kalatop wildlife sanctuary
Paraglide at Khajjiar
If you are a nature-lover go on treks, rock climbing, village excursions and nature trails
Gulmarg, Jammu and Kashmir
April to June are summer months in Gulmarg, and temperatures range from 10°C to 20°C. It has a lot to offer in terms of beauty and picturesque landscapes. Gulmarg is known as paradise on earth and rightly so for the breath-taking experiences it provides with breathtaking mountains all around you!
How to reach: Srinagar, which is the nearest airport to Gulmarg is located around 56 kms away, and is well connected with the regular bus services. From the airport you can book a prepaid taxi that can easily drop you to Gulmarg.
Things to do: The feast of your eyes begins the moment you step into this paradise.
On the day you arrive, after checking in to your hotel, you can for a leisurely walk walk through the local markets and explore the streets of Gulmarg with the magnificent mountains as the backdrop.
You can devote the next day to exploring the famous Gulmarg Gondola which is a cable car ride taking place in two stages. The first ride is from Gulmarg to Kongdori and the second phase is from Kongdori to Mt. Apharwat. The Apharwat peak serves as an ideal location for expert skiers.
The last day can be spent visiting the Alpather Lake and the Gulmarg Biosphere Reserve for spotting mammals.
While in Gulmarg, you can enjoy a stay at the Khyber Himalayan Resort and Spa which is a little bit of paradise in itself!
Tawang, Arunachal Pradesh
This birthplace of the 6th Dalai Lama is known for its beautiful monasteries. It is located at a height of 10,000 feet. This breath-taking town will for sure make your trip a beautiful one. The area is renowned out for its many sacred and famous monasteries. This town will mesmerize you with its beauty and spirituality.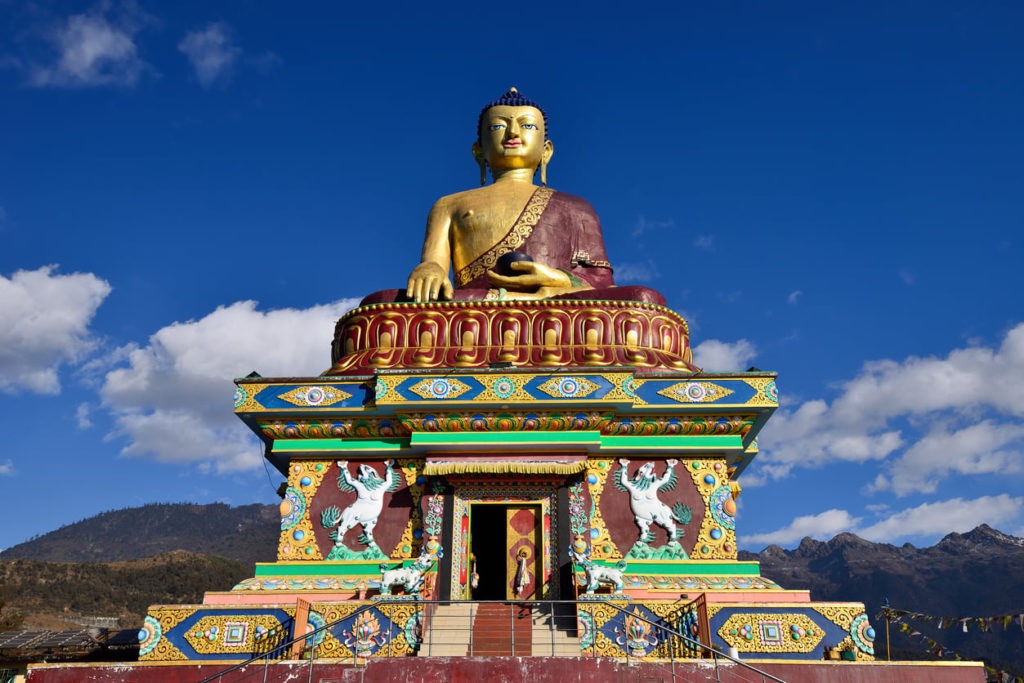 How to get there: Take a flight from Kolkata to Lokpriya Gopinath Bordoloi Airport, from where you can take a car to Tawang.
Distance from Kolkata: 1439 km
Places to visit: Sela Pass, Tawang Monastery, Madhuri Lake, Nuranang Falls, Tawng War Memorial, Gorichen Peak, P.T. Tso Lake, Jaswant Garh
Things to do:
Go trekking among the beautiful peaks
Go Rafting in the Kameng River
Meditate at the Taktsang Gompa
Shop at the Tibetan settlement market for souvenirs
Kodaikanal, Tamil Nadu
Known as the "Princess of hill stations", Kodaikanal is one of the famous honeymoon spots in India. It is a lake house resort town with serene climate, misty hillside and waterfalls that make it a perfect weekend getaway. Kodaikanal means "the gift of the forests". The place is in the slopes of the Palani Hills at an altitude of 7200 feet above sea level. You can relax and connect with nature and de-stress from the rigorous city life.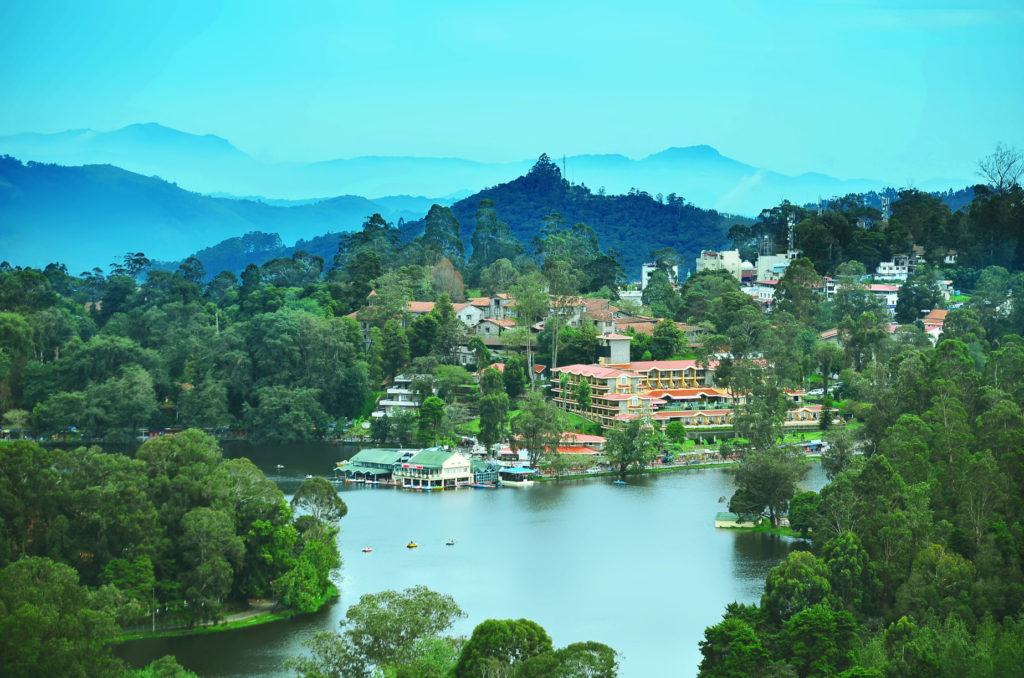 How to get there: Catch a flight to Chennai and then fly to Madurai, then take a cab to Kodaikanal which takes around 3 hours.
Places to visit: Kodai Lake, Green Valley View, Bear Shola Falls, Pillar Rocks, Devil's Kitchen, Thalaiyar Falls, Coakers Walk, Berijam Lake, Dolphin's Nose, Bryant Park, Silent Valley View, Silver Cascade Falls, Kurinji Temple, Kodaikanal Solar Observatory, Pine Forest, La Salette Church, Kukkal Caves, Moir Point, Fairy Falls, Pambar Falls, Dolmen Circle, Upper Lake View, Perumal Peak, Vattakanal Falls,
Things to do:
Take part in various treks like Kodai-Palani trek or 80-mile trek,
Camp out under the stars by camping in an organic farm or hilltop
Take a forest tour.
For latest travel news and updates, food and drink journeys, restaurant features, and more, like us on Facebook or follow us on Instagram. Read more on Travel and Food Network
Trending on TFN
The 23 Best Places To Go In 2023
Explore Utah's Mighty 5® and What Lies in Between