Photo: Avartana – ITC Grand Chola, Chennai
The best places to eat from Delhi to Chennai by way of Mumbai, Goa, Karnataka and Kolkata
Avartana – ITC Grand Chola, Chennai
Chennai is a city obsessed with its own history, but in recent years, it's also been aggressively forward-thinking and cosmopolitan. ITC Grand Chola's most recent offering, Avartana, which dishes out luxe reimagined South Indian fare, is the perfect case in point. This modernist fine diner with a banana leaf design leitmotif hasn't been open for long, but already people are saying it's the most happening spot in town. If you're looking for thrills on the plate, this one gives you bang for your buck. Chef Ajit Bangera, who took two years to devise the avant-garde menu, uses ingredients and seasonal produce to fashion inventive recipes that blend tastes from across the Southern Indian Peninsula with techniques from across the globe. A flavour-packed rasam is infused in front of the guest in a French press with coriander and cherry tomatoes to soak in the freshness of the herbs. And fish fry becomes a dish of sea bass cubes marinated with ginger, garlic and Salem chilli, then encased with thin linguine of local flat bread and fried. Desserts are just as ambitious and successful. The trail of payasams is a delightful take on jasmine and fig payasam. In short, if daring and boundary-pushing food brings you pleasure, you won't be disappointed.
(Meal for two: `4,500 approx. excluding taxes).
Pillars – Umaid Bhawan Palace, Jodhpur
Unapologetically old school, Pillars feels as though it's from another time and place. Launched in 1976—it started as a tearoom in Umaid Bhawan—this charming open-air restaurant offers spectacular views of Jodhpur, the Baradari lawns, and the magnificent Mehrangarh Fort. From the cane furniture to servers in white uniforms with red turbans and kamarbandhs, the dial here is set to familiar, colonial (and yes, expensive) luxury. Menu stalwarts include golden classics of the vintage era such as chicken a la Kiev, braised lamb ossobuco, chermoula tofu steak, and homemade tortellini with saffron beurre blanc. You can also choose from Taj signatures like cobb salad from New York's Taj Pierre Hotel and, fish and chips from Taj St. James Court, London, among others. The menu isn't radical but everything is freshly made and sourced from the best suppliers across the world. The ham is Iberico, the avocados come from Peru, and the gulkand is painstakingly made in-house from the best Pushkar roses. Pair the food with a selection of spirits from across the globe. Definitely try the killer Jodhpur chilli martini made with local red chillies. As you savour your tipple, know that the likes of Prince Charles, the Dalai Lama, Brad Pitt, Angelina Jolie and Mick Jagger have all dined here.
(Meal for two: `12,000 approx. excluding taxes).
Le Cirque – The Leela Palace, New Delhi
Like its famed crème brûlée (the recipe shows up as you scrape the bottom of the bowl in which it's served), Le Cirque is a favourite of the capital for a good reason: its staff is friendly, the candle-lit ambience chic, and the food innovatively upper crust. The restaurant, housed on the 10th floor of the beautiful Leela Palace, offers a breathtaking view of the majestic diplomatic enclave. The menu has a strong European bent with an honest yet unpredictable approach. Snack on a decadent plate of truffle fries, or a silky smoked potato mousse with slow-cooked free-range egg. For the antipasti, try owner Sirio Maccioni's signature spaghetti primavera, its light cream garlic sauce humming with flavour. The grilled NZ lamb chops, encrusted with black pepper and pecorino cheese, and grilled over charcoal, are a comforting treat. Chef Adrian Mellor's reverence for his ingredients and their provenance, coupled with his playfulness and skill, makes every mouthful a rare treat. Take for example, his preference for secondary cuts of meat like the belly, cheek and shoulder. Treated with slow-cooking techniques, they yield layers of flavour not usual of filleted cuts that are used for these dishes. The outstanding wine list is a draw in itself.
(Meal for two: `7,000 approx. excluding taxes).
Vetro – The Oberoi, Mumbai
The tide may have turned in favour of more casual fine dining, but visit Vetro and you wonder why. Extensive use of sunlight-reflecting glass (Vetro means light in Italian), crema marfil marble flooring, and lacquered panels create a fitting backdrop for contemporary Italian dishes displaying oodles of technique and flair. With its sumptuous wine bar Enoteca stocking what is probably Mumbai's largest selection of wines, a visit here is as much about the drink as the food. Every dish rewards curiosity with quiet surprises. To open, try antipasti like fresh buratta with asparagus textures, grilled lamb loin with rucola, mustard vinaigrette, apple compote or salt baked onion with asparagus puree and parmesan. Pasta lovers can try the spaghetti n'duja, featuring spicy calabrian sausage and finished with pecorino romano, the saltiness of the hard sheep's cheese balancing the fieriness of the n'duja. A glass of Ribolla Gialla brings out the best in the main course of baked Chilean sea bass served with porcini mash and black truffle (vegetarians can try a roulade of aubergine, spinach and ricotta). Desserts are equally impressive. Soft and giving under the spoon, the ethereal white chocolate and sambuca foam with watermelon granita and fresh mint is a treat you should order and most definitely not share.
(Meal for two: `4,500 approx. excluding taxes).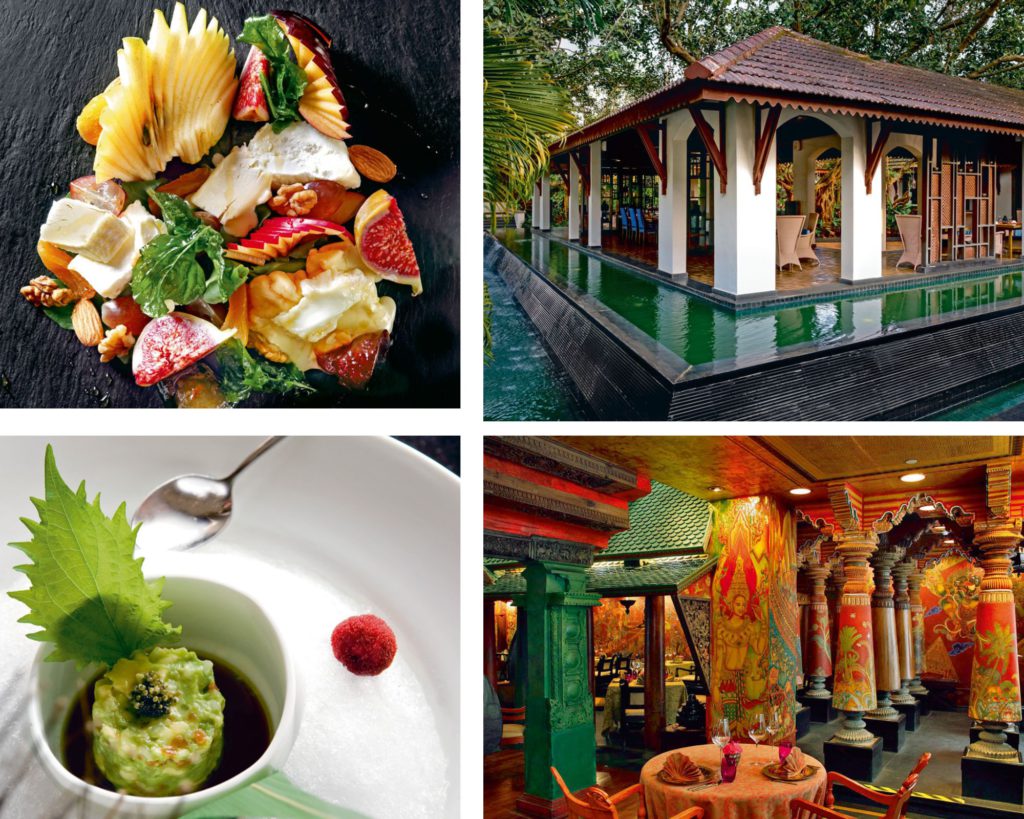 Spice Studio – Alila Diwa, Goa
There are few of life's mishaps that a good bowl of curry cannot mend. And in case of Spice Studio's Goan fish curry, a rich yet simple classic with a tangy twang, any low spirits will be instantly lifted. As the name suggests, the heart of the restaurant is home-style traditional cooking showing off India's glorious bounty of spices. The open-air diner features winners from across the country, but when it comes to Goan dishes, it punches way above its weight. Kokam-spiked dishes from the Susegad state get their due in the form of fresh prawns kismur, prawns tossed in coconut and onions, aamsol curry, button mushrooms cooked with onions and tomatoes, and alsande, a thick, orange-coloured coconut gravy. Among the North Indian stars, the martaban gosht is the thing to order: boneless lamb cubes slow-cooked with pickled spices and red chilli pickle are cooked again in a martaban to heighten flavour and colour. Finish simply with ginger and chai spiced crème brûlée with bolinhas or traditional Goan cookies. There's plenty to like in the setting—such as the backdrop of a banyan tree lit up by candlelight, breezy surroundings and lamps hung from the ceiling, trees and walls. Pair the food with a selection from the well-conceived wine list. The restaurant has also introduced a unique "Dine in the Dark" evening, where the master chefs ensure that you soak in the delicate flavours of your food without any visual distractions.
(Meal for two: `2,000 approx. excluding taxes).
Karavalli – The Gateway, Bangalore
At Karavalli, you're snagging a taste of the south west coast of India in heaping portions. The beautifully landscaped restaurant with a mix of al fresco and indoor seating is reminiscent of a traditional tiled Mangalorean house. Chef Naren Thimmaiah's belief that, "like museums, regional restaurants also preserve traditions," is reflected in everything from the use of home-style kitchen equipment—stone grinders, mortar and pestle andurlis—to the brass and copper serving ware. The cuisine is grounded in the regional cuisines of the south—Moplahs of Malabar, Konkani Brahmins of Mangalore, Syrian Christians of Travancore and Havyaka Brahmins of Vitla among others—but the newly-revamped menu also features grills and seasonal stars. The line-up has a stable core of dishes including a stunningly tender curry of koli-barthad, pieces of chicken pan-fried in a blend of roasted spices and tart Coorg vinegar, Alleppey fish curry simmered in a moderately spiced gravy of freshly ground coconut, ginger and raw mangoes, and the piece de resistance, tiger prawn roast tossed in Kerala spices, coconut slivers and lemon juice. A recent addition of tiffin meals keeps things interesting for return customers too. The wine list ticks all the boxes, and service is warm. A happily messy tamarind ice cream (or the delicious vermicelli payasam) rounds off an evening of class and comfort. Unquestionably, a Bangalore keeper.
(Meal for two: `4,000 approx. excluding taxes).
Wasabi by Morimoto – Taj Mahal Palace, Mumbai
The only Indian restaurant to be featured on San Pellegrino's prestigious Asia's 50 Best Restaurants list for 2016, it flies down authentic ingredients and seafood fresh from Japan every five days. Little wonder that the red-themed luxe diner has that special power over its patrons. Iron Chef Masaharu Morimoto's modern menu deconstructs and reconstructs ingredients and plays with flavours like a painter mixing colours on a palette and layering them on a canvas. Secure a spot by the window to get a spectacular view of the Gateway of India and take the time to survey a sake-dominated wine list. Then leave yourself in the hands of cool, calm chefs to deliver hit after hit. The fuusen tofu (decorated with a sprig of sakura flowers) and sashimi uni make for a delectable start. Among the sushi offerings, negitoro-maki, sushi hamachi, and sushi chutoro are equally good and come with freshly grated wasabi. The main course of black cod in miso hits all the right notes, the sake-miso sauce delivering pungency, kuromame black beans giving smokiness and pickled peppers adding crunch. Don't forget dessert. Kurogoma millefeuille made with fresh caramel, Tochigi strawberries and hokkaido chocolate ice cream isn't death by chocolate but gets awfully close.
(Meal for two: `13,000 approx. excluding taxes).
The Spice Route – The Imperial, New Delhi
There is nothing subtle about the design of The Spice Route. The OTT décor with its theatrical murals and antiques delivers a sense of fantasy verging on Indiana Jones. But the overwhelming visual depiction does succeed in bringing alive the fantasy of the Orient. The 20-year-old restaurant traces the journey of spices from the Malabar Coast through Sri Lanka, Malaysia and Indonesia to Thailand and Vietnam, and offers six South East Asian cuisines on its menu. Chef Veena Arora cherry-picks flavours to give you a striking blend. Some cracking dishes are on offer. What you come for are winners like stir-fried lobster with ginger and Thai black mushrooms, served in a shell, chicken in Thai green curry with pea and cherry tomatoes and, chemeen thoren (Kerala style prawns stir-fried with coconut, curry leaves, black tamarind and mustard seeds). And let's not forget that phad phak (chef's special stir-fried baby spinach with black mushrooms, flavoured with soya bean paste). Dishes are also customised and crafted as per the preferences of patrons. For instance, the Summer Collection, which features unique creations using raw and ripe mangoes, and the Winter Collection starring seafood. At any time, consistently good food in striking surrounds is assured.
(Meal for two: `6,000 approx. excluding taxes).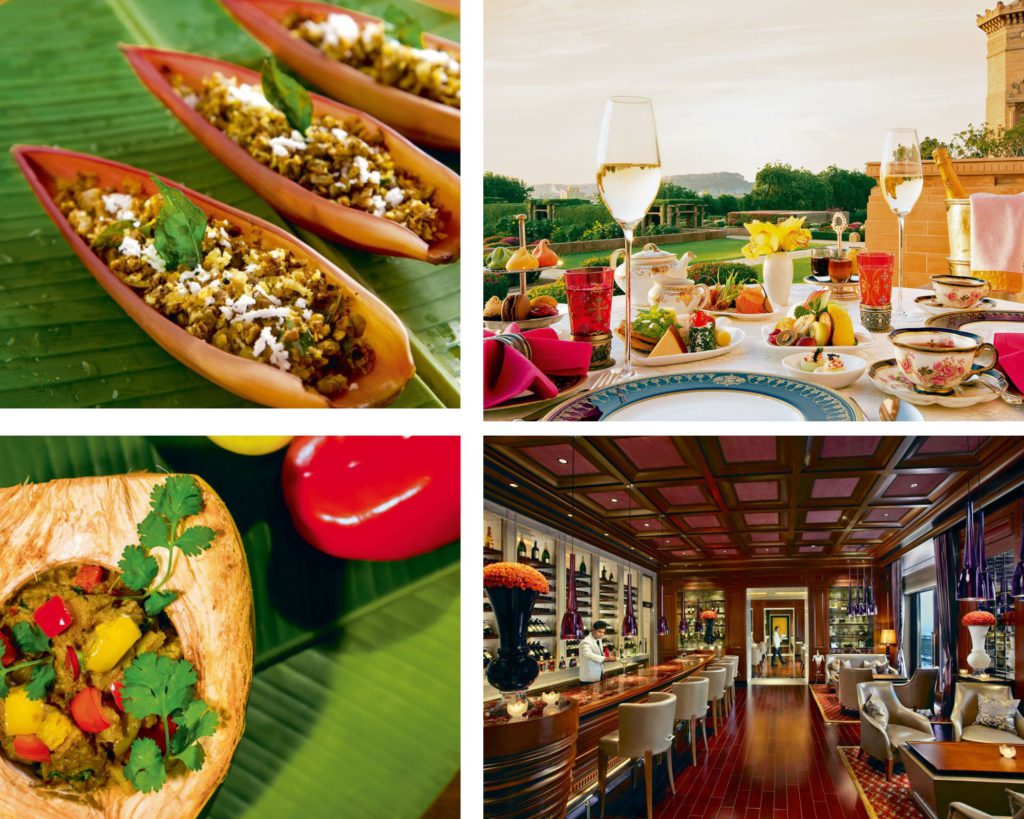 Southern Spice – Taj Coromandel, Chennai
This Chennai icon's ornate design, inspired by the temple architecture of the Chola, the Pallava and the Pandya dynasties, guarantees a special night out. Every detail in Southern Spice, from where you sit (tufted chairs with bronze-capped feet) to the service ware (customised silver and gold-plated dinner ware), coalesces into a seamless experience. The menu charts a wide range of southern flavours, the dishes running the gamut from vazhapoo kara podimas (banana blossoms with ginger and ground spice powders) from Kerala and the scrumptious Thanjavur kozhi varutha kozhambu (country chicken cooked in rustic ground spices) to asparagus paruppu usili (asparagus and steamed lentils tempered with Madras chillies) and munakaya mamsam kura (drumstick-infused tender lamb shoulder meat curry from Andhra Pradesh). Dessert is just a little wicked; coconut obsessives will be in seventh heaven digging into the exquisite elaneer payasam, the slivers of coconut shavings adding contrasting textures. Attentive service ensures a smooth flow on the floor. Also, there is a premium on procuring ingredients from their region of origin, like coconuts from Pollachi, cinnamon from Kerala and Byadgi chillies from Mangalore.
(Meal for two: `4,000 approx. excluding taxes).
Sonargaon – Taj Bengal, Kolkata
Sonargoan means golden village in Bengali, and the ethnic setting here is definitely one reason for its longevity. Featuring mouthwatering fare from Bengal and the North West Frontier, the dishes are backed by a commitment to authenticity and flavour. The kakori kebabs are as God intended them, a fine mixture of tender lamb mince and lamb fat, enhanced with a mixture of hand-picked roasted spices and seasonings, skewered and slow-cooked in a lava stone fired open oven. The velvety dal makhani (known as dal sonargoan) is just as good, simmered overnight, smothered with butter and sharpened with tomato paste, red chillies and kasoori methi. Both pair divinely with the gilafi kulcha, a blend of two doughs, flattened and baked in a slow-flame tandoor. The highlight of the Bengali line-up is the jamindari thali, a classic traditional combination of a complete meal experience selected from the Bengali zamindar gharanas in and around Kolkata. Available in vegetarian and non-vegetarian versions, a mouthwatering array of homestyle dishes from mochar (banana blossom) chop to kosha mangsho are on offer. For dessert, classics like mishti doi, gobindo chaler payesh are well executed. It's worth visiting during the monsoon to relish their Hilsa special.
(Meal for two: `5,000 approx. excluding taxes).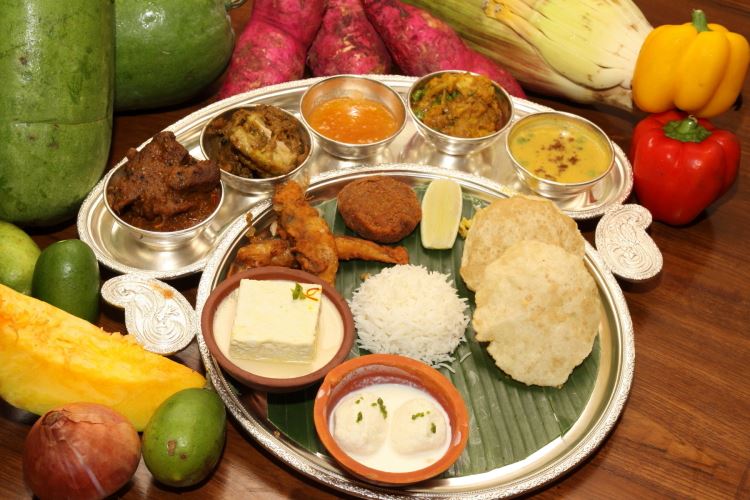 For latest travel news and updates, food and drink journeys, restaurant features, and more, like us on Facebook or follow us on Instagram. Read more on Travel and Food Network
Trending on TFN
The 23 Best Places To Go In 2023
Explore Utah's Mighty 5® and What Lies in Between