Where to Eat, Stay, and Play in Cannes, France
Every May, over thirty thousand directors, producers, writers, journalists, sales agents, and assorted film professionals descend upon the eponymous town in French Riviera. They network, walk the red carpet, pitch films, and try and watch some of the over 180 films that are screened here as part of the official selection. As a festival, Cannes is so exclusive—some would say haughty—that you can attend it only if you're connected to cinema professionally or are a member of the press. But not to despair, the festival also has some fantastic sidebars like the Director's Fortnight and Critic's Week for which the general public can buy tickets.
If you do manage to swing yourself an accreditation or place your faith in swinging some last-minute film tickets, Cannes is a town that has much to offer. During the ten days of the festival, the sleepy town transforms itself and films take over. The weather is usually perfect with just enough nip in the air to save one from being broiled. The beach is only 10 minutes away.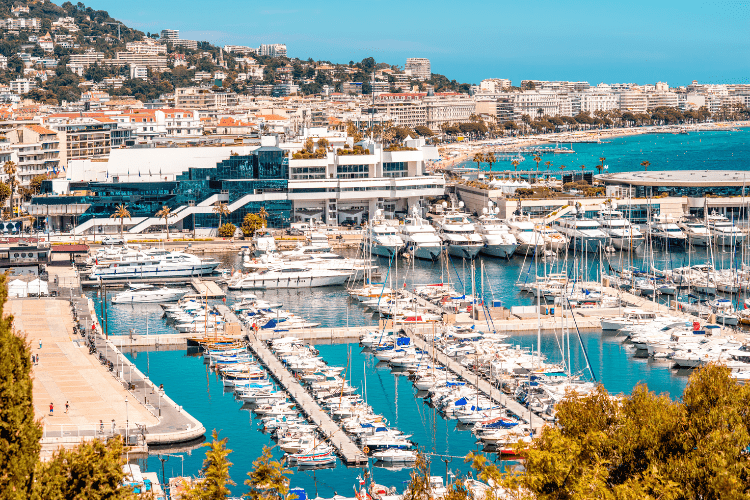 But to experience Cannes in all its glory, one must set aside hours to stargaze and people-watch. The best place to do this is right outside the Palais des Festivals where all the red carpets take place or in the lobbies of hotels like the JW Marriott, Carlton, or the Grand Martinez where all the A-listers stay. It's quite normal to see people dressed from head to toe in couture, walking casually down the road as they make their way from the red carpet to the first of many parties of the night. You might also spot your favourite art-house filmmaker in one of the many restaurants opposite the Promenade de la Croisette.
Do try out some authentic Provençal cuisine and pack your walking shoes. Cannes is best covered on foot and cars are prohibitively expensive. Although the Uber in Cannes does have a helicopter option, so that's always there. If you're a racing enthusiast, Monaco is only an hour away.
Apart from its glamorous film festival, the charming town of Cannes provides the ideal setting for an unforgettable 72-hour retreat. Set out on a voyage that combines luxury, culture, and leisure as you immerse yourself in this vibrant location's dynamic atmosphere, which draws travelers from over the world.
What To Do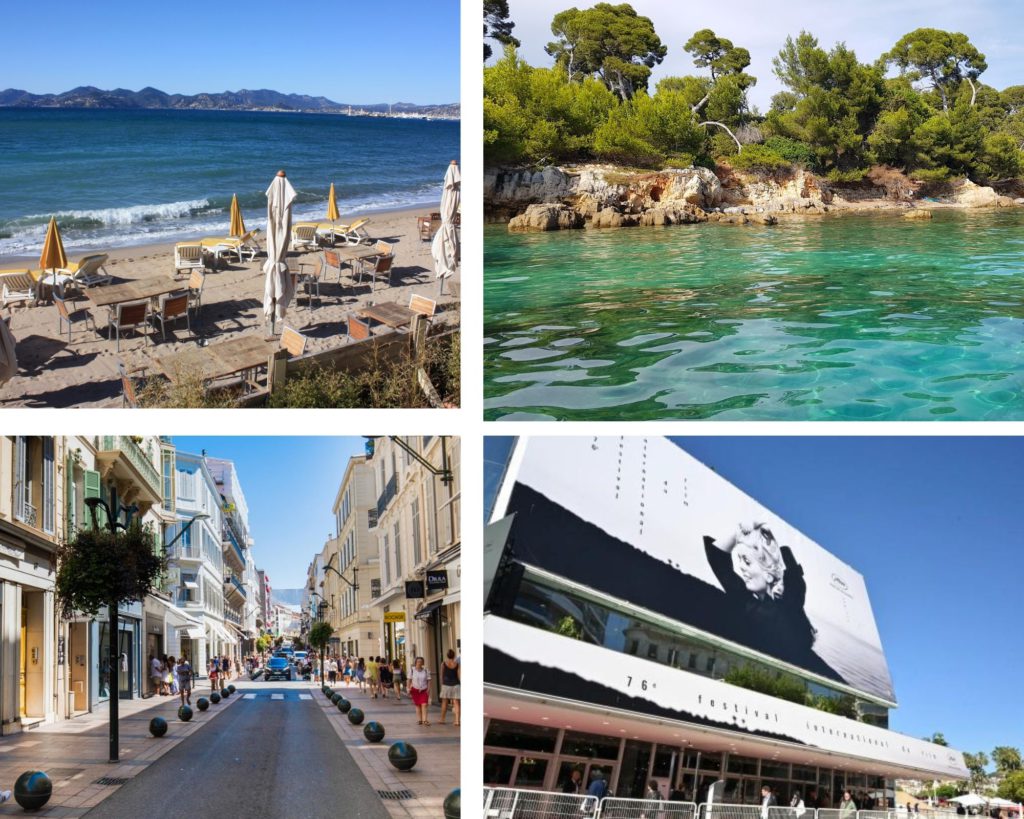 Explore the Old Town (Le Suquet): Stroll through the Old Town's beautiful streets, which are dotted with old structures, small stores, and neighborhood cafés. Don't miss the stunning panorama of Cannes that can be seen from the hilltop. Make sure to visit the Notre-Dame de l'Espérance church.
Musée de la Castre: Located in Le Suquet, this museum is housed in a medieval castle and offers a fascinating collection of art and artifacts from various cultures, including archaeological finds, Mediterranean art, and musical instruments.
Relax on the Beaches: Spend a day soaking up the sun on the beautiful beaches of Cannes, such as Plage de la Croisette or Plage du Midi. Swim in the emerald-blue waves or simply lounge on the sandy shores.
Visit the Lerins Islands: Take a boat trip to the Lerins Islands, just off the coast of Cannes. Explore the picturesque islands, visit the historic Fort Royal, and relax on the pristine beaches.
Experience the Cannes Film Festival: If you visit during May, you may have the chance to witness the glitz and glamour of the Cannes Film Festival. Explore the iconic Palais des Festivals et des Congrès and breathe in the excitement of the international film industry.
Shop on Rue d'Antibes: Indulge in some retail therapy on Rue d'Antibes, Cannes' main shopping street. Browse through designer boutiques, trendy shops, and luxury brands.
Villa Rothschild: Just outside Cannes, you'll find the Villa Rothschild, a beautiful mansion surrounded by exquisite gardens. Enjoy a leisurely walk through the grounds and marvel at the stunning views of the coastline.
Marché Forville: Immerse yourself in the local culture by visiting Marché Forville, Cannes' main market. Explore the vibrant stalls selling fresh produce, flowers, spices, and local specialties.

Where To Eat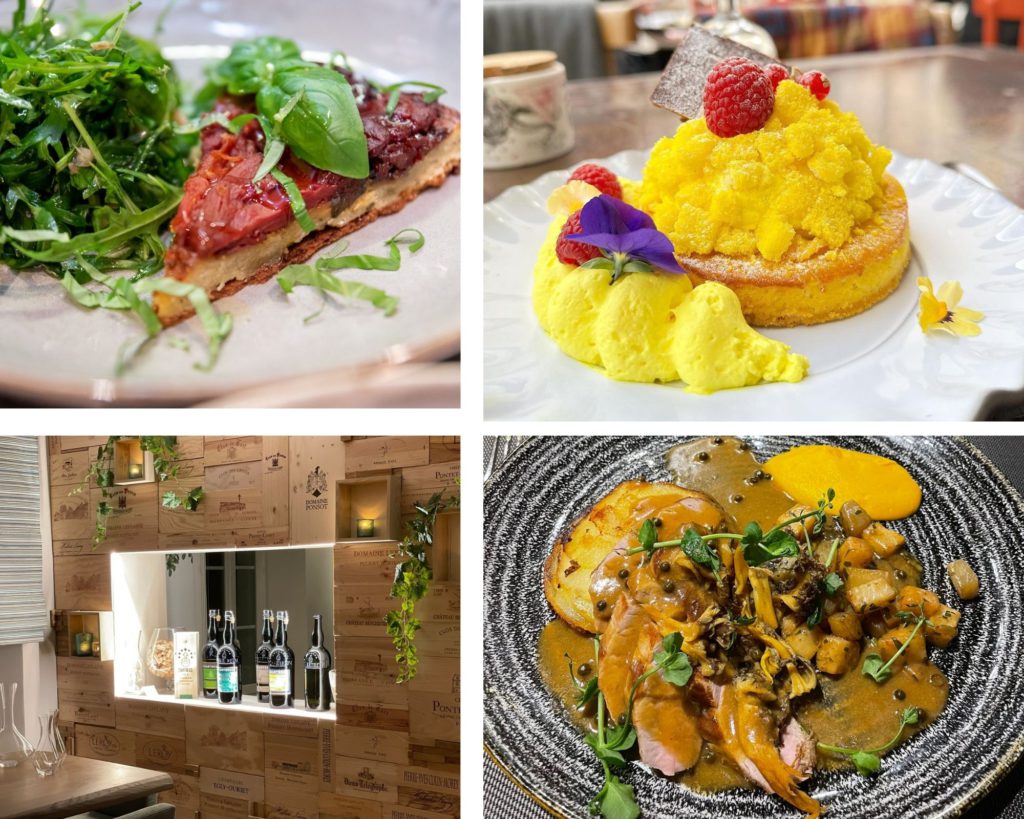 La Cave
A beloved establishment at Cannes, this relaxed local treasure exudes a warm and inviting ambiance, and is widely acclaimed for its impeccable French flavors and delectable homemade dishes a la provençale. Don't miss the opportunity to savor their signature creation, "Mamie Jeanne" – mouthwatering flour and zucchini doughnuts generously stuffed with flavorful garlicky vegetables. The wine selection curated in-house is equally exceptional, making it a definite highlight.
Address: 9 Bd de la République, 06400 Cannes, France
Da Laura
For over two decades, this delightful and classically-inspired trattoria has delighted the residents of Cannes with its exquisite Italian cuisine, paying homage to the marvelous flavors of France's neighboring country. Indulge in delectable dishes such as ricotta and chard ravioli, spagetti alla chittara adorned with ripe tomatoes, buffalo mozzarella, and anchovies, tantalizing truffle raviolini, and Piedmont vitello tonnato. To conclude your meal, immerse yourself in a delightful dessert menu showcasing tiramisu and panacotta as prominent highlights. Prepare yourself for an unforgettable culinary experience celebrating the essence of Italy.
Address: 9 Rue Du Vingt-Quatre Août, 06400 Cannes, France
L'Affable
Radiating warmth and hospitality, this trendy and modern restaurant, launched by renowned restaurateur Jean-Paul Battaglia, entices crowds of eager patrons daily. Its relaxed and easygoing ambiance perfectly complements the mouthwatering bistro fare, prepared with a touch of authenticity. Indulge in menu highlights such as garlic-infused cod, succulent beef cheek casserole, braised vegetables bursting with flavor, spiced sea bream, aromatic thyme-infused roasted rack of lamb, grilled lobster, and the pièce de résistance—Grand Marnier soufflé. A true embodiment of the French Riviera's timeless charm, this establishment is an absolute must-visit for any discerning food lover.
Address: 5 Rue la Fontaine, 06400 Cannes, France
Table 22 par Noël Mantel
Located in the heart of Cannes' oldest quarter and close to the charming Suquet district, Table 22 is a true paradise for connoisseurs of fine dining. Prepare to be delighted by dishes like the exquisite Italian black truffle risotto, the flavorful stuffed vegetables prepared à la provencal, or the delectable cannelloni filled with fresh porcini mushrooms. And be sure not to miss the heavenly desserts that will leave you wanting more.
22 Rue Saint-Antoine, 06400 Cannes, France
3.14 PLAGE
The restaurant nestled on the private beach of Hotel 3.14 is a true authority when it comes to all things organic and gluten-free. Their menu showcases a range of mouthwatering homemade dishes, including a satisfying tomato and burrata salad, a tantalizing salmon tartare with creamy avocado, a refreshing crab and quinoa salad drizzled with a zesty citrus dressing, a succulent grilled sea bass complemented by aromatic fennel, and a delectable stuffed chicken breast with candied apple. Indulge your sweet tooth with the scrumptious strawberry tart and the decadent chocolate moelleux cake that will simply melt in your mouth.
Address: 63 Bd de la Croisette, 06400 Cannes, France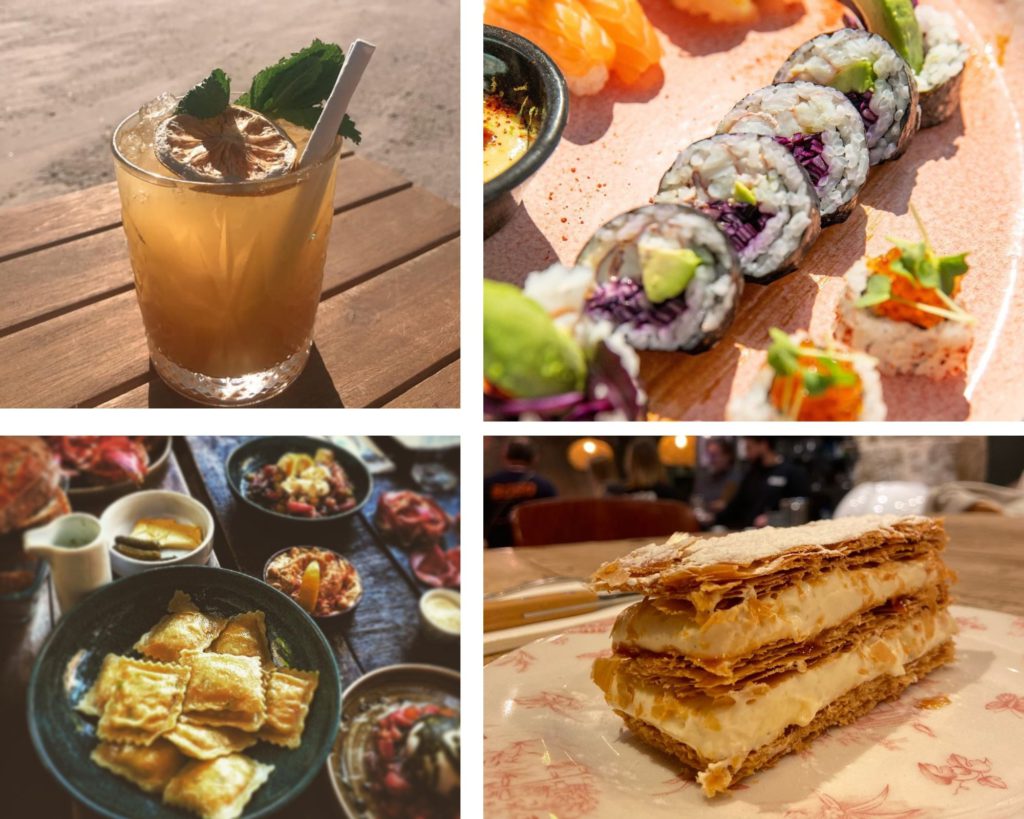 La Môme Plage
Experience a sun-kissed culinary journey with every bite at La Môme Plage. Indulge in a medley of dishes such as the tantalizing beetroot and feta hummus, the creamy Pugliese burrata accompanied by garlic-marinated peppers, or the refreshing mushrooms and feta ceviche. Savor the succulent calamari cooked a la plancha, paired perfectly with a zesty lime-infused virgin Cameron or the Greek-style beef tartare served alongside crispy French fries, and be sure to relish the beautifully grilled meats and fish prepared on the Josper barbecue. Sushi enthusiasts will be enthralled by magnificent platters of Nigiri, Sashimi, Roll, Maki, or Futomaki. For dessert, try the delicate apple pie, or the delightful mega cookie, perfect for sharing.
Address: Bd de la Croisette, 06400 Cannes, France
Bâoli Cannes
Embark on a remarkable culinary voyage at Bâoli Cannes restaurant, where the artful fusion of Asian and Mediterranean flavors and textures creates an exquisite dining experience. Delight in a diverse array of meticulously crafted dishes, from wholesome and enticing appetizers to breathtaking main courses, all the way to delectable desserts. Indulge in their signature dishes: Black rice and sauteed king prawns and "The Famous" – selection of sushi, sashimi, and California rolls.
Address: Port Pierre Canto, 1 Bd de la Croisette, 06400 Cannes, France
Bobo Bistro
This Arty, retro-style restaurant offers seasonal specialities prepared with local products and has a wide selection of vegetarian and vegan cuisine. Some examples of the exquisite culinary creations enjoyed by many include goat cheese salad refined from Ceneri, smoked bacon with salad frisée, tartare of cod mango and passion, apple liquor, fillet of beef with mushrooms.
Address: 21 Rue du Commandant André, 06400 Cannes, France
Le Jardin Secret
Le Jardin Secret is a vegetarian and vegan-friendly restaurant serving Mediterranean-inspired food in Le Suquet. For outside eating, the restaurant features a lovely garden patio. They have pleasant charcuterie, cheese platters, bruschetta and a drool worthy wine collection.
Address: 2 rue des Frères, Cannes, France, 06400

Where To Stay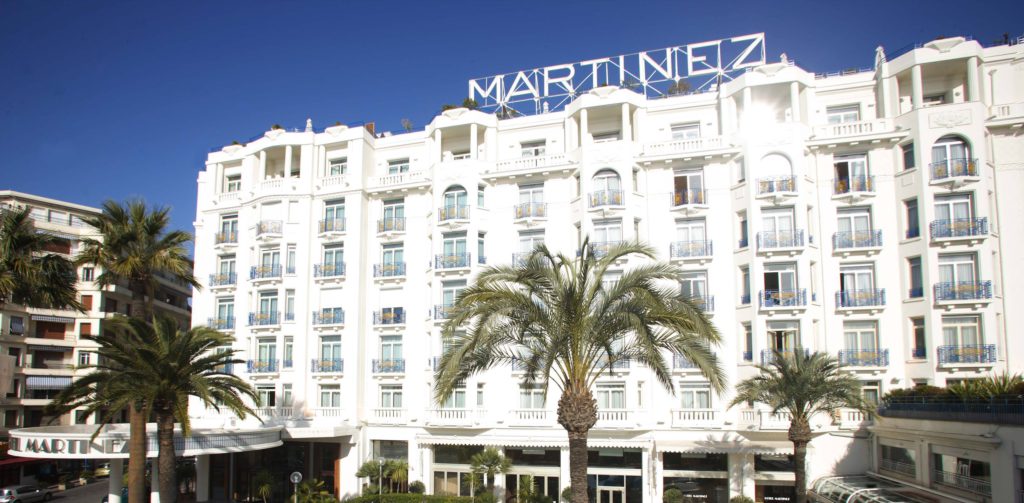 InterContinental Carlton Cannes: The InterContinental Carlton enjoys a prime location overlooking the Mediterranean Sea and offers stunning views of the Bay of Cannes. It is within walking distance of the Palais des Festivals et des Congrès, where the Cannes Film Festival takes place. The hotel was built in 1911 and has since been a symbol of elegance and luxury. Over the years, it has hosted numerous celebrities, film stars, and dignitaries attending the Cannes Film Festival.
Hotel Martinez: Hôtel Martinez, is a prestigious luxury hotel located in Cannes. It is situated on the iconic Boulevard de la Croisette, overlooking the Mediterranean Sea. The hotel is known for its elegance, sophistication, and world-class service. The hotel offers a range of luxurious accommodations, including rooms, suites, and penthouses. The flagship restaurant, La Palme d'Or, holds two Michelin stars and offers gourmet French cuisine
Hotel Gray d'Albion: The Hotel Gray d'Albion Cannes is a luxury hotel located in Cannes, France. It is situated in the heart of the city, just a short distance from the famous Boulevard de la Croisette and the beautiful beaches of the French Riviera. The signature restaurant, "38 The Restaurant," serves a combination of Mediterranean and international cuisine in a contemporary setting. There is also a trendy bar called "Le Bar" where guests can relax and enjoy a variety of drinks and cocktails.
Hotel Splendid Cannes: This boutique hotel is located in the heart of Cannes, just a short walk from the beach and the Old Town. It offers stylish rooms, a rooftop pool, and a cozy bar.
Villa Pruly Hotel Cannes Centre: This chic hotel in a renovated mansion is perfectly placed between the Rue d'Antibes and the Cannes train station and provides a variety of cozy, brightly painted rooms with extras like free continental breakfast, terraces, bathtubs and soundproofed rooms.
Best Time To Visit Cannes:
The ideal months to visit Cannes are from April to June and from September to October, when the weather is good and there are less tourists around. With warmer temperatures and crowded streets brought on by the Cannes Film Festival and other events, the summer months of July and August are the busiest travel times.
*Remember to check the availability and make reservations in advance, especially during the peak season and major events.
How To Get There: Flights to Cannes require you to fly to the nearest airport Côte d'Azur Airport, which is in Nice. From there you can rent a car or get a taxi. Cannes is also part of France's train network, and you can reach the city on TGV from Paris.
For latest travel news and updates, food and drink journeys, restaurant features, and more, like us on Facebook or follow us on Instagram. Read more on Travel and Food Network
Trending on TFN
The 23 Best Places To Go In 2023
Explore Utah's Mighty 5® and What Lies in Between
Five Epic U.S. National Parks To Visit This Year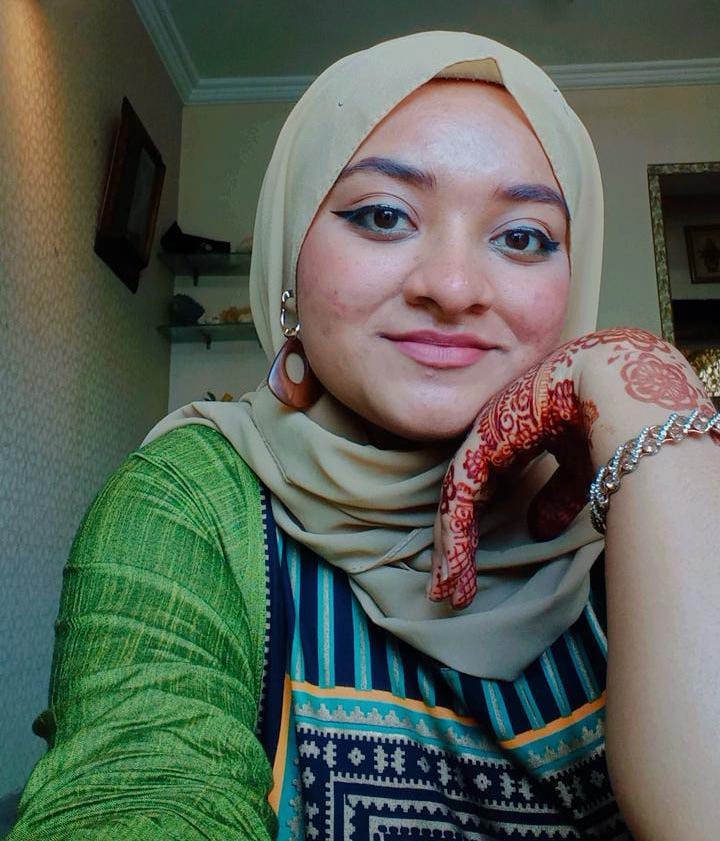 Sumayya Dadarkar is a seasoned content writer with a passion for storytelling. With four years of writing experience, she discovered her love for writing during her college days. In addition to her writing pursuits, Sumayya indulges in various hobbies that inspire her creativity. She finds solace and inspiration in painting, which allows her to explore her artistic side. She also enjoys spending time in cafes, finding the ambiance and energy conducive to her work. Moreover, she has a soft spot for pets, particularly cats, which bring joy and companionship to her life.