Photo Courtesy: Tamil Nadu Tourism
Vast blue skies, the soothing sound of waves crashing on the rocks, and intricate architecture come into mind when one thinks of Mahabalipuram.
Mamallapuram, also known as Mahabalipuram, is a UNESCO World Heritage site in Tamil Nadu. The history of the town dates back to the early 5th century CE, when it was a thriving port. The city is known for the oldest Dravidian buildings in India and sculpted rock panels. It is mentioned in numerous travelogues, including that of Marco Polo, who wrote about seeing its "seven pagodas." Historians believed that six of the pagodas or temples were consumed by the sea, leaving behind only the Shore Temple.
Caves, sculptures, temples, and ruins are at every turn here, leaving so much to be explored. Leave no stone unturned with our 72-hour guide to exploring this iconic and breathtaking city.
Places To Visit
Mahabalipuram Shore Temple
The Shore Temple is Mahabalipuram's signature symbol, famous for being one of the oldest stone temples in South India. It is also a UNESCO World Heritage Site. Made out of charcolite, the temple overlooks the shore of the Bay of bengal, hence its name. A place of historical significance reflecting Dravidian architecture, the temple complex has two sanctums – one dedicated to Lord Shiva and the other, Lord Vishnu. Believed to be the last of seven temples standing, the eighth-century Shore Temple complex also has five tiers of exquisite animal and deity carvings tapering upwards in the form of a pyramid
Pancha Rathas
Built under the patronage of Narasimhavarman I (630-668 CE), these five rathas are a group of five monolithic free -standing temples that were cut out from solid granite and diorite rocks. They are a curious confluence of Hindu and Buddhist architectural styles, with carvings of Hindu gods and goddesses adorning vihara-like structures. The five temples are symbolically named after the Pandavas and Draupadi but do not have any connections with the Mahabharata. The naming is apt though—the Draupadi Ratha is small and petite, and stands beside the Arjuna Ratha, their outer walls adorned with carvings of Durga and Indra respectively. The Bhima Ratha is massive, with lion-shaped pillars and a large bas relief of a reclining Vishnu, while the Dharmaraja Ratha towers over the others, three storeys tall and with delicate animal motifs on its gables. The Nakula-Sahadeva Ratha stands apart from the others, and it is the lion and elephant statues next to it— probably symbols of the Pallava dynasty—which tend to garner all the tourist attention.
India Seashell Museum
Located just 1.5 km away from the Panch Rathas is the newly built India Seashell Museum, the first one of its kind in the country. The largest sea shell museum in Asia is a repository of various kinds of sea shells with over 40,000 specimens of rare and unique shells kept to educate the visitors. The museum also has a shopping center called the Maya bazaar, where one can get their hands on elegant jewellery and artefacts made solely from seashells, even a traditional sangu (conch) can be found here.
Arjuna's Penance
A 15-minute walk north of Pancha Rathas lies Arjuna's Penance. Built under the reign of Pallava king Mahendravarman in the 600-640 A.D. this monolithic sculpture is one of the largest of its kind in the world. It is also the largest Open Air Bas reliefs in the world. Carved out of two huge boulders 27 meters long and 43 feet high, it has over 100 sculptures of Gods, Birds and Beasts and Saints. It is believed to depict the story of the epic Kiratarjuniya, where Arjuna prays to Lord Shiva to grant him a divine weapon for battle.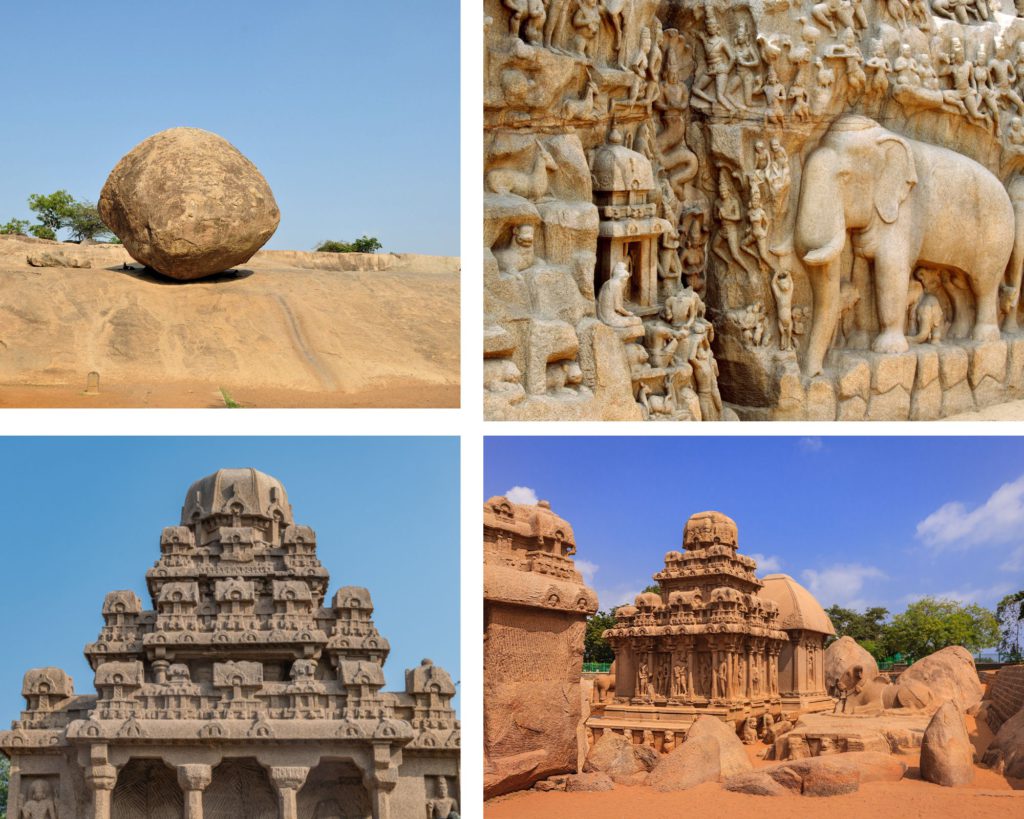 Krishna's Butterball
A stone's throw from Arjuna's Penance, this gigantic rock estimated to weigh over 250 ton, is set atop a slope on a narrow rock base in a truly mystical and mysterious manner, defying all laws of physics and reason. Legend has it that at one point, seven elephants were used in an attempt to move it, but the rock did not budge even by an inch. It is believed that the rock is actually a dallop of butter (Lord Krishna favourite) that fell from heaven, hence the name Krishna's Butterball. The actual name of the stone is "Vaan Irai Kal," which in Tamil translates to Sky God's Stone.
Ganesha Ratha Temple
This is the most beautiful structure of a two-storied rock-cut temple located north of the Arjuna's Penance. It is carved out of a giant pink granite. The temple is said to resemble a chariot and is built in the Dravidian architecture style. Once dedicated to Lord Shiva, it is now known as the temple of Lord Ganesh after the lingam was removed. Inside the temple stands a magnificent idol of Lord Ganesha. Along with several other monuments, this temple gained UNESCO World Heritage Site distinction in 1984 as "Group of Monuments at Mahabalipuram"
Tirumurti Cave
Further north from the Ganesha Ratha Temple is the Tirumurti Cave Temple. Located near the northern hills of Mahabalipuram, the temple is famous for the depiction of the holy trinity of Hinduism, the three superpowers: Lord Brahma, Lord Shiva, and Lord Vishnu. The backside of the rock cave is adorned with fine carvings of elephants and reflects the splendour of Pallava dynasty's architecture
Things To Do
Wide Beach
No vacation to South India is complete without a visit to the beach. After your long visits to temples, relax at the Wide beach. One of the most peaceful and serene beaches in the area, the Wide Beach is known for its mesmerizing sunrises and sunsets. The beach also has some beautiful caves and rock sculptures on its shore.
Mahabalipuram Beach
Lying on the shore of the Bay of Bengal, this beautiful beach is known for its rock-cut sculptures. The golden sands, soothing waves, and salty breeze will definitely calm your mind. Surfers and swimmers are bound to have an incredible time at this beach.
There are also interesting places like a crocodile bank with around 5000 crocodiles of 6 different species, a school of art and sculpture, and a snake venom extracting centre.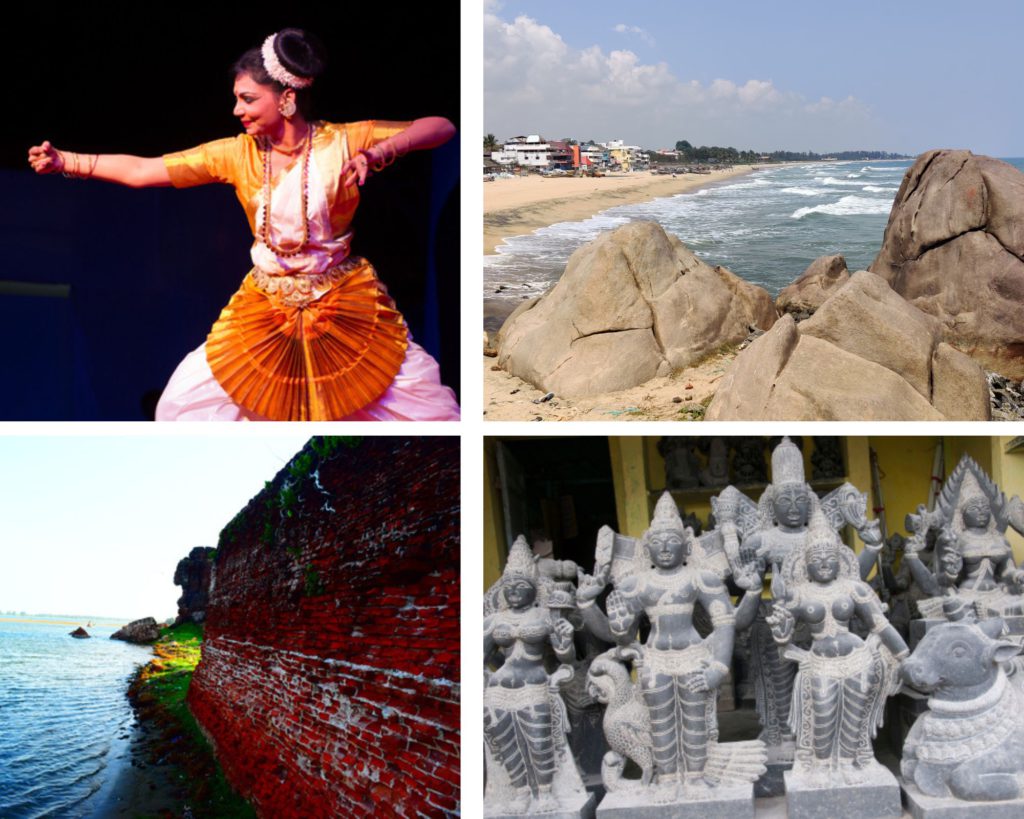 Alamparai Fort
This long-forgotten trading post is one of the most scenic places you must visit. Although it is practically in ruins, there is still a certain charm to this place that makes it worth a visit. As you walk across the beautiful fort, you will find traces of life in the form of small shrubs, creepers, bushes, and trees growing out of the walls.
Duration of Visit: 1-2 hours
Mamallapuram Dance Festival
The Mamallapuram Dance Festival lasts for twenty days to celebrate the diverse forms of folk dances across India. For the occasion, a stage is set up in the front lawn of Shore Temple. It is held every January. For tickets and dates, you can visit the Tamil Nadu Tourism website.
Shopping
Mahabalipuram's tryst with stone reflects itself even in the local arts and crafts. You can buy sculptures in black stone, granite soft and grey soap in the local shops. You can also visit the government-run Poompuhar to get good deals on the sculptures.
What To Eat
Mahabalipuram is overflowing with interesting restaurants and cafes with a variety of cuisines. You can relish the spicy street food, indulge in an elaborate traditional thali, or try out western delicacies. Some must-eats for lovers of sea-food are Grilled Fish, Prawns, Lobsters, Crabs, and more. Vegetarians won't be disappointed as traditional South Indian dishes like Idli, Dosa, Vada, Appam, Upma, Kesari, Payasam, are easily available at the local eateries.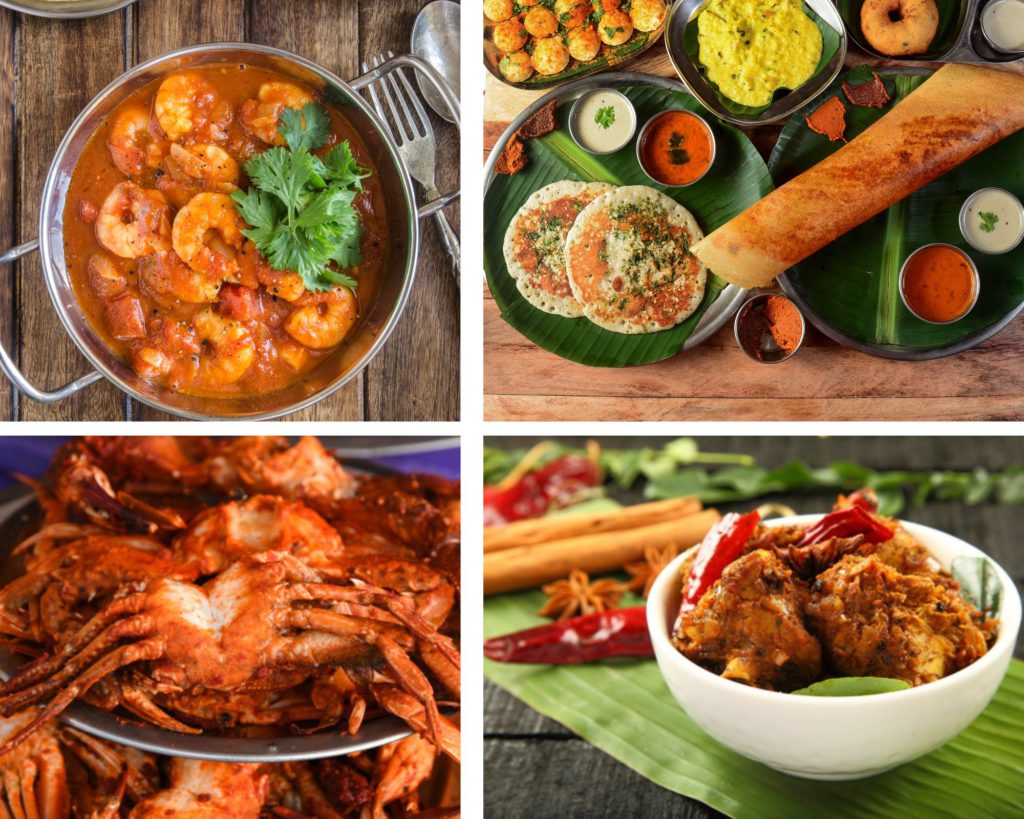 Where To Eat
Sea Shore Restaurant
The restaurant serves Chinese and Chettinad food near the Sea Shore Temple. It is especially hailed for its seafood, and some of the best dishes here are fried prawns, fish curry, and calamari fries.
Le Yogi
Serving North Indian, south Indian, and Nepalese cuisines, the restaurant also has various vegetarian options. Indulge in a good pizza, spaghetti, and the delicious tomato soup this place serves. You can have the tasty Nutella crepes or mouth-watering lemon pie for dessert.
Mamalla Bhavan
Serving local vegetarian cuisine, this eatery was established in 1964. It is one of the town's oldest restaurants and is known for its quick lunch and dinner banana-leaf thalis.
Joe's Café
A laidback café with some 'sidewalk' seating area, Joe's serves up some of Mahabalipuram's most delicious crepes, burgers, and snacks. You can also get a good lassi, juice, or coffee along with your meal.
Tao of Peng
Located inside the posh Inter Continental Chennai Mahabalipuram Resort is Tao of Peng, a Chinese restaurant that offers a range of Sichuan and Cantonese cuisines. Some of the most popular dishes here are prawn har gau, chicken shao mai, four-mushroom dumplings, pan-seared scallops with puffed rice, fish roe and wasabi purée, and lamb chops in Mongolian sauce.
Best Time To Visit Mahabalipuram
The best time to visit this coastal town is in the winter, from November to February. These months are the most pleasant, and you can explore the town without the heat and humidity of summers. It is also an ideal time for sightseeing and adventure sports.
Mahabalipuram, is 60 kilometers south of Chennai. That is around 90 minutes of a scenic drive. Prepaid taxis from Chennai cost around Rs. 1000, and by bus, it will cost you around Rs. 30 – 80.
Where To Stay
TTDC Beach Resort Complex
With breathtaking views of the ocean from every room, TTDC Beach Resort Complex offers a captivating stay. Nearby attractions are the Mahabalipuram beach (2.9 kms), Panch Rathas (3.5 kms), Shore Temple (2.7 kms), Sculpture Museum (2.6 kms) and Tiger Cave (2.6 kms).
To know more visit Tamil Nadu Tourism's official website.
In Partnership with Tamil Nadu Tourism
For the latest travel news and updates, food and drink journeys, restaurant features, and more, like us on Facebook or follow us on Instagram. Read more on Travel and Food Network
Related Stories:
Best Wildlife Sanctuaries In Tamil Nadu
10 Must-Visit Waterfalls in Tamil Nadu
Must Eat Local Dishes In Madurai And Where To Eat Them
10 Reasons To Visit Tamil Nadu
In Photos | 5 Incredible UNESCO Heritage Sights to Visit in Tamil Nadu