With its rich historical heritage, Philadelphia is one of the most visited cities in the United States. After all, it is where both the Declaration of Independence and the United States Constitution were signed. And before Washington D.C., this city served as the country's capital.
Due to its convenient location on the East Coast, and its proximity to New York City (1.5 hours) and Washington D.C. (2 hours), Philadelphia is seen as one of the world's most dynamic destinations.
The first World Heritage City in the U.S. and the second-largest city on the East Coast, Philadelphia is home not just to American history, but also to chef-driven cuisine, abundant outdoor space and an unparallel art and culture community. This is what makes Philadelphia a destination worthy of the world's attention. Philadelphia is filled with notable museums, a thriving nightlife, sports teams and a booming restaurant scene.
Let this guide aid you in your exploration of Philadelphia, where we highlight essential attractions, restaurants and activities in each neighbourhood.
Things to Know
Philadelphia is a city of neighbourhoods, all of which have distinct personalities seen through the residents, experiences, and most importantly culinary offerings. There is a neighbourhood for everyone, whether you are looking for a family-focused area to spend time, the lively nightlife of the Gayborhood in Washington West, museums and parks, or a high fashion shopping experience.
With so many things to do, your trip to Philadelphia will be easy, fun and relatively low-cost for a trip to a large city.
How to Get Around
The best way to get around the city is by foot or the PHLASH bus. Although other options are available like trolleys, buses, cabs and subways, on foot is the best option to get around in Philadelphia.
Once in the city, you will find that the downtown is very foot-traffic friendly. Philadelphia is the 4th most walkable large city in the U.S.. It is no wonder why- the city layout is simple to master and the compact Center City boasts of founder William Penn's easy to navigate grid street design.
Another popular way of getting around the city is by bike, and rentals are available throughout the city.
Of course, the most fun way to travel around Philadelphia is by the trackless trolleys.
Must see places
There is never a shortage of things to do and places to see in Philadelphia, but there are some places you must visit- especially if you have never been to the lively city before.
Independence National Historical Park: The city is considered to be the birthplace of the U.S.A. and the park is considered to be "the most historic mile" in the US,packed with iconic places like the Liberty Bell and the UNESCO World Heritage Site, Independence Hall, where the Declaration of Independence was signed. The park also other historically significant attractions like Carpenter's Hall and the National Constitution Center.

Barnes Foundation: Enter to see the world's largest private collection of Impressionist and post-Impressionist masterpieces – This extraordinary collection features pieces by Van Goh, Picasso, Renoir, Cezanne, Matisse, Modigliani and more, providing a depth of works by these artists unavailable elsewhere They also have a selection of Native American arts and textiles, African sculpture and arts and a botanical garden with rare plants on display. The Barnes Foundation invites visitors to explore connections between masterpieces by way of "wall installations" inspired by its founder, Dr. Albert C. Barnes.

Philadelphia's Magic Gardens: An immersive mixed media art environment that is completely covered with mosaics is focused on non-standard methods of expression. Local artist, Isaiah Zagar, created this half indoor – half outdoor 3000 sq. ft space with a kaleidoscopic array of murals made of upcycled materials, like bike wheels and bottles, handmade tiles, mirror, and international folk art.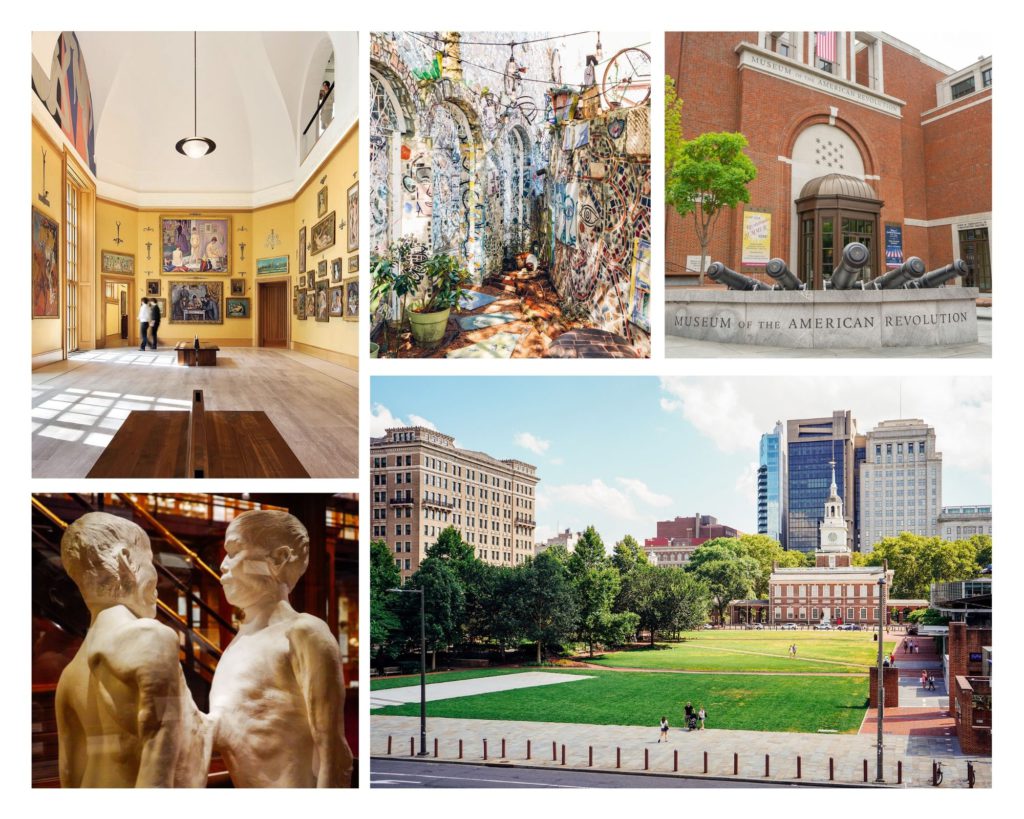 Mutter Museum: Definitely not for the faint-hearted, this museum of medical history has on display several anatomical specimens, models, and medical instruments. Some medical curiosities include President Grover Cleveland's tumor, a piece of Einstein's brain, a corpse that turned into soap and a book bound by human skin.

Philadelphia Museum of Art: The striking neoclassical building holds more than 2,000 years of paintings, sculpture, decorative arts, and architectural settings from across the globe. It is also home to the "Rocky steps"- run up the 72 steps just like the iconic movie character, Rocky, and take a photo on the top.

Love Park: One of the most instagrammable spots in the city, located right in the middle of Philadelphia's John F. Kennedy Plaza. This park gets its nickname from Robert Indiana's "LOVE" statue, which has stood in the space almost continuously since 1976.

Philadelphia Mural Arts: Starting as an anti-graffiti program in 1984, the program has grown to be an international leader with over 4,000 works of community-based public art. The nation's largest public art program offers visitors the opportunity to find out why Philadelphia is called the "Mural Capital of the World", through guided or self-guided tours visiting some of the murals found throughout city.
Some streets and neighborhoods to explore in Philadelphia:
9th Street Italian Market (South Philadelphia)
While you are in Philadelphia, you could take a tour of Philadelphia's historic 9th Street Italian Market which is one of America's largest and oldest continuously operating open-air marketplace. While many of the original outdoor and Italian businesses remain, the market has diversified and represents global flavors and cultures. Get your fill of cheesesteaks, cannoli, gourmet coffee, all kinds of cheeses, Korean barbeque and fruit-on-sticks things that locals would rave about. The market here has observed a boom in the recent years with several gourmet hotspots and eateries to explore. If you are headed to Philadelphia in May, then do not miss the annual 9th Street Italian Market Festival and you'll be treated to delicious eats, live music and more in celebration of various cultural traditions. This festival typically takes place at the end of May and attracts about 70000 visitors.
Reading Terminal Market (Center City)
With row after row of vendors offering a variety of foods, beers, Amish fares, baked goods, snacks, flowers, produce, bath and body products, and even used books, Reading Terminal Market dates back to 1893 and is housed in the former Reading Company main train terminal, a National Historic Landmark building, spanning one square block, smack in the middle of crowded streets of Philadelphia. With more than 80 merchants under one roof, the food is as diverse as its sellers and is the perfect place to sample a taste of Philadelphia From cheesesteaks to shawarmas, and from po'boys to whoopie pies, the food by these independent sellers is sold in a jumble of sit-down eateries, to-go stands, and bar-style corners. Reading Terminal Market one of the largest and oldest public markets in the U.S. is a food enthusiast's paradise. Being centrally located, "Museum Mile", Independence Visitor Center, and City Hall, areat a walking distance from the Reading Terminal Market.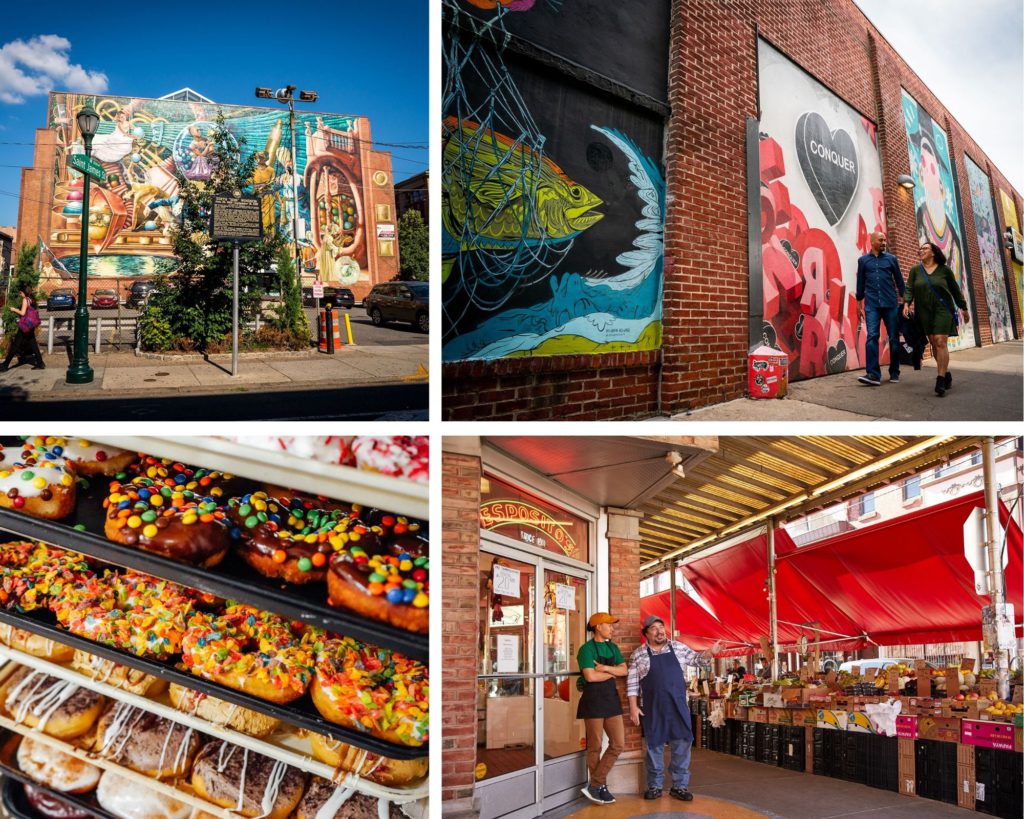 Washington Square West, the Gayborhood, and Midtown Village
Washington Square West neighborhood is a section of Philadelphia's downtown that connects the Rittenhouse Square neighbourhood to the Historic District. The neighbourhood also consists of Midtown Village and the Gayborhood. These neighbourhoods are dotted with theatres, galleries, historic structures, locally owned businesses, hot spots and some of the top hotels and restaurants in the city, including several outdoor dining spots along the sidewalks, terraces, roofs, and gardens. We hear the fluffy egg sandwiches at Middle Child and a brunch with friends at Green Eggs Café are experiences not to be missed.
Fishtown
Fishtown – once the former epicentre for commercial shad-fishing industry – has has become one of Philadelphia's liveliest neighborhoods. It is an emerging spot for both local and award-winning restaurants making it a must-visit place for foodies. To start the day, try the baked bagels from Philadelphia Style Bagels or take a trip to La Colombe's flagship location on Frankford Avenue for some delicious coffee. Another must try, is the award-winning Laser Wolf – serving an array of Israeli skewers and delicacies. This neighbourhood beckons travelers and locals alike with an array of stellar restaurants, galleries, bars, music venues and studios, making it an interesting place to explore while touring the City of Brotherly Love!
Restaurant Guide
Philadelphia has a dynamic dining scene with more than 1000 restaurants and bars in the downtown area. The city has an ever-expanding list of culinary options that are regularly received and recognized especially with well-known chefs, restauranteurs, and food entrepreneurs often choosing Philadelphia for their passion projects.
It is hard to run out of food choices when you have the option to gorge on a hearty Amish spread for breakfast, some mouth-watering ramen for lunch, and an award-winning traditional Israeli menu for dinner, and yet be spoilt for choice for dessert if you haven't run out of appetite already. Here travelers can get private chocolate tastings at the oldest chocolate house in the city.
Going beyond the famed cheesesteaks and salty soft pretzels, the city has an amazing vegan fare, fantastic local craft beer, and farm-to-fork style usually found only in far-flung farmlands. Check out some of our favorite restaurants and bars from Philadelphia which also include vegan and vegetarian options.
Nam Phuong (Bella Vista)
Location: 1100 Washington Ave, Philadelphia, PA 19147-3802
If you drive past the shopping centre at 11th and Washington in South Philadelphia, you will come across some incredible Vietnamese restaurants such as Nam Phuong and Pho 75. Here you will spot Vietnamese families seated around enormous tables, enjoying their flavourful bowls of pho that's just as good as what you'd find in Ho Chi Minh or Hanoi. Some of the must-try dishes here include the bánh xèo, which is a savoury pancake made with bean sprouts, pork, and shrimp, iced pearl milk tea, and iced coffee with condensed milk
Vetri Cucina (Center City)
Location: 1312 Spruce St, Philadelphia, PA 19107-5885, United States
Vetri Cucina's gourmet menu features Italian-focused delicacies such as spinach gnocci with shaved ricotta salata and brown butter, pork coppa roast, almond tortellini with white truffle sauce, chocolate polenta soufflé, and many more. Guests can supplement their fine dining experience with a selection of wine offerings mostly Italian, and come from two cellars that total a collection of more than 2,500 bottles. This place is a must-visit for anyone who is looking for an overall great dining experience. Marc Vetri's 20-year-old flagship continues to charm both first time and repeat visitors with their ever-evolving menu of Italian food making it an unmissable culinary experience in Philadelphia.
Kensington Quarters (Fishtown)
Location – 1310 Frankford Ave, Philadelphia, PA 19125
Kensington Quarters a fishtown favourite restaurant, bar, butcher shop, organic garden – is best known for their housemade charcuterie (think: pork head cheese or salami cotto with fermented turnips and potato chips). Some other local favorites include French toast with scrapple, Dutch baby pancakes, and a ham-and-Gouda focaccia sandwich. Check their schedule for creative brunch and lunch offerings, pasta-making, and wine-tasting classes.
Vedge (Midtown Village)
Location: 1221 Locust St, Philadelphia, PA 19107-5572, United States
Vedge is a vegan restaurant that isn't only for vegans but for anyone who is enthusiastic to explore the various ways in which vegetables can be consumed. An interesting feature of this restaurant is that their menu changes periodically and consists of servings of perfect proportions that allows you to sample a variety of foods. Their ssamjang tofu and eggplant braciole with Italian salsa verde are two of their delicious entrées worth trying. They also have a wonderful collection of drinks. Some of the must-try dishes at Vedge include the rutabaga fondue, charred broccoli with pastrami flavour, smoked white beans, and horseradish.
Barbuzzo (Midtown Village)
Location: 110 S 13th St, Philadelphia
There is no accounting for bad taste. At least not at Barbuzzo on 13th street. This pan Mediterranean restaurant has hardly the space for a sleeping bag but that rarely deters patrons who are willing to wait in long queues for a seat at the bar. The daily chalkboard specials feature purple radish sprouts and Japanese turnips. The small list of 40 wines is personally handpicked by the owners to complement the equally curated seasonal menu. And one look at the menu and you will know that you are in for a rustic twist to a very unique menu. The sheep's milk ricotta, house-made charcuterie board of cured meats and bread, eclectic salads, creamy pasta, and other elements of this extensive fare is made with fresh ingredients. But our heart lies with the pizzas here. If through its earlier offerings the superiority of the treatment of vegetables isn't evident then the pizza is sure to give you an insight into the richness of the cooking. Unique varieties of pizzas with their blistered crusts and seasonal toppings have rendered them the best we have had in Philadelphia.
Sampan (Midtown Village)
Location – Midtown Village, 124 S 13th St, Philadelphia, PA — 19107
Sampan is one of the first restaurants to have expanded their Pan Asian contemporary menu to include the offerings for their vegetarian patrons. In a room with dramatic backlit mural walls, artful food is served from the restaurant's centrally located open kitchen along with carefully curated wine, beer, sake, and cocktails. Packed with enough delicacies such as Edamame dumplings, spicy smashed cucumber, stir fry noodles, and more, the menu also has vegan options upon request.
In the rear end of the restaurant, lies an open-air patio bar called Graffiti Bar, serving the same food and drinks but in an edgy ambiance. Heat lamps for chilly nights and the soft glow of candlelight make it a perfect spot no matter the season.
Indeblue (Midtown Village)
Location – 205 S 13th St, Philadelphia, PA 19107
Indian food in the USA is a mystery that people are still trying to uncover. Often blandly reduced to "curry food" and "chicken tikka masala", the food has left the rest of the world confused by the potent explosion of flavors and spice. But we are more than that and Rakesh Ramola's Indeblue is trying to offer all of that with a western twist to those who are interested. Pulled pork samosas, cheesy paneer bhurji, sali boti poutine, moilee, crispy spinach chaat, dosas, and other dishes offer an insight into the Indian culture without alienating the western palate.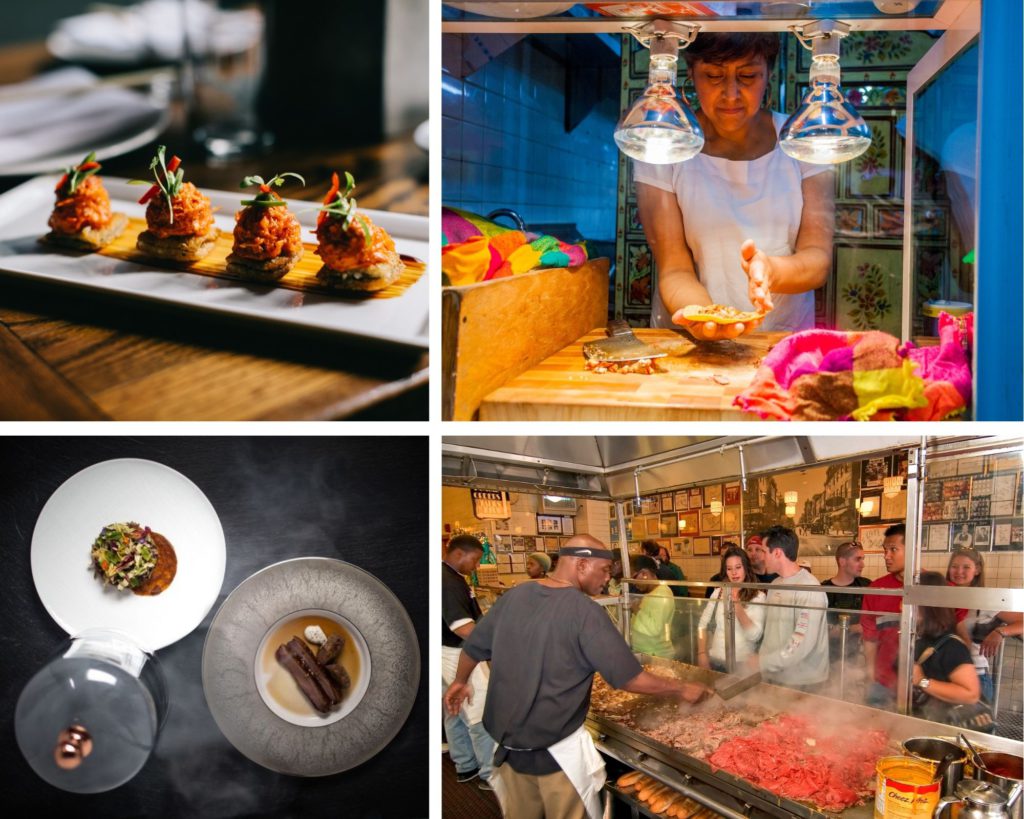 Fork (Old City)
Location: 306 Market St, Philadelphia, PA 19106-2709, United States
Fork is a classic American restaurant with a sleek interior that surprises you with its contemporary American cuisines. Established in the mid-1990s, Ellen Yin's stylishly informal contemporary American café is adorned with beautiful murals painted by Anthony DeMelas, complimented by a finely crafted cuisine by Chef Eli Kulp. The restaurant was also named as one of the 100 Restaurants America Can't Afford to Lose by Esquire. When in Fork, one must surely indulge in their grilled octopus, their olive oil cake, focaccia bread with caramelized onion jam, and the beet salad.
Zahav (Old City)
Location: 237 St. James Place, Philadelphia, PA 19106-3936, United States
Opened by Chef Michael Solomonov, Zahav, is an Israeli restaurant that serves more than just the traditional hummus and shakshuka. Zahav remains one of the best when it comes to Israeli food as they have a range of options to explore such as their black sea bass tartare with bulgur and preserved orange, chicken shashlik with plum, fennel, and sumac, and their iconic pomegranate-glazed lamb shoulder. The restaurant is definitely an experience not to be missed and the menu is a fitting example of Israeli cuisine.
Jim's South Street (Society Hill)
Location: 400 South St, Philadelphia, PA 19147, United States
Philadelphia is known for their cheesesteaks, a must-try regional delicacy made using a locally baked long roll, stuffed with chopped or sliced griddle-fried beef, melted cheese (whiz, American, or provolone), and the option of fried onions ("wit" and "witout" onions are both acceptable choices). Jim's, located in South Street, has been making cheesesteaks in Philadelphia for almost 80 years, and totally lives up to the hype! You just need to know one term "whiz wit" before visiting this joint that's equally popular with locals and tourists. It means with cheese whiz and fried onions.
South Philadelphia Barbacoa (The Italian Market – South Philadelphia)
Location: 1140 S 9th St, Philadelphia, PA 19147-4675, United States
Walking down 9th Street, past the Italian market with iconic shops like Di Bruno's and Talluto's, you will reach the corner of Ellsworth Street where you will come across a hand-painted yellow sign announcing your arrival at South Philadelphia Barbacoa, also featured on Netflix show Chef's Table. This place is run by Cristina Martinez and her husband Ben Miller, who are local restaurateurs and community activists, serving some of the best mouth-watering tacos on the east coast. The sweet tamales and the lamb tacos are some of the must-tries here.
Laurel (East Passyunk Avenue – South Philadelphia)
Location: 1617 E Passyunk Ave, Philadelphia, PA 19148-1146, United States
French inspired Laurel, was built by Nicholas Elmi on East Passyunk Avenue shortly after winning Season 11 of Top Chef in 2014. Here, you could choose from a six-course seasonal tasting menu and a nine-course chef's tasting menu. The cuisine changes with the seasons, but always features ingredients produced locally. Depending on the season, you might be presented with dishes like eggplant miso crusted veal with malted barley, cured big eye tuna with aji and dolce pepper ponzu. At $130 per person for dinner—without drinks—Laurel is on the pricier side of Philadelphia's restaurant scene.
Villa di Roma (The Italian Market – South Philadelphia)
Location: 936 S 9th St, Philadelphia, PA 19147, United States
Villa di Roma, a restaurant located in the centre of The Italian Market, has been serving meals since 1963. Their evergreen spaghetti and meatballs coated in gravy, steamed mussels in red or white sauce, and chicken Sicilian are always on their special menu and are some of their must-tries.
Royal Izakaya (Queen Village)
Location: 780 S 2nd St, Philadelphia, PA 19147, United States
Frequented by Philadelphia's hip food lovers and chefs—that is, when they're not running their own kitchens, this restaurant, operated by Chef Jesse Ito, is totally worth visiting since it hides a delightful surprise inside. The setting of the restaurant is unique (visualise a restaurant within a restaurant) with the first room acting as a bar where you can order Japanese skewers and plump shumai. The back room, on the other hand, is a space for Omakase, a traditional Japanese eating method in which the chef prepares a meal based on your preferences. When in Royal Izakaya, you could indulge in the small appetisers like tuna guac, pork belly buns, and sushi rolls. Apart from the appetisers, the pork chashu bun with cucumber and mayo, as well as the shrimp tempura with avocado, are some of the must-try dishes.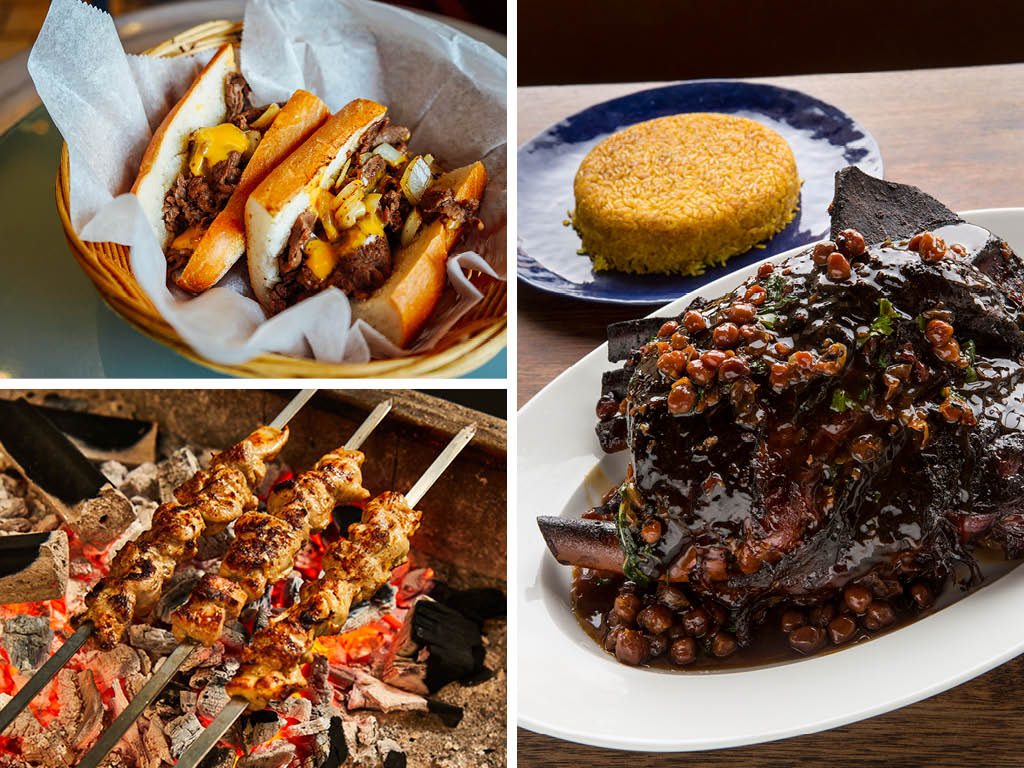 One cannot help but fall in love with Philadelphia. The city's rich historical attractions tell America's story all within walkable distance from each other. The city's affection and art appreciation extend beyond the walls of the museums and pour into the city's streets. Its rich culture is also visible in the city's dining scene which is all thanks to the roster of renowned chefs and restaurateurs including a host of James Beard Award winners and a wide range of ethnic and global cuisines. Treat yourself to a gourmet meal or enjoy the city's trademark cheesesteak.
For these reasons and its welcoming atmosphere, its historic architecture, arts and culture, tax-free shopping, award-winning restaurants, outdoor art, prestigious universities and walkable downtown; all make Philadelphia the perfect city for your next great American adventure.
For the latest travel news and updates, food and drink journeys, restaurant features, and more, like us on Facebook or follow us on Instagram. Read more on Travel and Food Network