The sea is everything. It covers seven tenths of the terrestrial globe. Its breath is pure and healthy. It is an immense desert, where man is never lonely, for he feels life stirring on all sides. The sea is only the embodiment of a supernatural and wonderful existence. It is nothing but love and emotion; it is the `Living Infinite,′ as one of your poets has said. Capt. Nemo in 20000 Leagues under the Sea by Jules Verne
Some call Space the final frontier, to landlubbers like me, the sea is the final frontier – pristine, mysterious and alive. I have always been fascinated by tales of the sea be they stories of contests between men and sea giants like Moby Dick or the story of the Megadon, the giant pre-historic shark or legends of lost cities. For most of my childhood and adult life the sea was mostly an accessory to a fine beach or a fun traverse on a speed boat or a leisurely ride on a cruise liner.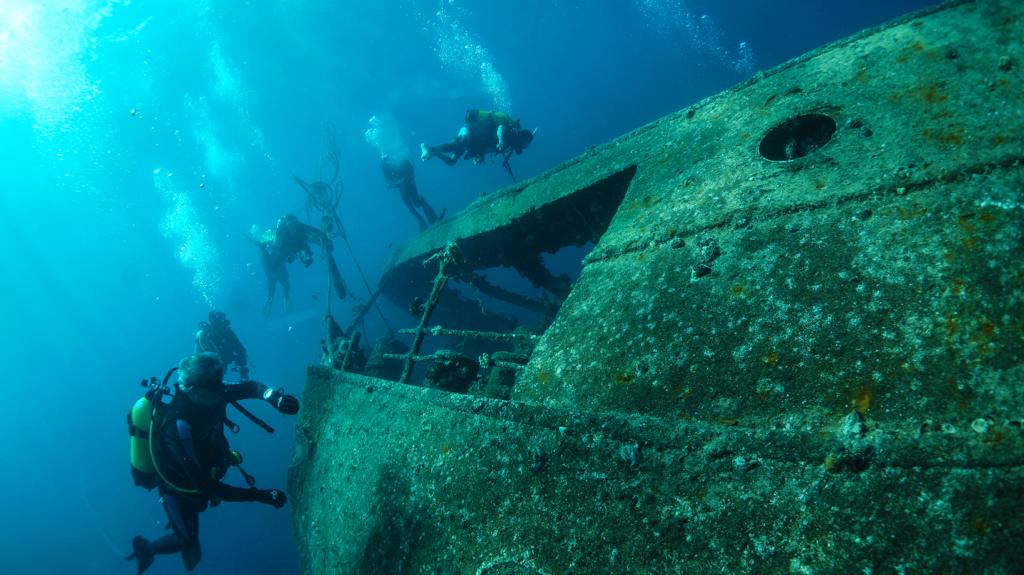 Oftentimes when traveling over the calm mirrored surface of the ocean, I used to try and imagine what wonders or sea monsters were lurking beneath. Of course, I had some idea thanks to many hours spent watching Discovery and Nat Geo but nothing really prepares you for a face – to – face encounter with the denizens of the deep, where you are simply an awestruck land lubber, clumsy and noisy.
My affair with exploring deep is thanks to the persuasion by a dear diver friend who had me signed up for an open water certification in Kavratti, a part of the Lakshwadeep group of islands off the West coast of India.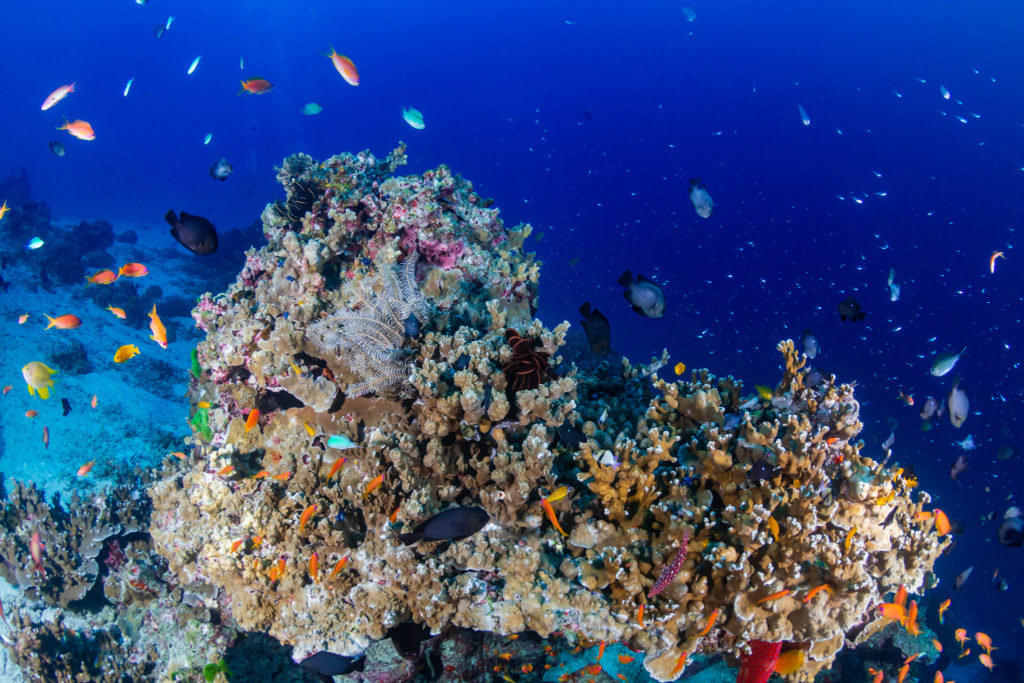 The four-day program is a blend of practical training and book study. In the beginning underwater training can be a trifle disorienting, imagine breathing through the mouth through a breathing apparatus, at the same time trying to stay submerged without floating to the top or getting used the diving mask that keeps getting fogged up. The air tank mounted on your back adds to the overall clumsy feeling. Trying to stay focussed during skills training while colourful lagoon fish are swimming by is yet another challenge. But like all new skills time and persistence are the key to warming up to the new environment.
You can normally choose between two courses a PADI (Acronym for Professional Association of Dive Instructors) Open Water Program or the SSI (Scuba School International) OW certification. Both are quite similar and equally widely accepted worldwide.
Soon after certification, I was jumping into the deep with carefree gusto. I still recall the sheer adrenalin rush seeing a real-life reef shark shooting past us into the blue on my very first dive. The immense joy of watching a turtle unhurriedly swim by is indescribable.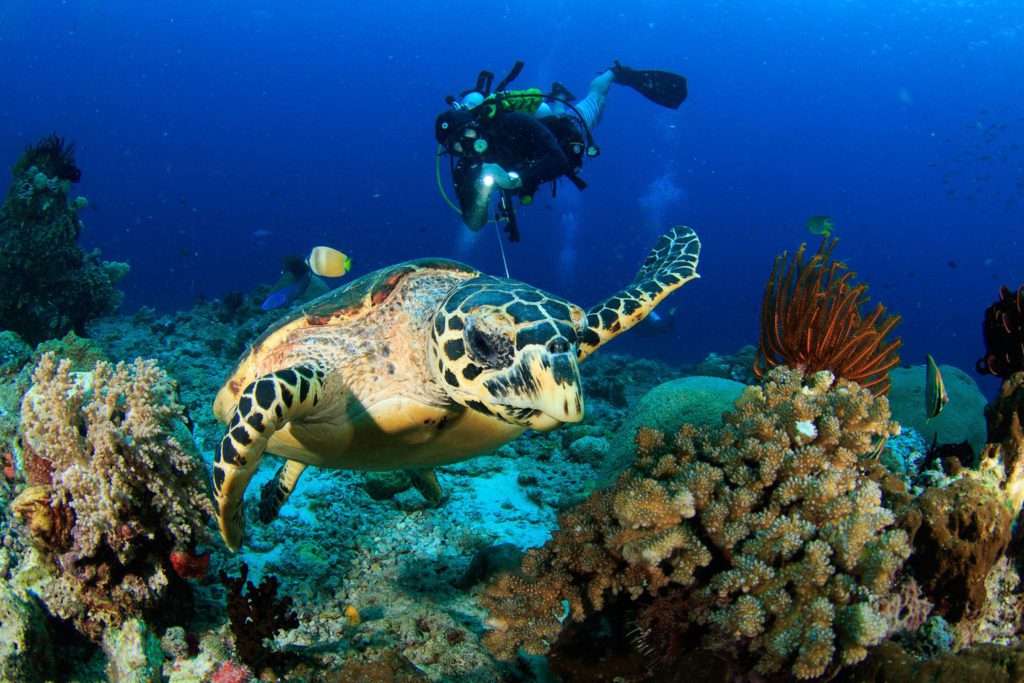 I have returned to Lakshwadeep several times to enjoy the crystal clear waters and the outstanding marine life, sharks, rays, turtles, jacks and rainbow runners and hundreds of other type of fish. Perhaps the best diving in India is here.
Over the last decade or so as my confidence grew, I have ventured to other parts of the world to experience marine life in different environments with varying conditions, some of them very challenging. But greater the challenge greater the reward, for it is only when you dive in currents that you encounter some of the most amazing sightings. By now I have been fortunate to see over 20 varieties of Sharks from the tiny bamboo shark to the deadly tiger sharks and the gentle giants – the whale sharks, large number of Rays including the fascinating Manta Rays, some really huge groupers not to leave out stunning microscopic creatures like pygmy sea horses and nudibranchs. Video Courtesy : Digant Desai/Satyajit Mane/Shailen Sohini
The unforgettable octopus, the shy lobsters, the most amazing bump head parrot fishes that can grow up to 4 feet long, who batter the coral with their heads and feed on the broken bits with their parrotlike beaks, or sleek and fast, torpedo shaped tuna, giant sea fans, playful dolphins of numerous varieties, colourful corals….oh I can go on and on.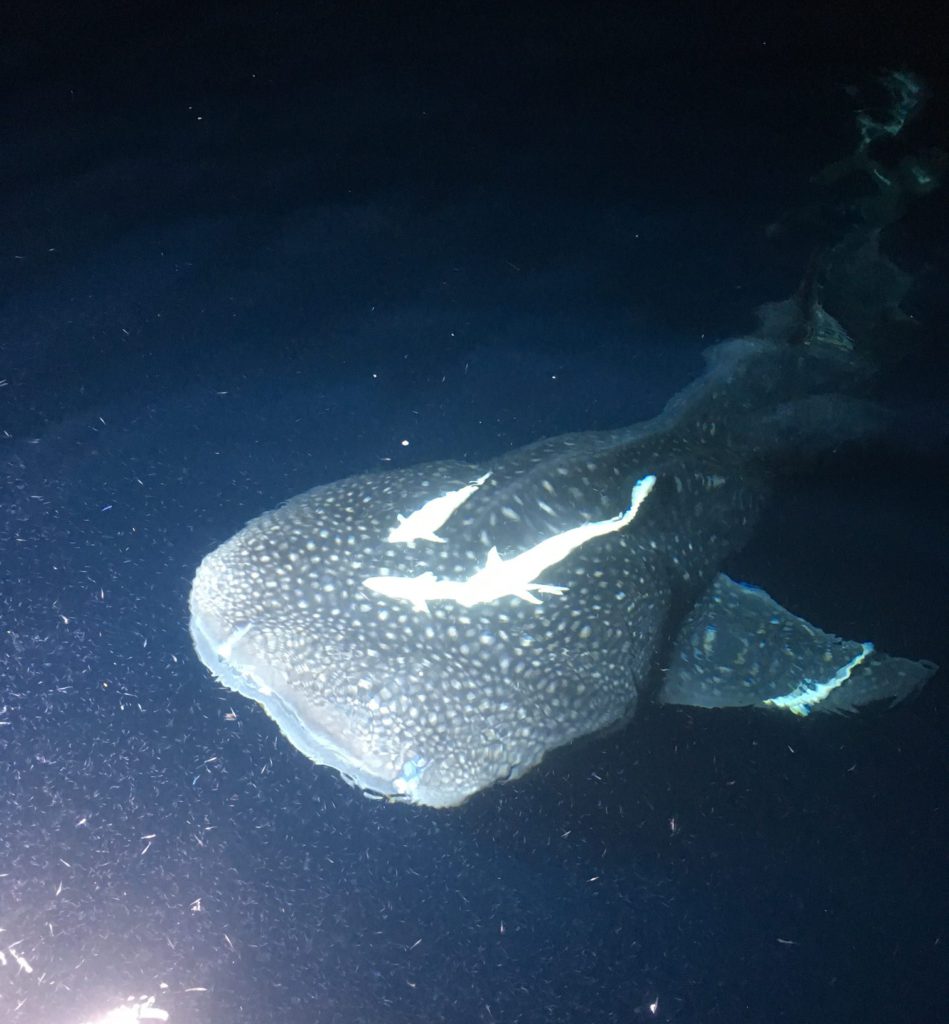 While scuba diving can be undertaken from the shore, my most favourite method is to sign up on a Liveaboard to travel from dive site to dive site without touching the shore for several days. This is a more intense multiple dive experience like no other.
Liveaboards literally stand for boats you 'live in', these are usually specially designed Yachts or catamarans. The most common format is a 40 to 50 metre yacht with around 10 to 12 twin cabins some with en-suite bathrooms, some without, to accommodate 20 to 25 divers. The boat usually is divided into several sections like the cabins, a galley, a dining area, a lounge, sundeck and of course a diving deck to accommodate divers gear and air tanks. Most boats have a complement of two zodiacs for ferrying divers to and fro various dive locations. All liveaboards have a crew of professional dive guides to accompany the divers to various dive locations. These men and women are highly experienced divers with a good knowledge of local dive sites and diving conditions. They are perhaps the friendliest and chilled out people on land but once in the water they are absolute professionals guarding their flock from unseen dangers and guiding them around the dive sites.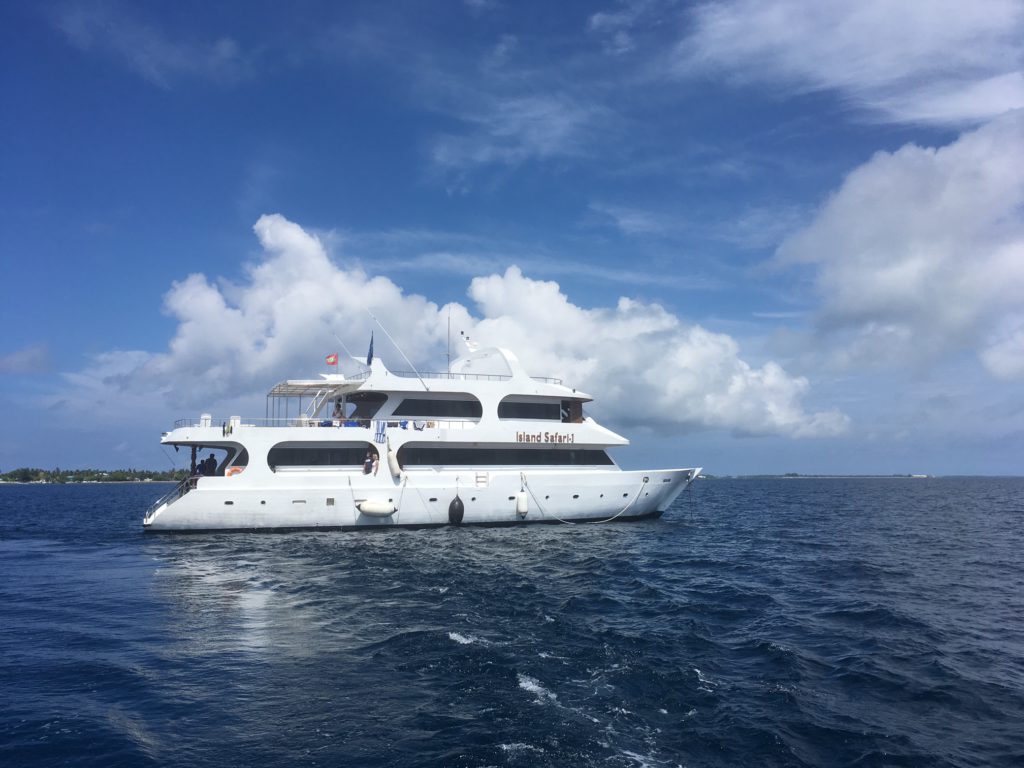 A typical day in a liveaboard starts early with a cup of tea or coffee or a juice mostly self- service. You can choose to sip your beverage in the lounge or the deck taking in the spectacular sunrises or enjoy the gambolling of passing dolphins if you are lucky. This is followed by a briefing session by the dive guides and the grouping of divers for each zodiac. The basic rule of recreational scuba is that you always dive with your buddy. You and your buddy need to be within eyeshot of each other to assist in case of any emergency underwater. The briefing will typically cover the geography of the dive site, the conditions to expect like currents etc., the dive plan and the kind of marine life usually seen around the site and any other relevant safety information.Video Courtesy : Digant Desai/Satyajit Mane/Shailen Sohini
The first dive is usually early because most liveaboards offer three to four dives a day, after each dive a surface interval is mandatory to flush out the accumulated nitrogen. After the first dive it's time for hearty breakfast because each dive can burn up to 300 to 400 calories in 45 mins.
Depending on the part of the world you are in breakfast will always include a local dish along with the other staples like cereal, eggs, sausages/bacon, toasts, and fruits. After breakfast it's time to chill, sip coffee, chat with your buddies, set your camera and so on.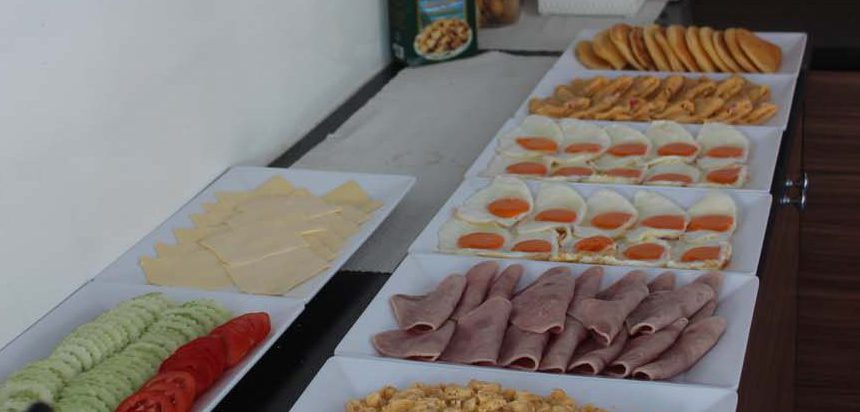 The next dive follows usually after an hour or hour and half, then lunch. After lunch a couple of hours rest and the again off into the blue.
Some days there is a fourth late afternoon or early evening dive or a night dive if there is a shallow area or lagoon in the vicinity. Night dives are very different from day time dives, for one, each diver must carry a torch or even two, the group must stick tightly together and submerge and surface at the same time, all important safety precautions. At night because of the different spectrum given out by torch light, the colours look richer than daytime. At night you are even more vulnerable because it is at night that the predators hunt that gives night dives a thrilling edge.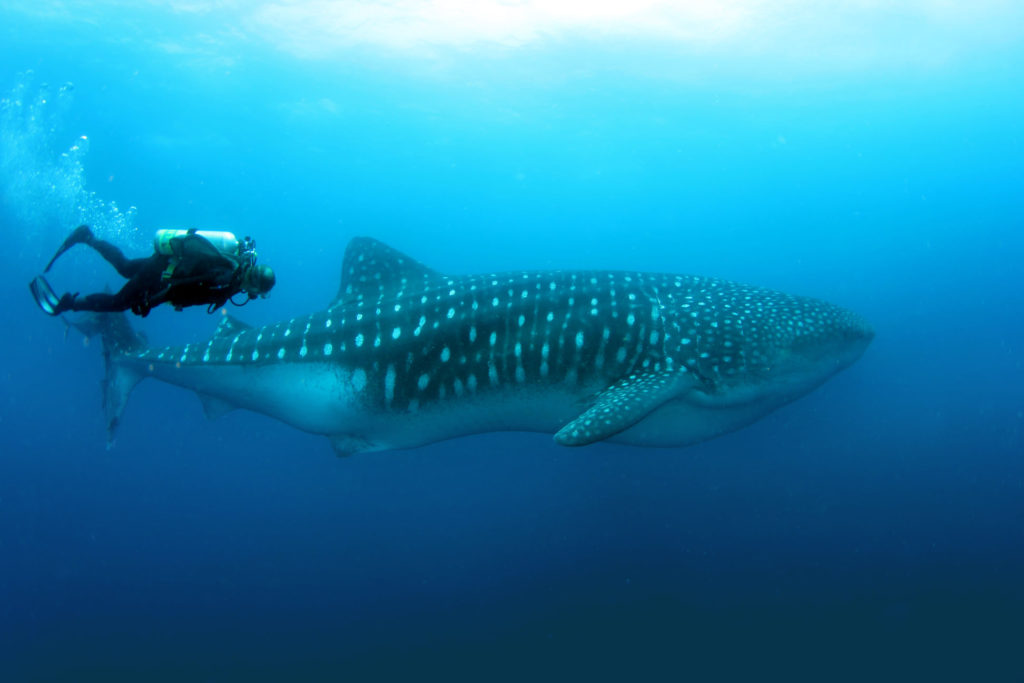 Night times are for dinner, with perhaps a beer or two at best, so as to maintain alertness the next day. Sometimes nights by the deck can be as exciting as diving, for instance during my liveaboard in California's Channel Islands there was a daily night time contest between hunting seals and flying fish, a high-speed contest peppered by spectacular mid-air leaps by seals to catch them mid – flight. Or in Maldives you are sometimes treated to Whale Sharks coming up to your boat to feed on plankton, just inches away from the edge of the boat – mind blowing to say the least.
The food on most liveaboards is invariably excellent because when your main activity is to dive, eat and sleep and every meal after a dive is something to look forward to the food had better be good. The Galley chefs are accustomed to serving a diverse bunch of customers hence their menus are designed to please most palates and they usually do a great job.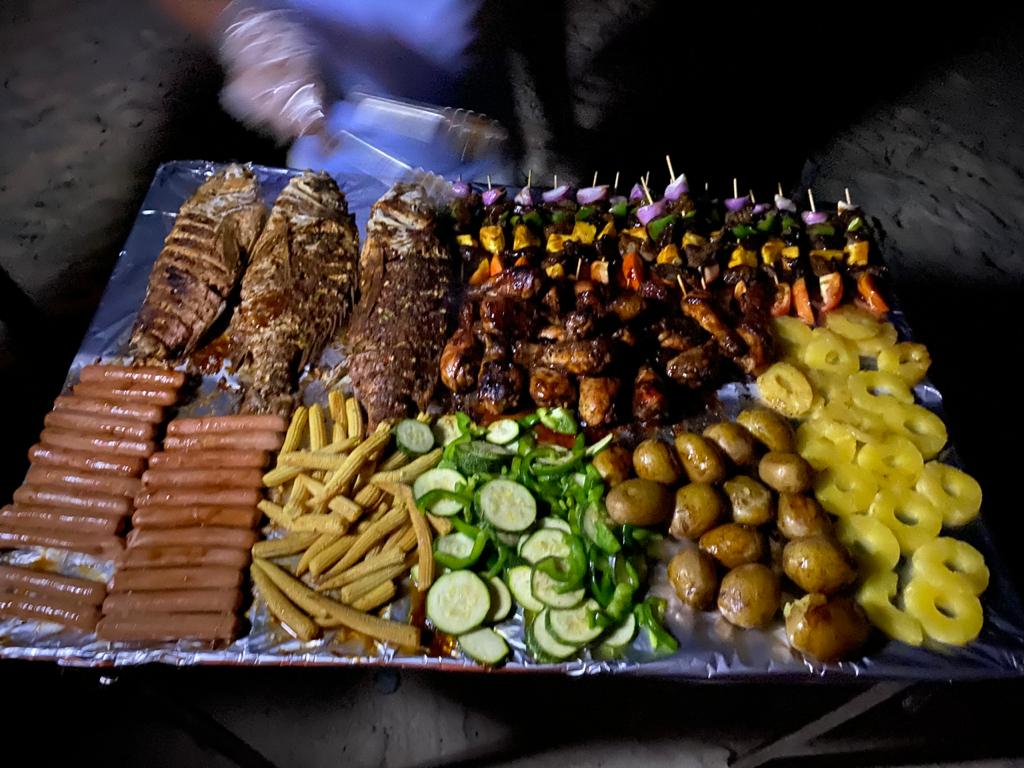 Most boat crew are also excellent line fishermen and many meals are usually accompanied by freshly caught fish, in addition to other meat and vegetarian dishes. Towards the end of the trip it is customary to have a barbeque night with assorted sea food and vegetarian dishes for the vegetarian customers. These are either on the sun deck or if possible on a remote uninhabited atoll or small island.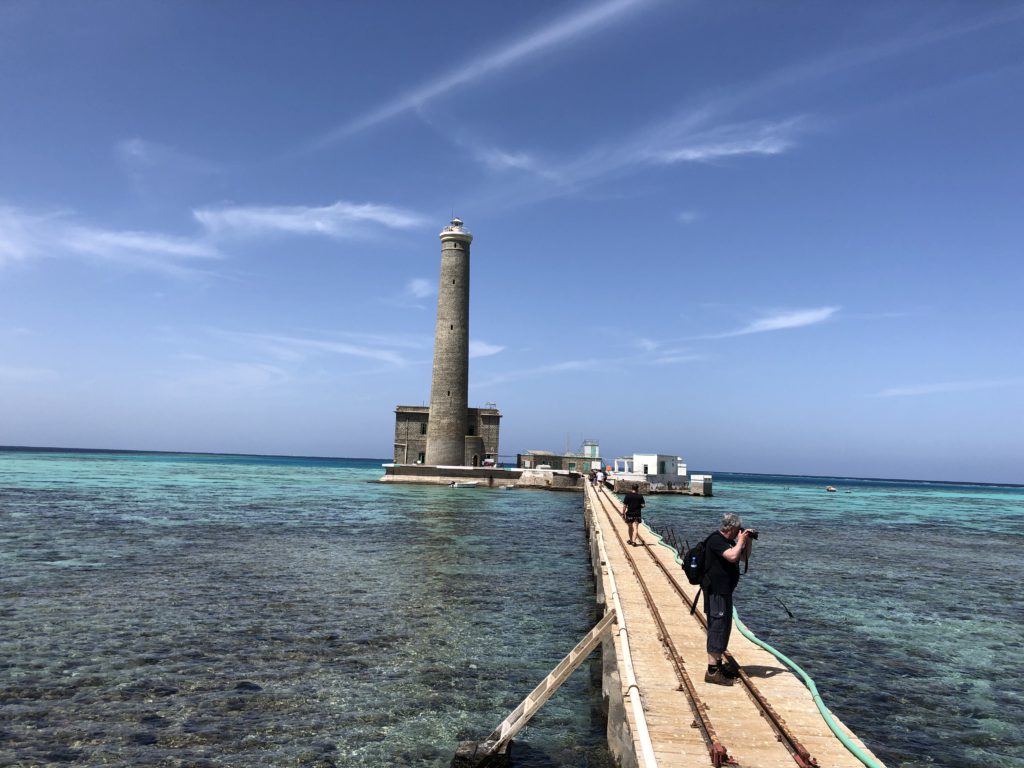 For someone wanting to do a digital detox there is no better alternative to a liveaboard, far from madding crowds, without regular wi-fi or mobile networks. Most dive trips also have a half day land excursion to visit a lighthouse or a small island village or to swim in a lake with benign jelly fish and if you are lucky as we were, to swim amidst a pod of dolphins.
Best of all, scuba is a sport that can be enjoyed by almost all ages from teenagers to older gents like myself. All you need is a 'can do' attitude and general good health and ability to swim 200 metres.
For those interested in scuba diving in India, here is some more information:
Certification: There are now plenty of dive schools that offer PADI and SSI certification in India. Based on personal experience here are the dive centres that I recommend: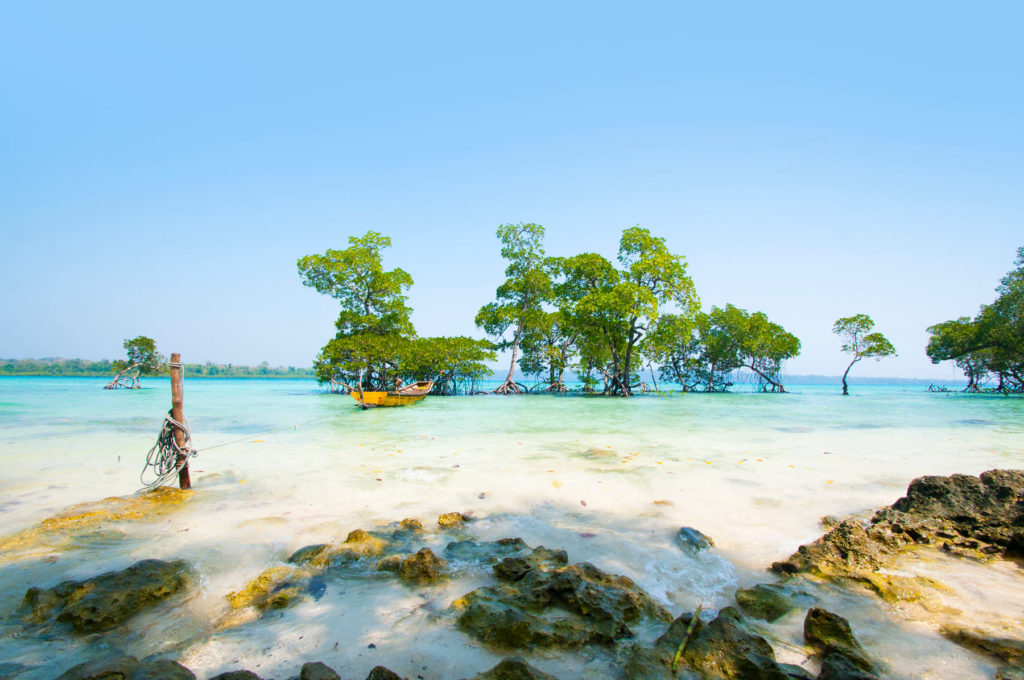 Additionally, there are others like Temple Divers based out of Chennai, Absolute Scuba based out of Pune that have a good reputation but I have no personal experience. Many more dive centres that have opened up recently thanks to growing interest in scuba as a sport.
Costs:

The cost of a 4 day open water certification is approximately between Rs 26,000 to Rs 30,000 including study material, pool and open water training and equipment rental
A two-day Advanced Open Water Certification is an additional approx.22,000.
For those who are unsure about doing the course or just keen to experience the underwater can try other introductory experiences on offer, these can be a single tandem dive with an instructor or a half day experience depending on the dive centre, costs are usually posted on their websites.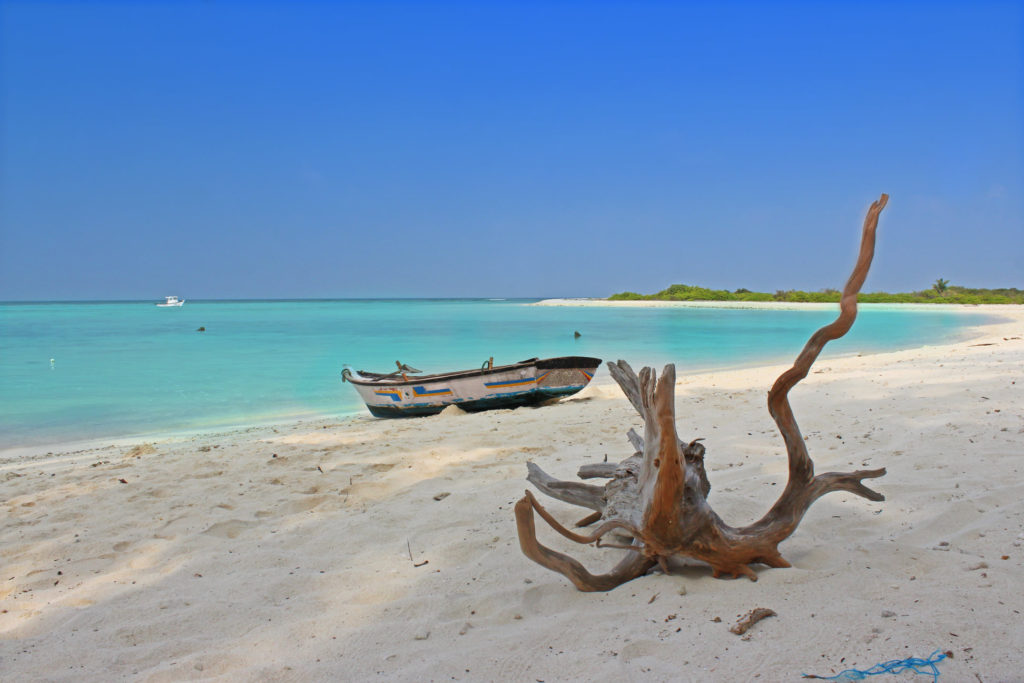 Places to Dive in India

Goa
Murudeshwar off Netrani Island
Lakshwadeep – Kavaratti, Kadmat, Agatti, Bangaram islands
Andaman and Nicobar – Havelock Island, Neil Island and Port Blair (Chidyatapu)
Diving in Lakshwadeep and Andamans is excellent but are quite distant from major cities involving multiple stops, Netrani (Murudeshwar) has excellent visibility and good marine life but limited dive sites, but it's great for a day or two, best part is it is within a few hours distance from Goa and Mangalore and overnight from Mumbai. In Goa conditions vary but it's usually murky with limited visibility. Recently new dive locations have opened up around Udipi, Ratnagiri and the east coast from Chennai and Pondicherry but as per reports the visibility and marine life are not as rich and diverse as the Andamans and Lakshwadeep.
Equipment:
All dive centres offer equipment on rent and costs a few thousand rupees for about 5 days diving. Those wishing to invest in their own after certification can budget around Rs.150,000 for a decent complete set.
Travel Update : Please note that there could be travel restrictions because of the ongoing pandemic. Before travelling, please always check the latest government advice about COVID-19 travel restrictions in your destination.
For latest travel news and updates, food and drink journeys, restaurant features, and more, like us on Facebook or follow us on Instagram. Read more on Travel and Food Network
Trending Now : TFN 2021 Guides
A Week Along The Mesmerizing Amalfi Coast | Travel Guide 2021
48 Hours In Prague And 10 Tips To Make The Most Of It | 2021 Travel Guide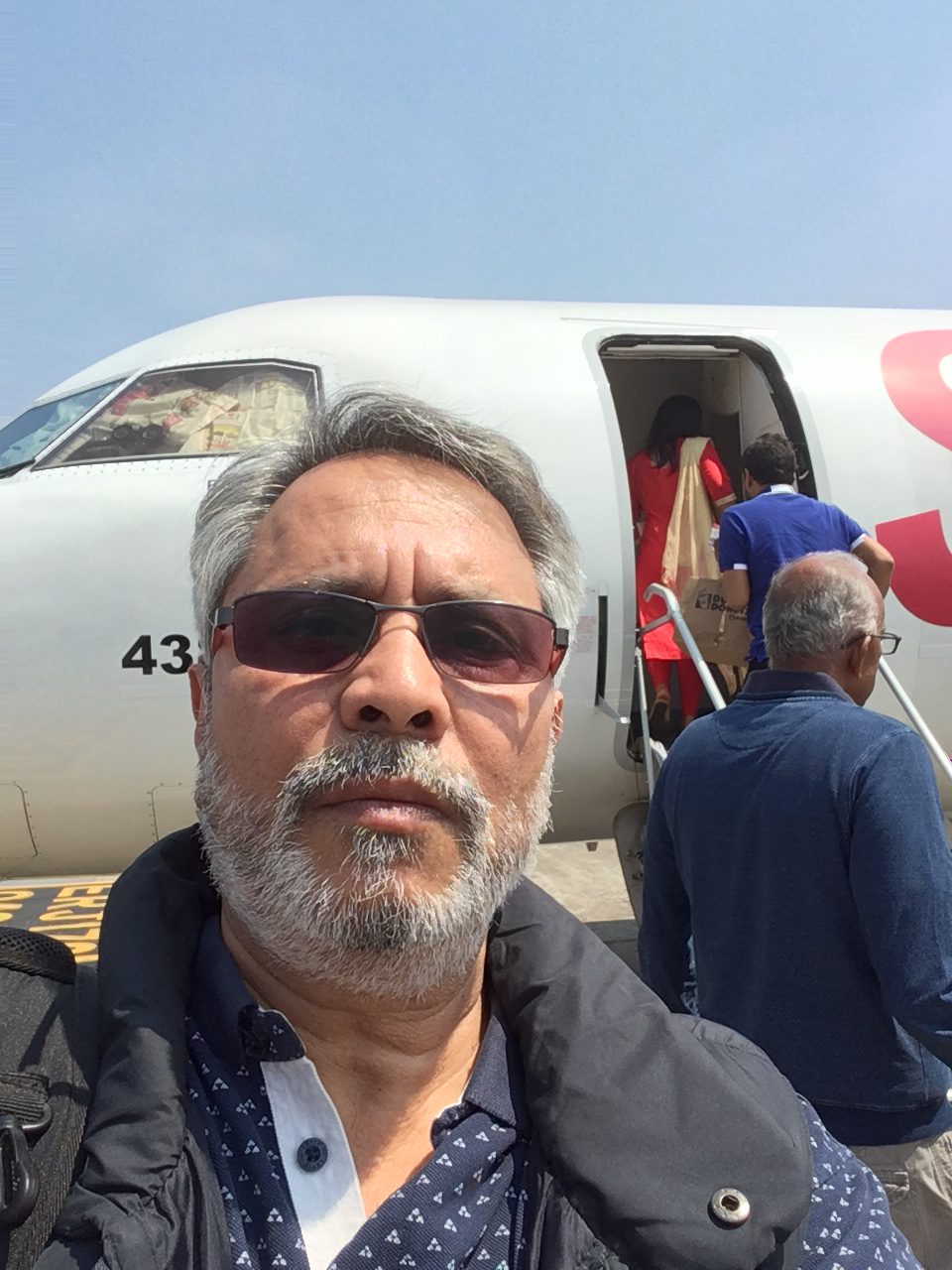 Seasoned Marketeer and Advertising professional with a track record of launching and building powerful brands that are today household names like Venkys chicken, Futura pressure cookers and cookware, Dr. Fixit and most recently Polycab. He has also worked closely on brands like Raymond and VISA. He however, started his career as a management trainee with ITC hotels with stints in the Maurya Kitchens, and F&B at Chola Sheraton and Searock Sheraton. Before turning independent consultant in 2017, he was COO at the advertising firm RKSWAMY BBDO. In all the intervening years he has never lost his passion for food and cooking. Extensive travel in India and overseas has only helped in expanding his foodie horizons. After lockdown Shailen hopes to get back to his other passion Scuba Diving while continuing to share his foodie experiences on this network.