The much-anticipated Top Gun: Maverick finally hit the theatres earlier this week, and critics are already raving about the belated sequel. Tom Cruise reprised his role as naval aviator Pete "Maverick" Mitchell, 36 years after the original film was released.
Whilst most of the new movie's most spectacular moments were captured in the cockpits of the fighter jets, the crew also travelled to some remarkable locations in California and Nevada to make the film about the United States Air Force as authentic as possible.
Road tripping through the Top Gun: Maverick filming locations in Nevada
Mention Nevada and the neon-lit "Welcome to Fabulous Las Vegas" sign flashes in everyone's mind, accompanied by a soundtrack of clinking of slot machines. But Las Vegas is more than a collection of city-sized casinos, and Nevada is a lot more than Las Vegas. In fact, most of the filming for Top Gun: Maverick was done in North Nevada about 8 hours from Las Vegas.
However, like most of us if your first stop in Nevada is Las Vegas, then a great way to discover the rest of the state and to visit the filming locations for Top Gun: Maverick is to embark on a road trip. Splurge on a nice car instead of booking the cheapest option, because the highways are great to drive on. You needn't spend on a GPS though; Google Maps works really well and that a data connection on your smartphone is all you really need to find your way.
Drive north from Las Vegas on US-95 towards Amargosa Valley. Then turn left on NV-373 driving just across the border into California to Furnace Creek, the entrance to Death Valley National Park. The 190-kilometre drive from Las Vegas International Airport to Furnace Creek will take you just a little over two hours. Apart from a few aerial shots that were filmed there, Dealth Valley National Park also served as Tatooine, the desert home of the Skywalkers, old Ben Kenobi and other characters in two films in the original "Star Wars" trilogy.
Straddling Nevada and California, Death Valley is the hottest and driest park in the United States. At the height of summer, temperatures regularly hit 50°C. But don't let that deter you. For rest of the year, and before 10 a.m. during summers, this national park is a great place to explore. It has a dramatic landscape, made up of sand dunes, salt flats, valleys, sweeping canyons, and mountains. Plan your trip with the assistance of the very helpful staff at the Furnace Creek Visitors Centre. The park is open 24 hours all year round, and the Visitors Centre is open from 8 a.m. to 5 p.m.
Where to Eat When Visiting Death Valley National Park: There are various restaurants in and around Death Valley offering cold beers and hearty meals to the desert travelers. Pick from Badwater Saloon where diners can sip prickly pear-infused margaritas and eat goat cheese-stuffed dates, pulled pork quesadillas with lime crema and burgers topped with chili; The 19th Hole, a seasonal outdoor restaurant serving burgers, beers; Coffee and Cream serving salads, wraps, wings, pizza, and a few barbecue items; and The 1849 Restaurant offering breakfast staples — baked goods, eggs, and bacon — and a salad bar and carving station in the evening.
After visiting the Death Valley, head back to US-95 via NV-374, and continue to El Dorado County. The mountainous terrains that feature in the movie showcase the untapped natural splendor of El Dorado County. The cast and crew also charted the El Dorado National Forest for the location where they stage the mountain aircraft. From El Dorado county, follow Hazel Valley Rd to US-50 E to reach Zephyr Cove in Lake Tahoe. The views along this road are stunning, with the Sierra Nevada Mountain range to the west, and the distinctive desert scenery of dunes and canyons that epitomizes most of Nevada to the east.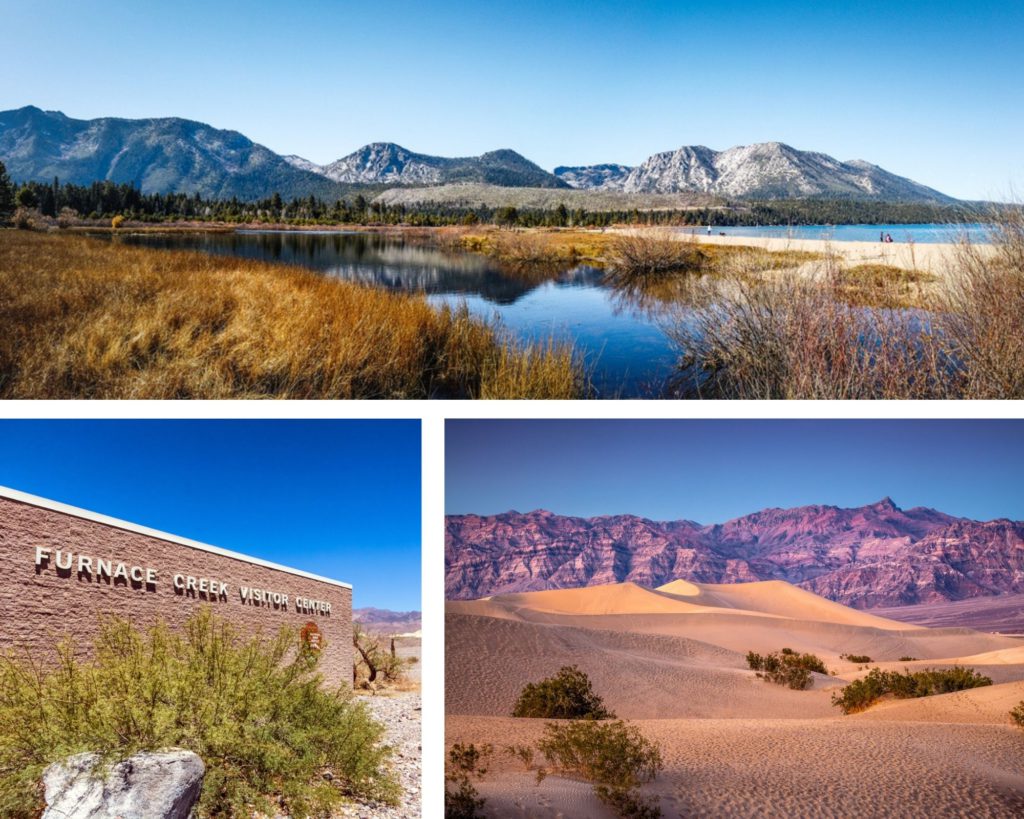 In Top Gun: Maverick, Lake Tahoe is the centre of the film's exciting climax, becoming the location of a frenetic chase sequence that utilises the area's endless forests and beautiful azure lake. Filming in winter, Cruise and the rest of the crew used Lake Tahoe and the surrounding Sierra Nevada Mountains to film a pivotal action scene in the snow. Although a relatively small state park, the unique makeup of the location made it the perfect, compact place to capture the intricate and agile movements of a fighter jet at top speed.
Look at a map and you'll see that Lake Tahoe is shaped almost like an egg, with a border between California and Nevada that runs north to south, neatly dividing it longitudinally. Zephyr Cove is on the eastern, Nevada side of Lake Tahoe and an ideal base to explore the region. Park the car here for a day or two, as you go on long walks around the lake or take a cruise on a retro paddleboat steamer. Take a ride on the gondola at the Heavenly Ski Resort that takes visitors up the mountain for fantastic views of Lake Tahoe. There are also great trails to hike and bike during summer, and ski and snowboard during winter.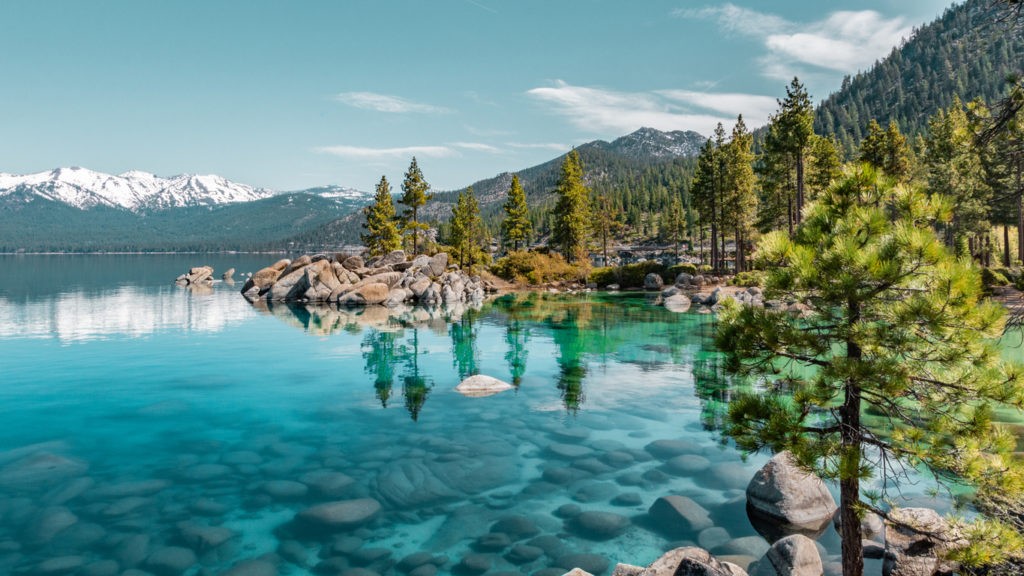 Where to Eat When Visiting Lake Tahoe: For Tahoe visitors and locals alike, the friendly towns encompassing the lake offer plenty of year-round dining and drinking options on and off the numerous resorts. Pick from Fire Sign Café serving lemony hollandaise on the eggs Benedict to the coffee cake and their specialty – the Challah French toast; Alibi Ale Works a brewery and barrel house, based on the north shore of Lake Tahoe experiments with all varieties of beer, made with water right from that gorgeous lake and serving pub food like candied bacon, local sausages and all kinds of sandwiches and salads; Sunnyside Restaurant & Lodge, a favourite with visitors, known for their quality burgers to fresh fish and even elk strip loin, and Bistro Edgewood serving up the best juicy pork chops, grilled salmon, slow-braised pork belly with a sweet-and-savory beer and maple glaze and apple crumble
Continue the road trip, heading northeast on US-50, famously also known as "the loneliest road in America." But that's only beyond Carson City, Nevada's capital. The stretch you'll drive, from Lake Tahoe to Carson City, is a delight with its soul-soothing views of the deep blue lake and a fair share of thrilling twisties. The capital is a great place to spend a couple of days, especially if you want to learn the history of how the west was settled. Much of it was motivated by the search for precious gold and silver. The most visible dome in the city is that of the Nevada State Capitol, which has guided tours daily for visitors. Some of the most interesting museums are Nevada State Museum, which is a great introduction to the state's natural and cultural heritage, and the Nevada State Railroad Museum, which has some lovely own trains and engines on display.
Where to Eat When Visiting Carson City: From Thai to Basque to Mediterranean delicacies, there are several culinary gems waiting to be discovered at the state capital. Choose from The Basil for Thai food – a must try is their deep-fried blue soft shell crab with thick pasty slushie curry and asparagus; The Grille for chicken fried steak, homemade pot roast, or country pork chops; and The Fox Brewpub for traditional English favorites such as Fish'n' Chips and Cottage Pie and classic English beers.
Head north to Reno, the next stop on the Nevada road trip. It's a 56-kilometre drive along the I-580 and takes less than an hour. If you're interested in cars, then a treat awaits you here. The National Automobile Museum has four large galleries filled with beauties can make just about anyone drool. The vintage beauties are polished to a gleam. There are also some popular cars that belonged to famous people, like Frank Sinatra's 1961 Ghia, the 1907 Thomas Flyer that won the 1908 New York to Paris Auto Race, and Elvis Presley's 1973 Cadillac Eldorado. Another defining moment in Reno will be a meal at the Atlantis Steakhouse. While most steakhouses offer stylish fine-dining, this one ups the game considerably.
Where to Eat When Visiting Reno: Much like Vegas, Reno boasts plenty of all-you-can-eat buffets and upscale steakhouses, but it also offers some unique local eateries serving farm-fresh dishes. If you're craving a nice steak dinner, head to Sterling's Seafood & Steakhouse or Atlantis Steakhouse. If you're in search of some healthy, light fare after too many steaks and buffets, head to vegan friendly Great Full Gardens. Another foodie area to consider exploring is the Midtown District – try Old Granite Street Eatery, a microbrewery (Brasserie Saint James) and a sophisticated speakeasy (Death and Taxes), among other lounges, eateries and coffee shops.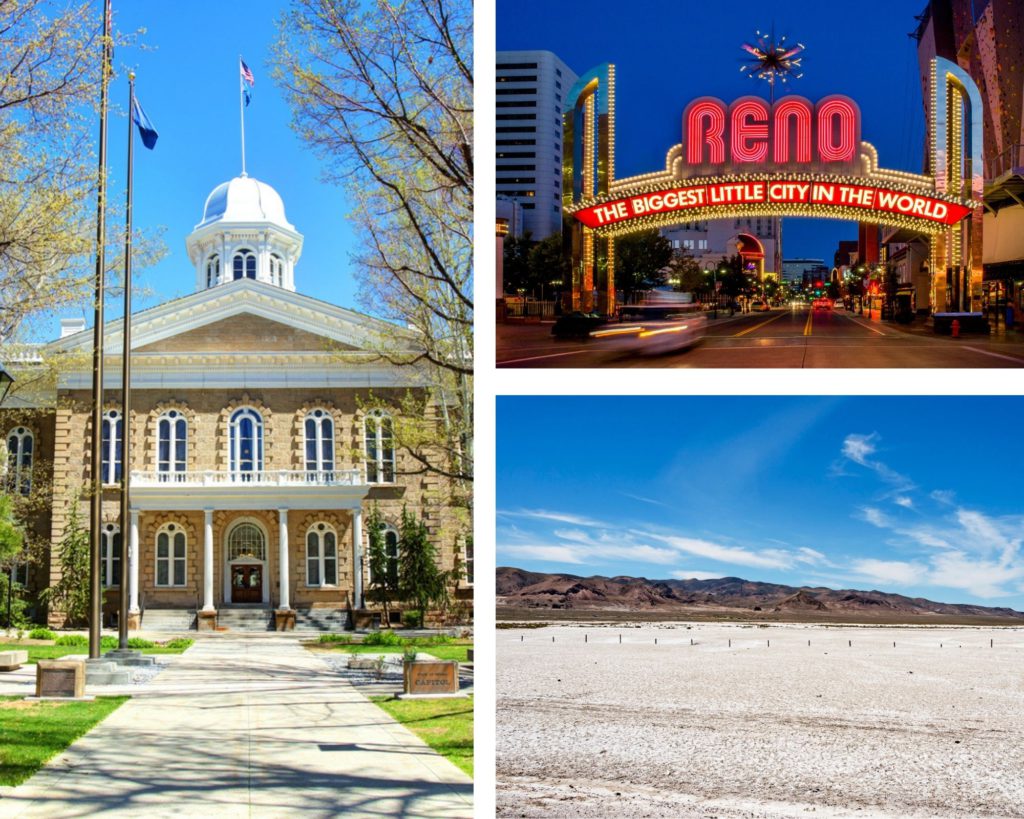 From Reno, make a day trip to US Naval Air Station Fallon, located an hour east of Reno. The main highways passing through the town are U.S. Highways 50 and 95. Both provide easy access to the air station. Simply follow the signs to NAS Fallon off the main roads. Interstate 80 is approximately 30 miles from Fallon and is accessible from either Highway 95 or Alternate 50. A majority of the aerial footage shown in Top Gun: Maverick was filmed at the US Naval Air Station Fallon in Nevada. Instead of using CGI to capture the remarkable manoeuvres of the fighter jets, much of the action was captured using ground-mounted cameras that tracked the high-flying displays with remarkable accuracy.
Where to Eat When Visiting US Naval Air Station Fallon: Nevada's signature flavors can be found at restaurants, fast food joints, and other eateries on and around the air station. Pick from Take Five Bistro & Bar to enjoy breakfast burritos, burgers, hot dogs, sandwiches, salads; Cold Springs Station Resort for breakfast basics, burgers, sandwiches, salads, chicken and steak dishes, and other American fare; Jerry's restaurant for waffles and pancakes, chicken fried steak, burgers, pork chops, pot roast, and jumbo milkshakes; and Julio's where you can choose from Italian favorites like lasagna, manicotti, and fettuccine alfredo or Mexican favorites like burritos, enchiladas, flautas, and so much more. Wash it all down with wine or a margarita!
Finally, for a quick, fuss-free journey home, take the I-80 west to San Francisco via Sacramento for your flight out. The 450-kilometre drive takes about four hours, and it a soothing note to end the journey on.
Also Read: 72 Hours in San Francisco | Travel and Food Guide
Filming Locations Outside Nevada:
Naval Air Station, Lemoore
The Naval Air Station was used for scenes involving group meetings, formal dressing-downs and bust-ups from such personalities as Miles Teller's Bradley Bradshaw and Monica Barbaro's Natasha Trace.
San Diego, California
The team set up a shoot in the North Island Naval Air Station, an air station located at the north end of the Coronado peninsula on San Diego Bay. The early sun-soaked scenes depicting the return of Maverick were filmed here. The iconic beach football scene was filmed in Breakers Beach, a serene private military beach in the North Island neighborhood. Moreover, Breakers Beach stands in for the fictional bar called The Hard Deck, modelled around I Bar on Naval Air Station North Island. Some of the props used in the fictional Hard Deck bar are actually from are from the bar – whose history dates back to the 1930s.
Los Angeles, California
Some filming took place in the City of Angels, a vast modern metropolis in Los Angeles County. The crew seemingly visited a studio located in the city to record some sequences, possibly the Paramount Pictures Studio, at 5555 Melrose Avenue in Los Angeles.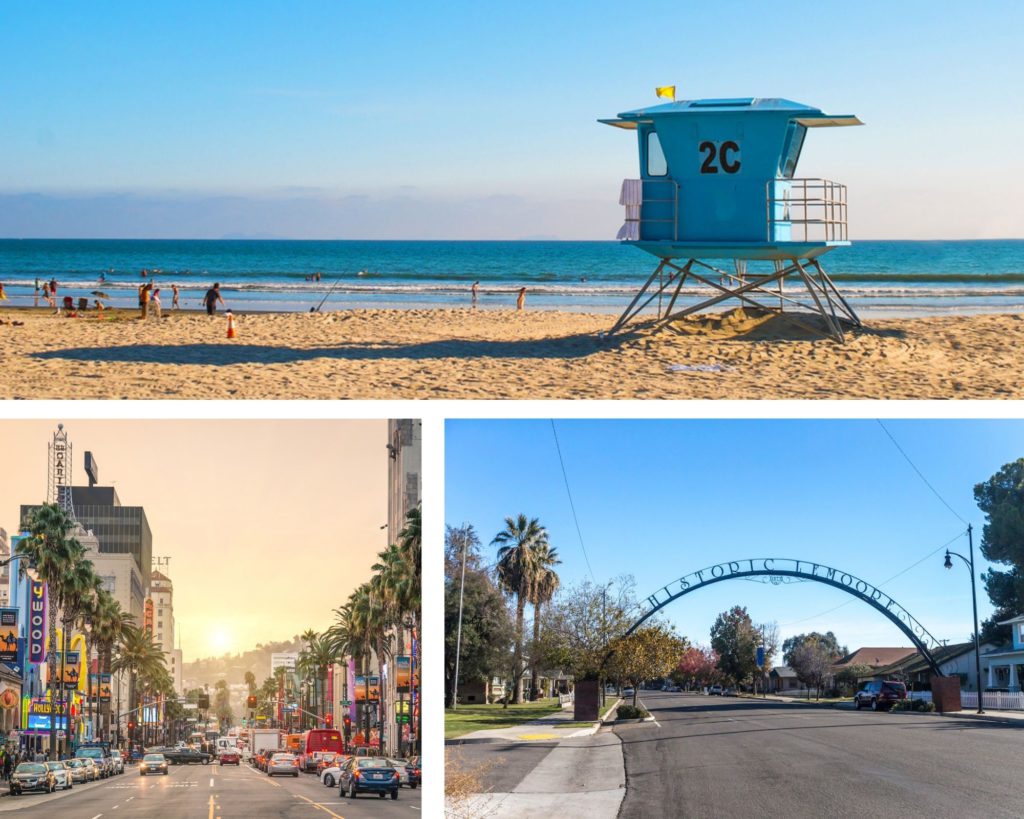 For the latest travel news and updates, food and drink journeys, restaurant features, and more, like us on Facebook or follow us on Instagram. Read more on Travel and Food Network
Trending on TFN
Food & Art: The Beating Pulse of Philadelphia
The 22 Best Places To Go In 2022
Explore Utah's Mighty 5® and What Lies in Between
Five Epic U.S. National Parks To Visit This Year