Barsana, the birthplace of Radha, Lord Krishna's beloved, attracts many visitors each year during Holi. Photo: istock/Tanusree Mitra
Holi is one of the widely celebrated festivals and is very popular with all age groups. This colorful festival symbolizes the triumph of good over evil and the start of the harvest season.  The festival typically involves a Holika Dahan on the first night and is followed by a festival of colors on the next day.
Here is a list of places where you can have fun at this joyful time in India:
From Delhi
Jaipur, Rajasthan
A major hotspot for celebrating Holi, the festival is marked by a big gala bash thrown by the royal family at the palace with the aim of raising funds for local charities. Tickets are available online but get sold pretty quickly so ensure you book them well in advance. The old Khasa Kothi Hotel is alive with celebrations held by the local tourism office with lively Traditional Rajsathani folk music along with civilized powder play.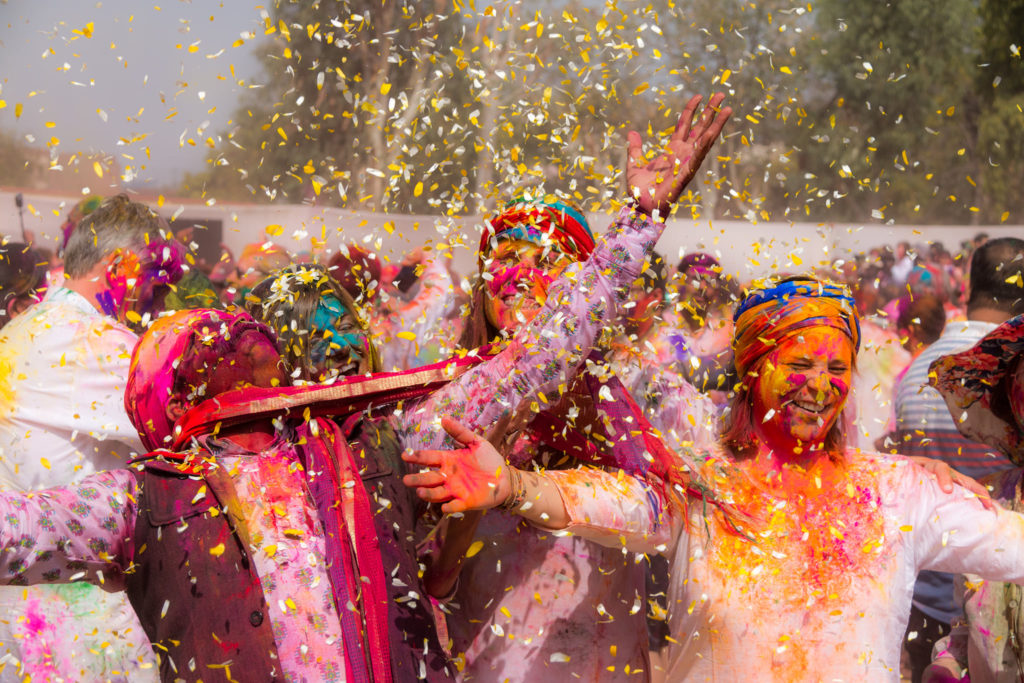 On the other end of town at the Govind Dev-ji Temple, in the City Palace, a more religious and devotional atmosphere is prevalent, with Krishna and Radha deities heaped with marigolds and joyous Holi bhajans (hymns) being sung.
Distance from Delhi: 282 km
How to reach: Jaipur and Delhi are well connected by all routes. So you can opt for a road trip of around 5 hours or if you want to reach faster, then catch a flight from Delhi to Jaipur Airport. You can also take a train from Delhi Cantonment which takes more or less time than the road trip.
Places to Visit/Things to do:
Watch Amber Fort Sound and Light show
Visit a museum: City Palace, Albert Hall, the Maharaja Sawai Museum, the Anokhi Museum and the Dolls Museum
Hike Up to Nahargarh Fort
Enjoy a camel ride
Visit the iconic tourist hotspots : Hawa Mahal, Jal Mahal (catch the sunset here)
Get a Taste of Rajasthani Culture and cuisine at Chokhi Dhani
Go on a food trail to savor some of the most popular dishes – Dal Baati Churma, Gatte ki Subzi, Laal Maans, Kachori and the famous Rajasthani Thali, which is a must try.
From Bangalore
Hampi, Karnataka
Although Holi is not as widely celebrated in South India, Hampi is one of the exceptions. As it is a UNESCO World Heritage site it has a large number of tourists and visitors, and Holi has become quite popular in Hampi. The celebration is marked by loud music and dance along with the traditional color throwing matches.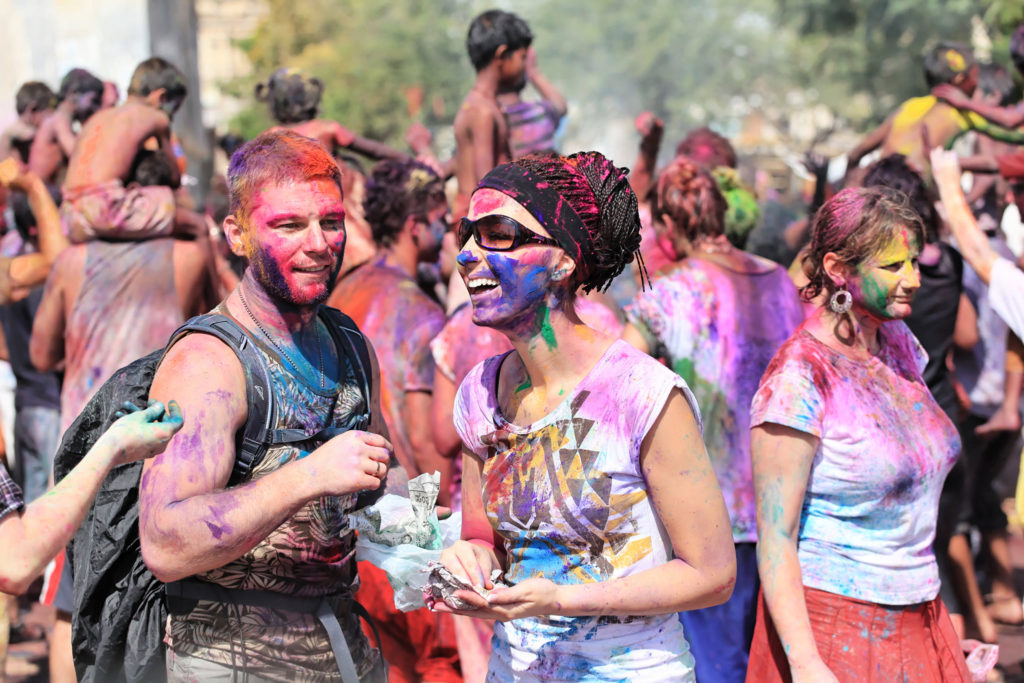 Celebrating Holi in this mystical city is something that you must definitely do if you are someone who loves to share experience and culture with people from around the world.
Distance from Bangalore: 342.2 km
How to get there: Hampi is a 6 hour drive from Bangalore. You can get a bus ticket to Hampi which takes around 6 to 7 hours. If you wish to travel by train then take a train to Harihar from where you can take a bus or car to Hampi. This trip takes 8 to 9 hours. The fastest way to reach Hampi is to take a flight to Hubli and then continue by road to Hampi from thereon.
Places to Visit/Things to do:
Visit the temples: Virupaksha Temple, Vithala Temple, Yantrodharaka Hanuman Temple, Lakshmi Narasimha Temple, Hemakuta Hill Temple Complex, Hazara Rama Temple and Achyutraya Temple.
Take part in an adventure activity like rock climbing, bike riding, cliff jumping,
Go shopping for souvenirs. The stone carvings by local artists are famous around here.
Pay homage to the rulers of the past: visit the King's Balance, Kamal Mahal, Mahanavami Dibba, Old Palace, Zenana Enclosure, The Elephant Stables, Queen's Bath and Lotus Palace.
Taste the authentic South Indian cuisine in local restaurants.
Try vegetarian thalis at Mango Tree and Suresh.
From Mumbai
Vrindavan, Uttar Pradesh
Vrindavan is the place where Krishna grew up in his childhood. The Holi celebrated here is the wildest, most colorful, and you can feel the energy in the air . With shields, sticks, colors and water cannons, celebrating Holi here is an experience of a lifetime. The Banke- Bihari Temple in Vrindavan hosts a week long Holi celebration. The idol of Bihariji (Krishna) is dressed up in white clothes and is brought closer to the devotees to play Holi.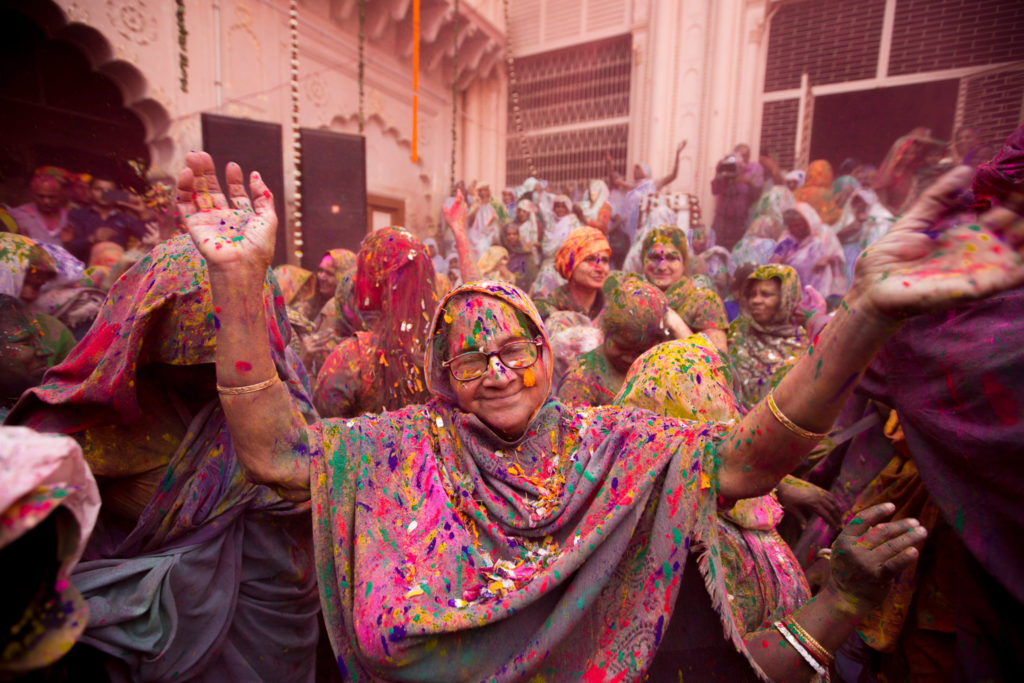 Holi here is played with colored water and organic powder (gulal). The temple priests sprinkle colors on everyone with buckets and water guns. Bhajans play in the background and people dance to the tunes. The atmosphere is overall joyful and lively.
Distance from Mumbai: 1417 km
How to reach: Catch a flight from Mumbai to Agra (Pandit Deen Dayal Upadhyaya Airport) which is the closest Airport to Vrindavan. From the airport you can take a cab or bus to cover the rest of the distance.
Places to Visit/Things to do:
Widow's Holi: An important ritual of Vrindavan Holi. Lathmar at Pagal Baba Widow Ashram in Vrindavan breaks the traditional convention that widows in India are not allowed to take part in Holi or wear colourful clothes.
Visit Kosi to take part in Holika Dahan.
Take a tour and sightsee in Mathura- the land of Krishna- and nearby villages.
Try local foods like pani puris, jalebi, lal pedas, aloo tikkis, kachoris, gulab jamuns, lassi and most of all thandai.
From Kolkata
Santiniketan, West Bengal
Santiniketan is an old university in West Bengal where the poet and Nobel Laurate, Rabindranath Tagore introduced Basant Utsav in order to relive and revive ancient tradition. Students dress in yellow colours, play with 'abeer' and put on a huge cultural event for the visitors. The celebration is pleasant and vibrant and attracts many visitors from around the globe.
This year, the celebrations will start from 16th of March 2022 and will run till 18th of March 2022.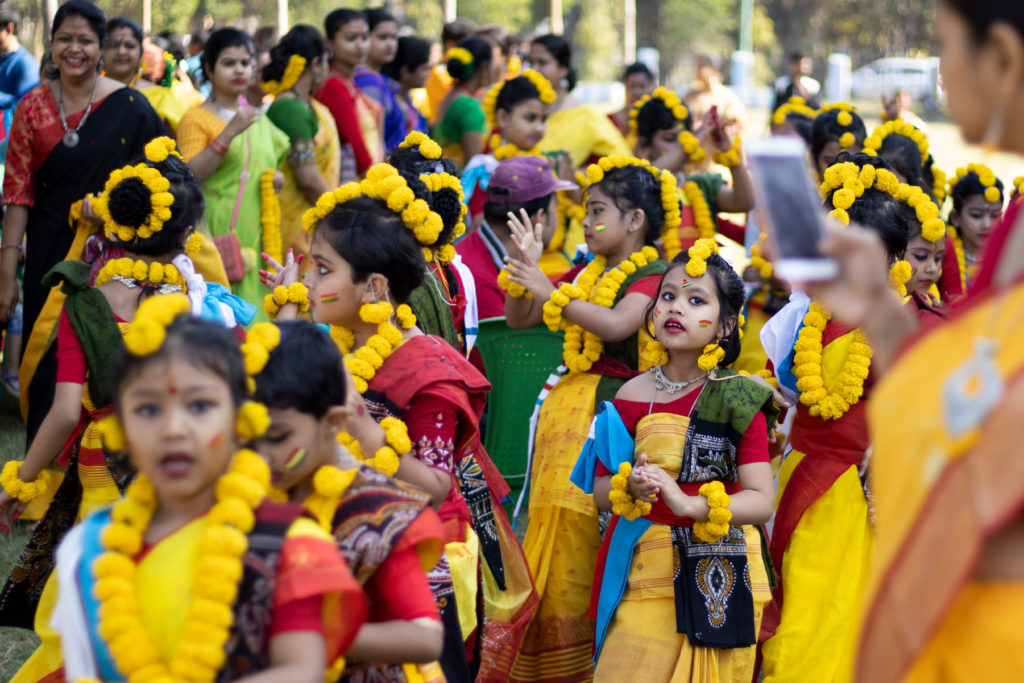 Distance from Kolkata: 163 km
How to reach: Take a train from Kolkata to Bolpur Station which is 2.8 km away, from there you can take a cab to Santiniketan.
Santiniketan is also easily accessible by road from Kolkata and you can reach within 2 to 3 hours.
Places to Visit/Things to do:
Visit Tagore's Ashrama
Satisfy your historical inquisitiveness by visiting the Rabindra Bhaban Museum
Enjoy Saturday's at Khoai Mela. The fair starts at 4 am and has a colourful variety of household items, handicrafts and clothes made by local artisans on sale.
Visit the Kanch Mandir, a building made of Belgian Glass and one of the most stunning architectures of the area.
With a variety of cuisines and dishes to offer, you can do a food trail in Santiniketan. A drink worth trying here is rice beer, which is popular here and not easy to find elsewhere.
For latest travel news and updates, food and drink journeys, restaurant features, and more, like us on Facebook or follow us on Instagram. Read more on Travel and Food Network
Trending on TFN
The 23 Best Places To Go In 2023
Explore Utah's Mighty 5® and What Lies in Between