Because it is time to say goodbye to summer and usher in the autumn season.
Long, sunny days and endless outdoor adventures, makes the summer months the most preferred vacation months. But we believe fall getaways are even better and definitely prettier with the weather playing hide and seek, with still some plenty warm days but with hints of that brisk autumnal air on the horizon in the evenings.
Here are our top picks for an early fall getaway.
Spiti Valley in Himachal Pradesh
Spiti Valley is known for its picturesque and breathtaking landscapes. It has stunning mountains and majestic rock structures which makes every corner a sight to behold! Spiti Valley is a perfect destination for a long weekend getaway for trekking enthusiasts (as it has a large number of trekking trails) and people who love exploring rocky terrains. Visiting Spiti is one-of-a-kind experience and is something that you must definitely consider for your next weekend getaway!
How to reach: The nearest airport to Spiti Valley is located in Bhuntar which is around 245 kms away from Spiti. The nearest international airport is the Chandigarh airport which is located around 522 kms away. There are buses that ply from New Delhi, Shimla, Pathankot, Chandigarh and the neighbouring areas to Spiti Valley on a regular basis. The nearest railway station is located in Chandigarh. From Chandigarh, you can easily board a bus to reach Spiti Valley.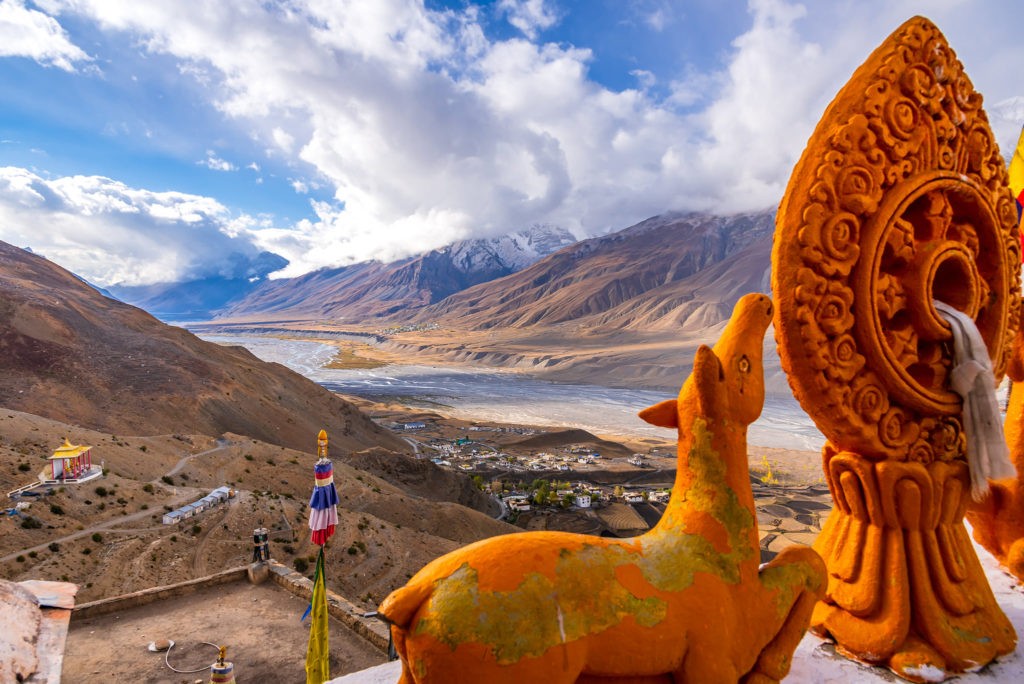 Things to do:
Camping by the Chandra Taal Lake which is located at an altitude of around 4300 metres is one of the experiences that you must definitely experience once in a lifetime. The sublime background consisting of the snowcapped mountains and the crescent-shaped Chandra Taal Lake makes for an incredible site for camping. While you snuggle in your tent, you can indulge in some stargazing at night for a surreal experience!
You can trek to Dhankar Lake from the Dhankar village in Spiti Valley. This trek would take you an hour to accomplish. It is one of the many trekking trails that you can explore in Spiti. You can also take a tour of the Dhankar Monastery and dive into the marvelous landscapes that Spiti has to offer!
Spiti Valley is a paradise for bikers despite the rocky terrain of this region. If you are a professional biker who loves adventure, the Baralacha Pass and the Kunzum Pass are the places for you!
You can also visit Suraj Taal, the third highest lake in India, which is around 31 kms away from Chandra Taal. It is a wonderful place for trekking and bike riding.
If you are a shopping enthusiast, you would love to take a tour of the Kaza Market that sells a range of handcrafted items, statues, artifacts and prayer flags for you to carry home.
What to eat: Do try out the butter tea, momos, thukpas, and thingmos!
Saputara in Gujarat
Located in the Dang district of Gujarat, Saputara is full of lush green surroundings that welcome a large number of visitors every year. It is a beautiful hill station located in the Western Ghats or the Sahyadris. This place has a range of sightseeing locations and it makes for a fulfilling weekend getaway destination amidst Nature.
How to reach: The closest international airport to Saputara is the Mumbai airport which is located around 245 kms away. This airport is connected to most of the major cities in the country. The nearest domestic airport is the Surat airport which is around 163 kms away from Saputara. There are several buses that ply from Mumbai, Pune and Gujarat. If you wish to take the railways, the Waghai railway station is the closest to Saputara and is around 50 kms away. You can also self-drive to Saputara or indulge in a road trip from the neighbouring areas such as Surat, Nashik, Mumbai, Vadodara and Ahmedabad.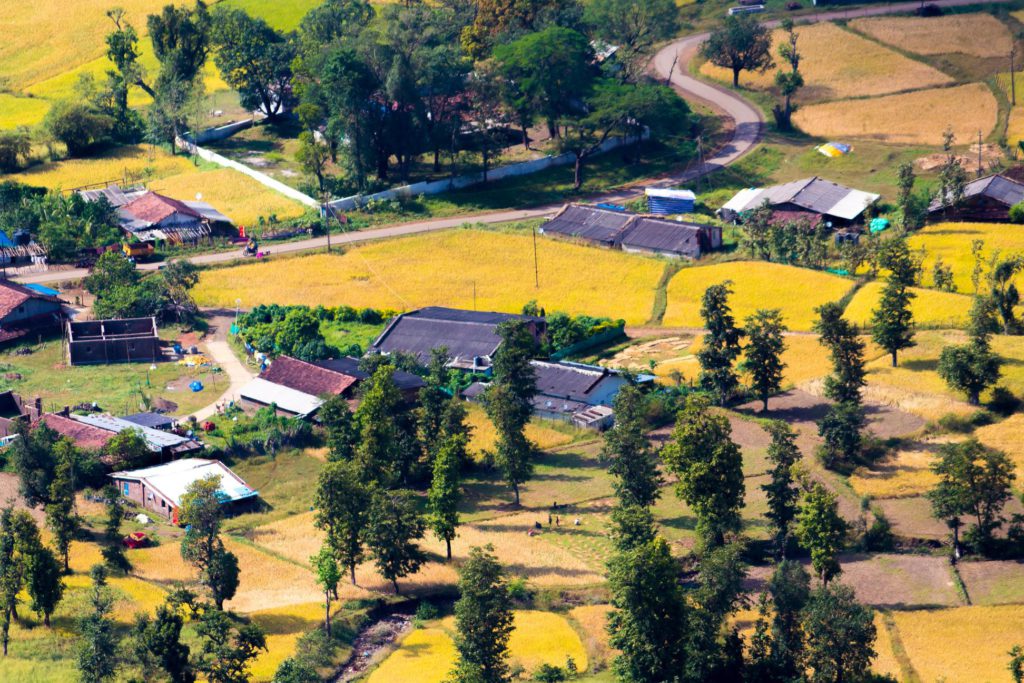 Things to do:
One of the places that you must explore in Saputara is the Hatgadh Fort which is around 5 kms away from Saputara. You can trek to the top of the Fort for a magnificent view of the valley as well as the reservoirs of the Ganga and Jamuna river.
If you are a trekking enthusiast, you would also love to visit the Sunrise Point in Saputara, also known as the Valley Viewpoint which is a peak that gives you a bird eye view of the entire region. As the name suggests, this place also gives you a breathtaking view of the sunrise early in the morning. It makes for a refreshing trek and a wonderful picnic spot that you can visit with your family and friends.
You can visit the Saputara Museum or the Saputara Tribal Museum which has a large collection of artifacts like clothes, ornaments, musical instruments and utensils which will gives you a glimpse of the tribal society and their lifestyle. As you visit the museum you can also stop by the Sunset Point, also known as Gandhi Shikhar, for a phenomenal view of the sunset.
You can visit the Vansda National Park which is located around 40 kms away from Saputara. This place is a home of a wide range of fauna such as Hanuman langur, Indian leopard, small Indian civet, Indian giant squirrel and many more. It has a deciduous forest which also nurtures a wide variety of flowering plants and orchids.
When in Saputara, you can also take a tour of the Artist Village which is not too far from the Saputara lake. Here you can indulge in workshops and dive into the world of bamboo artifacts. You can also buy some beautiful artworks created by the tribal population of the village- the Kunbi, the Bhil and the Warli.
What to eat: Do try out the street food in Saputara along with the mouthwatering Gujarati thali!
Varanasi in Uttar Pradesh
Varanasi, also popularly known as Benaras, or Kashi, is a spiritual, sacred, and a colourful place located on the banks of the river Ganges. The ghats of Varanasi attracts a large number of travelers from around the world due to the vibrant celebration of festivals and the positive energy that it delivers. Varanasi is an attractive destination, glimmering with lights, diyas, and happy vibes!
How to reach: The Varanasi airport is connected to the major Indian cities of Mumbai and Delhi. There are also state-run buses that ply from the neighbouring cities of Uttar Pradesh to Varanasi on a regular basis. Varanasi also has its own railway station which is connected to the major cities in the country making it easily accessible. You can also hire taxi according to your own convenience to Varanasi from the neighbouring cities in Uttar Pradesh such as Alipur, Kanpur and so on.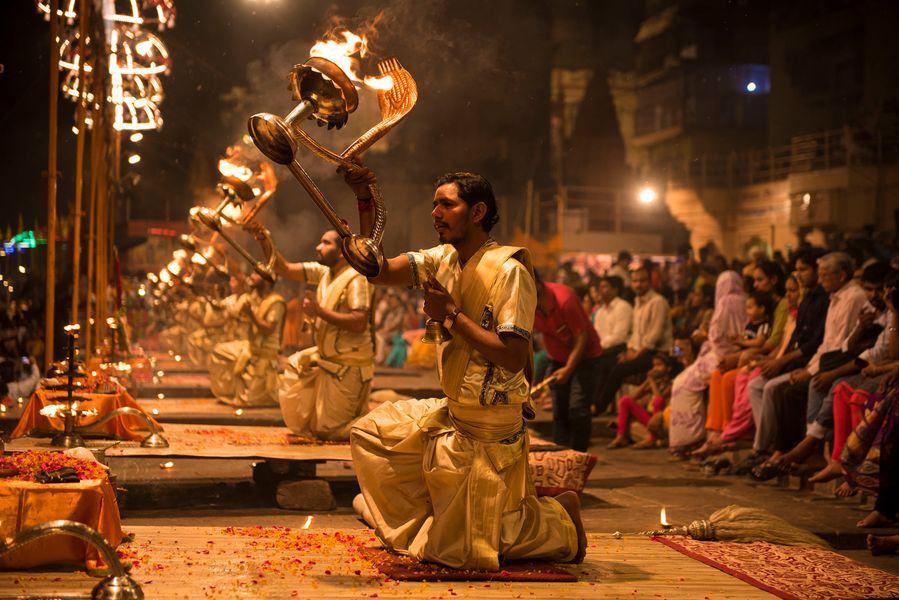 Things to do:
One of the main attractions of Varanasi are its temples that are architecturally rich and loaded with a rich Hindu history. Varanasi is full of temples and exploring them is the first thing that you must indulge in when you are in Varanasi. One of the most important temples of Varanasi is the Kashi Vishwanath Temple which is located in the western banks of Ganges. It is a Shiva temple and is one of the most religious sites in Varanasi.
You can also visit the Kanaka Durga Mandir, Bharat Mata Mandir, Annapurna Devi Mandir and Kaal Bhairav Mandir among many others. Exploring the various temples would give you a glimpse of the history and the rich cultural heritage of this place.
When in Varanasi, you must definitely indulge in a boat ride during the sunrise. Boating in the calm and serene waves of the river Ganges as you see the sun rising makes for a mesmerizing sight to behold! The sky during the early morning hours filled with beautiful strokes of colours is an unforgettable treat for the eyes.
You can also attend the Aarti Ceremony in the evening which you can witness from the Dasawamedh Ghat. Lamps are lit during this event as thousands of devotee chant prayers, creating a holy ambience full of lights and colours.
You cannot leave Varanasi without shopping for Banarasi silk sarees! It is something that you must definitely carry home for yourself, your family, or friends. You can explore the Thateri Bazaar, Vishwanath Lane, or Godowilia where you can shop for handicraft items, idols, and many more.
What to eat: When in Varanasi, do indulge in bati choka, gol gappe, jalebi, and thandai!
Tarkali in Maharashtra
Tarkarli, located at the meeting point of the Arabian sea and the Karli river in southern Maharashtra, is a little paradise for water sport lovers and a place where you can indulge in a wide range of adventurous activities. You can choose to sit back by the beautiful beaches filled with white sand or engage in some water sports for an adrenaline rush! This place has to offer numerous experiences and makes for a fun filled weekend getaway.
How to reach: The nearest airport to Tarkarli is the Dabolim airport in Goa which is around 80 kms away from Tarkarli. There are taxi services that you can avail from the airport to reach Tarkarli. The second nearest airport is the Kolhapur airport which is around 115 kms away. The nearest railway station is around 45 kms away from Tarkarli located in the city of Kudal. The Konkan Express and the Mandovi Express are the two important trains that ply from the neighbouring cities of Mumbai, Goa and Pune. There are also bus services available from places such as Kudal, Sangli, Ratnagiri and Kolhapur to Malvan which is around 6 kms away from Tarkarli.
Things to do:
If you love to indulge in water sports, Tarkarli is the place for you! At Tarkarli, you can engage in scuba diving where you can explore the underwater world adorned with beautiful coral reefs and a wide variety of fishes. Tarkarli also have scuba diving camps and specialised instructors who can guide you in your experience of scuba diving.
Apart from scuba diving you can also indulge in snorkelling, which is a shallow sea diving sport that gives you a glimpse of the aquatic world.
You can visit the Tsunami island near Tarkarli which is a hub of all the water sports that you want to experience. Here, you can try jet skiing and kayaking along with various other water sports at reasonable rates. It is a must visit place with your family and friends to indulge in some hardcore water sport activities.
If you're not into extreme water sports, you can indulge in the banana boat rides in Tarkarli. They make for a pleasant experience as they give you a slow and delightful view of the sea. You can find these rides in the Tarkarli beach and the Tsunami island.
If you had a stressful week, the beaches in Tarkarli are the right places for you to sit back and relax. If you are lucky, you can also spot a dolphin or two amidst the serene sea waves of the spectacular beaches of Nivati and Achara in Tarkarli.
You can also take a tour of Karli backwaters which is located near the Karli creek. Here you can indulge in boat rides amidst the calm and serene lap of Nature or spend a night at the houseboat for a memorable experience!
What to eat: Do try the lips-macking Malvani cuisine and a wide array of seafood that Tarkarli has to offer!
For latest travel news and updates, food and drink journeys, restaurant features, and more, like us on Facebook or follow us on Instagram. Read more on Travel and Food Network
Trending on TFN
The 23 Best Places To Go In 2023
Explore Utah's Mighty 5® and What Lies in Between
Five Epic U.S. National Parks To Visit This Year