Working day after day from home, gets tiring very soon. COVID 19 has left most of us locked in our homes for months at end. Although if you do follow the proper precautions and regulations, then you can escape to the great outdoors to reconnect with nature for a relaxing and much needed weekend getaway. Take a trip this weekend to a quiet, offbeat place away from the usual touristy spots and the hectic life of cities.
From Mumbai
Bhandardara, Maharashtra
A quiet and serene hill station in the Sahyadri hills of Maharashtra. It is filled with lush greenery, scenic waterfalls and surrounded by majestic mountains which makes it a perfect weekend getaway. This place with its serene beauty and relaxing climate is a great place to get away from the hustle-bustle of the cities.
Distance from Mumbai: 163.3 km
How to reach: Take a car or cab to Bhandardara for a calming, serene road trip. This route takes about 2 to 3 hours. Alternatively, take a train to Kasara- which is 57 km away- and from there take a taxi to Bhandardara.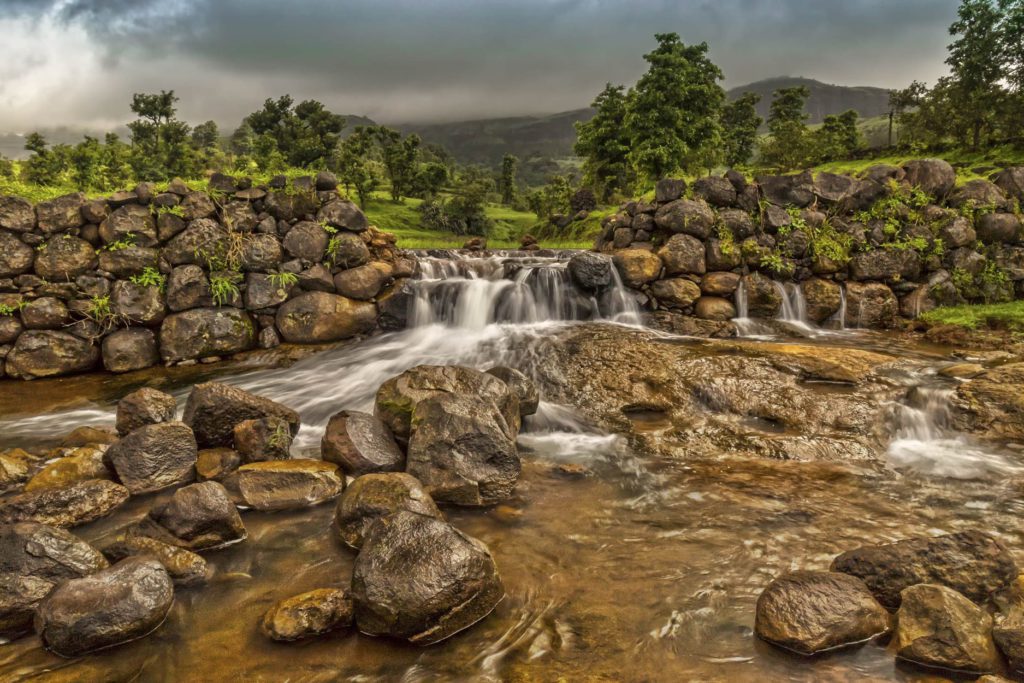 Places to visit:
Wilson Dam: Built in 1910 over the Pravara River, it is the largest earthen dam in India.
Umbrella Falls: These falls are formed under the Wilson Dam and the water which falls on the rocks, forms the shape of an umbrella.
Kalsubai Peak: The highest peak in the Sahyadri hills, this majestic mountain is a must-visit place in Bhandardara.
Randha Falls: Another waterfall in this region, the Randha Falls of the Pravara river falls from a height of 170 feet.
Ratanwadi Village: The home of the famous Ratangad fort and Amruteshwar Temple.
Arthur Lake: A quaint pool of water, this lake is set in a quiet and calm place and surrounded by lush green trees.
Things to do:
Trek to the top of the Kalsubai peak which is 5400 feet high.
Relax on the serene banks of the Arthur Lake.
Best time to visit: The winter months from October- March is the peak season to go to this scenic beauty. You are just in time to catch it this weekend as the weather is warming up.
From Bangalore
Kurnool, Andhra Pradesh
A small town, rich in history and culture in the state of Andhra Pradesh, Kurnool is also known as the Gateway of Rayalaseema. In its domain are the ruins of the palace of Gopal Raju, the last Hindu King and also the ruins of a medieval fort built by Vijayanagara Empire.
Kurnool is derived from the terms Kandanavolu which used to be a crossing across the river Tungabhadra.
Distance from Bangalore: 358 km
How to reach: Take a cab or bus to Kurnool, if you wish to travel via road. The journey can take up to 7 to 8 hours. You can also take a train to Guntakal Junction from where you can head to Kurnool Railway Station. If you wish to fly, then book a plane ticket to Kurnool for a quick and breezy journey.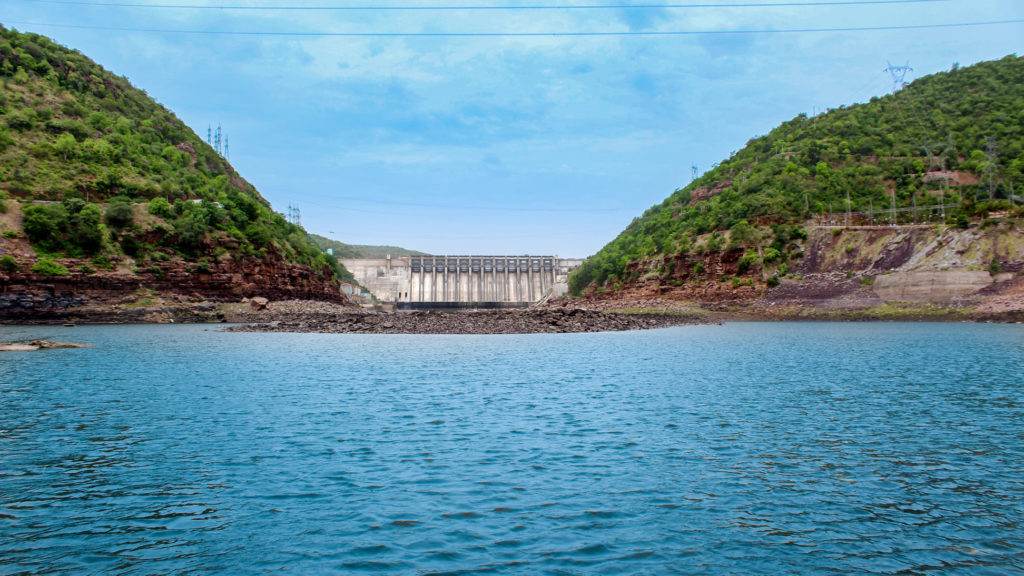 Places to visit:
Belum Caves: These are the longest caves of India. At a distance of 110 km from Kurnool, the area offers stunning sights that you don't get to witness every day.
Yaganti: This famous Sri Yagantiswamy Temple is dedicated to Lord Shiva. Constructed by King Harihara Bukka Rayaluin the 15th century, the temple carries much historic and cultural significance.
Konda Reddy Fort: Though the fort is mostly in ruins, it still is a place of heritage in Kurnool. It was built by the Vijayanagar Empire.
Rollapadu Wildlife Sanctuary: It is well known as a centre for preserving the Great Indian Bustard.
Mantralayam: A village in Kurnool, known for the sacred presence of the burial site of Guru Raghavendra Swami.
Ahobilam Temple
Venugopalaswamy Temple
Tomb of Abdul Wahab: Situated on the banks of the Handri River, this 17th-century structure with elaborate workmanship, beautifully carved domes, and verandahs were built after the death of Abdul Wahab Khan, the first Nawab of Kurnool.
Oravakallu Rock Garden: This park with igneous rocks is a beauty to behold. It contains restaurants, ponds and a cave museum.
Buddha Statue
Jumma Masjid
Ranamandala Konda: This place is believed to be the place where Lord Rama shot an arrow which formed a lake to provide water to Goddess Sita.
Adoni Fort
Things to do:
Explore the caves near Kurnool.
Arrange a tour of the wildlife sanctuary.
Go to the Oravakallu Rock Garden for a picnic and boating in the lake.
Walk through the Shroff Bazar to shop for antiques and gifts.
Best time to visit: The best time to take a trip here is in the winter/spring months from October to March.
From Delhi:
Mandu, Madhya Pradesh
Mandu is a city located in the Malwa region of Madhya Pradesh. It is a haven of architectural beauty. It is a testament to the love between Prince Baz Bahadur and Rani Roopmati. The remnants of the ancient city are of rich cultural and historic heritage. The glorious lives of the kings and queens are visible from the stunning architecture, palaces and lawns of the place.
Distance from Delhi: 897 km
How to reach: Drive from Delhi to Mandu and reach in 14 hours. Or take a train to Indore from New Delhi and from there take a cab to Mandu. This route will take 16 to 17 hours.
The fastest way to reach is by plane, book a flight to Indore Airport, from where you can take a taxi to Mandavgarh. The trip takes around 5 hours.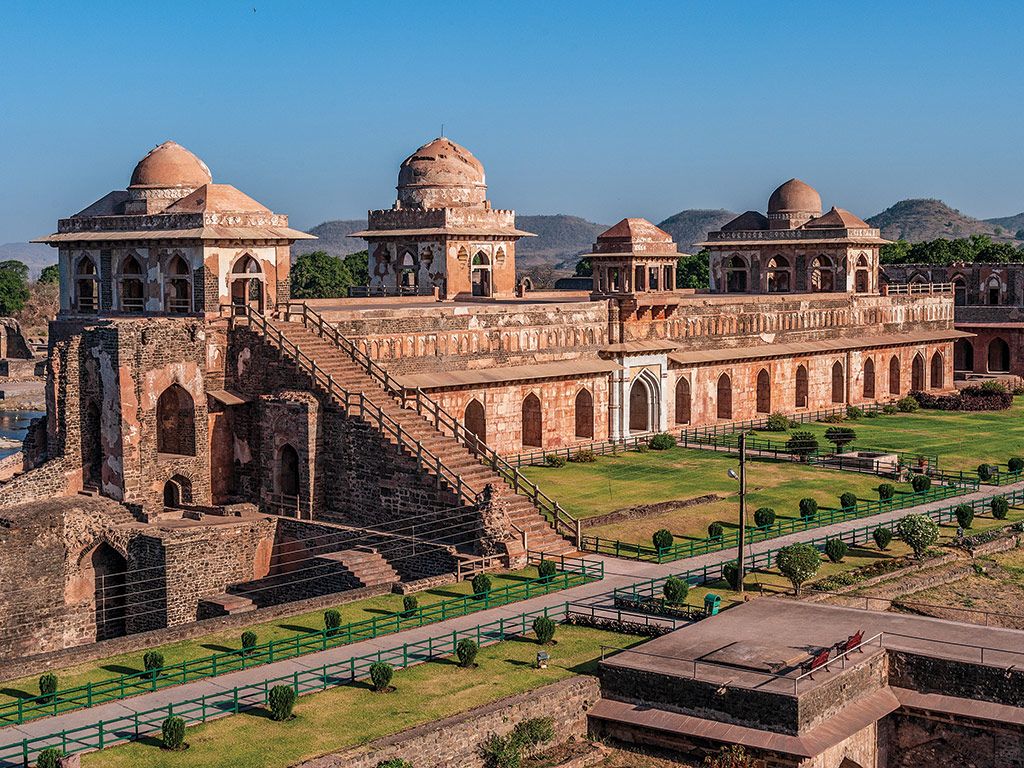 Places to visit:
Jahaz Mahal: It is also called the Ship Mahal as it is built on a narrow strip of land between Munja and Kapur Tanks.
Rani Rupmati's Pavilion: This building was supposedly built because the Hindu singer Rani Rupmati had caught Baz Bahadur's eye.
Baz Bahadur's Palace
Jami Masjid
Hindola Mahal: Also known as the Swing Palace, because the inclined ramparts create the impression that they are swinging.
Champa Baoli and Hammam: This was inspired by the Turkish baths, and named as such because the aroma of the waters of the bath resembled the fragrance of the flower Champa.
Ashrafi Mahal: Built with the idea of promoting education, this school was built by Mahmud Shah Khilji who later made it a part of his empire.
Jain Temple
Taveli Mahal: This was initially built as a haven for the area's Mughal rulers.
Hoshang's Tomb: Regarded as the oldest marble structure in India, this architecture is said to have influenced Shah Jahan.
Things to do:
Shop for home décor, wall pieces, and showpieces.
Visit the temples and palaces of the area.
Best time to visit: October to March during the winter/spring months is the best time to visit this town. Summers are too hot for making a trip here.
From Kolkata
Sonajhuri Forest, West Bengal
This hidden gem lies in the state of West Bengal. One of the cleanest forests of India, it is a great retreat for someone who loves nature and wants to escape from hectic city life. Filled with lush trees and the splendour of flowers, it has quite a lot of places to see and explore. It is untouched by industrialization. A river flows alongside the forest making it seem like something out of a fairytale.
Distance from Kolkata: 166 Kms
How to reach: Rent a car to Sonajhuri Forest from Kolkata. Alternatively, you can take a train to Bolpur Railway Station which is a mere 5 km away from Sonajhuri Forest.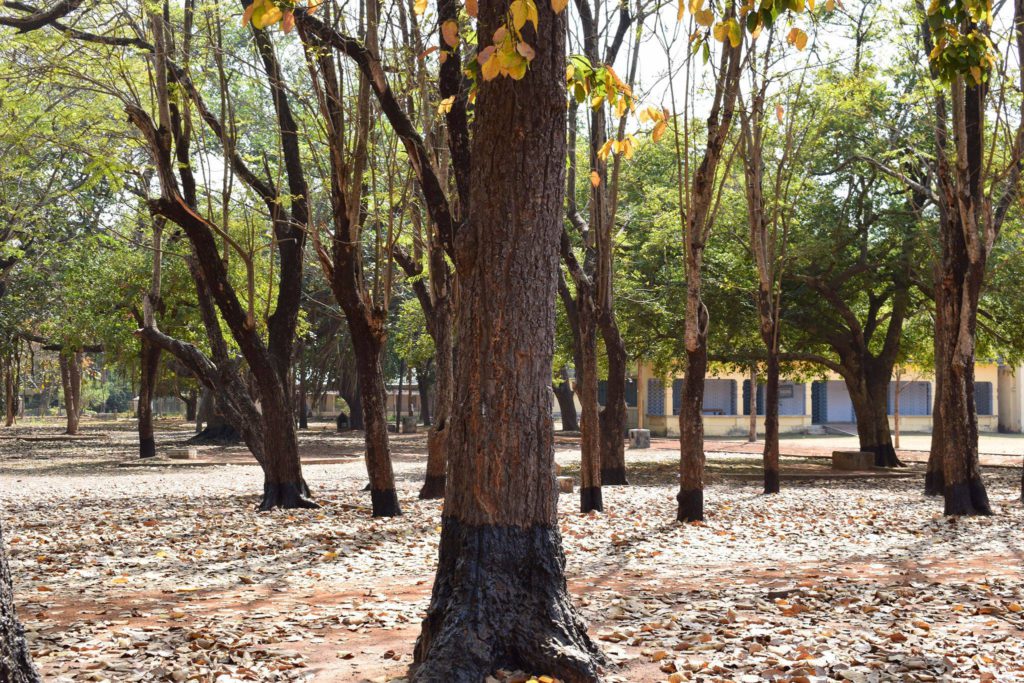 Places to visit:
Sonajhuri Sonibarer Haat: Every week on Saturday, a market is set up here. A lot of Bengali handicrafts, colourful clothes and accessories can be bought here.
Tagore's Ashram: A place where Tagore spent many of his days writing poetry. A lot of his belongings are put up here for visitors to see.
Kopai River: A serene and pristine river that flows through the place, it is referred to as Amader Choto Nodi by the Bengalis because of Tagore's poem of the same name.
Bonerpukur Gram: The habitat of the local tribe. It is adjacent to the forest.
Ballavpur Wildlife Sanctuary
Kankalitala Temple
Things to do:
Relax on the banks of the Kopai River.
Bird watching is an activity that you must indulge in as a lot of rare birds are spotted here.
Shop for souvenirs from the local market.
Stroll around in the forest for some peace and calm.
Best time to visit: During October to March, when the weather is chilly. A lot of animals are spotted at this time.
For latest travel news and updates, food and drink journeys, restaurant features, and more, like us on Facebook or follow us on Instagram. Read more on Travel and Food Network
TFN Recommended Weekend Getaways
2021 Weekend Getaways | The Call Of The Mountains