Photo Courtesy: Gujarat Tourism
Gujarat is at its athletic and colourful best during the nine days of Navratri (the world's longest dance festival) which is celebrated with full enthusiasm and vibrancy in the state every year. The nine days long festival is a treat for the sight for thousands of tourists who fly down to Gujarat to enjoy this celebration of fantastically costumed devotees swaying in a fusion of dance and devotion where life is a celebration. To feel the buzz, plan a trip to Ahmedabad, Baroda, Surat, Bhavnagar, and Rajkot. And while you are there, don't forget to tuck into Gujarat's famous thalis.
Here are four reasons to visit Gujarat during Navratri
History
Navratri is a cherished tradition in India, and holds a prominent place in its folklore and culture. The festival is celebrated in honor of Mother Goddess Durga who was an invocation by Lord Shiva to destroy the demon Mahishasur, who caused destruction and terror as he was granted a boon from fire God Agni that no weapon bearing masculine names will be able to kill him. The Gods, unable to deal with the state of affairs sought help from Lord Shiva, who advised the invocation of the Goddess Shakti. All the Gods came together to form Adhya Shakti, who was born from Shiva's divine lustre and light that sprang out of God Shiva's heart. Equipped with ornaments, arms, and a lion as her vehicle, she fought Mahishasur for nine days and nine nights, finally beheading him on the 10th day, observed as Vijayadashmi.
Each night of Navratri, a different form of Shakti (Maa Durga) is celebrated – Shailputri, Brahmacharini Chandraghanta, Kushmanda, Skandamata, Katyayani, Kaalratri, Mahagauri, and Siddhidatri. These tales and legends are a crucial part of its history, and will likely remain with us for as long as the festival continues. While all of India celebrates Navratri with much enthusiasm, nothing beats the fervour of Gujarat, where people from India and around the world come together to honour the greatness of Adhya Shakti.
Art & Culture
Whether you want to keep the party going all night or simply want to get your dance on, Navratri in Gujarat is the place to be. The nine nights of nonstop dancing, glistening chaniya choli and kediyus spinning to the dhol beat is a sight to behold in a state that erupts in vibrant colors, music, and dance, bringing the festivities to life to celebrate the feminine divinity, perhaps the longest in the world. Everyone wears exquisitely embroidered clothing in pops of colour. If you wish to adorn one of these beautiful ensembles, you can fill up your shopping bags with mirror work clothing from Law Garden Market, Ahmedabad. For bangles enameled with several unique styles, Bangadi Bazaar, Rajkot is the go-to place. These are worn in a specific way to allow freedom of movement as they perform Garba and Dandiya Ras (folk dance originating from Indian state of Gujarat). The iconic Gujarati dance, dedicated to the mother goddess, is a sight to behold: thousands of people dancing in a circle around an earthen lamp, to commemorate the triumph of good over evil. India has nominated the Indian dance form Garba to be inscribed on UNESCO's intangible cultural heritage for 2023.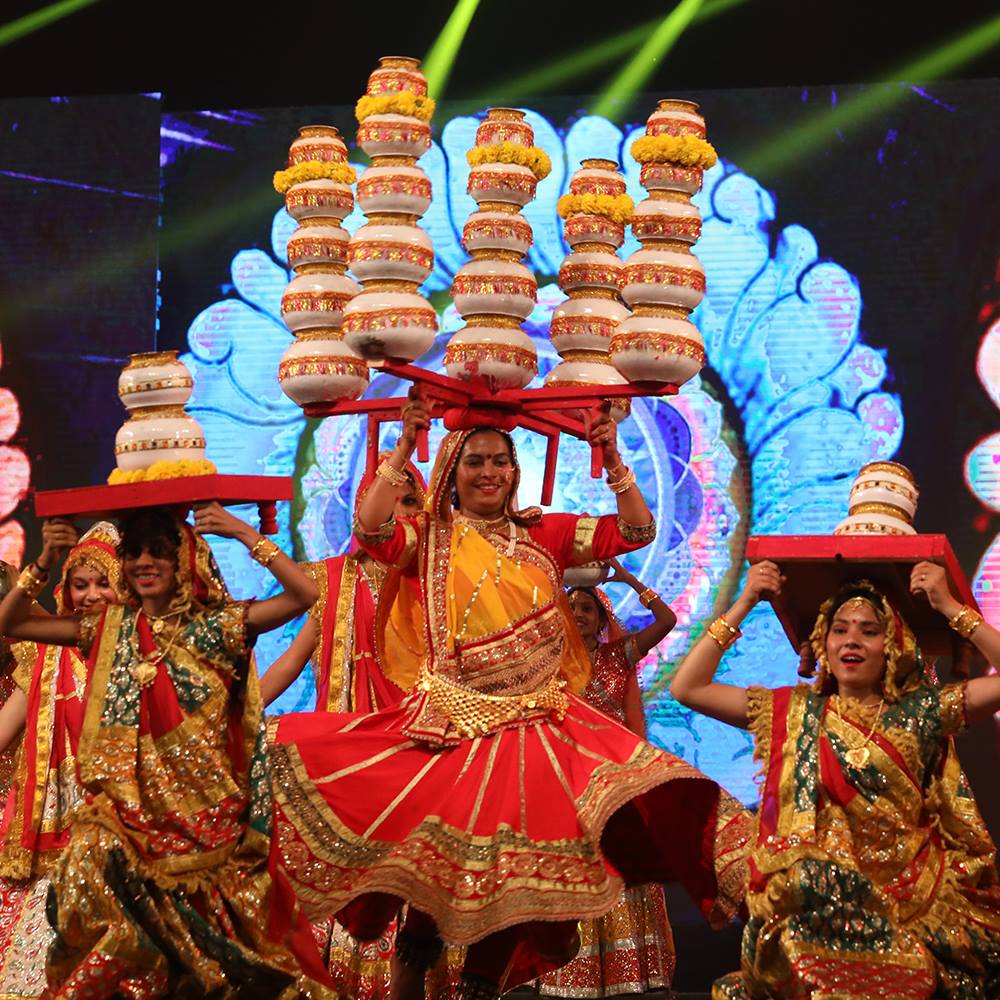 Here's the low-down on some of the best Garba venues to hit this season:
Vadodara: The United Way Garba, one of the most well-known Raas Garba events in the country, takes place here and witnesses as many as 30,000 people (at least) every night for nine nights. Two other places to see the dance energy pulsating in Baroda are The MS University garba with a signature "no taali" (no clapping) garba and the Vadodara Navaratri Festival at Navlakhi grounds.
Ahmedabad: As one of the biggest cities in Gujarat, Ahmedabad attracts a huge crowd during Navratri alongside several famous singers and popular faces from the film and television fraternity. To enjoy Navratri in an authentically ethnic setting, head to the garba at The Bhadra Fort. If you favour extravagant, massively crowded garba set-ups with big stages, celebrity appearances, and easily accessible entry passes, you'll find plenty of local clubs offering the same in Ahmedabad, such as Rajpath, Karnavati, YMCA, and Gulmohar Greens. College campuses like NID and CEPT, as well as Kalhaar Blues & Greens, offer a more vibrant, exclusive, and upscale garba experience. Friends Garba, unlike other events that last the entire nine days of Navratri, this one is only two days long. Typically, it is set up on the last two days of Navratri.
Surat: Some of Gujarat's most happening garbas are held in Surat, the state's diamond and textile center. Shankus Dandiya organized by the AMZ Navratri Group is the most popular one and unlike other open air dandiya nights, this one is usually held inside an AC Dome.
Other fabulous destinations to explore the unique ways of celebration are Gandhinagar, Rajkot and Bhavnagar.
Food and Drink
Celebratory indulgences, just like Navratri's grandiosity, are colourfully delicious. Homes and streets are lined with food spreads that come in all shapes and flavours: farsan (savoury snacks like khaman, dhokla, patra, kachori) and bite-sized mithais (sweets) are on full display at sweet shops; large thalis consisting of seasonal preparations of curries, dals (sweet or spicy), breads from a variety of flours (phulka, bhakri, puri), rice dishes (plain or khichdi), and tall glasses of buttermilk are culinary invitations to communal feasts; and melt-in-your-mouth Sukhdis (also known as Gol Papdi, or Gud Papdi) are devoured by hungry onlookers no sooner than they are served. During Navratri, eateries are open until the early hours of the morning and many people flock to street food stalls.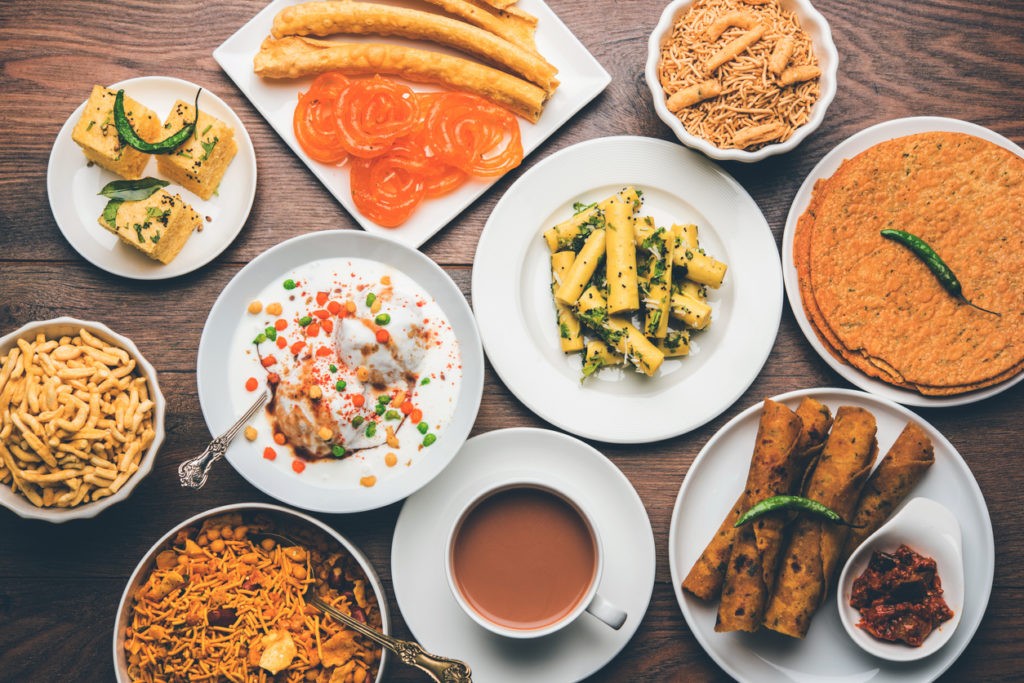 After dancing all night to amazing garba tunes is sure to build up quite the appetite so for a midnight food fix Ratri Bazaar, Vadodara is the place to feast on lip-smacking regional favourites. While in Vadodara, don't miss the Kathiawadi Thali. You can stopover at Kismat Kathiawadi Dhaba, Shree Kathiyawadi Khadki, or Shiv Shakti Kathiawadi Hotel to indulge in Kathiawadi specialities of sev-tameta nu shaak, ringan nu bhartu, masala khichdi kadhi, dhokla, bajra, makai na rotla, and of course, chaas and papad. In Surat, visit The Grand Bhagwati which offers a vegetarian midnight buffet till 3 am. During the day time you could opt for The Gateway Hotel's thalis (cooked by Surti housewives) which puts lesser-known, regional Gujarati delicacies in the spotlight. Other stopover food-destinations in Surat include Lashkari's food stall for yam bhijia, ponk (a winter delight is made from roasting green winter millet/jowar) market at Adajan and Shah Jamnadas Chauta Ghariwala for their creation Ghari using a base of mawa (reduced milk solids).  The shop's other specialties are the kesar suttarfeni (a shredded dough sweet also called buddhi na bal) and doodhi halwa made from a variety of gourd grown near Surat. In Ahmedabad—the largest city of a state known for its love for food, restaurants like Agashiye, Vishalla, Rajwadu and dining halls like Atithi, Gopi, and Toran serve up set plates of delicious regional cuisine.
Beyond Garba
From the salt deserts of Kutch, to the lush forests of Gir, Gujarat is brimming with diverse, picturesque landscapes. Moreover, each of these landscapes offer exciting experiences of their own. One moment you could be tracking the regal wildlife of Gir, and the next tracing the footsteps of the Father of Our Nation, M.K. Gandhi. Not to mention the majestic forts and palaces that testify to the marvelous architecture from the past, and the many festivals and craftsmanship that make up the cultural fabric of this region.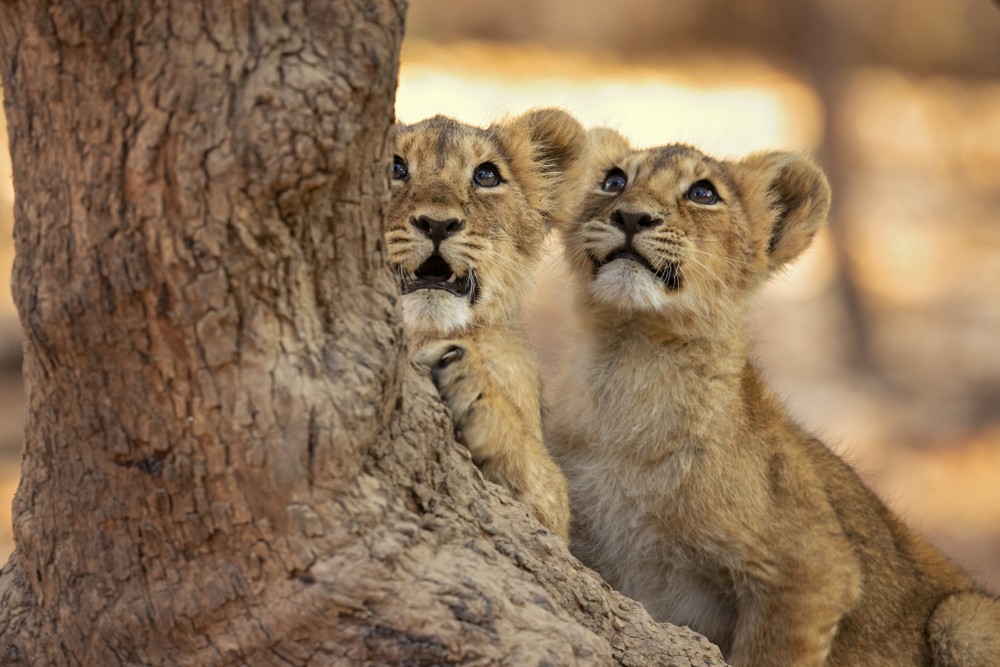 When
Navratri is celebrated for nine nights, beginning on the first day of the bright fortnight of the Hindu month Ashwin, roughly corresponding to dates in the Gregorian calendar in September/October. This also usually coincides with the end of the rainy season. Dasara/Vijayadashami, is the tenth day of Ashwin.
This year Navratri will be celebrated from September 26 to October 4.
For latest travel news and updates, food and drink journeys, restaurant features, and more, like us on Facebook or follow us on Instagram. Read more on Travel and Food Network
Trending on TFN
The 22 Best Places To Go In 2022
Explore Utah's Mighty 5® and What Lies in Between
Five Epic U.S. National Parks To Visit This Year