When it comes to food, Barcelona is a true foodie's delight – due to an abundance of fresh ingredients and that special Catalan flavour- that combines the very best elements of Spanish and French cooking with that uniquely Catalan flare that is unmatched anywhere else in the world.
If you are wondering what to eat in Barcelona, then here are 12 of my personal recommendations from a trip I took a couple of years back, but the taste continues to linger on my tongue.
1. Paella : While Barcelona is synonymous with Tapas Bars, the city also serves the best Paella – a Valencian rice dish that originated in the mid-19th century in the area around the Albufera lagoon on the east coast of Spain. Paella is supposedly at heart a rice dish – but the rice really has to fight with all the other ingredients to make its presence felt. Loaded with mussels (or clams) and jumbo shrimps and ham and chorizo and short grained rice or Arroz Rodenda (round rice), with fragrance from saffron and large slices of lemon whose juice adds just that dash of acidic bitterness – this is a meal that will send any seafood lover straight to food heaven. The ingenious idea of pairing the natural flavours of seafood with the comfort of rice was also made famous by long time chef and restaurant owner Gerard Nebesky, and this dish recently featured in Amy Poehler's Netflix movie Wine Country.
Where to eat: Steps from the beach in Barceloneta is Can Majó, an old-school seafood spot best known for their Paella. There's also Minyam, a brick-walled restaurant in Poblenou serving fragrant, smoky, black paella with squid, shrimp, and mussels. They also have a meat version with duck and black garlic, and for vegetarians, one with mushrooms and assorted veggies.
2. Patatas Bravas – It is amazing how fried potatoes, in some form or other, find their way into the cuisine of every country. It is almost uncanny. This particular dish, is arguably the most popular tapas dish (tapas is a word you will hear a lot in Spain – it basically means snack or smaller portions of a main course dish). Patatas is for potatoes and bravas is for the slightly spicy red sauce (apparently you have to be 'brave' to eat this sauce) – basically it is fried potato cubes in a red spicy sauce – Spanish style! What's not to like.
Where to eat: Unlike paella or specialized Catalan cuisine, you likely wont find patatas bravas being served at formal restaurants in Barcelona, but rather in the many tapas bars around the city. Some of the best spots for Patatas Bravas are Fàbrica Moritz in the the gourmet area of Cervesa Moritz, Elsa y Fred where the mushroom croquettes are just as good as the patatas bravas, and Louise Se Va, that has a menu of items named after rock bands with the most popular order here being the Guns N' Roses (a sandwich with onion and cheese), patatas bravas and a beer.
3. Chorizo – There are sausages…and then there is chorizo. Spicy pork sausages that can be had just as small slices, or pan fried or as part of a crostini or in a paella, it is probably the most talented sausage out there. A must for carnivores!
Where to eat: One of the best places to have Chorizo is at Entrepanes Díaz, a modern-day throwback famous for gourmet sandwiches and traditional tapas.
4. Bocadillo – It is not a sandwich. It is a delicious local baguette like bread filled with meat, ham, chorizo (yes, it's everywhere) and egg omelet – with a little olive oil drizzled to make it a little moist. Can be served hot or cold, and is a great snack (sorry, tapas) to have while on the go!
Where to eat: Two of the best places to have Bocadillo are located in the El Gotico quarter in Barcelona. First up is Bó de B, a restaurant that boasts of mix of Greek, Indian, European and African flavours and the meats are marinated in a delicate blend of herbs and spices. Here you can enjoy a wide range of fantastic bocadillos that range from around €3.50 – €4.50. Next is Conesa Entrepans an old school family run Catalan eatery, located at the corner of Plaça Sant Jaume, that has been serving their home made sandwiches and bocadillos since 1951. Their menu caters to vegan, vegetarians and to those on a gluten-free diet.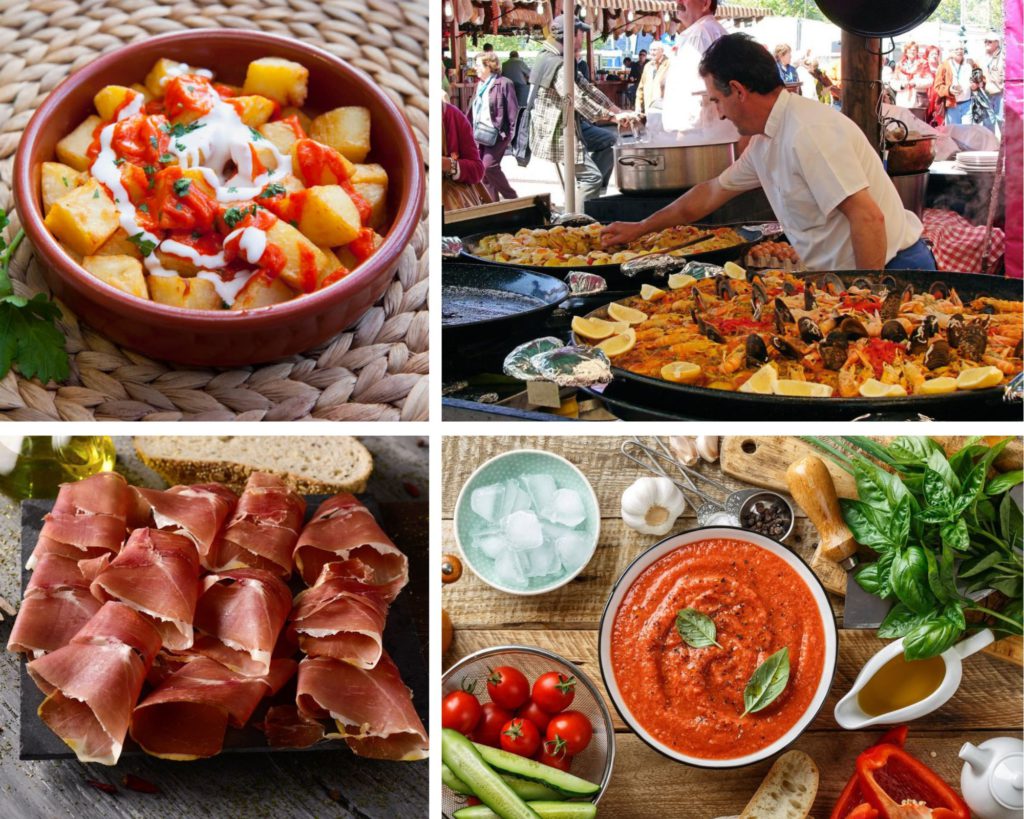 5. Iberico Ham – also known as Jamon Iberico. One of the finest hams in the world, comes from a very special place in Spain (it is like a limited edition version of ham) and is to be eaten raw (at room temperature or slightly warm). Raw, never cooked. On a slice of toast or just by itself. A treat for ham lovers.
Where to eat: You can find Jamon Iberico in endless specialized gourmet shops all around Barcelona, in supermarkets as well as at the famous old food markets of the city, but if you still want my recommendation then try it at Moniberic that's been around for over 40 years offering the widest selection of the most admired Iberian hams in the city. You could also pick up the hams from Jamonísimo, Reserva Ibérica, and Jamon Jamon.
TFN's Definitive Travel And Food Guide To Barcelona
6. Gazpacho – It is a thick vegetable soup, and is always eaten cold. Yes, it is a cold soup, primarily had during the hot Spanish summers. Usually with some warm or toasted bread on the side. Perfect for vegans and vegetarians ( who were probably wondering if they will have to starve in Spain).
Where to eat: De Pata Negra at Placa de las Navas serves one of the best Gazpacho's in Barcelona. I would also recommend their bocadillos and tapas. If you want a fancier version, then try the black cherry gazpacho at FIRE, the restaurant at the Hotel W Barcelona, best known for their spider crab with watermelon.
7. Escalivada : A beautiful winter tapas is Escalivada – a dish of roasted eggplant, tomatoes and bell peppers covered in olive oil. The vegetables are baked until soft and then topped with salty anchovies and sardines. It's then mixed together like a salad and served atop crusty bread.
Where to eat: In a magical setting in the former Jewish quarter, La Vinateria del Call, a tiny jewel box of a restaurant serves up tasty Iberian dishes including Catalan escalivada. You may also try the escalivada and figs at Teresa Carles and the taste will linger for a long long time.
8. Pimientos de Padrón : Found in the Spanish municipality of Padrón these tiny, green peppers are some of the most addictive tapas items on the bar. Cooked in nothing but olive oil and a dash of salt, these peppers are mouth-wateringly delicious. For the most part, these taste like miniature versions of green pepper, but about one in ten is super hot!
Where to eat: Check out the delightful tapas bars such as El Xampanyet in Barcelona's El Borne neighborhood, just around the corner from Picasso Museum or Bar de Pla where you can also sample other bestsellers like the squid-ink croquettes, the mushroom carpaccio.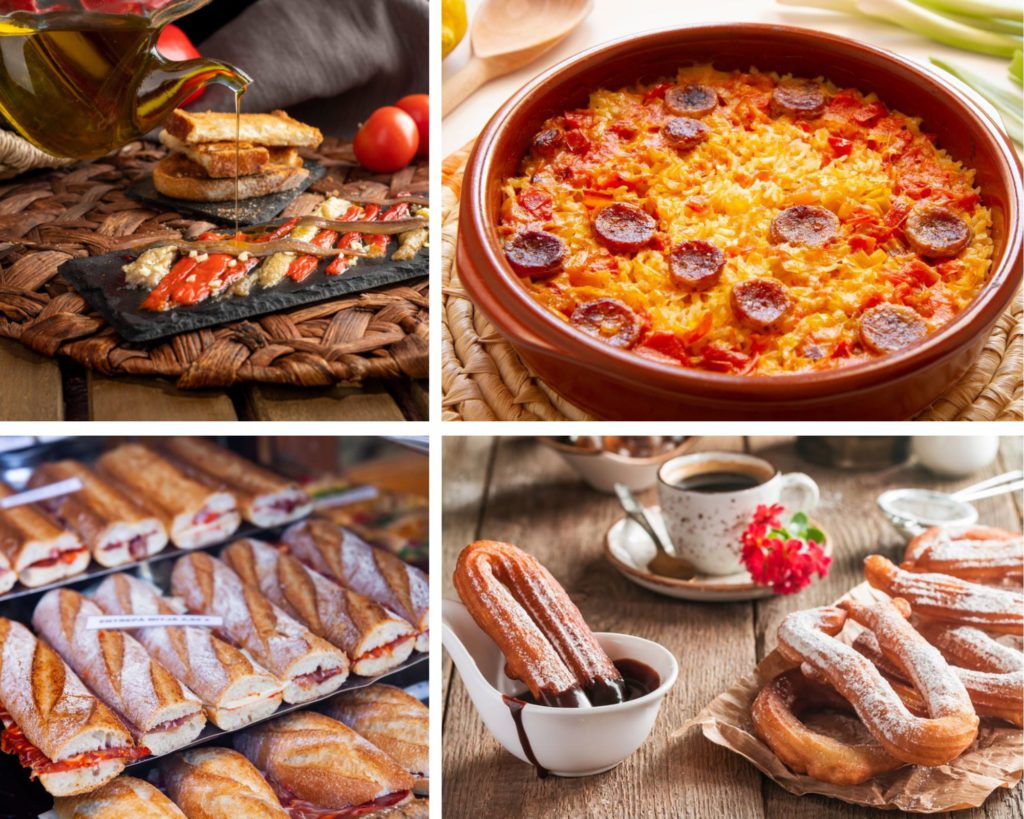 9. Bombas : One of the most popular Tapas in Barcelona is Bombas. Also known as "la bomba" (the bomb) they are a deep-fried mix of mashed potato and minced meat topped with alioli (a Mediterranean garlic and olive oil mayonnaise) and a spicy sauce, which may include cayenne as well as tabasco. They are similar to croquette but bigger, with a crisp outer shell of deliciousness and a soft, flavour-explosive interior, filling every little gap in your mouth for a heavenly warm and mushy experience.
Where to eat: La Cova Fumada, the bar is most famous for its "bombas", so don't even think about leaving without trying one. Most of the other classics here are seafood dishes: mussels, octopus, squid, salted cod, and grilled sardines. Jai-Ca is also a great place to sample seafood tapas and their spicy bombaa is a best-seller.
10. Churros – Most of us know what a churro is – delicious crisp fried dough pastry which are slender roughly finger length pieces, and are to be had after dipping in a bowl of hot melted chocolate. This is the best comfort food/snack that Spain gave to the world, and is delight to have specially on cold or rainy days. Churros are now available pretty much everywhere in the world, but you cannot miss a chance of trying it out in the place o fits birth. Chances are, you will not stop at one.
Where to eat: First up: Xurreria Trébol where you'll find churros of every shape and size available, some filled with delicious creams, chocolate or caramel. Next is Granja La Pallaresa, one of the several legendary establishments on Petritxol, a narrow street in the old city, where hot chocolate with churros has been the classic pre- or post-shopping treat for generations of kids dragged along behind parents or grandparents. If modernist architecture makes you hungry, then Xurreria Sagrada Familia is another popular churo spot located near Gaudí's Sagrada Família.
Must Drink
11. Sangria – It would be no exaggeration to call it the most popular drink in Barcelona (maybe all of Spain?). Paella and Sangria are the standard combo, you actually have street side cafes offering them as a combination so you don't have to worry about what to drink with paella. But even by itself, this red wine and apple pieces drink is a refreshing feel good drink any time of the day, or year.
12. Cava – If it is not sangria, it has to be Cava, the strong contender for the most popular beverage to accompany meals. Basically Cava is sparkling wine of Spanish origin (for those who want to get technical about it, please google it – lots of interesting stuff). Cava comes from cave – which is where the bottles are stored. Cava mostly comes in two types – white and rose. To be had chilled, just like champagne. But, to be honest, I felt it tasted better than champagne.
Best food pairings – it is remarkably versatile, goes with salads and fried foods (ask your waiter to guide you on the specifics), with cheese and creamy dishes also.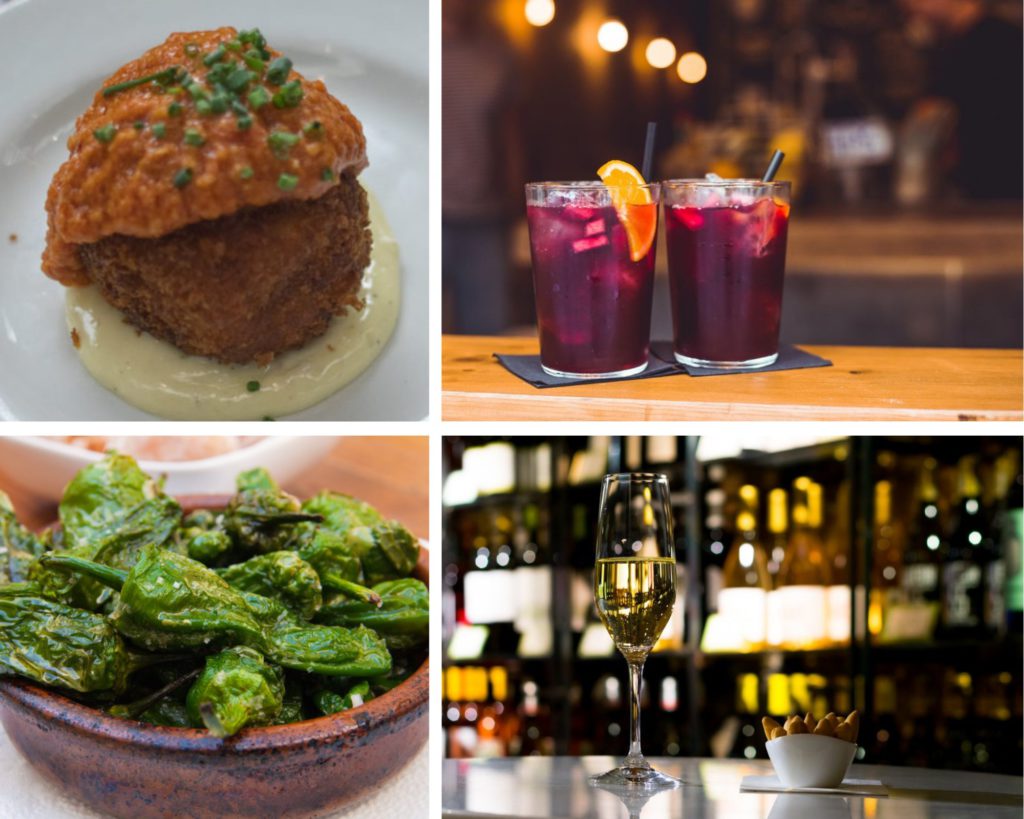 For latest travel news and updates, food and drink journeys, restaurant features, and more, like us on Facebook or follow us on Instagram. Read more on Travel and Food Network
Trending Now : TFN 2021 Guides
A Week Along The Mesmerizing Amalfi Coast | Travel Guide 2021
48 Hours In Prague And 10 Tips To Make The Most Of It | 2021 Travel Guide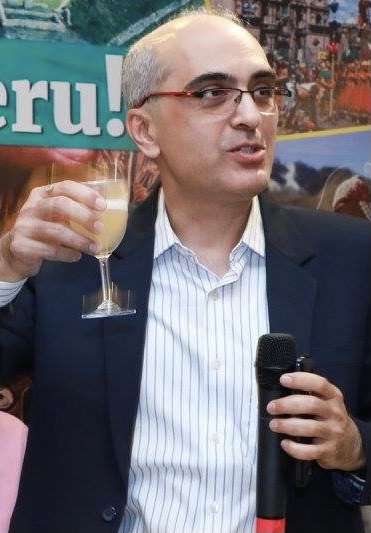 Sanjay has been navigating the stormy waters of the Indian media and entertainment industry for nearly 3 decades, and has worked with some of the leading Indian and international media brands in this time. His travels to various international destinations for work and leisure has led him to appreciate the connection between food and travel, and he likes to share his experiences through his articles on Travel and Food Network. He lives in Mumbai, but considers himself a global foodie-citizen.