Frankfurt skyline. Photo iStock
With towering glass and concrete skyscrapers, Frankfurt (dubbed "Mainhattan" because of its location on the river Main) is unlike any other European city. It has the slick and shiny veneer of a high-powered business and finance hub, but you don't have to dig too deep to uncover its other side — a vibrant, traditional city with half-timbered buildings, cobbled streets, and apple wine taverns, not to mention art and culture and spades. The next time you transit through Germany's financial capital, plan to stay awhile.
What To See and Do
Here's how you can make the most of your time in Frankfurt.
Stroll through the Old Town
Like most European cities, Frankfurt has a picturesque Altstadt (old town) centred around the exquisite Römer, which has been the city hall for more than 600 years. Around it stand half-timbered buildings and several historic churches like the medieval Old St Nicholas Church, the elliptical St. Paul's Church, and the Gothic-style Frankfurt Cathedral dedicated to St. Bartholomew. Nearby is the Neue Altstadt (new old town), a faithfully reconstructed group of pastel-hued buildings that were destroyed in WWII; today they house apartments, shops, and cafes.
Take in the art
If you're a museum buff, you can't miss Frankfurt's Museumsufer or Museum Riverbank with 39 museums dotting either side of the Main and nearby areas. Of these, the massive collection of the Städel Museum is worth seeing, encompassing artworks from the 14th to the early 20th centuries. If you prefer contemporary art, Museum für Moderne Kunst (MMK) — which looks like a pink-and-white piece of cake — is a must-visit. The Jewish Museum gives you a peek into the historical and present-day diversity of Jewish culture and it also holds a collection of Anne Frank's family memorabilia, including photos, letters, furniture, porcelain, and books. Pro tip — get the MuseumsuferTicket, which lets you visit all 39 museums over two consecutive days.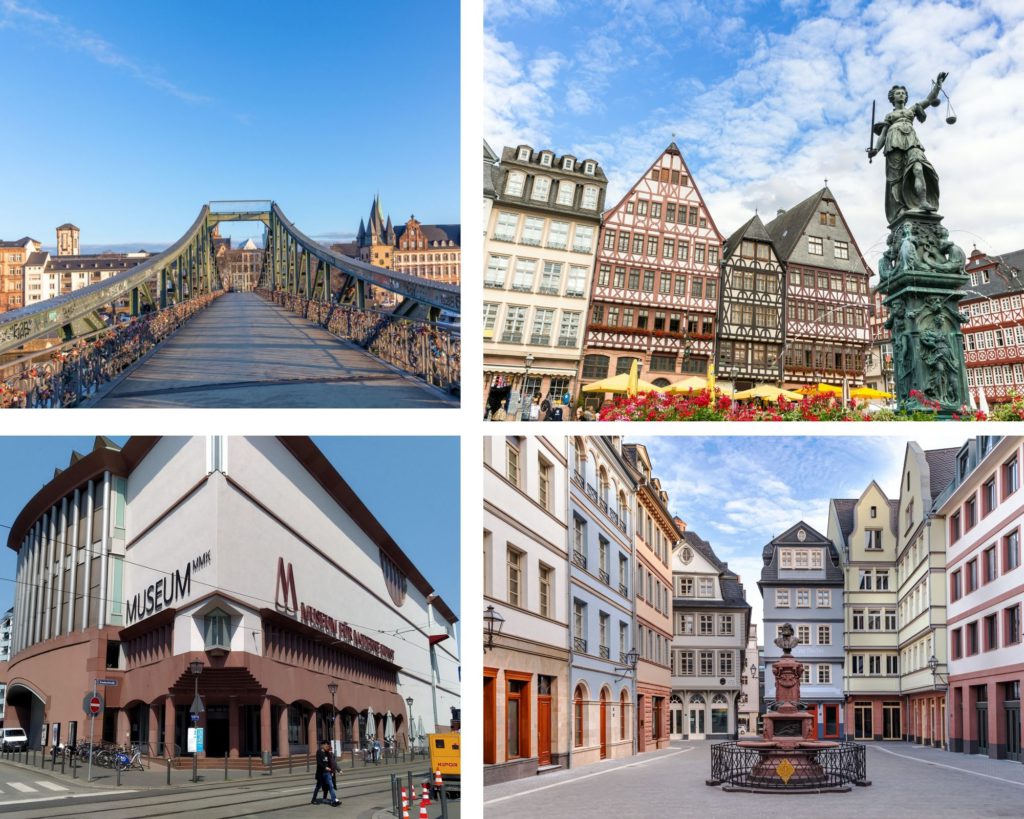 Explore the riverfront
Take a break from museum-hopping and enjoy the Main (pronounced "mine") riverfront. A relaxing river cruise is a great way to see the famed skyline and the cityscape. Or join the locals and picnic on the banks with beautiful swans for company. Several bridges span the river, but none is as picture-perfect as Eiserner Steg, a neo-Gothic-style iron-and-concrete pedestrian bridge lined with love locks.
Head up to the Main Tower
Get another perspective on the city from the Main Tower, the first high-rise building in Europe. From its 200-metre-high observation deck, you get a spectacular panoramic view of Frankfurt and surroundings; follow it up with a sundowner at the bar below the deck.
Tour the Goethe House
Germany's most important writer Johann Wolfgang von Goethe was born in Frankfurt in 1749. Although his birthplace was destroyed in WWII, the completely restored house museum showcases original furniture, paintings, and books belonging to the family.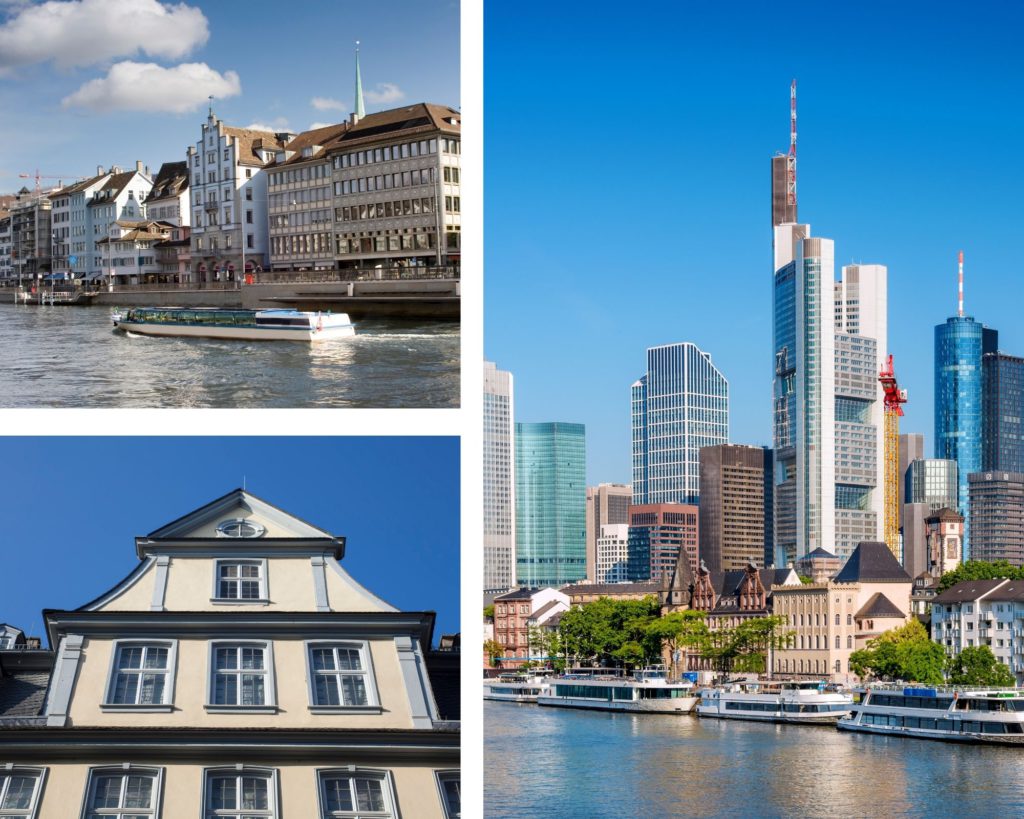 Check out the markets
The covered Kleinmarkthalle food market (Monday-Saturday) is the place to pick up food souvenirs to bring back home — more than 150 stalls offer cheese, honey, jams, and cured meats as well as fresh produce, flowers, etc. On Saturdays, the popular Flohmarkt (flea market) alternates between the Schaumainkai riverfront promenade and near Osthafen docklands; browse an eclectic collection of vintage clothing, arts and crafts, antiques, and more.
What To Eat and Drink
From Michelin-starred restaurants with fancy plated meals to streetside kiosks with excellent nosh, Frankfurt is a treat for the gourmand. Don't miss these local specialities:
Frankfurter Würstchen – long, thin smoked pork sausages eaten with white bread, mustard, and horseradish; try it at Metzgerei Dey deli in Neue Altstadt
Grüne Soße – cold yoghurt sauce with seven chopped herbs, poured over boiled eggs and potatoes; try it at Hotel Gerbermuhle
Apfelwein or Ebbelwoi – tart apple wine served from a blue-and-white clay jug (bembel) in ridged glasses (geripptes); try it at any of the taverns in the Sachsenhausen district.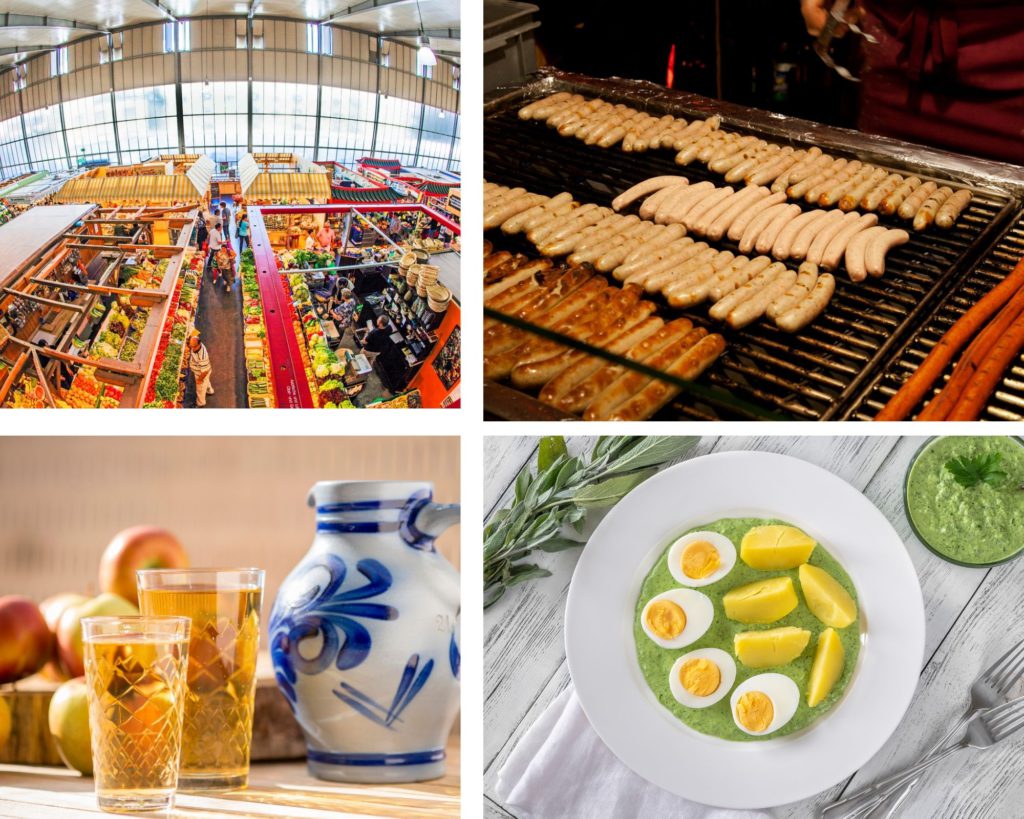 Where To Eat
Gustav: Boasting two Michelin stars, Gustav tops the list of must visit restaurants in Frankfurt. The seasonal menu is playful with imaginative flavour and texture pairings. Both the lunch and dinner menus have vegetarian options and the exclusive European wine list emphases on organic and biodynamic wines.
Address: 60323, Reuterweg 57, 60323 Frankfurt am Main. www.restaurant-gustav.de
Emma Metzler: Emma Metzler's stunning interior and design give the impression of an extended exhibition area, perfectly suited for a dining establishment situated within the city's museum district (Museumsufer) and on the premises of the elegant Museum für Angewandte Kunst. Some of the must-try dishes on their French-German menu are couscous with beets, yogurt, and dukkah (a blend of herbs, nuts, and spices) and fennel bratwurst.
Address: Schaumainkai 17, 60594 Frankfurt am Main. https://emmametzler.de
Vevay: Particularly appealing to vegans and vegetarians, this laid-back venue is also perfect for anyone seeking a wholesome, satisfying meal near the main train station or city center. Crowd favourites include the falafel burger, protein-packed bowls featuring lentils, sweet potatoes, and beets, refreshing smoothies, juices and vegan chocolate mousse.
Address: Kleiner Hirschgraben 10, 60311 Frankfurt am Main. https://vevay-cafe.de
Seven Swans: Michelin Star awarded Seven Swans is one of the finest dining establishments globally, and serves a seasonal menu (featuring a selection of five or six set courses) crafted from local ingredients such as fennel, leeks, pumpkin, apple, and asparagus.
Address: Mainkai 4, 60311 Frankfurt am Main. https://www.sevenswans.de
Main Tower Restaurant & Lounge: Soaring at a height of 61 feet above Frankfurt, the Main Tower Restaurant & Lounge is an unmistakable landmark. This exceptional dining establishment provides an elevated gastronomic experience accompanied by a breath-taking view of Frankfurt's cityscape. Here the fixed menus are updated bi-monthly to maintain seasonality and consistently feature sophisticated interpretations of traditional dishes, such as Wagyu beef Tafelspitz and yellowfin tuna accompanied by pears and ginger.
Address: Neue Mainzer Str. 52-58, 60311 Frankfurt am Main. www.maintower.de/restaurant-lounge
Where To Stay
Being a business hub, there's no dearth of hotels in Frankfurt but most of them tend to be in the mid-range to high-end category. The elegant, riverside Hotel Gerbermuhle is a historical landmark, offering a relaxed stay away from the city centre while the Steigenberger Frankfurter Hof in the heart of the financial district combines historic glamour with modern interiors. The Flag West M is a chic business hotel a short distance from both the banking district and the city centre. If you prefer a youthful vibe, book a room at the funky, design-forward 25Hours Hotel The Trip. For a relatively budget stay, The Pure near the main train station is a good minimalist choice as is 25Hours The Goldman in the rapidly gentrifying Ostend neighbourhood.
How To Get There Air India, Vistara, and Lufthansa have daily direct flights to Frankfurt from major Indian metro cities.
For latest travel news and updates, food and drink journeys, restaurant features, and more, like us on Facebook or follow us on Instagram. Read more on Travel and Food Network
Trending on TFN
The 23 Best Places To Go In 2023
Explore Utah's Mighty 5® and What Lies in Between
Five Epic U.S. National Parks To Visit This Year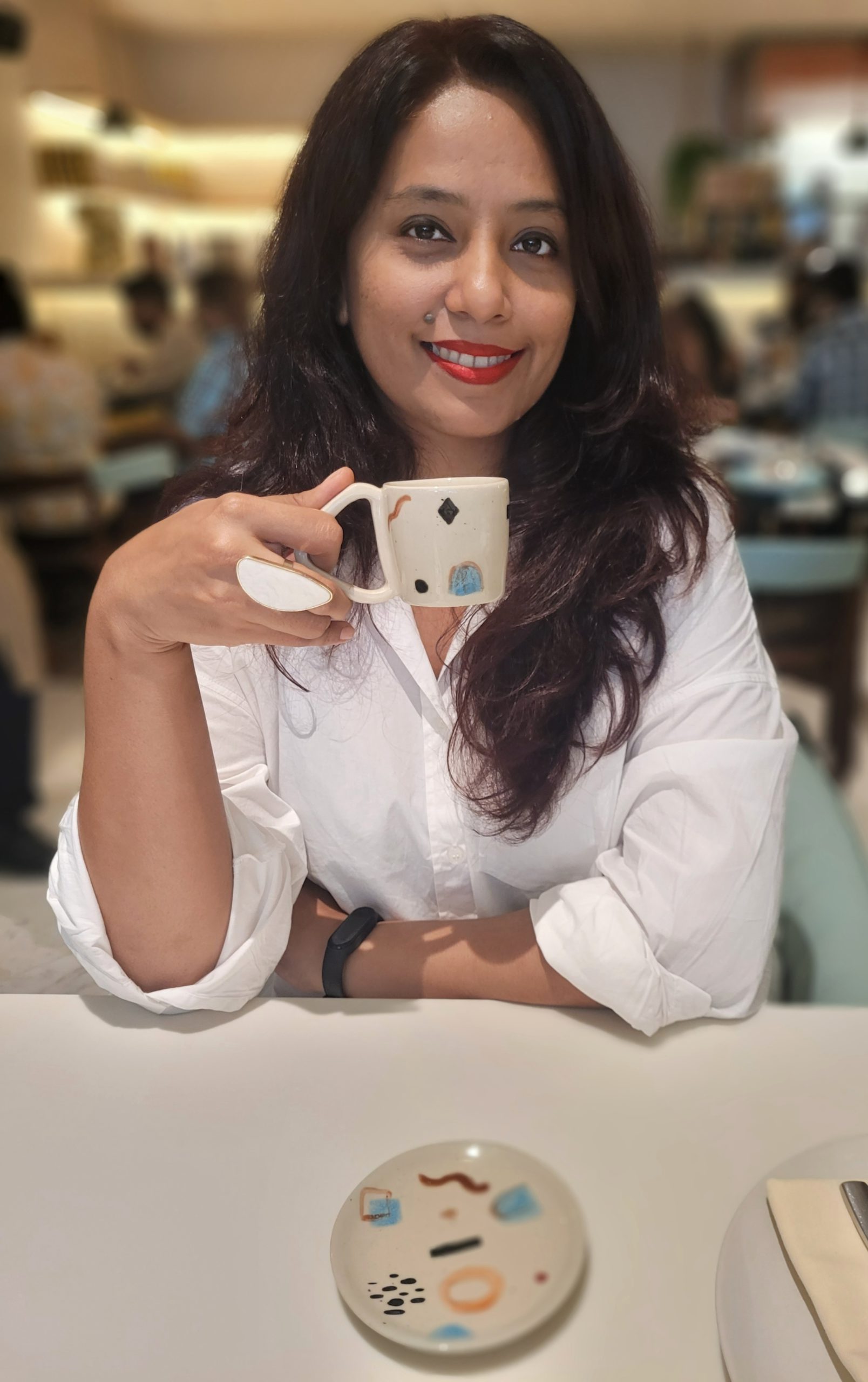 Prachi Joshi is an independent travel and food writer based in Mumbai. Her words have appeared in publications such as Conde Nast Traveller, Vistara, Zee Zest, and AD among others. When she's not writing, you'll find her in a cafe sipping espressos, people-watching, and perhaps plotting her next trip to Italy. She enjoys photography and is on Instagram as @delishdirection.