Photo: Getty Images
Football is not just a sport- it is a blend of hopes and dreams, thrilling moments and outcomes that are often a twist of fate. It has to power to bring people together in the spirit of the game. Strangers become friends as football fans gather from all over the world to support their favorite team. Traveling to the FIFA World Cup is a bragging chance that everyone dreams of. If the World Cup is not on your bucket list, it should be, and more so this year because of India's proximity to the World Cup host Doha, Qatar. That and the fact that this is the first and perhaps the only wintertime World Cup.
Even if you don't care much for football, the World Cup is a chance to experience another country in full splendor and glory- and no traveler would want to miss that chance. There has never been World Cup hosted in an Arab country before. So, consider this a chance to visit someplace different.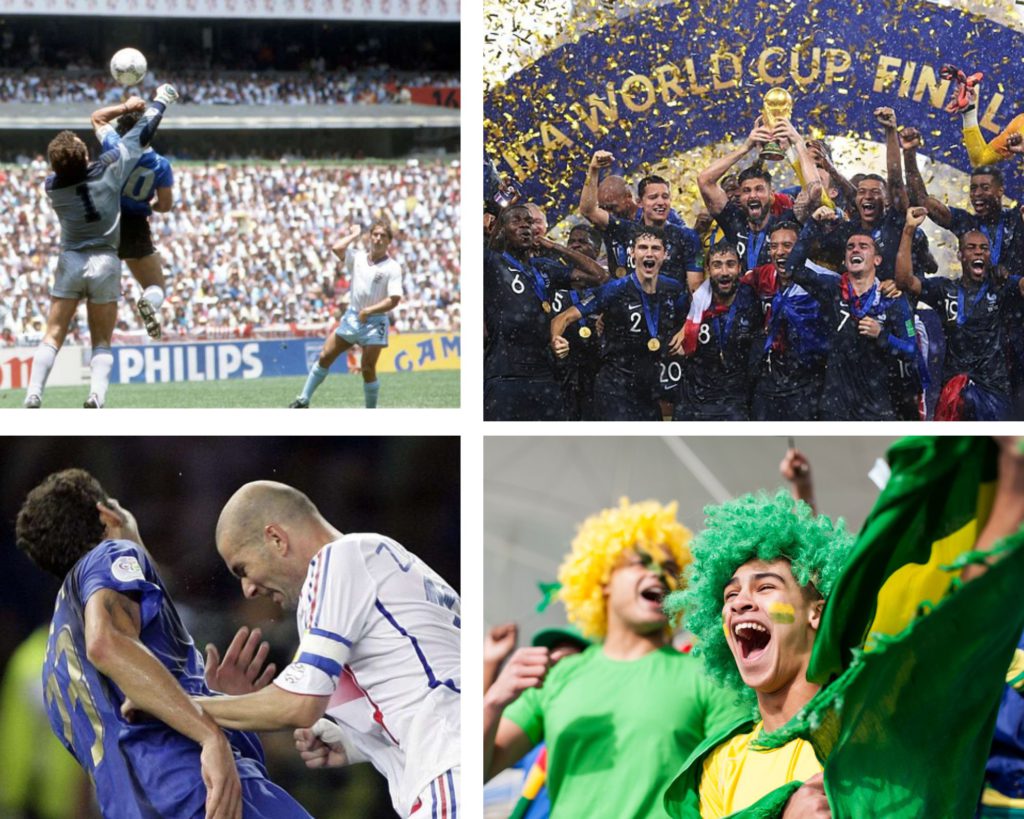 As we count down to the much-anticipated men's FIFA World Cup 2022 (30 days away upon publishing, to be exact), where qualifying teams from around the globe are gathering in Qatar to claim the coveted trophy, here are some other reasons why visiting Qatar during FIFA must be on every football fan's bucket list:
The proximity of the football stadiums: This is why this World Cup will be fantastic for football fans. The 2022 World Cup will be split across 5 cities in Qatar, but these host cities are really just in the suburbs of Doha. All eight host stadiums are connected by metro lines, making travel much faster and easier. So apart from reducing travel time, you will also get time to watch other teams play. This is a dream come true for football fanatics.
Doha will become a melting pot for all FIFA fans: With 32 nations represented, everyone will stay in the same city, walk on the same streets, and visit the same restaurants and clubs. This will be an epic time to meet with fellow fans, discuss football over a meal, and experience another country at its most enterprising moment.
The all-new infrastructure: Qatar added a lot of new hotels- lavishly furnished and with exceptional customer service. Out of eight, seven stadiums have been recently opened and built using green technology, and there is a plan to repurpose them after the games in developing countries. So the entire metropolitan area is being built specifically for these games. In fact, the location of the World Cup finale, Lusail, is an entirely new city built especially for this event! It contains a marina, resorts, commercial and entertainment districts, a gold course, and even a few artificial islands! This level of development before any world cup has never been seen before.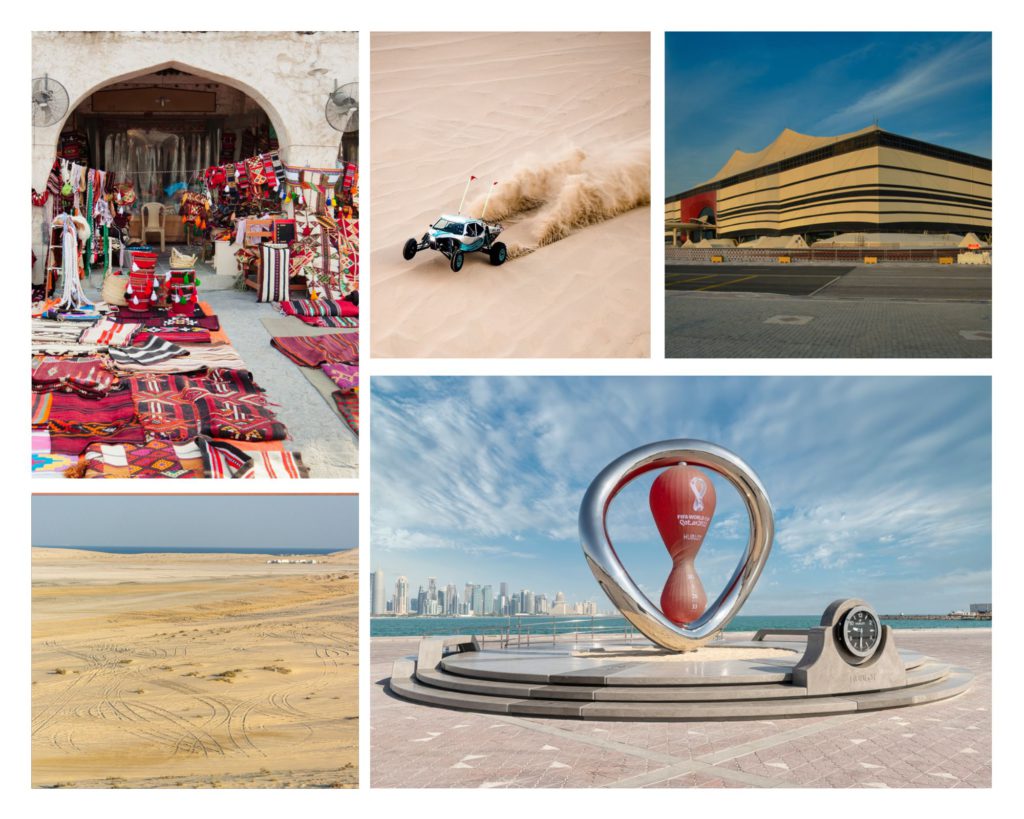 Middle Eastern Culture: The 2022 FIFA World Cup is the first world cup hosted in an Arab country. This will be your chance to see the Middle East in all its glory. You can visit the famous Souq Waqif market- the oldest market in Qatar- and shop for garments, spices, local crafts, and souvenirs. It is also home to many restaurants and hookah lounges.
Beyond Football: There are many other activities one can do in and around Doha. For adventurous people, a safari tour is a great option. Your driver arrives in a luxurious 4X4 SUV at your accommodation and drives you to the nearby desert. They let some air out of the tires, allowing the vehicle to slide more easily up and down the sand dunes for an exciting roller-coaster ride. Most excursions also include a quick visit to Khor Al-Adaid, one of only three places on our plant where the desert meets the sea.
ATVs can be used to explore the desert. Falconry is popular in Qatar, and camel races are also popular. Sandboarding is another activity. It's relatively simple to rent a boat for fishing or exploring the shoreline.
With so many exciting things in stock, this year's World Cup is definitely something everyone is looking forward to.
So what you are you waiting for? Pack your bags for Qatar this winter for FIFA World Cup 2022 from November 20 to December 18 and make memories of a lifetime. You might just end up witnessing some exhilarating games and moments like Diego Maradona's 1986 "Hand of God" goal, which spurred Argentina's victory over England, a final as nail-biting as the one between France and Croatia in 2018, where France beat Croatia 4-2 to the World Cup in a pulsating final in Moscow that sparked ecstatic scenes from Paris to Marseille and beyond or a moment as insane as Zinédine Zidane's infamous headbutt in 2006 that arguably cost France the World Cup to Italy.
Qatar's travel requirements
As for the standard Qatar travel requirements, your passport will need to be valid at least six months after your return date. Though Qatar usually requires a tourist visa upon entry (it costs roughly $27), only travelers with a ticket or approved by someone with a ticket can enter the country around the World Cup 2022, from November 1 to December 22. If you have a World Cup game ticket, or are traveling with a ticket holder, apply for your Hayya Card before traveling—this will function as your visa for entry to the country, and ticket into the World Cup stadiums. Travelers without a Hayya Card will not be permitted entry.
To purchase tickets, visit www.fifa.com. To explore more of Qatar, follow our FIFA World Cup 2022 coverage with travel guides to the host country.
Match Schedule
Group A: Qatar, Ecuador, Senegal, Netherlands
Group B: England, Iran, United States, Wales
Group C: Argentina, Saudi Arabia, Mexico, Poland
Group D: France, Australia, Denmark, Tunisia
Group E: Spain, Costa Rica, Germany, Japan
Group F: Belgium, Canada, Morocco, Croatia
Group G: Brazil, Serbia, Switzerland, Cameroon
Group H: Portugal, Ghana, Uruguay, South Korea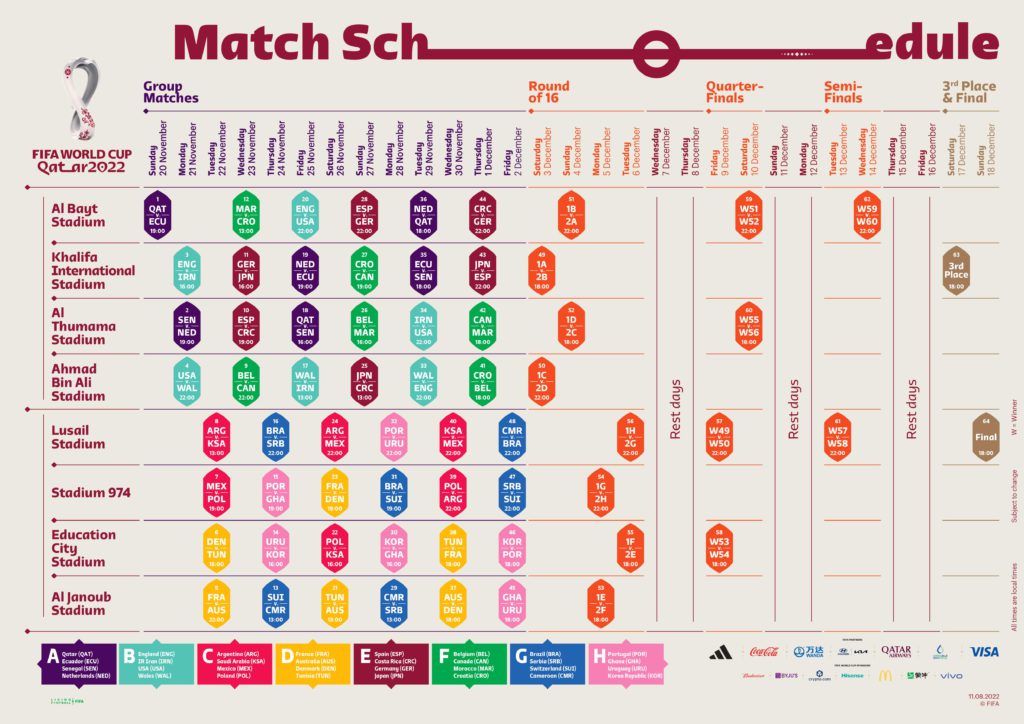 For latest travel news and updates, food and drink journeys, restaurant features, and more, like us on Facebook or follow us on Instagram. Read more on Travel and Food Network
Trending on TFN
The 22 Best Places To Go In 2022
Explore Utah's Mighty 5® and What Lies in Between
Five Epic U.S. National Parks To Visit This Year