Coca-Cola Trademark brands (Coke, Diet Coke, Coke Zero Sugar, Coca-Cola Flavors) will debut a 13.2-oz. bottle made from 100% recycled PET (rPET) plastic this month in California, Florida and select states in the Northeast, with other sparkling beverage brands following this summer.
The new 13.2-oz. bottle – the first-ever Coca-Cola package made from 100% rPET in the United States – uses less plastic and offers a convenient, sippable portion size. "On-the-go consumers have been telling us they want an option like this, because it's just the right amount for the 'snacking' occasion," said Tammy Lee, brand manager, Coca-Cola Trademark. "We believe this innovation delivers the double benefit of convenience and sustainability."
Coca-Cola North America's rPET innovations spans the portfolio and includes multiple brands and packaging sizes.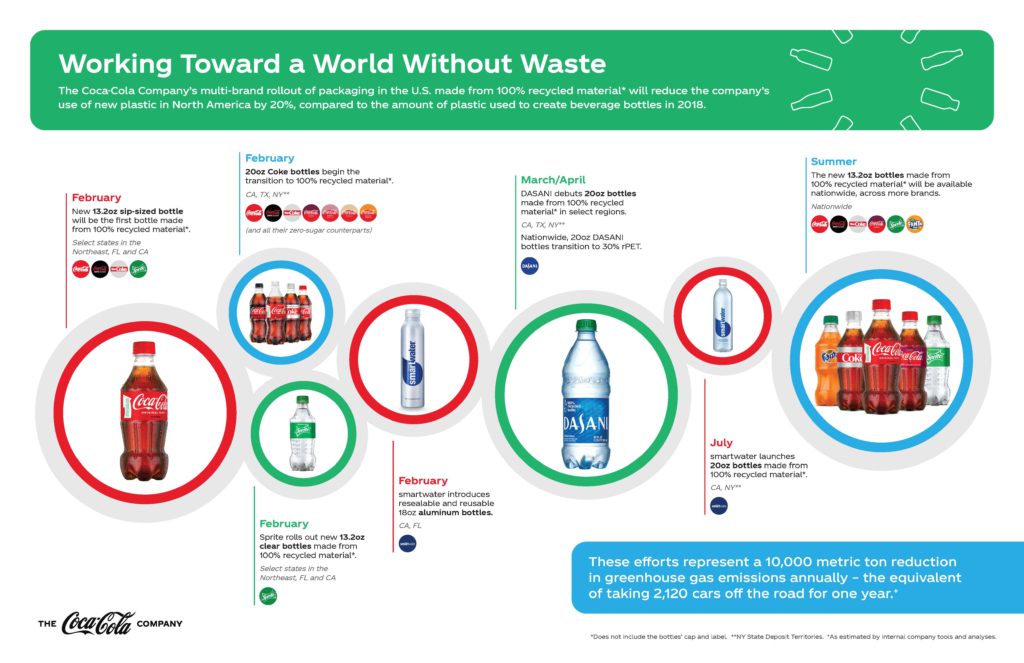 Combined, these innovations represent a 20% reduction in the company's use of new plastic across its North American portfolio compared to 2018. They will collectively reduce 10,000 metric tons of greenhouse gas emissions annually in the United States – the equivalent of taking 2,120 cars off the road for one year – based on internal company tools and analyses.
The Coca-Cola Company now offers 100% rPET bottles in more than 25 markets, bringing it closer to its World Without Waste goal of making bottles with 50% recycled content by 2030. Announced in 2018, the sustainable packaging platform also includes a goal to collect and recycle the equivalent of a bottle or can for every one the company sells globally by 2030, and to make 100% of its packaging recyclable by 2025.
More than 94% of the company's North American packaging is currently recyclable.
To build awareness and encourage action, all 100% rPET package labels will include "Recycle Me Again" messaging, according to their recent press release.
For latest travel news and updates, food and drink journeys, restaurant features, and more, like us on Facebook or follow us on Instagram. Read more on Travel and Food Network
Trending Now : TFN 2021 Guides
A Week Along The Mesmerizing Amalfi Coast | Travel Guide 2021
48 Hours In Prague And 10 Tips To Make The Most Of It | 2021 Travel Guide