Photo : KFC Canada
The same Finger Lickin' signature flavour you know & love, now made with soy, wheat and fava beans — 100% Canadian made it's the first plant-based chicken substitute to be served at a chicken chain in Canada.
As a quick service chain focused entirely on chicken, you might not expect KFC to jump into the plant-based burger wars. But as more fast food brands put beef alternatives on the menu, makers of these alternative products are looking to expand into poultry, pork, fish, and beyond. And while testing and rollouts of meat-like non-meat substitutes are increasing in the United States, KFC Canada has already put one of the first permanent plant-based chicken products on the menu.
Starting August 10, the Plant-Based KFC sandwich hit KFC locations all across Canada after a successful test run last year. The plant-based patty is from Lightlife, a company with an ever-widening range of refrigerated and frozen meat substitutes including burgers, and the sandwich can be served with or without a spicy mayo upgrade. For a limited time, the product will also be available as popcorn chicken.
Also Read: KFC to Give Californians a Taste of Plant-Based Beyond Chicken
But KFC in the United States isn't staying away on offering alternatives to chicken. Domestically, the brand has teamed up with Beyond Meat to produce a boneless (you'd hope!) Beyond Fried Chicken (in what's essentially a large nugget form) that saw a successfully sold-out test run in a single Atlanta location last year before reformulating the recipe and expanding the test to dozens of locations Charlotte and Nashville in February 2020. The product received another test run in Southern California this summer. KFC Canada saw a similar demand for its sandwich during its initial test, which a spokesperson says sold out a month's worth of the product in just six hours.
The Plant-Based KFC sandwich is notable for another reason: Chicken sandwiches have ignited a furious competition among American fast food chains. While Chick-fil-A held strong for years with a fan favorite sandwich, Popeyes came along with its own take, confidently dubbed "The Sandwich," to critical and customer acclaim, selling out repeatedly in a limited run before getting a permanent spot on the menu in original and spicy iterations. McDonald's, too, has seen inklings of a chicken sandwich upgrade, while KFC in the U.S. tested its own answer to The Sandwich in May of this year.
From : Food and Wine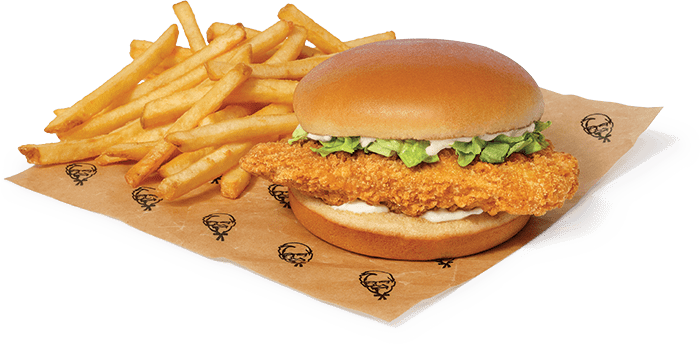 In Other News:
Chelsea Market In NYC Launches New Outdoor Dining Experience
How Digital Is Making Quick Service Restaurants More Efficient And Sustainable