Just in time for Valentine's Day. 🍫🍓
Hershey's Kit Kat is known for its out-of-the-box, yet tasty, flavors. Fruity Cereal or Key Lime Pie, anyone? In April 2019, the brand introduced the Duos line, which combines two flavors on each wafer. So far, we've had Mint + Dark Chocolate and Mocha + Chocolate, and now there's a third variety making its way to stores.
The crisp wafers have two layers. The bottom half features dark chocolate and top half is covered in strawberry-flavored creme. That means you get the combination of both flavors in each bite, so it'll taste like a chocolate-covered strawberry. It just so happens that the new Duos is rolling out now, so it's a great treat to enjoy for Valentine's Day.
That's not the only new Kit Kat you we get to kick off the new year. Kit Kat Thins, which first appeared in stores in February 2021, now come in a Chocolate Hazelnut variety. The thinner treat adds a hazelnut touch to the chocolatey treat, and is available in 3.1-ounce and 7.37-ounce bags.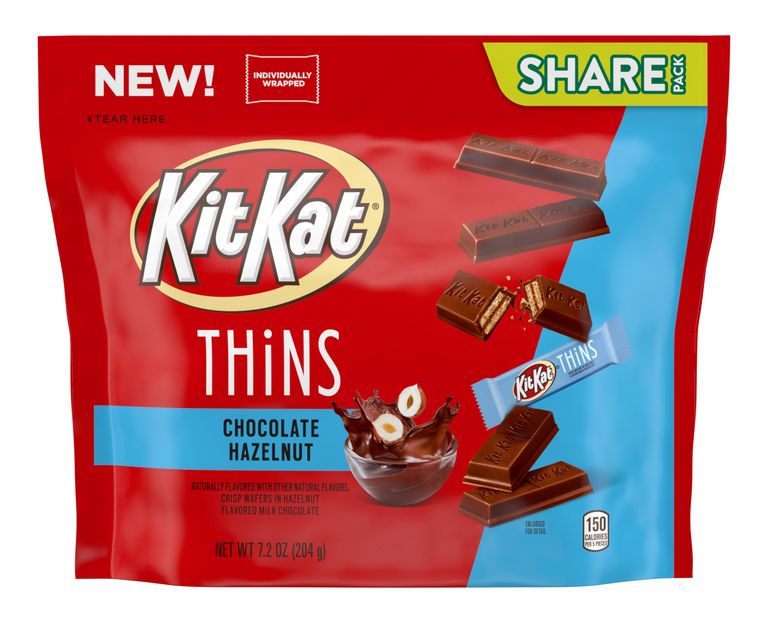 Don't Miss: Starbucks' Valentine's Day Line Is In Stores
"A new year is always a chance to try new things, so what better way to start than by releasing new KIT KAT flavors?" Dan Williard, brand manager of Kit Kat, said in a press release. "There's nothing more classic than KIT KAT wafers and chocolate, but Kit Kat Duos Strawberry + Dark Chocolate and KIT KAT THiNS Chocolate Hazelnut bring fresh takes."
Keep your eyes peeled in the candy aisle, because both the Kit Kat Duos Strawberry + Dark Chocolate and Kit Kat Thins Chocolate Hazelnut are available at retailers nationwide. Better yet, they're both permanent additions to the brand's lineup, so these can be your go-to candies for a long, long time.
From: BestProducts
For latest travel news and updates, food and drink journeys, restaurant features, and more, like us on Facebook or follow us on Instagram. Read more on Travel and Food Network
Trending on TFN
The 22 Best Places To Go In 2022