Photo : Shutterstock
The countdown to December starts now.
Back in August, some attentive instagrammer found a listing for sugar cookie-flavored Hershey Kisses online. But they weren't available for purchase nor were they confirmed.  However with the arrival of the Pumpkin spice season, new foods and treats are dropping ahead of the autumnal equinox. So Hershey's has officially announced their lineup of holiday sweets and, yup, the sugar cookie Kisses are real.
The kisses are made with white chocolate and feature little red and green bits of sugar cookie in each bite. They taste just like sugar cookies and the bag even features a recipe for Sugar Cookie Hershey's Kisses Sugar Cookies on the back.
In case you feel it is too early to stock up your snacking and baking needs for the holiday season, then check out Hershey's Halloween line up for this year. First up, is a new flavor of Kit Kats called Witch's Brew. They're bright green and pretty spooky and taste like marshmallow cream all wrapped around the brand's iconic wafer. These are really fun and will be a hit with those of us who prefer white chocolate over milk, as they have a similar flavor profile to white chocolate.
Next up are these Vampire Milk Chocolate Kisses stuffed with a strawberry creme filling fit for a vampire. You get the strawberry flavor before you even bite in, which we love. They taste like a chocolate-covered strawberry but, like, way easier to eat.
In addition to new candies, you'll also find some old faves on shelves this fall like Reese's Pumpkins, mini Pumpkin Pie Kit Kats, Hershey's Glow-In-The-Dark minis, and milk chocolate Monster Kisses with adorable themed foils. All of these will start rolling out in stores as the holiday gets closer which gives you plenty of time to coordinate a Halloween costume around your favorite candy.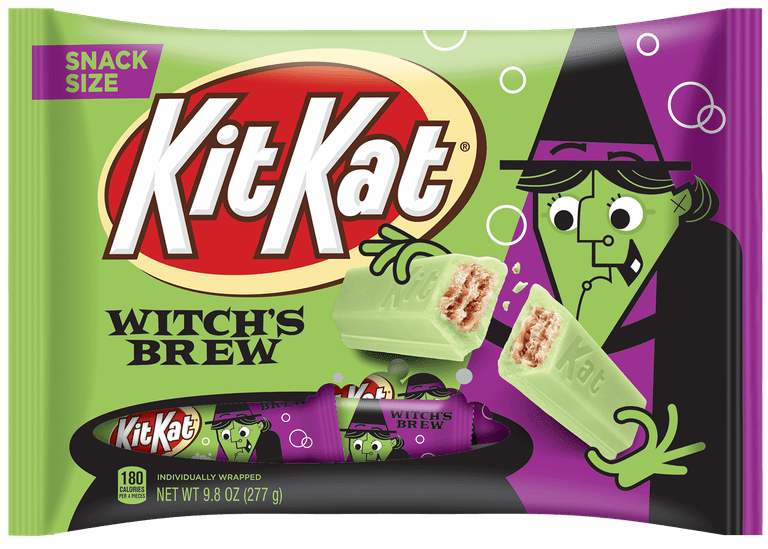 In Other News:
Thai Airways Opens Pop-Up Restaurant, Complete With Airline Seats, To Serve Its Airline Food
Oreo Has New Gingerbread Cookies That Will Make The Holidays Extra Delicious
For food and beverage news, food journeys, healthy recipes, restaurant features, food reviews, like us on Facebook or follow us on Instagram. Read more on TheFoodieNetwork.In