Lisbon, the capital city of Portugal lying along the Atlantic coast, is also one of the largest cities in the country as well as one of the oldest in the world with around 3 million people living in the city. It lies in the Western Iberian Peninsula on the Atlantic Ocean and the Tagus River. What makes Lisbon special is its colonialist history, cultural heritage, trams, ornate old buildings with rich architecture, its traditional Fado music, and the scrumptious array of food. Lisbon has been recognized as a global city and is a must visit for people who love to travel, enjoy seafood, and indulge in a rich cultural and historical experience along with vibrant and serene landscapes.
How to reach: The Humberto Delgado Airport, also known as the Lisbon airport or Portela Airport, is an international airport which connects Portugal to the rest of the world. This airport is well connected to all parts of the world serviced by several international airlines. This airport is well connected to the city centre through metro and bus services. From India, flights ply to Portugal regularly from New Delhi, Bangalore, Chennai, Mumbai and Goa.
Best time to visit: Lisbon has a Mediterranean climate and hence it has pleasant weather throughout the year. However, March to May or September and October, would be an ideal time to visit Lisbon due to cheaper hotel rates and less crowds. The hotel rates increase during summers and beaches are usually crowded with a lot of people. Spring and fall are therefore the best time to visit this place.
72 Hours Sightseeing Guide: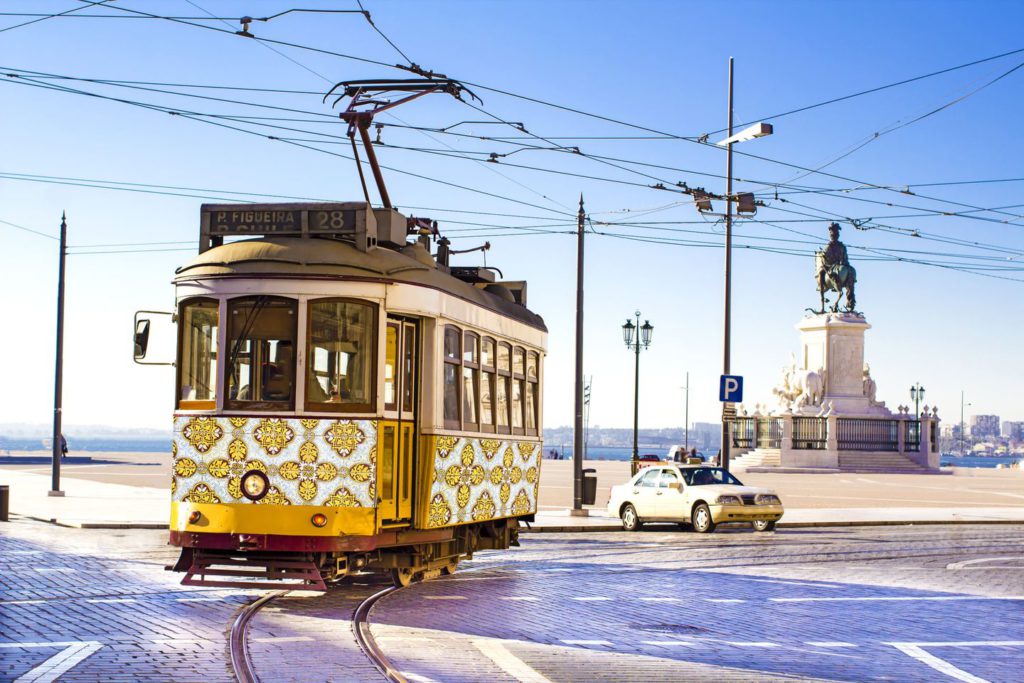 In spite of being a capital city, Lisbon radiates a small-town charm, complete with its bright yellow 28 tram. The best way to discover the city is by hopping on the number 28 Lisbon tram that connects Martim Moniz with Campo Ourique, and passes through the popular tourist districts of Graca, Alfama, Baixa and Estrela.
Alfama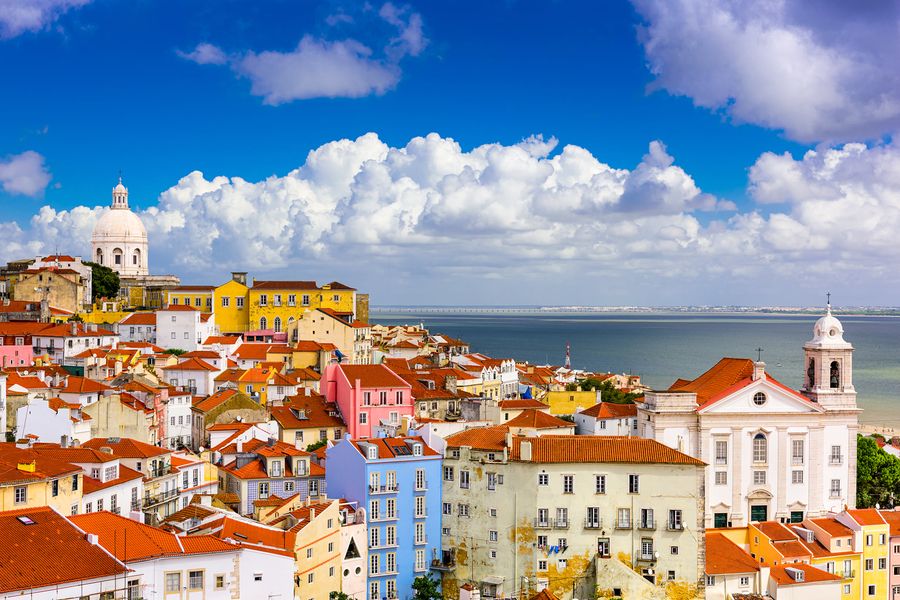 The Alfama is the oldest neighbourhood in Lisbon stretching on a slope between the São Jorge Castle and river Tagus. It is a beautiful neighbourhood to explore as it is filled with aesthetic buildings and several historical and cultural attractions as well as an array of restaurants and Fado bars. Alfama has delightful sights to offer to anyone who walks by this neighbourhood. Alfama makes for a wonderful spot for photography. While strolling through Alfama, you can also take a tour of the Lisbon Cathedral which is also the oldest church in the city.
Castelo de São Jorge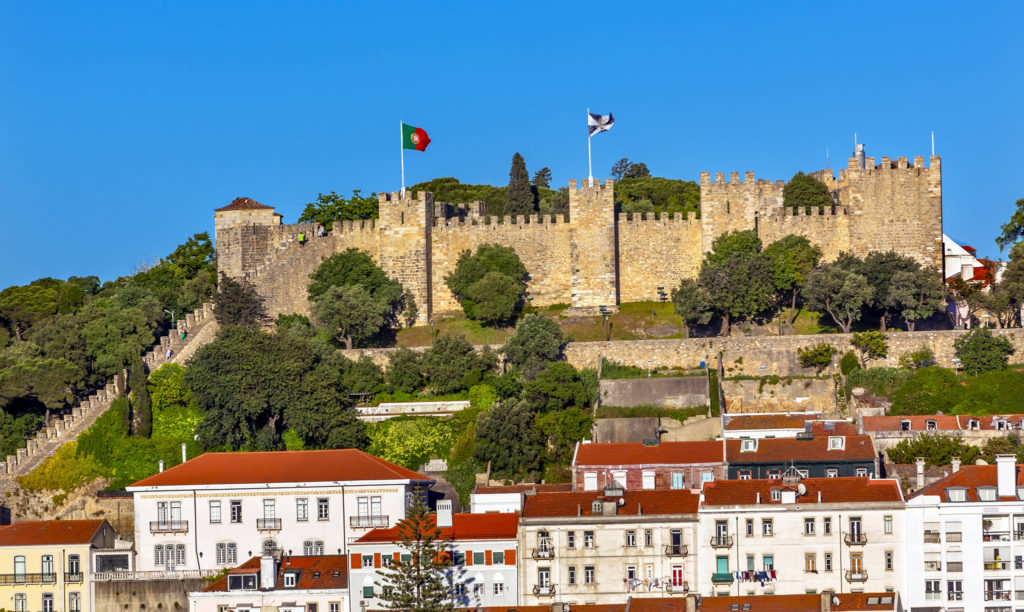 Situated in the centre of Lisbon, near Alfama, the Castelo de São Jorge is an iconic landmark and a historic castle giving you a magnificent view of the Portuguese capital. This castle is an amalgamation of archaeological site, museum and battlements. This site offers a panoramic view of the River Tagus and the Atlantic Ocean. The hill on which the castle is situated is important from the historical perspective as it has served the purpose of fortification in the history of Lisbon. It is a site worth visiting as it enables you to explore the history of Lisbon. This place also has numerous local restaurants that definitely cannot be missed!
Mosteiro dos Jerónimos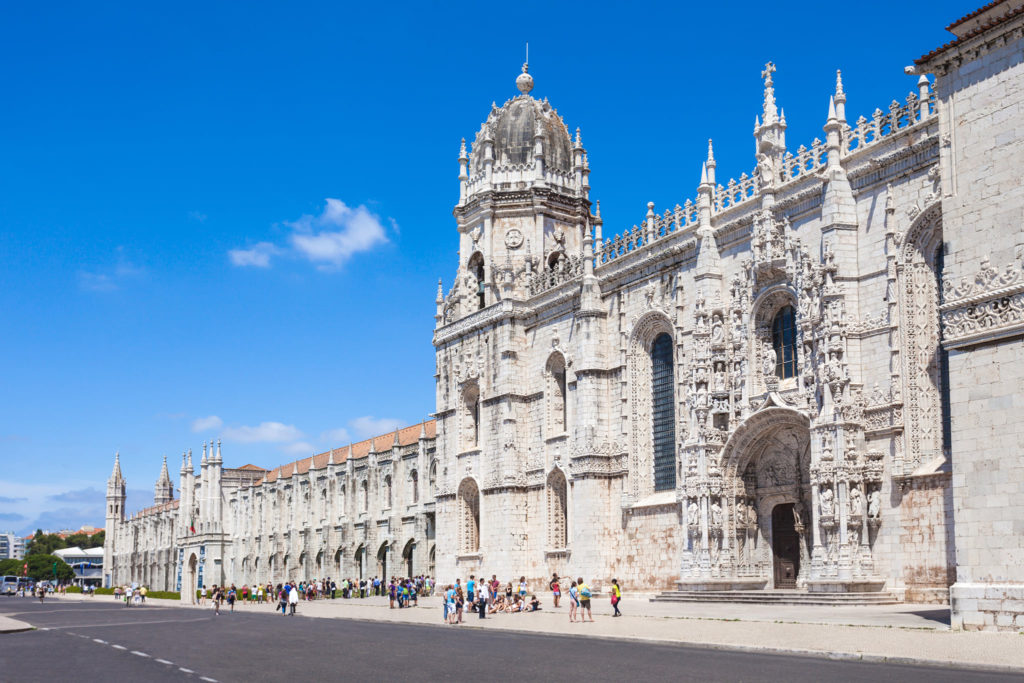 The Mosteiro dos Jerónimos is a historic, religious and sacred landmark dating back to the 16th century and is of enormous cultural significance. It has been considered as one of the UNESCO World Heritage sites. This place follows the Manueline and Gothic style of architecture with ornamental pillars. It was inspired by Vasco da Gama who is buried here along with other great navigators who are known throughout history. It is a grandiose site with colourful flowers bordering the monument, and makes for a delightful trip!
Belem Tower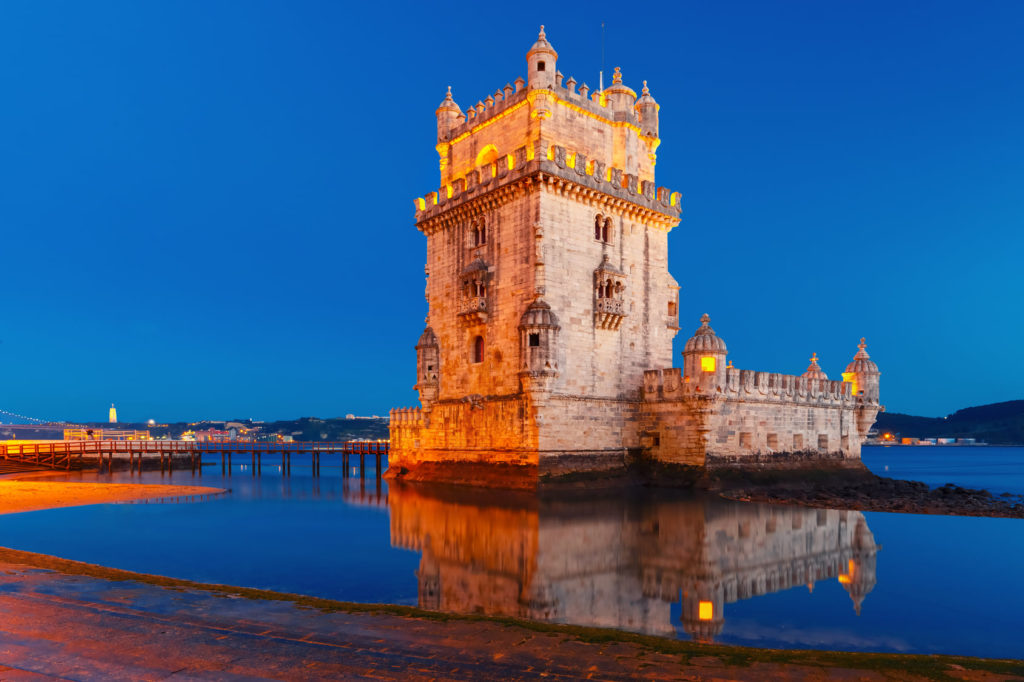 The Belem Tower, also known as the Tower of St. Vincent, is a UNESCO World Heritage site built in the 16th century during the Portuguese Renaissance on the Northern bank of the river Tagus. It is a fine example of the Manueline style of architecture and is a monument that stands for the Age of Discovery and a symbol of colonial expansion of Portugal. The history associated with the tower makes it an overwhelming site to visit and explore.
Oceanário de Lisboa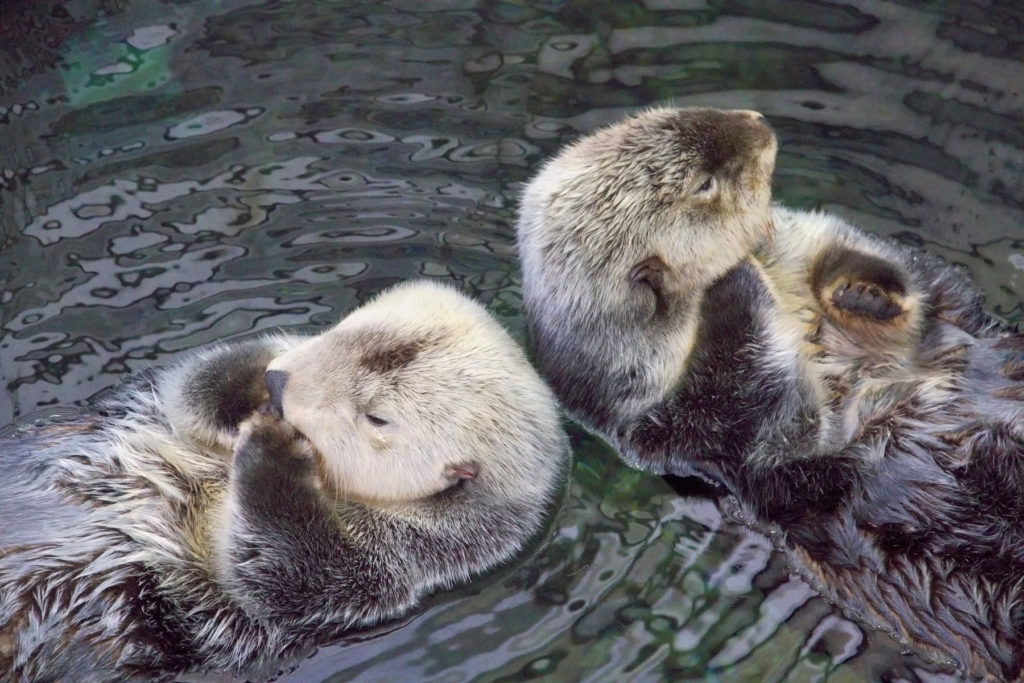 The Lisbon Oceanarium is one of the largest aquariums in the world which was opened in 1998. It is a place that you can visit with your family and spend hours amidst the various aquariums that are a part of this oceanarium. It makes for a fascinating tour as it gives you a sublime experience of the underwater world. It is a place where you can sit back, relax and enjoy your time for hours at a stretch!
Museu Nacional de Arte Antigua: The National Museum of Ancient Art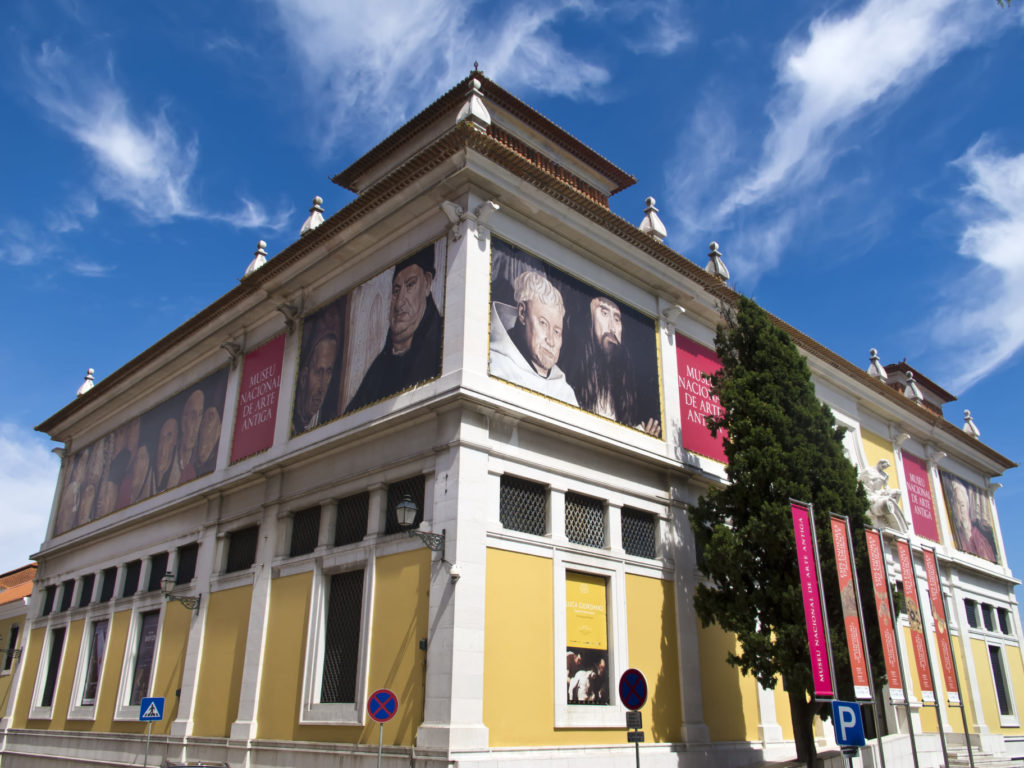 The National Museum of Ancient Art is a home of the 15th and 16th century paintings of Portugal along with an impressive display of Oriental, European and African art. This museum also features the work of Raphael, Gonclaves, and Bosch among many others. It is a gigantic museum with three floors with an entrance around a garden with statues, which also gives you a mind-blowing view of the river.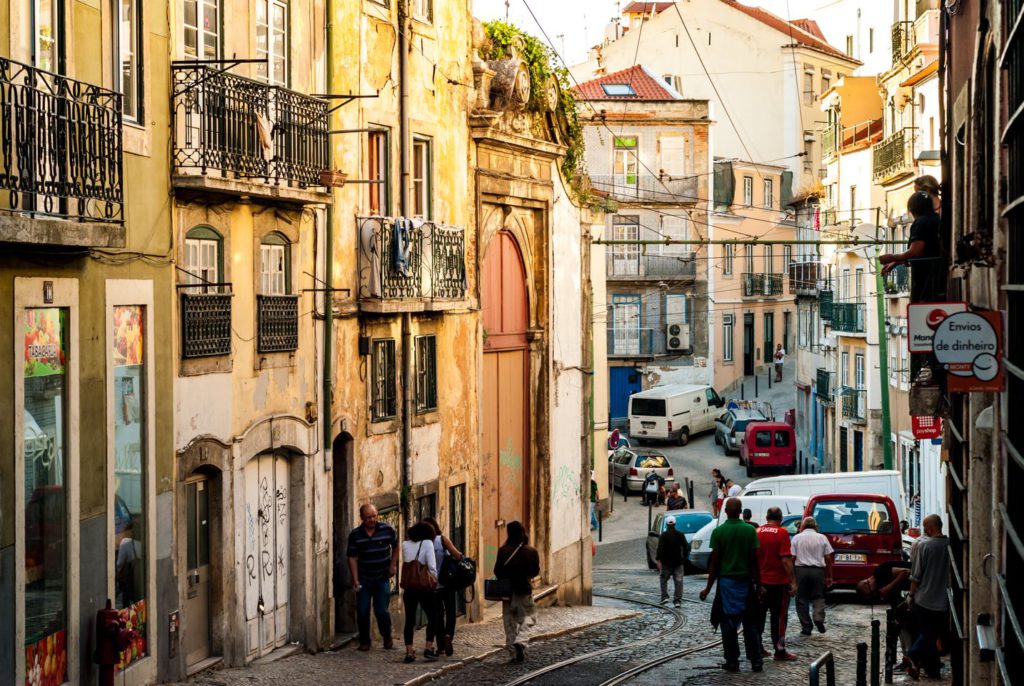 While the city is buzzing with must see sights, Lisbon also has some multicultural neighbourhoods like Martim Moniz and Mouraria. Martim Moniz has an occasional cluster of vendors, something like a flea market, selling food and jewellery amongst live music.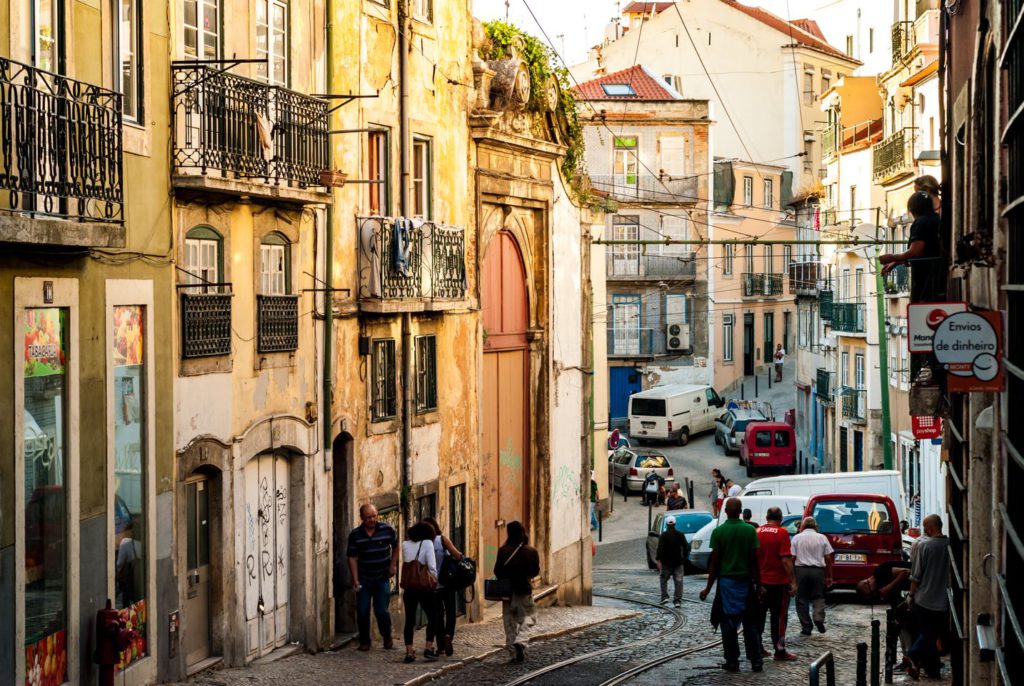 Mouraria is a time capsule, stuck in the medieval times with street art inspired from Fado, a traditional style of music in Portugal.
A day trip to Sintra:
You can take a day tour of Sintra which is a town in the Greater Lisbon region, around 30 kms away from the city centre. This place is recognized as one of the UNESCO World Heritage cultural landscapes.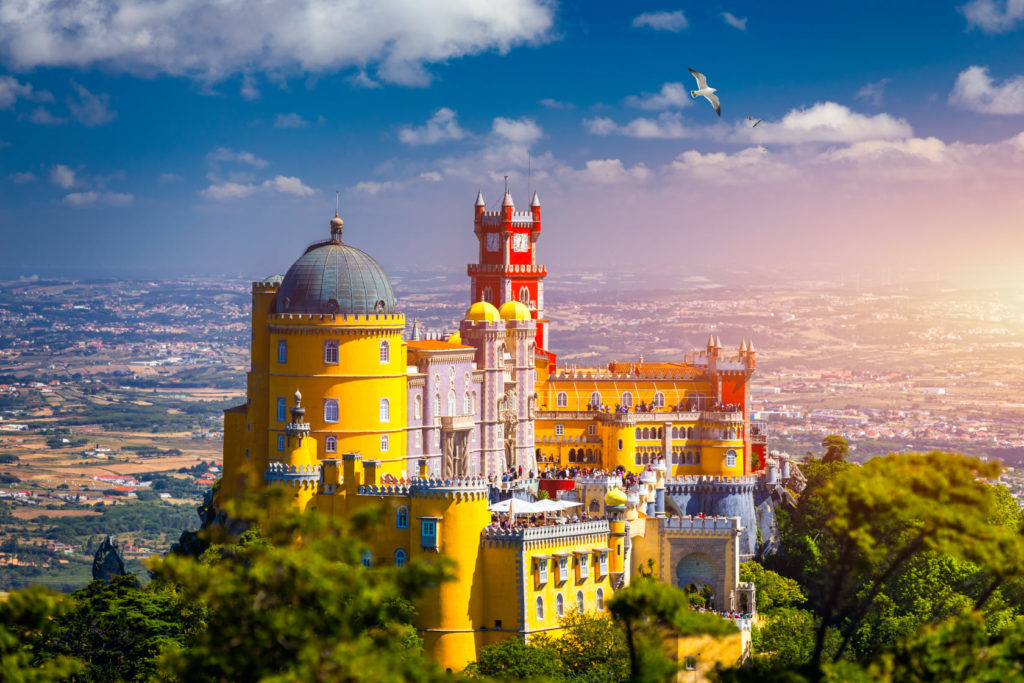 When in Sintra, you must definitely visit the Palácio Nacional de Sintra, also known as the Sintra National Palace which was built in the late 14th century. There is a lot that you get to learn about the history of this place when you visit this marvellous historic site.
You can take a tour of the Pena Palace. It is a Romanticist castle standing on the Sintra mountain. It is a colourful and a beautiful castle that looks straight out of a fairytale!
You can also hike to Castelo dos Mouros for a thrilling experience. It is a Moorish castle built by the Arabs and served as a fortification in the 8th and 9th century.
You must also visit Quinta da Regaleira which is a beautiful romantic architectural complex comprising a garden, a chapel, and a palace. It is a perfect place for a picnic or an afternoon stroll!
Must Eats in Lisbon:
Lisbon's food scene is thriving; it has been a colourful mix of street food, new markets and local Portuguese delights.
When in Lisbon, one must definitely try the bifanas, which are traditional Portuguese sandwiches made with slow cooked pork slices, vinegary and smoky Alheira, a Portuguese sausage and pregos – a juicy and delicious steak sandwich. Lisbon is a paradise for seafood lovers. The shellfishes, sardines, and salt cods are to die for!

If you are a fan of Nando's, you will also love hogging on frango (chicken) cooked Portuguese style with piri piri sauce. You must also try caldo verde, which is a kale and sausage soup, also often called the national dish of Portugal! Portugal loves its eggs so even scrambled eggs get various treatments and are not just a breakfast dish. The cinnamon dusted egg tart is a local favourite, called pastéis de nata.

Local Eateries in Lisbon:
Locals love their Lisbon and have a few landmarks and places which are among the preferred spots. The city has many "miradouros", or lookout points. A few not to miss while in Lisbon include Portas do Sol and Miradouro da Santa Luzia, both in Alfama, and Miradouro da Santa Catarina in Bairro Alto.
Santa Luzia Viewpoint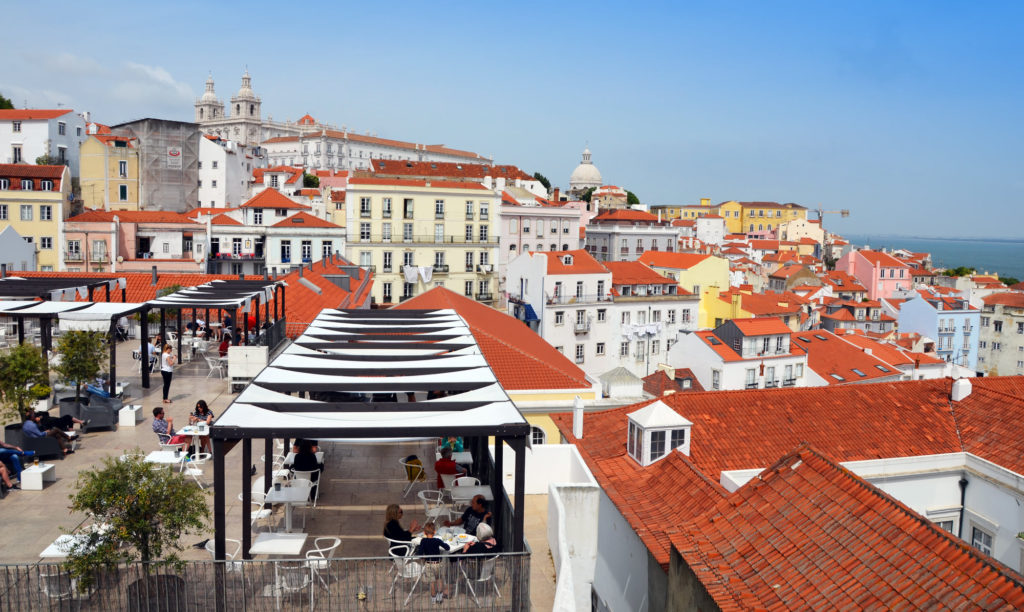 For a magnificent view of the Alfama, do visit the Santa Luzia Viewpoint or Miradouro de Santa Luzia. This place gives you a view of the city as well as the river. The best time to visit this place is late afternoon where you can capture the scenery in a beautiful light. The café on the terrace is a good place for a drink before climbing to the castle nearby
Centro Cultural de Belem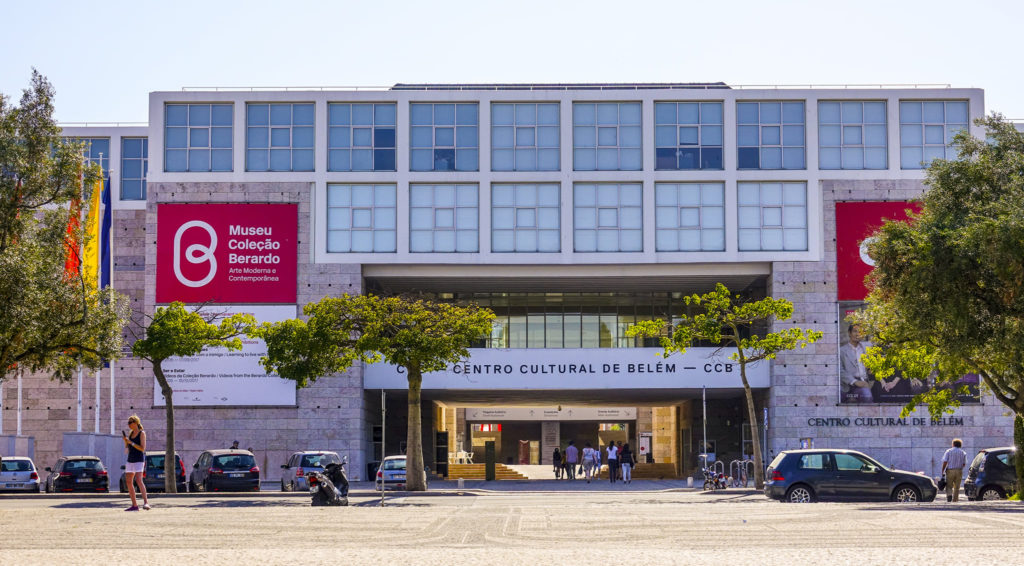 This place serves you with its cultural heritage along with its food. They promote culture in terms of music, cinema, dance and theatre. They have a Conference Centre, an Exhibition Centre, a Performing Arts Centre along with numerous other shops including a book shop! They have a beautiful cafe overlooking the river, best known for their authentic Portuguese creations like pork pie, Portuguese sausage, wild mushrooms, crispy dough wraps and custard tarts.
Restaurante Cerqueira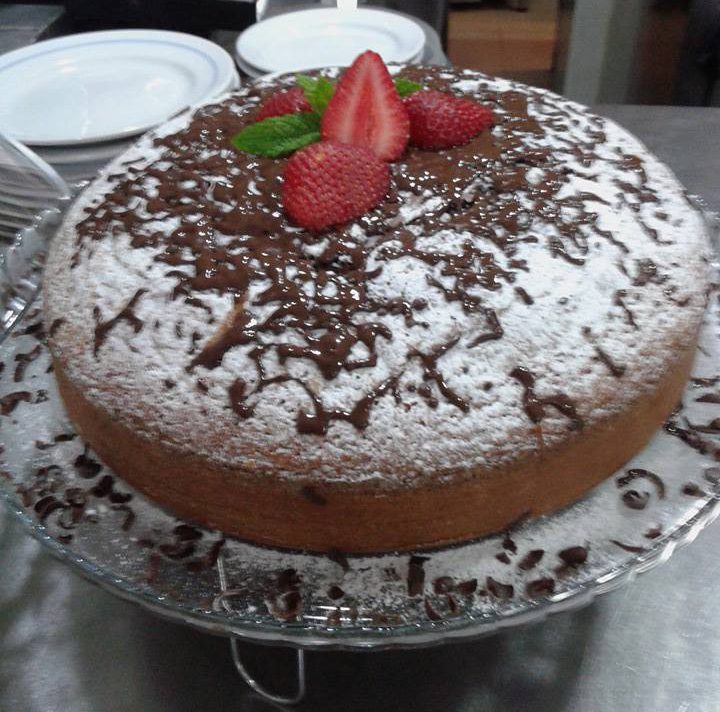 It is one of the finest places for a nice Portuguese dinner. It serves fresh mouth-watering homemade food. If you're looking for grilled seafood and meat, this is just the place for you. Also definitely try the most delectable desserts!
Jardim Da Estrela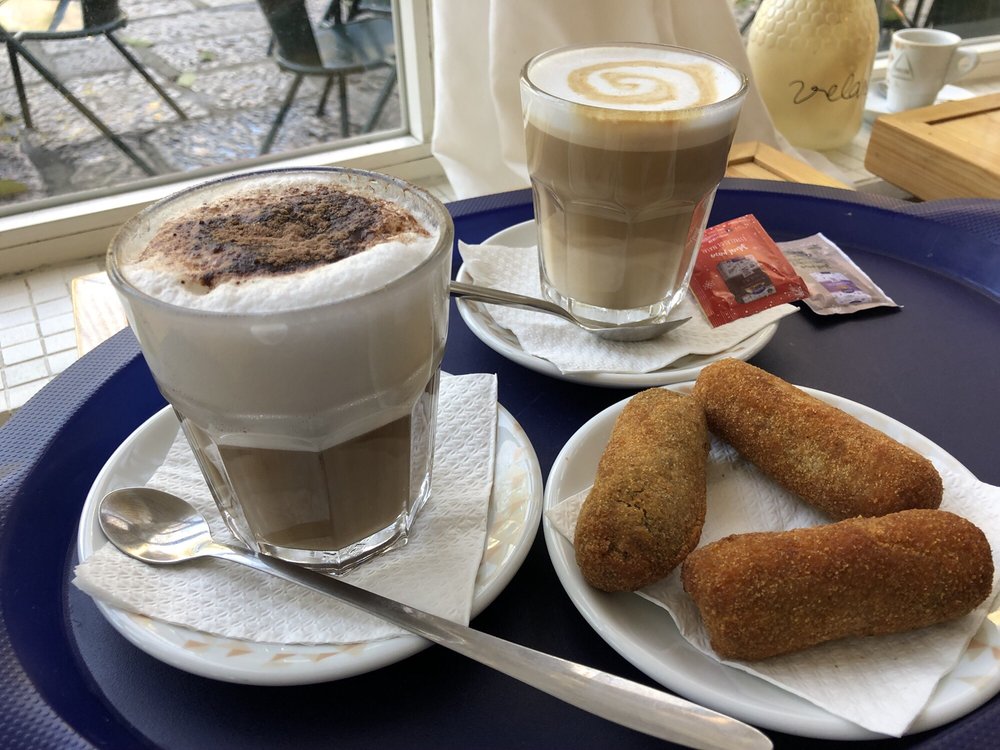 If you're looking for some peaceful time at a cafe in the heart of a beautiful garden, then you must definitely visit Jardim Da Estrela. The garden is full of lush green trees, lakes and birds. Tucked away in a serene corner of Lisbon's beautiful Jardim da Estrela, is Café Jardim da Estrela – a local spot – perfect to watch the world go buy as you bite into their croissants and salads or sip on the classic coffee!
A Tendinha do Rossio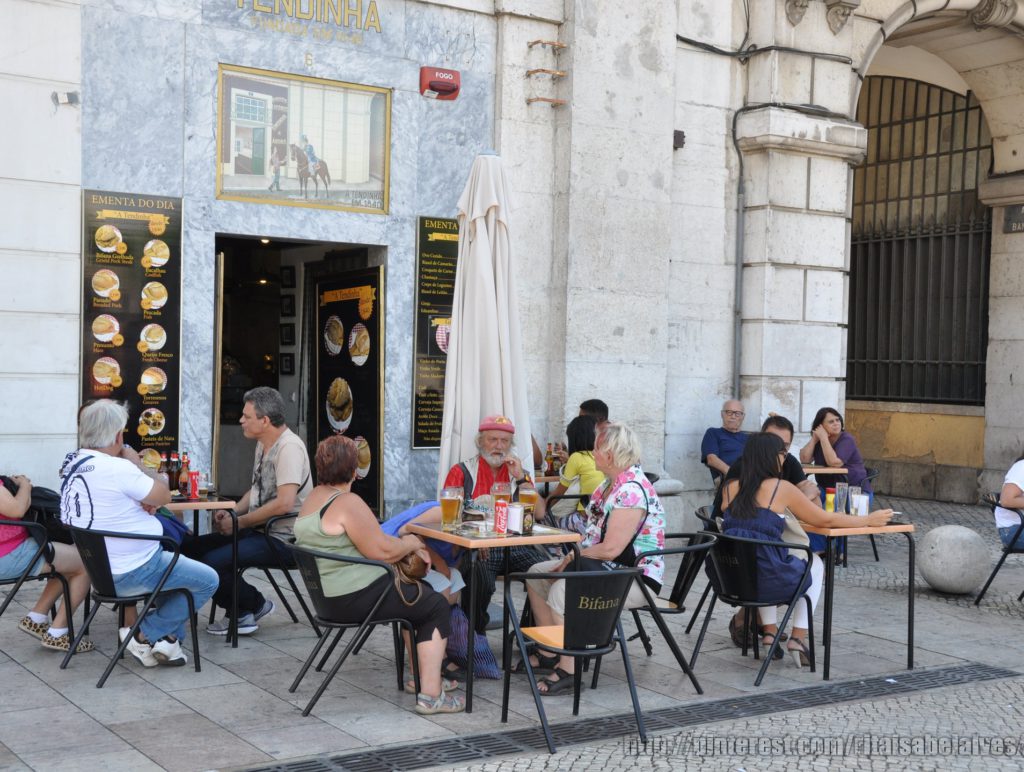 If you're looking for a cheap and quick bite of local food, A Tendinha wouldn't disappoint you. It is a good place to grab breakfast, and dive into the variety of sandwiches that it serves.
Pink Street, known as Rua Cor-de-Rosa, is vibrant, loud, and eclectic. The street is lined in blue and yellow building and houses some of the most fun bars in the city.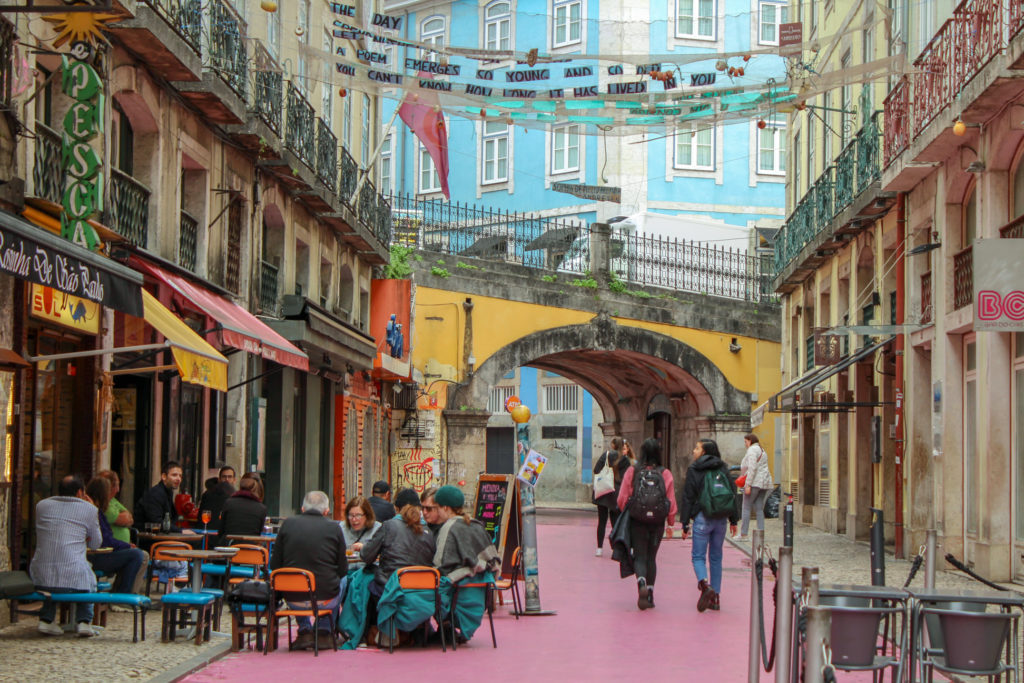 Lisbon is a coastal city, the Tagus River, lined with walking and running paths, from Parque das Nações to Belém, is loved by locals and tourists alike, with its many cafés and sitting areas.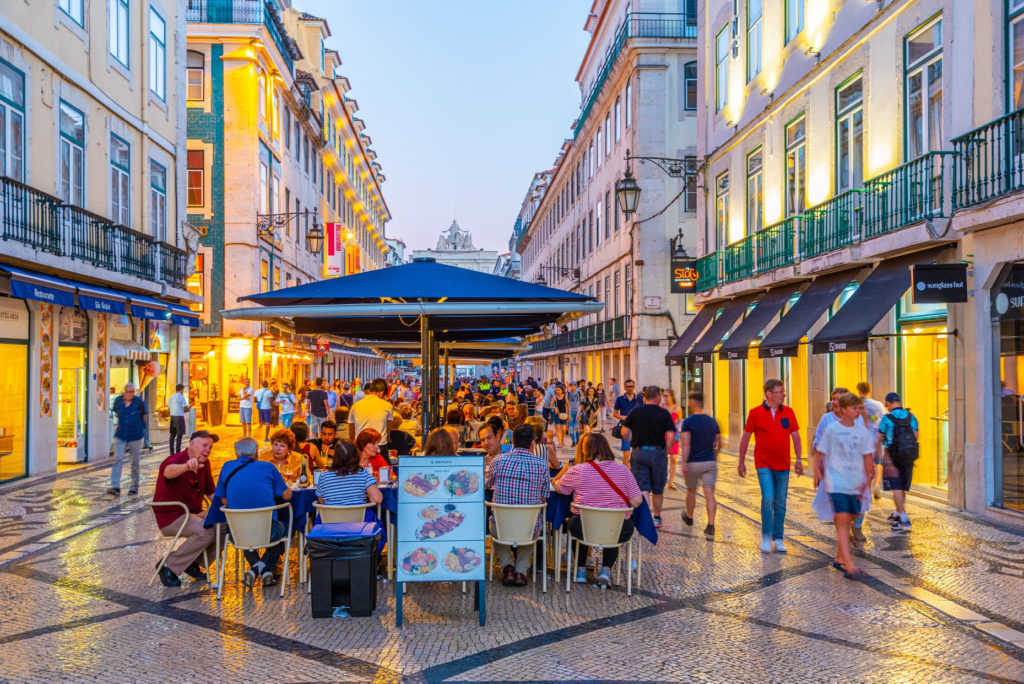 International Restaurants in Lisbon:
The historic building in Cais do Sodré has merged old-fashioned favourites with Michelin-star gourmet meals in over 30 food stalls and a beautiful floral shop called Mercado da Ribeira.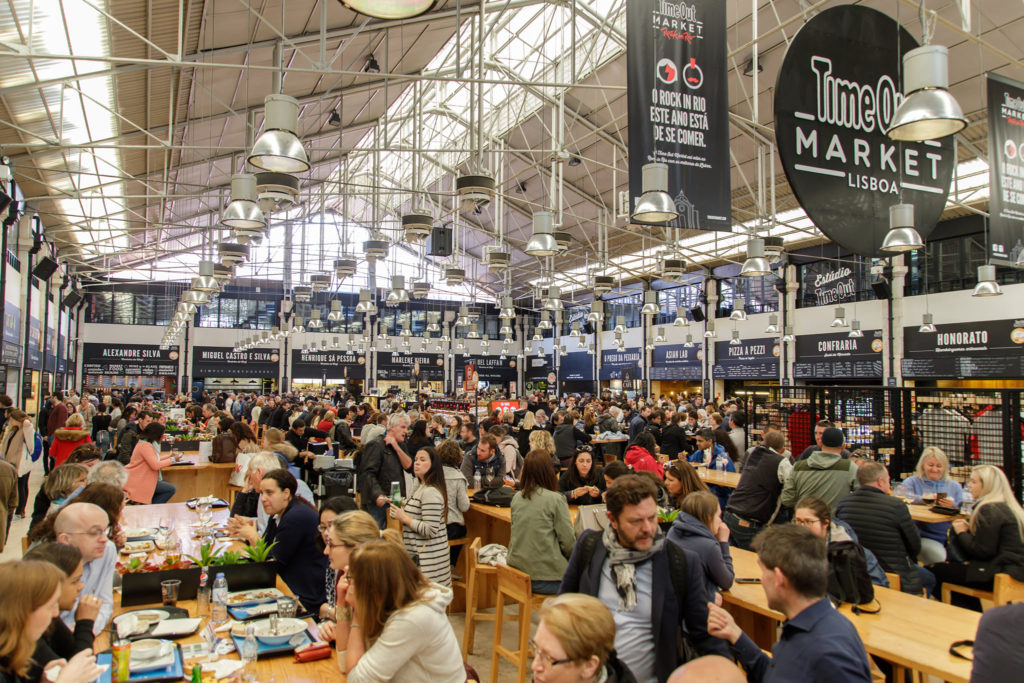 A smaller, less touristy version of Mercado da Ribeira is Mercado Campo de Ourique. Opened in 1934, it's been renovated a few times and continues to sell a variety of traditional produce, as well as artisanal Portuguese recipes and exotic cuisines.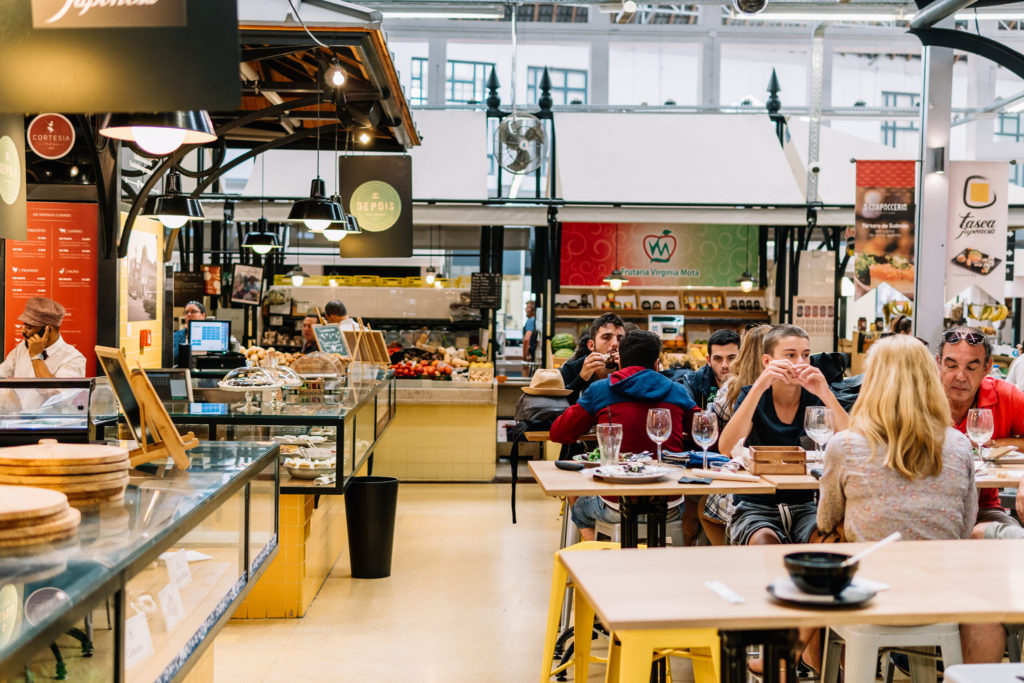 Restaurante Calcutta – Restaurante Calcutta serves some of the best home cooked style, mouth-watering Indian food. It is a perfect place to grab an Indian meal.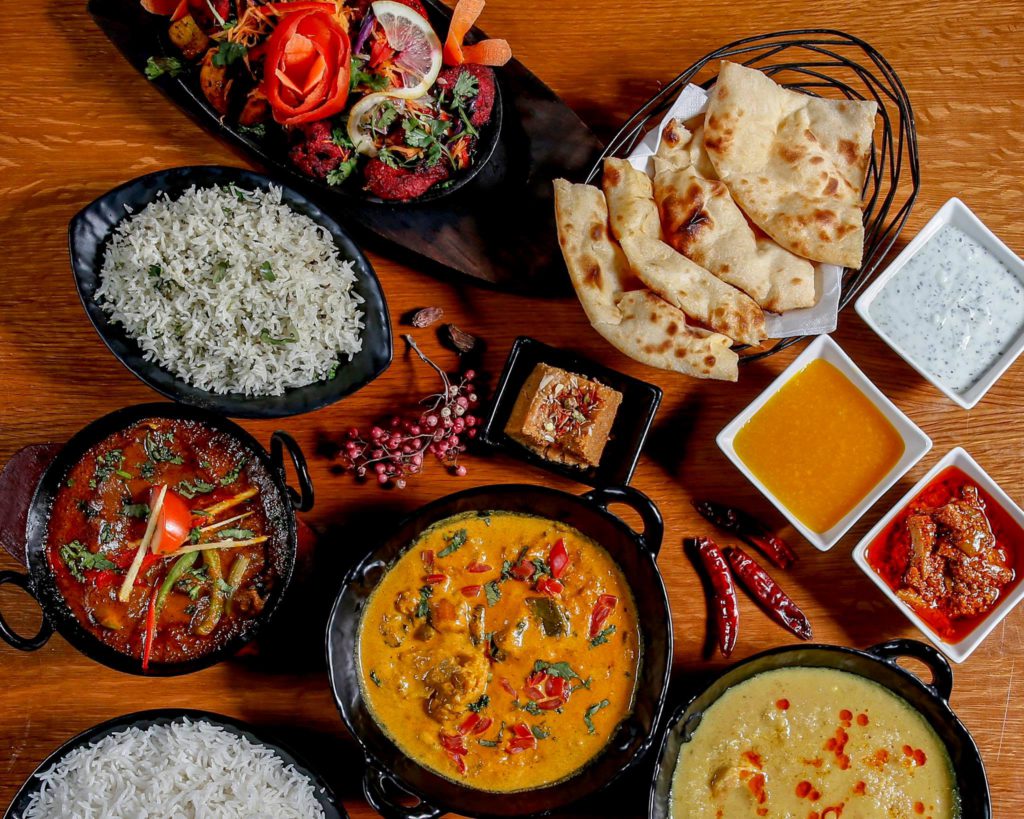 Sea Me – Peixaria Moderna – This place serves international and Portuguese cuisine including some lip-smacking seafood. This place is perfect for a lunch, dinner, or even a late-night meal. Do try out the sushi from this place!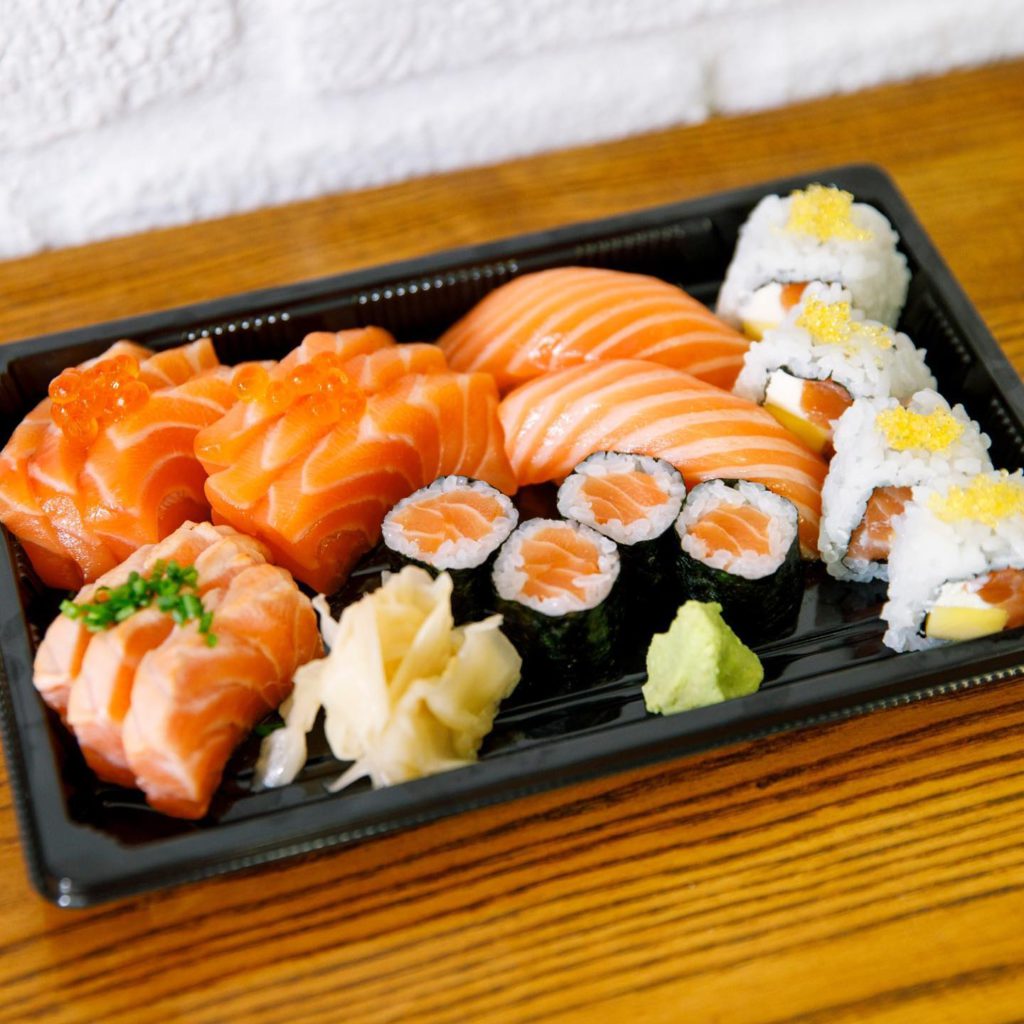 Okah Restaurant & Rooftop – This place is known for its sushi and Asian cuisine. It also gives a beautiful view of the Tagus River and the Lisbon Port.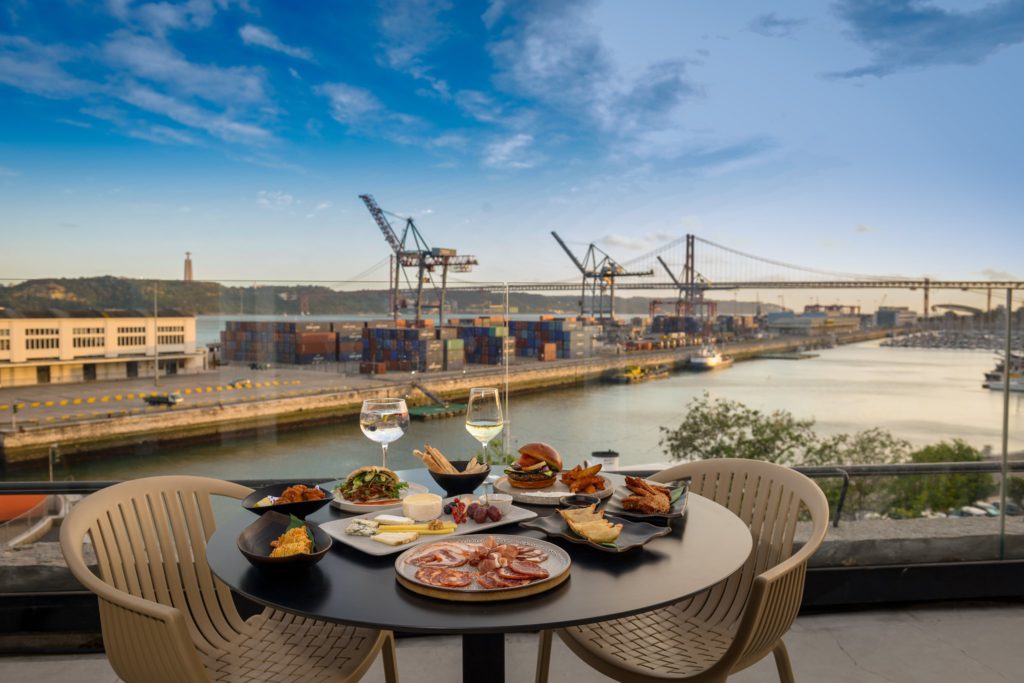 Bômau- This place serves the best homemade fast food and is definitely a must try!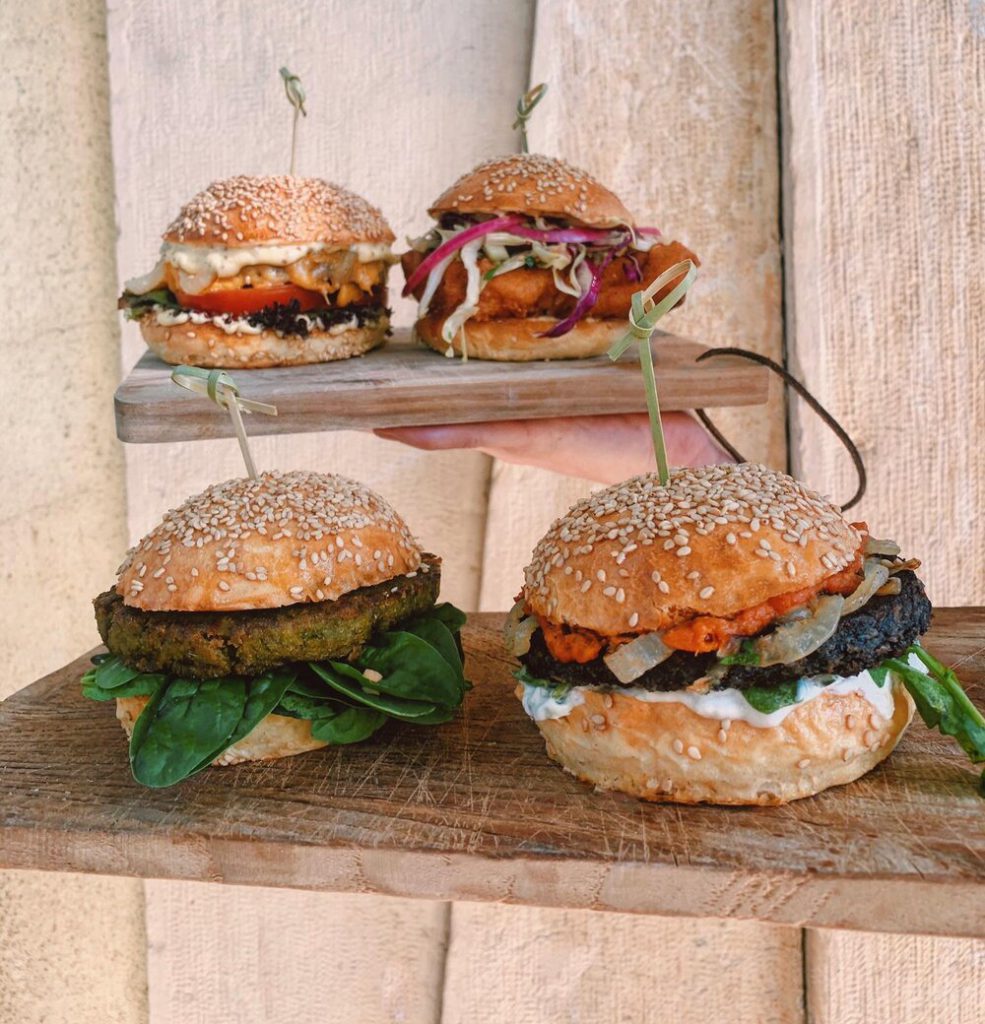 Bengal Tandoori Lisboa- This place serves some of the best Indian dishes such as chicken korma, tikkas, naans and pakodas.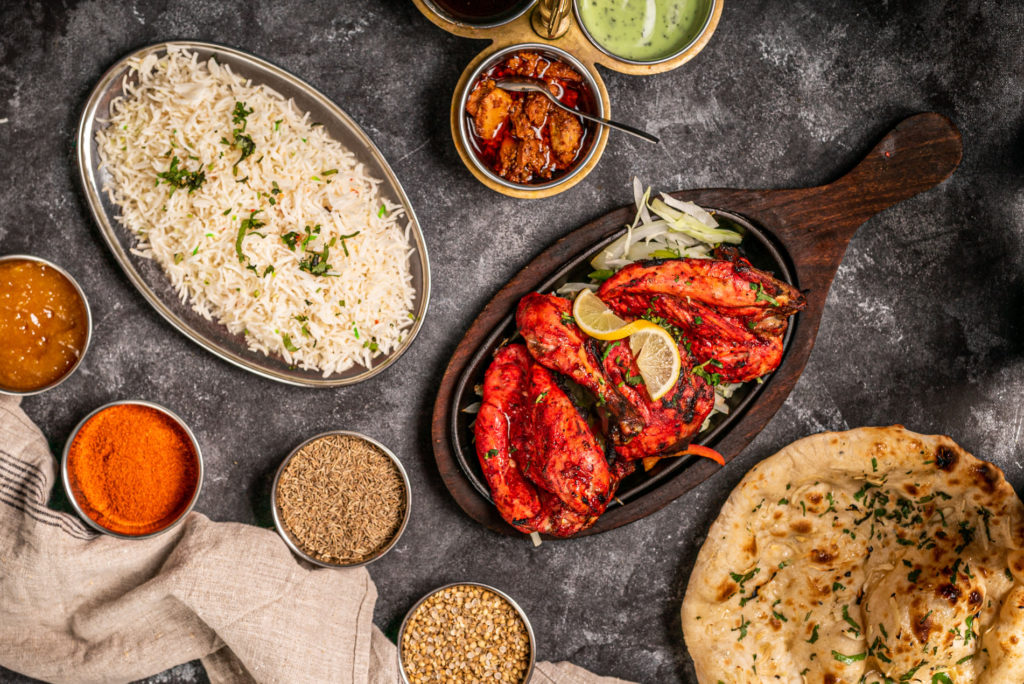 For latest travel news and updates, food and drink journeys, restaurant features, and more, like us on Facebook or follow us on Instagram. Read more on Travel and Food Network
Trending on TFN
The 23 Best Places To Go In 2023
Explore Utah's Mighty 5® and What Lies in Between