I am most definitely a Frigophill. That is to say, I love cold and frosty stuff in the food category. So, bring on the ice creams, snow cones, ice lollies, sorbets, frozen custards and kulfis, and I'm as happy and content as a well-fed puppy.
And while I truly love all other frozen desserts, there's something truly irresistible about the sugary, creamy, dense and flavourful Kulfi or Qulfi, as some call it.
Known widely as 'traditional Indian ice cream', and for good reason, it is actually popular not only throughout India, but also in Sri Lanka, Pakistan, Nepal, Burma, Bangladesh and the Middle East. But it is different from ice cream – Kulfi is creamier and heavier as it is not whipped. And being denser, it takes longer to melt. Even better!
Satisfied with just eating Kulfi all these years, I never thought to question its history or where it came from, till I decided to write this article. 'Qulfi' is a Persian word meaning 'covered cup'. And it is likely to have originated during the Mughal Empire when dense evaporated milk was already being used in sweet dishes. It is said that this thickened mixture was packed into metal cones and frozen with slurry ice so that it was easy to transport and would not spoil in warmer climes.
The traditional Kulfis were, and still are, flavoured cardamom, saffron, rose, pistachio, mango and malai (cream). Today though, there are a huge variety of Kulfis in the market. Fresh fruit Kulfis like jamun, chiku, strawberry, apple, orange, kiwi and avocado have become hugely popular all over the country. Purists may cringe at the thought of chocolate, coconut, aam papad, mint and yes, even peanut butter Kulfis, but they seem to have caught on, so who are we to judge!
Whatever their flavours, Kulfis can be served in a 'matka' – an earthenware pot – on a stick or simply demoulded from a covered Kulfi mould. To make it even more exotic, it is often eaten with falooda, a sweet rose or saffron flavoured Indian vermicelli.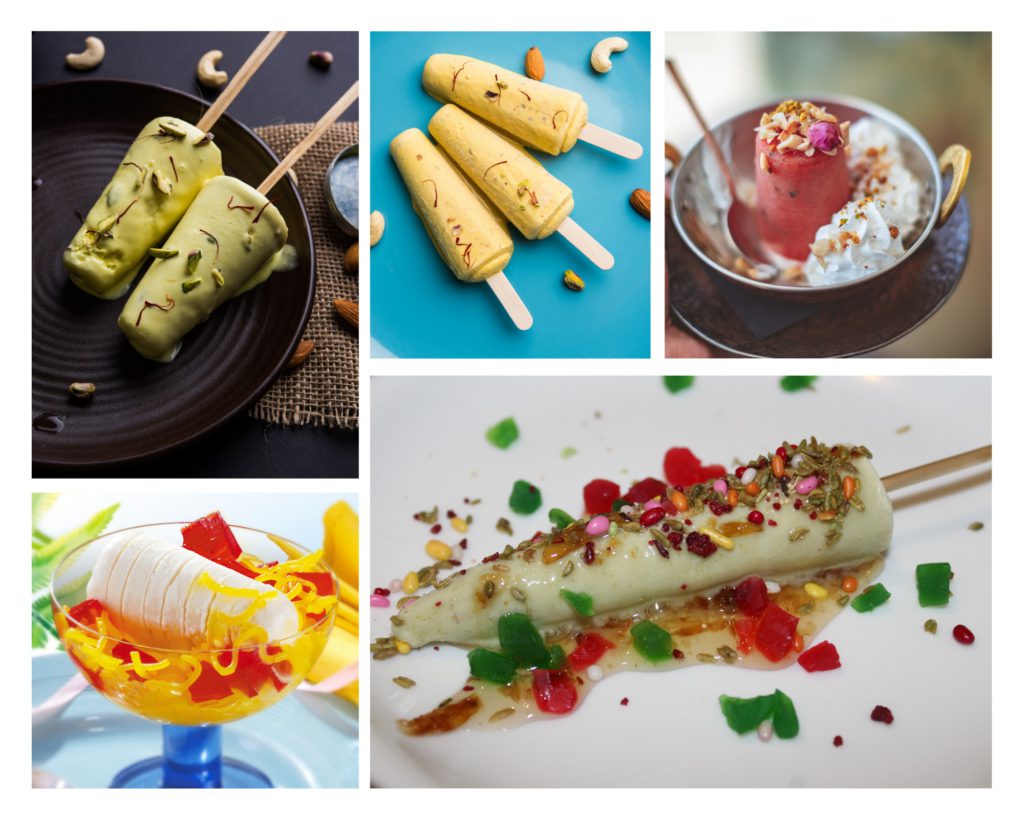 6 Best places to get Kulfi in Delhi
Here is my choice of 6 places in Delhi where you can get the best Kulfi. Take your pick or maybe visit them all!
Kuremal Mahavir Prasad Kulfiwale
Located at Sita Ram Bazar at Hauz Qazi, this 100-year old establishment boasts more than 30 varieties of delicious Kulfi here. Rabri Cream Kulfi, Tila Kulfi, Dry Fruit Kulfi, Handiya Kulfi, Stuffed Kulfi, Kulfi Chaat, Fruit Kulfis, Aam Papad Kulfi and Imli Kulfi are some of the hot selling items on their menu.
Roshan Di Kulfi
Creating mouth-watering Kulfis since 1958, this outlet is perhaps Karol Bagh's most famous. Located on Ajmal Khan Road's busy market place, Roshan Di Kulfi is renowned for its Kesar-Pista, Chocolate, Oreo, Mango and Paan Kulfi! Very thoughtfully, they also feature a Sugar-Free Kulfi and serve their Kulfis with thick syrupy falooda.
Siyaram Nannumal Kulfiwale
For their innovations with Kulfi, Siyaram wins hands down. Their Fruit Stuffed Kulfis are truly amazing. Apples, pomegranates, chikus, kiwis, oranges and mangos are stuffed with Kulfi and frozen. And the fruits are cut open just before serving it to you. With 75 years of tradition in the art of kulfi making, Siyaram has all the traditional kulfis as well.
Ram Bharosa Gupta Stall
Just a small kiosk located in Amar Colony Market, but big on Kulfi reputation, Ram Bharosa is the 'must go to' late night dessert joint for folks around South East Delhi. Open only in the evenings, and with a small but outstanding menu, their best item is Kesar Kulfi – served with Rooafza drenched falooda, dollops of creamy rabri and topped with dry fruit.
Krishna Di Kulfi
Pandara Road Market would not be complete without Krishna Di Kulfi. A heavy dinner must be followed by Kulfi at Krishna. With over 20 flavours to choose from, you are spoiled for choice. Kulfis here, unless specially declined, are served with a generous helping of falooda. Matka Kulfis, Tila Kulfis and Kulfis with rabri are most popular. There's always a crowd here, so you'll have to patiently wait your turn.
Kulfiano
With outlets in different parts of the NCR, Kulfiano is known for its outstanding seasonal fresh fruit Kulfis and those with unusual flavours. Definitely worth trying in the fruit selections are the jamun, custard apple, falsa, coconut and fig. Or, perhaps you could be adventurous and consider the Gulkand Paan or Nolen Gur. My own favourites are the jamun and custard apple!!! Yum!
A Traditional Kulfi Recipe
If you cannot find the best Kulfi place in your city then here is a recipe for a traditional Kulfi which you can make at home. The recipe itself is simple but the whole process takes about 10 hours, including freezing time, so its best if you make it a day or two ahead of when you actually want to serve it.
Ingredients
Full cream milk, 1 litre
Powdered sugar, 90-100g
Cashew nuts, 10, chopped
Pistachio nuts, 10, chopped
Almonds, 10, chopped
Green cardamom, 4-5, powdered
Saffron strands, a few, dissolved in ¼ cup of milk
Preparation
Put the milk into a heavy bottomed pan. Bring it to boil, and then simmer it, stirring so that the milk does not stick to the bottom of the pan. Reduce it to 1/3rd of the original quantity.
Add powdered sugar, chopped nuts (reserving some for garnish) and ground cardamom. Stir well and then continue to simmer, stirring continuously till the mixture starts becoming a bit lumpy. Take the pan off the stove and cool. Add the saffron mixture, and incorporate it well.
Pour into popsicle of kulfi moulds, and put into the freezer. If you want to insert sticks, then freeze for at least an hour before you insert the sticks. Keep in the freezer for a total of 6-8 hours. Remember to take it out of the freezer and let it stand at room temperature for 10 minutes before demoulding, garnishing with the remaining chopped nuts, and devouring.
These days, people use sweetened condensed milk and double cream and sometimes khoya and corn starch to speed up the process. The results are good, but that special taste of the slow caramelisation of sugar may just be missing.
If there are any hidden gems you know of and would recommend, have a tried and tested recipe or have a list of Kulfi places in your city please feel free to write to us or tag us on our instagram handle.
For latest travel news and updates, food and drink journeys, restaurant features, and more, like us on Facebook or follow us on Instagram. Read more on Travel and Food Network
Trending on TFN
The 23 Best Places To Go In 2023
Explore Utah's Mighty 5® and What Lies in Between
Five Epic U.S. National Parks To Visit This Year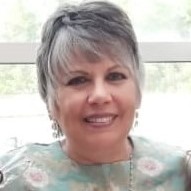 A homeschooled chef even before she joined Catering College in Bombay, Christine's gastronomic journey started with mother and grandmother. Polished with a degree and 10 years of experience in the Hospitality industry, Christine's love of food, drink and everything gastronomic has been sharpened and honed with travel across the world. Today, she shares the wealth of her foodie experience and adventures across the world with Travel and Food Network, so look forward to much more from Chrsitine!