Whether it's Taipei or Tel Aviv, these global vegan hotspots span a surprisingly diverse palate of flavours.
For most travellers, enjoying food is a big part of the journey. So, spare a thought those for whom skimming menus with a microscope, grilling waiters and sticking to meat- and dairy-free foods have been the only options for a while now—the vegan traveller. Luckily for this subset of eaters, this is now changing.
Growing vegan movements around the globe and creative food innovations, like plant-based meats and alternative milks, have made it possible to plan a holiday to devour a crispy mock-meat patty or a vegan seafood platter.
Those with plant-based diets cite a variety of reasons for their choice, mainly climate change, animal rights and individual health concerns. Pop culture and social media have also worked as active tools in creating global awareness. Documentaries like Cowspiracy brought in questions of ethics and the Veganuary challenge incited a curiosity to try this new lifestyle. Most importantly, the availability of viable substitutes for animal-based fats and proteins have boosted the desirability of veganism.
We've rounded up 10 must-visit vegan-friendly destinations across the globe, speaking to writers, critics and restaurateurs who know it best.
Portland, U.S.A.
"Veganism need not be a great sacrifice," says Alkebulan Moroski, co-founder of vegan restaurant Dirty Lettuce in Portland. The city in Oregon enjoys the reputation of being U.S.A.'s most vegan-friendly state.  "It is still entirely possible to enjoy flavourful, satisfying food without animal-based ingredients," he adds. He is not the only one to think so. Portland's vegan food scene is bustling with food trucks, takeaways, drive-throughs and plant-based restaurants.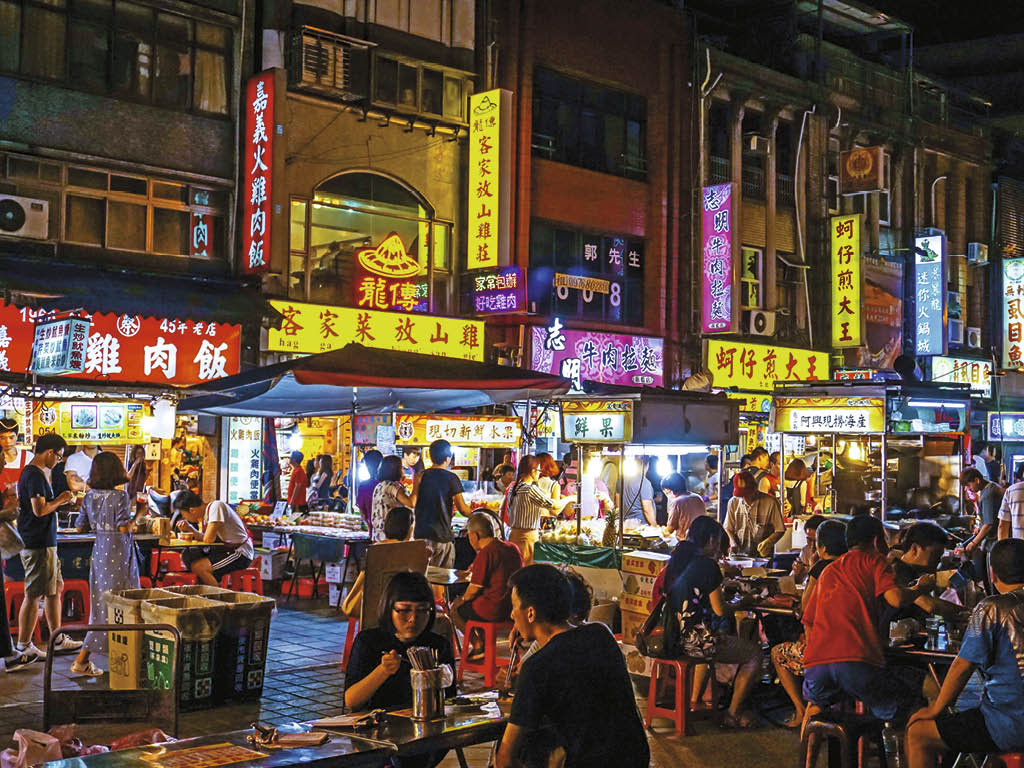 Moroski believes the future of vegan cuisine is in developing alternative proteins to replace animal-based meats entirely. He says, "I expect the global vegan industry to be dominated not by traditionally vegan cuisines, but by traditionally non-vegan cuisines that are made vegan by the development of improved plant-based ingredients that more closely mimic the chemical properties of the animal-based compounds which they are substituting. So, if you are looking to base your travel solely on the availability of absolutely 100% [naturally] vegan food, you may have a challenge."
Recommendations
Modern Times: An atmospheric bar with spectacular vegan entrées.
Kati: A Thai spot, which surprisingly manages to pull off Thai flavours without fish sauce.
Shady Pines Vegan Food Court: It's an entire food pod of 100% vegan food trucks (including the Dirty Lettuce Cart).
The Portland Vegan Strip Mall: Billed as the world's first vegan mini-mall, it is a block of vegan businesses, including food, clothing and tattoos!
Brooklyn/New York City, U.S.A
Towards the East Coast, health- and environment-conscious diners have led to a spurt in vegan eateries. Founder of the Michelin-starred Mexican restaurant Oxomoco, Chef Justin Bardarich has set up a new plant-based Aztec restaurant in Brooklyn called Xilonen, named after the Goddess of Young Corn. "I wanted to stop serving as much animal protein for sustainability reasons and try to make as little of a dent in climate change as I could," he says.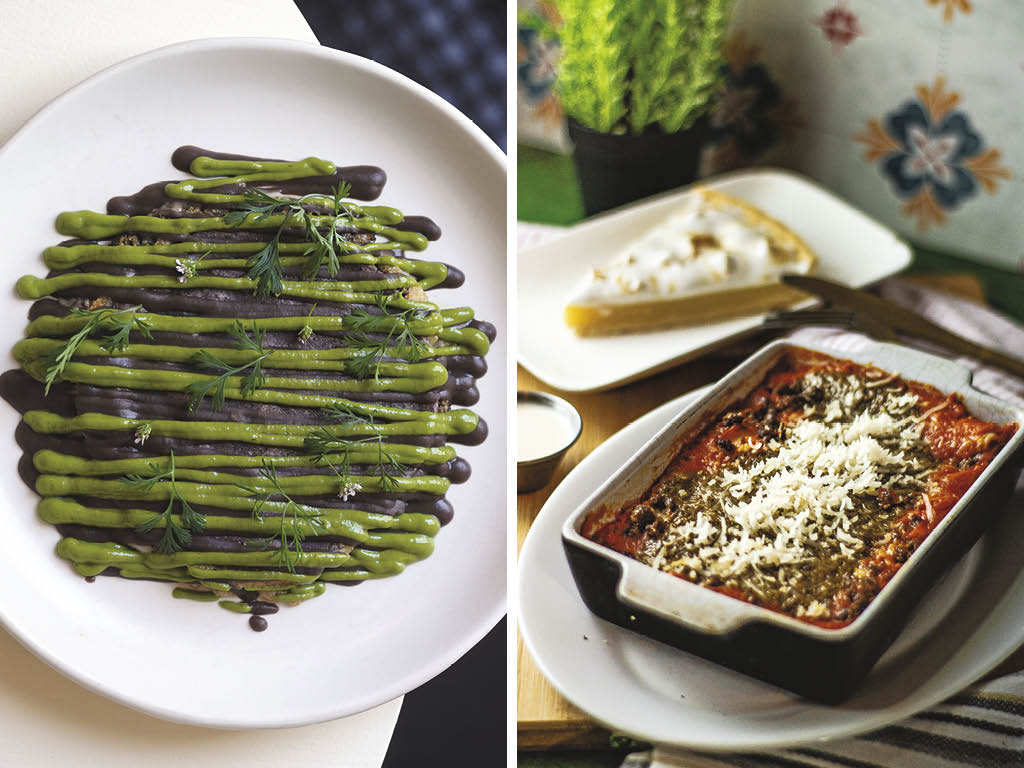 He feels Mexican cuisine lends itself more easily to vegan-friendly dishes. "The corn can be ground to masa, which is shaped into a tortilla, or a tamale, or a chip or something. That is a good base on top of which you can add more flavour."
Xilonen's most innovative offering is their vegan chorizo. Bardarich shares their secret swap—pecans, mushrooms and firm tofu in place of meat. Carrot tostada is another hit where the stars of the dish are carrot salsa verde, caramelised onions and jalapeños that give the toasted tortilla a hot and tangy kick.
Recommendations
Clementine Bakery: Its founder also runs a plant-based cocktail bar and a vegan patisserie.
Dirt Candy: Dig into portobello mousse and broccoli dogs at the spot that calls itself, "the city's only vegetable restaurant".
Screamer's Pizzeria: The 'cheese' you'll be biting into is made from a concoction of tapioca, pea protein and coconut oil.
Berlin, Germany
With more than 50 exclusively vegan eateries, Berlin is known as the vegan capital of Europe. Elisabetta Arisci Niang, owner of the Italy-meets-Senegal Ataya Caffe, elaborates on the vegan movement in the city, "Among vegan restaurants, you can find two main kinds: the fast-food sector—be it the various Vietnamese bakeries or burger shops—and slow food, to which Ataya belongs."
Boasting about Berlin bagging the highest rate of completely plant-based restaurants among European capitals, she chirpily adds, "If you wish to experience an unforgettable vegan culinary and cultural trip, you just have to book your ticket to Berlin!" Until Covid-19 put a halt on events, the city even hosted a Vegan Summer Festival every year since 2008, with dozens of stalls selling not just vegan fare but also "cruelty-free" clothing and cosmetics.
Recommendations
Kopps: A vegan fine-dining set-up serving classic German food.
Lucky Leek: A Michelin-starred vegan restaurant that serves a tasting menu with onion pie, pumpkin nuggets and grilled beetroot steak, among other options.
La Stella Nera: This Italian pizzeria, with a traditional wood-fired oven, serves pizzas and pastas with house-made vegan ricotta and stracchino.
Hum: Find a great selection of Vietnamese cuisine, including vegan pho and summer rolls wrapped in rice paper.
Addis Ababa, Ethiopia
Ethiopia's plant-based gastronomy is heavily influenced by the fasting food of orthodox Coptic Christians, who fast for over 180 days. Helen Mebrate, creator of EthiopianFoodie.co.uk and Amaarech, explains, "Fasting, in this case, means refraining from consuming any animal products." So, when in the country, she advises asking for 'tsom' or fasting food when looking for vegan options.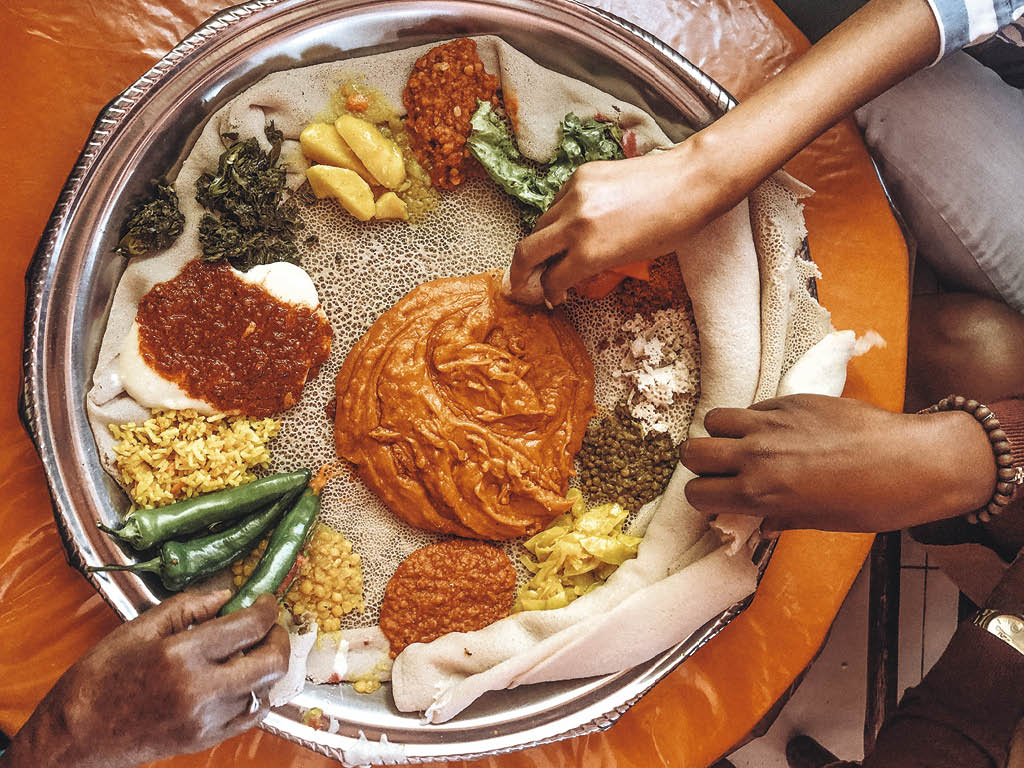 "You go to a restaurant in Addis, vegan food is a part of their offering. When I go to Ethiopia, I'm not looking for the next hotspot. In rural villages, rural towns or restaurants, there will always be something vegan on the menu." There is another reason for this—affordability. "Meat is associated with being wealthy, not everyone can afford it," she adds.
Vegan-friendly food includes staples like injera, a teff flour-based sourdough flatbread, ye'metbesha miser, a spicy red lentil stew, and firfir be'Gomen, a tomato and kale soup served with injera.
There are also certain meat dishes that are vegan-ised for people fasting, like doro wot, a fancy chicken stew, which when made using vegetables, is called shiro wot. Another Ethiopian favourite, tibs, is a stir-fried lamb or beef dish. Mebrate tells me ye'tofu tibs,—a vegan-ised alternative, particular to the West where tofu substitutes are a norm—is a must-try if you visit any Ethiopian restaurant outside the country.
Recommendations
Azmera Shiro: Delight in a variety of vegan-friendly fasting dishes.
Kategna: Discover vegan-friendly, traditional Ethiopian food, like Shiro wot and injera firfir.
Sangam: This is the oldest Indian restaurant in the city. Serves traditional thalis too.
Shifta: This Jamaican-influenced restaurant serves vegan options like mango chickpea curry, jerk mushroom and a bean burger.
Tel Aviv, Israel
Israel is a land of immigrants. "Each person came with their own cuisine, traditions and lifestyle. Here, people are used to mixing Moroccan food with Polish food or Hungarian food, which makes them so open to trying out new foods," laughs Ori Shavit, a food writer and author from Tel Aviv.
As a food critic who had to quit her job when she went vegan over a decade ago, Shavit has witnessed Tel Aviv grow into becoming the world's vegan capital. "Currently 30-40% of Israel's population are flexitarians who wish to reduce the consumption of animal products. These include Jewish people who eat kosher food and are already in the habit of reading labels."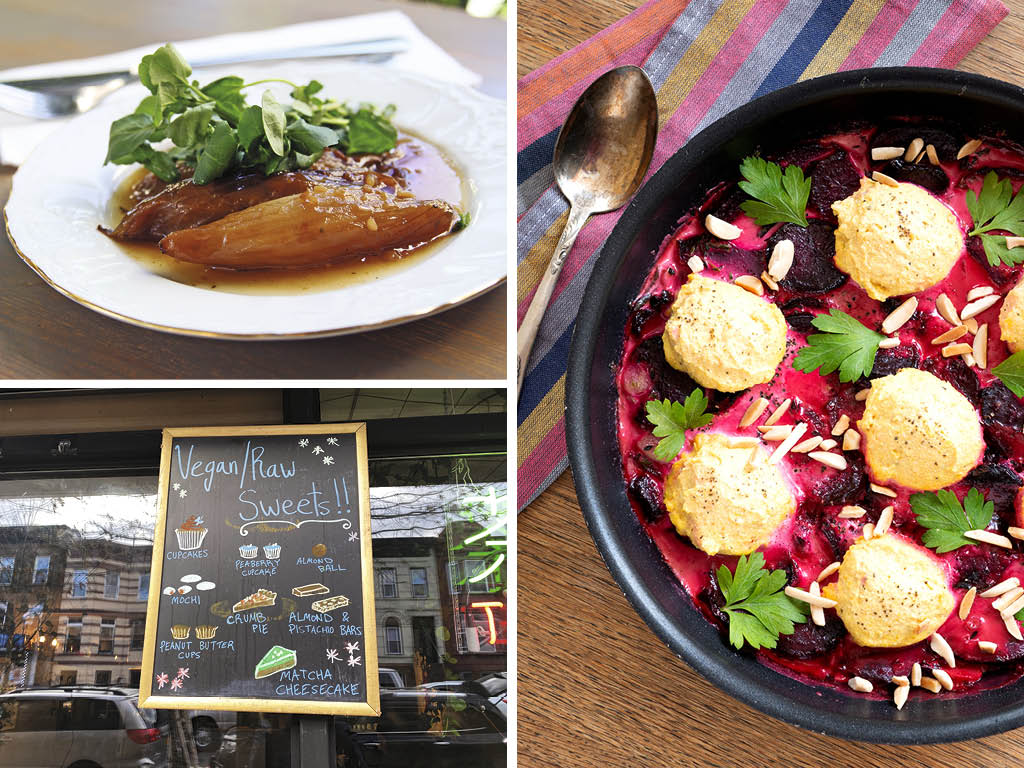 Middle Eastern cuisine, loaded with cereals, legumes, fresh produce and pulses, offers some of the most delightful vegan offerings that go beyond hummus and falafel. "We're not inventing something new in Israel, we're going back to our roots" says Shavit.
Some of the foods that are traditionally vegan in Israel include mujaddara, which is rice and lentils, and sabich, a pita bread stuffed with eggplant, potatoes and tahini. When served without a boiled egg, it is vegan.
Recommendations
Anastasia: Enjoy one of Tel Aviv's very first vegan coffee places.
Bana: Tuck into a menu that focuses on local, seasonal vegetables and fruit.
416, Tel Aviv: The American diner serves seitan steak and vegan shawarma.
Taipei, Taiwan
Ancient Buddhist traditions, combined with a strong, modern vegan movement among the younger generations, make Taiwan a vegan paradise. Spencer Hudson and Mai Bachco founded Taipei's first Western-style plant-based café eight years ago, which may have been the first to provide vegan meals for non-religious reasons. Hudson explains, "Taipei has always had vegan and vegetarian restaurants because of the Buddhist exclusion of meat. Now there are over 60 plant-based restaurants in Taipei." This gave them the perfect avenue to open their second restaurant, Ooh Cha Cha.
Concerns regarding food safety—as Taiwan reports a large number of food scandals yearly—and the food tech industry bringing in mock meats and alternative milks have spurred this new wave of veganism. Hudson says, "I never thought I'd see mainstream restaurant chains serve vegan pho. That was a bit of a mini watershed moment for me. A Vietnamese chain like Mu Viet serving a dish that pretty much has to have beef broth, without an ounce of animal-based product in it, is amazing."
Taipei has always had a rich variety of Taiwanese, Chinese, and Japanese cuisines. "There's also been some great inventiveness from the community with cheesy dishes like mac and cheese, which we do at Ooh Cha Cha, replacing dairy with cashews for a creamy fatty sauce," says Hudson.
Communicating your needs as a vegan can be tricky at times, but the presence of a considerable number of English-speaking locals in Taiwan make things a lot easier.
Recommendations
Plants: Try the falafel dish that uses mung bean for the hummus and red lentils for the falafel.
DeliSoys: Serving quintessential Taiwanese-style food, they make their own tofu, hence the name.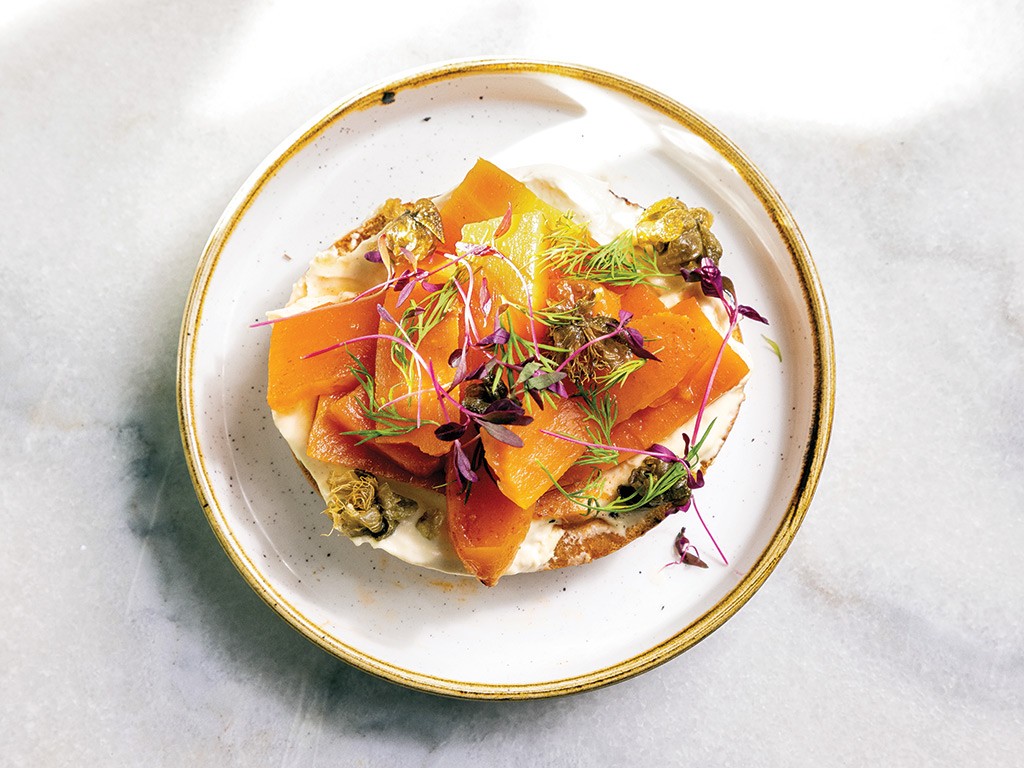 Brighton, U.K.
The U.K.'s food space, vegan or otherwise, is dominated by a mixture of British, Indian, Mexican and European foods along with American fast food, primarily burgers.
The most interesting development on Brighton's menus according to Loui Blake, founder of the U.K.'s biggest plant-based restaurant, Erpingham House, is the introduction of vegan seafood. He says, "We're now seeing some really creative developments in technology and food technology. To be able to replicate fish and various types of meat and eggs is impressive." He says that the fastest-growing demands are for replicating traditional pastry and desserts, and vegan cheese.
When in Brighton, a serving of vegan Neapolitan pizza made with Good Catch's plant-based tuna is a must-grab. The same goes for the crunchy tuna sandwich called sweet corn toasty. Also a big hit—the classic fish and chips, with a vegan twist. "We wrap the banana blossom in nori and deep-fry it to make vegan fish," says Blake.
Recommendations
What the Pitta, Brighton: The city's go-to place for vegan kebabs is known for its doner made with soya pieces in a bread wrap with hummus, tzatziki and jalapeños.
Holy Carrot, London: As a gluten-free, sugar-free, preservative-free vegan diner, the highlights include a red pepper burrito, kohlrabi tartar and crispy quinoa maki.
Santiago, Chile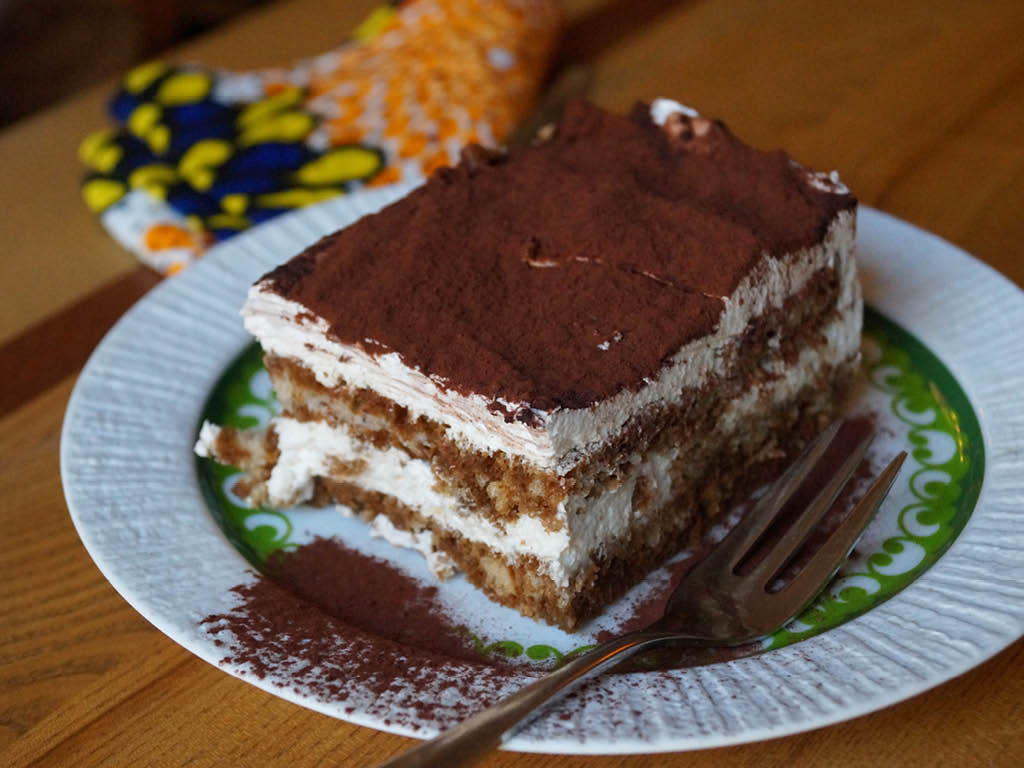 In the wake of the harm caused by animal agriculture, a 2018 survey under Chile's Environmental Survey showed that approximately 1.5 million Chileans abstain from eating meat in their daily diet, and 75% are willing to cut down their meat consumption.
With over 115 vegan-friendly joints in the capital city, pre-pandemic clientele included a substantial number of tourists. Nicolas Hernandez, co-founder and CMO of Sapiens, a vegan restaurant in Santiago says, "In normal times, more than half of our clients are foreigners, whether they are tourists or students. As travellers ourselves, we always wanted our restaurant to be a space where foreigners felt comfortable.
Camila Silva, a Chilean traveller and entrepreneur, mentions that Santiago offers multicultural cuisines like Indian, Thai, Italian, Korean and more. As a restaurateur, Hernandez says it wasn't difficult to vegan-ise Chilean dishes as they are very adaptable. "Obviously, there are exceptions such as the typical meat barbecue or the famous Chilean seafood. However, legumes, cereals, fruits and vegetables are very common in every home and we only had to appeal to the ingenuity of our chefs so that they could create pizzas, burgers, burritos and bowls totally based on these foods."
Santiago also offers a wide range of Mexican food, like tacos, burritos, nachos, guacamole, pico de gallo, black beans or different types of chillies, which again are easily adaptable for plant-based eating.
Recommendations
Vg Burger: Munch on plant-based burgers using alternatives like seitan and fake chicken.
Kambo Sushi: Snack on vegan sushi with ingredients like panko-wrapped squash and tempura nori.
Indian Box: Eat up vegan Indian food, including the no-lamb rogan josh and no-chicken tikka masala.
Lisbon, Portugal
Known for its cheeses, pork, seafood and meats, this pick might come as a surprise to many. But the vegan dining scene here, and the possibilities for vegan travel, are changing radically. After visiting over 110 countries and creating one of the most popular vegan travel blogs—The Nomadic Vegan—Wendy Werneth tells us about her home city, Lisbon.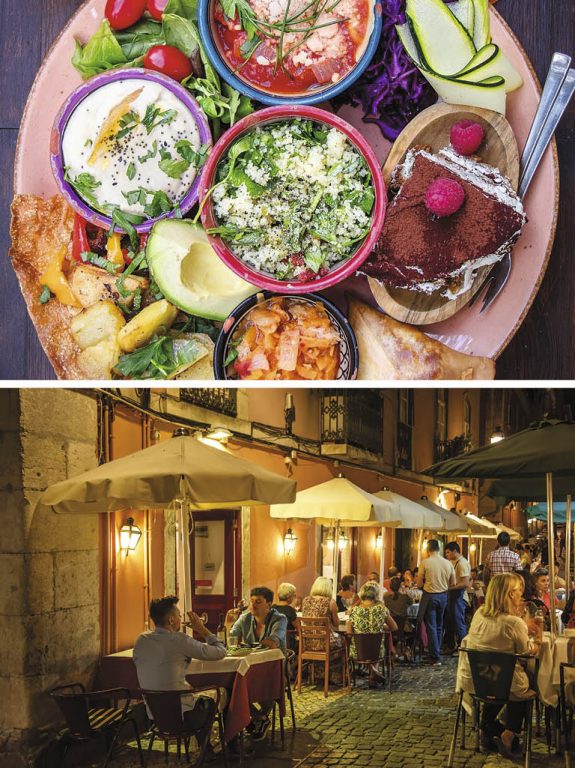 "The dining scene in Lisbon is quite cosmopolitan. Apart from the popular Indian, Chinese and Italian fare, diners can enjoy lesser-known cuisines such as Georgian or Mozambican, both of which offer some unique dishes that are naturally vegan," she says.
From her must-try list, she recommends Ao 26's vegan fried calamari, made using king oyster mushrooms, and Kong Vegan Food's vegan francesinha—traditionally a hearty meaty sandwich from north Portugal.
Vegan versions of the famous Portuguese egg tarts, pastéis de nata, and a veggie version of the traditional bacalhau à brás called alho francês à brás, made using leeks instead of codfish, are gaining in popularity.
Recommendations
Horácio Trattoria: Revel in 100% vegan, authentic Italian food at reasonable prices, with a lovely outdoor dining area in the historic Alfama district.
Vegan Junkies: Here, you won't believe the cheeseburger is vegan!
Legumi Sushi: Incredibly creative and aesthetically pleasing sushi can be found at this all-vegan eatery.
The Food Temple: The oldest vegan restaurant in Lisbon. It has a great ambience, especially in the summer, when you can dine at small tables on the steps outside.
And Finally… India
A history of religious practices that promote meat-free eating, alternative healing and a surplus of legumes put India firmly on the map for a vegan traveller. But having traced the most visible vegan movements across the globe, how well does the homeland fare when it comes to this lifestyle?
The Good Food India's managing director, Varun Deshpande, traces the growth in India's plant-based consumption to rising consciousness about health, climate change and animal activism.
While dairy is still integral to most foods served across north India, vegan swaps are now easier to find. "The demand for plant-based options in India seems to have grown considerably in the past few years with made-in-India vegan alternatives and vegan and vegan-friendly cafés and grocery stores popping up across the country," says Shivya Nath, author of the national bestseller, The Shooting Star. "Chefs and restaurants across the country have created vegan alternatives for everything from ghee to eggs—and developed innovative plant-based menus to cater to all taste buds, like Goa's Bean Me Up!"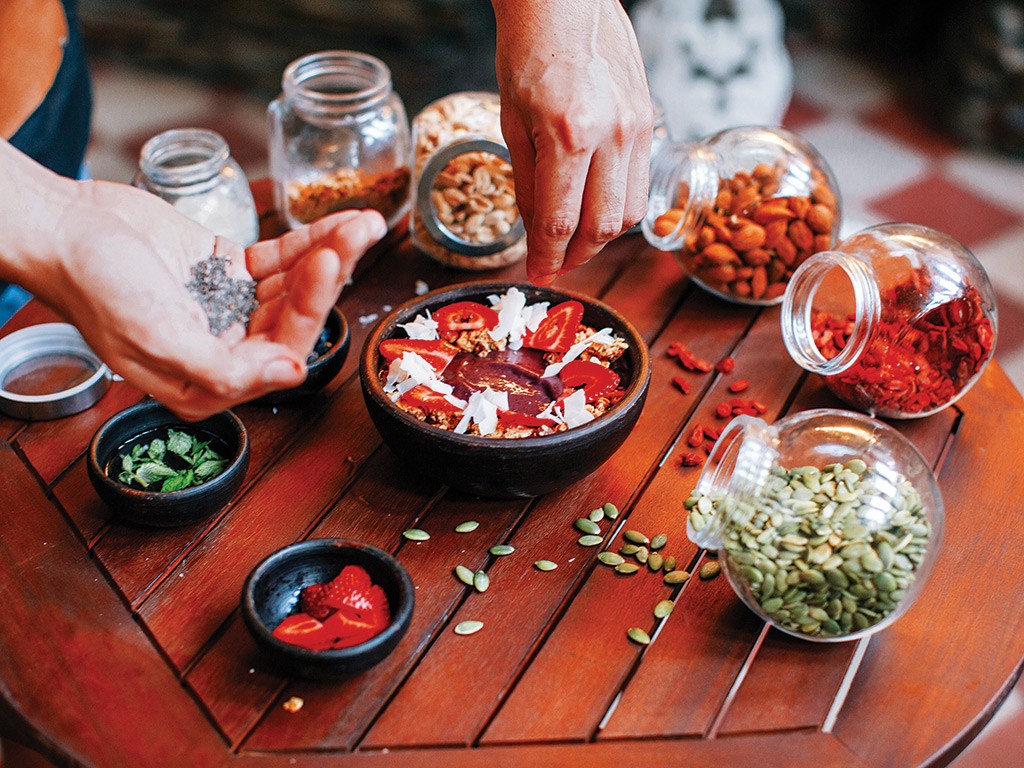 So as a vegan, if you head out to cities like Goa, Auroville, Dharamshala and the large metro areas, you can certainly look forward to enjoying alternative proteins from companies like Good Dot, Blue Tribe Foods, Imagine Meats, Goodmylk, Epigamia and Evo Foods that are making plant-based meat, egg and dairy products, says Nath.
Deshpande recommends Earth Café, Imagine Café, Rare Earth and Yogisattva in Mumbai, Greenr Café outlets in Delhi, Go Native in Bangalore and Terrassen Café in Hyderabad.
This feature also appeared in National Geographic Traveller India.
For latest travel news and updates, food and drink journeys, restaurant features, and more, like us on Facebook or follow us on Instagram. Read more on Travel and Food Network
Trending on TFN
The 23 Best Places To Go In 2023
Explore Utah's Mighty 5® and What Lies in Between