It's the beginning of the Navratri festival season in India, and normally by the time you read this, you would be surrounded by the happy and boisterous sounds of youngsters (and senior folk too) enjoying the high-energy Garba and dandiya! Sadly, this year is not normal, and hence the celebration of the much waited Navratri festival will be a very subdued one.
But there is always more than one way to celebrate- and at The Foodie Network, we celebrate with food. Join us as we take you through a lip-smacking journey of the special dishes cooked by some of the regions during these 9 days and nights of Navratri. Popularly referred to as 'fasting food' – no relation to the fast food we all know- it is healthy, yet delicious, and the perfect way to lift your spirits this festive season.
Since we are based in Mumbai, let's start with our state Maharashtra with our guest home cook Rashmi Deshmukh who shares Maharashtrian fasting recipes for Navratri. These are some dishes which you can have on Navratri.
1. Upvas Dhokla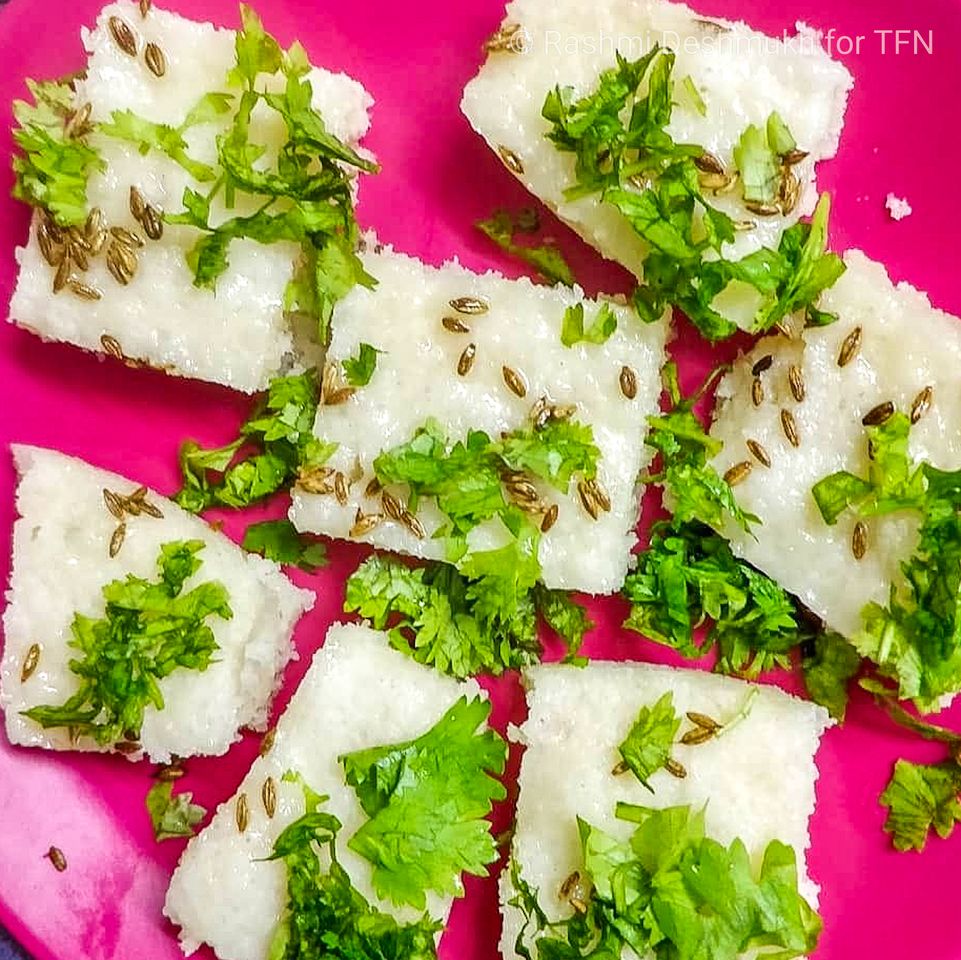 Ingredients:
1 cup Sama rice/varai
2 tbsp sabudana/sago
1/2 cup curd
1/4 tspn fruit salt/baking soda
2 Green chilies
1/2 inch ginger
1/2 cup water
Salt to taste
For Tadka:
1 tbsp ghee/oil
1 tbsp cumin seeds
2-3 tbsp coriander leaves
Method:
Add sama rice/varai in the mixer and blend it roughly as we don't want a powder. Add sabudana and blend together in the mixer.
Now take the mixture in a bowl and add curd to it. The curd should be at room temperature.
Add crushed ginger and green chili. Mix everything well together.
Add 1/2 cup water and mix well.
Cover the mixture for half an hour.
After half an hour mix well again and add water if required to adjust the consistency.
Add baking soda/ Eno fruit salt and salt to taste. Mix the batter.
Turn on the gas and keep the steamer on the gas after adding adequate water.
Grease the plate with oil/ghee. Pour the batter into the plate and put it in the steamer.
Close the lid and steam the dhokla on medium heat for 20 minutes.
Once it cools, remove the plate from the steamer and cut the filling into square pieces.
For tadka – heat 1 tspn ghee in a tadka pan.
Add cumin seeds, Add green chilies 
Add the ready tadka on the dhokla. Add coriander to finish the Navratri dish.

2. Farali Pattice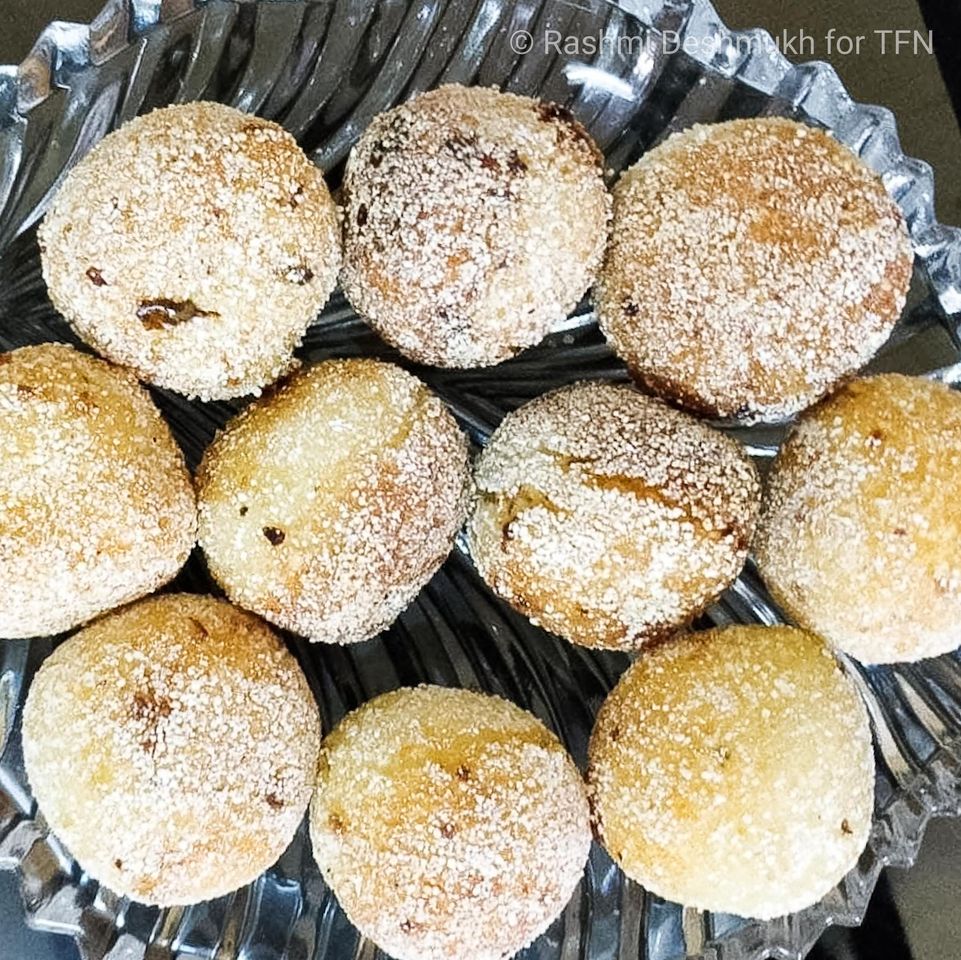 Ingredients
1 cup varai/sama rice
1/2 cup grated coconut
2-3 green chilies
1-inch ginger
1tspn sugar
Crushed peanuts
1/2 cup coriander leaves(optional)
1boiled and grated potato
Salt to taste.
Oil/ghee for frying
Method:
Outer cover:
In a mixie add one cup of Sama rice and grind the rice( coarse texture)
We don't want a fine powder
Take one bowl and pour the rice mixture into it.
Add boiled and grated potato and salt as per taste and make a dough.
Stuffing:
In a mixie add grated coconut, ginger, green chili, coriander leaves(optional),
crushed peanuts, salt, and sugar as per your taste, and grind the mixture roughly.
Now take a small ball from the dough and give it a shape of pattice to stuff the mixture of coconut stuffing.
Heat the pan/Kadai, add oil/ghee and fry the patties on both sides until it turns brown on low flame.
Serve with coconut chutney.
3. Dry Fruit Laddoo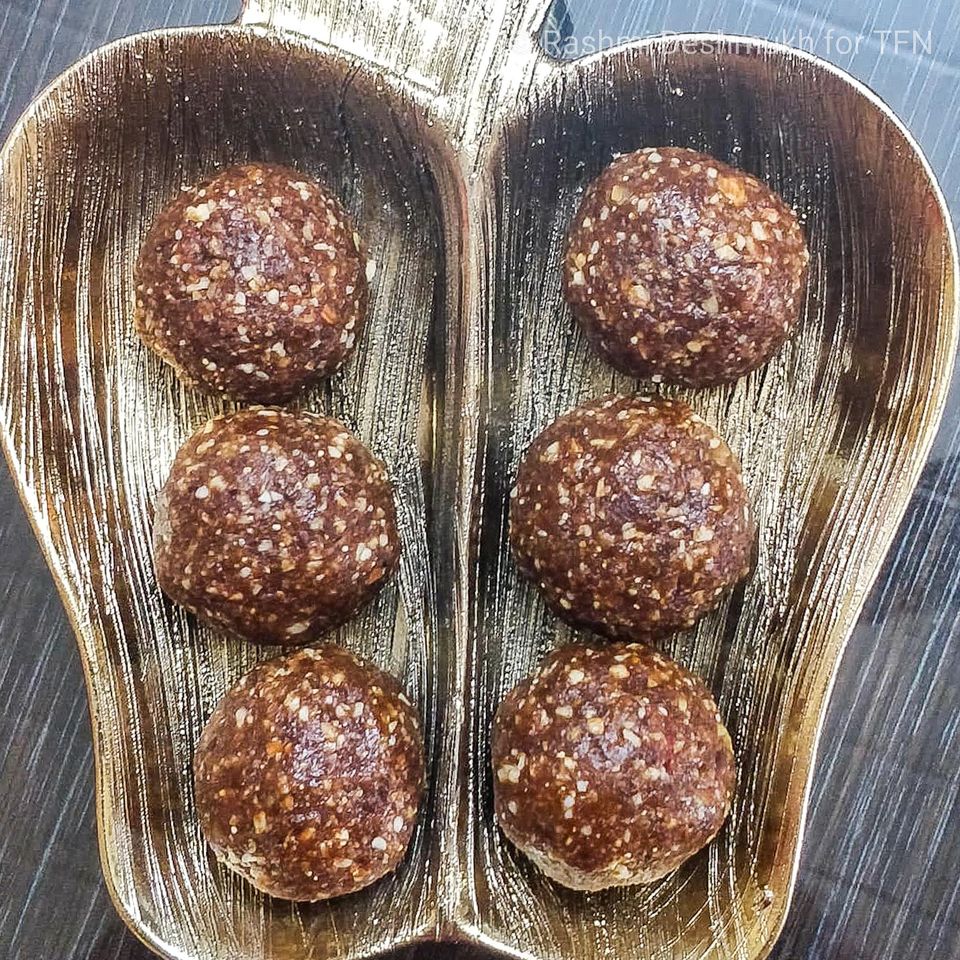 Ingredients:
Half cup edible gum
1/2 cup cashew
1 /2 cup Almonds
1/2 cup walnut
1cup dry coconut
1 cup dry dates powder
Jaggery powder
Ghee 1/4 cup
Green cardamom powder 1tspn
2 tspn poppy seeds
1/2tspn nutmeg powder
Method:
Heat the pan
Add poppy seeds and dry roast for one minute, once it changes color remove from the pan.
Now dry roast coconut until it turns a little brown and remove it from the pan.
Add  3 tspn ghee to the frying pan.
Add edible gum and fry on low medium flame until it puffs up really well. (fry  little at a time)
If required add ghee in the pan and dry roast dates powder and remove from the pan.
Now add some more ghee in the pan and dry roast almond, cashew, and walnut.
Crush the fried gums with your hand only,, don't use the mixer.
Now take one bowl and add crushed gum into it.
Add dates powder to it.
Now make a coarse mixture of cashew, almond, walnut in the mixer and add in the bowl.
Also, make a coarse mixture of roasted coconut and add it to the bowl.
Mix well all the ingredients including poppy seeds.
Measure the total mixture with the cup and accordingly, we will add the jaggery
For 2 bowls of the mixture, 1 cup jaggery is required.
Heat another pan add jaggery powder and tbsp water into it, it will help to melt the jaggery easily. Turn off the gas once the jaggery is melted and add cardamom and nutmeg powder to it, give one quick stir and add the mixture to it. Now just take a small portion of the mixture (lemon size) and roll ladoos when the mixture is still hot. Seve after cooling to room temperature.
4. Upvas Medu Vada: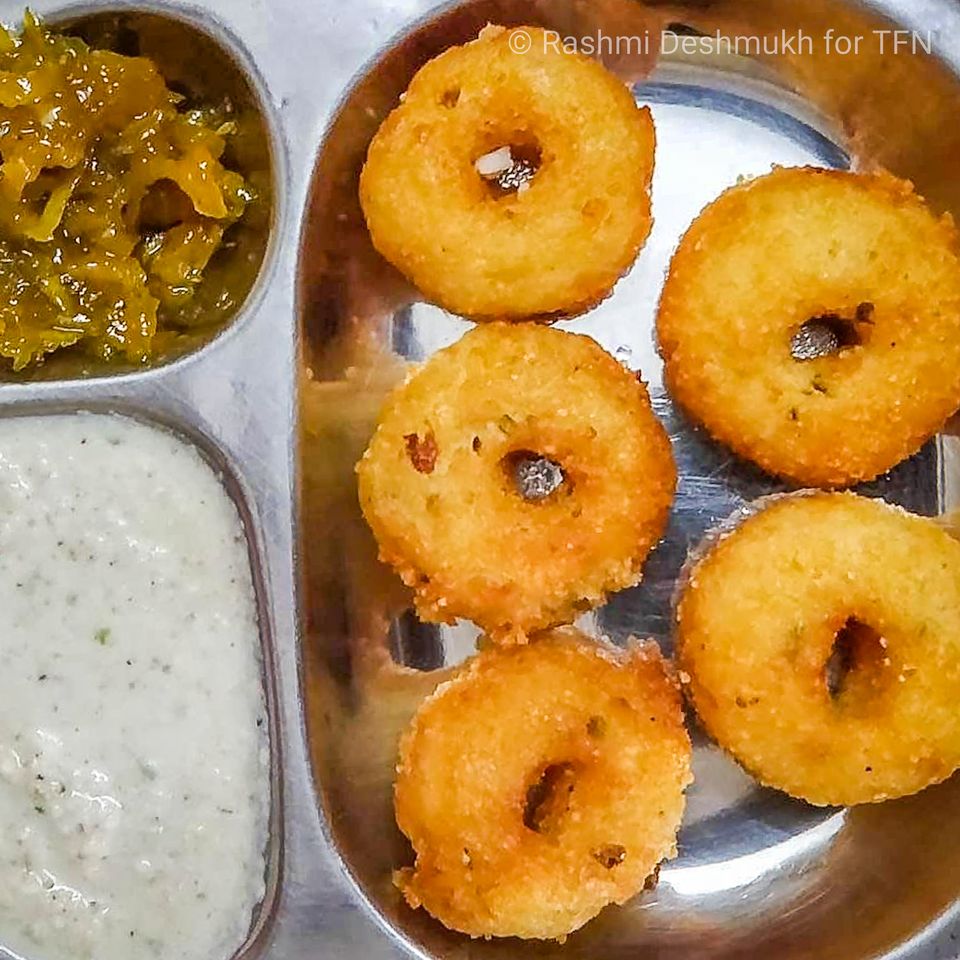 Ingredients:
1/2 cup sama rice/varai
2 potatoes(medium size)
2 green chilies
Cumin seeds 1/4 tspn
1tspn crushed peanut(optional)
Grated ginger 1 tspn
Grated coconut 2 tspn
Coriander leaves 4 tspn
Salt as per taste
Oil/ghee for frying
Method:
Wash sama rice/varai .
Heat a pan add 1 cup water and salt to it.
Add sama rice/varai
Add crushed peanut
Give one stir and cover the rice and let the rice cook. (cook until the rice soaks the water)
Turn off the gas and wait for the rice to cool.
On a plate remove the rice and add boiled and grated potatoes, green chili, cumin seeds, grated coconut, and salt as required. (pls make sure we have already added salt in rice). Mix well and knead dough.
Take a small portion from the dough and give the shape like medu vada.
Heat oil/ghee in a pan and drop the Vada in hot oil, just turn the gas on medium heat and fry from both sides until it turns golden in color.
You can serve the vada with coconut chutney.
Coconut chutney:
Half cup grated coconut,1 small portion of ginger,2 tspn roasted peanuts,salt, sugar 1/2 tspn, green chillies 1-2 as you want spicy/less spicy, coriander leaves (optional)
Grind it in the mixer by adding water 2 tablespoons .you can add curd if you like in chutney.
5. Aam Panna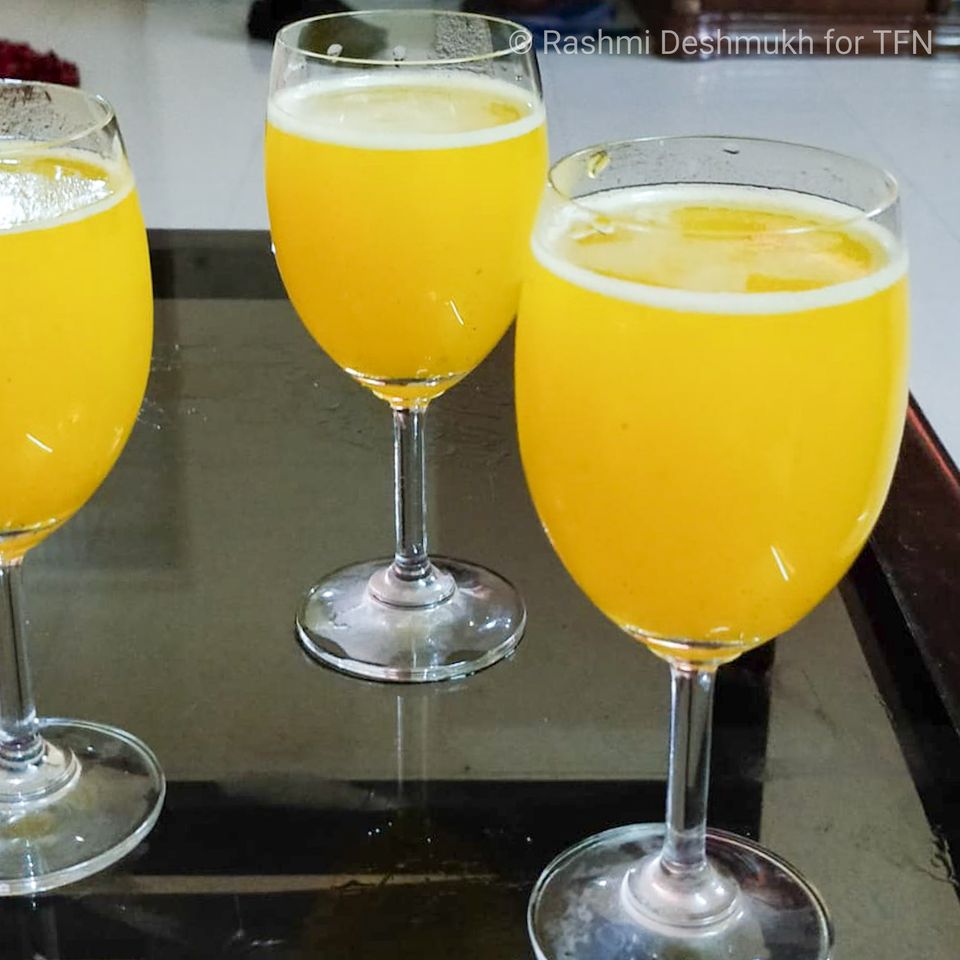 Ingredients:
1 cup Raw mango pulp
2 cup sugar
1tspn cardamom powder
1tspn Saffron  threads
Salt to taste.
Coldwater
Method:
Take 3 raw mangoes,
peel the mangoes and cook them in a pressure cooker (3 whistles)
Remove the seeds from the mango, once it has cooled down.
Add pulp to the mixer, add sugar and grind well.
Remove the pulp from the mixie in a big bowl, add cardamom powder, salt, and saffron if you want to add food color (lemon yellow)  – it is optional.
Add cold water and ice cubes to it and it is ready to serve.
6. Watermelon Juice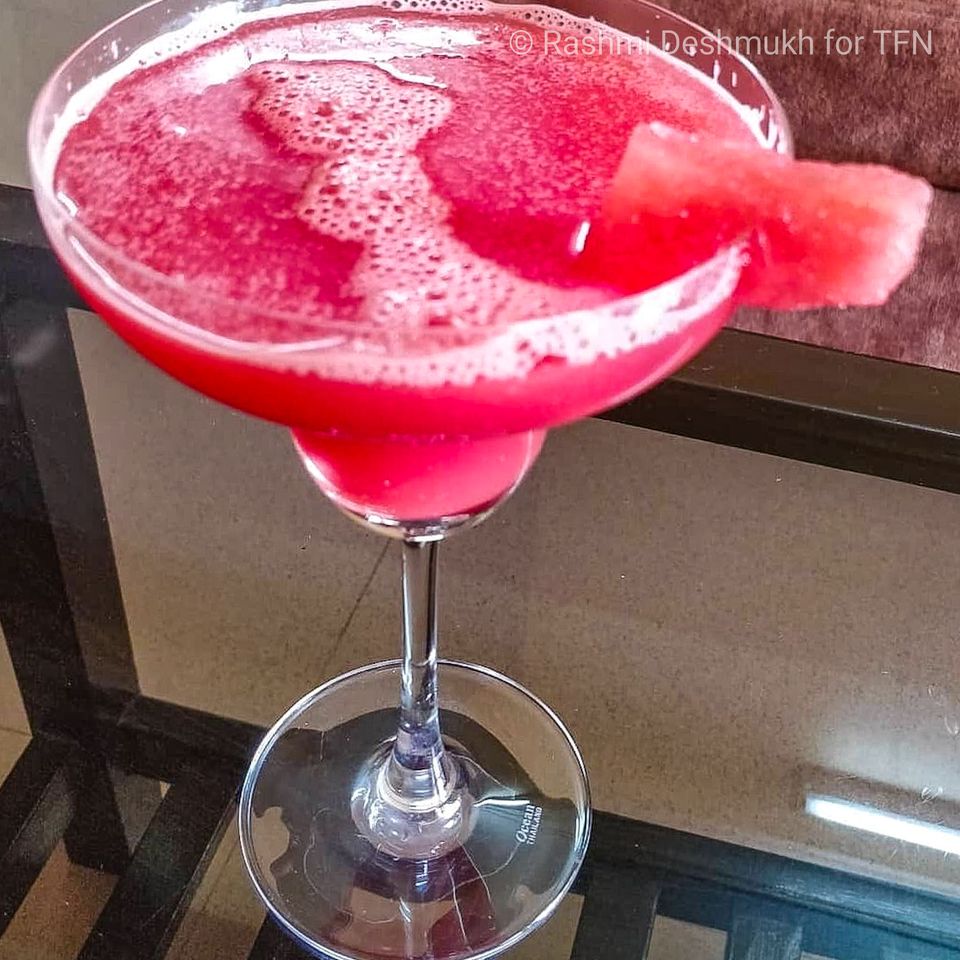 Ingredients:
2 cup watermelon slices(after removing seeds)
1 tspn sugar
2 tspn lemon juice
Salt to taste.
Method:
Cut the watermelon, remove the seeds and make small cubes.
In a mixie add 2cup of watermelon,2tspn lemon juice, and 1 tbsp sugar, salt to taste and blend smooth juice.
You can add ice cubes if you want, pour in the glass, and garnish with some small cubes of watermelon.