Mangalorean cuisine is a feast of flavours that embraces a piquant prawn gravy (left) as warmly as the jaggery-stuffed, ghee-rich holige (right). Photos by: Aditya Uppoor/shutterstock (prawn gravy), vm2002/shutterstock (holige)
Crispy goli baje, legendary chicken ghee roast, and a fiery mackerel curry—regional food is the rustic heart of Karnataka's coastal city.
May 2017, Karnataka: I'm on an annual sojourn to my native place in the coastal town of Mulki, a half-hour's drive from Mangalore, where rice fields are interspersed with tiled clay roofs of old homes. The balmy summer air is laced with the scent of red soil. In the chavadi of my ancestral home, relatives reuniting after a year chitter-chatter like cicadas. My little cousins have found entertainment in chasing after the house cat.
Come noon and the aroma of simmering marwai gassi wafts through my window; I chase it to the kitchen with the instinct of a bloodhound. Dodda watches the cumin sizzling in oil, emptying red chilli paste and desiccated coconut into her trusty old kalchatti. The freshly caught clams go last, all bubbling to a delicious denouement. My grandma senses my presence, and smiles.
"Uppu munchi sari unduda panle (tell me if it tastes alright)?" she asks in Tulu. I scoop a shellful of curry into my mouth—the mollusc is the right amount of chewy, and the spices flamboyant for show time. I polish it off, grinning, hungrier than before. She has my answer: her marwai gassi is a hit.
This scene unfolds identically—give or take a few other recipes—for as long as I can remember. But the significance of that moment is never lost on me. Dodda's kitchen is a portal to my tradition. Her century-old home has borne witness to generations coming and going, but the recipes passed down by women before her have remained unaltered.
Back in my Mumbai home, Maa can put together a mushroom-cheese lasagna just as fantastically as a chicken biryani. But it is her Mangalorean dishes that I turn to for comfort and the unalloyed joy of reclaiming my legacy. On Holi, we have holige—a jaggery-stuffed, dreamy-soft, sweet chapatti brushed with ghee. On Sundays we have kori rotti—piquant chicken gravy paired with crispy, paper-thin rice sheets. And for a quick fix, we turn to ganji (boiled red rice), mango pickle, and fluffy omelettes.
These are some of my cherished Mangalorean meals, some made from recipes that my Dodda perfected over the years, others from Maa's prized cookbook, her ally of over two decades. With these we bring a bit of Mulki home, in Mumbai.
Snack It Like it's Hot
Goli Baje
The word 'goli' loosely translates to 'marble' in Kannada, which explains the round shape of these fritters sold by the plate at hole-in-the-wall canteens outside temples and railway stations in Mangalore. Traditionally the recipe demands that you ferment the batter for several hours. So take a pinch of patience and whisk it with flour, curd, chillies, and salt. Throw in a handful of curry leaves and coconut slivers, and make batter balls. Fry until they're golden brown on the outside and spongy inside, à la medu vada. Serve with chutney.
Mangalore Buns
Sure, we've all gobbled one too many banana chips and even tried baking banana bread. Buns are not much of a stretch if you have overripe bananas handy—make a firm dough using banana puree, flour, water, salt, ghee, cumin powder and yogurt. Let it sit for up to four hours. Roll it into palm-sized puris and deep fry. Pair these mildly sweet buns with a steaming cup of filter kaapi.
Semige Rasayana
On Janmashtami and other auspicious occasions, Maa wakes up earlier than usual to plate up this laborious breakfast, which is both delicious and rewarding. To make the semige (string hoppers) grind pre-soaked, uncooked rice grains to a fine paste. Transfer the batter to a wok, add salt and cook under medium heat until the consistency thickens and becomes dough-like. Roll it into fist-sized balls and steam. Then stuff them inside a shavige or even a chakli-maker and press down on the strings. Drench it in coconut milk sweetened with jaggery and sliced bananas.
Secrets Wrapped in Leaves
Manjal da Irretha Gatti
Manjal da Irretha Gatti is a syrupy blend of desiccated coconut and jaggery pressed between sheets of rice steamed in turmeric leaves. This traditional monsoon recipe's Konkani and Maharastrian versions go by the names patoli and patolya respectively. Blend rice flour, salt and water and smear the dough across clean and dry manjal da irre (Tulu for turmeric leaf). Smear copious amounts of roasted coconut, jaggery and cardamom powder on top. Fold and seal the ends of the leaves and steam until cooked. Peel the leaf—let its heady fragrance cloak your kitchen—and bite into the piping hot, dumpling-textured rice pocket that oozes molten jaggery. This sweet dish is as healthy as it comes.
Kottige Idli
Contrary to popular belief, idli comes in all shapes and sizes and tastes even better when steamed in jackfruit leaf cones. The trick lies in weaving the mini baskets to be leak-proof (cue: online tutorials). For the idli batter, rinse and soak uncooked rice and urad dal separately for a few hours. Grind them separately and blend in an airtight container. Ferment overnight. Adjust salt and stir well. Pour the batter to fill 2/3rd of the jackfruit baskets placed upright in an idli steamer. Kottige idli makes for lip-smacking accompaniment to chutneys, potato stew, or even mutton curry.
Of Chickens and Eggs
Chicken Ghee Roast
Legend goes that this dish was accidentally invented half a century ago at Shetty Lunch Home, a local icon in the Kundapur region on the outskirts of Mangalore. For a bite of that history, first temper the fiery flavour of soaked Byadgi chillies with ghee. Let the chicken marinate overnight in a tangy rub of curd, turmeric powder, lime juice and salt. Roast an assortment of spices including fenugreek seeds, fennel seeds and peppercorns, and blend them with tamarind and ginger paste. Heat a kadhai and allow curry leaves to crackle in ghee. Add the meat marinate and the silken masala, and cook until the ghee swims to the surface. Toss in some jaggery, give it a final stir and sop up with neer dosa or ghee rice.
Kori Ajadina
Also known as chicken sukkah, this meat staple is customary during get-togethers. Dry roast and powder cumin, garlic and desiccated coconut. In another vessel, ghee-roast cloves, black pepper, chilli and cinnamon until fragrant and brown. Cool to room temperature, and blend to make a smooth paste. Fire up a tava and sauté onion and garlic in dollops of ghee until translucent. Sprinkle the ghee-roasted masalas and add the chicken (egg or mutton are good substitutes too). The dry masala goes in next. Cook until the meat is succulent enough to be peeling off the bones, and the texture is drier. Add turmeric powder and tamarind last. Wolf down the sukkah with pillowy rice rotti, chapatti or rice. If you're attempting a vegetarian version of this recipe: jackfruit or yam and chickpeas lend themselves well to its flavour.
Tethi Paladya
If you like your eggs sunny side up, this curry-based recipe is a must-try. First roast and then grind red chillies, tamarind, onion slices, coconut, and coriander, fenugreek and cumin seeds into a fine paste. Drop finely chopped onion and the paste into boiling water and stir well. Now comes the tricky part: Lower the heat and carefully crack open the eggs into the seething, sunset-orange gravy. Do not swish the ladle until the eggs are cooked. Season with salt and fried onion before mopping it up with rice or dosa.
Bigger Fish to Fry
Kane rava kaidina
To make this fish-based entrée lather clean-cut slices of lady fish with a vermillion, deadly-looking paste of salt, red chillies, rice powder and turmeric powder. Dust it with semolina and shallow fry. To add a zesty zing to all that spice, brush it all with lime juice and top with onion rings. The recipe works like magic with drumsticks too.
Nungel Meen Chutney and Ganji
The lazy-day-fix-cum-comfort-food, nungel meen or dry fish chutney, typically consists of shark, prawns, shrimp or anchovy. It is an acquired taste, owing to its pungent smell and flavours. Roast the dry fish on medium flame till it can be easily split to bite-sized pieces. Set it aside to cool. Roast red chillies in coconut oil. Bring to room temperature and integrate it with store-bought Kundapur masala powder, onion, garlic and tamarind paste. Blend until the texture is crumbly. Sprinkle grated coconut and give the mixture a few whirls. Empty it into a bowl and add the fish. Relish the salty, sapid chutney with ghee-drizzled ganji or red rice gruel.
Denji Ajadina
Cooking crab, just like eating it, is a craft. You may break the shell fish into parts or leave it whole, but remember to clean thoroughly. Crush and crackle the masala blend* (see below) in coconut oil. Don't scrimp on the tamarind and garlic, for the meal gains its piquancy from them. Add to the mix, grind to a paste and dunk the crab in the marinade. Sprinkle salt and onion and get cracking on the stove. The fate of this semi-dry dish rests on how well you pestle the cumin, coconut and garlic flakes. Throw them in, stir and cook on low flame until it's done. Top it with fried onion and garlic flakes before serving with red rice or dosa. You can use this recipe for clams too.
Bangude Pulimunchi
In Tulu, puli translates to tamarind or tanginess, and munchi means chillies. This hot-and-sour, tangerine mackerel (bangude) curry is the heart of a rustic Mangalorean Sunday spread for anyone who is fond of seafood, such as my dad. Fry the masala blend* and throw in garlic, tamarind, tomato and salt to the mix. Pound all the ingredients to paste. Heat a vessel, pour in the pulp and cook. Kibbled onion, chillies and ginger go in next. Add salt and water as per the desired consistency. Place the fish carefully in the boiling gravy and drizzle coconut oil on top when done. Save a bowlful for the next day—when it tastes even better—and polish it off with idli or dosa.
(*Masala blend: desiccated coconut, red chillies, peppercorns, and cumin, fenugreek and coriander seeds.)
Sweet State of Affairs
Kadale bele payasa
In Mulki, a meal isn't finished until you've stuffed yourself with so much kadale bele payasa that it's difficult to budge from your seat. Even the ever-quaint banana leaf spreads across temples in the South reserve this grand finale of a sweet dish for last. To make it at home, boil Bengal gram in water. Empty granulated raw rice into the same vessel and cook some more. One by one, add jaggery, coconut milk, and nuts and raisins. Serve hot with a dressing of ghee.
Holige
Holige is the Mangalorean cousin of the Maharashtrian puran poli—only softer, flatter and smeared with more ghee. For the stuffing, boil Bengal gram, and drain the water once cooked. Crank up the flame, add jaggery and cardamom powder until it dissolves. Once cool, grind it to a mush without using water and keep aside. The flour-based flatbread is like a chapatti, but remember to pour more oil and leave the dough to rest for up to six hours. Roll it into lemon-sized dough balls, place some dal paste at the centre, gather the edges and pinch the seams shut. Dust it with flour, roll it out on a board, and cook on a hot tava with lots of ghee.
This feature also appeared in National Geographic Traveller India
For latest travel news and updates, food and drink journeys, restaurant features, and more, like us on Facebook or follow us on Instagram. Read more on Travel and Food Network
Trending on TFN
The 23 Best Places To Go In 2023
Explore Utah's Mighty 5® and What Lies in Between
Five Epic U.S. National Parks To Visit This Year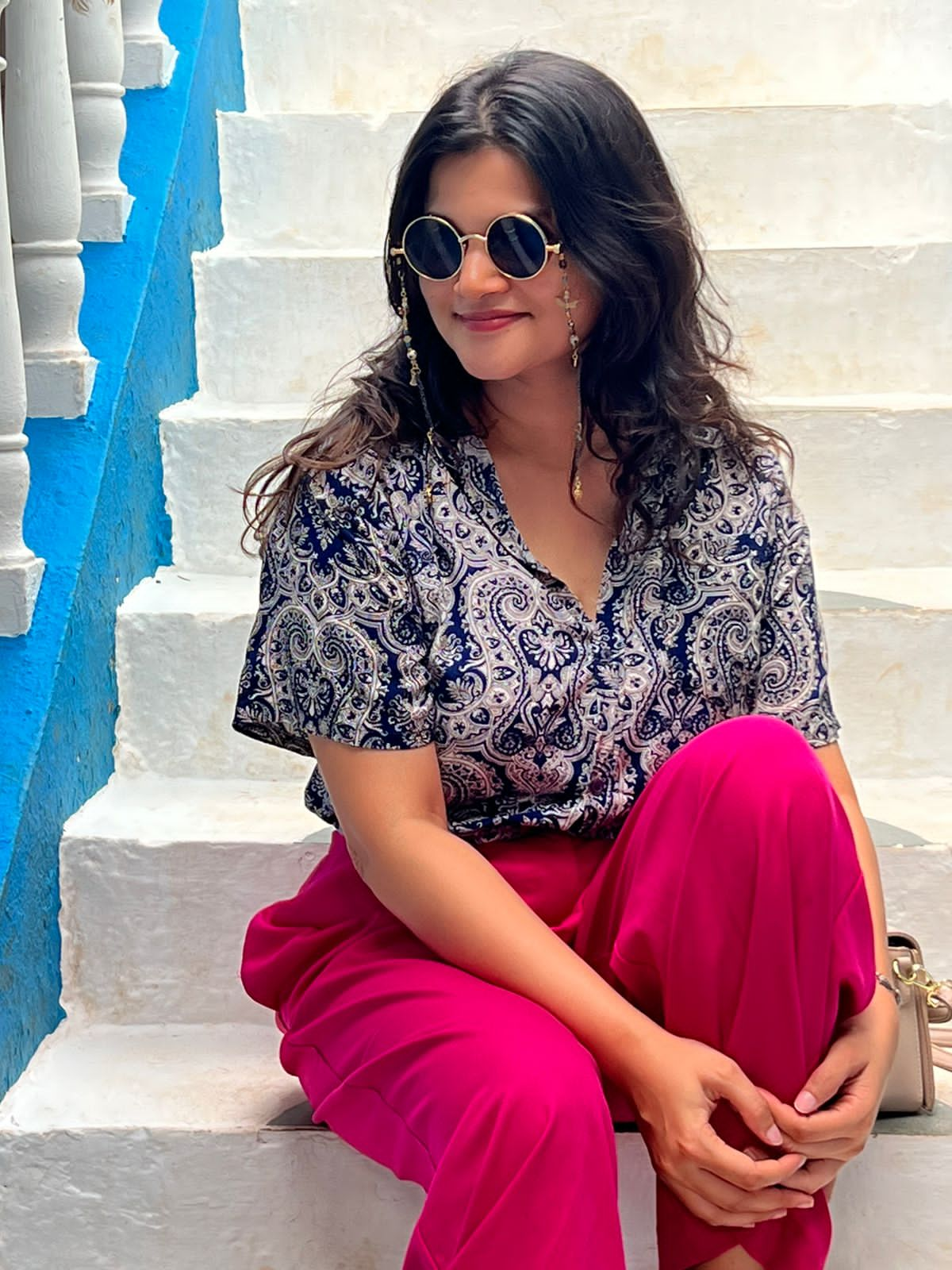 Pooja Naik is a Mumbai-based journalist with a penchant for food, art, and adventure. Her affinity for travel has often led her to many cultural crossroads, whereby she savoured butter tea with the resident monks at Thiksey Monastery in Ladakh and guzzled an indigenous produce of green ant gin at a local's behest in Australia. Her work has appeared in National Geographic Traveller Ind