Journey into yourself with an adventure of a lifetime with this exclusive Leh-Ladakh package
A country with deep cultural roots, a rich heritage and various terrains, India, the land of diversity is a place where one can find oneself through yoga, relaxing on the mesmerizing beaches, lose oneself in the mountains of the Himalayas and pay homage to great historical sites.
Leh-Ladakh is one such land with stunning Gompas, whitewashed stupas and red-robed monks. It is known as the world's coldest desert. It is a union territory in the Kashmir region of North India. The place is an adventure spot, great for climbers, jeep tours, rafters and trekkers. The district Leh of Ladakh has a popular town named "Leh" which is a great tourist attraction because of its stunning monasteries, picturesque locations and lively markets which define the culture of the place. Tourism is an important industry of the district because of its potential for the creation of employment opportunities and the generation of income on a large scale. Ever since its opening for tourists in 1974, Leh has attracted thousands of tourists every year.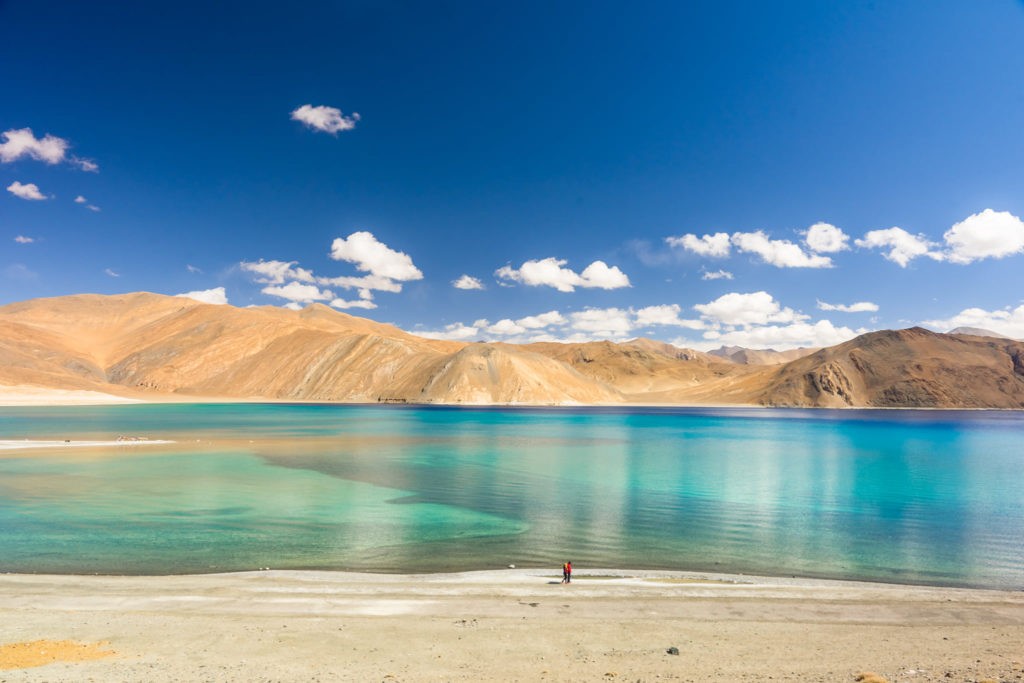 Leh-Ladakh is a perfect place for a post-pandemic getaway as it has vast open spaces, with less crowd and is also great for a healing trip. The rugged mountains, winding roads, and vibrant cultural life make up the charm of this region. The magic of Leh will stay with you forever and leave you wanting for more. The snowy landscapes, monasteries and stupas will make you feel far removed from this world. All this, and much more, are reasons to visit Leh-Ladakh for a post-pandemic getaway. Still confused? To convince you, we have come up with a list of 10 reasons why Leh-Ladakh is a must-visit for every traveller.
Scenic Beauty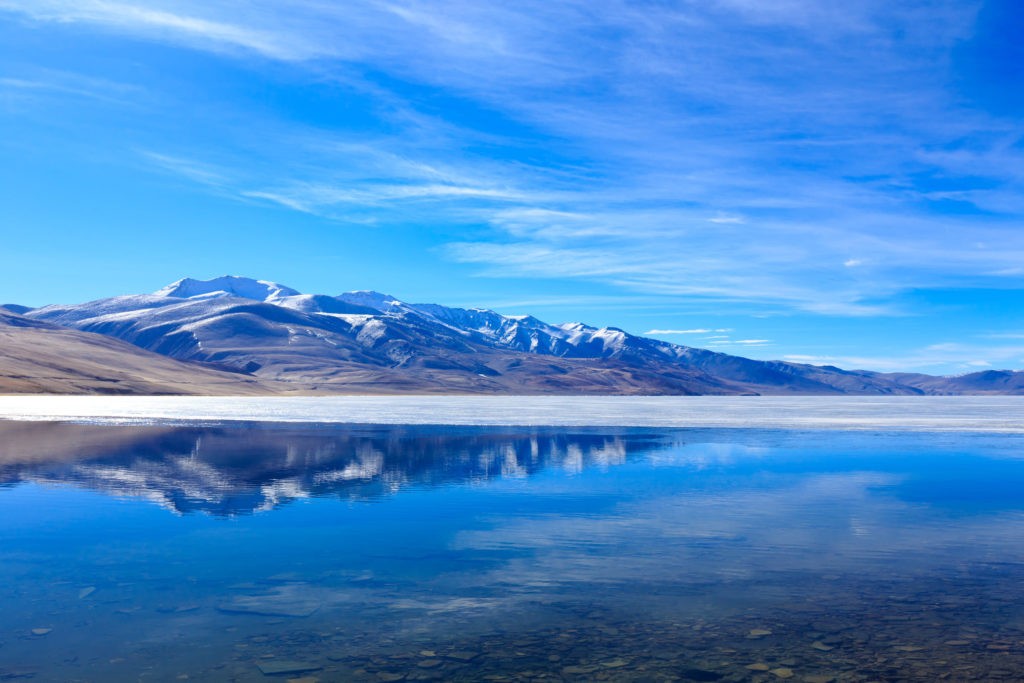 Nestled between the Himalayas and the Karakoram mountain ranges, the Ladakh region is untouched by the hustle-bustle of people. The crystal clear rivers, clear blue skies, the enchanting lakes and the Himalayan Mountains which make up the background of the place with silhouettes of monuments and monasteries lining the landscape, are all marks of nature that will enchant any visitor.
Culture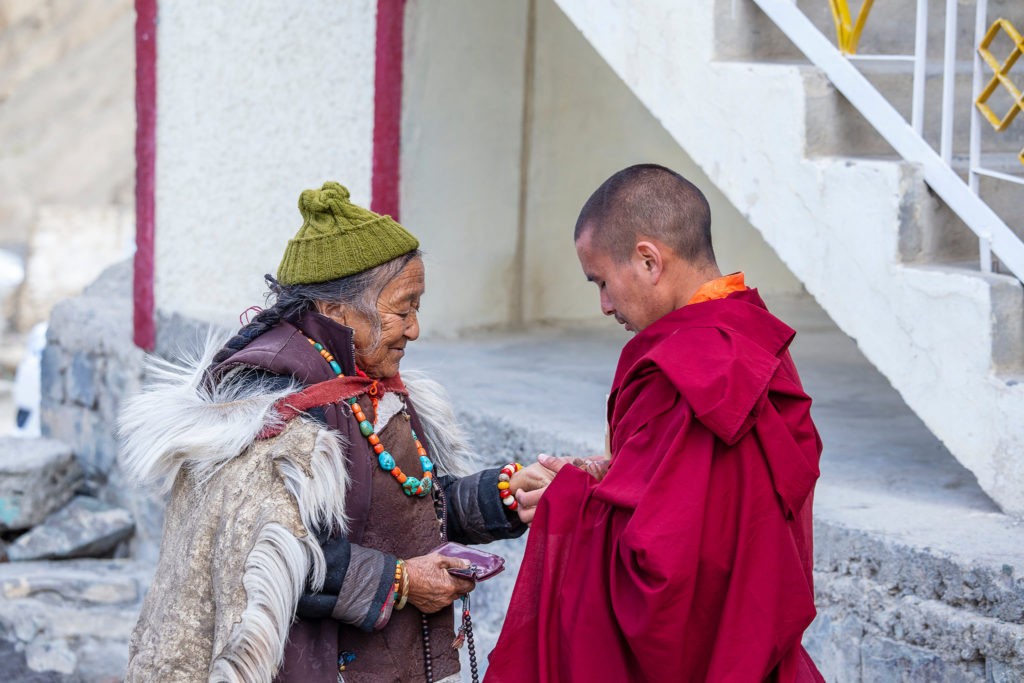 Ladakh has a unique culture. The Ladakhi people are mostly Tibetan Buddhists of Aryan descent of Shia Muslims. Over time, their culture has become a pillar of tourism. The lands traditional culture and lifestyle along with the cuisine, dressing and dance forms, make the culture of Ladakh so rich.
Wildlife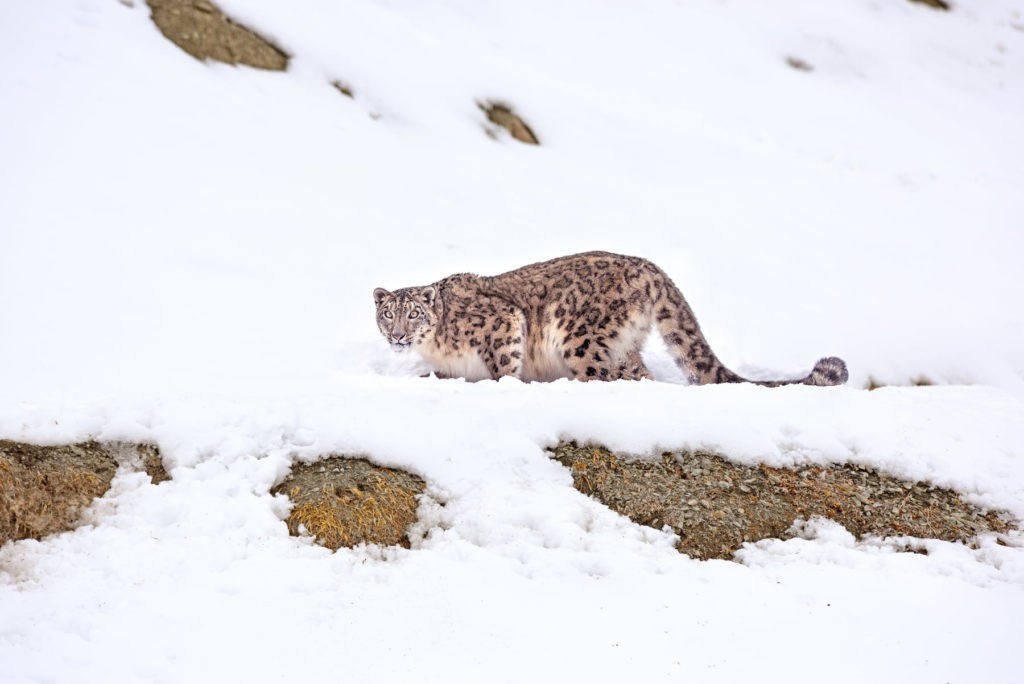 The landscape of Ladakh is untainted by civilization, which helps in nurturing some of the rarest breeds of birds and animals in their natural habitat. More than 225 species of animals and birds can be spotted in this region. The most commonly spotted are the snow leopard, brown bear, lynx, wolf, Tibetan sand fox, antelope, Tibetan Argali and others. The diversity of Ladakh also arises from its nature and the wildlife that is a part of this beautiful scape. Hemis National Parka a well known wildlife destination in Ladakh is home to some of the most exotic and rare flora and fauna species and is particularly famous for sightings of Snow Leopards, Shapu, Wild Sheeps, Ibex and Goats.
Adventure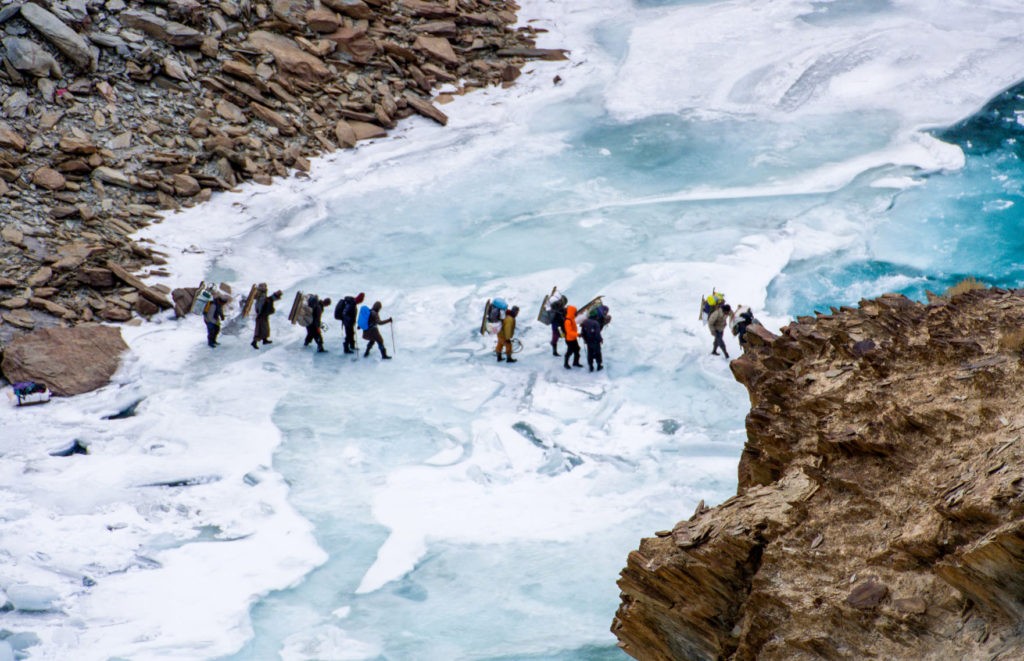 Statistically, this is one of the top reasons why many people visit Ladakh. The geography and the Himalayan nature gives the places its unique and varied landscapes, which allow one to enjoy adventure activities like mountain biking, trekking, river rafting, jeep safari, camel safari, yak safari, ice hockey and many more. Ladakh is a great place for adrenaline junkies to visit for a great adventurous time.
Religious places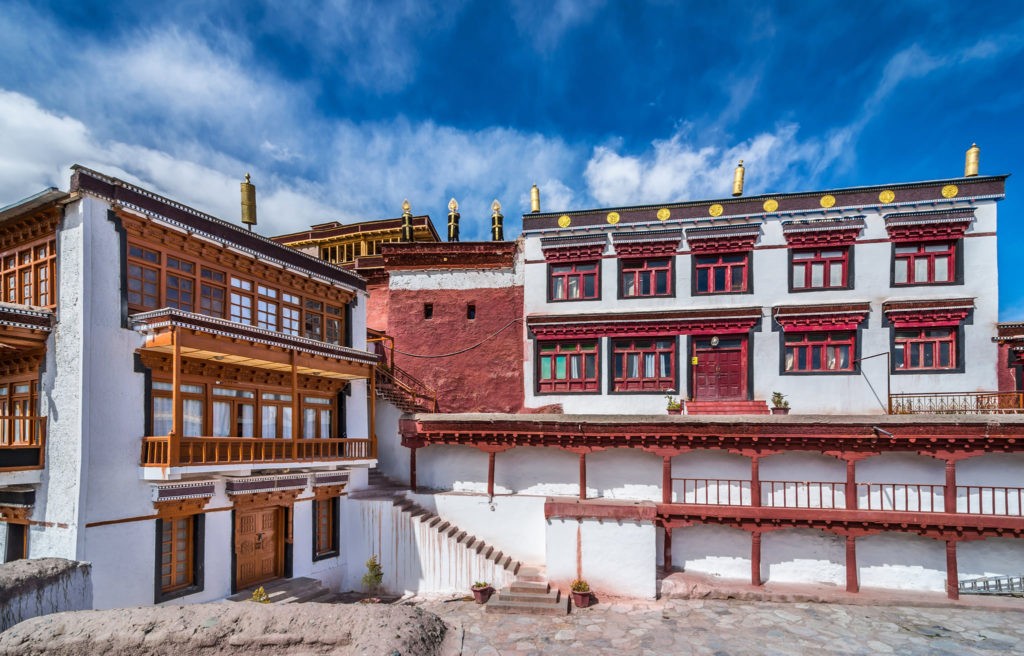 Ladakh has a lot of ancient monasteries and gompas. Taking a pilgrimage tour is a double beauty. One can wander around the monasteries, and explore the culture through the unique architecture of the area. You can also trek to certain monasteries and stay there for a couple of days free of charge. The top monasteries in Ladakh are Thikshey, Hemis, Stakna, Matho, Spituk and Alchi. The nature of the area also plays an important role in adding to the tranquillity and peace of these religious places.
Must Read : Quintessential Srinagar And the Kashmir Valley | 2021 Travel Guide
Safari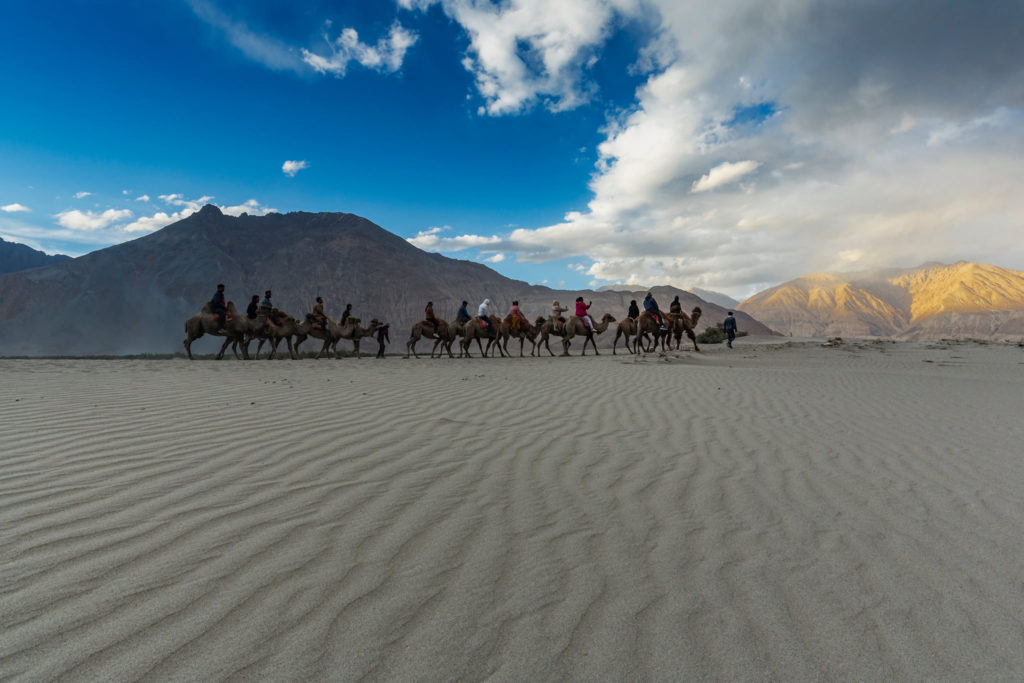 Apart from Rajasthan, Ladakh is one of the few places in India where one can enjoy a camel safari. It is also a place where you can also experience yak safari as well. Jeep safari is one of the most common ways to explore the region. With the snowcapped Himalayan Mountains on the horizon, the safaris of Leh Ladakh are an experience worth a lifetime.
Photography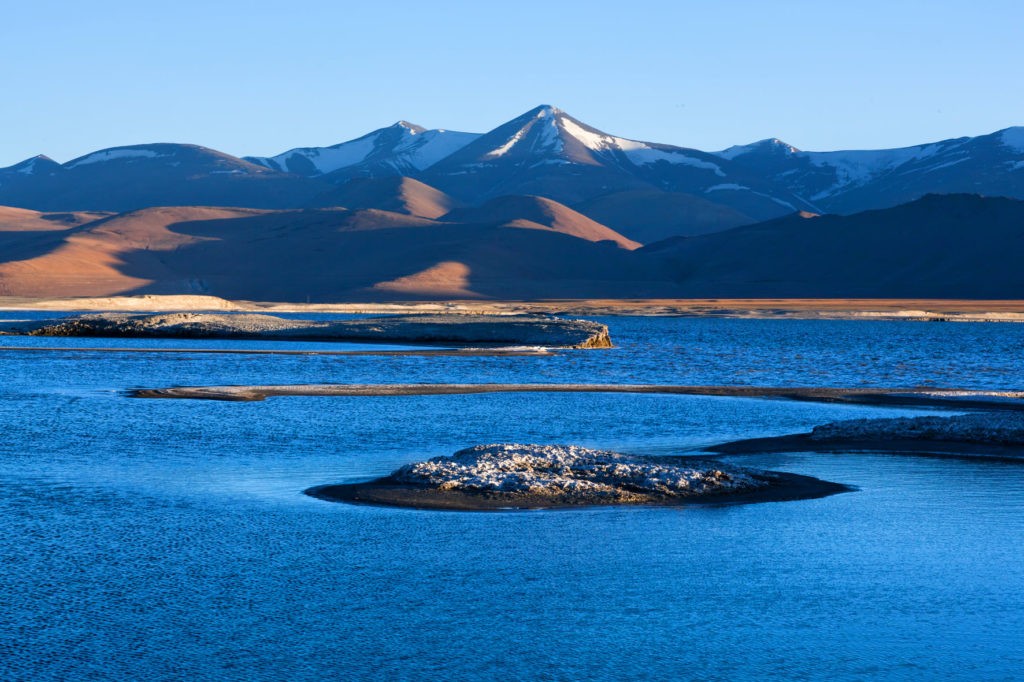 Thanks to the Tsokar, Tsomoriri and Pangong lakes which are thronged by exotic birds, photographers can make the most of the Ladakhi lakes. The gushing streams, quaint houses, narrow pathways and the spectacular scape, make Leh-Ladakh an apt place for a postcard-like photograph. Apart from the natural beauty, the architecture of the region, including the fluttering prayer flags make the place an ideal destination for photographers.
Yoga and Relaxation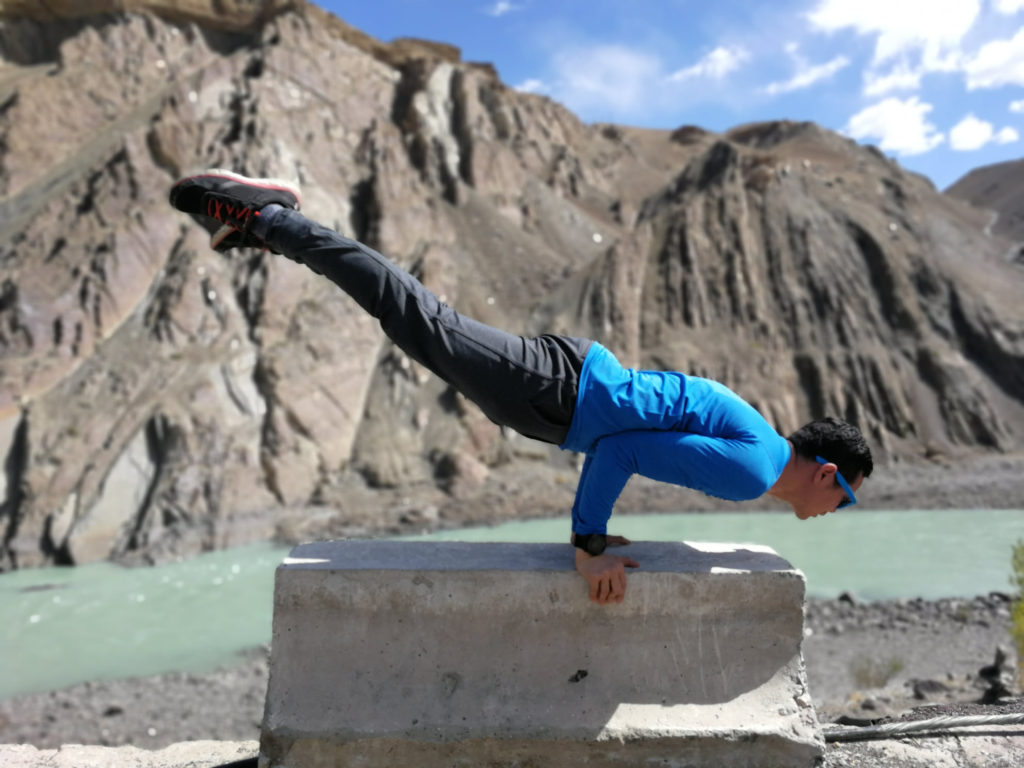 No matter which place you visit in Ladakh, relaxation is guaranteed. Apart from yoga centers and Buddhism centers where training courses and meditation workshops are held, the very nature of Ladakh will bring peace to your soul. There are also a lot of monasteries where you can stay and participate in their daily rituals of meditation and spiritual teaching meant to bring inner peace.
Festivals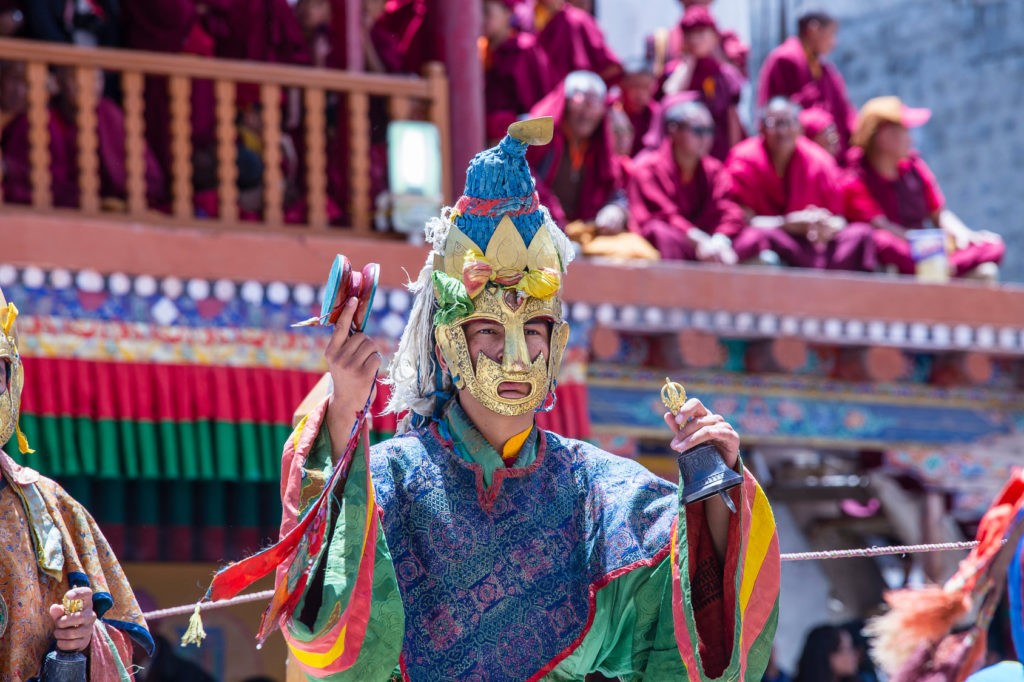 No story about any place in India is complete without a mention of the festivals of the area. Dotted with stupas, monasteries and temples, Ladakh is a great place to enjoy festivals. The culture of the land is infused with the Tibetan lifestyle which makes each festival a unique extravaganza. The best festivals during which to visit Ladakh are Loser, TakTok festival, Hemis, Dosmoche, Ladakh Festival and many more.
Food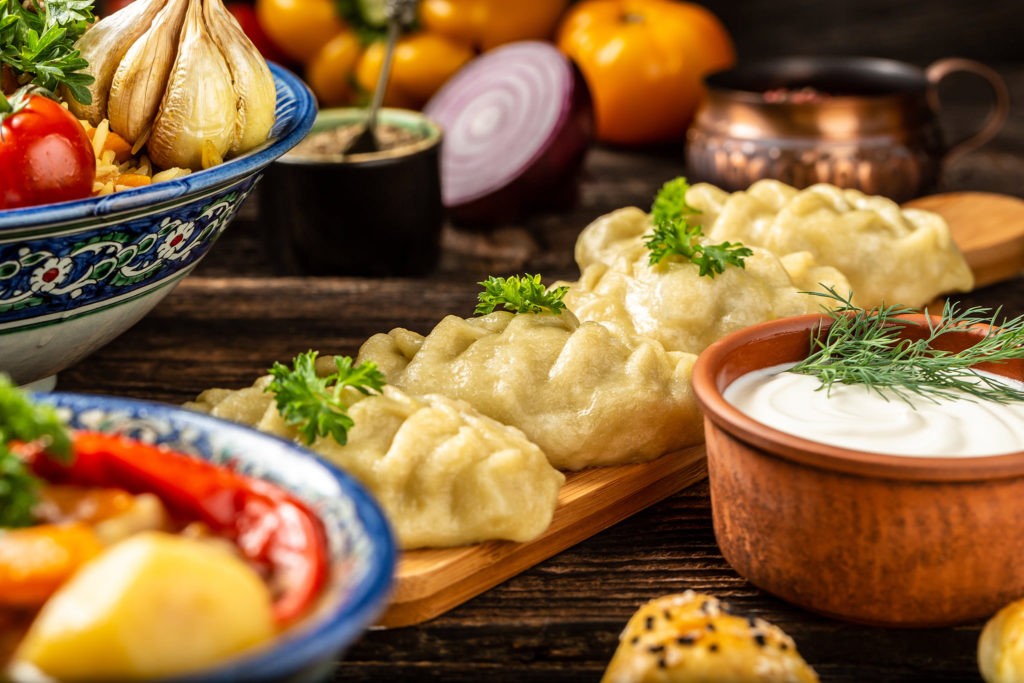 The cuisine of any place is a major part of its cultural beauty. The cuisine of Ladakh is healthy and delicious. Ladakh is the place where you can taste pink tea (one of the traditional Kashmiri beverages is noon chai or a pink-coloured special Kashmiri tea made with gunpowder tea – green tea leaves rolled into small balls, milk, sea salt and baking soda), traditional momos and thukpas (a noodle soup that is prepared with chicken or vegetables).
Other must-try dishes are :
Chutagi – bow-tie-shaped pieces of dough cooked in a thick soup made of potatoes, carrots, peas, and local leafy green vegetables. A non-veg version of this dish with meat is also very common).
Skew/Skyu – dumpling soup made in the same way as chutagi but with small, thumb-sized chapatis. For a non-veg skew, mutton is most preferred and potatoes are a must to give it a nice flavour and texture)
Paba – Paba is a dough made from wheat, barley and Ladakhi black peas and is served with Thanthur (buttermilk)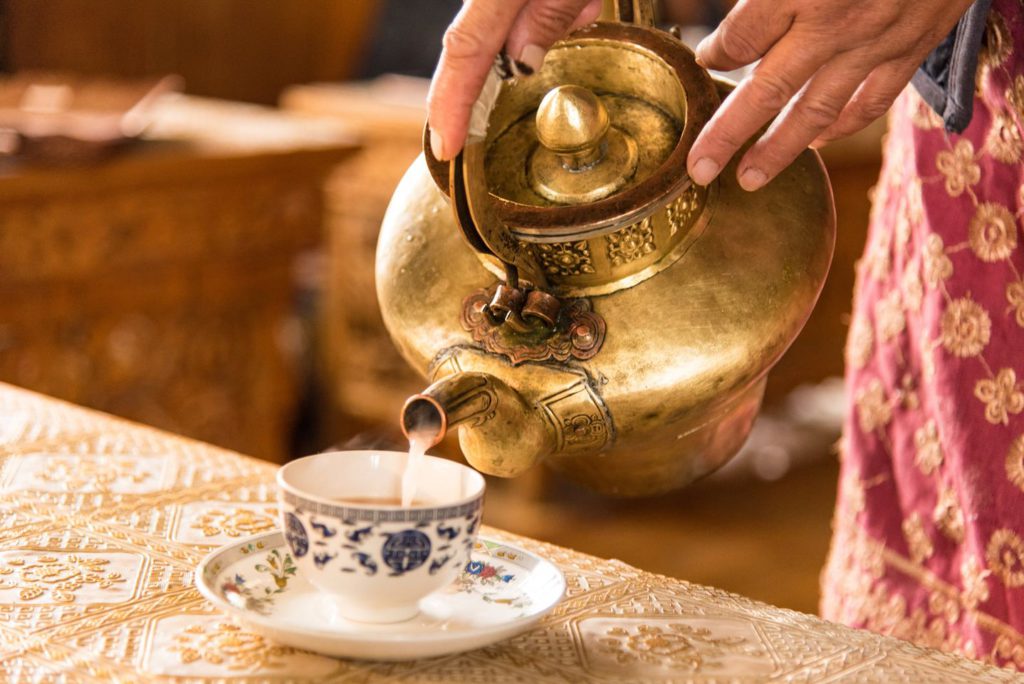 Butter tea – the region's most prominent drink. It is made out of Yak milk, salt, Yak butter and a type of Tibetan tea leaves from Pemagul. The Ladakhis call it Gur-Gur Chai and is perfect to beat the winters.
Limited Period Exclusive Offer With Leo Travels

For exploring Leh-Ladakh to the fullest, it is vital to choose a travel agency that will give you the best deals. Leo Travels offers a Leh Ladakh package at Rs. 49500 only. The cost includes a 6 nights/ 7 days accommodation at deluxe category hotels, along with daily breakfast and dinner. Sightseeing and private transfers are also included in addition to inner line permits needed to visit certain areas. Along with all this, there will also be a small oxygen cylinder provided for Nubra and Pangong where there are low oxygen levels.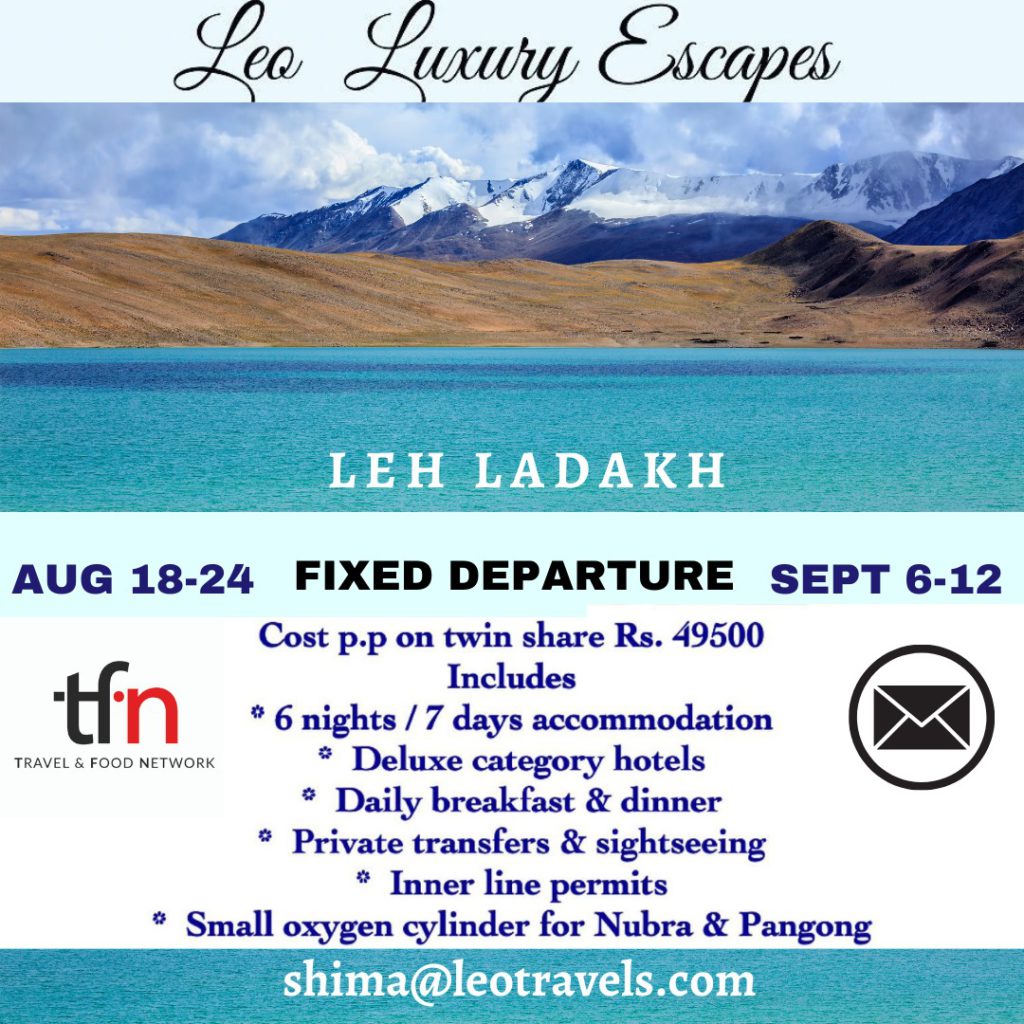 Travel Update : Please note that there could be travel restrictions because of the ongoing pandemic. Before travelling, please always check the latest government advice about COVID-19 travel restrictions in your destination.
Photos : Shutterstock
For latest travel news and updates, food and drink journeys, restaurant features, and more, like us on Facebook or follow us on Instagram. Read more on Travel and Food Network
Other Trending TFN Packages :
Stay : Swim With Turtles At This Maldivian Resort
Stay : This New Maldives Resort Is Designed For Privacy And Luxury