Enjoy a relationship reset on one of these spectacular getaways.
Cap D'Agde, France
There's nothing like the naturist quarter of the French town of Cap D'Agde, for revelling in the bare necessities of life. Skinny-dipping isn't the only license this strictly nudist village offers; you can shop naked, and even party in your birthday suit at couples-only bars and lounges. There is an entrance fee of about €15 and you can only take photos of your family, of course. Stay at the no-frills Hotel Eve, open only during season, or rent an apartment. Adult recreation while traipsing as nature intended—let your imagination run wild. See www.capdagdefrance.co.uk; entrance fee approx €15/₹1350.
Helga's Folly, Sri Lanka
With rich silks whispering against the windowsill, ochre walls festooned with murals and mirrors, candelabra glowing over canopied beds and plush, antique Dutch and Sinhalese furniture, Helga's Folly sets the mood for sensuous pleasure. The red building has hosted celebrities such as Vivien Leigh and Peter Finch, whose lover's spat during their stay here has rubbed itself into the history of Helga's Folly. Don't expect the service of a regular hotel but that of a private home, the website warns, adding, "an open mind is a must here". Cocktails overlooking the jungle, hot jazz off a gramophone, and a roll-around in those decadent interiors should set the stage for some unforgettable adventures. See www.helgasfolly.com
Desire Resorts, Mexico
This couples-only adult resort is known for being perfect for an intimate vacation for two, or a swingers' haven if that floats your boat. Slip away to the au-natural beach area or join the fun with sensually-themed activities like body painting, a communal hot tub, Lingerie and Champagne Night, a clothing-optional Jacuzzi foam party, and more. See www.desireresorts.com
Hotel Pelirocco, UK
Get down and dirty at this gem touted as "Brighton's sauciest boutique hotel". The sea-facing townhouse has 19 rooms for kitschy delight, including the Nookii Room, complete with a neon peep-show sign and a kinky iron bed; Lover's Lair with an 8-ft round bed with a mirrored canopy, a pole-dancing area, and a plunge bath with double monsoon showerheads; and a boudoir tribute to 1950s American pin-up Betty Page, with lots of leopard print and a spa bath for two. Spice up your weekend with a Koibito Sexy MF Love hamper; a boudoir photography shoot from £100 an hour; and the Lovebird package with champagne, chocolates, flowers, breakfast in bed, plus late check-out for an extra £100. See www.hotelpelirocco.co.uk
Library Hotel, U.S.A.
Library Hotel's collection of over 6,000 books is organized by the Dewey Decimal Classification®. Each of the 10 guestroom floors honors one of the 10 categories of the Dewey Decimal Classification® and our 60 rooms are uniquely adorned with about 50-150 books and artwork exploring a distinctive topic within the category it belongs to. Each of the ten guestroom floors of Library Hotel is dedicated to one of the ten major categories of the Dewey Decimal Classification. The most popular rooms, by far? Erotic Literature (800.001) and Love (1100.006). Room and suite prices on the hotel's Web site range from $295 to $770 per night.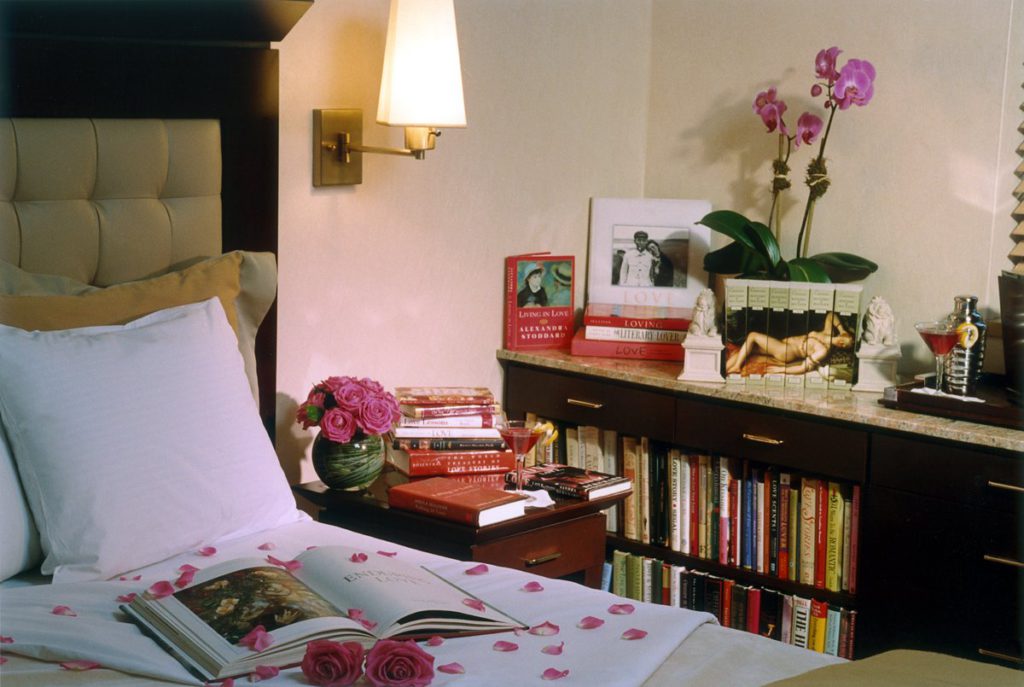 The Love Room at the Madison Avenue hotel is the most unique, featuring the hotel's only private terrace along Madison Avenue, enjoying views of the iconic New York Public Library and the City skyline. Featuring artwork and books based on the Philosophy of Love, what makes this room extra special, is the room's collection of books were hand selected by the famous Dr. Ruth Westheimer. All stays in the Love Room require a 2-night minimum stay requirement. Get a bottle of Champagne, a dozen red roses, Belgian chocolates and a pleasure kit if you fancy a game after all that heavy reading.  See www.libraryhotel.com/en/
3.14, France
Of the five floors, each dedicated to recreating a continent at this Cannes luxury hotel, it is Europe that speaks most volubly of love. A room in Europe is ripe "for an incognito escapade into the feverish animation" of Paris during the Belle Epoque, the website suggests, with the sensuality and excitement of "the cabarets in Montmartre with their sparking chandeliers". Rose and cedar-wood scents waft in this lushly red room with a glass-walled bathroom. When you finally roll out of bed, pop by for massage, hammam, or a dip in the sea-facing pool and Jacuzzi. After all that hedonism, take comfort in the good vibrations exuding from the hotel's Feng Shui design and its organic, gluten-free restaurant bar. See www.3-14hotel.com
The Hempel, UK
The classy, minimalist London hotel perhaps most famous for featuring in 1999 film Notting Hill was celebrated for its Lioness Den. The room boasted a platform bed suspended by cage-like metal rods from the ceiling, off-set by the glow of candles. See www.hempel.londonhotelsuk.net
Intimacy Retreats, Florida and Costa Rica
Intimacy Retreats are designed to boost and enhance the quality of relationships between couples who are already in a loving and committed bond. Whether in Florida or Costa Rica, certified sexologists Diana and Richard Daffner provide Tantra instruction, yoga, and communication and trust-centered workshops that place a focus on pleasure and fun. The retreats aim to equip the couples with the knowledge and resources to apply the teachings to their daily lives. See www.intimacyretreats.com
For latest travel news and updates, food and drink journeys, restaurant features, and more, like us on Facebook or follow us on Instagram. Read more on Travel and Food Network
Trending on TFN
The 23 Best Places To Go In 2023
Explore Utah's Mighty 5® and What Lies in Between