For a posh arrival at the Westin Maldives Miriandhoo Resort, opt for a seaplane transfer overlooking clusters of turquoise archipelagos. Photo Courtesy: Westin Maldives Miriandhoo Resort
Lavish indulgences over and underwater at Baa Atoll's the Westin Maldives Miriandhoo Resort pamper your senses.
"The presence of three palm trees—mostly coconut—is what differentiates an island from a sandbank." Filipa Lopes, the Westin Maldives Miriandhoo Resort's resident marine biologist, proffers, as we cruise the cerulean waters of Baa Atoll after my maiden dive at Maniaagaa lagoon—the first of the Maldives' many charms.
***
I stand at the edge of the luxe deck on our private speedboat as it motors through prehistoric volcanic lagoons. This is Baa Atoll, a UNESCO heritage site and the richest zone for marine and coral diversity in the region, accounting for five per cent of the world's reef area. Over the next few days, I discover how a single dive can reveal to you the dance of tawny nurse sharks, grey reef sharks, porcupine stingrays, schools of manta rays escorting remoras, and schools of parrotfish, all at once.
As I dock at the whale-shaped jetty for the second time, I recount my lavish arrival the day before. This time, I find myself with an assorted audience of a couple on their annual island pilgrimage, an obsessive traveller set to touch base at all 195 countries and a white linen-clad hospitality team whose name tags are accompanied by personal passions—an easy way to segue out of small talk.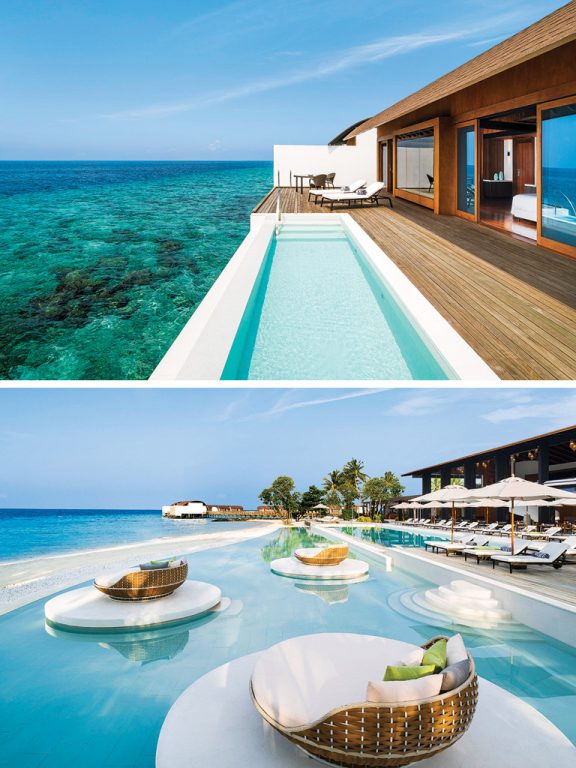 Solomon Muno, my thakuru (caretaker), acquaints me with this small paradise island's quiet seclusion. We move past the dive centre, a popsicle shop, and boutique, into the lush gecko-ringing canopy where individual beach villas stand as luxury accommodations opposite a fitness studio and tennis court. The resort has two categories of boarding, private beach villas and overwater villas, both with options of private pools and access to the ocean—by jump or sandy jog. My home for three days is a snazzy, extra spacious island villa, designed to Italian sensibilities with inspirations from the Mediterranean, the Middle Eastern Gulf and the Indian Ocean. My abode is double-roofed in the shape of turtles to draw attention to the nesting species, and offers a double ventilation system to reduce the need for air conditioning. The Island Kitchen—an all-day restaurant—and the library above, sport Japanese-style timber panels with a tropical panoramic view of palm-lined beaches and an infinity pool; for certain observers, the lamps in the library resemble jellyfish, while The Pearl—the property's signature restaurant—has a modern arched roof in the shape of a whale shark.
In an offshore destination where many means of sustaining a luxury resort involve chopper deliveries, local resources are tapped into mindfully. Glass bottles are recycled and reused using two on-site carbonators, ocean water is desalinised for drinking, a huge assortment of fruits and spices are grown on the island, while seafood is ethically fished.
***
I'm with the executive chef at the Marriott Bonvoy Mixer—an exclusive member-entertainment event—sipping on a Pimms lemonade and nibbling on delicate hors d'oeuvre. My conversational throng is quickly shifting between the marketing director, mixologists, the F&B director, patrons and the general manager. A takeaway from the evening congregation—insight into the Westin's island culture and feel-good philosophy.
"When you're in the Maldives, you must eat, sleep, feel, move, work, and play well," I'm informed every day at the breakfast buffet as a cold-pressed veggie booster shot arrives at my table. The philosophy is never imposing, instead a refreshing conceptualisation of an island vacation.
Days begin with a sensory invasion by citronella-scented bath products and ends with aroma therapy through lavender wrist balm. 'Eat-well' sections across all dining outlets offer a detox, although indulgence is easily accessible. The overwater spa's luxurious view of the endless ocean complemented by a floral sensory bath grants untainted rest, while the two-storied gym and an outdoor tennis court are mood lifters.
Tipples are taken seriously here. Casual conversations often take interesting turns. On a slow day with a relaxed itinerary, Deepak Kumar, the Westin's F&B Director, offers to fine-tune my tennis skills. On a different lunch, my quiet afternoon is filled with quality checking a South African Pinot Noir and a quick summary of the expansive wine cellar on the island. Over an evening rendezvous at the Sunset Bar, I discover bartender Harsha's ardour for mixology to liven up the evenings. I leave it up to him, who presents me with a pale, cloudy drink in a champagne coup. My unpolished palate only picks up a musty concoction of apple and pear, but the craft includes Calvados apple liqueur, pear juice, vanilla and hibiscus syrup, shaken with a drop of egg white and smoked with cinnamon. I am an instant convert, and learn I just blind-tasted their forthcoming signature drink—the Heaven Sleep Cocktail.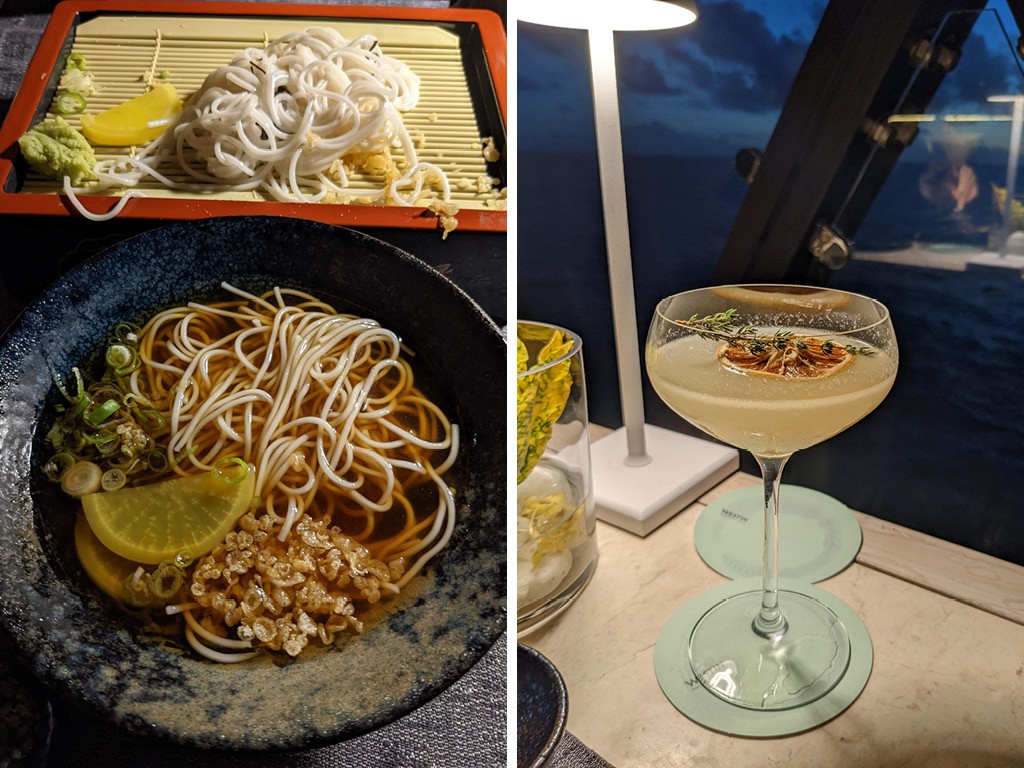 Down at Hawker, the pan-Asian wok-grill preps delectable lunches. Over my two meals here, I polish off glazed soft-shell blue crabs, sinfully succulent duck spring rolls, octopus salad and some sambal udang, while my host, Hanny Wahyuni, brings me up to speed with Peranakan Malay, Indonesian and Filipino cuisines.
Every Friday at Island Kitchen, Maldivian flavours are spruced up with local folk music. For every French lamb shank, there's tuna curry, and for every continental salad, there's fish and chicken broth. My last dinner is a seven-course kaiseki meal, hosted at The Pearl, a Japanese fine-dining restaurant. The set kicks off with yellowtail fish sashimi with Italian caviar and a tangy jalapeno dressing, a black cod yakimono and cold zaru somen. Recommended pairings include a fine selection of sake, from Kimoto Daiginjo to Osake, but my pour for the evening is a Japanese gin martini. Scattered over two hours, conversations are in tune with the ambience and our final course plates the most delicately balanced unagi and salmon sushi with miso soup.
***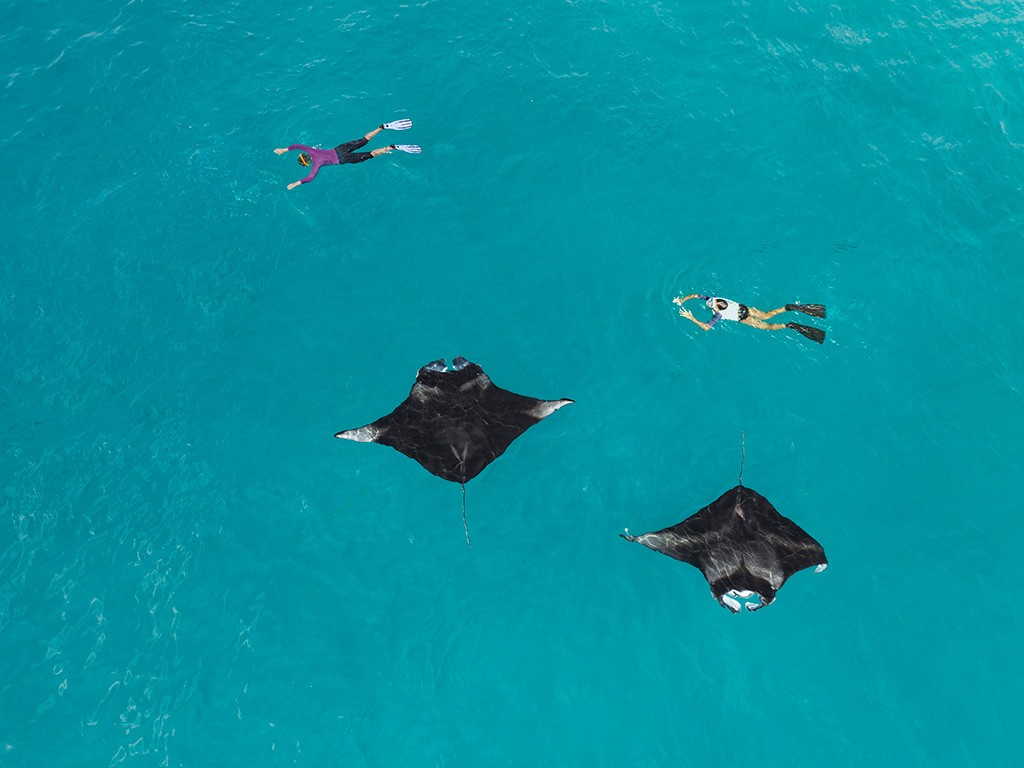 The trouble of fairing high currents, churning new hip workouts and avoiding a burning urge to slap plankton bites comes to a standstill as I witness three manta rays softly drift into a deep trench. The flat diamond-shaped beings that I had only ever seen on Finding Nemo are now gliding two paddles away from me. Sand stirs a short distance away, alerting me to a porcupine stingray on the hunt. On another dive, a reef shark and a nurse shark encircle us in prickly water, too close for comfort but too far for a curious inspection.
During my four days of wandering, I spend active hours hovering at AQUA, enquiring about snorkelling techniques and ID-ing fish. At the house reef, right after a session on coral propagation, I spot eagle rays and bannerfish in the shallow currents, which I carefully learn to navigate alone. My two stints with open-water snorkelling take me to Ohgali reef and Maniaagaa lagoon, an alternative plankton-rich zone for manta feeding after Hanifaru bay.
The underwater world, my personal draw to the Maldives, is just as utopian as the island above. Surrounded by daunting waters and enchanting oceanic encounters, there's an overwhelming realisation that a single visit has only skimmed the cusp of the tropic's beauty. But as I part ways, I am content swaying in luxury and bliss, for I know I turned into a nomad underwater while feeling regal on shore.
ESSENTIALS

Doubles from $530 (₹42,120) excluding taxes, B&B www.westin-maldives.com
This feature also appeared in National Geographic Traveller India
For latest travel news and updates, food and drink journeys, restaurant features, and more, like us on Facebook or follow us on Instagram. Read more on Travel and Food Network
Trending on TFN
The 23 Best Places To Go In 2023
Explore Utah's Mighty 5® and What Lies in Between