Reward your senses with a view of the Bhimtal Lake from Rosefinch Sarovar Portico. Photo Courtesy: Rosefinch Sarovar Portico
You might think there are no peculiar draws in this small town, seven hours from Delhi, but a writer reveals where to find 36 hours of wonderment.
Going back to the home state, Uttarakhand, as a non-resident always brings back a whiff of childhood—the sweet mountain air, trailing streams and meals with saag. Regardless of what I call home, one step onto the Kathgodam railway station and a panoramic 180-degree turn puts me at ease.
For the next 36 hours, my destination is Rosefinch Sarovar Portico. To my adventurous sensibilities, a sojourn at Bhimtal—Nainital's quieter cousin—didn't seem the most exciting. But as I zip through the Kumaon hills with my travel associate, snacking on piping hot pakodas while fine-tuning our itinerary, I realise 36 hours aren't enough to explore the quaint town.
After a 7-hour transit and an hour-long drive later, we pull into Rosefinch Sarovar Portico's flower-lined driveway. The property stands opposite the emerald Bhimtal lake, boasting views of a crisply designed hotel building and a wood-floored outdoor café. As I'm escorted to my deluxe room, I notice the minimal decor and clean furnishings across the lobbies. Each room sports a balcony overlooking the famed lake and the Kumaoni range. Adjustable thermostats, spring mattresses and a fully-equipped study table make the property ideal for a week's workation, while split-floored family rooms and luxury rooms open themselves to wedding guests, honeymooners, weekenders and group travellers.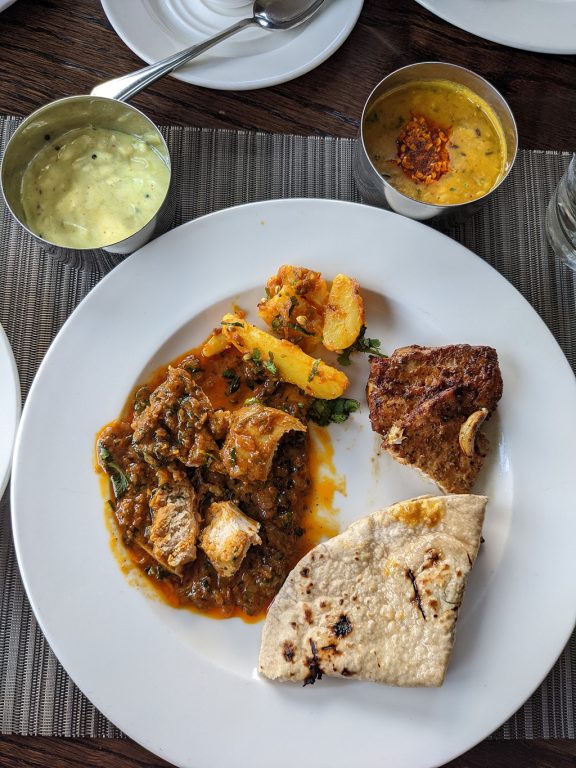 DAY 1
2 p.m.
Lunch at Lake Side Café
My first encounter with the hotel's modern interiors was at the Lake Side Café. The indoor parlour, decked with wooden furniture and large windows, overlooks the glistening Bhimtal Lake. Soon after we took our seats, a colourful spread beamed at us. My humble plate was generously laid with wheat rotis, aloo ke gutke, peppery chicken tariwala, dal tadka and mustard raita. Each bite revealed the mastery of layering spices as I polished my lunch with a side of grilled fish.
Through my visit, I was treated to the day's specials and tasting menus. I jumped from Kumaoni fare to oriental—a humble saag was just as lip-smacking as the kung pao chicken or the jalapenos cheese bites as the stir-fried prawns. While Lake Café offers all-day dining, visitors may choose to call in-room service to enjoy a dashing view.
4 p.m.
All You Need is a Bicycle
Oddly or pleasantly, Bhimtal's charm lies in having no attractions. The quiet of the emerald lake is juxtaposed with the occasional honking of vehicles along the Haldwani-Nainital highway. You can shop, order a plate of the quintessential hilltop Maggi, sip on masala chai, amble along the lake or snack on crispies on a picnic.
I, along with my host, Manisha, decided to prance across Bhimtal on a bicycle, which introspectively lent one of the best ways to experience the serenity. As we skirted the town during the golden hour, in under 15 minutes, the lake reflected beautiful shades of turquoise, bottle green and ultramarine. All as we waft past the tall oaks, sturdy jacarandas and braving wildflowers that encircle the town. Occasional potholes on the cobbled pathways drew our laughter but the canopied by-lanes, playing mellow bird songs, eased us. Parked at the lakeside, a gaggle of geese pulled our attention. We were face-front with a deep-orange sun dipping into the lake. As we fed the birds, pet some dogs and sipped chai, the day felt complete.
7.30 p.m.
Unwinding by a Bonfire
After an hour of ogling at Bhimtal's colonial homestays and wood-framed houses, Rosefinch Sarovar Portico was decked in a shimmery yellow upon our return. From the sleek outdoor deck to the tall frame of the building, Portico's design sensibilities seemed to cater to vacationers and workationers, both.
The mercury had dipped, and the staff responded to our chills by escorting us to The Courtyard—an amphitheatre that faces the family and luxury suites—for snacks over bonfire. As warm beverages and two plates of batter-fried dishes came our way, so did Mayank Kandpal—a local magician—who is a regular entertainer for guests. Fifteen minutes of guessing games, card tricks and teleporting notes were enough to leave our minds boggled.
Day 2
6 a.m.
Take a Morning Hike
We kicked off our day by embarking on a short hike up to the Sattal peak with our local guide and physical trainer. Unaware of what was to come next, I found myself seated atop 4,494 feet overlooking the Sattal lake and a banjh forest. For the next 30 minutes, I was entrusted to shut my eyes and quiet my thoughts to zone into the world of cooing koyals and rustling leaves. Meditation always seemed frivolous to me until I found myself at peace in an unblinking state for 45 minutes. Posture training, correct stretching and yoga, all suddenly made sense as my body complied. By 8.30 a.m., we were ready to walk back, energised for a day of adventure.
11 a.m. – 6 p.m.
Shop and Then a Paragliding Drop
Eat like the gods, they say. And we did. Back at the hotel, stuffed paranthas, idli and vada sambar, fruit platters, pressed juices and sprout bowls were devoured at an ungodly speed, followed by a comforting cuppa at the outer deck to down the gluttony.
Thrilled to soak in everything this town had to offer, at 11 a.m. our game plan was set—a road trip, a shopping spree, aerial and water adventures and café hopping. Our first stop was Kainchidham, a temple town, 17 kilometres away from Bhimtal. Even if shrine hopping is not on your list, the hour-long road trip offers majestic cliffside views, endless oak-lined roads and a souvenir stop. Crack open some walnuts or pick ginger ales and sherbets, but definitely invest in stone-crushed flavoured salts—combinations of garlic, cumin, chipi, asafoetida and rock salt concoct into a sticky gourmet salt. Another summer pick is galgal (palm-sized lemons), which turn into the most delicious lemonade or is consumed with a side of yoghurt, coriander, jaggery and local salt. Stock up on purple-red pahadi rajma or yam varietals, if you're a nearby resident with an experimental kitchen.
Satisfied with my purchases, we zipped down the Kumaoni hills and parked near the high paragliding ground. After a two-and-a-half-hour wait, I was finally harnessed to a pilot and catapulted off the 5,000 feet cliff. The next two minutes were wonder-filled as I caught onto the visual spectacle Kumaon had to offer. A seamless landing caught me by surprise but left me craving for other thrills. For our last adventure, our guides introduced us to the unmissable Nukuchaital lake—the deepest in Nainital district at 200 feet. Skipping zip lining, and rappelling, my feet led me to a kayak. As I was handed the oar and pushed off into the kilometre-long lake, I felt peace. No amount of swished water from my atrocious rowing could pull me out of the spell the lake cast. Panoramic green, golden peaks and an earthy cool fragrance in the empty lake engulfed my senses for the next thirty minutes.
6.15 p.m.
Winding Down Tea and Cake
Ambling across the lanes with a lemonade in hand, Mr Rajiv Thapa, Rosefinch's general manager, tells me about the hotel's ties with local adventure organizations to make bookings for all activities—from cycling, paragliding, camping, hiking, kayaking to zorbing—accessible from the reception. We make our way past the street vendors scrambling eggs and frothing milkshakes to a barrack-styled café. At Colonel's Café, I was greeted with cuts of local gouda, herbal teas, artisanal bakes, honey and postcards. A thin crust pizza and tea later, I reminisced about my afternoon coffee at the iHeart Café, fritters from side-stalls and coolers from local joints. On our ride back to Rosefinch, I threw my head back to gaze at the town's twilight twinkle and relish the last night of peace as I prepped to jump back to city reality the next morning.
Essentials
Bhimtal is a 7-hr drive from Delhi. Alternately, visitors can also take the Kathgodam-Shatabdi line. Doubles are priced at ₹8,000 for deluxe rooms, ₹10,000 for luxury rooms and ₹14,000 for family rooms. B&B. sarovarhotels.com
This feature also appeared in National Geographic Traveller India
For latest travel news and updates, food and drink journeys, restaurant features, and more, like us on Facebook or follow us on Instagram. Read more on Travel and Food Network
Trending on TFN
The 23 Best Places To Go In 2023
Explore Utah's Mighty 5® and What Lies in Between