With these insights, going from tourist to traveler just got a whole lot easier.
Come summer and all of us have the yearning for a change of scenery, a getaway to rest and recharge. Short trip or long holiday, travelling alone or with company, summer excursions mean extra precautions need to be taken. Here's a quick list to run through when planning your trip.
1. Covid is not over, you still need to take precautions. It is more important than ever to make sure you've taken your booster before your travel. Many studies show that protection from vaccines wanes over time, so even if you've had Covid 19 or Omicron this past year, stay safe, reduce the transmission, get boosted. And don't forget to pack your masks.
2. Plan ahead. Summer is often a peak vacation time for many locations, especially as it coincides with school holidays. We recommend you set up flight deal alerts and flying during non-peak times like during the week instead of weekends. If you plan early enough, you can get your hotels and flights early on before the prices rise as everyone books.
3. Make copies of all your travel documents, your IDs and credit cards. Just in case you lose them, you will have all the details when you report it. Leave your itinerary with at least one member of your family of a friend.
4. Keep it stress-free. Many people tie themselves in knots trying to jam in too many places and every conceivable activity on their vacation. Our advice is to go to one place and spend time getting immersed in its history and culture. Take advantage of airport shuttles, city Hop On Hop Off buses, walk in parks and gardens, relax on the beach, take free walking tours or simply people watch as you sip your coffee at local street cafes. In other words, just chill!
5. Pack light, the lighter the better. Now some people are really good at this, others struggle with paring down. No, you don't need matching shoes and bags with every outfit, nor do you need to carry your hair dryer and straightener. A good rule is to mix and match everything. Use vacuum packs or packing cubes to create more space. And always, always carry a cap or hat, sunscreen and a power bank. And don't forget prescribed medication and sanitizer.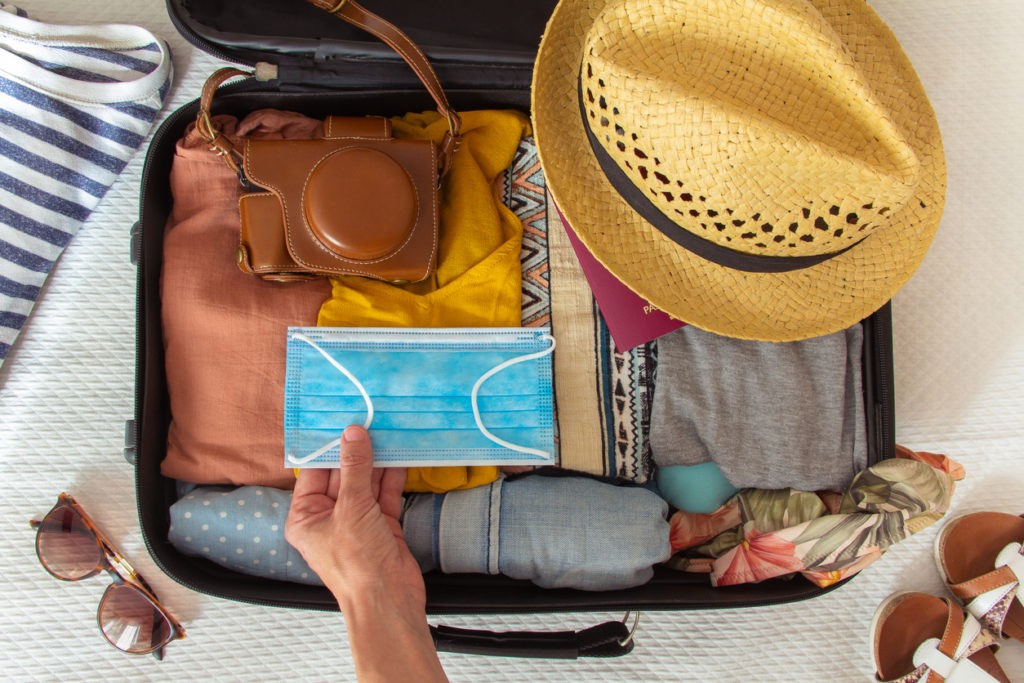 7. Dressing in layers is the smartest thing to do, feeling hot at midday? Just remove your jacket or overshirt, and maybe put them back on in the evenings when its cooler. The same applies if you're going to a colder place. A lightweight jacket would be just the thing to carry. You can always fold it into your tote or tie it around your waist if you get warm.
8. Healthy Eating: Okay, so you're on vacation. And you will indulge in all your favourite foods and drinks. But balance it out with healthy eating as well. If you have a hearty dinner planned, a nice light lunch of some salad or soup may be just the thing for you. Always eat local! There's so much fun in trying out a new cuisine. And remember to carry some seeds and nuts with you for in between snacking along with lots of water.
9. Try to blend in with the locals; don't draw any unnecessary attention to yourself. People from another country are vulnerable to scams and crime, so be discrete and use protective clothing and gear that will make it difficult for pickpockets.
10. Learn some basic phrases in the local language, you'll be surprised how much the locals will appreciate it. Simple things like asking for directions or ordering at a restaurant, and greetings of the day. These days, many people use Google Translate to get by, but its always nice to make eye contact rather than staring at your phone.

Make lots of memories and capture them. Revisiting photos of holiday travels brings back all the lovely memories of the trip, right down to the people you met, the food you ate, the places you visited and everything in between.
Enjoy your holidays folks. Remember to leave your work behind!
For latest travel news and updates, food and drink journeys, restaurant features, and more, like us on Facebook or follow us on Instagram. Read more on Travel and Food Network
Trending on TFN
The 23 Best Places To Go In 2023
Explore Utah's Mighty 5® and What Lies in Between