An all-inclusive Middle East guide to make the best of food, culture and heritage in the island nation.
From Unesco World Heritage sites to incredible mosques and museums, Bahrain is bursting with cultural attractions. Whether you're a first-time visitor or a returning traveler, this ultimate guide to exploring Bahrain in 48 hours will help you make the most of your visit. From visiting ancient forts and palaces, to shopping in the bustling markets and dining at world-class restaurants, you'll find plenty of activities that will make your time in Bahrain truly unforgettable. So, if you're ready to explore this Middle Eastern gem, read on to discover the best sights, attractions, and experiences Bahrain has to offer.
Day 1
9.30 a.m. Bahraini Breakfast
Twice awarded the Time Out Award for Best Bahraini Restaurant in 2014 and 2015, Saffron by Jena offers traditional food with a modern spin. Located across three branches in the country, starting the day with a hearty breakfast at Jena Bakery in the capital city of Manama is a good idea. Nestled between traditional houses in old souks, the whitewashed facade of the restaurant is easy to spot. Dig into their Saffron Royal Breakfast that comes with generous servings of eight dishes, a favourite among locals and tourists alike. Expect egg with tomatoes, balaleet (sweetened vermicelli with eggs), luba (tangy beans stew) and mihyawa (flat bread with fermented fish sauce) among others. Wash it down with a cup of saffron tea.
11 a.m. Enamoured by Al Fateh Grand Mosque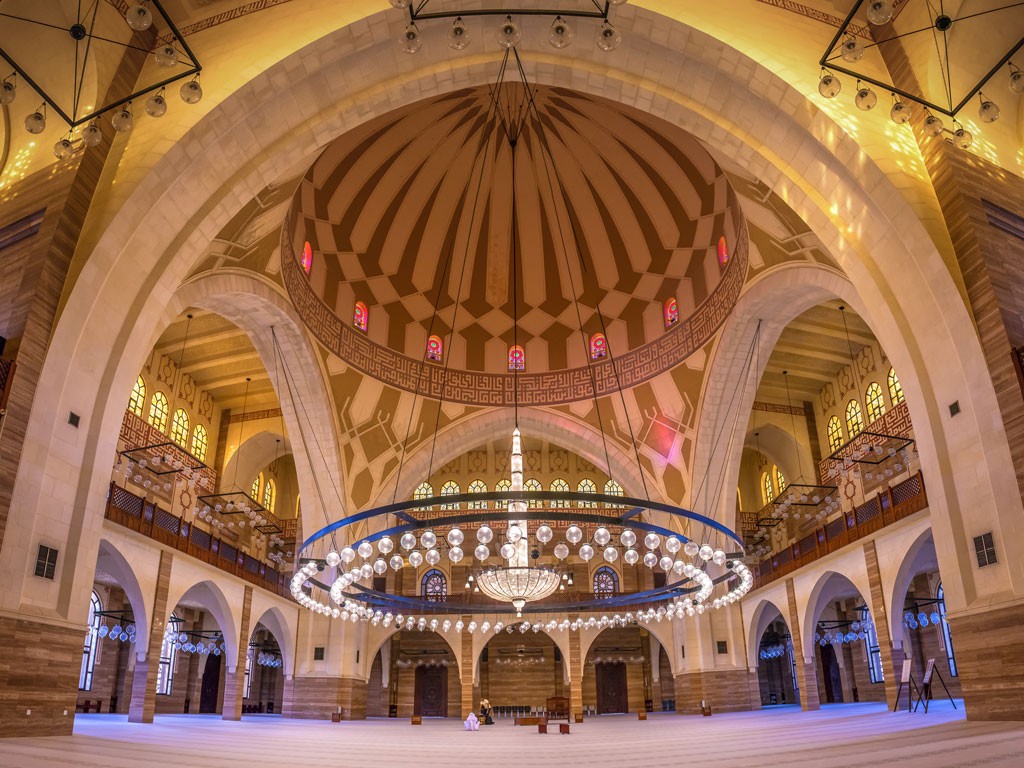 At a short driving distance of 15 minutes, the spectacle of Al Fateh Grand Mosque is a must-visit monument in Bahrain. Crowned the largest mosque in the country, it was built on reclaimed land in 1987 and boats of holding a capacity of 7000 worshippers. Different details of interiors of the mosque trace back to different parts of the world. The marble flooring comes from Italy, glass from Austria and teak from India, engraved by local Bahraini craftsmen. The 952 hand-blown glass lamps inside the mosque are from France and the dome is one of the largest fibreglass domes in the world. Visit the National Library of Bahrain which sits in the premises of the mosque and houses an impressive collection of Islamic literature. While one may tour the mosque by themselves, it is advisable to hire a guide to seek a better understanding of the religious customs and architectural details.
2 p.m. Wholesome Indian Meal
If you're craving some wholesome Indian meal, Rasoi by Vineet is your best bet. The first fine-dining restaurant in the country operated by Michelin star chef Vineet Bhatia is located inside the palatial Gulf Hotel in Manama and offers stunning views of the Grand Mosque and the Royal Palace. Brightly coloured walls, imaginative artworks and sparkling crystals exude a lively ambience.
3.30 p.m. Walk through History
Make a stop at The National Museum en route to Muharraq that is perched on the edge of the sea. The museum, with its contemporary ambience and theatrical courtyard festooned with modern sculptures, accommodates nine main halls displaying the heritage of the Kingdom of Bahrain with its six different sections. Make your way through a 4000-year-old history as you walk past its halls, from the usual handicrafts hall, to the customs and traditions hall, burial mounds hall, ancient documents and manuscripts hall, Tylos hall, and Islamic period hall. Drop by the in-house souvenir shop, a chic café or a few of the several gallery spaces that are used for contemporary exhibitions of art and sculpture.
5 p.m. Sunset at Bahrain Fort
Head to the Bahrain Fort during dusk fall to behold the sight of a sunset on this island nation. Also known as Qal'at Al, the fort with a rich history supposedly dating back to 5000 years, became Bahrain's first UNESCO World Heritage Site in 2005. With its early inhabitants from the third century BC, the location was considered important in the ancient civilisations of the region and the site was turned into an impressive fort at the brink of 16th century by the Portuguese. The moated fort is particularly attractive at night, when the history of the site seems to rise out of the excavations. The fort comes with a great museum which showcases collections from five different historical periods and are arranged chronologically, each within its own separate gallery. The museum also contains a main courtyard leading to a café which overlooks the coastline opposite the fort, as well as a lecture hall and gift shop.
7 p.m. Souk Expedition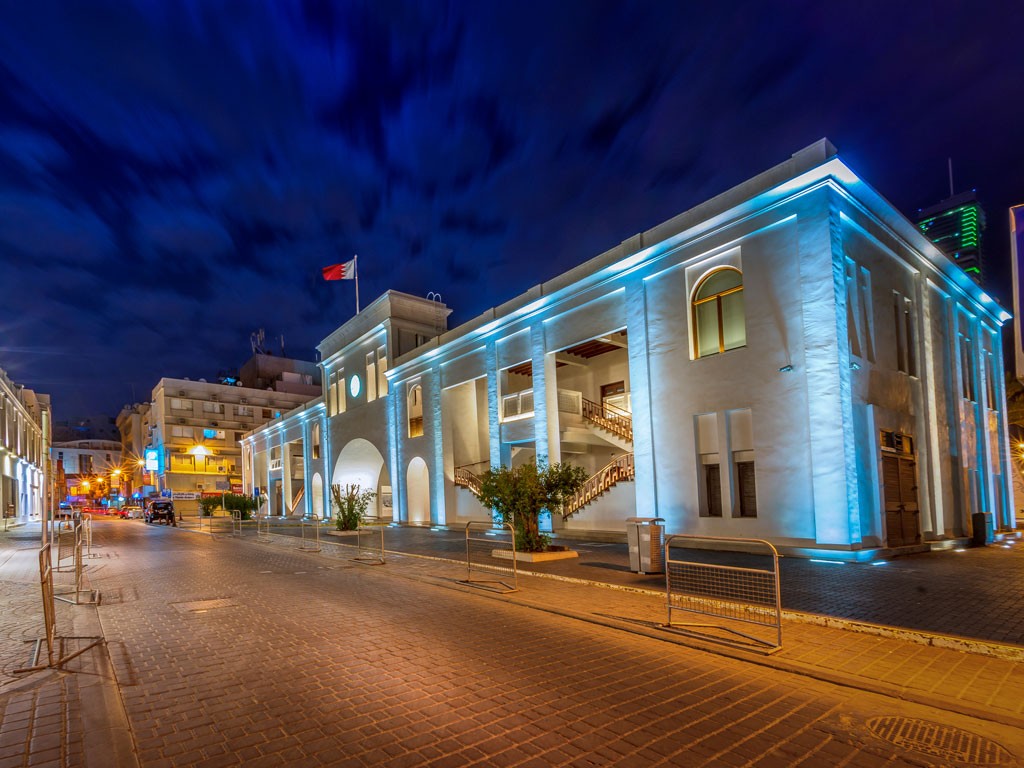 Dubbed 'Gateway to Bahrain', the historical building of Bab Al Bahrain was built in 1945, based on original designs by the then British Chief Administrator Sir Chalres Belgrave. Although it was later reconstructed to incorporate a more 'Islamic' taste, it remains among the first urban modernisation projects in Bahrain. The past two decades have witnessed a hint of land retrieval as marked by the small square in front of the bab (gate), which was once the terminus of the customs pier. The name is aptly fitting even in contemporary times as people of all nationalities, street vendors, shoppers and workers pass under its arches in a steady parade of bustle. Behind the monument sits the famed Manama Souk. It is a one-stop market for all Bahraini essentials from nuts, spices, sheesha bottles to electronic goods.
9 p.m. Dine at Block 338
Block 338 is a quintessential pedestrian quarter situated in the heart of Adliya. Peppered with art galleries and small boutiques, it is also a hub of international restaurants and quaint cafes. For a delicious ensemble of Mediterranean and Italian cuisine, head to Masso. Renowned chef Susy Masetti brings farm-to-table cooking with ingredients freshly grown in the horticulture Bodaya organic garden. While their menu is seasonal and innovative, try the regular hot favourite cedar-plank salmon fillet with the honey glaze and crispy shallots.
Day 2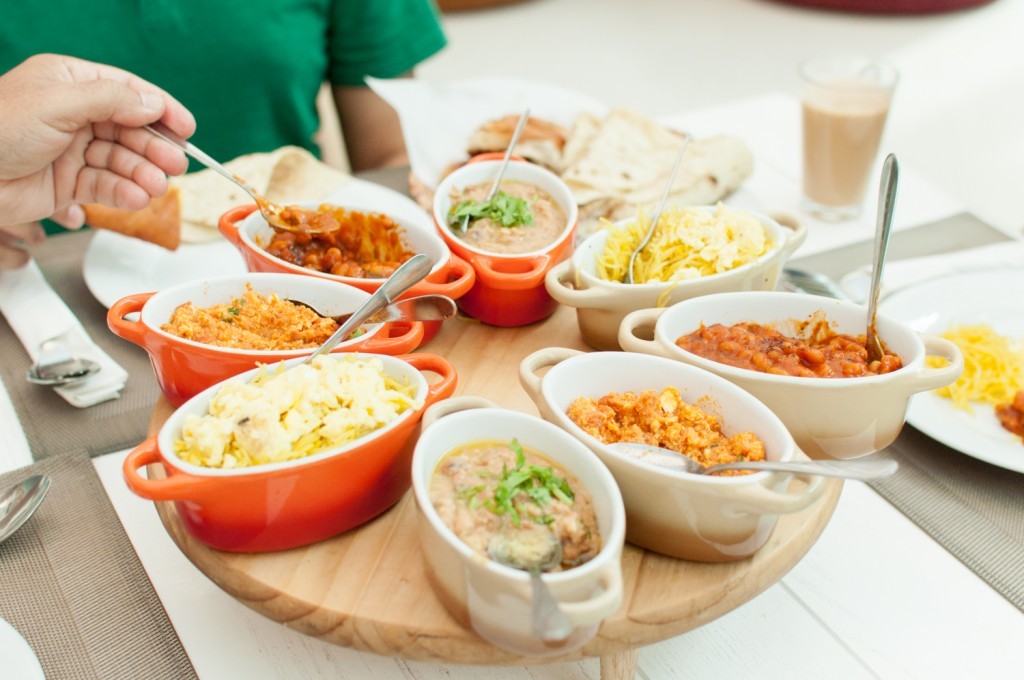 8.30 a.m. Traditional Arabian Breakfast
Based in the heart of Manama, Haji Gahwa is a street-side cafe touted for its homely meal and pocket-friendly prices. There is no menu and guests are served what is cooked depending on what time of the day they choose to visit. Gorge on grills and machboos, a popular rice-and-meat dish or savour a traditional Bahraini breakfast with sides of salad and fruits.
10 a.m. Stroll through Muharraq
Restored tradition Bahraini houses dot the lanes of Murahaq. Gulf Islamic architecture is exemplified in details of Sheikh Isa bin Ali House with four courtyards, carved wooden doors, and perforated gypsum panels. The Sheikh Ebrahim Center is forefront in preserving the history and traditional architecture of the country. Kurar House is known for embroidery, while Bin Matar House, the former home of a pearl merchant splendidly showcases the history of pearling in Bahrain. A collection of houses in the vicinity exhibit different aspects of Bahrain's rich heritage.
12 p.m. Lunch at Raazji
Located inside a cluster of three old traditional Bahraini-houses-turned-café (House of Coffee) in Muharraq, Raazji exudes an old world charm exterior. The interior is fairly contemporary and the menu is pack with Arabic fusion food. Dig into platefuls of grilled salmon with babaganoush or saffron rice with prawn, there is plenty to choose from. Satiate your sweet-tooth cravings with Bahraini halwa or mahalabiya, Arabic milk pudding.
2 p.m. Tour de Bahrain International Circuit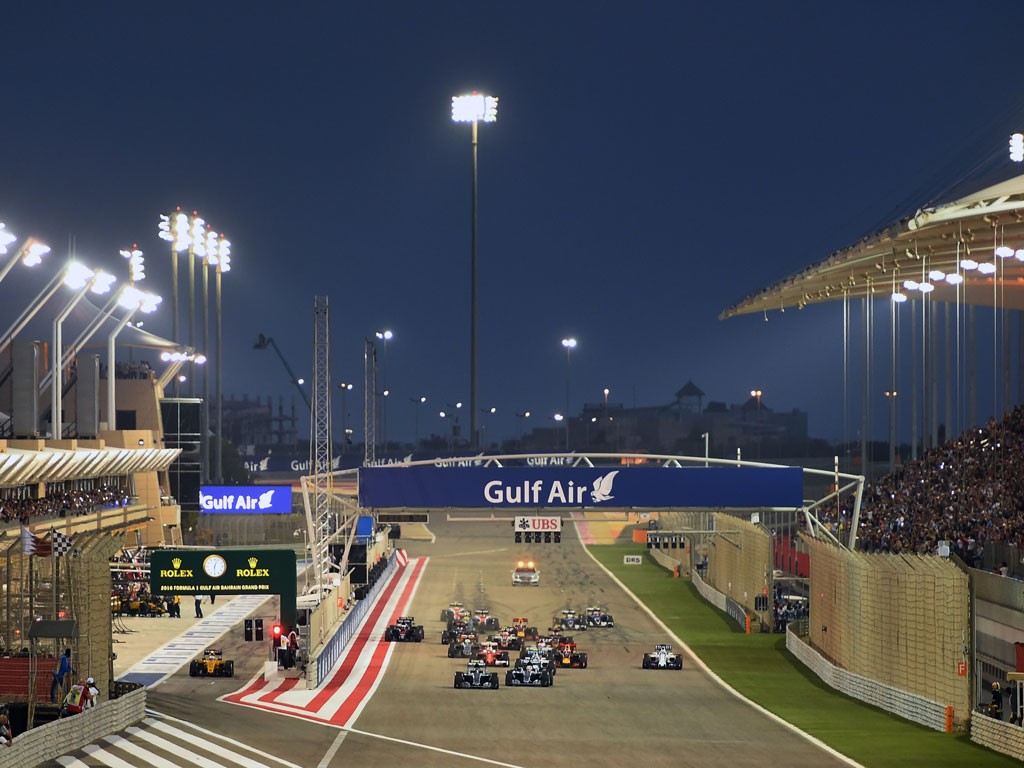 Automobile enthusiast or not, the Bahrain International Circuit (BIC) is a must-visit motorsport venue located in the desert region of Sakhir. Famous for hosting events such as drag-racing, the GP2 Series and the annual Bahrain Grand Prix, BIC also offers 15-minute go karting session. Adventure seekers may try their hand at the Land Rover experience spread across 3.5 km stretch of varying terrains like that of land, water, hill and sand. Top this with an adrenaline-pumping Radical SR3 ride that accelerates your heartbeat with the shift in gear. The car, which can pick a speed of up to 100 km within a span of 3.4 seconds is driven around the lap for a duration of 40 minutes. Sky Coaster combines he thrill of skydiving, hang-gliding and bungee-jumping all rolled into one and certainly not for the faint hearted. For those who dare to try their hand at this feat, expect to be hurled to the ground from a height of 18 storeys at a speed of 80 kmph.
5 p.m. Beach-front Sunset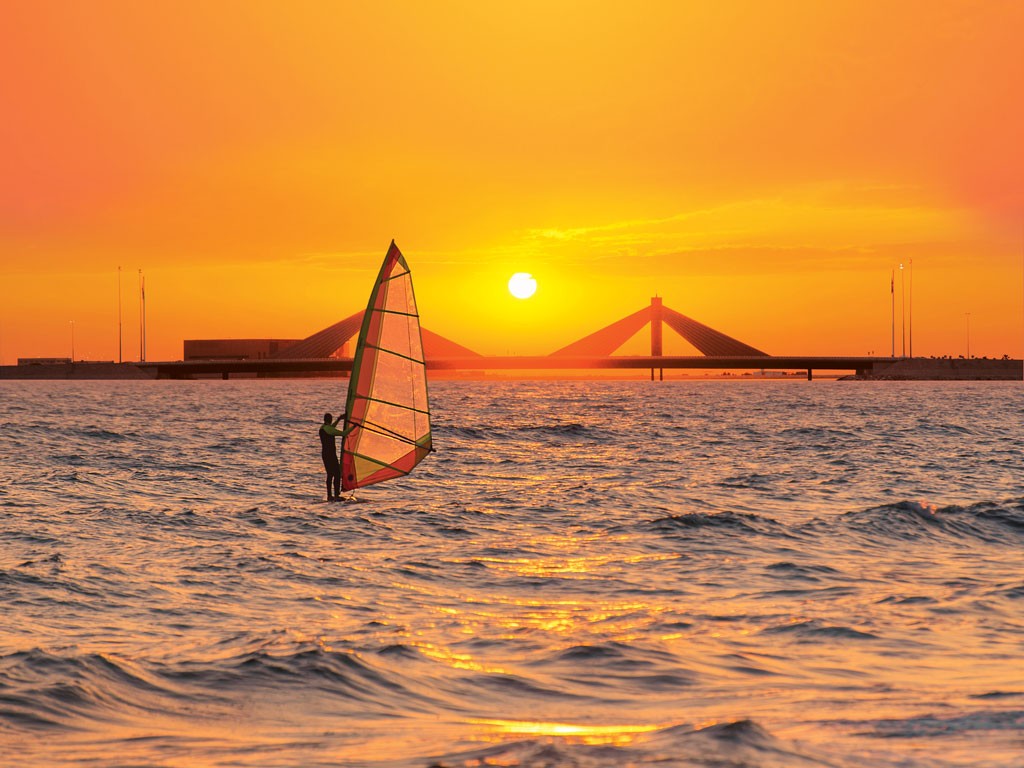 Supposedly the country's first ever managed public beach, Marassi Al Bahrain is situated in Diyar Al Muharraq. Monikered the beach-party and fanfare destination in the country, the venue has previously hosted local vendors' market, art and photography exhibitions, fitness sessions and watersports such as paddle boarding and kayaking. Kick back and soak in the stunning views of the sea or take a stroll and explore meal options from food trucks.
8.30 p.m. Fine Dining at CUT
An activity packed day calls for a rewarding dinner. Head to celebrity chef Wolfgang Puck's acclaimed restaurant, CUT. The high-end American style steakhouse is located in Four Seasons Hotel Bahrain and offers striking views of Manama's skyline. The menu features a wide range of beef selection as well as premium shell-fish and fresh fish served with a touch of Wolfgang's signature style.
For latest travel news and updates, food and drink journeys, restaurant features, and more, like us on Facebook or follow us on Instagram. Read more on Travel and Food Network
Trending on TFN
The 23 Best Places To Go In 2023
Explore Utah's Mighty 5® and What Lies in Between